I don't know about you, but lunch is my favourite meal of the day! From tasty salads to scrumptious vegan sandwiches, we are sure to have vegan lunch ideas for you!
Wether you are making lunch for a vegan, or you need some cold vegan lunch ideas for work, we have covered all the basis! If you need some ideas for little ones, be sure to check out vegan lunches for kids here.
Vegan Ideas For Lunch
Vegan Lunch Ideas
Here at Yum Vegan we focus wholly on bringing to your all the very best vegan lunch ideas. We have tonnes of the best vegan lunch ideas, from soups to sandwiches to unique salads and tasty smoothie bowls, we have covered all the basis. In this article you will find a variety of options incase you need a cold lunch ideas that needs to work for the office, work or a school vegan lunch.
Likewise you will find hearty warm vegan lunch recipes that will warm the soul on colder days. We even have vegan kids lunches too! Read on for all the inspo on super good vegan lunch recipes.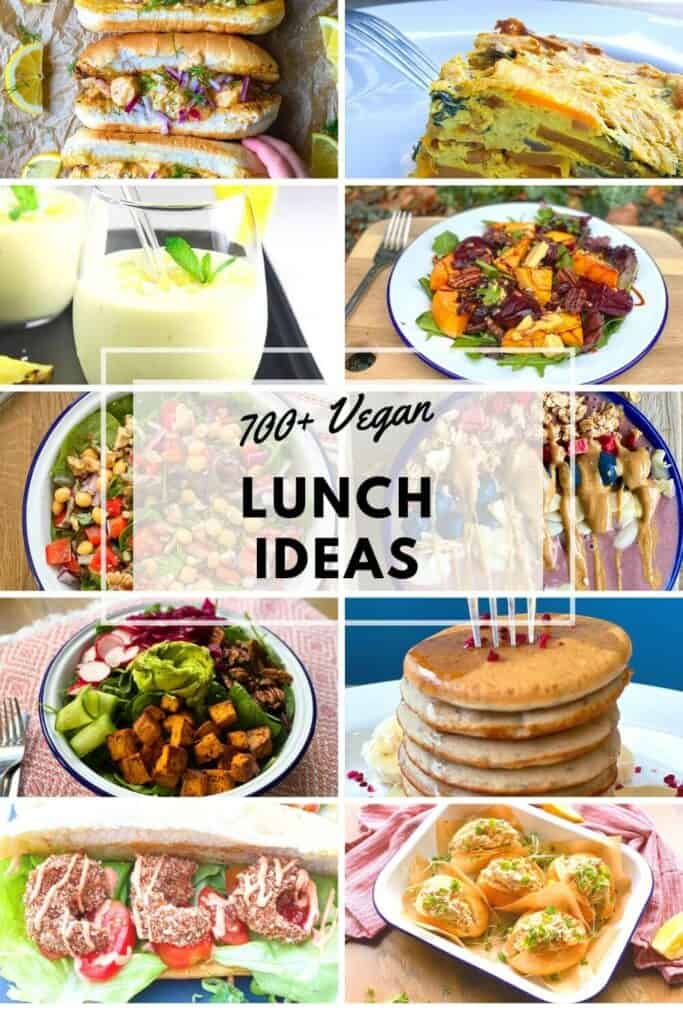 Best Boxes For A Packed Lunch
If you are particularly looking for lunches on the go, the chances are you may need a lunch box. it's better for the environment and yourself to have a few reusable lunch containers.
My preference for lunch containers are plastic free ones. They are far better for the environment, in some cases they are more durable and it prevents you from eating the chemicals the leak into your food when using plastic.
I do occasionally use plastic containers, when I can't find a comparable alternative. There are tons of great options on the market now for lunch containers of every kind. Here are some of my favorite.
Salad Container
This Bentgo container is my absolute favorite for salads. It simplifies travelling with salad by having separate compartments for your salad dressing and any toppings you want to keep separate until the last minute.
It's the perfect way to have fresh salads on the go! Find out more about the Bentgo here.
Bento Style Lunch Box Containers
Bento boxes are great, especially if you are someone who likes to snack. Keep all the components of your meal separate in one container. For this I've got a few great options, each a different material.
Glass Lunch Boxes
Glass containers are a great option for food storage. They aren't bad for the environment, can be microwaved, are dishwasher safe, and they don't leach any taste into your food. Plus you can see what's in them without having to open them, which if you are forgetful like me, can be very helpful.
This glass bento box has great reviews and it's compartments are a good size for a sandwich and a side item, whether it be a small salad or dessert. Take note, that two of the set are divided and to are just regular glass containers. Check the set of containers out here.
Wheat Fiber
Especially if you are packing vegan lunches for kids, you may not want a glass container since they are bit heavier and slightly more breakable. This wheat fiber container is an awesome alternative.
The wheat fiber is completely safe, healthy and it's a sturdy container. It's also microwave safe, top rack of the dishwasher safe and comes with a money back guarantee.
Find out more about the wheat fiber bento box here.
Classic Compact Lunch Cube
This container is plastic, but if that doesn't bother you, it's a great compact lunch container. It's also a classic option, and stores a lot of food.
The container seals tightly and is certainly durable. It's really easy to throw into a backpack or purse and go. Check it out here.
Kid's Insulated Lunchboxes
This Wildkins lunchbox is a fantastic option for kids. It comes in a ton of bright, fun options to suit any kids tastes.
It's also spacious, durable, waterproof and well insulated. The lunchbox also has a nice mesh pocket to hold any utensils, napkins, etc.
Check out the Wildkin lunchbox here.
Adults Insulated Lunchboxes
This lunchbox by Rubbermaid is great for adults. It's large and spacious with spots for your utensils, an ice pack, a water bottle and anything else you need.
It comes in a very neutral pattern and with a carry strap for easy use. It's insulated walls will keep food cold or hot for longer.
The lunch bag comes very highly rated, at a really low price tag. It also comes in different size options, so you can choose based on how much food you generally pack.
Check out the Rubbermaid lunchbox here.
The Best Insulated Lunchbox to Fit Maximum Food
Maybe you are headed out camping or have very long days, or maybe you are a gym rat that needs to pack more meals. Regardless of why, this lunch bag is definitely the best option.
The Evolutionize lunch bag comes with everything you need to maximize the usefulness and space of the bag. It comes with three containers that fit perfectly in the bag, an ice pack, outer mesh pockets to hold any small items, and a large drinks compartment.
It also comes with an easy carry handle. This is the most compact bag you'll find that can carry this much food! Check the Evolutionize lunchbox out here.
Can you think of any other great vegan recipes lunch style? Leave a comment we love to hear from you!
Disclaimer: This post may contain affiliate links. By using them it will not cost you any extra. We will get a teeny commission and are so grateful for the support of our readers. These little commissions help us continue to write lots of yum recipes.