Smoothie bowls are my perfect food. I've been crazy busy lately and smoothie bowls are just the perfect way to have a quick, beautiful meal with little to no effort.
Especially with all the amazing summer fruit in season, there are no end to amazing traditional smoothies and smoothie bowl recipes to try out, whether you are looking for some watermelon goodness or a delicious pear mango smoothie.
For this one, I went with a tropical smoothie bowl. I had some amazing fresh passion fruit and a freezer packed with papaya, so it was only natural to combine them into something bright, fresh and delicious.
It came out so good, we made it two more times that same week! If you try out this papaya smoothie bowl, be sure to leave a rating or tag us in a photo of it on social media!
Papaya Bowl Ingredients
To make this papaya smoothie recipe you'll need: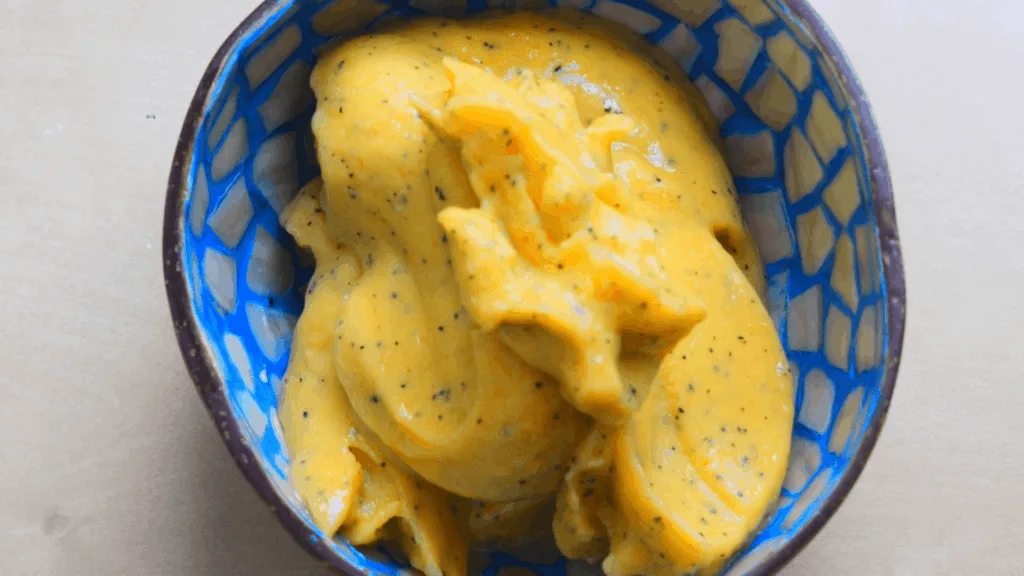 How to Make a Smoothie Bowl
To make your smoothie bowl, you just need to blend the ingredient of the base until smooth. To ensure a thick, smooth, smoothie bowl base, frozen ingredients work best.
I bought my papaya and bananas frozen but if you don't have frozen you can cut up fresh papaya and bananas and freeze them. If you like the smoothie bowl base really thick, you can also start out with less of the milk and add as you go, until it reaches your favorite consistency.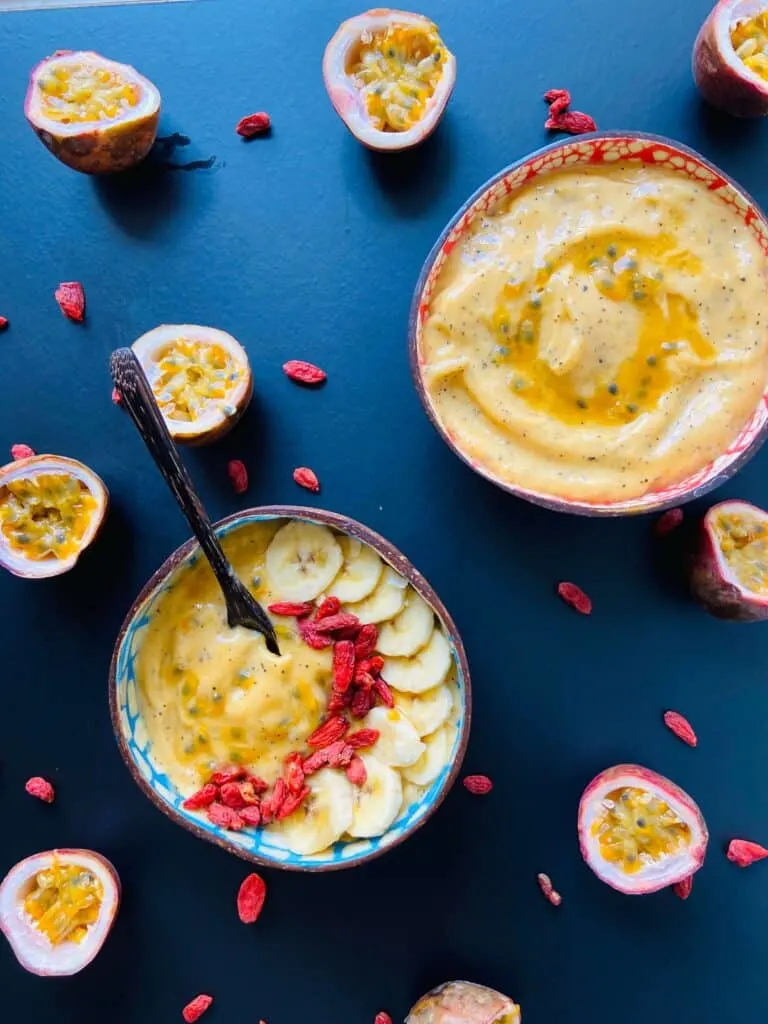 Once blended, top with your favorite toppings. You can just scatter these on, or make it into pretty, pinterest worthy patterns.
Papaya Smoothie Bowl Toppings
For this smoothie bowl, I really enjoyed topping mine with more passion fruit, goji berries and sliced bananas. I really like the additional slight sourness of the passion fruit, plus they are just so pretty with their seeds.
The goji berries are also great, they actually freeze when on top of the smoothie bowl, adding a really nice crunch to the bowl.
Other great options for toppings would be coconut flakes, or if you want to make it a bit more hearty, you could do oats, a tropical granola, seeds or nuts. One of the great things about smoothie bowls is the versatility so go nuts with the toppings, whatever you have on hand!
Passion Fruit Papaya Smoothie Benefits
This papaya smoothie bowl is amazing for you. Each ingredient is fantastic on it's own, and as a group, it's even more powerful.
Papaya is truly a power food. It's absolutely fantastic for digestion, packed with vitamin A and antioxidants, and even can help your skin look healthier, more glowing, and younger!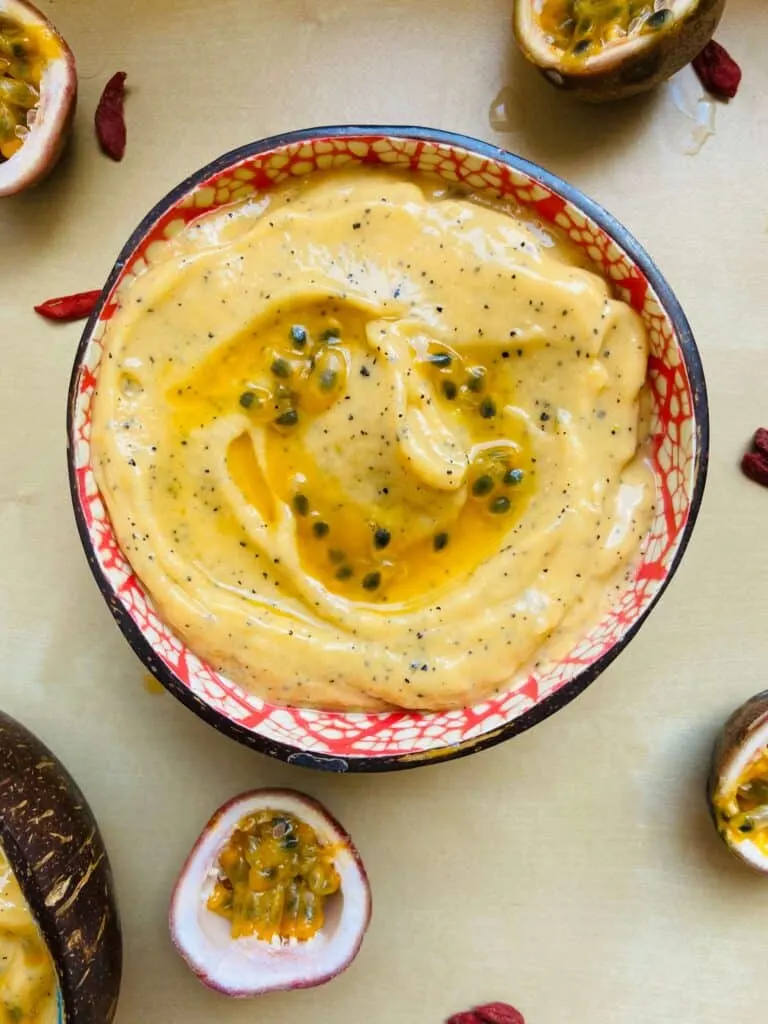 Guess what? Passion fruit is also amazing for your immune system, great for your skin, and it's good for your heart.
The coconut milk also bring a healthy punch. It can help lower blood pressure and it's got tons of electrolytes, keeping you fresh and hydrated!
Smoothie Blenders
I'm totally in love with my vitamix. I bought it six years ago and it's still my favorite kitchen item. It's super powerful and great for pulverizing frozen fruit. You can you can buy a Vitamix here
.
If you don't have room or need for a full sized blender, the ninja seems to be taking over the market as one of the best mini blenders. You can check it out here.
Don't Forget To Pin This Recipe For Later!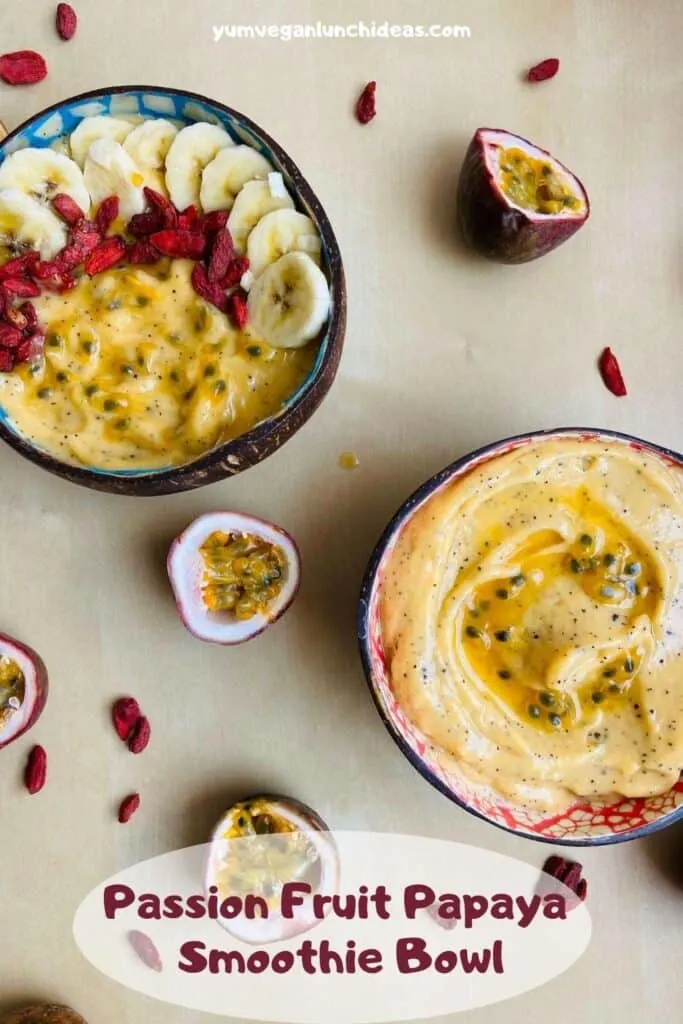 Yield: 2
Papaya Smoothie Bowl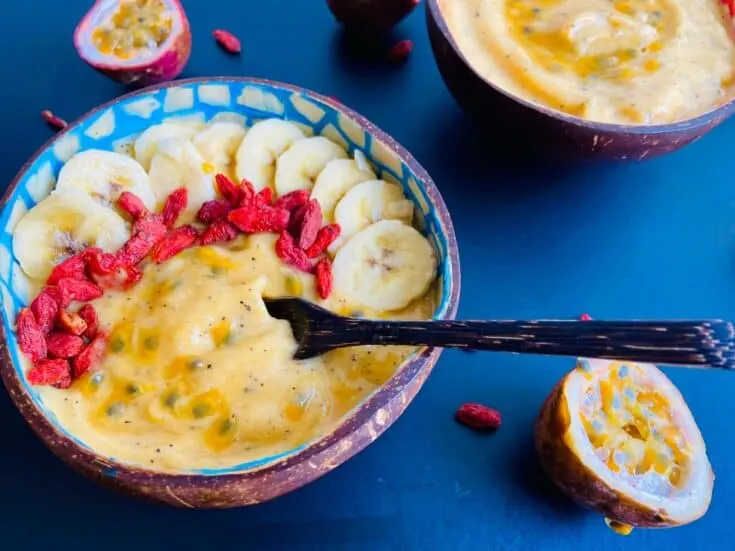 This tropical passion fruit papaya smoothie bowl is hydrating, delicious, beautiful and perfect for summer! Customize it with your favorite smoothie bowl toppings for a treat the whole family will love.
It's also packed with healthy ingredients, good for your skin, your heart, and your digestive system! Enjoy at any time of the day for an indulgent, feel good meal!
Ingredients
2 Cups Papaya Chunks
5 Passion Fruit - Around 1/2 Cup*
1 Banana
Toppings
1 Passion Fruit
1 Banana - Sliced
Instructions
If your papaya and bananas aren't frozen, cut into chunks a freeze for at least a couple of hours before making this recipe.
Put all ingredients besides the toppings into the blender and blend until smooth. If you want to make sure it's a really thick smoothie bowl, start out with 1/2 cup of the plant based milk and add more as needed.
Pour smoothie into two bowls and top with the passion fruit, banana and goji berries. Enjoy!
Notes
* If you can't find fresh passion fruit you can also use prepackaged puree
Recommended Products
As an Amazon Associate and member of other affiliate programs, I earn from qualifying purchases.
Nutrition Information:
Yield:
2
Serving Size:
1
Amount Per Serving:
Calories:

473
Total Fat:

7g
Saturated Fat:

4g
Trans Fat:

0g
Unsaturated Fat:

2g
Cholesterol:

7mg
Sodium:

149mg
Carbohydrates:

102g
Fiber:

26g
Sugar:

54g
Protein:

11g
You may also love: