This butternut and beetroot salad is creamy and delicious with a nice crunch. It's perfect for days when you want to pack some comfort, colors, textures and flavors into your salad bowl.
All year round, butternut squash and beet salad is one of my favorite salads. Beets, squash and cabbage hit up all the fall/winter flavored but it's also great in summer since it's a cold vegan salad.
If you are loving vegan beetroot salad recipes, make sure to also check out our beet coleslaw and this pumpkin and beetroot salad.
Butternut Beetroot Salad Ingredients
To make this cold butternut squash salad, you'll need:
Vegan Mayo
I'm pretty loyal to my favorite brand of vegan mayonnaise, American Garden. The most common favorite though seems to be Just Mayo.
You can also make your own mayo, either oil based, or if you are looking for a healthier version of plant based mayo you can try this one.
How to Make Butternut Squash and Beet Salad
Roasting the Beets and Squash
First thing you need to do is roast your beets and squash. If you are baking anything else around the same time you can throw the beets and squash in to cook with it. Any temperature is fine, it will just take longer to cook on lower temperatures.
To prepare them for roasting wash the beets and if there is any top left on it, trim it off. Wrap them in tin foil and they are ready to bake.
The squash will cook faster if you cut it in half, although you can cook it whole. You can also pre cut it into smaller chunks for even quicker cook times, but that adds a lot of effort.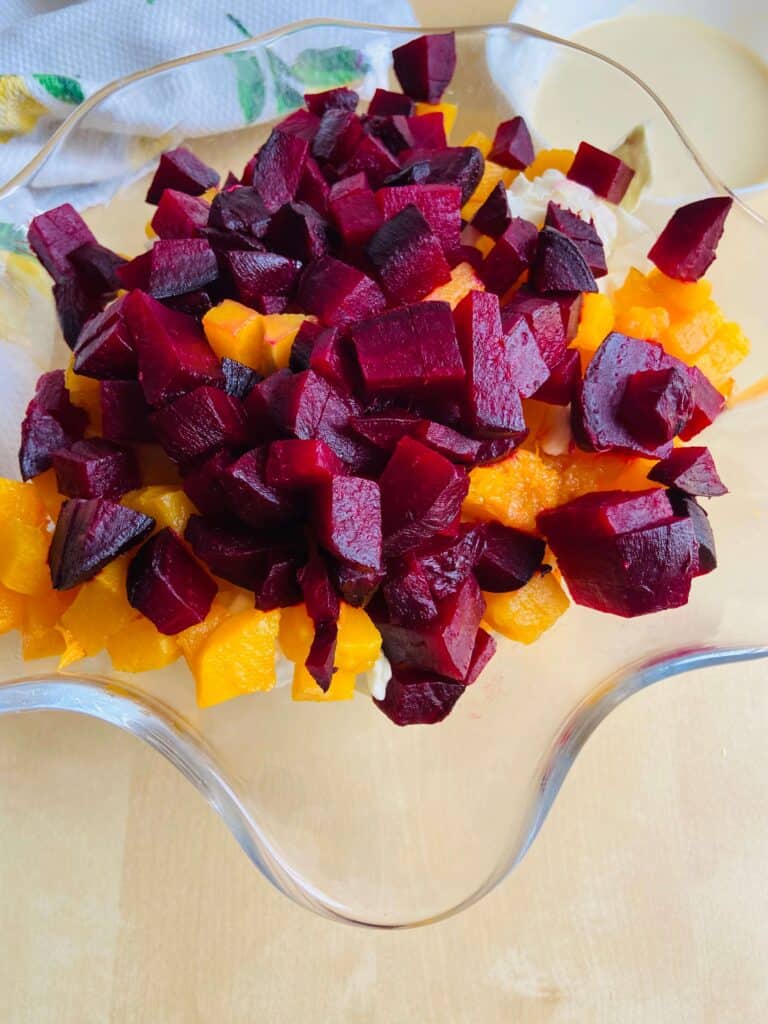 Scoop the seeds out of the squash halves. Place the squash cut side down on a greased baking sheet to roast. Roast the beets and the squash on 400 F for around fifty minutes to an hour.
When it's finished, you should be able to stick a fork in both the beets and the squash easily. If one finished before the other, just take it out of the oven first and let the other finish cooking.
Once it's done, wait until the beets are cooled enough to touch and then peel the skin off. You should be able to do it easily with your hands. Let both vegetables cool completely.
Prepare the Vegetables
Cut beets and squash into large cubes. The easiest way to cut the squash is to first scoop out any remaining seeds and then cut the peel off, and finally, cube it.
Chop the cabbage into large pieces as well. You want around 5 cups chopped cabbage for the final salad.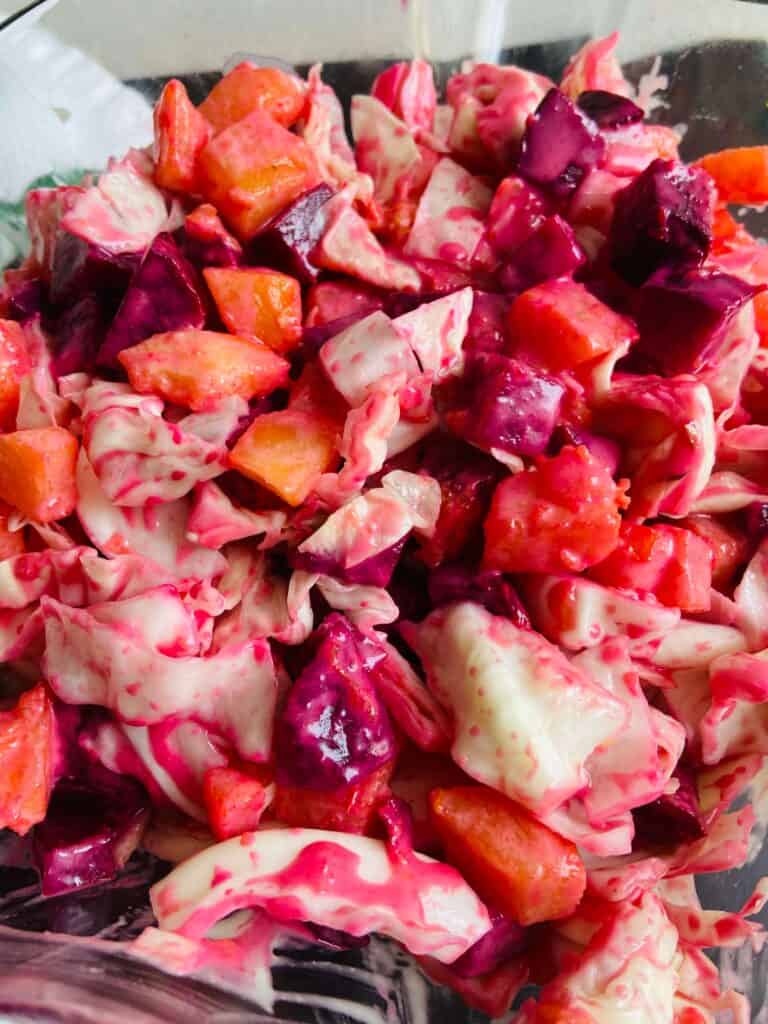 Dressing for Squash Beetroot Salad
Making the salad dressing for the cabbage beetroot salad is as easy as mixing together the dressing ingredients. Once it's all mixed up, combine it with the vegetables and enjoy!
Storing Butternut and Beetroot Salad
The vegetables in this salad all hold up pretty well even after it's dressed. The colors will all bleed together though the longer it's stored. If you are storing before serving, store the dressing separately from the vegetables and combine right before serving.
If you are storing leftovers, it will stay good in the fridge for around five days. Either way, store in an airtight container for optimum freshness.
If you loved these – you will love them in our Vegan Roast Potato Salad Recipe!
Don't Forget To Pin This Post For Later!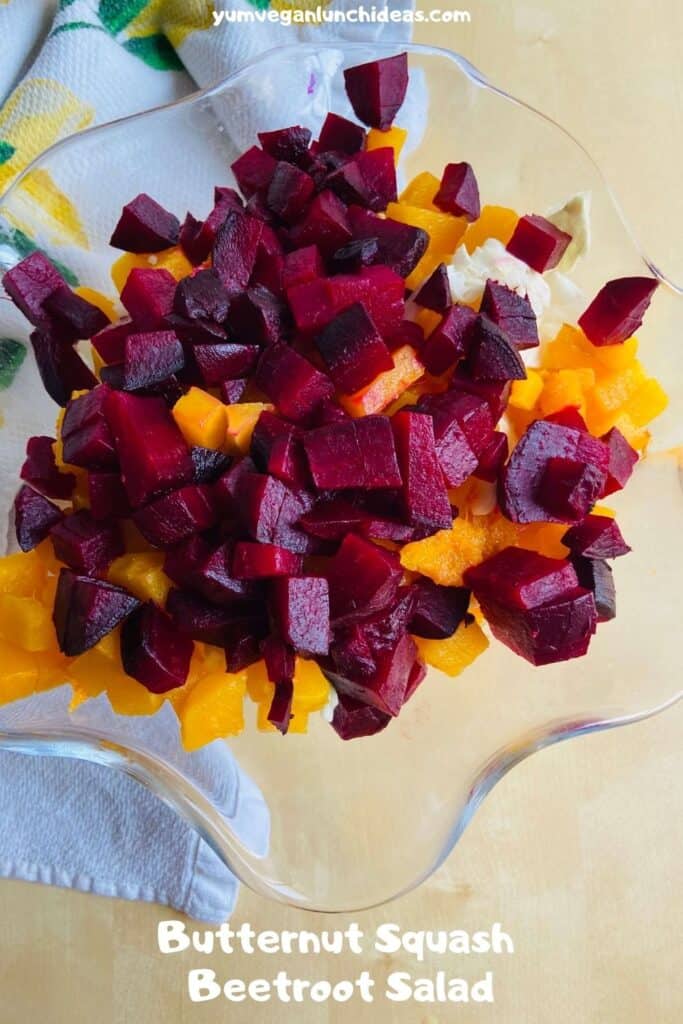 Yield: 8 Servings
Butternut and Beetroot Salad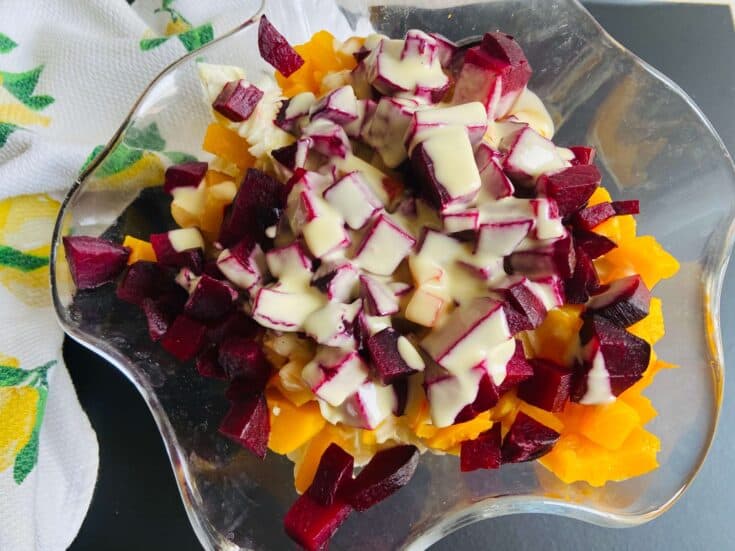 This creamy crunchy butternut and beetroot salad is perfect and comforting, with delicious flavors, textures and colors! It's a great indulgent salad to have on the menu year round.
Enjoy this vegan beetroot salad as a vibrant vegan side dish. It's especially nice for potlucks, get togethers and holiday meals but you can also use it as a meal prep salad option!
Ingredients
1 Very Small Butternut Squash
1 Extra Large Beet
5 Cups Chopped White Cabbage
Big Pinch of Salt
Instructions
Preheat the oven to 400 F.
Wash your beet and trim any beet tops left. Wrap in tin foil.
Cut your squash in half and then scoop out the seeds. Place cut side down on a greased baking sheet.
Roast both the squash and beets for around 50 minutes to an hour until you can easily pierce them with a fork.
When the beet has cooled enough to touch, peel the skin off. It should come off easily with your hands.
Cut the skin off the squash and cut both the squash and beets into large cubes.
Mix the cabbage, beets, and squash in a large bowl.
Mix all the dressing ingredients in a small bowl and then pour over the vegetables and mix to combine.
Notes
* You can use precooked beets if you want and just skip the cooking step. You can also roast the beets and squash at a lower temperature if you have other items baking anyways, it will just take longer to cook.
** I always use American Garden's vegan mayo, it's a personal favorite although many people's current favorite vegan mayo brand is Just Mayo.
Recommended Products
As an Amazon Associate and member of other affiliate programs, I earn from qualifying purchases.
Nutrition Information:
Yield:
8
Serving Size:
1
Amount Per Serving:
Calories:

113
Total Fat:

7g
Saturated Fat:

1g
Trans Fat:

0g
Unsaturated Fat:

6g
Cholesterol:

0mg
Sodium:

181mg
Carbohydrates:

13g
Fiber:

3g
Sugar:

6g
Protein:

2g
You may also like:
Disclaimer: This post contains affiliate links. This means if you follow a link we will get a small commission off of your purchase at no additional cost to you.