These vegan cheese and sweetcorn scones are deliciously savoury, moreish and baked beautifully.
They are the perfect baked selection for breakfast, brunch, snacks, picnic or lunchbox.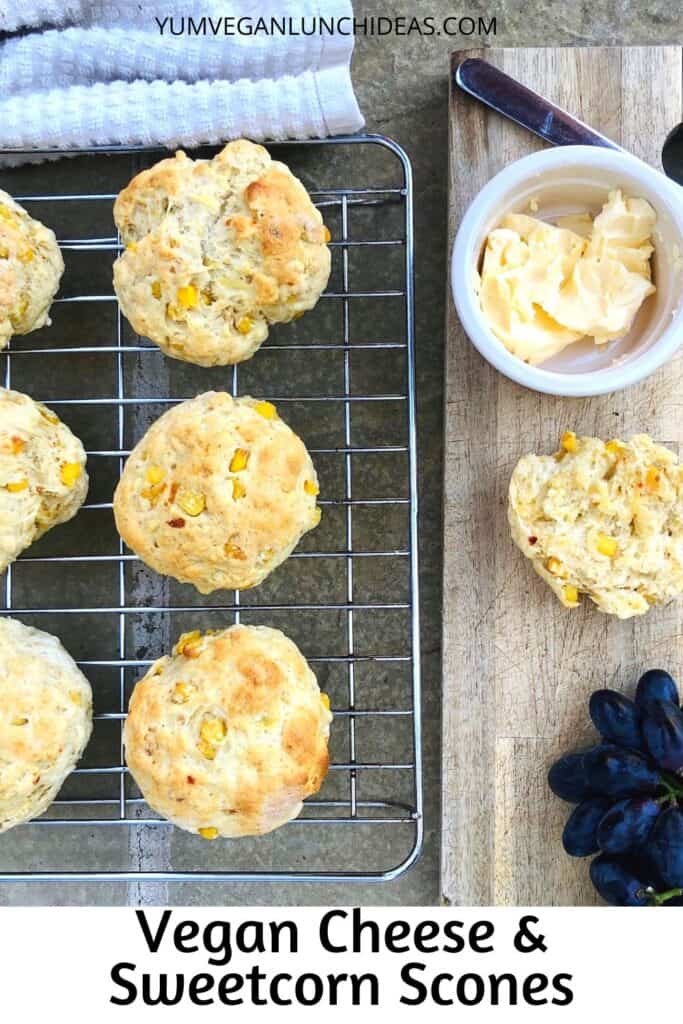 Scones are very typically British, often part of an afternoon tea selection. You will definitely find scones on any menu for vegan afternoon tea in London.
Obviously we will be replacing the usual dairy cheese with a vegan grated cheddar cheese.
These vegan savoury scones make a great alternative to your typical scone with clotted cream and jam.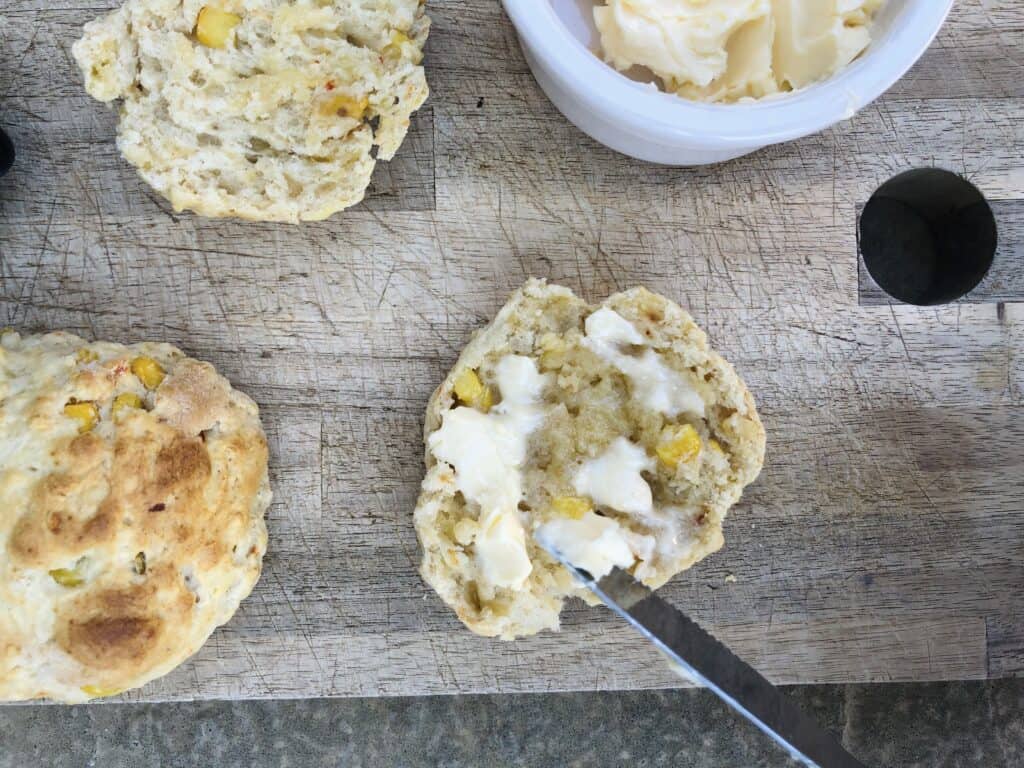 This vegan scone recipe is fundamental in our household!
Now a staple, we always have these vegan scones on handing the freezer for simple defrosting for the next day.
We love to take them especially on our long walks in the woods with a flash of tea.
The inspiration for these came from a recipe book that came with our fresh produce box – but of course I had to veganise them.
Cheese and Sweetcorn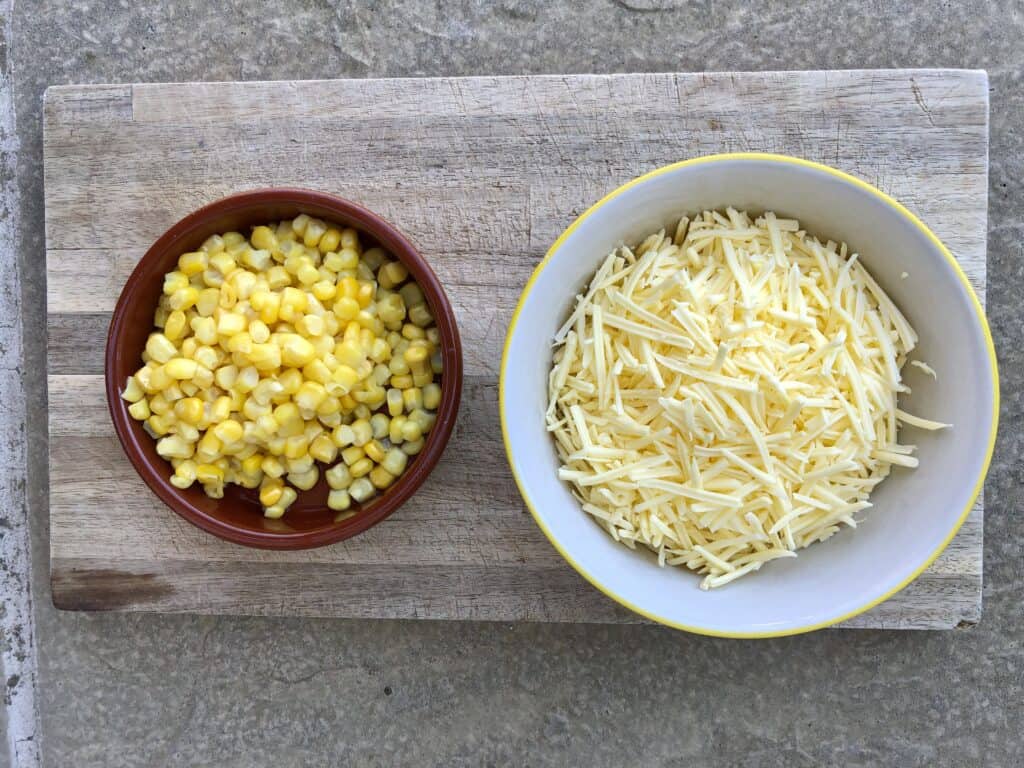 The traditional British way of making cheese scones does not include sweetcorn.
However I love that extra layer of crunch and slight juice that comes with the corn.
If you had some on hand or leftover, the BBQ corn on the cob recipe would pack so much more flavour into your cheese and sweetcorn scones.
However both the canned and frozen version of sweetcorn would work perfectly fine too.
There are countless options for vegan cheese on the market additionally. The vegan cheddar used in this recipe was already grated making the vegan scone recipe quick and convenient.
Kneading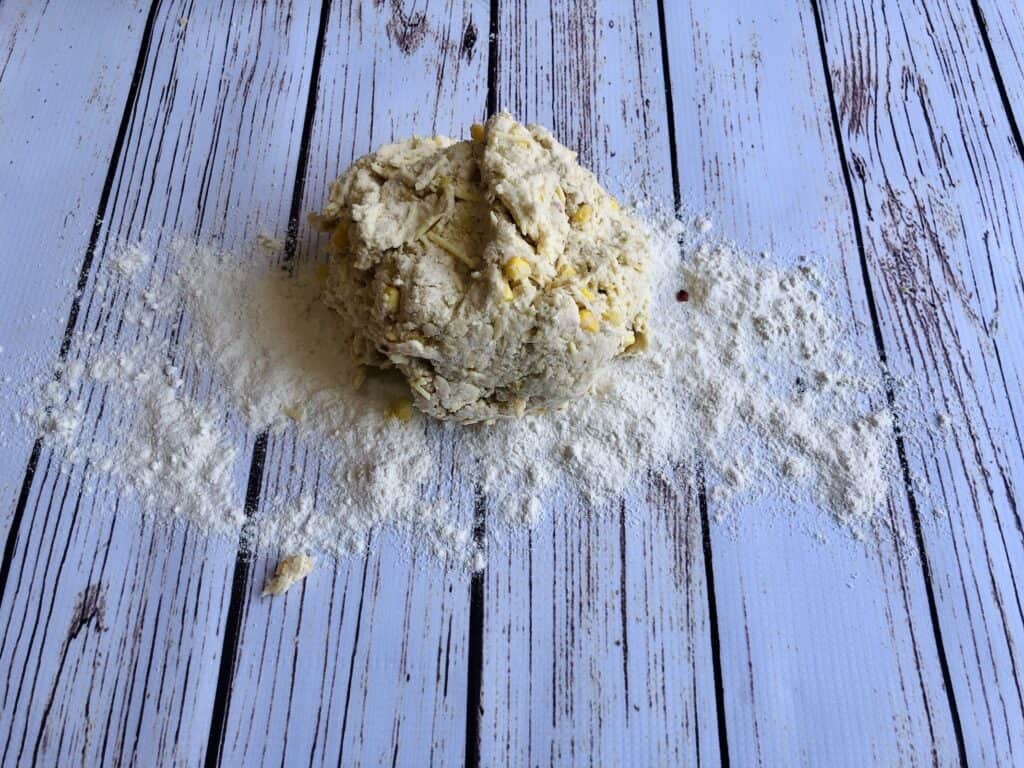 It is important not to over knead your scones. Kneading them gently will allow for a fluffier, softer scone,
Kneading is part of the rising process. However you should knead the dough on a lightly floured surface for just enough time, so it is not too sticky anymore.
Size
You can totally play around with the size of these scones, depending on your preference.
I often like to make them slightly smaller for snacking sizes and perfect for my little munching toddler.
However I often made them slightly larger, which works great for brunching.
How to eat savoury cheese scones
Like most baked good, the best time to eat these cheese and corn scones are when they have cooled slightly from the oven.
This means they will crumble slightly less and will give a straighter cut down the middle.
My personal favourite way to munch on these vegan savory scones is when they are still warm, with a thick slab of butter melting in between. Even tastier when it is homemade vegan garlic butter.
However, I once was packing for a picnic and discovered cheese and pesto scones!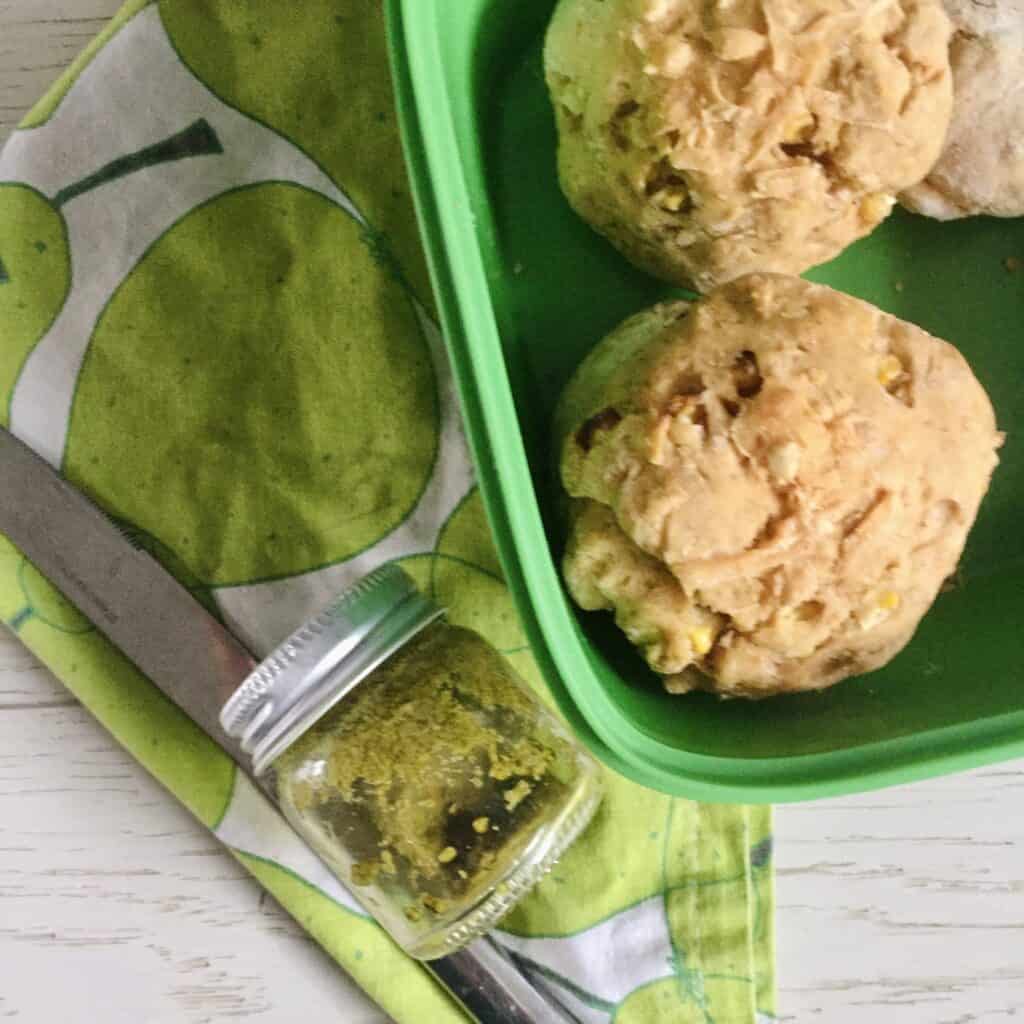 I simply brought a little jar of homemade vegan pesto along and it was an absolutely delicious combination.
These easy savory scones can totally be enjoyed in similar manner to a sandwich. Why not add some of your favourite sandwich fillings, salad or a delicous sweet chutney.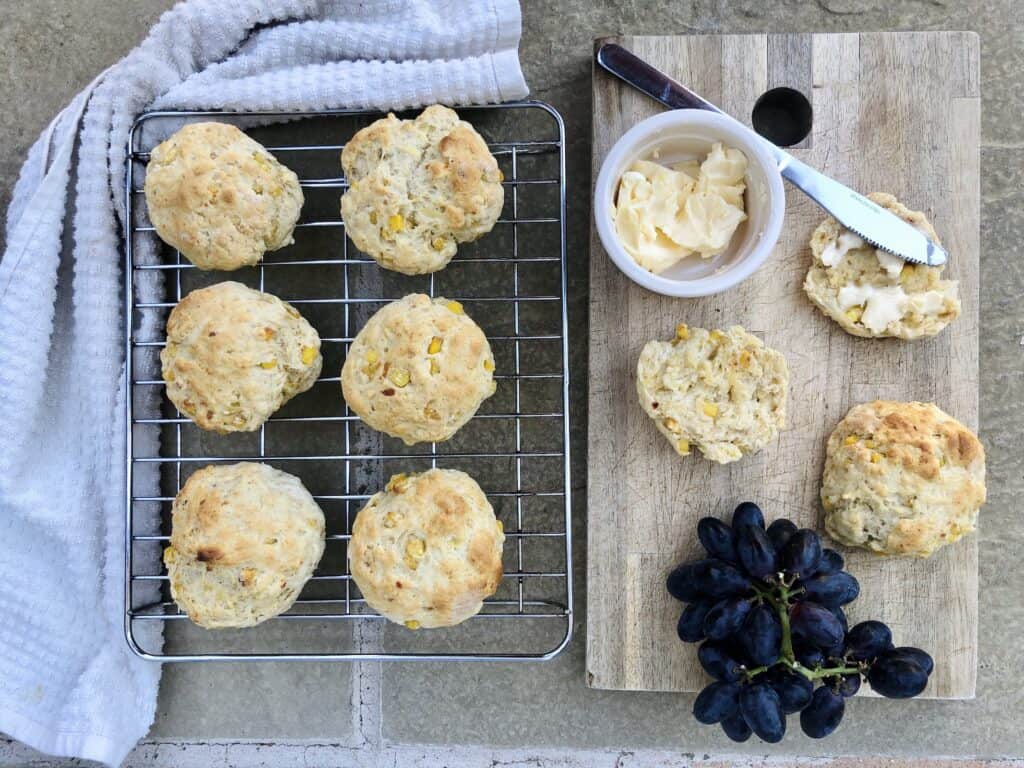 Yield: 8
Vegan Cheese and Sweetcorn Scones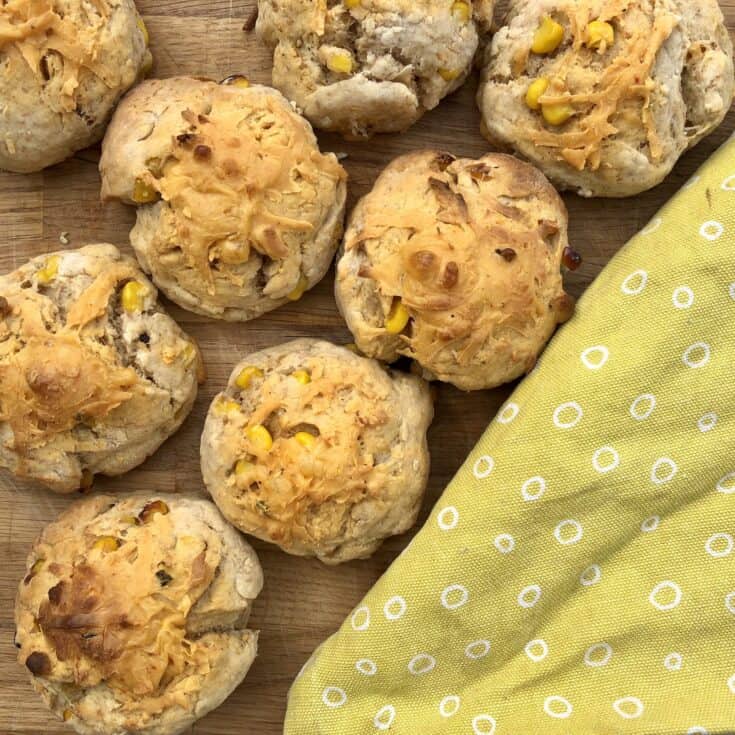 These vegan cheese and sweetcorn scones are deliciously savoury, moreish and baked beautifully.
Perfect for brunch, snacks, lunch, picnics and homemade vegan afternoon tea.
A delicious alternative to the usual sweet scones, these savoury vegan cheese scones are a must try! They are super simple, with minimal ingredients.
Ingredients
350g self-raising flour
1 tsp salt
1 tsp baking powder
1 tsp chilli flakes
1/2 cup sweetcorn
1 cup grated vegan cheddar cheese (save a little for topping the scones)
175mls non-dairy milk
50g cold vegan butter
Instructions
Preheat oven to 400f/200c/gas 6. Line your baking tray.
If using frozen sweetcorn, cook gently now. If using canned, drain and set aside. If using corn on the cob, cook as per instructions or follow our delcious BBQ corn on the cob recipe.
Add all of the dry ingredients to a mixing bowl
With clean, washed and dried hands - add the cubes of the cold vegan butter and rub through - so it appesrs to look like breadcrumbs.
Add in the grated vegan cheddar, leaving a bit aside to top the scones. Add in the sweetcorn.
Slowly add in the non-dairy milk (i used oat milk) and get ready to gently fold together to form the dough.
On a clean, lighlty floured surface, trasnfer the dough out for kneading. Knead gently until it is smooth.
Divide the gently kneaded dough into the desired size. This recipe can make 8 regular sized scones, but can be easily made into smaller scones for handy snacks.
Transfer scones onto your baking tray, lightly brush with some non-dairy milk and top with a sprinkle of vegan cheddar
Bake for approximately 12 minutes - until cooked through and slighly golden on top.
Once cooked, leave to cool on a wire rack. However they are best when still slightly warm from the oven.
Enjoy!
Notes
Freshly baked scones will last well for a couple of days if stored in an airtight box, though they are best eaten fresh.
Store at room temperature
Wrapping the vegan scones in foil or film will retain moisture and freshness
These are suitable for freezing, simply leave out to defrost
There are a number of ways to perk up these scones following storeage - popping them in the oven is best, however slicing in half and under a medium grill works well too
If you don't have any self-raising flour on hand use the same amount of plain flour, add 1/2 teaspoon of baking powder and substitute the pinch of salt for a 1/4 teaspoon.
Nutrition Information:
Yield:
8
Serving Size:
1
Amount Per Serving:
Calories:

283
Total Fat:

11g
Saturated Fat:

6g
Trans Fat:

0g
Unsaturated Fat:

4g
Cholesterol:

31mg
Sodium:

1027mg
Carbohydrates:

36g
Fiber:

1g
Sugar:

2g
Protein:

9g
this is an estimate
You may also love