Alongside some of my favourite quick and easy vegan lunches, pasta is an obvious one. Tuna sweetcorn pasta would be my go to quick and easy pasta dish throughout my teens.
Vegan tuna sweetcorn pasta was an obvious progression from this since being plant based for a number of years.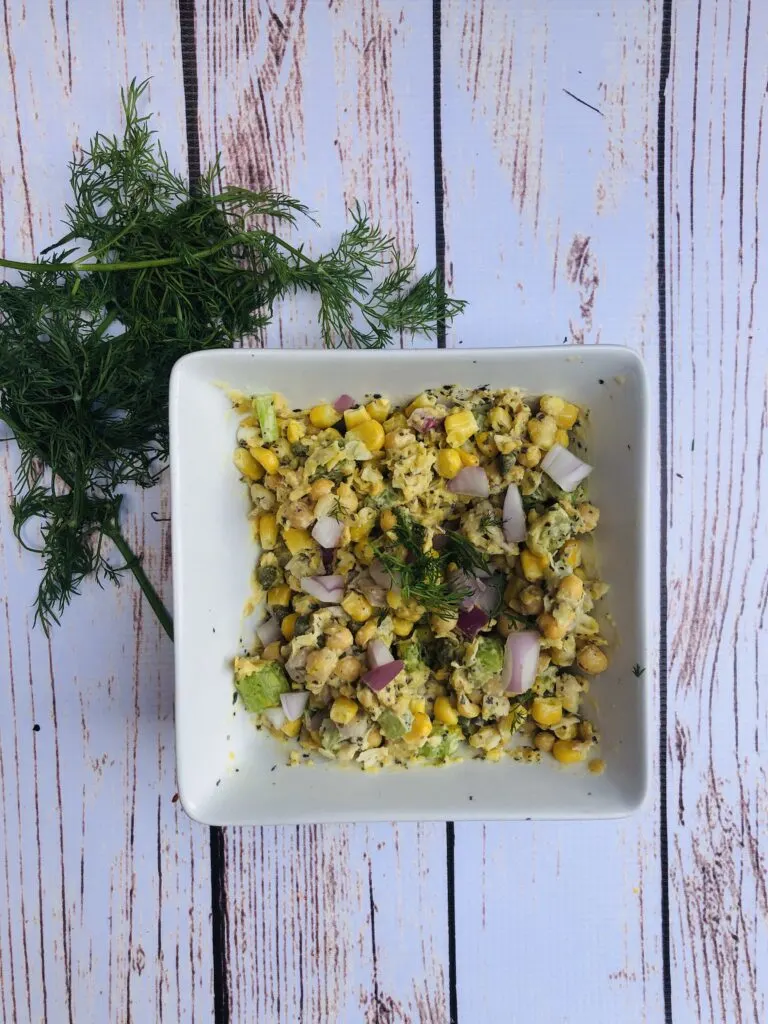 Inspiration for Vegan Tuna Sweetcorn Pasta
I first had tuna pasta when I was in the Balearics as a teenager with my parents. I remember having spent all day on a boat, playing in the water (getting sunburnt – oops!) and having a massive appetite for lunch.
It was a tuna pasta dish and I always recall how I devoured like three bowls!
Even before being vegan, I never really enjoyed that real "fishy" taste. Especially as actual tuna can often have quite a metallic taste.
I am always looking to adapt pasta dishes, as lets face it – pasta is the ultimate easy, comfort food. It's also fairly affordable and a constant staple in my pantry.
I have tried vegan chickpea tuna in a few different forms, from straight our vegan tuna salad, vegan tuna melt to vegan jacket potato This vegan tuna sweetcorn pasta uses the same base.
It was easy to make a large batch of the vegan tuna dish and use it in different ways over a couple of days.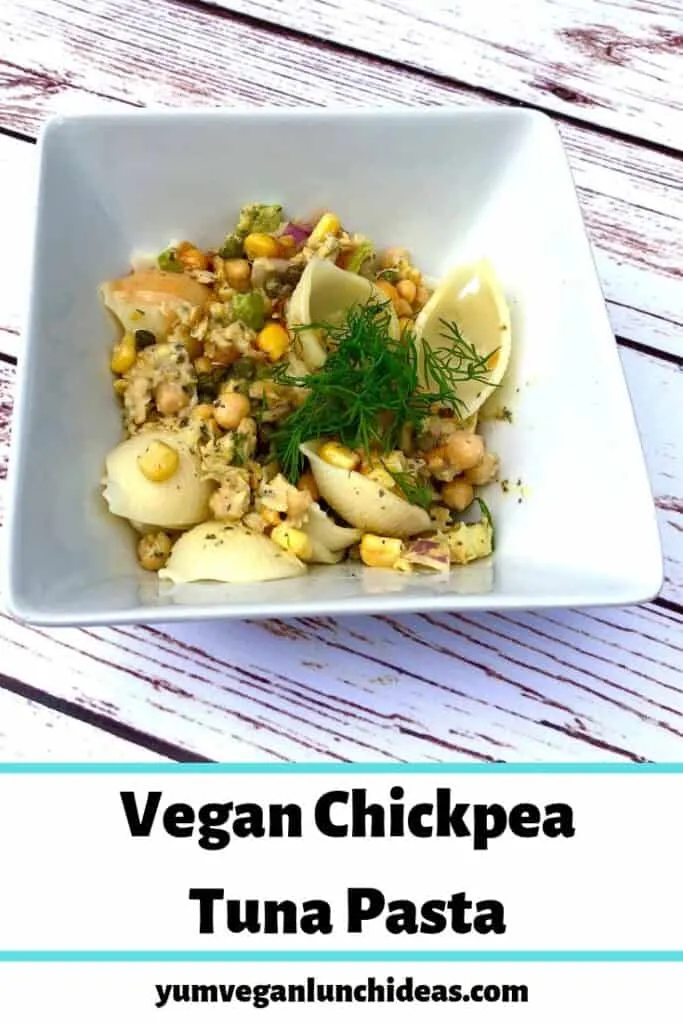 Family Vegan Lunch
I do not tire of these vegan tuna variations, or the vegan pasta salad combinations. Nor does my kid who thinks this vegan kids tuna pasta is delicious!
It is reassuring the chickpeas are loaded with iron and protein, whilst the nori flakes add that vital dietary iodine.
Another family favourite vegan salad recipe is this vibrant vegan Santa Fe salad – so damn tasty.
Both make a great addition to a buffet style meal.
Essential Ingredients
When making this vegan tuna sandwich – there are a few key ingredients that will help make the winning combination.
Vegan Mayonnaise
There are literally so many vegan mayonnaise brands out there now, which is awesome as it gives us a lot more choice.
I personally love Just Mayo
as they are a fully vegan company. For the ultimate creamy and delicious vegan mayonnaise, perfect for this recipe, buy Just Mayo
here.
I do occasionally love to make my own plant based mayo – this creamy, oil free vegan mayonnaise recipe is the bomb.
Chickpeas
Chickpeas are the clear winner in this recipe which help create the perfect texture. Alongside being rich in iron and protein – these highly nutritious legumes are a staple.
Understandably, we don't always have time to soak and cook them from dry. So I often use canned ones. These Eden Organic Garbanzo Beans
are certified organic and cooked in purified water.
Yield: 2-3 servings
Vegan Tuna Pasta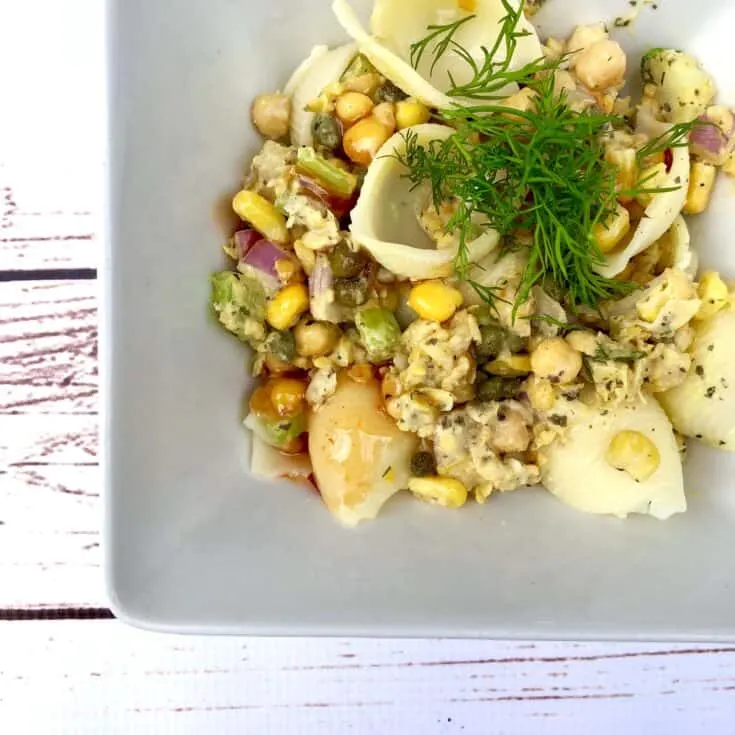 This creamy vegan tuna pasta is a light and refreshing lunch option. Making the chickpea tuna base can lead to lots of other dishes. Here it is with a classic chickepa tuna pasta, chargrilled corn emersed with pasta and a garnich of dill. So satisfying!
Ingredients
One can of chickpeas, drained
80g corn (about a handful)
1 small stick of chopped celery
20g chopped red onion
3 tbsp vegan mayonnaise
1 teaspoon dijon mustard
1 tbsp capers
1 tsp garlic powder
Fresh dill
Squirt of lemon
Salt and pepper
1 cup of pasta
Optional extra: Sweet chilli sauce
Instructions
Cook pasta of choice as instructions say
Whilst pasta is cooking, add drained chickpeas to a bowl and mash well
Add the chopped veg and seasoning
Add mustard and vegan mayonaise to your desired consistency
Once pasta is cooked, stir through desired amount of chickpea tuna
Add some sweet chilli sauce for extra delicousness
Add fresh dill for garnish.
Enjoy!
Notes
This recipe yields around 2-3 portions. The vegan tuna salad will remain fresh in a sealed container in the refrigerator for around 3-4 days. I have not attempted to freeze this, but probably wouldn't attempt as the vegan mayo may not freeze well. It would make a great take away lunch for work or school.
Nutrition Information:
Yield:
2-3
Serving Size:
1
Amount Per Serving:
Calories:

453
Total Fat:

13g
Saturated Fat:

2g
Trans Fat:

0g
Unsaturated Fat:

10g
Cholesterol:

0mg
Sodium:

453mg
Carbohydrates:

79g
Fiber:

11g
Sugar:

29g
Protein:

12g
This nutritional balance is computed and an estimate.