When I say brunch, most people think of pancakes, waffles and avocado toast. However if you were to live in New Zealand, you will see sweetcorn fritters on every cafe menu! It is such a common meal down under for brunch.
Ordinarily, it is made with egg, served with bacon and sour cream. However, the NZ favourite meal is easily made vegan. Sadly, my husband who is also from NZ, is not vegan, but I really enjoy making his childhood favourites look and taste the same.
This recipe is super easy to make, with only a handful of ingredients, it's also a budget-friendly and a versatile meal.
Vegan Corn Fritters Recipe
Although vegan sweet corn fritters are predominantly eaten at brunch, my family love having them as a light dinner sometimes too. They can be served in a variety of ways but my favourite is on top of a bed of leaves and tomatoes with a drizzle of sweet chill sauce on top!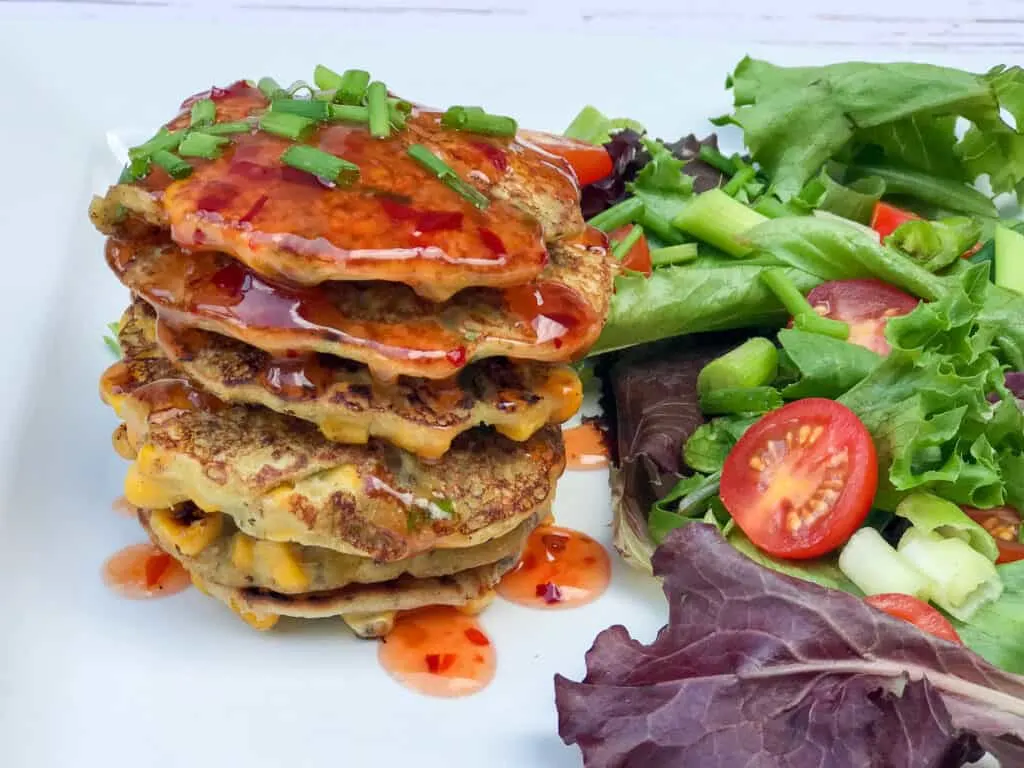 Corn fritters vegan style are a super healthy meal!! With only a handful of ingredients, I am happy to say they are actually vegan gluten free corn fritters too! It's a win win for so many dietary requirements.
Corn Fritters Vegan Style!
Before being vegan myself, I always loved Thai corn fritters, vegan ones would have been better of course, but hey it's taken me some time to realise that.
I love veganizing all of my old favourites, especially when it is super easy. In this recipe, I only use buckwheat flour, oat milk, a tin of corn, chopped chives and a spoonful of chia seeds as an egg replacer.
Aside from salt and pepper seasoning and a drizzle of sweet chilli, that is all the main part of the dish contains. They are all staple ingredients in my cupboard as a vegan, so, are often something we make when we've run out of fresh food and need to do a shop.
Vegan Corn Recipes
If you don't have tinned corn, maybe you have left over corn on the cob from another recipe and would like to use it alternatively? You can cut the kernels off and use them as a fresher alternative to tinned corn.
Check out my vegan corn on the cob recipe here.
Tinned creamed corn can also work very well and I know many people add grated zucchini to their corn fritters. This is another really good variation of his dish, however my mission fo this recipe was to make vegan corn fritters easy as possible.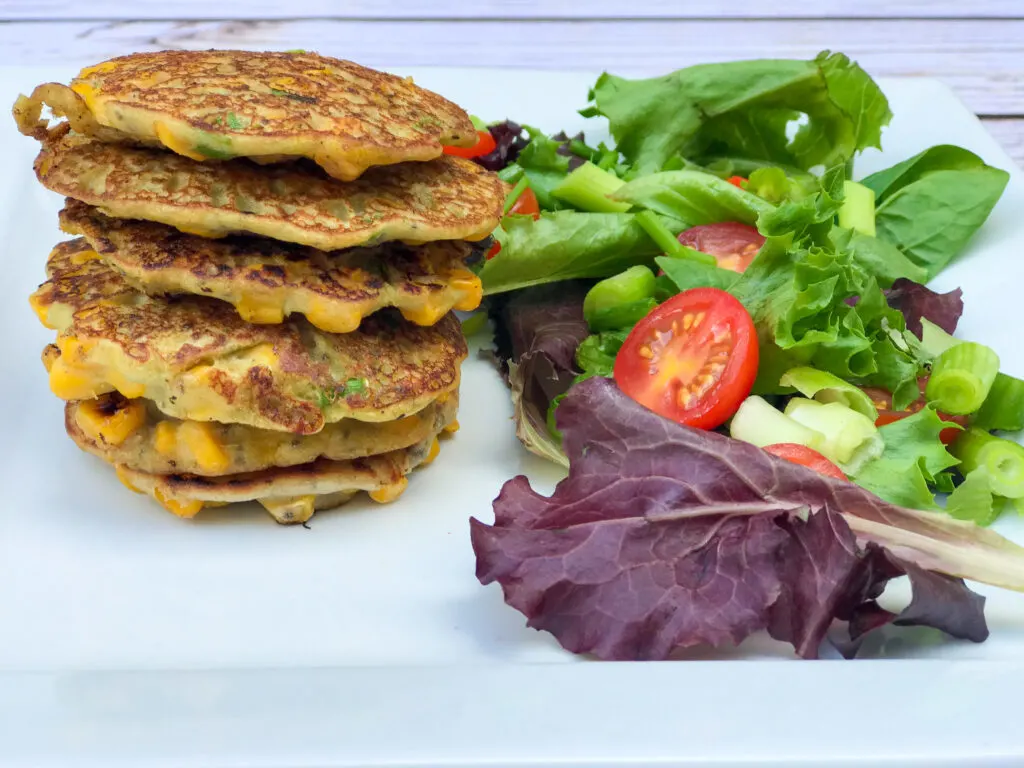 The main thing is to the get a good consistency with the batter first. You should be able to make a figure of eight with it. To do this you need to activate the tablespoon of chia seeds with water and set it aside for a few minutes.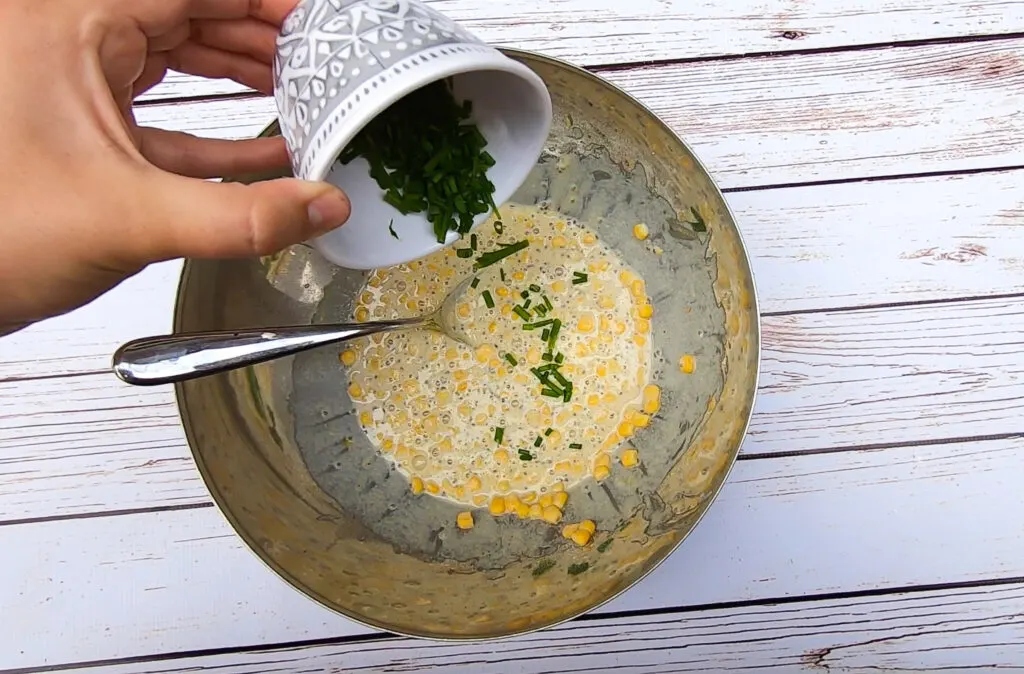 Once you've done that, you can mix the cup of flour and two cups of oat milk, whisk vigorously and slowly add the chia seeds. Once you are happy with the mix, fold in the sweetcorn and chopped chives, before ladling it onto a hot pan. It really is that easy!
A top tip is to have a pancake pan. You can make up to 8 of these little tasty snacks at once. it's a pain making one at a time so this is an efficient way of doing it.
Click here to see prices for a pancake pan
. We can just call them vegan corn pancakes if you like!
Recipe for Corn Vegan Fritters
Yield: 4 people
Vegan Corn Fritters Recipe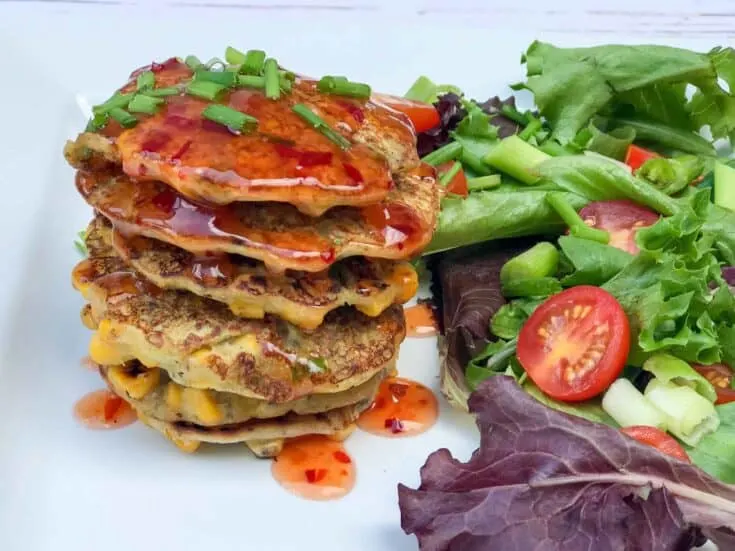 Vegan corn fritters are a popular brunch in New Zealand. Try this scrumptious recipe as a light meal or snack for the whole family. Loved by kids and adults alike.
Additional Time
5 minutes
Ingredients
250g of tinned corn
2 cups of oat milk
1 cup of. buckwheat flour
1 tablespoon of chia seeds
4 tablespoons of sweet chilli sauce
Chopped chives
Salad to dress
Instructions
1. Activate the chia seeds with water and set aside.
2. Add the buckwheat flour to a large bowl. Slowly add the oat milk whilst whisking vigorously. Add the chia seeds and continue to whisk.
3. Make sure you are happy with the consistency of the batter, you should be able to make a figure of 8 with the mix and it should not sink.
4. Next, add the sweetcorn kernels to the mix, along with salt / pepper for seasoning and a handful of finely chopped chives. Fold the ingredients into the mix gently .
5. Heat a pan with a drop of oil. Ensure it is sizzling hot.
6. Using a ladel, half full, add the mix to the pan. As the sweetcorn fritter begins to form, move it at the edges with a spatchula. Flip it over after a couple of minutes. The fritter should be golden brown.
7. Leave the other side for a further 1 to 2 minutes. As the corn fritters are ready begin to stack them on the plate. If you prefer to use a pancake pan so you can get a up to 8 made at one time, that is also an option. However if you don't have a special pan, keep the fritters that are cooked on a very low heat wrapped in tinfoil until you have four fritters per person.
8. Next, stack the fritters on the plate alongside a side salad.
9. Drizzle with sweet chilli sauce and add a final garnish of chives to serve. Serve warm.
10. If you don't like sweet chilli, you can add vegan mayonaise or a sauce of your choice.
Recommended Products
As an Amazon Associate and member of other affiliate programs, I earn from qualifying purchases.
Nutrition Information:
Yield:
4
Serving Size:
1
Amount Per Serving:
Calories:

274
Total Fat:

3g
Saturated Fat:

1g
Trans Fat:

0g
Unsaturated Fat:

2g
Cholesterol:

0mg
Sodium:

20mg
Carbohydrates:

58g
Fiber:

7g
Sugar:

20g
Protein:

8g
You may also like: