This vegan chickpea salad is a great way to add a shot of health and nutrition with lots of plant based goodness.
It's one of my favorite salads for packed lunches, especially in the days after heavy holiday style eating. It's also great for hot days, it makes an awesome summer chickpea salad.
It manages to combine fresh veg, a punch of protein, inflammation fighting onion, and healthy fats all into one vegan salad.
Not only is this salad great for you, but it also tastes so good. All the natural flavors come together to create something bright and delicious. If salad is not your thing check out this really good instant pot chickpeas recipe.
So if you are looking to introduce some more nutrient dense recipes to your repertoire this chickpea avocado salad is definitely the way to go.
If you want some more salad inspiration check out some of our best vegan salad recipes here. You can also find more easy vegan chickpea recipes here.
Healthy Chickpea Salad Ingredients
The ingredients of this cold chickpea salad are really quite simple and easy. It is a very quick chickpea salad to make, especially if you use canned chickpeas. If you want to make your own chickpeas, follow the instructions in the section below.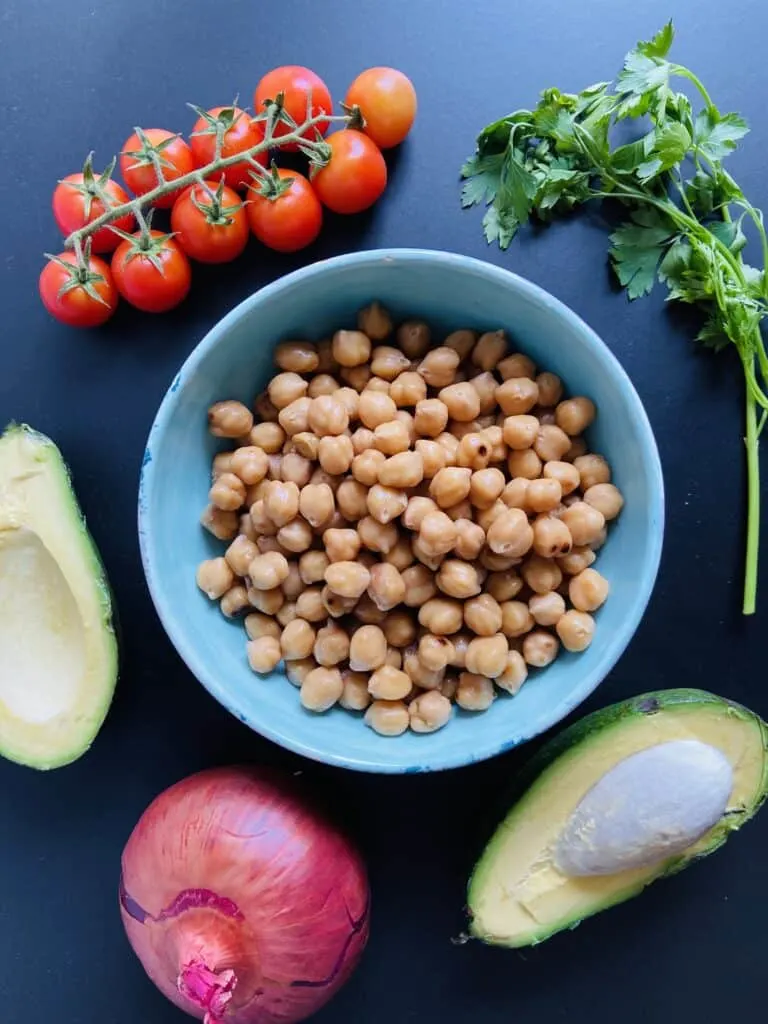 The chickpea salad ingredients are:
We use simple ingredients that are easy to find and you probably have on hand already!
How To Make Chickpea Salad
It's really, really easy to make this chickpea salad. It's just a matter of chopping up your ingredient and tossing them together in a bowl. If you want, you can even use a food processor
to chop the onion and parsley, making it even quicker.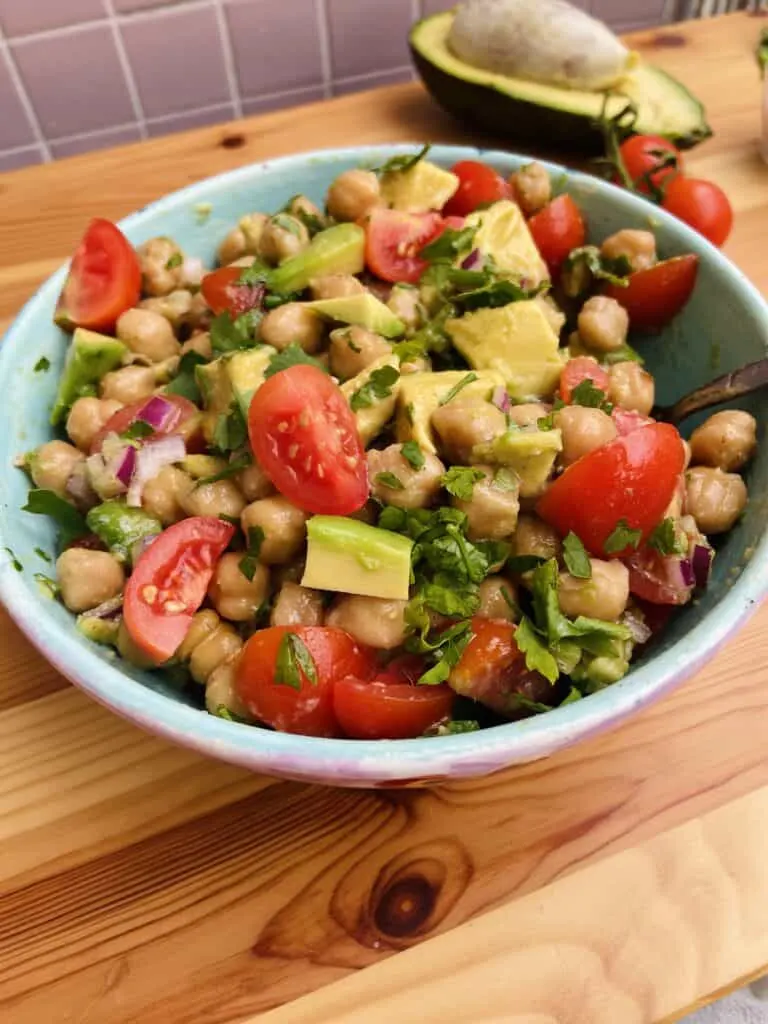 Cooking the Chickpeas for Chickpea Tomato Salad
You can absolutely used canned chickpeas
for this recipe. However, if you want to make your chickpeas from scratch, you can do that as well.
There are quite a few benefits to making your own. First of all it's a bit healthier to avoid canned foods and it comes out lower in sodium then the cans. It also is usually much cheaper to make your own. Buying beans in bulk is a great way to save money. You can order dry chickpeas here
.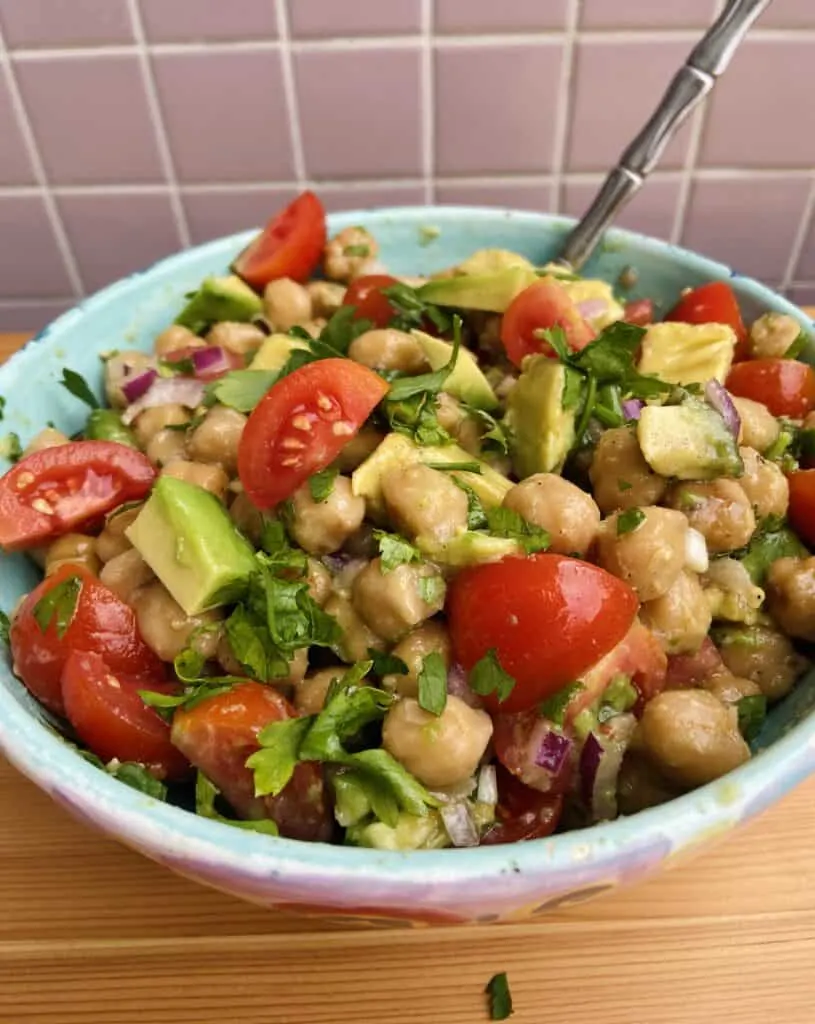 Cooking them yourself is actually quite easy. The first thing you need to do is soak it overnight. Add lots of water because the chickpeas will absorb quite a bit. In the morning, drain and rinse them.
Throw the chickpeas into a pot and cover with a generous amount of water, around double the chickpeas. Add in a bit of salt and bring to a boil. I like to add in a bay leaf to give it a little more flavor, but it's not necessary. You can also add in a pinch of baking soda to help the chickpeas cook faster and get softer, this is especially handy with older chickpeas.
It should take around an hour to cook, I generally test their readiness by popping one out of the pots every once in a while and taste testing. Once they are done, you can keep them in the fridge for a few days or store containers of them in the freezer for a month or two.
Make a big batch to use extras for chickpea 'tuna', cauliflower chickpea curry, and more!
Chopping the Veg for the Best Chickpea Salad
Quarter your cherry tomatoes, cube your avocado, dice your red onion, and chop the parsley. That's all there is to it!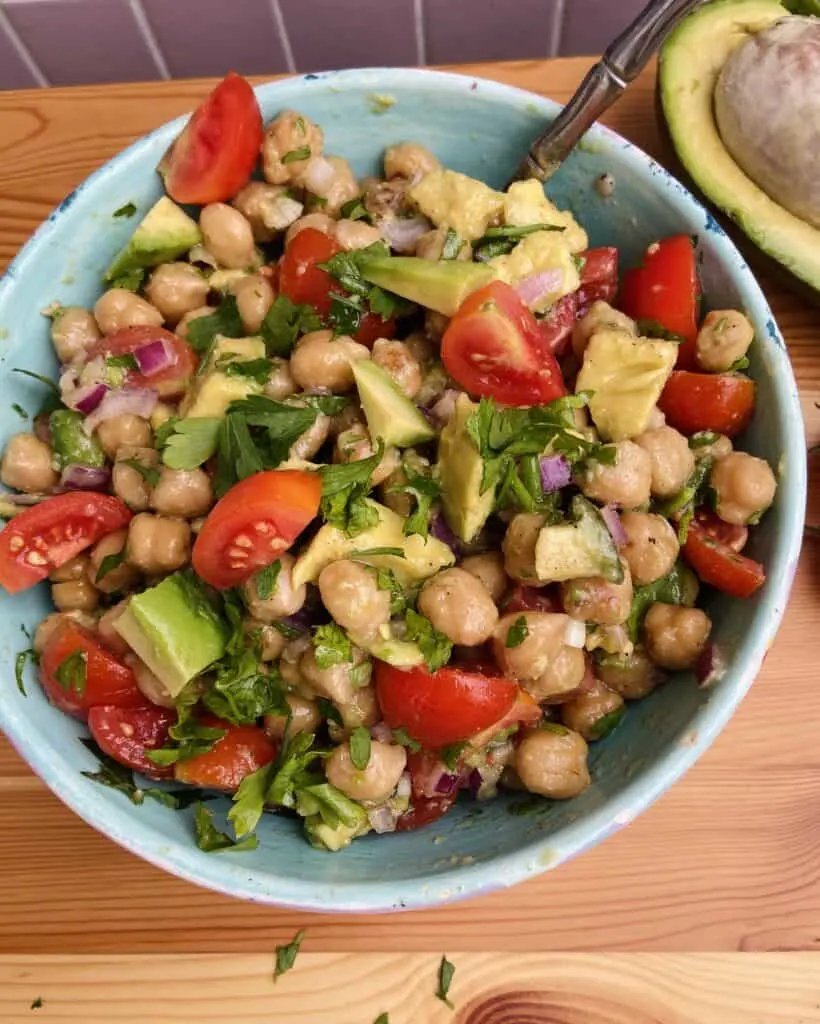 Easy Chickpea Salad Dressing
There are so many natural, strong flavors in this salad, from the raw onion, parsley and tomatoes, that this really doesn't need a strong dressing to pull it together. It goes perfectly with a simple combination of olive oil, lemon juice, garlic powder, salt and pepper.
Making the Chickpea and Avocado Salad Ahead of Time
This simple chickpea salad can definitely be made ahead of time. It stores really well in the refrigerator. If stored in an airtight container
in the fridge, it should last at least 3-5 days.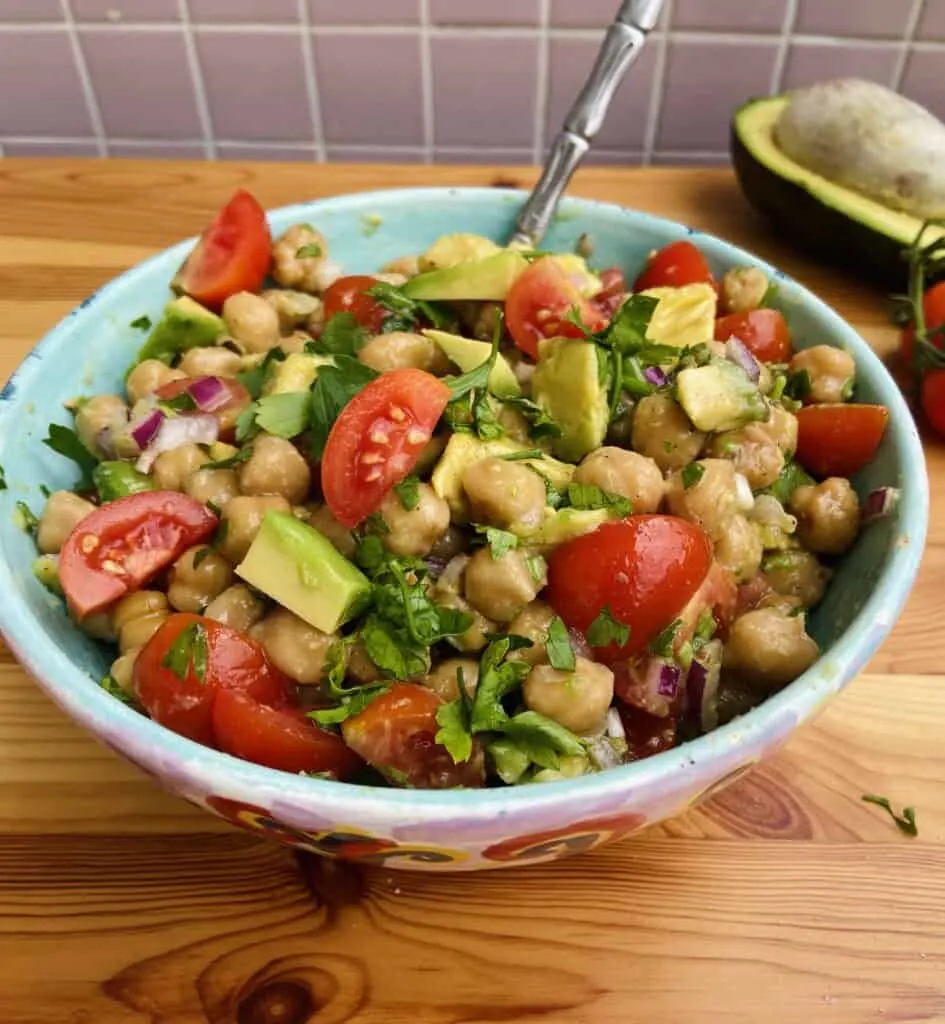 You can feel free to customize this salad and swap in your favorite salad vegetables, but if you add in things that are prone to wilting like cucumbers it may not store as well.
This recipe makes two servings as a main dish, and four if you are using it as a side dish.
You May Also Like:
Don't Forget to Pin This Post For Later!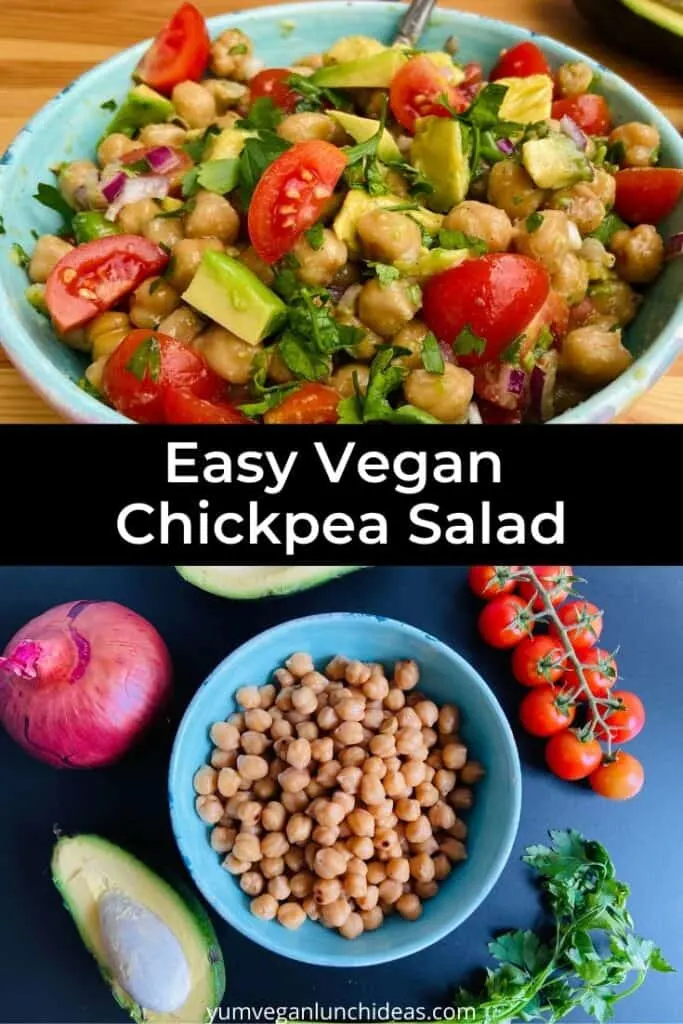 Yield: 2 Servings as a Main Dish
The Best Vegan Chickpea Salad Recipe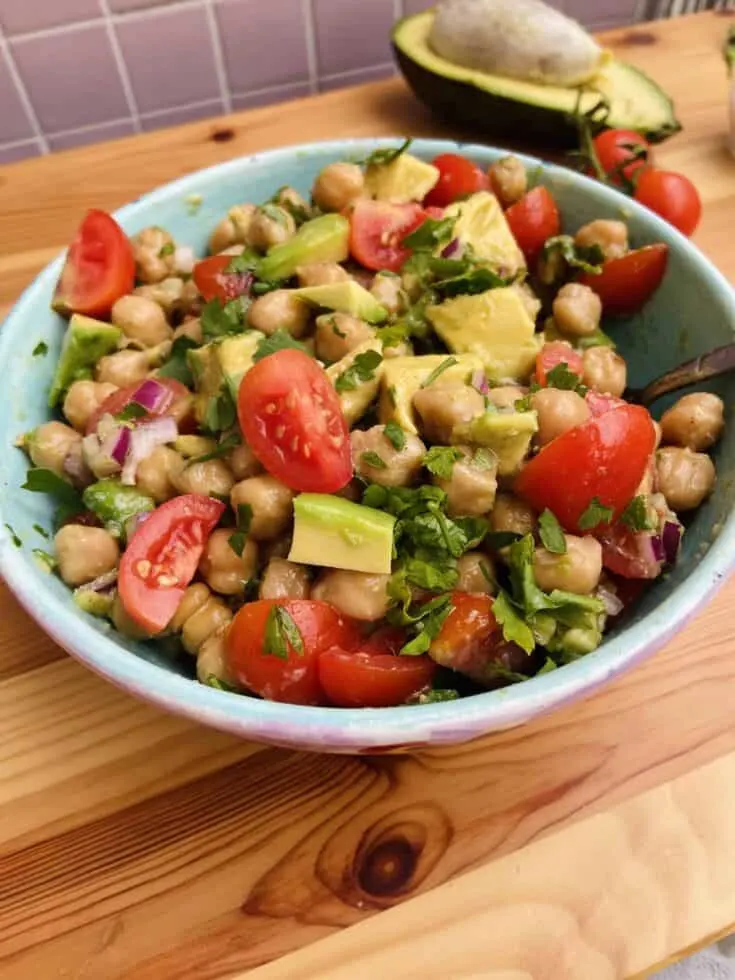 This delicious vegan chickpea salad is quick and easy to pull together and uses bright, healthy ingredients to form a tasty, well rounded salad. Get a punch of protein, fats, and fresh vegetable in one yummy bowl.
Perfect as a summer chickpea salad, or to help detox heavy holiday foods, this salad will make you feel as good as it tastes!
If you are trying to cut out oil or save on calories, you can easily adjust the dressing, adding 1 tbsp less oil and an extra 0.5 tbsp of lemon juice.
Ingredients
15 Cherry Tomatoes
1/4 Red Onion
1/2 Avocado
4 Tbsp Chopped Parsley
For The Dressing
Salt and Pepper to Taste **
Instructions
Quarter your cherry tomatoes and dice your red onion.
Cut your avocado into cubes.
Combine chickpeas, cherry tomatoes, red onion, avocado and parsley in a bowl.
Add your salad dressing ingredients to the bowl as well. (Olive oil, Lemon Juice, Garlic, Salt and Pepper).
Mix to combine.
Enjoy immediately or store in an airtight container in the fridge for 3-5 days.
Notes
* If you need help figuring out how to cook dried chickpeas, see instructions in the post above. You can also use canned chickpeas.
** This salad relies on natural, great tasting ingredients for it's bright tasting flavors, but salt goes a long way in pulling those flavors out. I salt generously but add the salt last so you can taste as you go to figure out how much you like. Same with the pepper.
Recommended Products
As an Amazon Associate and member of other affiliate programs, I earn from qualifying purchases.
Nutrition Information:
Yield:
2
Serving Size:
1
Amount Per Serving:
Calories:

505
Total Fat:

25g
Saturated Fat:

3g
Trans Fat:

0g
Unsaturated Fat:

20g
Cholesterol:

0mg
Sodium:

178mg
Carbohydrates:

57g
Fiber:

18g
Sugar:

12g
Protein:

17g