This tempeh teriyaki bowl is the perfect meal prep recipe to add to your weekly lineup. It comes together super quickly, tastes amazing and is a well rounded meal. Whether you are looking for an easy dinner or a great packed lunch, this teriyaki tempeh bowl will hit the spot.
Love to meal prep? Check out all our favorite vegan meal prep recipes. Or find more high protein vegan meals!
Teriyaki Tempeh Bowl Ingredients
To make this tempeh teriyaki bowl, you'll need:
Rice (whichever kind you like best!)
Broccoli
Purple Cabbage
Flavorless Oil or Cooking Spray
Optional: Any of your other favorite veg! Some good ones include edamame, carrots, peas, cucumbers.
Tempeh Benefits
Tempeh is a great plant based protein source that originated in Indonesia. Similar to tofu, tempeh is made from soybeans and it's packed with protein, fiber, iron, calcium and more. It's also fermented, meaning it's filled with probiotics that are great for gut health. Looking for more tempeh inspiration? Try our miso tempeh wraps!
Where to Buy Tempeh
Tempeh is carried by most health food stores, whether it's a small neighborhood shop or a larger chain like Trader Joes or Whole Foods. You can also find it in some large chain stores, some Walmarts even carry it! It will usually be stored in the refridgerator section, but occassionally it's sold frozen.
To make things even easier, you can have it delivered to your door from amazon!
Tempeh Alternative
If you can't get tempeh, or just don't want it, you could swap in tofu in this recipe or even seitan in a pinch.
How to Make Tempeh Teriyaki Bowls
To start with, cut your tempeh into thin triangles (or whichever shape you prefer). To get even triangles, I cut the tempeh down the middle to create two square blocks. Then I slice the block into three to four even slices, the direction that leaves you with a stack of squares. Cut the stack diagonal one way and the the other. Viola, even triangles.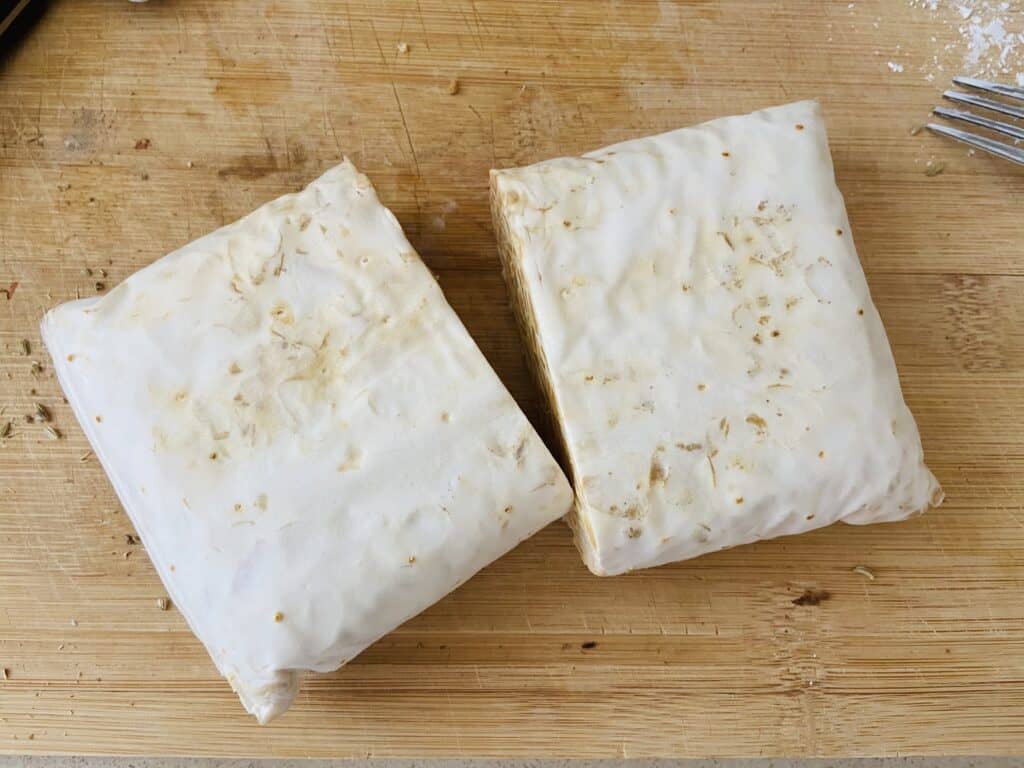 In a pan, combine all the teriyaki ingredients and whisk until well combined. Turn on the heat and bring to a simmer for around four minutes until thickened. Set aside.
In a clean pan, heat oil and add all the tempeh slices in one layer. Cook until browned, and then flip. When the second side has browned as well, pour in the teriyaki sauce and turn off the heat. Mix to combine well. If there is too much sauce, reserve the extra for drizzling over your tempeh bowls.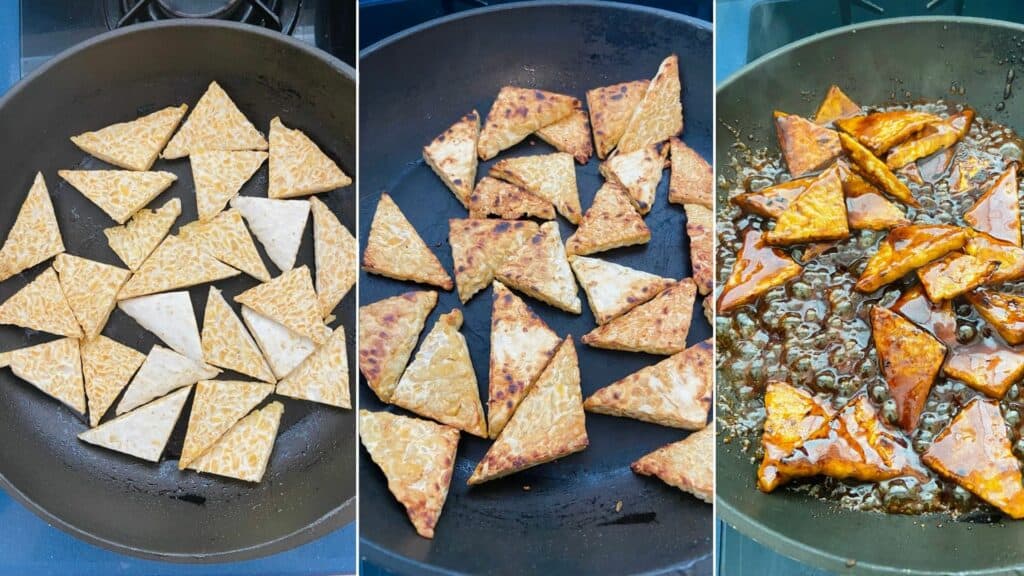 Steam your broccoli for a few minutes and sprinkle with a pinch of salt, then you are ready to start assembling your bowls.
Layer into your bowl your rice of choice, teriyaki tempeh, steamed broccoli, and shredded cabbage. Add in any other vegetables you love and drizzle with a touch of the extra teriyaki sauce. Enjoy!
A Note On Tempeh Preparation
Some people presteam their tempeh which helps rid it of some of it's bitterness. I don't find it to be necessary with this recipe, because with the tempeh sliced thin and covered in teriyaki, the bitterness doesn't come through for me. If the flavor is weird to you, or you prefer larger chinks of tempeh, simply steam the tempeh for ten minutes before you cut or cook it.
Mirin
Mirin is a rice wine which is very typical in Japanese cooking. It brings a delicious tangy, sweet taste to dishes. It can transform almost bland dishes to something more flavourful.
Teriyaki would not be the same if it wasn't for mirin enhancing the flavours.
You may also love this delicious Goma Dressing which uses mirin.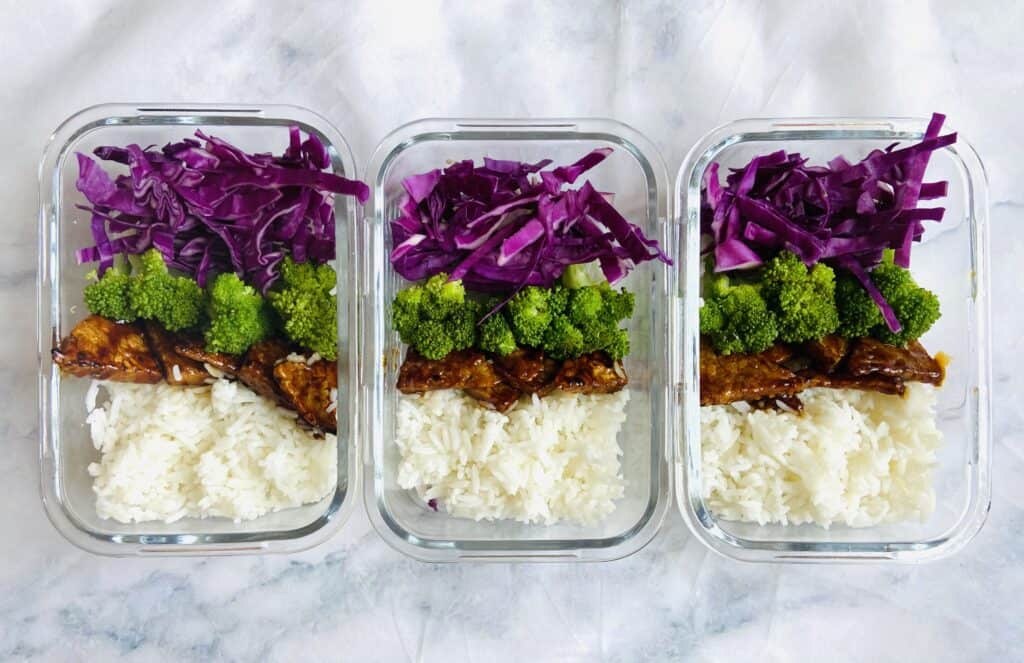 Meal Prep Vegan Tempeh Bowl
If you want to use this tempeh bowl for meal prep, you can individually pack your bowls into meal prep containers and pop it in the microwave when you are ready to eat it. It should last about 4-5 days in the fridge.
Don't forget to pin this recipe for later!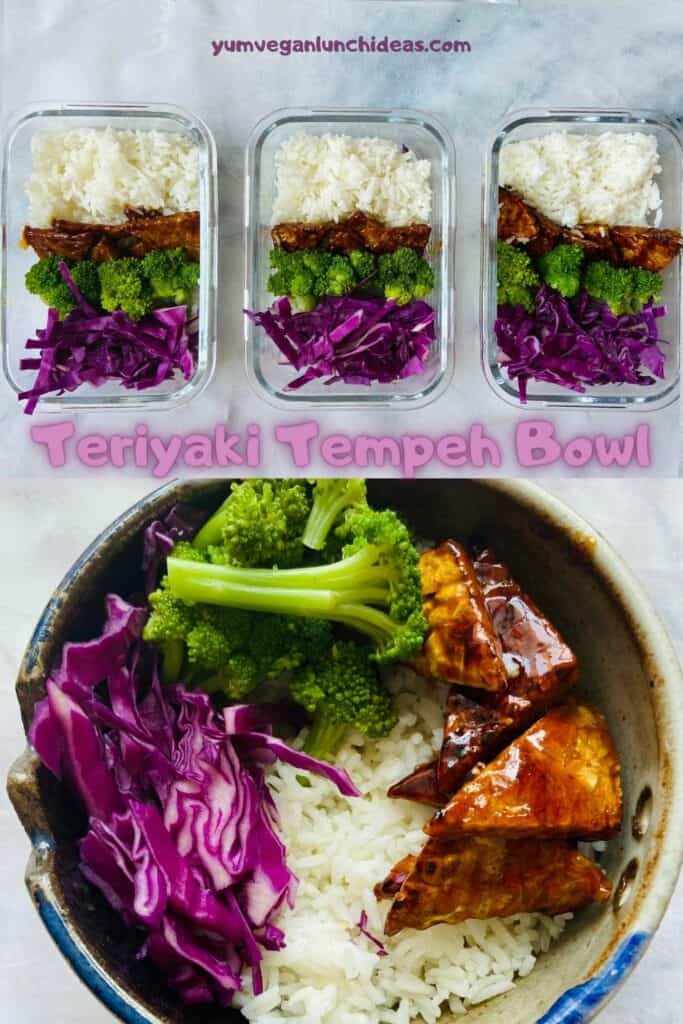 Looking for more fun ways to use teriyaki? Check out these delicious yakitori skewers!
Yield: 4 Bowls
Tempeh Teriyaki Bowl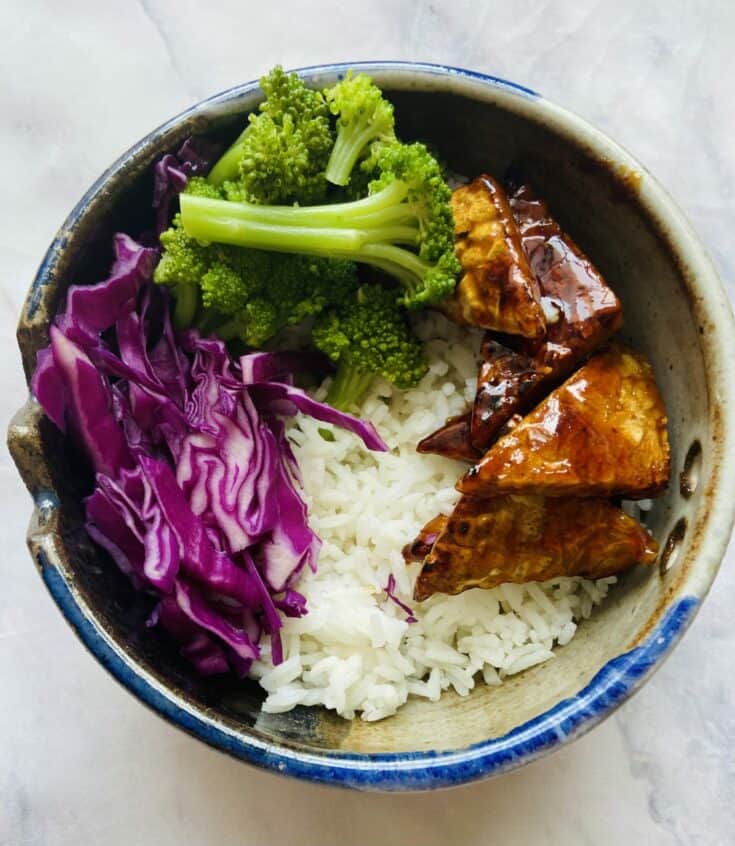 Whether you are looking for a packed lunch or an easy dinner, this well rounded teriyaki tempeh bowl will hit the spot! Perfect for meal prep, you can throw it together and enjoy this vegan bowl throughout the week.
Customize with your favorite vegetables, fresh or steamed, to keep things fresh.
Ingredients
1 Head of Broccoli
1.5 Cups Shredded Cabbage
1/3 Cup Water
Optional: Any additional veg you like, some good options: edamame, green beans, carrots, cucumbers
Instructions
Add all of the teriyaki ingredients to a pan and whisk until very well combined.
Turn on the heat and simmer until thickened and somewhat glossy, around four minutes. Set aside.
Slice tempeh into thin triangles, or preferred shape.*
Heat oil/cooking spray in a clean pan and then add the triangles in a single layer. Let it cook for a few minutes, until the bottom is browned and then flip.
Cook on the second side of the tempeh triangles until browned and turn off the heat.
Pour in the teriyaki sauce and mix to combine.
Steam broccoli for a few minutes until vibrant green and sprinkle with a pinch of salt.
Add rice, broccoli, shredded cabbage, any additional vegetables and teriyaki tempeh to bowls and then drizzle any extra teriyaki over them.
Enjoy!
Notes
*Keep the tempeh slices thin to maximize the crispiness and flavors. If you prefer a thicker cut, you may want to steam the tempeh first to remove any extra tempeh bitterness.
Recommended Products
As an Amazon Associate and member of other affiliate programs, I earn from qualifying purchases.
Nutrition Information:
Yield:
4
Serving Size:
1
Amount Per Serving:
Calories:

462
Total Fat:

10g
Saturated Fat:

2g
Trans Fat:

0g
Unsaturated Fat:

6g
Cholesterol:

0mg
Sodium:

1229mg
Carbohydrates:

75g
Fiber:

8g
Sugar:

25g
Protein:

23g
Disclaimer: This post may contain affiliate links.