Pasta salads are a summer classic. They are easy to throw together with minimal cooking and are perfect at picnics, cookouts, and gatherings. They also pack incredibly well making them great for lunches and meal prep!
My favorite vegan pasta salad has always been vegan pesto pasta salad. It's so easy to make vegan and packed with flavor. I have a major crush on anything basil and this comforting vegan pasta dish is definitely a winner for me.
It also only takes a few minutes to whip up this vegan pesto pasta recipe, with the food processor doing most the heavy lifting. The finished product is nice to look at and even better to eat!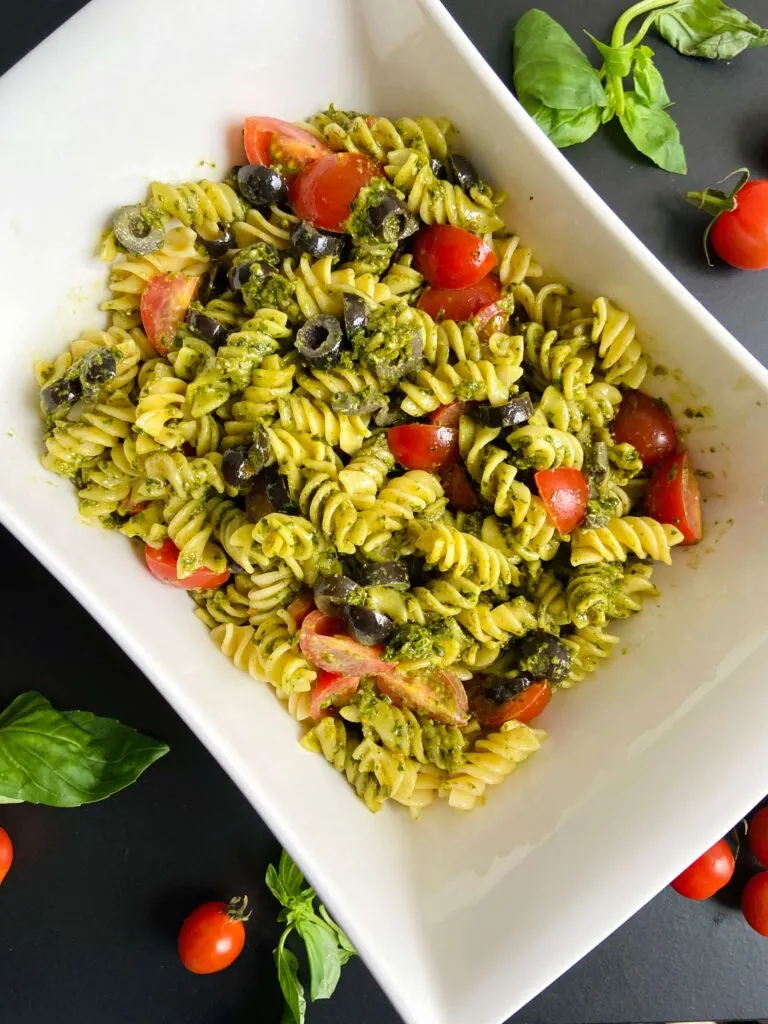 I've also found that this is a real crowd pleaser, and it's kid approved, even the littlest members of the family seem to love it.
If you are interested in more vegan pasta salad recipes, check out this chickpea tuna pasta salad. You can also check out all our favorite vegan salad recipes here.
How to Make Pesto Pasta Vegan
It's really easy to make this easy vegan pasta salad. All you need is:
For the pesto sauce, you can either ready made vegan pesto like this one
or make your own. Ready made is good because many of them are shelf stable, meaning you can have it on hand for times when you literally have zero patience for kitchen work or can't find the ingredients.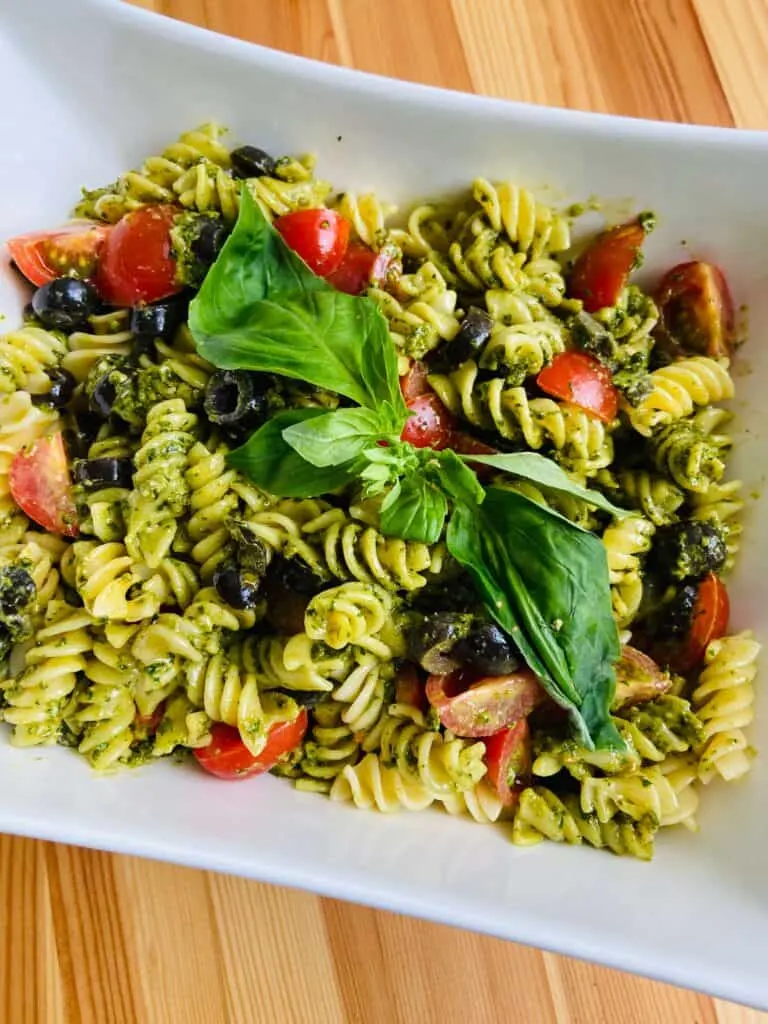 On the other hand, making pesto is pretty easy, it only takes a few minutes and the food processor does the work. If you don't have a food processor you can make it with a blender or mortar and pestle.
You can also edit your pesto in a variety of ways to pack in more nutrients, edit to what you have on hand or what you like, etc. Some people really like to turn their pesto into a spinach pesto, kale pesto, parsley pesto and more.
I'm going to give you the basic ingredients and instructions here, but if you want more info about using different equipment or substitutions and varieties of pesto, check out our full pesto recipe post here.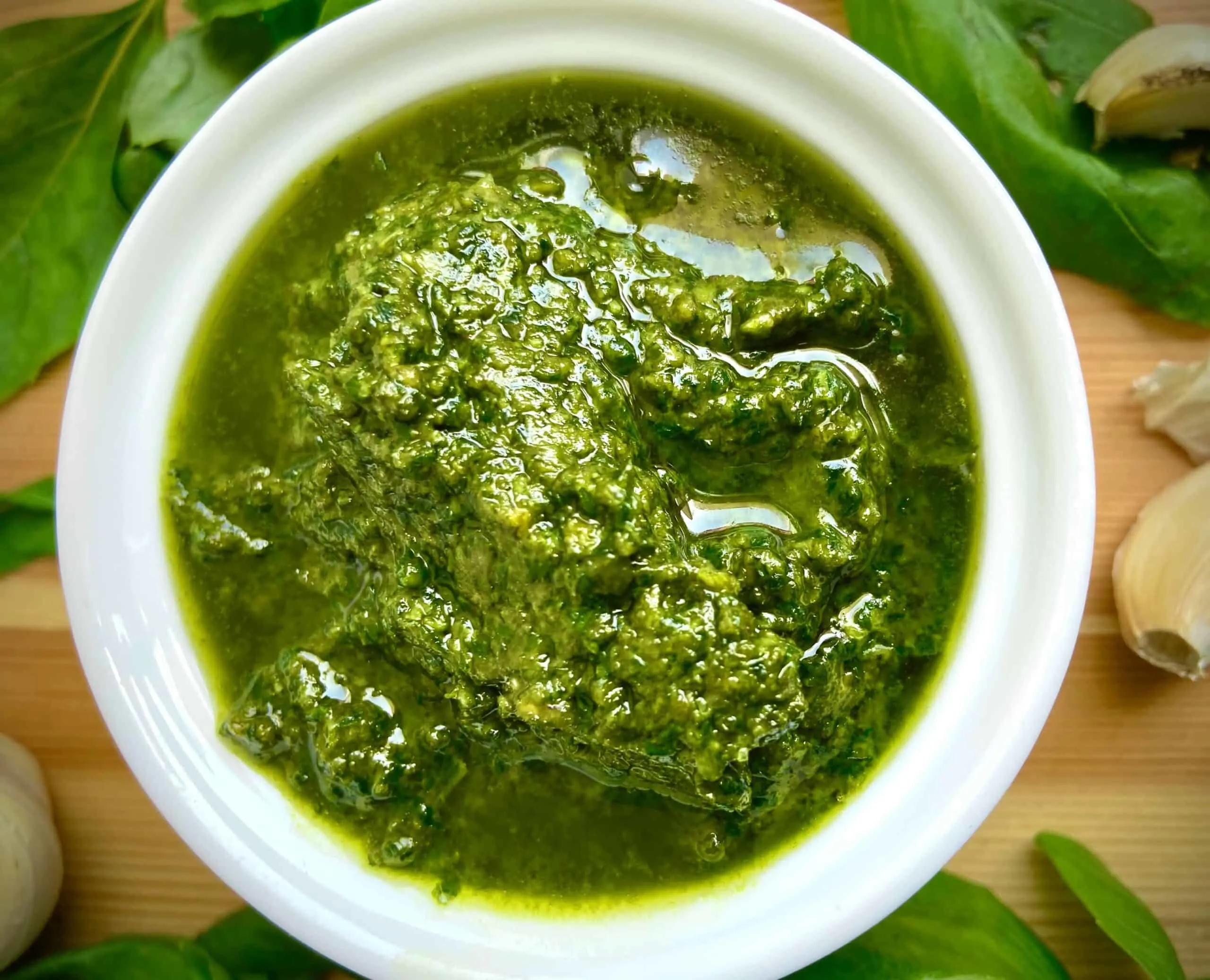 The ingredients for the pesto are:
Making the Vegan Pasta Salad Pesto
The pesto is really simple to make. It's just a matter of throwing the ingredients in the food processor. First you break down your garlic cloves, then throw in the basil sunflower seeds and nutritional yeast.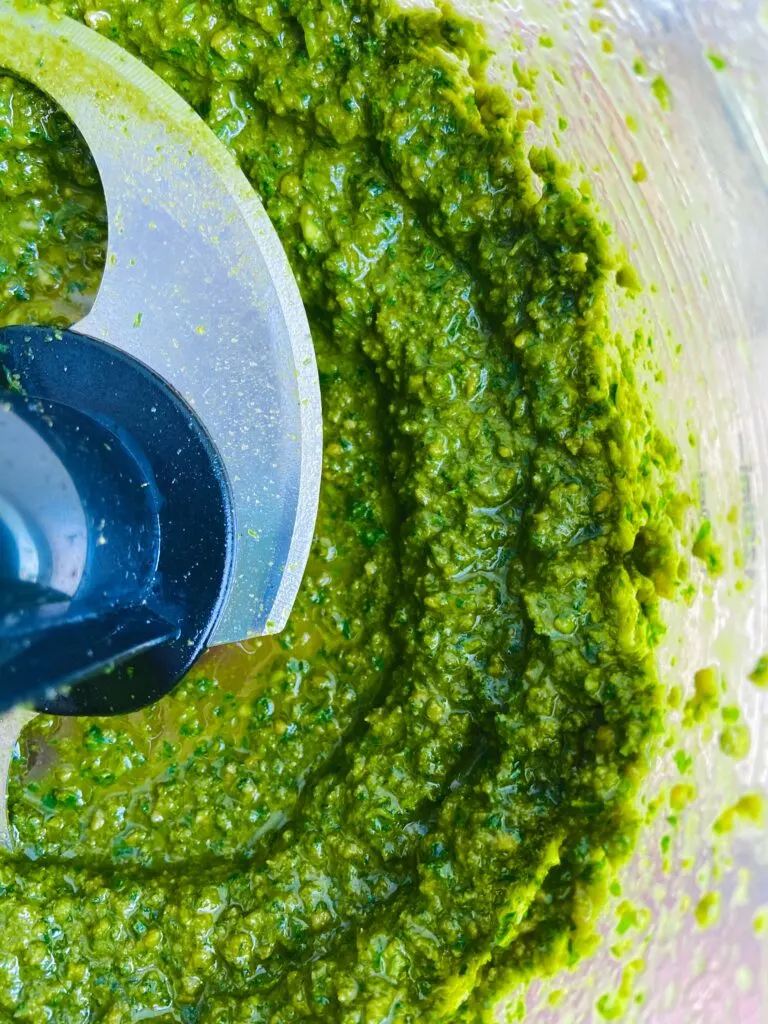 Once it's broken down, you just drizzle in the olive oil until it's reached it's nice pesto consistency. Season with salt a pepper and your done.
As mentioned earlier, if you'd like to easily throw in whichever greens you have, or make any other substitutions to the pesto, check out our pesto post for the details.
Putting Together the Cold Vegan Pasta Salad
To complete your vegan cold pasta salad, you just need to cook your pasta according to the package directions and quarter your cherry tomatoes. Once that's done, mix together the pasta, the pesto sauce, quartered cherry tomatoes and black olive rings.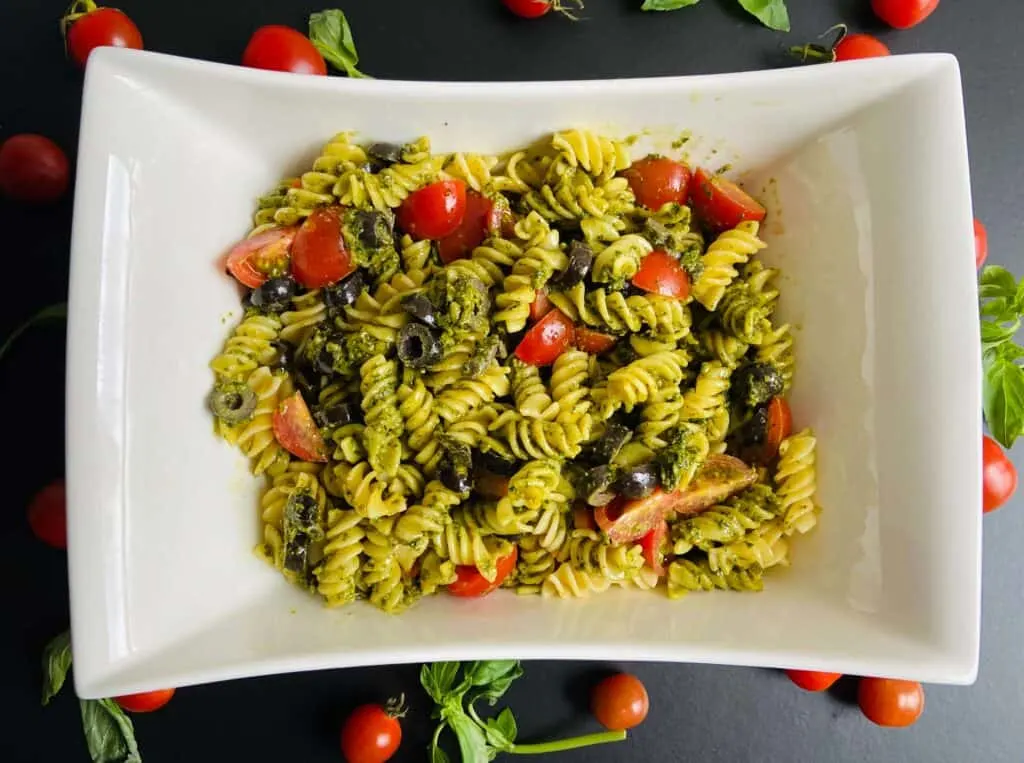 The only effort involved is quartering the cherry tomatoes and that shouldn't take long!
If the pesto isn't distributing well over the pasta, add in a tbsp of water to help it spread better. You can add up to three tablespoons to distribute, but do it one tablespoon at a time so that you don't over dilute the flavor and texture.
Making Vegan Pesto Pasta Salad Ahead of Time
You can make this vegan Italian pasta salad up to four days ahead of time. You can either make the whole thing or make the components (the pesto, the pasta, the cut cherry tomatoes) separately and combine right before.
I find that combining the ingredients at the last minute provides the freshest results! Either way should be fine though, just be sure to store in an airtight container in the refrigerator.
Don't Forget to Pin This Recipe For Later!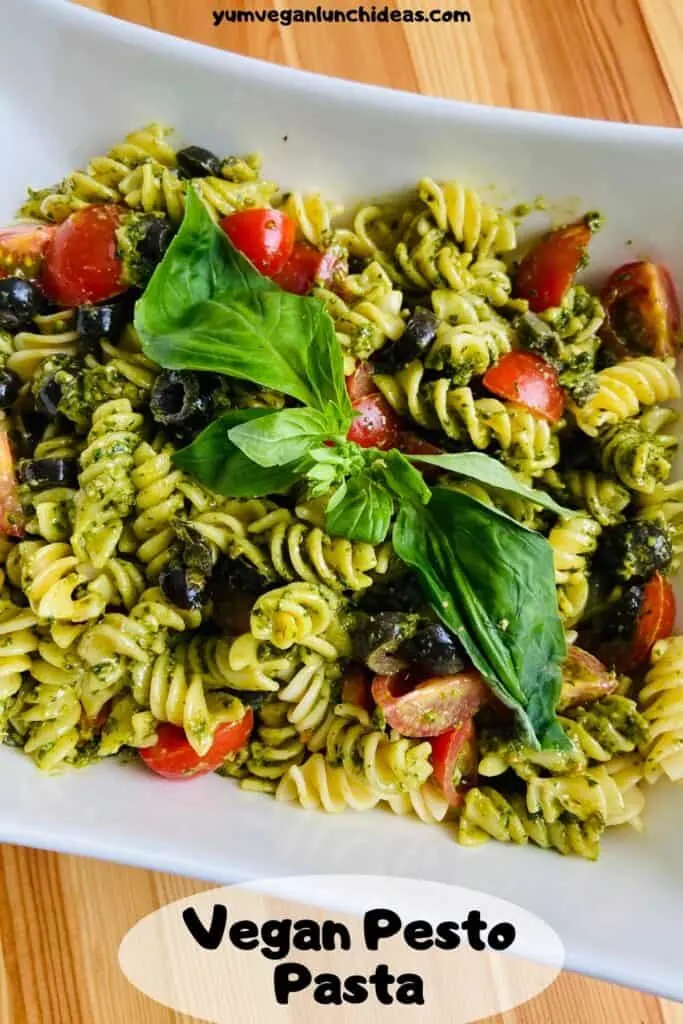 If you make this recipe, let us know how it turned out! We'd really appreciate a rating here or show us your work by tagging us on social media with #yumvegan!
Yield: 4 Large Servings
Vegan Pesto Pasta Salad Recipe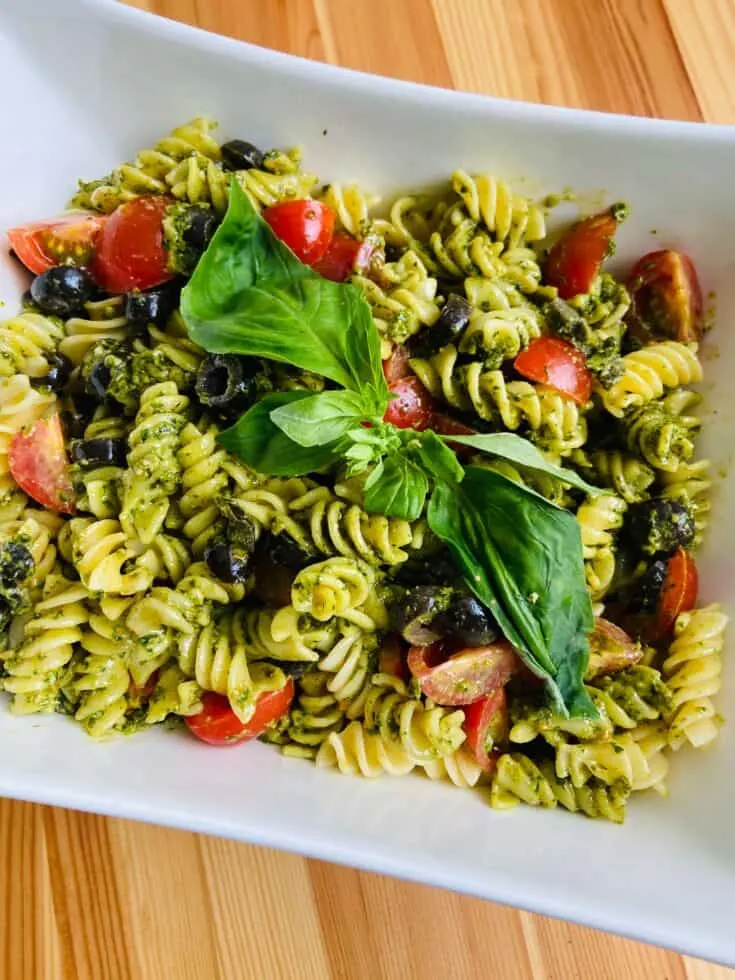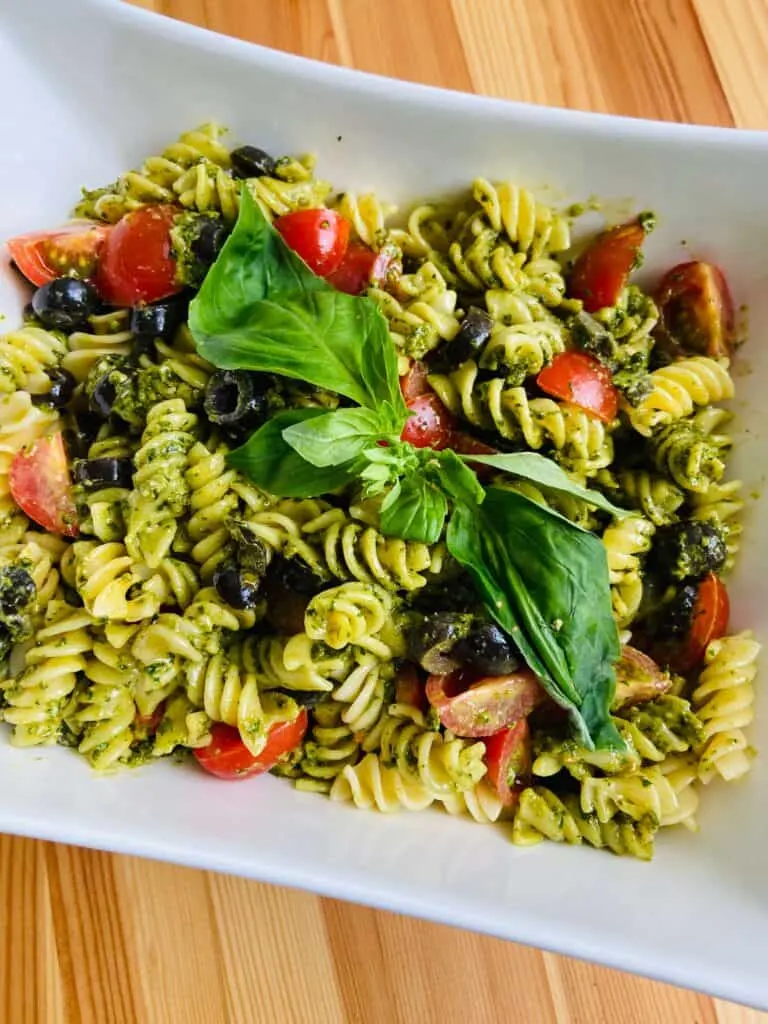 Vegan pesto pasta salad is the perfect salad for picnics, cookouts and get togethers, especially in summer! It is packed with flavor, incredibly easy to throw together and a sure crowdpleaser!
You can easily make a big batch of this cold vegan pasta salad ahead of time and store in the fridge for a great vegan meal prep option and packed lunches.
You can also easily make some small swaps or inclusions to incorporate your favorite vegetables into this delicious vegan pasta salad.
Ingredients
1 Cup Quartered Cherry Tomatoes
1 Cup Pesto - Ingredients for Homemade
3 Garlic Cloves
2 Cups Basil
Salt and Pepper
Instructions
Cook pasta according to package directions.
While the pasta is cooking, get the rest of the ingredients ready. Quarter the cherry tomatoes and if you are making your own pesto rather than buying, follow steps 3-6. Otherwise skip down to 7.
Process the garlic cloves until broken down. It's important to do them before the rest of the ingredients, otherwise I find I sometimes end up with some raw garlic chunks.
Add in the basil, sunflower seeds and nutritional yeast and process until thoroughly broken down. You may need to open the food processor and scrape down the sides with the spatula so nothing gets stuck on the sides.
Through the pouring spout on the top of the food processor, drizzle in your olive oil while the food processor runs. After a minute, your pesto should be the perfect pesto texture.
Open it up and stir in salt and pepper to taste. I used around a tsp of salt and a dash of pepper. I like things on the saltier side though.
Drain pasta and run some cool water on it to bring it to room temperature.
Mix in the pesto, cherry tomatoes and olives. If the pesto is too thick, add in a tbsp or two of water to thin it out.
Enjoy!
Recommended Products
As an Amazon Associate and member of other affiliate programs, I earn from qualifying purchases.
Nutrition Information:
Yield:
4
Serving Size:
1
Amount Per Serving:
Calories:

354
Total Fat:

17g
Saturated Fat:

2g
Trans Fat:

0g
Unsaturated Fat:

13g
Cholesterol:

0mg
Sodium:

838mg
Carbohydrates:

42g
Fiber:

5g
Sugar:

2g
Protein:

12g
Disclaimer: This post contains affiliate links.
You may also love: