Like so many of my recipes, this vegan brussel sprout salad is inspired by something I ate in another country whilst travelling. We were doing an RV trip between Calgary and Vancouver, Canada.
I was on the look out for really easy fresh ingredients that we could enjoy without too much fuss in the RV. There was a pre-made salad bag in all of the big stores that had shredded Brussel sprouts, dried cranberries, seeds and a lemon poppyseed dressing.
All we had to do was mix it all up. To be fair, it wasn't vegan, as it was from my pre-vegan days. However, hubby and I were both addicted to it and have been craving to veganize it back on our home soil.
I've looked up a few different recipes and asked my good Canadian friend for some advice. Essentially I've hashed all of the advice and inspiration together to make my own brussel sprout salad vegan.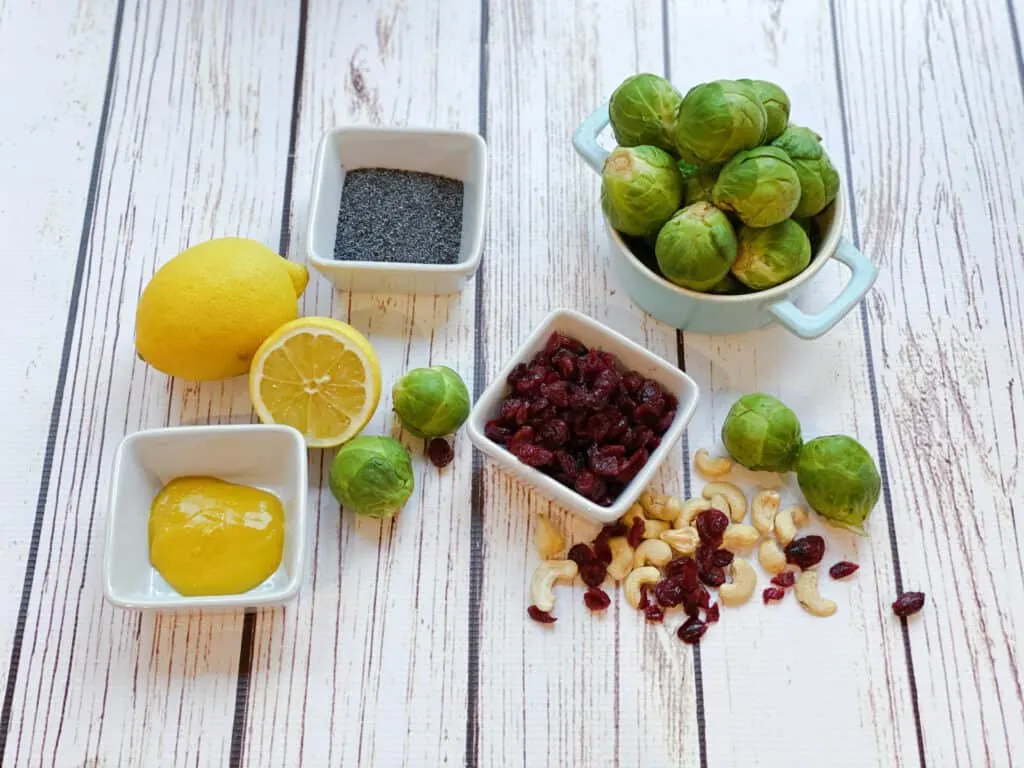 This is really so simple and I promise only takes a matter of minutes. Likewise, there are only a handful of ingredients and some are easily replaceable for alternatives incase you don't have something.
Being a vegan brussel sprout recipe, the main ingredients, are obviously brussel sprouts, although you could easily use kale instead. When shopping, look for really nice fresh green sprouts.
You may have some poppyseeds and dried cranberries in your pantry. I am sure you will have some mustard and vegan plain yoghurt or mayonaise at home!
As we know sprouts are mostly available over the festive period, so this salad is the perfect antidote to the big stodgy dinners whilst still using the seasonal produce.
Love salads? Check out our Vegan Greek Salad, Vegan Chickpea Salad, or Vegan taco salad.
Brussel Sprout Salad Vegan
In terms of preparation, all you need to do is shred the the brussel sprouts finely with a sharp knife. Next it's just a matter of sprinkling the cranberries and cashews (or pumpkin seeds) on top in a salad bowl.
The dressing is also super simple, just add the rest of the ingredients to a jar and shake. You can use as much or as little as you like depending on your preference.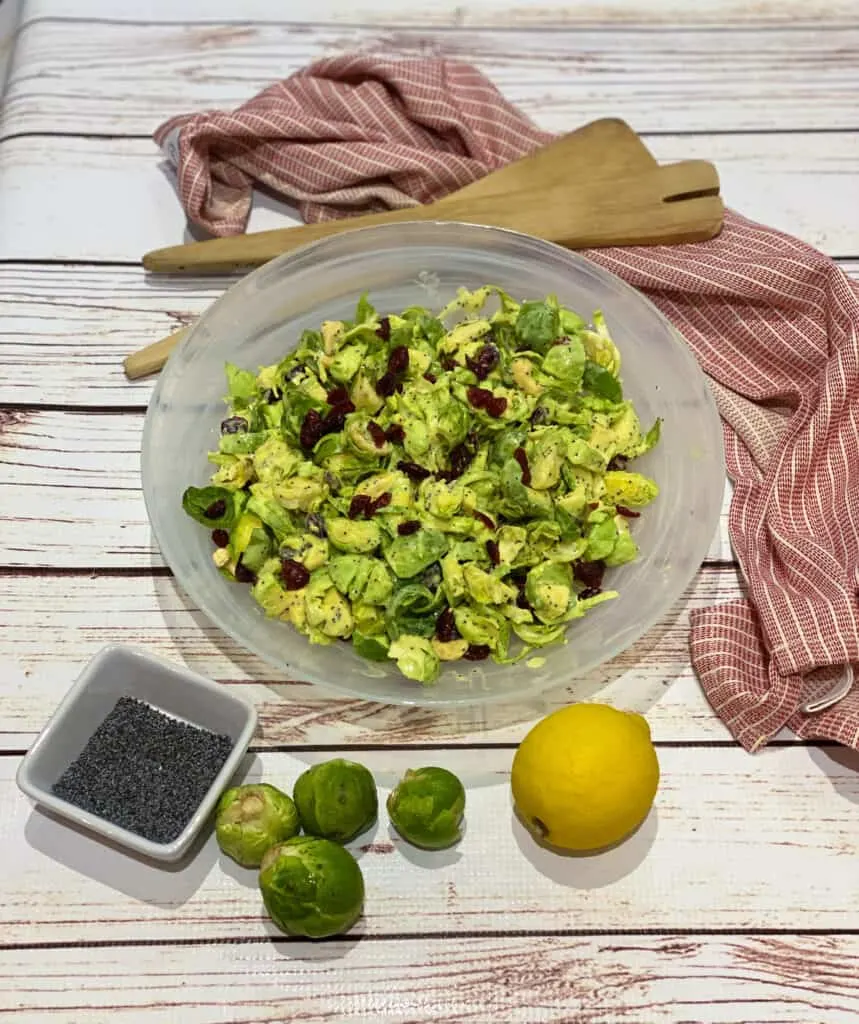 You can store the salad and dressing in the fridge in a sealed container for 1 to 2 days. This salad is great to take to work in a lunch box, or simply for a picnic. You can also add it to sandwiches or have it as a side with a main meal.
Yield: 4
Vegan Brussel Sprout Salad With Lemon Poppyseed Dressing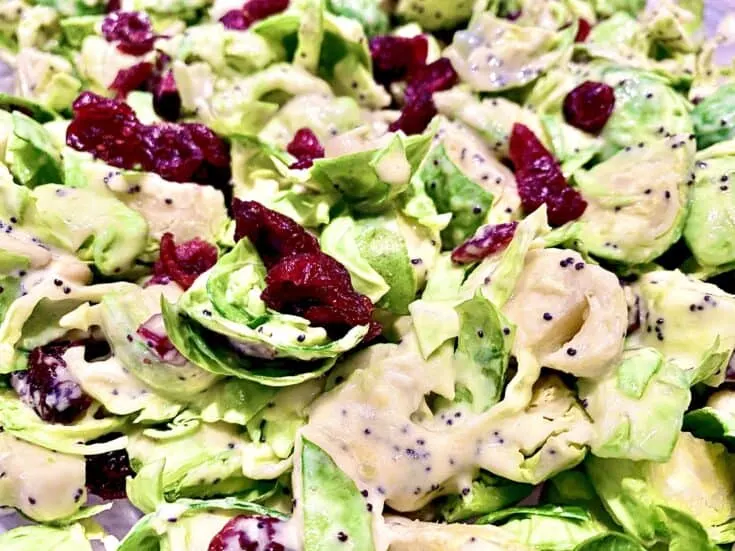 This scrumptious vegan brussel sprout salad with lemon poppyseed dressing is such a healthy but tasty vegan salad. The crunch of the sprouts make it taste so fresh! The cranberries gives it a sweet note, whilst the lemon poppyseed dressing provides a litte zing to tantalise every taste bud in your mouth!
Ingredients
1.5 cups of raw Brussel sprouts
1/2 a cup of dried cranberries
1/2 a cup of raw unseasoned cashew nuts
Vegan lemon poppy seed dressing
1 tablespoon of poppy seeds
1 teaspoon of dijon mustard
1/2 lemon juiced
1 teaspoon of olive oil
1/2 a cup of plain vegan yoghurt
1 tablespoon of agave
A pinch of salt & pepper
Instructions
Wash the brussel sprouth thoroughly in a colander. Shake the excess water through the colander. Chop thre hard stalk of the end of each sprout.
Begin tin finely chop the brussel sprouts. Once this is ready, add the cranberries and cashews, or if tou have pumkin seeds instead of the cashews that's also fine. Spread evenly throughout before tossing gently.
Next make the vegan lemon poppseed dressing. It's very simple just all the ingredients to a jar and give it a really good shake. just to recap, that's the dijon mustard, vegan plain yoghurt ( or vegan mayo if you want a little bit of naughtiness), poppy seeds, 1/2 a lemon juiced agave, olive oil, salt and peppe.
Once your dressing is nicely mixed up, evenly drizzle it over the salad and mix in well.
Finish off with a final scattering of dried cranberries on the top for presentation.
Notes
There are plenty of alternatives incase you don't have some of the ingredients in this list. For example rather than cashews, pumpkin sees are also an alternate crunchy ingredient.
If you are not keen on vegan yoghurt, vegan mayonaise is also a good alternative.
Kale is also a good alternative green. if you have soem you can easily mix it in with the sprouts for extra goodness!
Keep the salad refridridgeratd for 1 to 2 days maximum, although it's best served fresh!
If you have leftover lemon poppyseed dressing, you can also keep it in a jar refridgerated for up to 2 days.
Nutrition Information:
Yield:
4
Serving Size:
1
Amount Per Serving:
Calories:

352
Total Fat:

19g
Saturated Fat:

4g
Trans Fat:

0g
Unsaturated Fat:

14g
Cholesterol:

3mg
Sodium:

325mg
Carbohydrates:

40g
Fiber:

4g
Sugar:

24g
Protein:

10g
This post contains affiliate links by using them it does not cost you any extra, we get a very small commission. We appreciate your support!