I'm going to be honest and say I ate a lot of BLT sandwiches back in the day. They were my 'go to' hangover cure with a cup of tea! Nowadays being more conscious, not to mention the lack of hangovers (because kids).. I have been enjoying this amazing vegan BLT recipe!
BLT usually stands for the initial of the sandwich content (bacon, lettuce & tomato). You will find a BLT sandwich on nearly evert cafe menu in London so it really is a comfort food for most of us.
Making this classic into a vegan sandwich is not difficult at all. Besides from the obvious, lettuce, tomato and bread of your choice, we made the bacon with eggplant AKA aubergine.
BLT Vegan
Egg plant is a versatile vegetable that really does soak up all the flavours. We started off by making a marinade for the eggplant / aubergine.
Using liquid smoke, tomato puree, maple syrup, smoked paprika and vegan Worcester sauce, we created the perfect vegan bacon flavour. All you need to do is mix it all up and you have a vegan bacon marinade.
Next, we pre-heated the oven up to 435 F / 225 c. Using 1 large eggplant, you'll need to remove the stalk. Cut slices of the aubergine, approx 300 mm or 1/8 inch thick.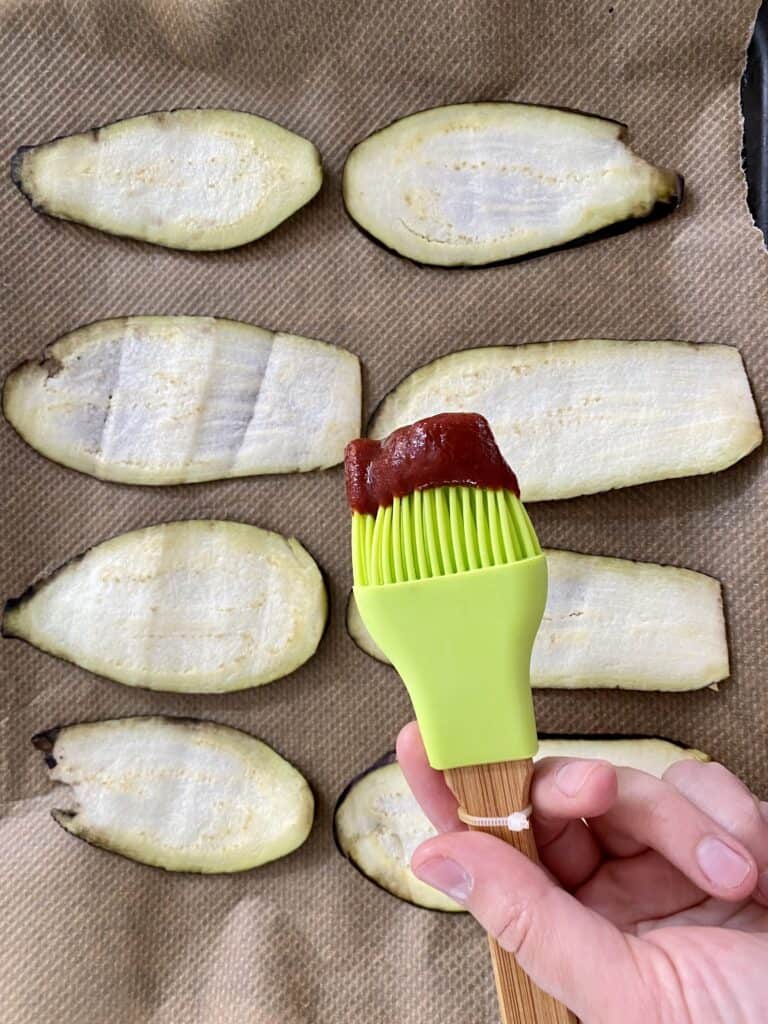 Line a baking tray with non-stick paper. Placing the slices of eggplant / aubergine on the tray, brush both sides with the marinade before putting them in the oven.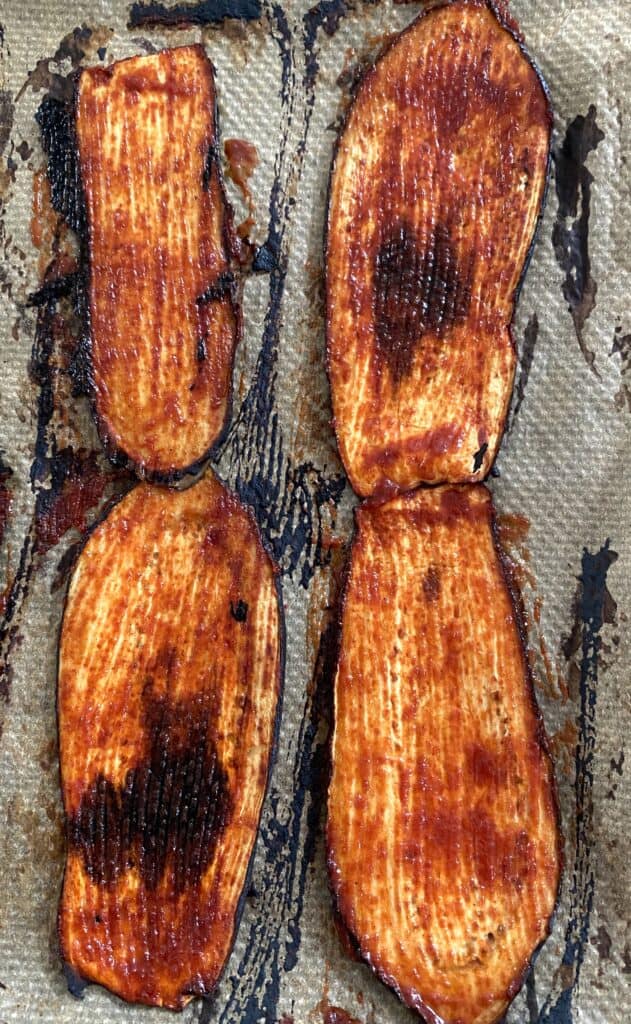 You'll need need to keep a close eye to ensure the eggplant is not burning. After around ten minutes, turn the aubergine, keep repeating this step and adding more marinade as appropriate.
In the end you should have a deep reddish / brown coloured crispy aubergine, just like bacon.
Most people have a vegan BLT with toasted bread but we use a fresh warm vegan bap for this sandwich.
Start off my layering the sandwich with vegan mayo, iceberg lettuce, thinly sliced tomatoes, red onion and of course finish off with the vegan bacon.
This eggplant BLT is best served immediately whilst the vegan bacon is still warm.
In our opinion, a vegan BLT is an awesome brunch option for the weekend, especially if you have a hangover to cure! Don't forget to check out our other vegan sandwiches, especially our Vegan Salmon & Cream Cheese Bagel.
This recipe does not include our scrumptious vegan mayo which is a great condiment for this sandwich!
Yield: 2
Vegan BLT Recipe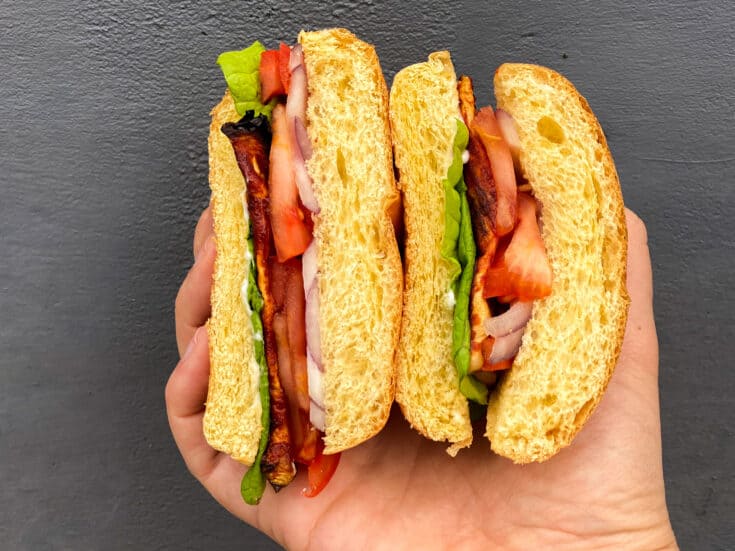 Try this delicious vegan BLT recipe, ideal for brunch, a comfort food that is definitely a good hangover cure. I would seroiusly eat this BLT VEGAN EVERY DAY if that was appropriate!
Cook Time
1 minute
10 seconds
Total Time
11 minutes
10 seconds
Ingredients
2 tbsp of tomato puree
1 tbsp of liquid smoke
1 tbsp of vegan Worcester sauce
1 tsp of maple syrup
1/2 tsp of smoked paprika
1 aubergine
2 bread rolls or any bread of your choice
1/2 a cup of Iceberg lettuce
1 medium sized tomato
thin slices of red onion
1 tsp of vegan mayo (optional)
Instructions
Mix the marinade ingredients in a bowl. This includes the tomato puree, smoked paprika, vegan worcester sauce, maple syrup and liquid smoke, Set to one side.
Next pre-heat the over to 435 f / 225 c. Line the baking tray with non-stick paper.
Slice the eggplant / aubergine into 1/8 inch thick / 300 mm thick slices. Lay them on the baking tray and brush both sides with the marinade before putting it into the oven for 30 to 40 minutes.
Keep a close eye on the eggplant so it doesn't burn. You will need to turn regularly to get that golden red / brown colour with a crispy consistency.
Meanwhile with the bread of your choice add a tsp of vegan mayonnaise.
Layer with fresh iceberg lettuce, thinly sliced tomatos and red onion.
Top with the vegan bacon, serve whilst warm.
Notes
There are a tonne of other vegan bacon recipes out there. For example using rice paper, tofu or oyster mushrooms.
You can use any bread for this, a bagel, bap, pitta or plain 'oul' sliced bread from the shop works a treat. We loved the bap for this recipe.
The eggplant can be tricky to cook unless you cut it at the right thickness. You don't want it super thin and you dont want it too thick either. Check out the photos in the post that might give you an idea.
Recommended Products
As an Amazon Associate and member of other affiliate programs, I earn from qualifying purchases.
Nutrition Information:
Yield:
2
Serving Size:
1
Amount Per Serving:
Calories:

263
Total Fat:

4g
Saturated Fat:

1g
Trans Fat:

0g
Unsaturated Fat:

3g
Cholesterol:

0mg
Sodium:

287mg
Carbohydrates:

54g
Fiber:

10g
Sugar:

16g
Protein:

7g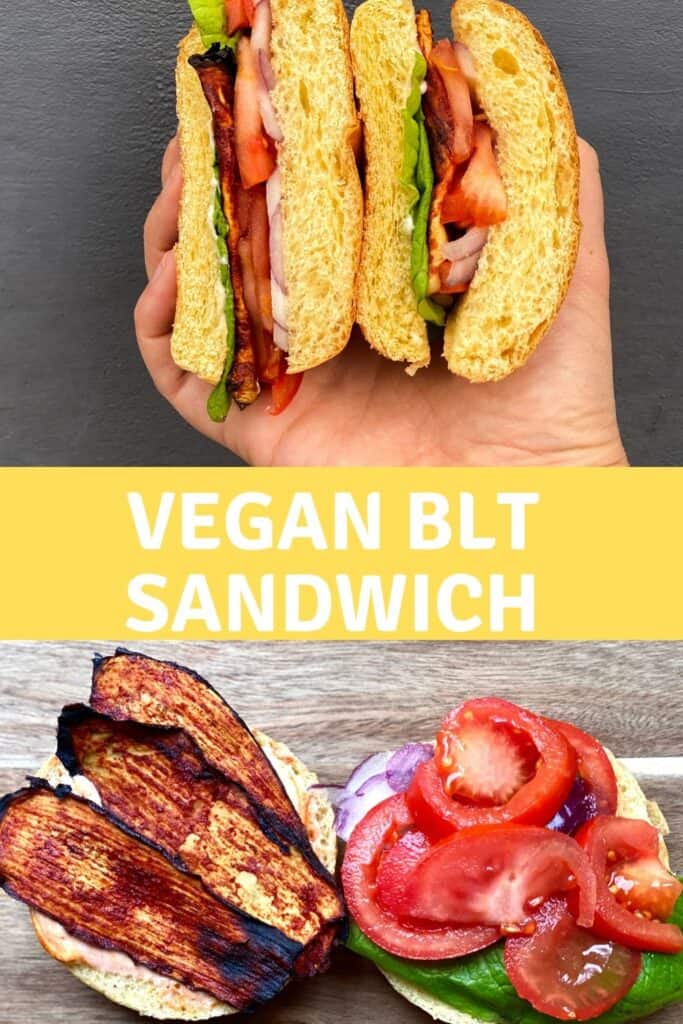 You may also love:
Disclaimer: This post contain affiliate links. By using them it will not cost you any extra, we get a small commission of the sale so we can keep on creating vegan recipes! Thank you for your support.