If vegan parfait cups aren't in your breakfast repertoire yet, it's time to add them. Breakfast parfaits are quick and easy to throw together and they somehow manage to feel both decadent and light and healthy!
They also present beautifully making them an amazing vegan brunch option. You can make layered cups ahead of time, or make a DIY vegan parfait station where everyone can choose their own toppings!
It's really easy to get creative with them by switching up their bases, toppings, fruit, etc. My personal favorite are chia seed parfait cups.
Chia seeds pack a ton of health into your vegan breakfast/brunch, and you can make a big batch of it ahead of time for the week. They are also very versatile and you can easily adapt the chia seed pudding to make it sweeter and creamier for a dessert parfait.
So, if you haven't been eating vegan breakfast parfait cups, you can dive in with this delicious strawberry banana vegan parfait recipe! If you don't feel like making the chia pudding you can check out our easy vegan yogurt parfait cups.
Vegan Parfait Cups Ingredients
To make these strawberry banana parfait cups you'll need the following ingredients: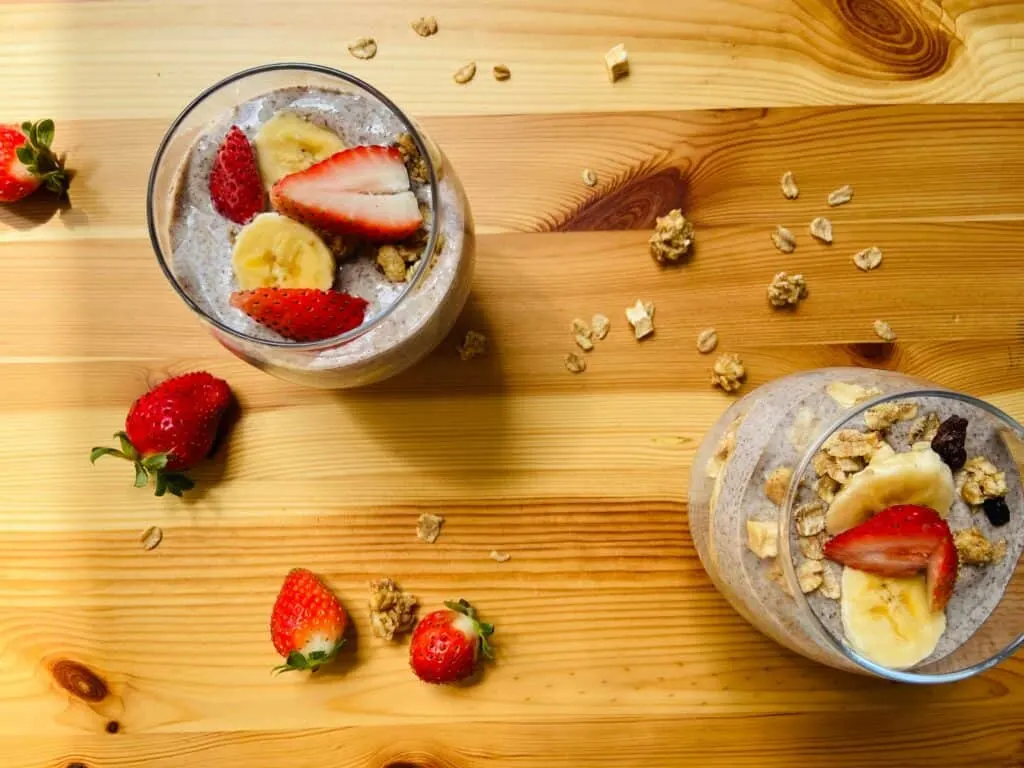 When choosing your plant based milk you can use almond, soy, or whichever is your usual favorite. Any of them works perfectly for making a breakfast parfait. If you are going for a dessert parfait use coconut milk
, it's higher in fat and will produce a creamier pudding.
For the granola, you are welcome to use a homemade one, or you can use a store bought one
.
The strawberries and bananas can be swapped out for any of your favorite fruit combos. You can also use frozen fruit, especially in place of the strawberries.
How To Make Chia Seed Parfait
To make this healthy parfait recipe, you first need to make the strawberry chia pudding. To make the pudding, whisk together (with a fork is fine) the chia seeds, plant based milk, and vanilla. I like to do this directly in a jar, so it can be easily put away and stored.
Let it sit for a minutes and then whisk again to break up any clumps that might be forming. Do this one more time and then refrigerate overnight or until thickened. Depending on your chia seeds this can take anywhere from 4 to 6 hours.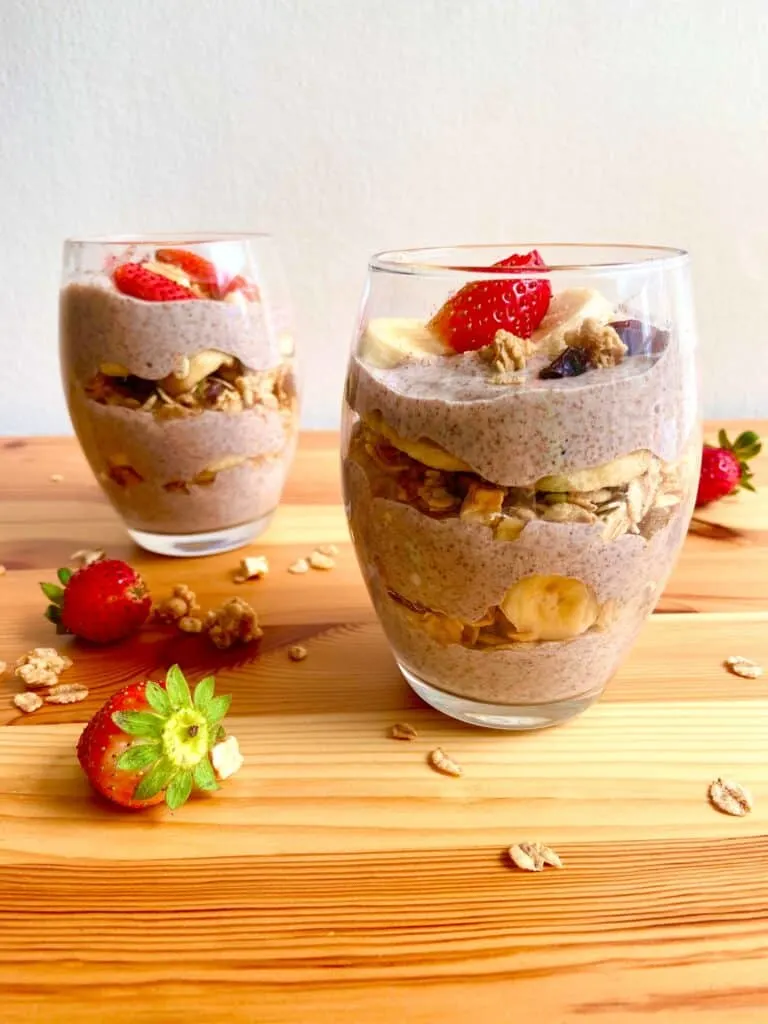 Chia seeds vary a tiny bit in variety and freshness, so if your pudding comes out too thick, feel free to mix in some extra milk. If it comes out too liquidy, sprinkle in some more chia seeds and let it thicken a little more.
Once your pudding is ready, it's time to blend. Many people like to eat chia pudding as is, but I find the texture a little weird unless I blend it, plus this way we get to flavor it further.
Put your chia seed pudding, strawberries and agave in the blender and blend until smooth.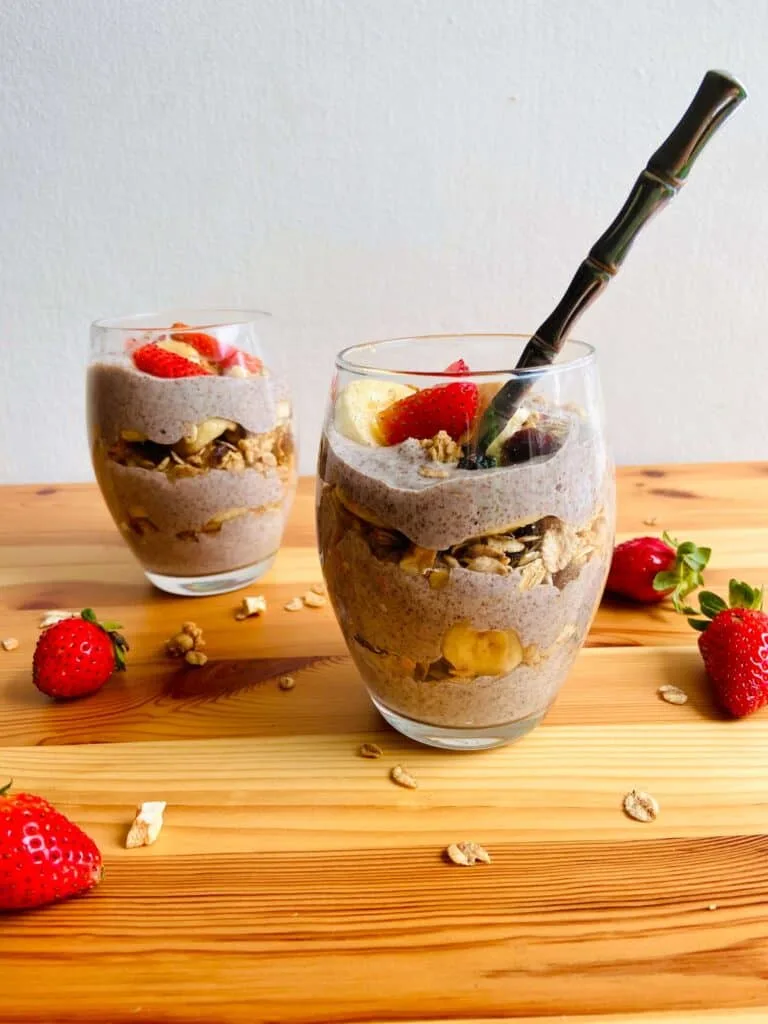 Now it's time to assemble your parfait cups. You can use glass cups, or use mason jars
, which are great if you are meal prepping and want to take them on the go. If you are meal prepping, see the next section for details.
Put a layer of pudding, then your granola, then some sliced bananas, and repeat! Top with a final layer of pudding and garnish with a sprinkle of the granola and fruit.
If you are not using frozen strawberries in this recipe, you may want to refrigerate the pudding, or the assembled parfait cups, before serving. The chia pudding tastes best chilled.
You may also adore this delicious Mango and Banana smoothie recipe – its so good and only 3 ingredients.
Prepping Chia Parfait (Vegan) Ahead of Time
As I already mentioned, vegan parfait is incredibly meal prep friendly! (Check out more vegan meal prep recipes here!) You can make parts of it ahead of time, or go as far as assembling your parfaits in mason jars
so that you can just grab and go. You can even pack them ahead for a cold vegan lunch.
If you want to prep parts of it, you can make the chia seed pudding ahead of time. The chia pudding will last up to five days in an airtight container in the fridge. Take it out when you are ready to eat (or the night before) and assemble.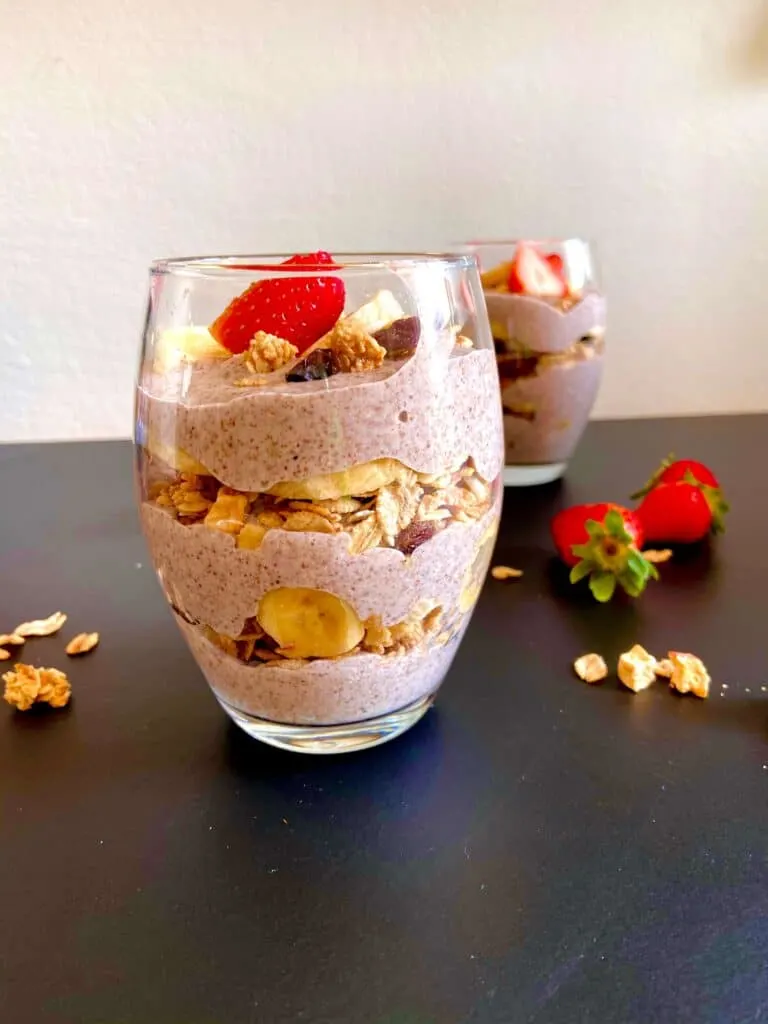 If you want to make the entire thing ahead of time (by more then a day), you are going to want to alter the layers a little bit. The only thing at risk of getting soggy is the granola, so just do a thick layer of pudding, a layer of your fruit, and then top with the granola.
The granola will still pick up some moisture from the fruit, so it's best to only store this way for up to two days. Store assembled cups in an airtight container in the refrigerator.
Variations and Swaps
If you plan to turn it into a dessert parfait, make sure to use a full fat coconut milk for the pudding. You'll also want to add extra sweetener. If you want to go all out you can also add a layer of vegan whipped cream or just top with a dollop.
The fruit can be swapped out with any other variety of fruit that you enjoy, in the pudding and in the layers. When using frozen fruit in the layers, as it defrosts it actually adds a nice syrup layer, which is a fun touch.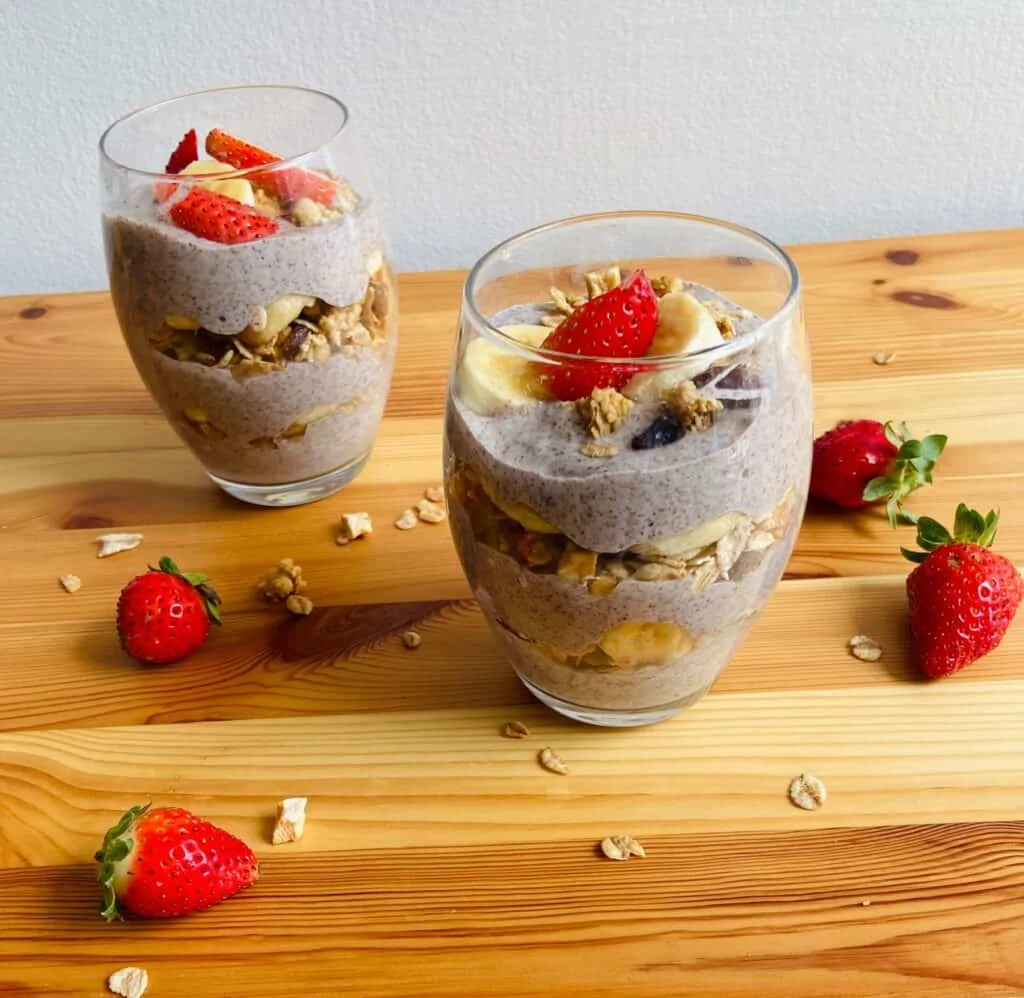 If you prefer not to blend your chia pudding or don't have a blender, add the agave with the chia seeds, milk and vanilla. Use the strawberries in the layers instead of in the cups.
Feel free to swap the agave for the sweetener of your choice.
We make these in very large drinking glasses, so it's a large portion size. Use whichever size suits your appetite/diet.
Don't Forget to Pin This Recipe For Later!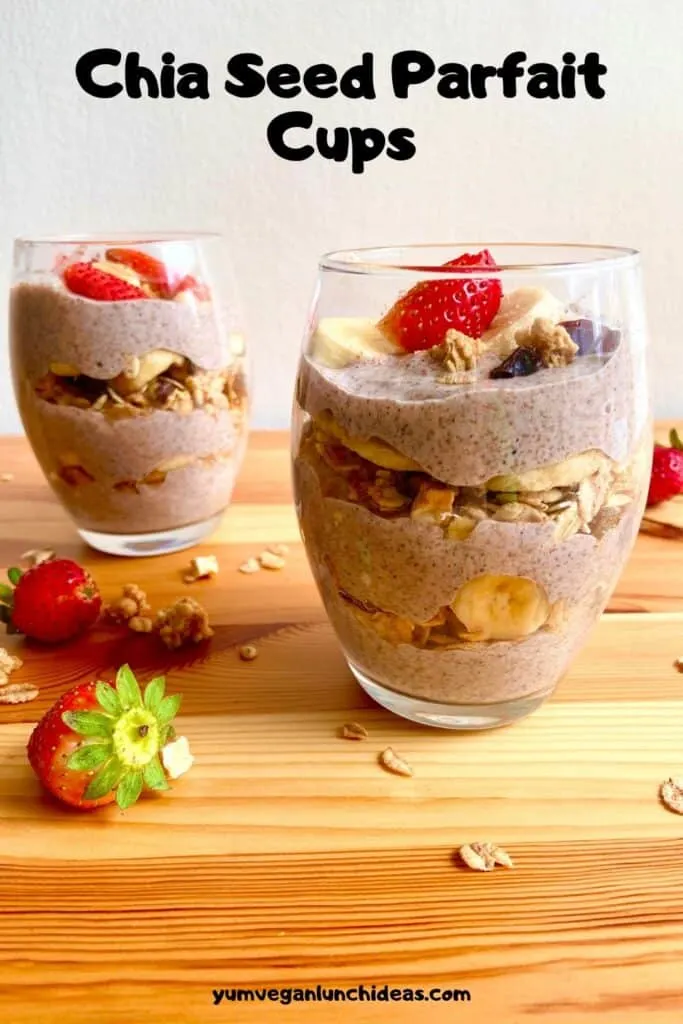 Yield: 3 Large Parfaits
Vegan Parfait Cups - Strawberry Banana Chia Seed Parfait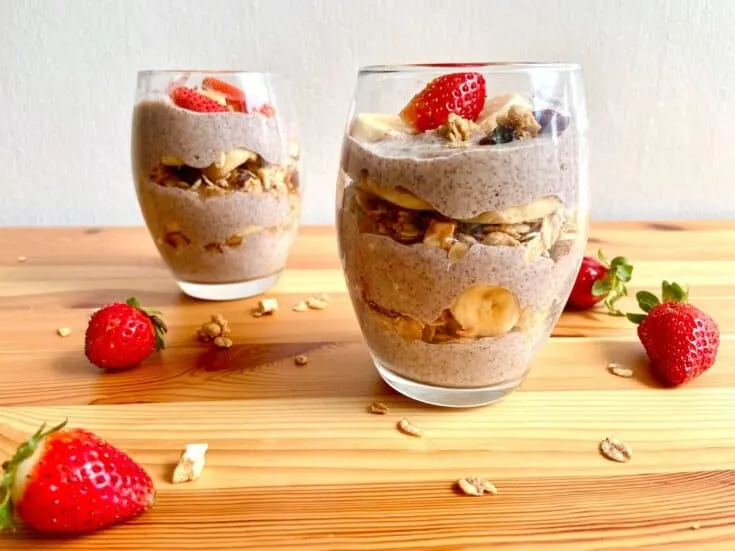 These vegan parfait cups are low on prep work and come together beautifully. The chia seed parfaits are decadent enough to feel like a lovely treat as a vegan brunch but they are also great for meal prep which makes them a great weekday meal as well!
Healthy, pretty, and delicious - breakfast doesn't get better than this!
Total Time
4 hours
10 minutes
Ingredients
For Layering
2 Bananas
Optional: 2 More Strawberries For Garnish
Instructions
Using a fork, whisk together the chia seeds, milk, and vanilla extract. Let it sit for a minute and the stir a bit more to break up any clumps that have formed. Wait another minute and then repeat.
Cover and refrigerate overnight or until thickened (4-6 hours).
Once it's a thick pudding consistency, add the chia pudding to the blender with the strawberries and agave. The amount of agave will depend on personal preference, if the milk you used was sweet, and whether you are going for a breakfast or dessert. I use a naturally sweet almond rice milk so I used 3 Tbsp of agave. Blend until smooth.
Take your cup, mason jar, or whichever container you are using to assemble the parfaits and add a layer of pudding. Sprinkle on a nice layer of granola and then add your sliced bananas. Repeat once.
Top with one more thin layer of pudding and garnish with a sprinkle of granola and some banana and strawberry slices.
Enjoy immediately, or chill before eating. If you are making these ahead of time, see post for instructions on layering and storing.
Notes
*Use full fat coconut milk for a creamier, dessert like pudding.
** Fresh or frozen works. If you use fresh you will probably want to chill the pudding before you eat, as it tastes best cold.
Nutrition Information:
Yield:
3
Serving Size:
1
Amount Per Serving:
Calories:

678
Total Fat:

17g
Saturated Fat:

4g
Trans Fat:

0g
Unsaturated Fat:

12g
Cholesterol:

13mg
Sodium:

99mg
Carbohydrates:

121g
Fiber:

16g
Sugar:

76g
Protein:

14g
You may also like: