This pear mango smoothie is just the perfect, delicious and refreshing smoothie. With simple ingredients – it is a sure winner to start your day, for brunch, snack or for on the go.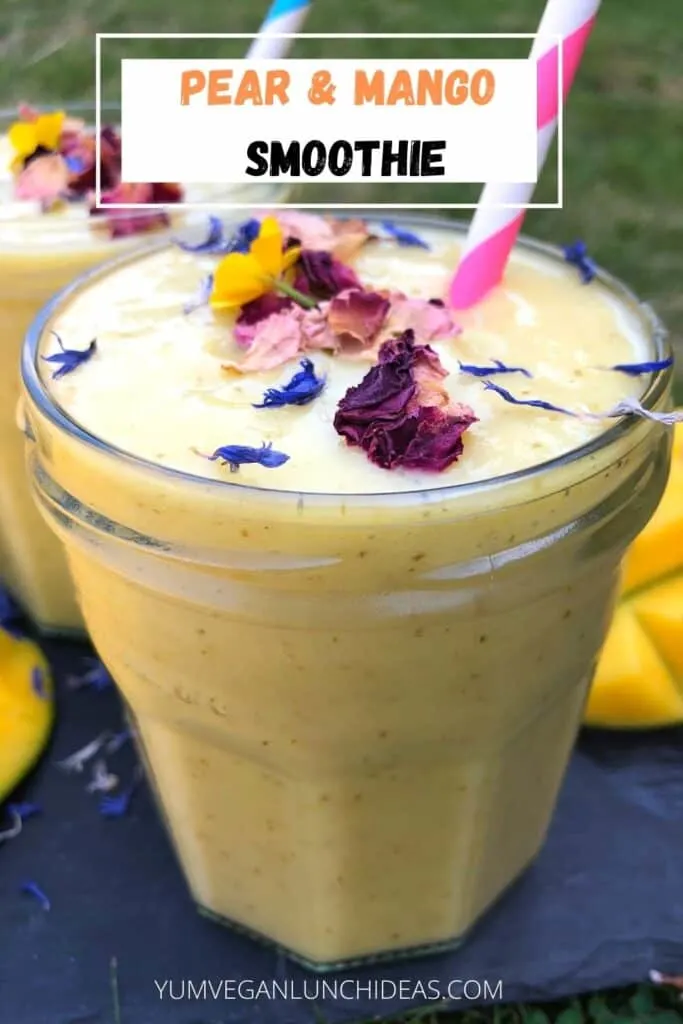 Pear and mango are not often something I would pair together as I've always made mango banana smoothies as a default.
However I had some ripe pears to use up recently and a bunch of frozen mango so what better than to make a delicious vegan smoothie!
This pear and mango smoothie recipe is vegan, gluten free and a delicious healthy kick.
Whether your seeking something tasty and light for brunch, a snack or to take on the go, this pear mango smoothie is just right!
Make sure to check out our vegan lunch ideas.
Ripe Fruit
Using ripe fruit in smoothies is the perfect way to save food waste. Additionally – once the fruit is properly ripe the smoothie actually tastes nicer as the fruit is sweeter.
Although mango is perfectly delicious and sweet on its own, the combination of pear and mango brings a really unique, delicious flavour that I've not had before.
Ripe fruit is easier for the body to digest too. If your fruit is not quite ripe yet, and you want it to ripen faster, I often store them in a tied plastic bag.
This accelerates the ripening process, great for winter time. However placing any underripe fruits on a sunny windowsill also helps!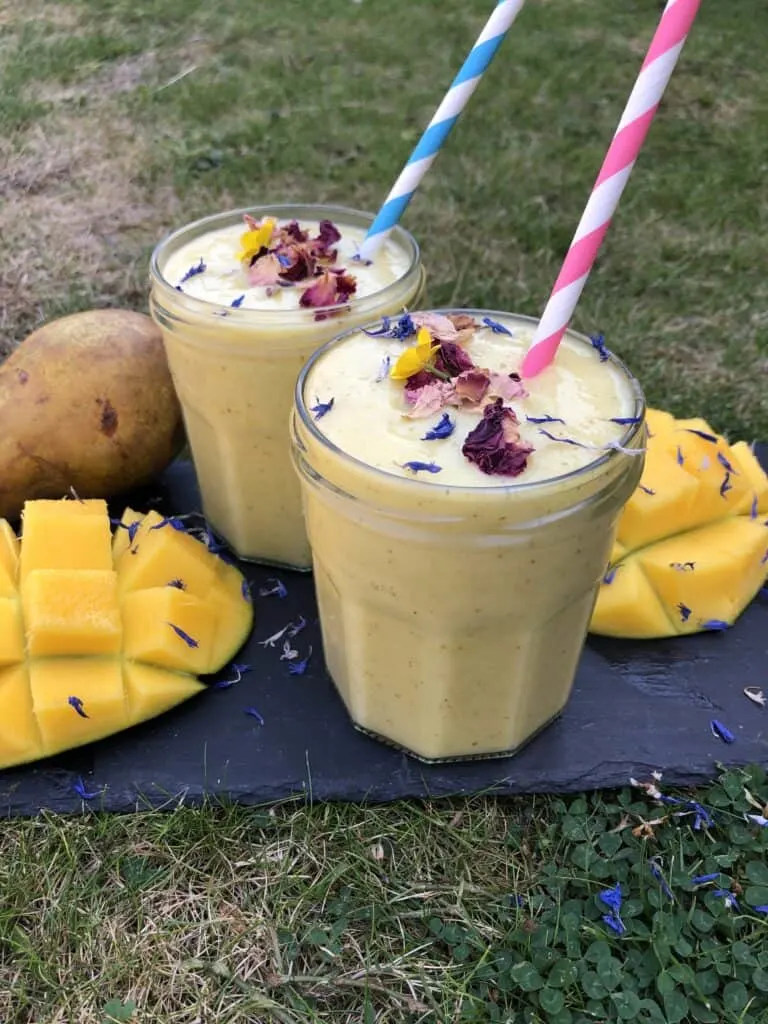 Frozen Fruit
Adding frozen fruit to smoothies gives it that refreshing, chilled kick and can make the pear and mango smoothie creamier. Frozen mango smoothie recipes have to be some of the most satisfying out there.
Equally freezing fruit is a great way to save food waste, as if it's going overripe – simply chop and store in the freezer until your ready to use up.
All of the ingredients are simple and accessible – making it super easy for you to make this smoothie for you. My kid loves this particular mango pear smoothie blend and I'm yours will too. Smoothie making is always a great activity for kids to get involved in at home!
I am loving frozen mango smoothies at the moment, another great recipe is this Chocolate Mango Smoothie Recipe.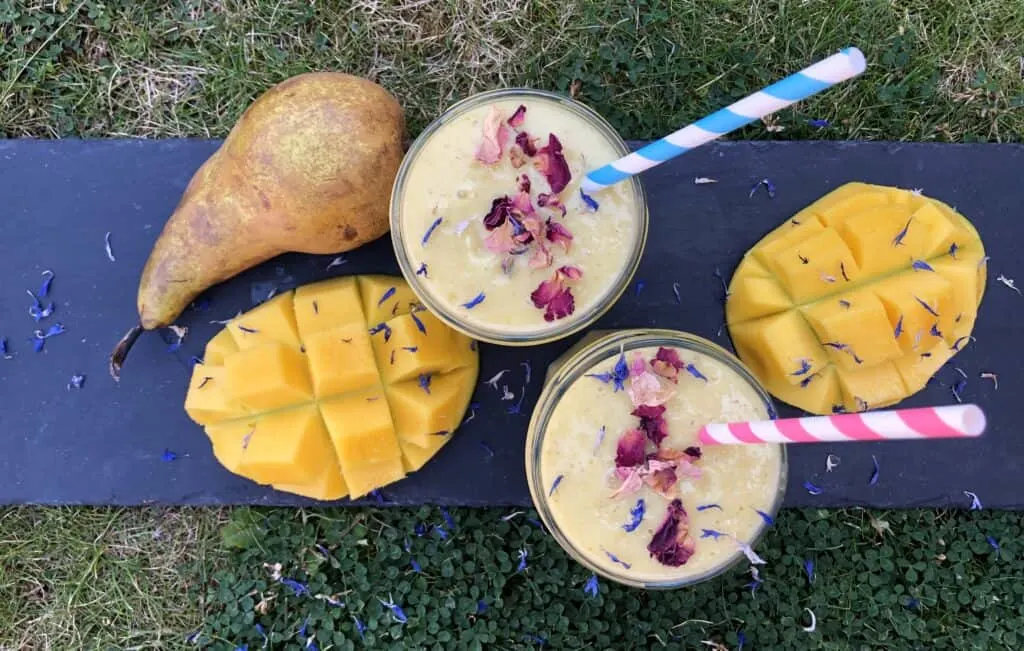 Best Blender For Smoothies
The best blender and my most reliable kitchen companion has been my Vitamix Blender
without doubt.
Having used this Vitamix Blender
for over five years, I can vouch for its robustness and reliability!
Of course buying a blender on the pricier side means its an investment – we use ours almost daily. We carefully considered it before purchasing having had a much cheaper blender break down on us.
It works great for frozen fruit, ice cubes, nut butters, smoothies, soups and much more – I have made so many great smoothies with this blender!
Of all of the smoothies we have made, I couldn't believe I'd never tried this simple pear mango smoothie. It was the perfect thirst quencher on a hot July day.
Simple Ingredients – Pear Mango Smoothie
This pear mango smoothie really is super easy to make with three simple ingredients
Frozen Mango
Ripe Pear
Coconut Milk
I chose coconut milk as it blends a beautiful tropical taste alongside the juicy mango and ripe pear.
However you can totally choose whatever milk you wish to suit your needs and diet – it will still turn out delicious.
Oat Milk
Almond Milk
Cashew Milk
Soya Milk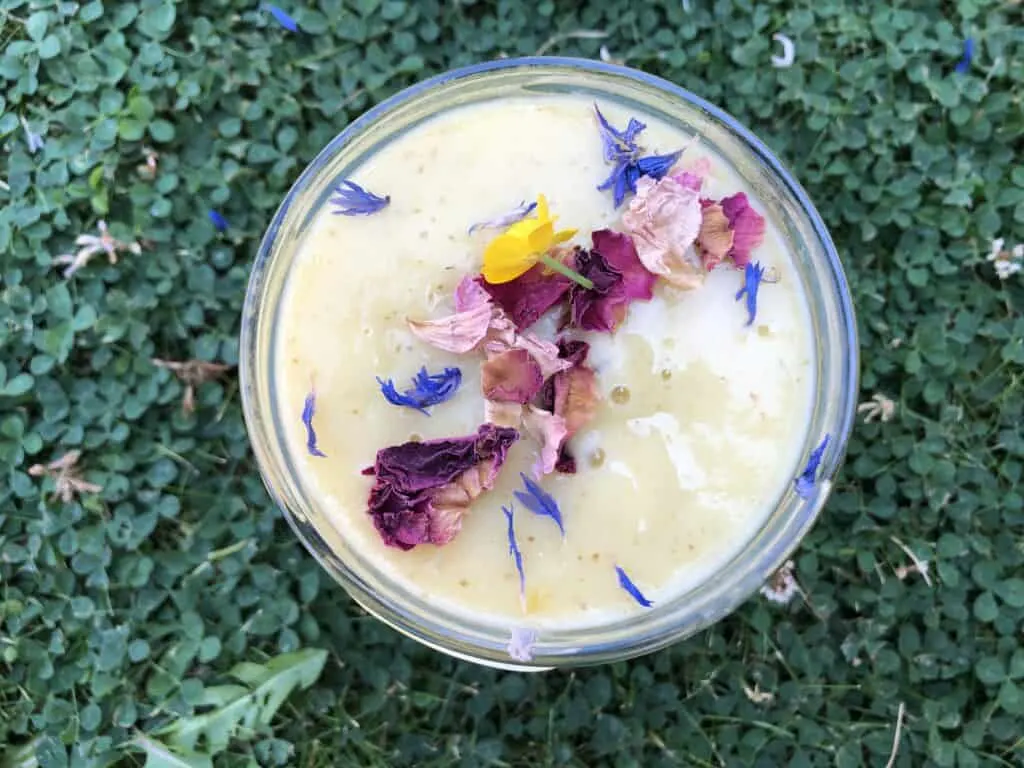 How to make Pear Mango Smoothie
Chop your fruit into blender friendly chunks
Add all fruit and ingredients into your blender or nutri bullet
Blend up until smooth
Serve and enjoy!
I love to garnish my smoothies and smoothie bowls as it is just super satisfying. My favourite garnishes include the following:
If you are a fan of smoothie bowls, before we get to the recipe card you can also check out:
Yield: 4 cups
Pear Mango Smoothie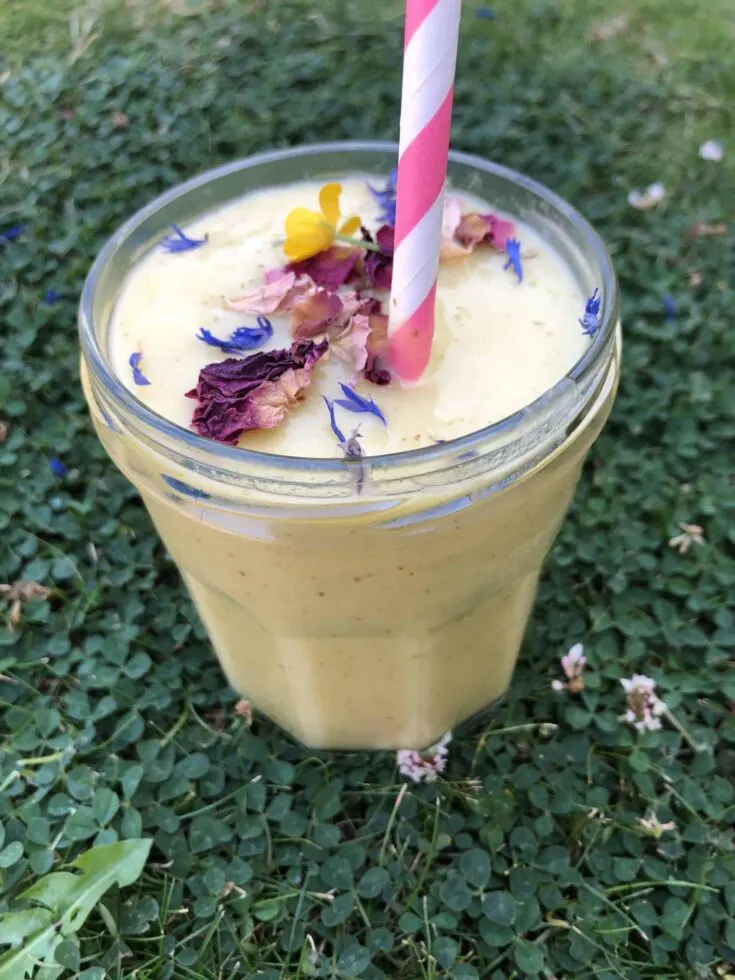 This pear mango smoothie is just the perfect, delicious and refreshing smoothie. With three simple ingredients or ripe pear, frozen mango and coconut milk - it is a sure winner to start your day or for on the go.
Ingredients
1.5 cups frozen mango
2 medium size ripe pears
300mls coconut milk (or milk of choice)
Instructions
Chop ripe pears into blender friendly size chunks
Add frozen mango, ripe pears and coconut milk into your blender
Blend until smooth
Serve and enjoy!
Notes
1. This smoothie is best served fresh, however will remain good in the fridge for up to 24 hours.
2. You can choose whatever plantbased milk suits you and your diet. Coconut and oat seem to be the creamiest!
3. If you do not own a high speed blender, adding the fruit in smaller batches may help.
4. You can totally add to this recipe if you wish - I love adding good fats like hemp seeds, chia seeds, pumpkin seeds or a good blob of almond butter.
Nutrition Information:
Yield:
4
Serving Size:
1
Amount Per Serving:
Calories:

231
Total Fat:

16g
Saturated Fat:

14g
Trans Fat:

0g
Unsaturated Fat:

1g
Cholesterol:

0mg
Sodium:

11mg
Carbohydrates:

25g
Fiber:

4g
Sugar:

17g
Protein:

2g
this is an estimate
Disclaimer: There are affiliate links in this post. By using them, we will get a small commission of the sale at no extra cost to you. It's the little things like this thats keep us afloat. We never recommend something we don't believe in, always tired and tested too.