Jacket potatoes rock my world. I usually opt for a jacket potato if I'm planning on using the oven that day. For instance when baking a cake, as it can easily be popped in while preheating and cooking.
However my mind was blown when I discovered making a baked potato using the microwave oven! Super quick and easy to make the perfect vegan jacket in minutes.
I still can't decide whether I prefer a baked sweet potato or regular vegan jacket potato. Both simply make a great base to build vegan goodness on top! Vegan potato toppings can be nourishing, tasty and satisfying.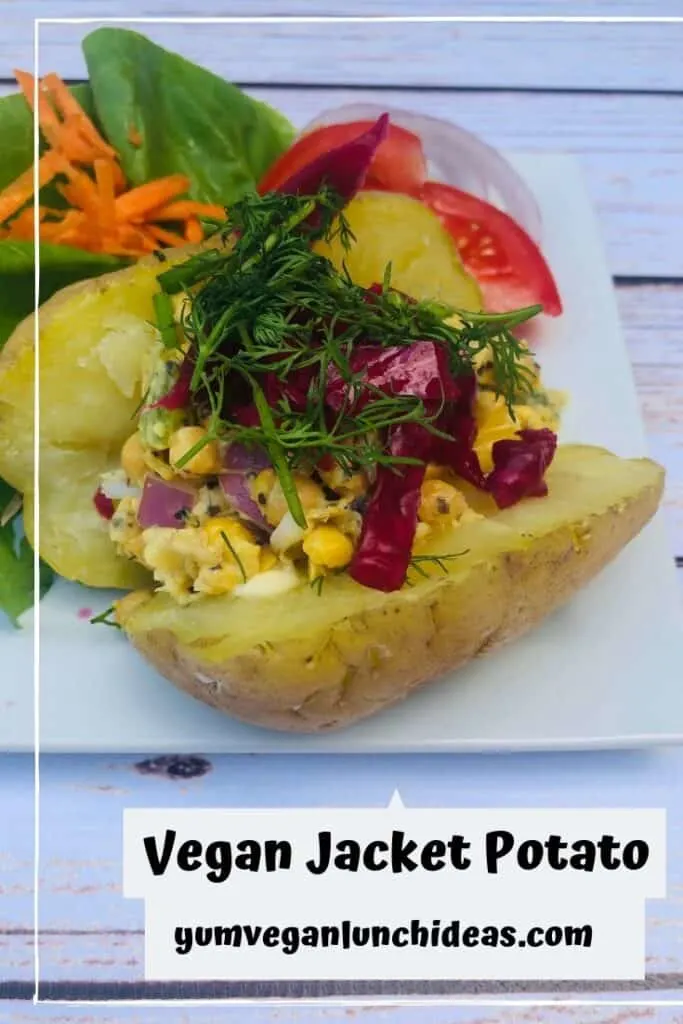 Vegan Jacket Potato Inspiration
Obviously jacket potatoes by nature are already vegan. However, I was really keen to replicate a childhood favourite of mine, tuna jacket potato. But of course the vegan tuna version!
The vegan baked potato toppings options are endless. I simply had to try out my vegan tuna recipe on top. Having had the creamy vegan tuna recipe on a vegan melt, vegan tuna pasta, and vegan tuna salad, this was the next step!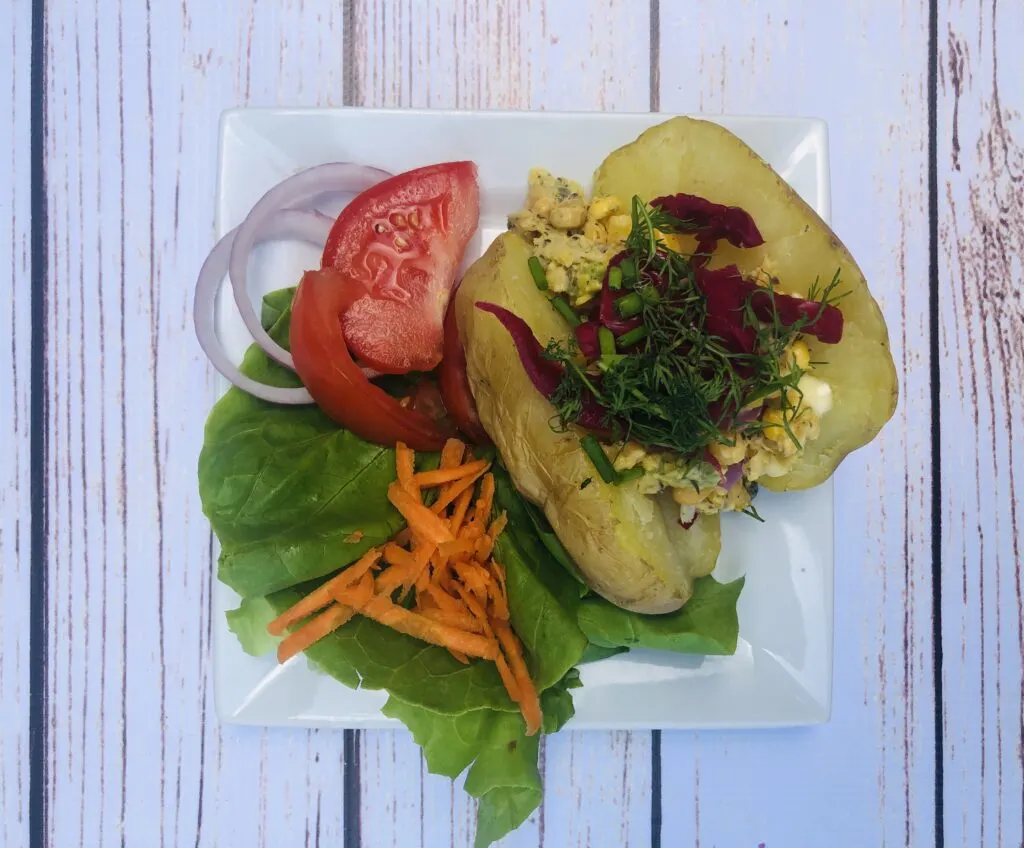 Time Saving Vegan Jacket Potato
This particular vegan baked potato was made much quicker than the usual oven way. I tested out for the first time blitzing the potato in the microwave. Much easier and efficient if you're not planning on using the oven.
I've been super conscious of my energy usage recently, so it seems pointless cranking up the oven for one vegan stuffed potato. Its more worth it when bulk baking sweet potatoes.
I didn't realise until recently that the microwave jacket potato also was the way my mom would make them quickly for us four hungry kids!
Ideal Serving
A baked potato for me has to have a knob of melted vegan butter on top with plenty of rainbow salad to accompany. On top, a creamy vegan tuna topping works so well! It reminded me exactly how I remembered eating jacket potatoes as a kid.
A vegan baked potato can be so versatile, it's such a simple but satisfying dish. My next go to for vegan baked potato recipes will probably be a spicy chilli with lots of guacamole.
I am now on a mission to try out all the vegan baked potato toppings. And perhaps mix it up with some sweet potato jackets in there also. What's your favourite vegan jacket potato fillings?
Often I simply love a plain vegan baked potato with a selection of salads. Some of my favourite are this delicious Israeli salad alongside this vibrant beet slaw.
I absolutely love tis lightly spiced Vegan Coronation Chicken Recipe on top of a jacket potato too! The vegan jacket potato toppings are endless!
Essential Ingredients
When making this vegan tuna sandwich – there are a few key ingredients that will help make the winning combination.
Vegan Mayonnaise
There are literally so many vegan mayonnaise brands out there now, which is awesome as it gives us a lot more choice.
I personally love Just Mayo
as they are a fully vegan company. For the ultimate creamy and delicious vegan mayonnaise, perfect for this recipe, buy Just Mayo
here.
However another great option is our very own homemade, plant based mayonnaise recipe.
Chickpeas
Chickpeas are the clear winner in this recipe which help create the perfect texture. Alongside being rich in iron and protein – these highly nutritious legumes are a staple.
Understandably, we don't always have time to soak and cook them from dry. So I often use canned ones. These Eden Organic Garbanzo Beans
are certified organic and cooked in purified water.
Yield: 2-3 servings
Vegan Jacket Potato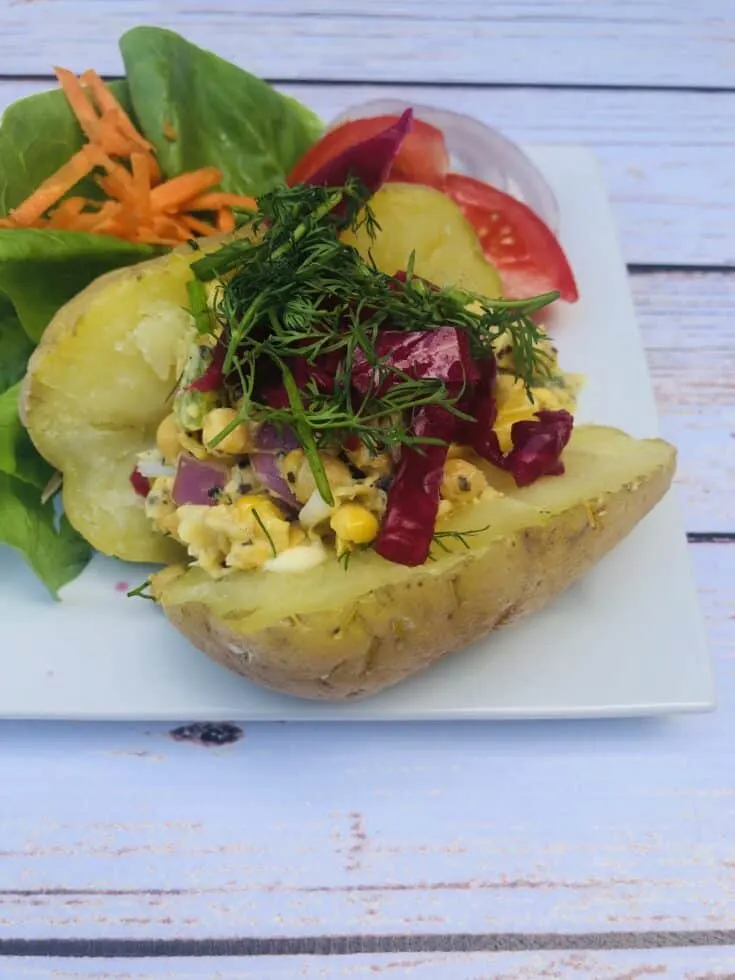 This vegan baked potato is a light and refreshing lunch option. The creamy chickpea tuna base makes the best vegan potato filling. It blends beautifully with the warm, golden potato and refreshing side salad. Making the chickpea tuna base can lead to lots of other dishes.. The vegan tuna salad is crramy and satisfying, with the smashed chickpeas making the perfect texture. The addition of nori flakes gives this recipe an authentic marine like taste. The zingy capers give it a tasty twist.
Ingredients
One can of chickpeas, drained
80g corn (about a handful)
1 small stick of chopped celery
20g chopped red onion
3 tbsp vegan mayonnaise
1 teaspoon dijon mustard
1 tbsp capers
1 tsp garlic powder
Fresh dill
Squirt of lemon
Salt and pepper
1 medium baking potato
Instructions
Scrub baking potato and prick with a fork multiple times
Place in microwave and cook on a high heat for around 10 minutes, check progress carefully as it will be hot.
Whilst potato is cooking, add drained chickpeas to a bowl and mash well
Add the chopped veg and seasoning
Add mustard and vegan mayonaise to your desired consistency
Assemble your desired salad on a plate, place cooked baked potato and slice in two.
Add some vegan spread for extra delicousness.
Place topping of choice on top - here we use vegan chickpea tuna
Add fresh dill for garnish.
Notes
This recipe yields around 2-3 portions. The vegan tuna salad will remain fresh in a sealed container in the refrigerator for around 3-4 days. I have not attempted to freeze this, but probably wouldn't attempt as the vegan mayo may not freeze well. I do not recommend freezing a baked potato.
Nutrition Information:
Yield:
2-3
Serving Size:
1
Amount Per Serving:
Calories:

453
Total Fat:

13g
Saturated Fat:

2g
Trans Fat:

0g
Unsaturated Fat:

10g
Cholesterol:

0mg
Sodium:

453mg
Carbohydrates:

79g
Fiber:

11g
Sugar:

29g
Protein:

12g
This nutritional balance is computed and an estimate.