Avocado has always been my go to, easy vegan sandwich filling. Using avocado in a sandwich is just so simple and delicious. Usually it's in guacamole form or just smashed into the bread with a sprinkle of salt and some nutritional yeast.
Every once in a while though it's nice to get a little fancier to keep things fresh. I still want something quick, especially if it's for a weekday lunch, so this vegan avocado sandwich with pesto and sun-dried tomatoes is the perfect variation.
This easy vegan sandwich filling only takes a few minutes to put together and travels really well. Of course, it's also incredibly delicious!
If you are looking for more vegan sandwiches, check out our Middle Eastern eggplant sandwich, vegan egg salad sandwich or vegan lox and cream cheese bagel.
If you specifically are looking for more options that are great for packed lunches, check out our favorite cold vegan lunches here!
Pesto Avocado Vegan Sandwich Ingredients
The ingredients of this easy vegan avocado recipe are as simple as it sounds! The ingredients are:
That's it!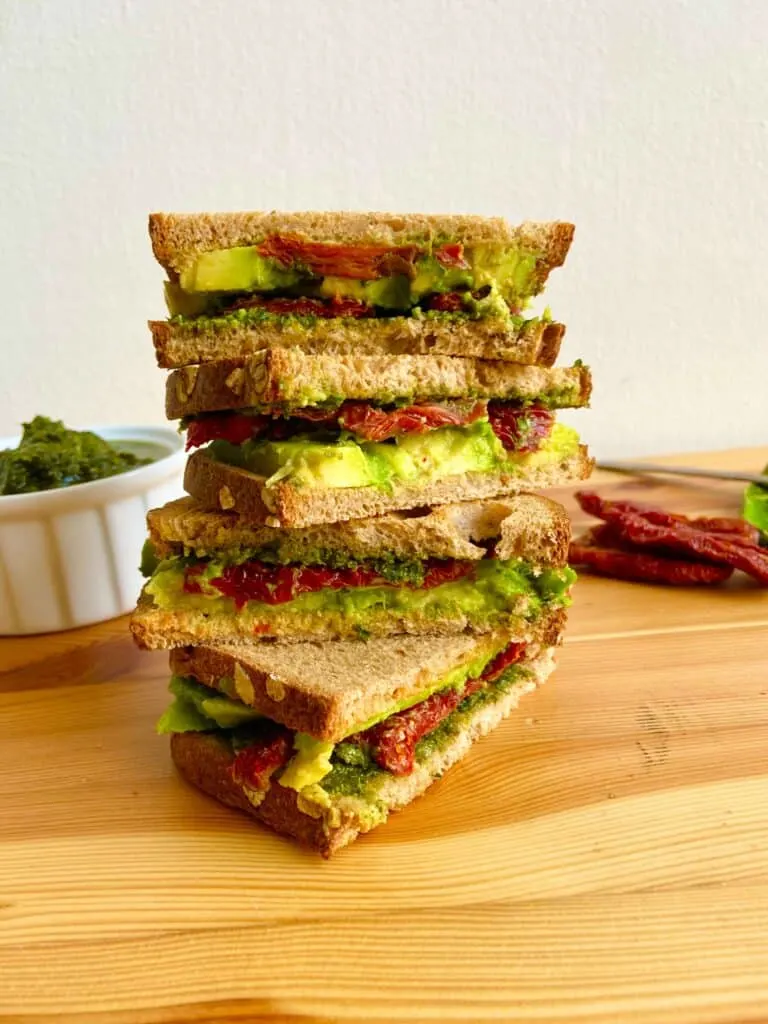 Vegan Pesto
For the pesto, you can use a store bought version or make your own. (If you want to buy, you can purchase vegan pesto here
.) I like to make my own, it only takes a few minutes and the food processor does all the hard work.
The pesto I make is just fresh garlic, basil, nutritional yeast, sunflower seeds, olive oil, salt and pepper. You can easily adapt it, by throwing in some spinach, kale, parsley, or any greens you like. You can also swap sunflower seeds for your favorite nut.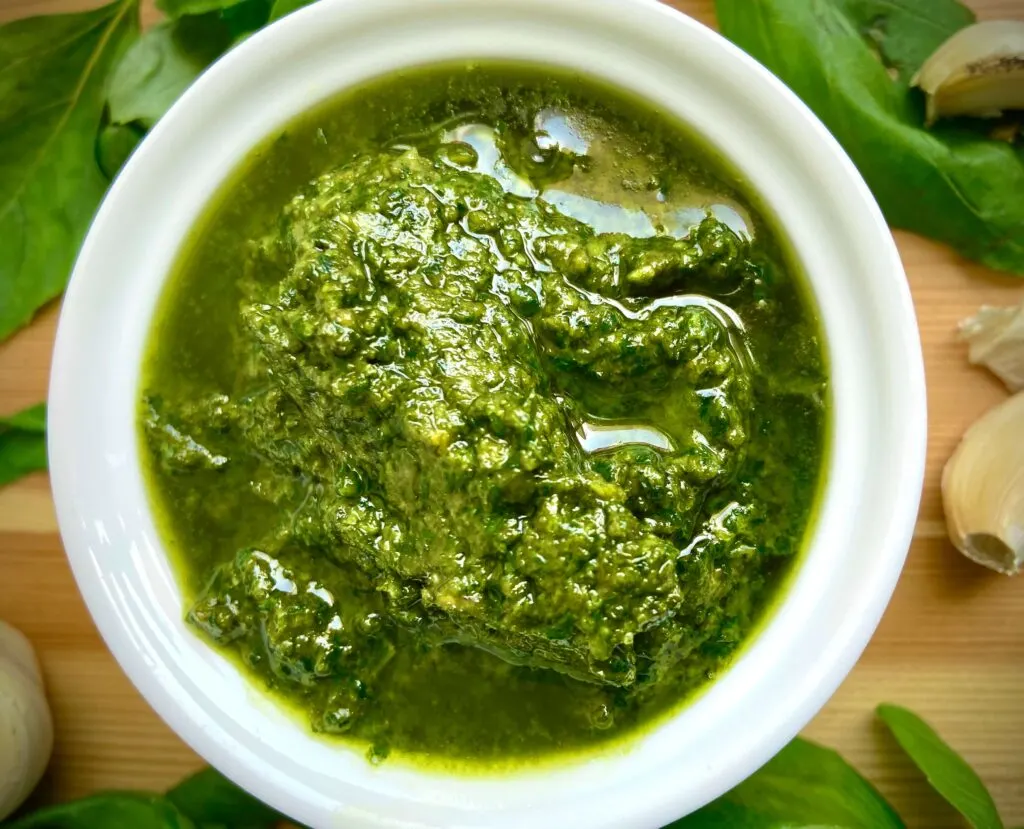 For full instructions on how to make the pesto, or how to swap in your favorite ingredients, storing pesto and more, check out this vegan pesto post. In short though, just throw your ingredients, minus the olive oil, in the food processor and chop until broken down and then drizzle in the olive oil. It's really that easy.
Avocado Sandwich Recipe
All you have to do to put this sandwich together, is slice the avocado and sun-dried tomatoes. Spread pesto on one slice of bread, layer on sliced sun-dried tomatoes and avocado and it's ready!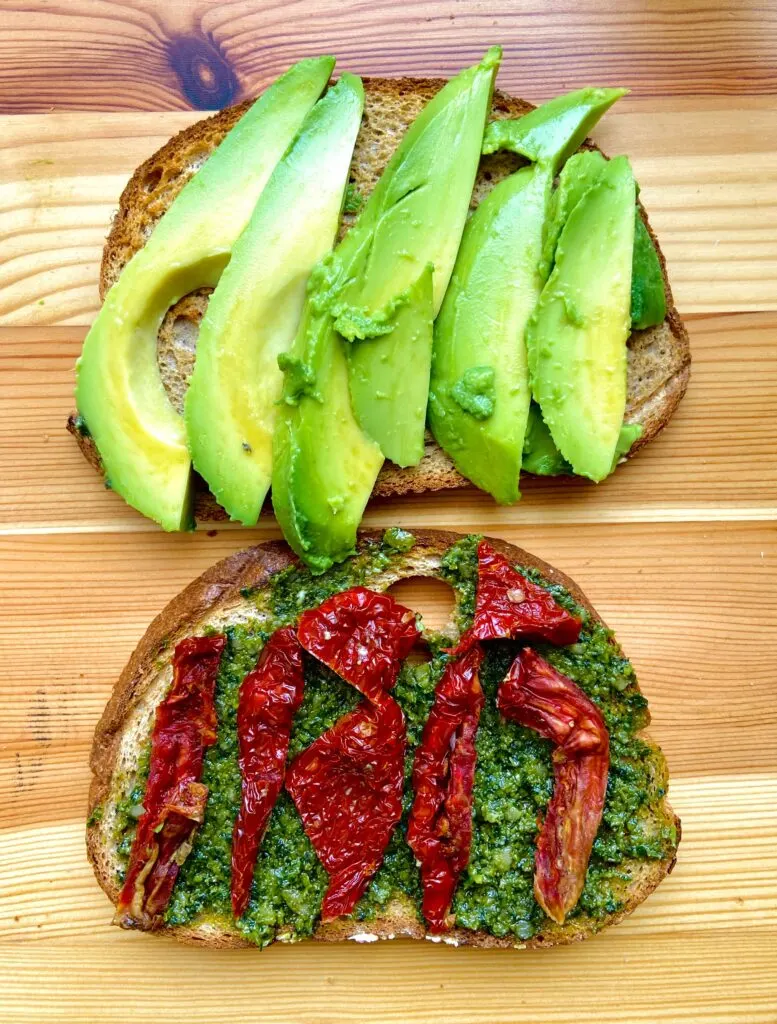 How much sun-dried tomatoes you use will completely be a personal preference thing. I love sun-dried tomatoes, but they do pack an intense amount of flavor so start with a smaller amount if you are not sure how you feel about them.
Storing and Enjoying the Vegan Avocado Sandwich
As far as vegan cold sandwich recipes go, this one is a winner in my book. This sandwich packs really well for vegan lunches. It doesn't need to heated, and it doesn't get soggy.
Though optional, I like to lightly toast the bread, which makes it hold up even better in a packed lunch situation.
You could also enjoy this as an avocado breakfast sandwich, or leave one of the slices of bread off and you've got a fun twist on a vegan avocado toast!
Don't Forget to Pin This Post For Later!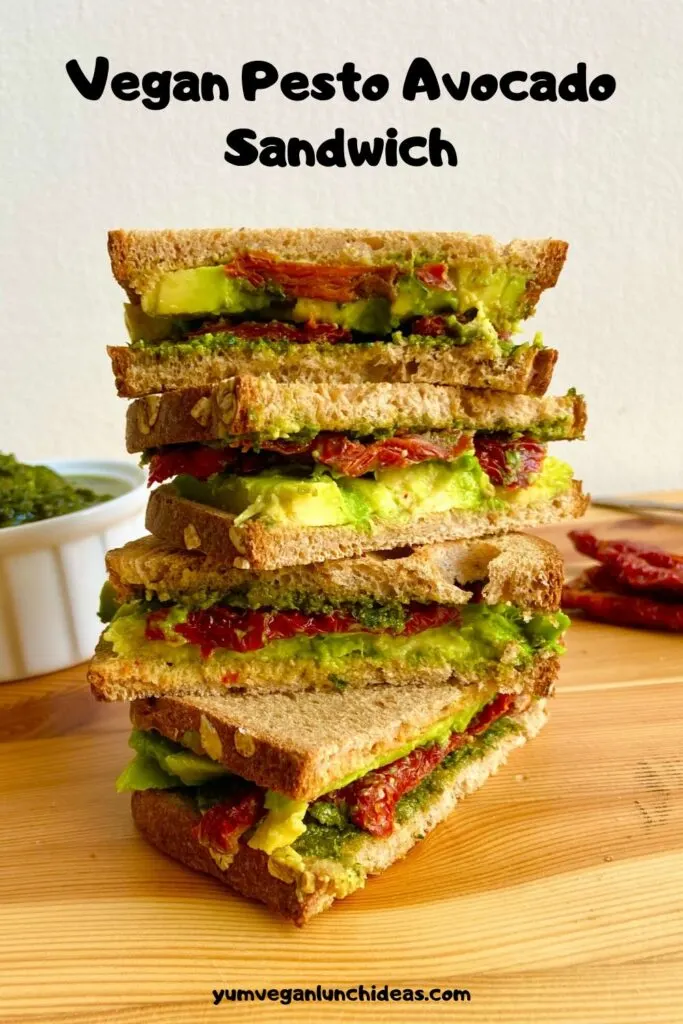 Yield: 3 Sandwiches
Vegan Avocado Sandwich with Pesto and Sun-Dried Tomatoes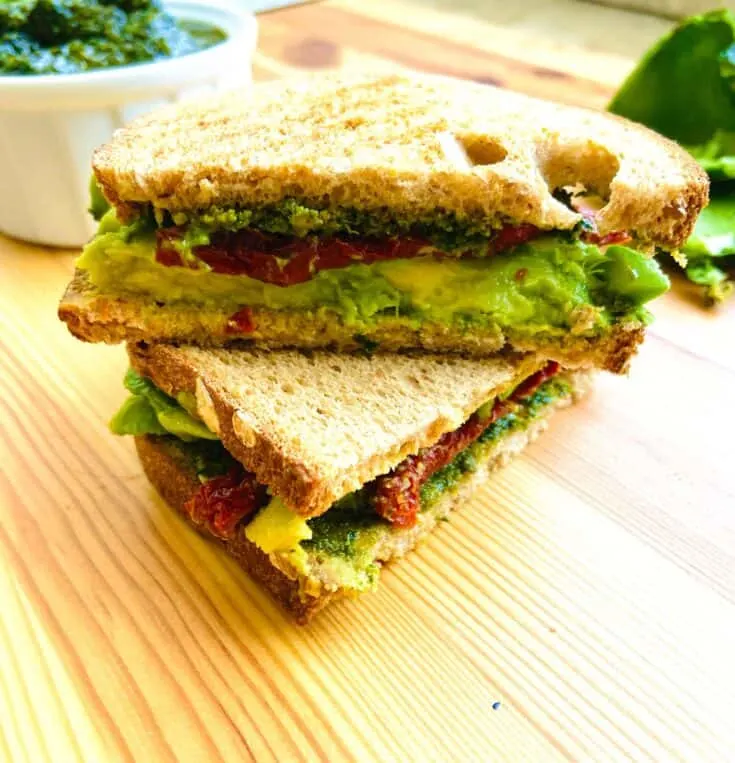 This vegan avocado sandwich with sun-dried tomatoes and pesto is the perfect cold vegan sandwich for packed lunches, a quick breakfast, or anytime you want some creamy avocado goodness.
It comes together in just a few minutes but feels so much more indulgent then a classic avocado sandwich. It's also plant based and travels well!
You can also enjoy it open faced on lightly toasted bread for a fun twist on a vegan avocado toast!
Ingredients
6 Slices of Bread*
1 Avocado
Instructions
Optional: Lightly toast slices of bread.
Slice your avocado lengthwise and cut sun-dried tomatoes into slice or smaller pieces.
Spread the pesto onto three slices of bread.
Layer on sundried tomato pieces and avocado slices so that they are evenly distributed.
Top each sandwich with the final slices of bread and enjoy!
Notes
* I like to lightly toast the bread if I'm packing it for a sandwich, it helps it hold up better until you are ready to eat it.
** You can use store bought or make your own. Our pesto recipe is in the recipe card below, but if you want more info about storing the pesto, or adapting it to the ingredients you have on hand, click here to see the full post.
Recommended Products
As an Amazon Associate and member of other affiliate programs, I earn from qualifying purchases.
Nutrition Information:
Yield:
3
Serving Size:
1
Amount Per Serving:
Calories:

392
Total Fat:

23g
Saturated Fat:

4g
Trans Fat:

0g
Unsaturated Fat:

17g
Cholesterol:

5mg
Sodium:

422mg
Carbohydrates:

40g
Fiber:

7g
Sugar:

5g
Protein:

10g
Yield: ~ 1 Cup
Vegan Nut Free Pesto Recipe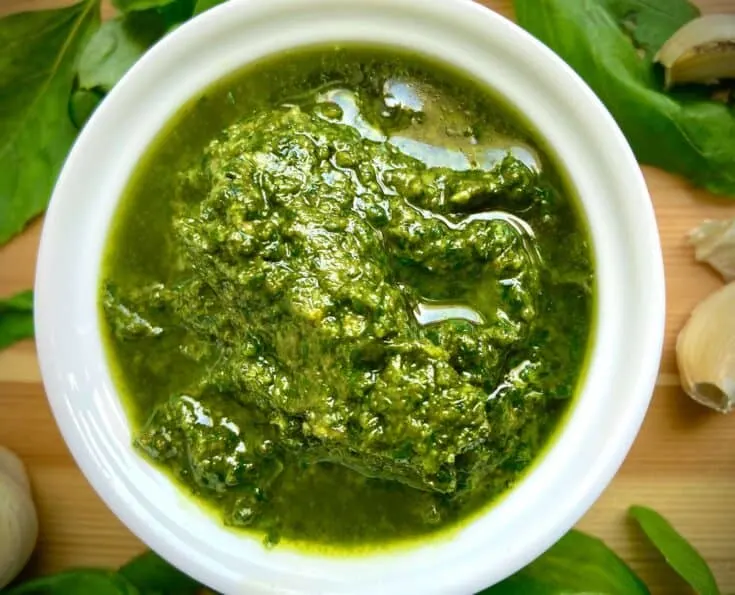 This vegan nut free pesto is quick and easy and incredibly delicious! Just throw all the ingredients in the food processor and the vegan pesto is done.
Dairy free, nut free, and zero effort, this homemade vegan pesto is perfect in vegan sandwiches, for vegan pesto pasta, and more!
You can easily adapt this nut free, dairy free pesto so that it suits what you have on hand or what you are in the mood for by swapping out half the basil for spinach, kale, parsley or any other greens.
For more details on variations and storage for nut free vegan pesto, see the post above!
Ingredients
3 Garlic Cloves
2 Cups Basil
Salt and Pepper To Taste
Instructions
Process the garlic cloves until broken down. It's important to do them before the rest of the ingredients, otherwise I find I sometimes end up with some raw garlic chunks.
Add in the basil, sunflower seeds and nutritional yeast and process until thoroughly broken down. You may need to open the food processor and scrape down the sides with the spatula so nothing gets stuck on the sides.
Through the pouring spout on the top of the food processor, drizzle in your olive oil while the food processor runs. After a minute, your pesto should be the perfect pesto texture.
Open it up and stir in salt and pepper to taste. I used around a tsp of salt and a dash of pepper. I like things on the saltier side though.
Enjoy on your pasta, on bread, or anything else you are eating!
Notes
Calorie count is for 1 Tbsp of vegan pesto.
Recommended Products
As an Amazon Associate and member of other affiliate programs, I earn from qualifying purchases.
Nutrition Information:
Yield:
16
Serving Size:
1
Amount Per Serving:
Calories:

37
Total Fat:

2g
Saturated Fat:

0g
Trans Fat:

0g
Unsaturated Fat:

2g
Cholesterol:

0mg
Sodium:

180mg
Carbohydrates:

2g
Net Carbohydrates:

0g
Fiber:

1g
Sugar:

0g
Sugar Alcohols:

0g
Protein:

3g