This vegan spicy chicken sandwich is all your dreams are made of. It is the ultimate comfort food – with a spicy, crispy batter and a vegan meaty interior. A dollop of creamy vegan mayo and crispy iceberg lettuce makes this vegan chicken sandwich the perfect home made treat.
Vegan Chicken Recipe
The vegan spicy chicken fillets were created from a blank canvas of seitan fillets. It was then coated in a vegan batter, dipped in spicy breadcrumb mix – then double dipped!
Seitan is a super versatile substance that can make a range of textures, especially when creating mock meats.
I used the vegan chicken recipe from this Jerk Seitan Chicken – and simply coated it in a tasty, spicy batter (minus the jerk marinade obviously). That is the beauty of having pre-made seitan chicken fillets. Chicken seitan is so versatile!
Vital wheat gluten comes readily available prepackaged as a flour. For this recipe, you'll need vital wheat gluten which is essentially seitan!
How to Cook Vegan Spicy Chicken
As I am in love with my air fryer – I opted to cook the vegan spicy chicken in the air fryer as an experiment and it worked a treat! The air fryer gives an extra crisp to the batter that works great with the meaty seitan interior.
This is the Ninja Air Fryer is the one we can recommend – it is an absolute game changer!
However, if you do not have an air fryer, the vegan chicken would equally be delicious shallow fried, giving more of a vegan fried chicken effect.
This vegan fried chicken sandwich really is the ultimate comfort food!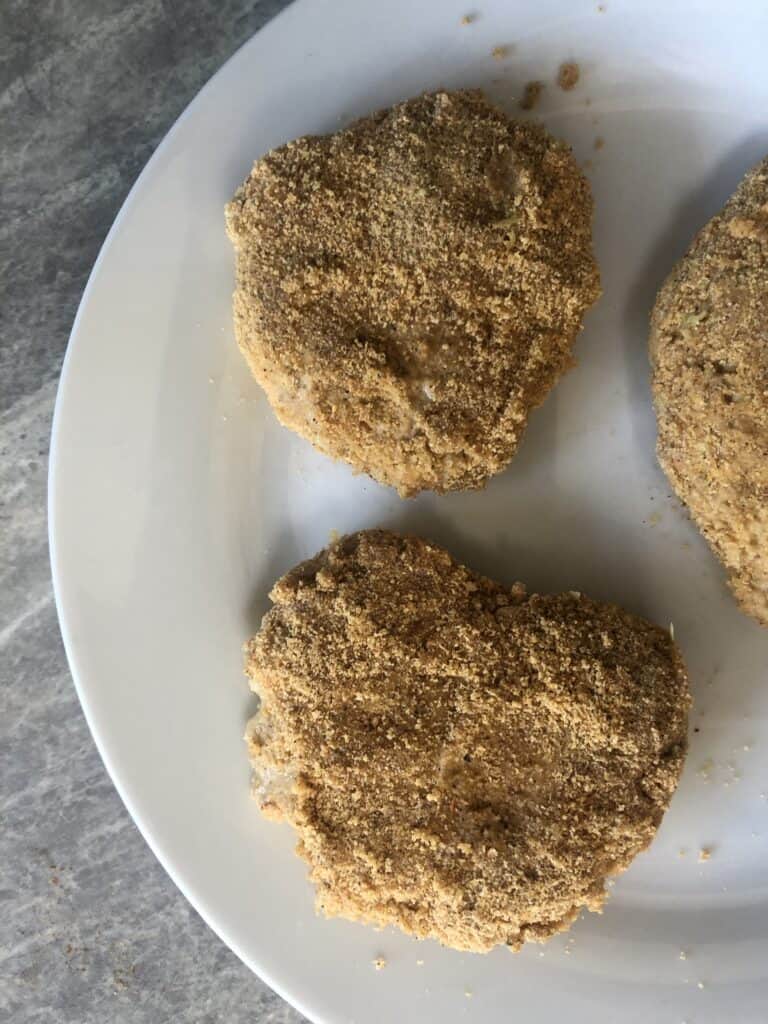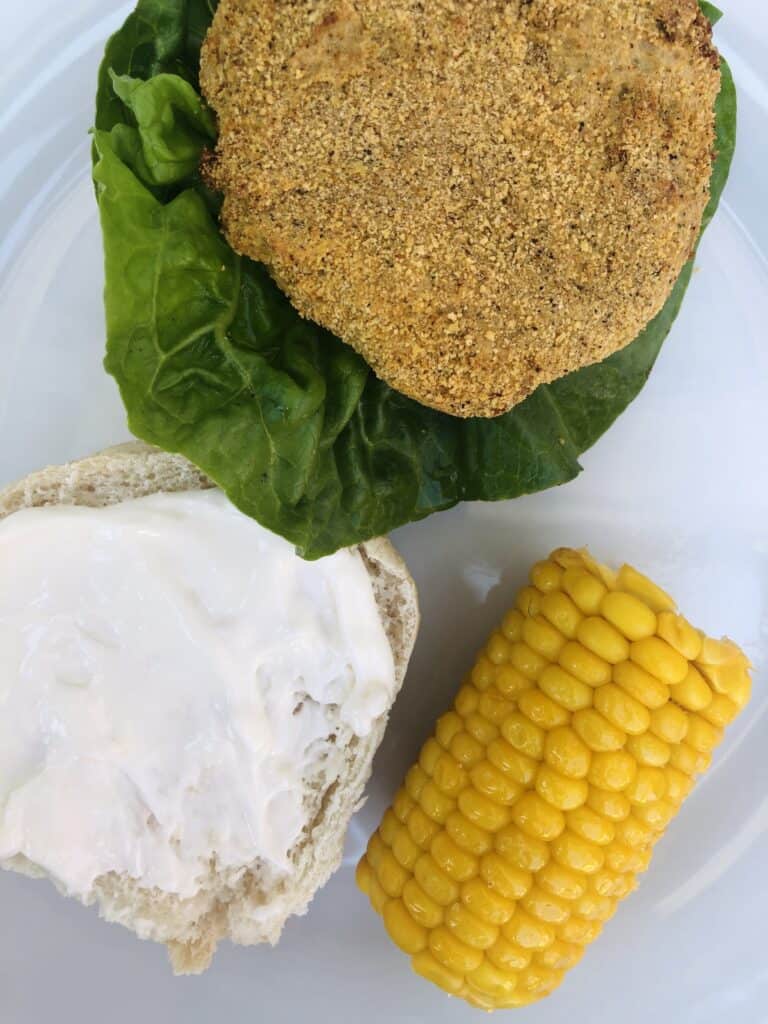 KFC Vegan Chicken Recipe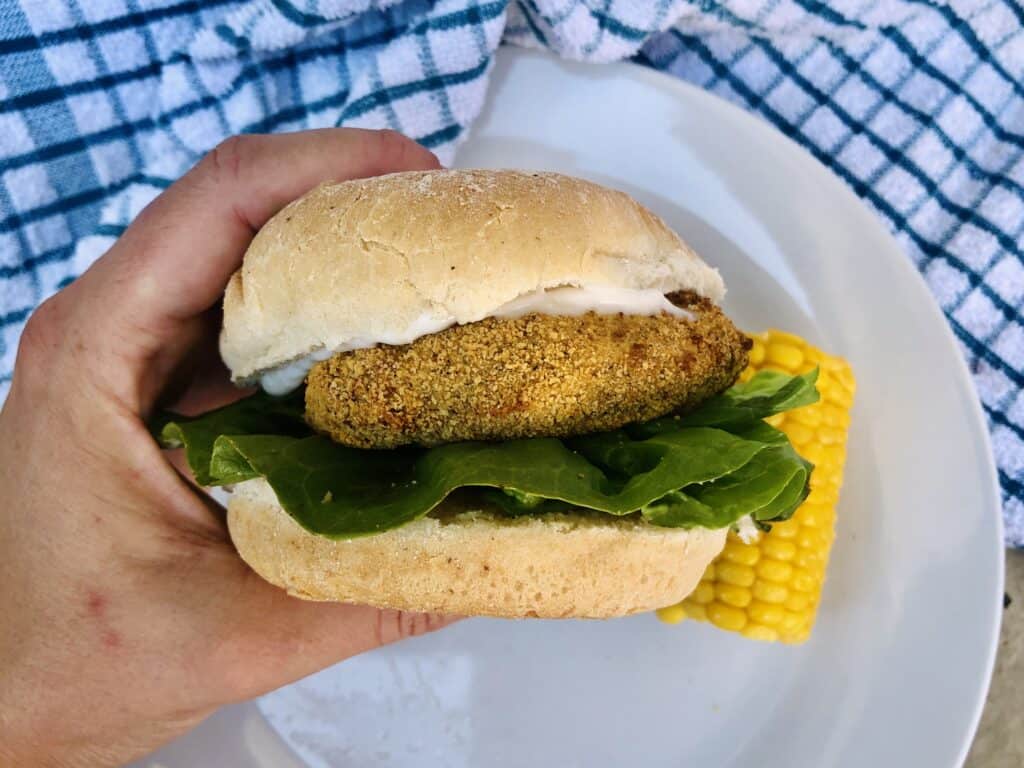 Understandably, mock fast food isn't everyones thing. The KFC vegan chicken sandwich seemed to cause much divide, however many people enjoy eating it. Souther fried seitan chicken is just so damn tasty!
This spicy vegan chicken sandwich is a good replica and presumably much healthier too as it is made from whole foods without any added nasties.
The blend of spices and herbs used in the batter is just right – with the reliable vegan chicken seasoning, garlic and onion powder and a few more sprinkles – it is the perfect flavour.
This vegan crispy chicken sandwich is made possible with a gram flour batter, and the spiciness is lent from a touch of Franks hot sauce.
Seitan fried chicken is becoming increasingly popular – and I can understand why! Even your non-vegan friends and family will be impressed by this spicy vegan chicken sandwich recipe.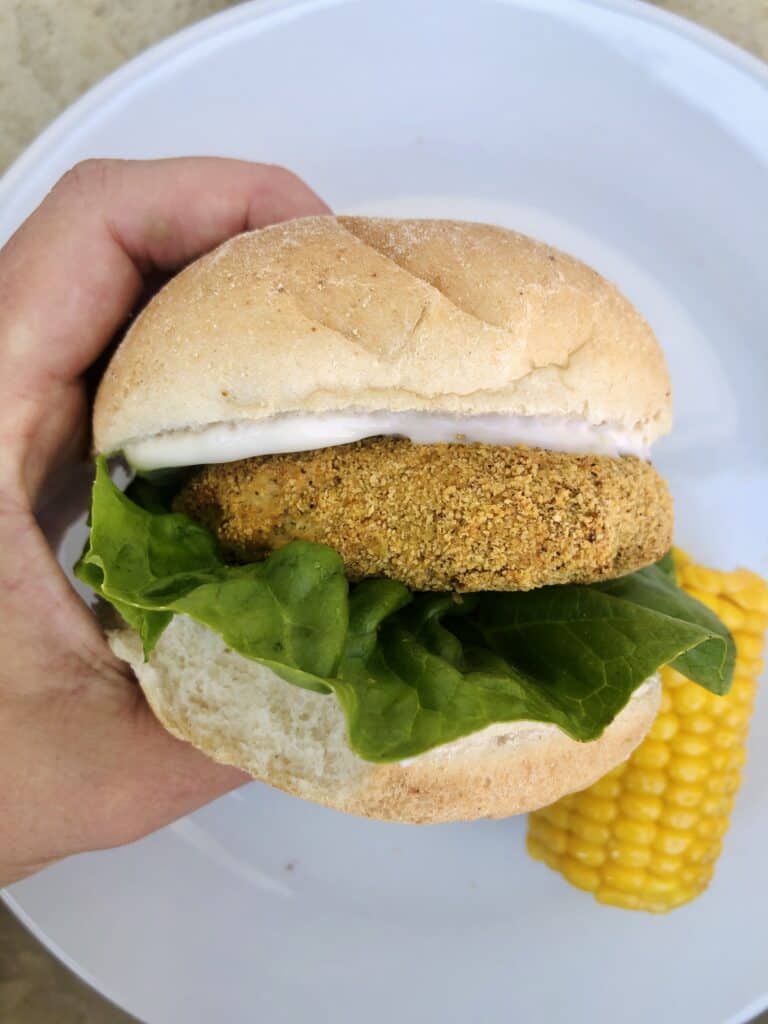 Yield: 6 Sandwiches
Vegan Spicy Chicken Sandwich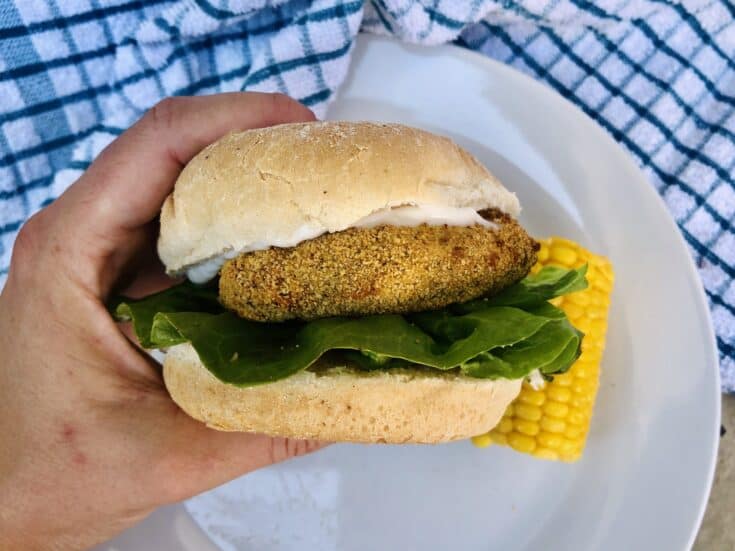 This vegan spicy chicken sandwich will blow you away. With a crispy, well seasoned batter, a tasty vegan chicken centre, creamy vegan mayo, refreshing iceberg lettuce and fresh soft bun. This is one of our favourite vegan sandwich recipes. Chicken seitan works pefectly in this tasty recipe.
Additional Time
20 minutes
Total Time
1 hour
22 minutes
Ingredients
Seitan Chicken Fillets
170g of vital wheat gluten
170g silken tofu
2 tbsp water
1 tbsp of garlic powder
2 tbsp nutritional yeast
1 tsp dried sage
1/2 tsp salt
1 tsp of vegan chicken seasoning
1 tsp vegetable or vegan chicken bouillon powder (or 1 stock cube)
Batter
4 tbsp gram flour
200 mls non-dairy milk
Pinch of salt
2 tsp white wine vinegar
2 tsp Franks hot sauce
2 tsp vegetable oil (optional)
Breadrumb Coating
200g panko breadcrumbs
1 tsp ground black pepper
1/2 tsp salt
2 tsp onion powder
2 tsp garlic powder
1 heaped tsp vegan chicken seasoning
2 tbsp nutritional yeast
2 tsp oregano
Sandwiches
6 soft white buns
6 tbsp vegan mayonnaise
6 leaves iceberg lettuce
Instructions
1. Add tofu, water and herbs/spices to the food processor and blend until smooth. Add the vital wheat gluten and pulse until a dough is formed.
2. Turn dough out onto a surface that has been lightly floured with vital wheat gluten flour, this reduced stickiness.
3. Don't knead the mix, it will make it too fibrous and tough. Roll out the mix with a rolling pin and cut the dough into strips or cutlets. This recipe makes 6 nice sized cutelets (remeber they expand when steamed)
4. Lightly oil a steaming pan and place vegan chicken cutlets in the baskets. If they are touching one another, lightly oil the cutlets to prevent sticking.
5. Steam on a low heat for approx. 30 mins - flipping half way through.
6. Remove from pan and place on a cold plate or in the firdge to cool down. They are now a well formed, firm vegan chicken fillet.

7. Make batter in one bowl by mixing the gram flour, white wine vinegar, hot sauce, pinch of salt, non-dairy milk and optional oil.

8. In another bowl mix the dry breadcrumb ingredients with the herbs and spices

9. Dip a fillet into the breadcrumb mix, into the batter, then back into the brradcrumbs. Place it on a plate and repeat with others.

10. If cooking in air fryer , preheat at 200c/390f depending on size, place 3 vegan chicken fillets in the tray and cook for approx. 12 mins. There needs to be enough space between the fillets to allow air flow.

11. If shallow frying, place 100mls of vegetable oil in a pan on a medium heat - cook fillets for approx. 3-4 minutes each side until cooked through.

12. Assemble your spicy vegan chicken sandwich. Place a blob of vegan mayonaisse on a soft white bun, accompanied by crisp, iceberg lettuce. Place the vegan spicy chicken in the bun - serve and enjoy!
Notes
* The recipe for the vegan chicken seitan fillets yields 6 small fillets - which could make 6 of these spicy chicken sandwiches. However, you can totally keep some of the fillets aside unbattered for different recipes such as this Jerk Chicken recipe.
** The vegan spicy chicken fillets can be air fryed, shallow fried in a pan or deep fried if desired.
Recommended Products
As an Amazon Associate and member of other affiliate programs, I earn from qualifying purchases.
Nutrition Information:
Yield:
6
Serving Size:
1
Amount Per Serving:
Calories:

532
Total Fat:

15g
Saturated Fat:

3g
Trans Fat:

0g
Unsaturated Fat:

11g
Cholesterol:

3mg
Sodium:

1110mg
Carbohydrates:

63g
Fiber:

5g
Sugar:

9g
Protein:

38g
This is an estimated calculation
We have tonnes of other vegan sandwich recipes you will love: