Eating healthy means eating the rainbow. Every color of fruit and vegetables packs its own healthy combination of nutrients. This colorful coleslaw is the perfect way to pack a ton of those nutrients in!
Not only is this pomegranate coleslaw good for you but it's also perfect for the holidays, packed with fall and winter flavors. The coleslaw ingredients each bring their own bright flavors, especially the pop of pomegranate, and are topped with just a light apple cider dressing to bring it all together.
You can shred your own vegetables for this pomegranate slaw or make things even easier on yourself and start with a bagged mix. Either way, this easy vegan coleslaw will brighten up any table!
Looking for more vegan salad inspiration? Check out our low carb asian noodle salad, or crisp and delicious vegan broccoli salad.
Make sure to check out our vegan lunch ideas.
Ingredients for Homemade Coleslaw
You can use a bag mix for the base of the coleslaw or shred your own ingredients to make your own mix. I shredded my own mix. I used:
White Cabbage
Purple Cabbage
Carrot
Beet (Raw)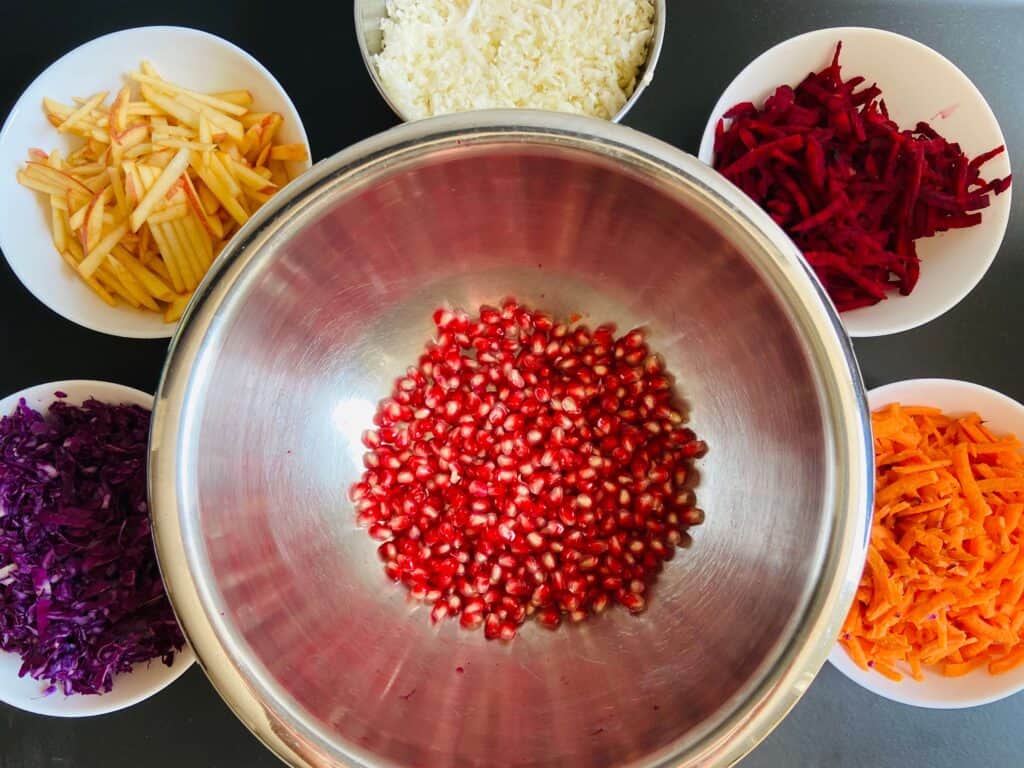 Additionally you'll need:
And for the easy coleslaw dressing:
How to Make Pomegranate Coleslaw
You can manually shred the vegetables or use a shredding food processor attachment, or use a bagged mix. Either way you'll need shredded white and purple cabbage, carrot and beet.
The beet is optional. If you like beets in general, it's great in this salad, but if they aren't your thing, feel free to skip it and just add a little extra cabbage.
If you are looking for a good food processor with a shredding function I can recommend this awesome multi-functional Food Processor. It makes shredding vegetables so simple and quick!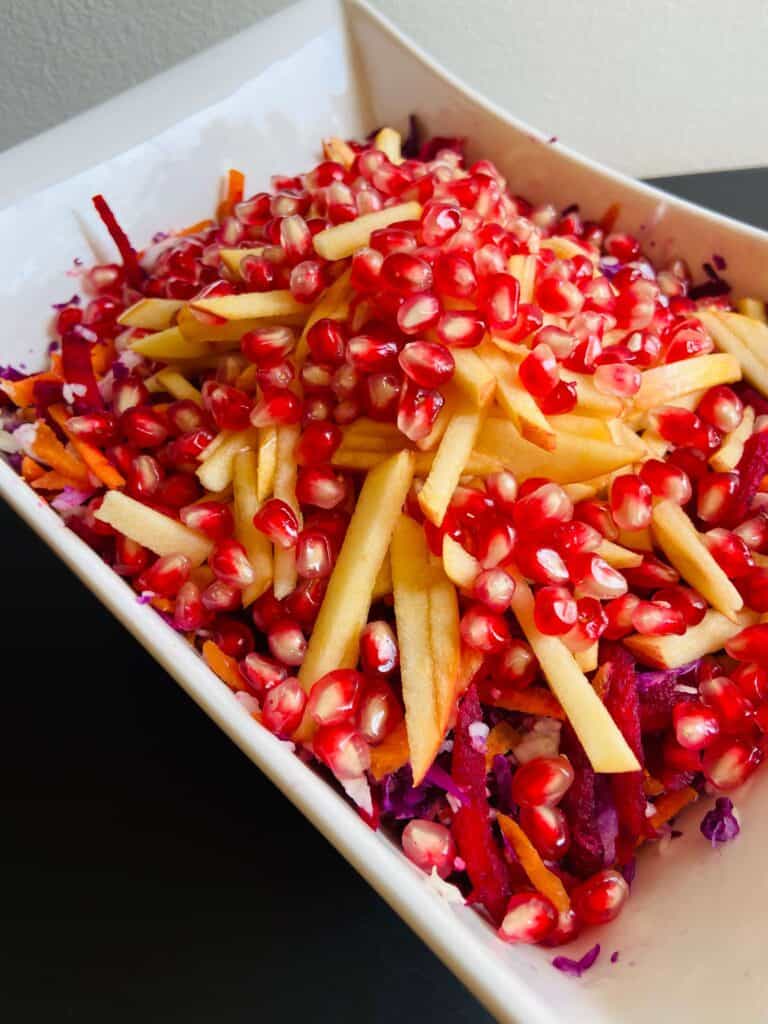 Once it's time to seed your pomegranate. If you've never seeded a pomegranate before it can be a tiny bit tricky but it's actually pretty easy. If you want to keep everything cleaner, you can even open it up submerged in a bowl of water so that if any seeds burst, it's no muss, no fuss.
Make shallow cuts, in a circular move around the top, and then four cuts around the sides from top to bottom. Peel off the top piece and then try and pull apart one of the side pieces. It should break apart at natural points with minimal bursting seeds. Once it's open, it should be easy to detach the seeds by gently pulling.
If you are looking for a recipe to use up the remaining pomegranate seeds, check out this pomegranate vinaigrette.
Once that's done, chop your apple into sticks that are a bit bigger then matchsticks. Combine the shredded mixture with the apple and pomegranate seeds.
Next, make your dressing by whisking all the ingredients together. Mix the dressing into the coleslaw mixture to combine. Enjoy!
Make Ahead And Storing Pomegranate Salad
The fruit and veg in this salad are actually really sturdy so it's a perfect make ahead salad. You can also make a big batch for meal prepping to have throughout the week.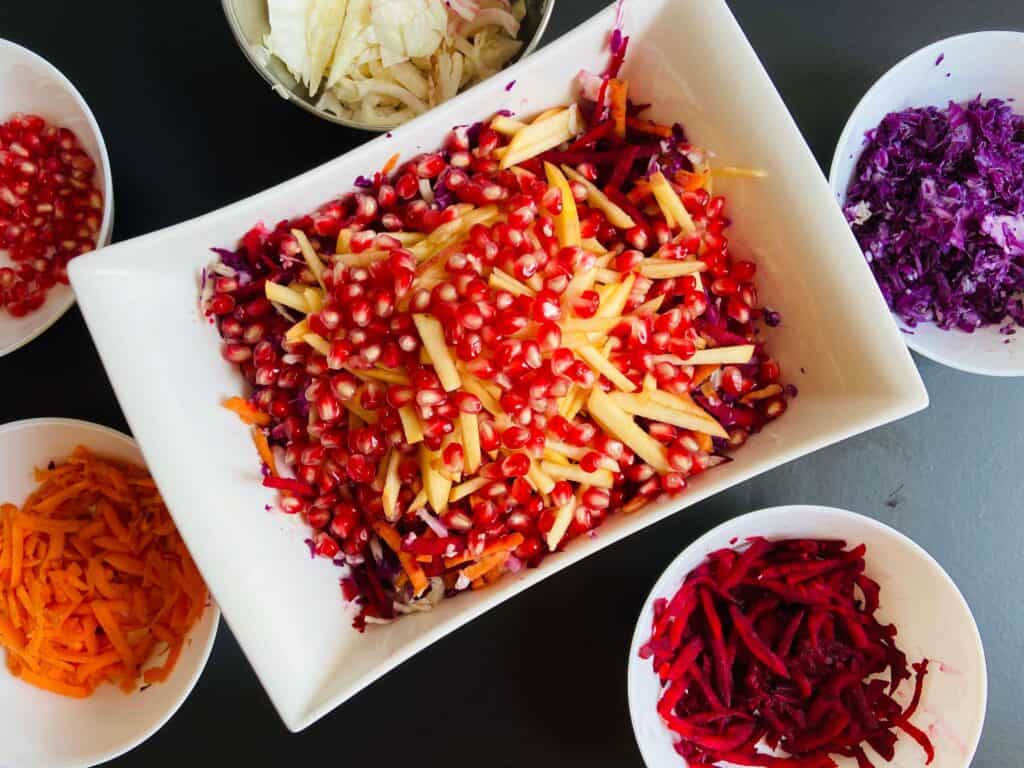 As usual, just make sure to store it in an airtight container in the fridge. Remix the dressing into the salad before serving, in case most of it has fallen to the bottom.
Simanim Salad
This pomegranate salad are also perfect for those who observe Rosh Hashana, it's filled with tons of the simanim (symbolic foods). However, if you want to make things even sweeter (and more Rosh Hashana style) you can increase the amount of agave. Check out more vegan Rosh Hashana recipes here.
Don't Forget to Pin This Post For Later!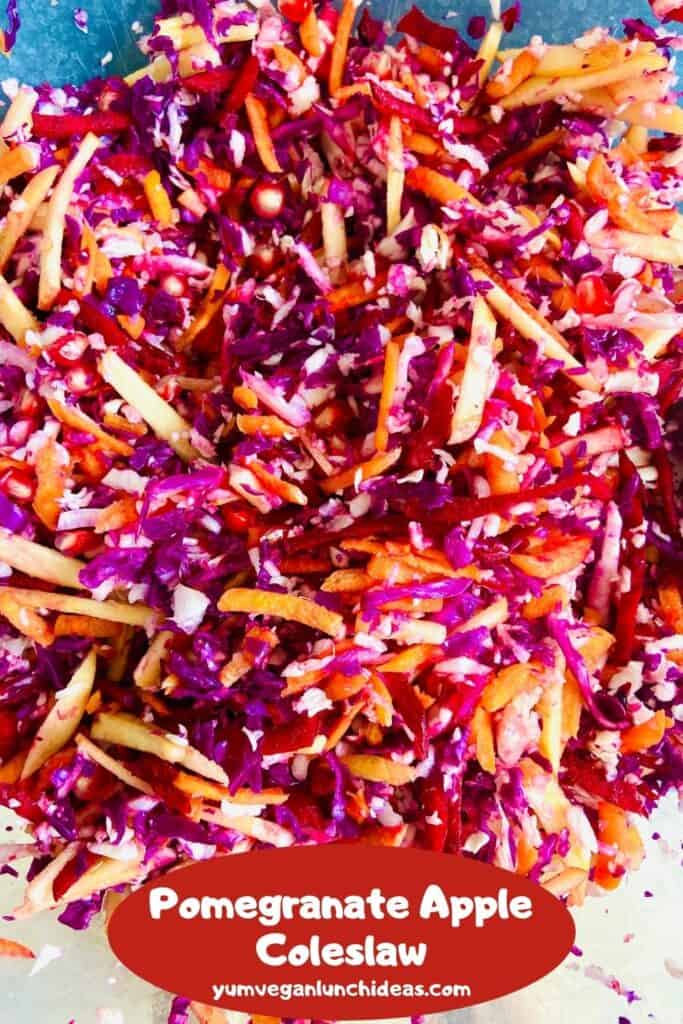 Yield: 8 Serving
Pomegranate Coleslaw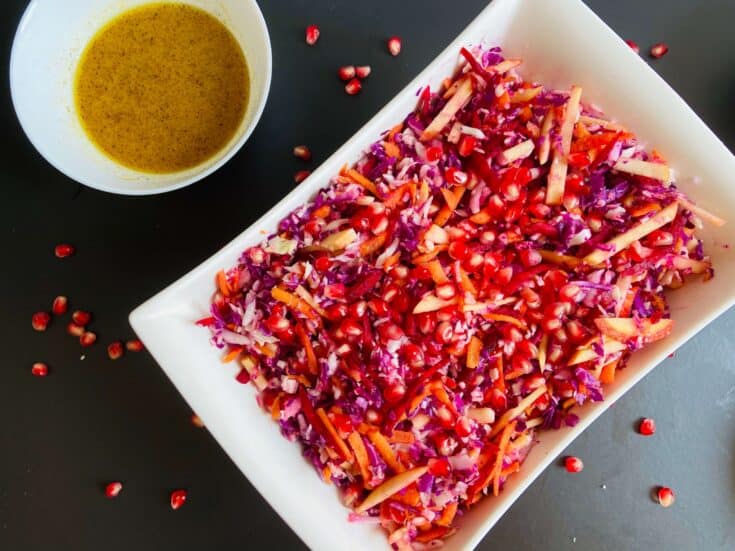 This colorful coleslaw is filled with bright healthy flavors and colors, coming together to form a vibrant, delicious dish. Pomegranate coleslaw is perfect for meal prepping, or for big family holiday style meals with it's fall/winter flavors and hardy ingredients that stay crisp in the fridge.
If you try this recipe, please leave a rating or tag us on social media. We love to hear your feedback. 🙂
Ingredients
Shredded Mixture (*See note if using storebought mixture)
2 Cup Shredded White Cabbage
2 Cup Shredded Purple Cabbage
1.5 Cup Shredded Carrots
1 Cup Shredded Beets (Raw)**
Additional Coleslaw Ingredients
1 Apple
1/2 a Large Pomegranate
Coleslaw Dressing
1 tsp Granulated Garlic
1/4 tsp Salt
Sprinkle of Black Pepper
Instructions
Seed your pomegranate. If you are not sure how to seed a pomegranate, see full post for instructions.
Chop the apple into pieces slightly larger than matchsticks.
Mix together the shredded mixture with the apple and pomegranate seeds.
In a small bowl, whisk together all the salad dressing ingredients and then pour over the coleslaw.
Mix the salad well to combine.
Enjoy immediately or store in an airtight container in the fridge until you are ready to eat it.
Notes
* If you are using a pre-shredded bagged mixture it doesn't have to be the exact quantities, just make sure it's around 6.5 cups total.
** If you aren't a fan of the taste of beets, feel free to swap it out for extras of the other shredded ingredients.
Recommended Products
As an Amazon Associate and member of other affiliate programs, I earn from qualifying purchases.
Nutrition Information:
Yield:
8
Serving Size:
1
Amount Per Serving:
Calories:

105
Total Fat:

4g
Saturated Fat:

1g
Trans Fat:

0g
Unsaturated Fat:

3g
Cholesterol:

0mg
Sodium:

144mg
Carbohydrates:

18g
Fiber:

4g
Sugar:

12g
Protein:

2g
Disclaimer: This post contains affiliate links.