I'm big into parfaits lately, as my breakfast laziness has reached all time highs and I'm a sucker for pretty foods. Since memorial day is headed our way, I figured it was high time to add these pretty red white and blue vegan yogurt parfaits to the menu!
They take literally no effort to make, so there's no excuse to avoid making them! They'd be a perfect way to start out the day for memorial day, July 4th, or really any day of the week.
You can also swap out the yogurt for coconut whipped cream to turn it into easy make ahead dessert cups for any get togethers, bbqs or parties!
If you are interested in adding more vegan parfait recipes to your life, check out our delicious strawberry banana chia parfait cups here.
Vegan Yogurt for Dairy Free Parfait
For the yogurt part of the parfait, you can grab your favorite store bought vegan yogurt or make your own.
If you want to make your own, we have a super easy recipe for homemade vegan Greek yogurt here, 3 ingredients and no special equipment required!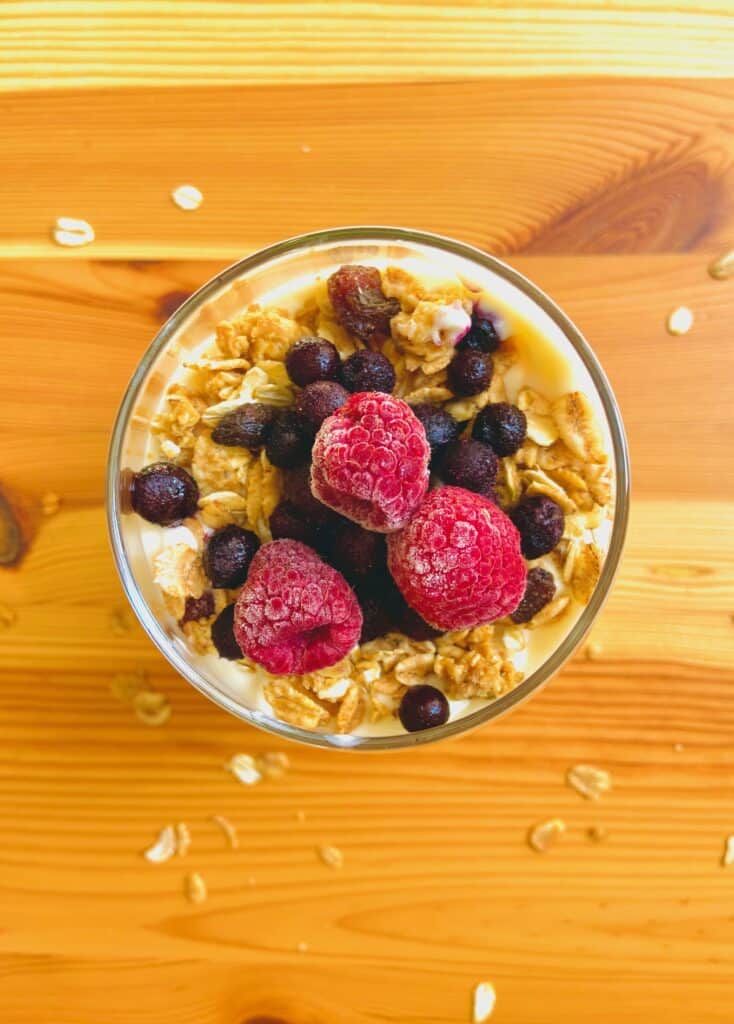 If you want to buy yogurts, thankfully the stores are packed with options now. I asked in a few vegan facebook groups to see what everyone's favorites and there were votes for more brands then I knew existed. The names that came up the most though, were Silk, Alpro, and Kite Hill.
Granola for Vegan Yogurt Parfait
Again, you can use store bought or homemade. Grab whichever one is your favorite. If your not sure which store bought granola options are vegan, you can grab this vegan one from amazon.
Berries for Vegan Parfait
If you want the brightest, most obvious red, white and blue, go for fresh fruit. I couldn't find any nice looking fresh berries when I was making this though, so I used frozen.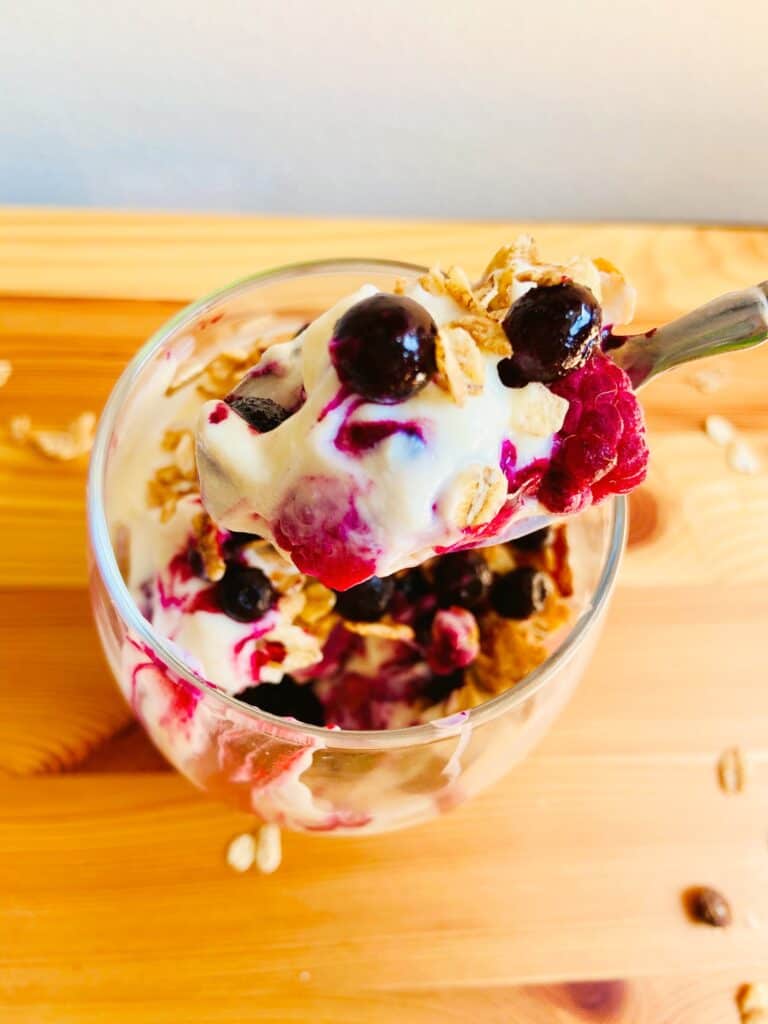 The frozen don't have as bold colors, but I actually love using them in parfaits, because as they defrost, the liquid that comes out forms a yummy syrup layer which is an added bonus! It also makes pretty streaks in the yogurt while you eat it.
I used raspberries and blueberries, but you can also swap out the raspberries for strawberries.
Preparing Parfait Ahead of Time
The parfaits only take a couple minutes to assemble. If you'd like to do them more than a few hours ahead of time though, you should only do one layer of the granola, and put the layer on top. This way the granola won't get soggy.
You can assemble the cups this way up to two or three days ahead of time.
Parfait Portions
This recipe makes large portions for a filling breakfast. If you want to make smaller cups for a party (especially if you are swapping in vegan whipped cream for yogurt to serve as a dessert) it should make at least 6 parfait cups. It will of course depend on the size parfait cups that you buy.
Don't Forget to Pin This Recipe For Later!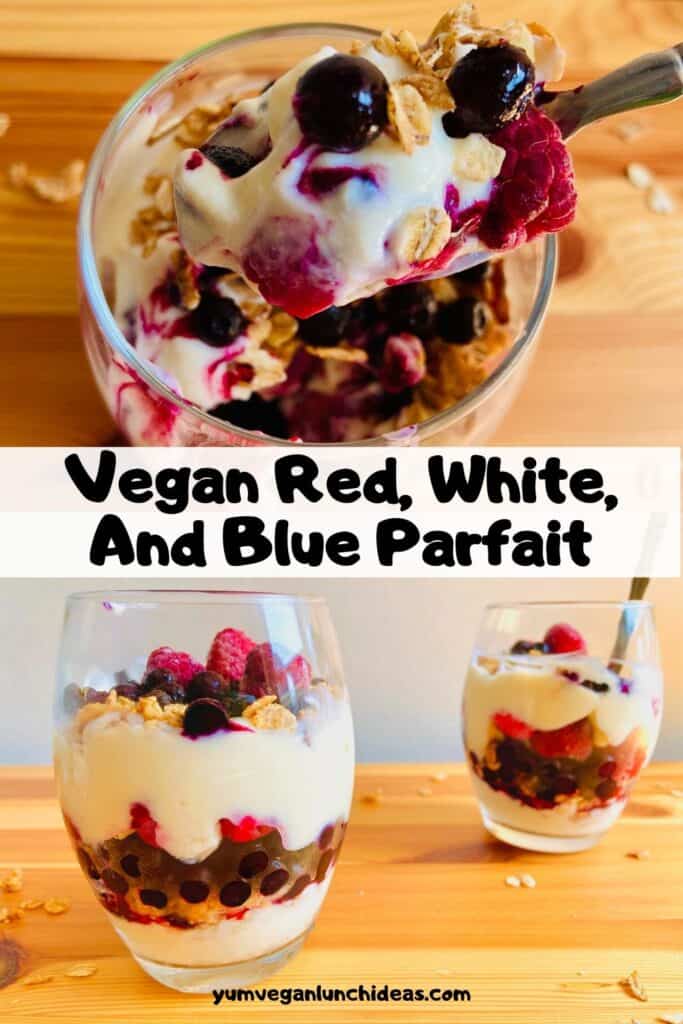 Check out more of our favorite brunch recipes here.
Yield: 3 Large Cups
Berry Patriotic Vegan Yogurt Cups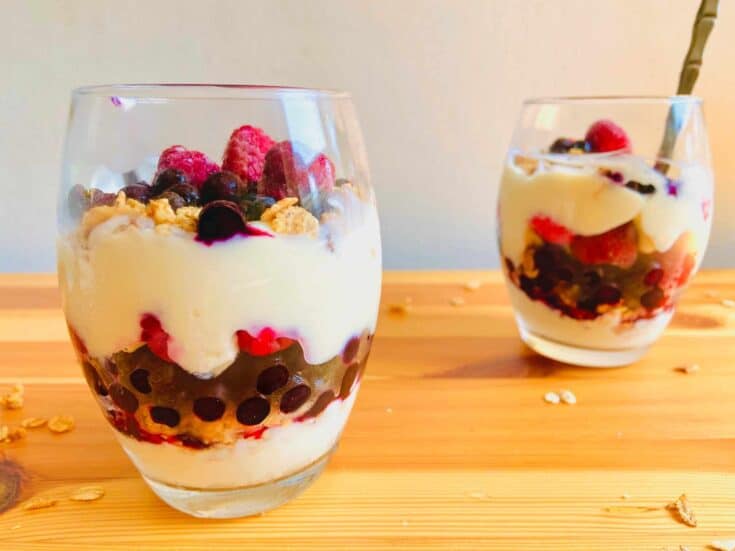 These berry packed vegan parfait cups are beautifully red, white, and blue making them perfect not only for a delicious, super fast breakfast, but also for any American holiday.
Vegan breakfast parfait cups are filling with layers of yogurt, granola and berries. Swap the yogurt out for vegan coconut whipped cream for a dessert parfait cup.
You can also assemble this vegan yogurt parfait the night before, making it perfect for busy mornings.
Ingredients
2 1/4 Cups Vegan Vanilla Yogurt (562g)
1 1/4 Cup Blueberries
1 1/4 Cup Raspberries or Strawberries
Instructions
In each cup, put in a layer of vegan yogurt, then the granola, the berries and then repeat. Include most of the berries in the first layer, the second layer should be mostly for garnish.
Enjoy!
Notes
* Substitute vegan coconut whipped cream for a dessert like parfait.
** See full post for links to make your own homemade vegan yogurt or to find out which vegan yogurts are best!
** You can use fresh or frozen fruit. Fresh will produce a more vibrant red, white and blue color scheme, but frozen is good too and melts into a nice syrup layer.
Recommended Products
As an Amazon Associate and member of other affiliate programs, I earn from qualifying purchases.
Nutrition Information:
Yield:
3
Serving Size:
1
Amount Per Serving:
Calories:

365
Total Fat:

10g
Saturated Fat:

3g
Trans Fat:

0g
Unsaturated Fat:

7g
Cholesterol:

9mg
Sodium:

122mg
Carbohydrates:

57g
Fiber:

8g
Sugar:

39g
Protein:

14g
You may also like: