Vegan shakshuka has been a personal favorite of mine for a while. I'm not just talking about breakfast, I'll eat it any time of day. Trust me, whether you are having a shakshuka breakfast or a shakshuka dinner, this dish is everything!
Prepare yourself for the rich, flavorful sauce that makes the base of shakshuka. And don't forget to grab some nice crusty, but fluffy on the inside, bread to dunk into it. (See below for gluten free, alternative serving options.)
While shakshuka is classically done with eggs, I personally think it's the least important part. I'm here for the shakshuka sauce, huntyyyy.
It's also light on calories, healthy, and a fantastic vegan brunch option, so grab some beautiful tomatoes and lets get cooking! P.S. This shakshuka is gluten free, vegan, plant based, nut free, low carb and basically just all around good for you!
What is Shakshuka
Shakshuka is a North African dish that was brought to Israel, where it is now extremely popular, by North African immigrants. Lots of Middle Eastern countries have their own slightly different versions of it, but mine most resembles an Israeli shakshuka.
Shakshuka is tomatoes, red peppers, onions, and spices cooked into a saucy stew. It's cooked to perfection and then topped with eggs, and cooked a few minutes more.
Shakshuka is a breakfast staple in Israel and can be found on menus everywhere throughout the country, whether you are visiting Tel Aviv or more rural areas.
How to Make Shakshuka Vegan
I personally love shakshuka without eggs, no substitutions needed. It's really delicious, especially when you serve it with some nice sides.
However, if you want to have something to star in the dish, either visually or because you want to make it a little heartier, you can add a number of things.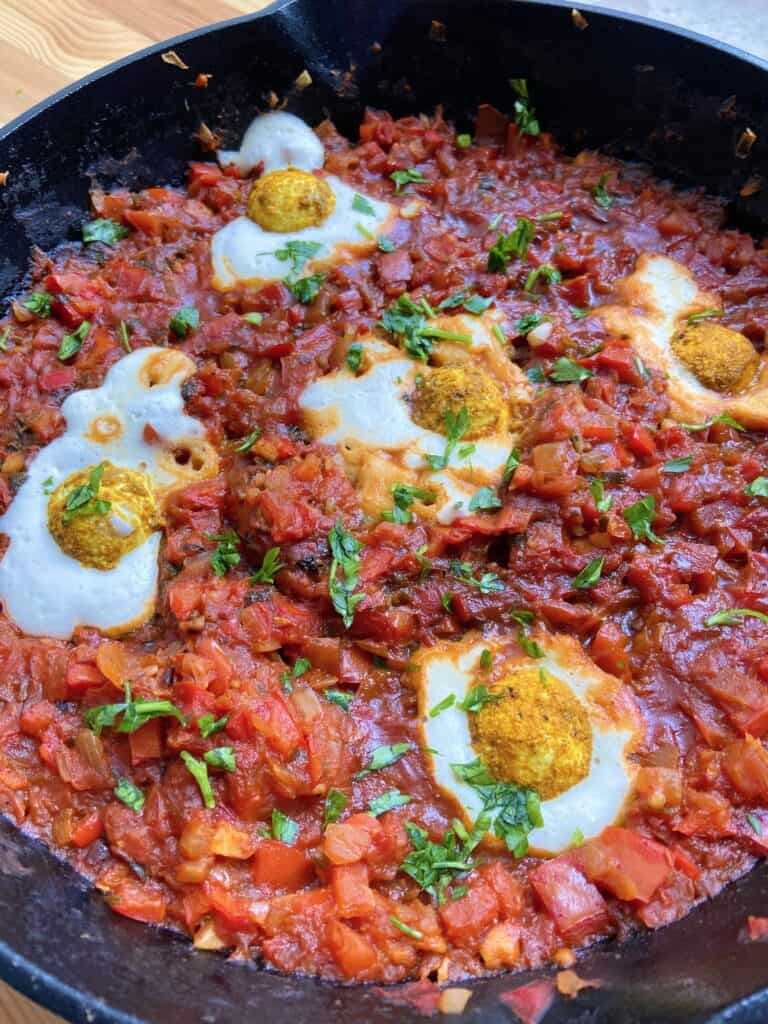 If I'm going all out, I top it with the vegan eggs that are in this recipe. They are pretty easy to make and compliment the recipe. Something to note about the tofu eggs though, they taste great in the shakshuka because there is so much flavor coming from the shakshuka itself. However, I wouldn't try using this recipe to make a vegan fried egg, it would be a bit bland on it's own.
You can also just go simple and drop in some cubed tofu, vegan sausages, falafel balls, chickpeas, or whatever else floats your boat, instead of the vegan eggs.
Vegan Shakshuka Ingredients
Shakshuka gets its flavors from vibrant veggies and some light spices. It's simple and healthy! Here's what you need:
If you plan to make the tofu eggs as well you'll need:
Shakshuka Without Eggs – Putting it Together
Making the shakshuka is just about sauteing the ingredients and letting the flavors come together, while softening into a beautiful texture.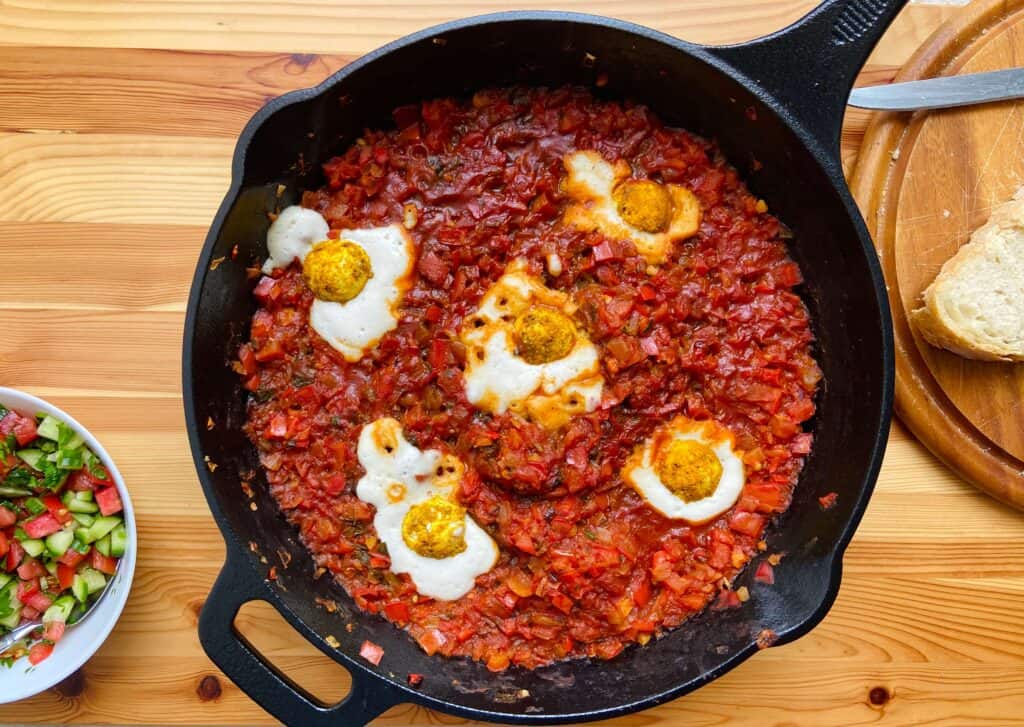 To make the fake eggs, you'll need a melon baller
or similar. I make the yolks by just scooping out pieces of the silken tofu and rubbing them down with a turmeric and black salt combo. (If you've never had black salt, it's a really awesome sulfuric salt that tastes just like eggs.)
To make the egg whites, just blend the remaining silken tofu with some water and potato starch, and some more black salt.
Once the base of the shakshuka has come together, make shallow holes in the sauce to pour your egg whites in and then top with the 'yolks'. Then it just needs a few more minutes to cook through and its finished!
What to Serve with Shakshuka
My favorite thing to serve with shakshuka, as mentioned earlier, is thick crusty bread. It mops up the sauce and turns this healthy dish into a comfort food.
You can also serve it with other Israeli classics like vegan labneh, Israeli salad (yes, Israelis eat salad for breakfast!), hummus, or falafel balls to make it a hearty dinner.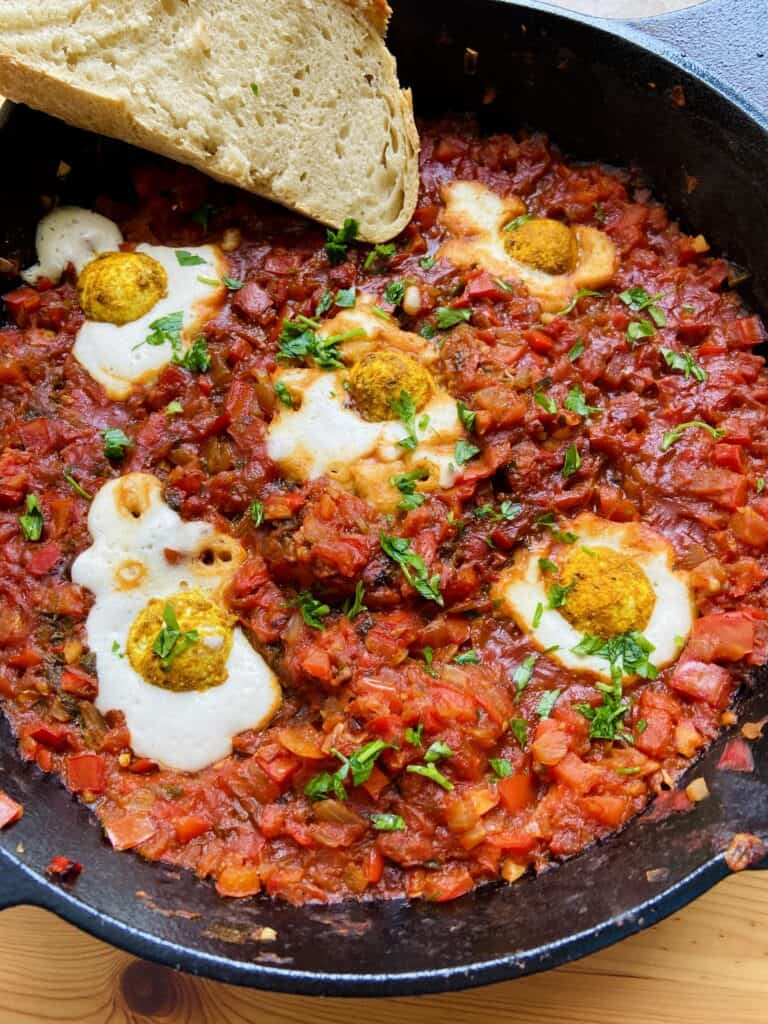 If you are keeping things gluten free, serve it with some sort of gluten free starch like roasted potatoes or quinoa, to help absorb all the flavor!
Variations
Once you get the feel of shakshuka, it's really easy to mix things up. Want more greens in your diet? Throw in some spinach towards the end of the cooking process. Like things spicy? Double the chili flakes.
You can also include some fun toppings to mix it up. Sprinkle it with chives, green onion or any other herbs you enjoy. You can also drizzle some pesto on top for an additional burst of flavor.
Sugar Substitutes
The recipe does not call for a large amount of sugar, but it does really help balance the acidity out from all the tomatoes. If you are not eating refined sugar, feel free to swap it out for any type of sweetener you do indulge in.
You can easily do that with a substitute like coconut sugar
, agave
, or the likes. Because it's a small quantity, it doesn't effect the taste much so almost any sweetener will work.
Don't Forget To Pin This Recipe For Later!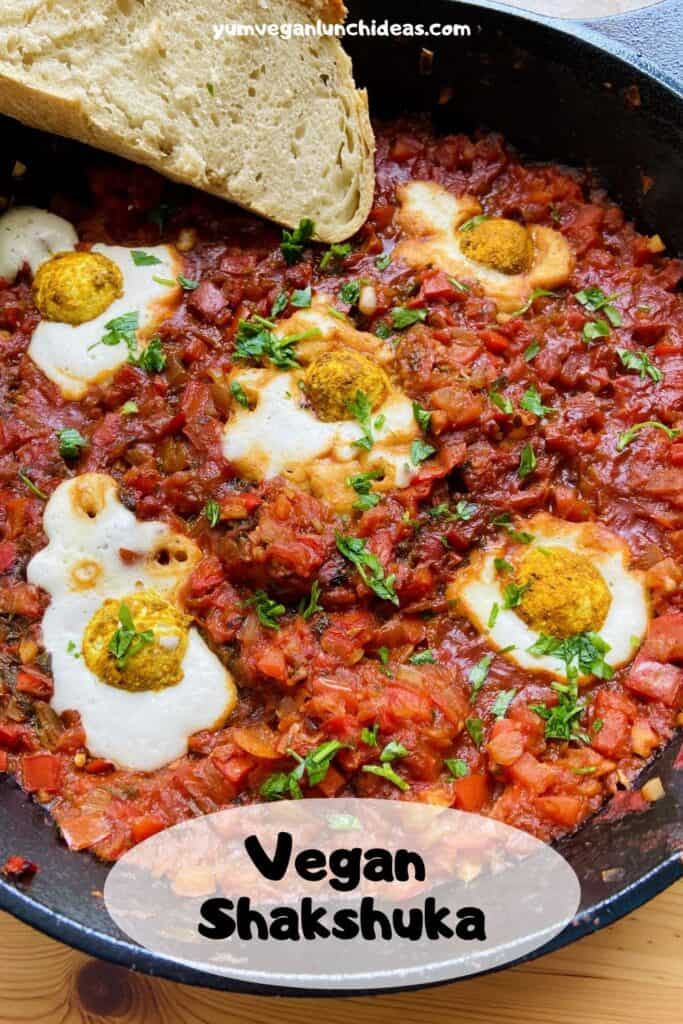 Yield: 5 Servings
Vegan Shakshuka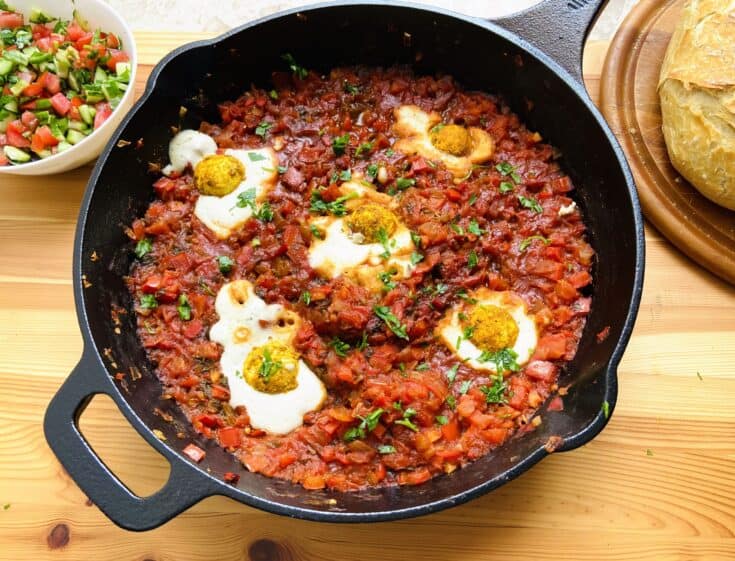 Add this vegan shakshuka to your vegan breakfast, brunch, lunch or dinner meal! Yes, it's really that good, you can enjoy it for any meal! It's also naturally low carb, gluten free, plant based, healthy and unbelievably delicious.
With optional tofu eggs, it's especially decadent and amazing. This middle eastern classic is the perfect thing to add to your meal plan.
Ingredients
1 Large Onion
1 Large Pepper
3 Large Tomatoes
6 Cloves of Garlic
A Large Handful of Parsley Chopped + More for Garnish
1 tsp Sugar (or a natural sweetener of your choice)
1.5 tsp Salt
2 Dashes of Black Pepper
Vegan Eggs (Optional)
1/2 tsp Granulated Garlic - Split in Half
Instructions
Chop your onion very small. (The size you cut all your vegetables will determine if you end up with a chunkier, stew like end product or a thinner more saucier final product. I like things saucier).
Chop red pepper into small pieces and dice your tomatoes. (See above note).
Dice or use a garlic crusher for the garlic cloves.
Heat a large pan on your stove top over medium heat. Add the olive oil and once it's hot, throw in the onions and peppers.
Saute until they are softened, around 6-7 minutes.
Add in the garlic cloves and saute for another minute or two.
Add in the tomato paste and mix it until it's incorporated, rather then clumping onto a small section.
Add in the tomatoes, 2/3 cup of water, salt, pepper, paprika, cumin, sugar and parsley. Mix well.
Cover the pan and cook on low for 10-15 minutes. When it's ready it should be bubbly and the ingredients should be totally softened and have come together quite a bit.
If you plan to make the tofu eggs, you can prepare them while the shakshuka is simmering. Take a melon baller and take five scoops out of your silken tofu so that they resemble yolks.
In a small bowl, mix together the turmeric, 1/4 tsp of the black salt, and 1/4 tsp of the granulated garlic.
Spread the spice mixture over the rounded side of your scooped silken tofu balls. I find it's easiest to do with my fingers. to get an even layer over the balls. You may have some spices left over.
Put the remaining silken tofu, the potato starch, 2.5 tbsp of water, the remaining black salt and remaining granulated garlic in a blender or food processor and process until smooth. (You can combine the ingredients by hand with a whisk/fork but it will take some extra effort to get it really smooth.) This is your egg white.
Once the shakshuka is done simmering, remove the cover and use a spoon to make a shallow well in the sauce and pour in some of the egg white mixture. Top with an 'egg yolk'. Repeat until you have five "eggs" in the pan. If you are not using the eggs but want to throw any other add ins in (tofu cubes, chickpeas etc) throw them in now.
Cook for another 5-10 minutes, until your "egg whites" are cooked and all the add-ins are heated.
Remove from the fire, garnish with fresh chopped parsley and serve!
Recommended Products
As an Amazon Associate and member of other affiliate programs, I earn from qualifying purchases.
Nutrition Information:
Yield:
5
Serving Size:
1
Amount Per Serving:
Calories:

165
Total Fat:

11g
Saturated Fat:

2g
Trans Fat:

0g
Unsaturated Fat:

8g
Cholesterol:

0mg
Sodium:

838mg
Carbohydrates:

16g
Fiber:

4g
Sugar:

6g
Protein:

6g
Disclaimer: This post contains affiliate links.