I went to a conference recently with lots off other foodie bloggers in Chicago! Of course, there must have been so much pressure on the caterers to do a good job and I must say, they more than impressed me with their Vegan Banh Mi sandwich.
It was literally a scrumptious baguette, filled with the freshest of fragrant ingredients, I just had to try and recreate it when I got home.
Banh Mi is a Vietnamese sandwich, consisting of a baguette, traditionally made with both wheat and rice flour. It's typically filled with meat and raw pickled vegetables, as well as sriracha mayo sauce. Despite it usually being filled with meat, it is a really easy sandwich to make vegan.
Vegan Banh Mi Recipe
As we all know, Vietnamese food is incredibly fragrant and always has herbs such as cilantro, lemongrass and so on. Banh mi recipes always have and explosion of flavour in your mouth, and my take is no different!
I have such fond memories of eating street food in the infamous Hoi-an, Vietnam. It's known as the lantern city, with locals cycling past with rice paddy hats, crumbly painted buildings, I was there sitting on a bench chomping into the best vegan Banh mi sandwich I've ever had. Street food is truly amazing in Vietnam, although there are some weird and unusual foods in Asia.
It was filled with flavoursome mushroom, pickled cucumber, carrot and daikon, sliced into perfectly thin sticks. Sprinkled with cilantro and a big dollop of sriracha mayo for an extra kick, I was in heaven! Being at the conference reminded me and gave me the push to make it myself.
The Best Banh Mi Vegan Sandwich
Vietnamese baguettes are generally a little softer than the ones I use at home. In Vietnam, banh mi sandwiches are sliced down the middle and stuffed with the ingredients.
With my take I used a French baguette that I cooked myself at home. It was a pre-made baguette, but is cooked at home. There is nothing better than a fresh baguette straight out of there oven.
When I make baguettes, I always coat them in water before putting them into the oven. I also take them out a little before the times suggested on the packaging so it doesn't end up being too crunchy.
I am all about that happy medium of a thin outer layer of crunchiness, but with soft warm bread inside. That is the baguette of perfection!
Vegan Banh Mi Ingredients
Aside from a baguette of your choice, you are going to need cucumber, carrot and daikon sliced into thin sticks. You can also add some thin slices of horseradish. I suggest doing this the night before to pickle.
Pickling is very easy, all you need is four tablespoons of rice wine vinegar and a tablespoon of sugar in a bowl. Mix it up and add you veg, stir to get them nicely covered. Put the pickled veg in the fridge for later.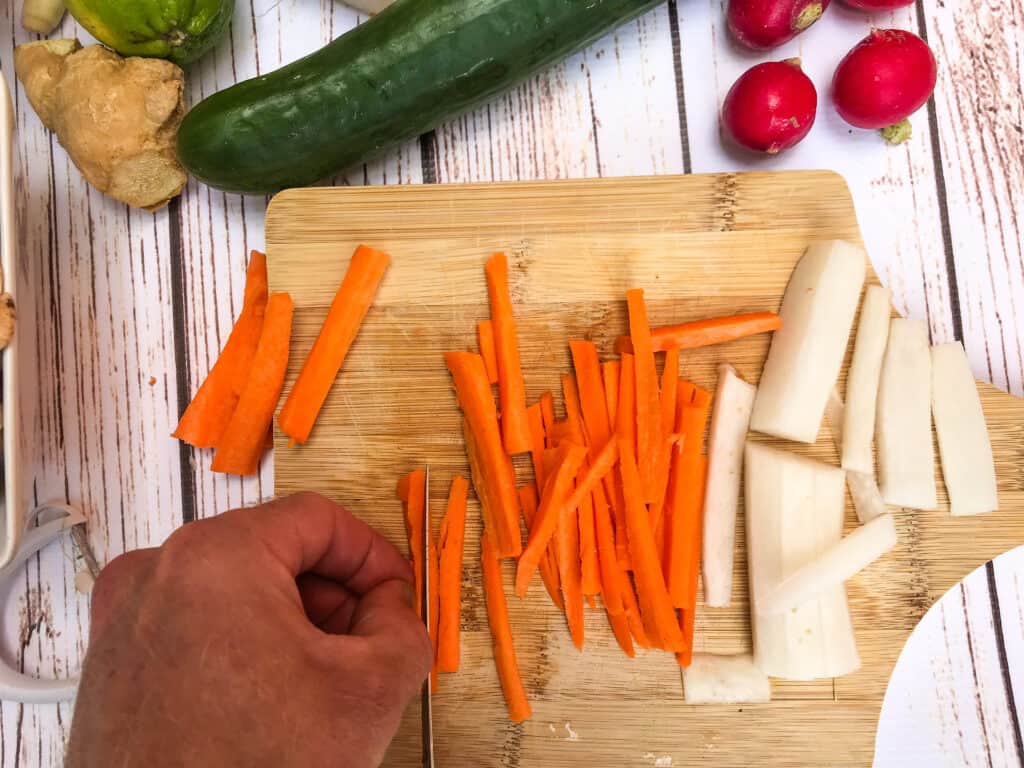 The next day you can pop your baguette in the oven and start to prepare the final ingredients.
There are quite a few recipes out there for vegan banh mi fillings, many suggest tofu which is great, but using shiitake mushrooms adds another level to the flavours, and I promise you, it's the BOMB!
Prepping The Mushroom
The mushroom prep is super easy and cook time is no more than 10 to 15 minutes. Take a cup of shiitake mushroom and gently pull them apart. It will pull into threads.
In a bowl, all you have to do is mix up the marinade, a tablespoon of hoisin sauce, two tablespoons of soya sauce, grate a small amount of fresh lemongrass and ginger. Finally add a squeeze of lime before mix everything up with the pulled mushroom.
Put the contents on a tray lined with baking paper and put in the oven on a medium heat for 10 to 15 minutes. Once it's sizzling and nicely browned take it out of the oven and leave to one side.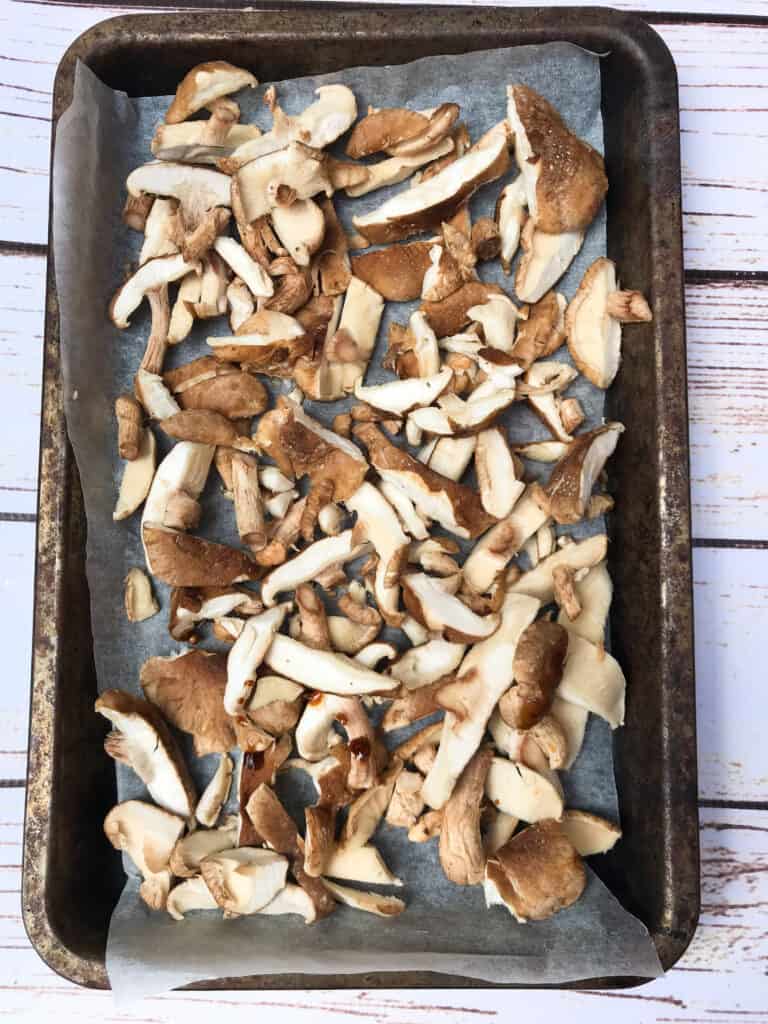 Putting The Vegan Banh Mi Sandwich Together
Using a bread knife, cut the baguette along the side. Don't cut through completely as you want to stuff it with the ingredients.
Start off with a dollop of vegan mayonnaise and sriracha on one side. Next, a layer of the marinated shiitake mushroom, before adding the pickled veg and a few sprigs of cilantro.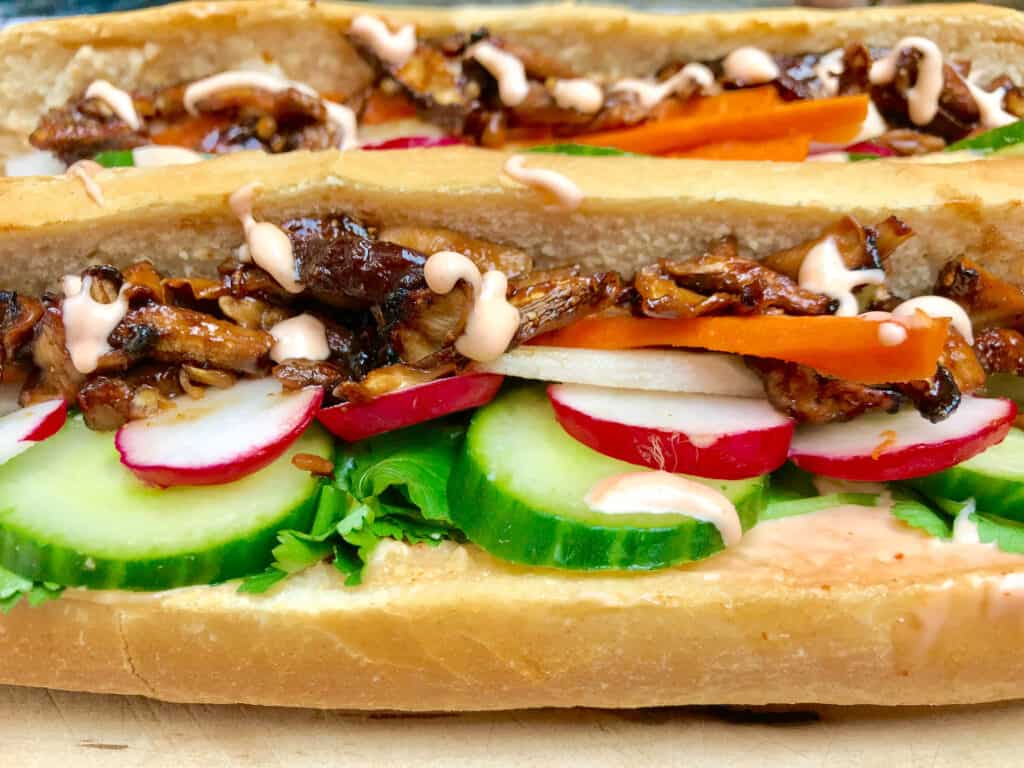 Put a little dribble of the vegan sriracha mayo across the top for good measure. Cut the baguette in half to share the love! Pull up a chair, close your eyes and imagine sitting in Vietnam!
Recipe Card
Yield: 4
Vegan Banh Mi Recipe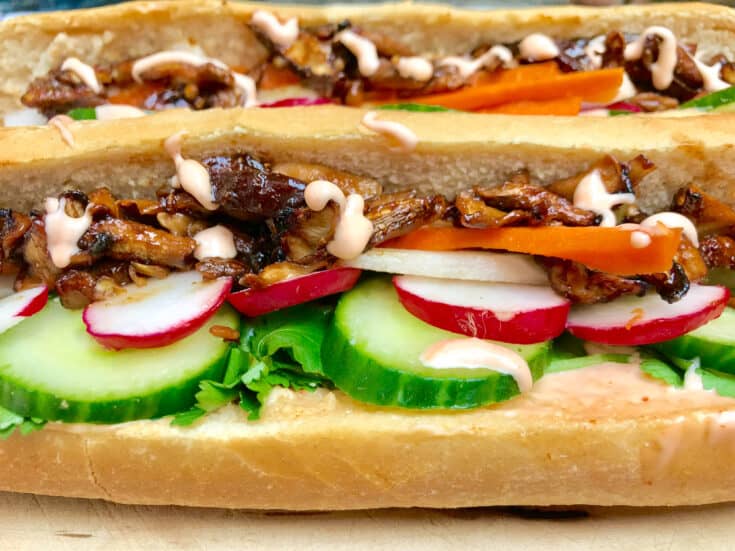 This vegan banh mi sandwich is packed full of punchy favlour and will transport you the streets of Vietnam as you chom through utter delicousness!
Ingredients
1 large French baguette cut into 4
1 tablespoon of sriracha
2 tablespoons of vegan mayonnaise
1 cup of shiitake mushrooms
1 medium carrot
1 medium daikon
Half a cucumber
A handful of cilantro
1 teaspoon of brown sugar
4 tablespoons of rice wine vinegar
2 tablespoons of hoisin sauce
2 tablespoons of soya sauce
Half a lime
A teaspoon of grated lemongrass
A teaspoon of grated ginger
Instructions
1. Start by peeling and chopping the carrot, cucumber and daigon into strips.
2. Add the rice wine vinegar to s a bowl and stir.
3. Add the vegetablees to the bowl and put in the fridge overnight, or set to one side if you are making everything at once.
4. If you have a part-baked baguette, put them in the oven at this point as per packagin instructions.
5. Start preparing the marinade for the mushroom. In a bowl mix the hoisin and soya sauce.
6. Grate the lemongrass and ginger. Add them to the marinade and mix.
7. Set the marinade to one side. Line a baking tray with paper and start to to shed the shitake mushrooms. Gentrly pull the musrooms apart.
8. Once the mushrooms are prepared, mix them into the marinade coating them completely.
9. Spread the marinated mushrooms across the pre-lined baking tray.
10. Put the mushrooms into the oven on a medium heat for apprpximately 10 to 15 minutes. The mushrooms will shrink, remove from the over when sizzling and marinade is completely soaked into the mushrooms.
11. Set the mushrooms to one side to cool down slightly.
12. Using a bread knife cut along the side of the baguette and open slightly. Do not open completely to allow for the filling to sit in the baguette.
13. Begin with a teaspoon of srirarcha and a tablespoon of vegan mayonaise. Mix the two toghether before buttering onto one side of the baguette. (keep some srirarcha mayo to dress).
14. Next, add the mushrooms along the full length of the baguette.
15. Take the pickled vegetables out of the fridge and layer them on top of the mushrooms.
16. To dress the banh mi vegan sandwich, drizzle the leftover srirarcha mayo and top with a sprinkle of cilantro.
17 Chop the baguette to your preferred size and serve!
Recommended Products
As an Amazon Associate and member of other affiliate programs, I earn from qualifying purchases.
Nutrition Information:
Yield:
4
Serving Size:
1
Amount Per Serving:
Calories:

322
Total Fat:

6g
Saturated Fat:

1g
Trans Fat:

0g
Unsaturated Fat:

4g
Cholesterol:

0mg
Sodium:

809mg
Carbohydrates:

57g
Fiber:

5g
Sugar:

12g
Protein:

11g
You May Also Like:
Vegan Silken Tofu Scrambled Eggs