Vegan buckwheat pancakes is the number one recipe I make for my kids! I was making them today and thought, why haven't I put this on the blog yet? I feel like I make them every damn day!
Buckwheat is such an amazing flour to work with! It is so easy to get the consistency right for pancakes too! Not to mention how healthy buckwheat is in comparison to other flours.
Buckwheat is gluten free and non-allergenic so perfect for our celiac and gluten intolerant readers! My nephew who has sever allergies loves buckwheat pancakes.
Aside from the perspective of allergens, buckwheat is also thought to reduce blood sugar levels, prevent heart disease, boost the immune system and improve digestion.
It seems like buckwheat is a superfood! Especially for us vegans, it is another source of protein.
Buckwheat is incredibly versatile and can be used to make a variety of cakes, muffins, breads and scones too. It's very hard to get the consistency wrong, it comes together in almost any mix perfectly.
Buckwheat Pancakes Vegan
This recipe only contains 5 ingredients in total making it a a really simple vegan buckwheat pancake recipe.
Aside from the buckwheat flour, you'll need chia seeds, baking powder, maple syrup and a plant based milk of your choice.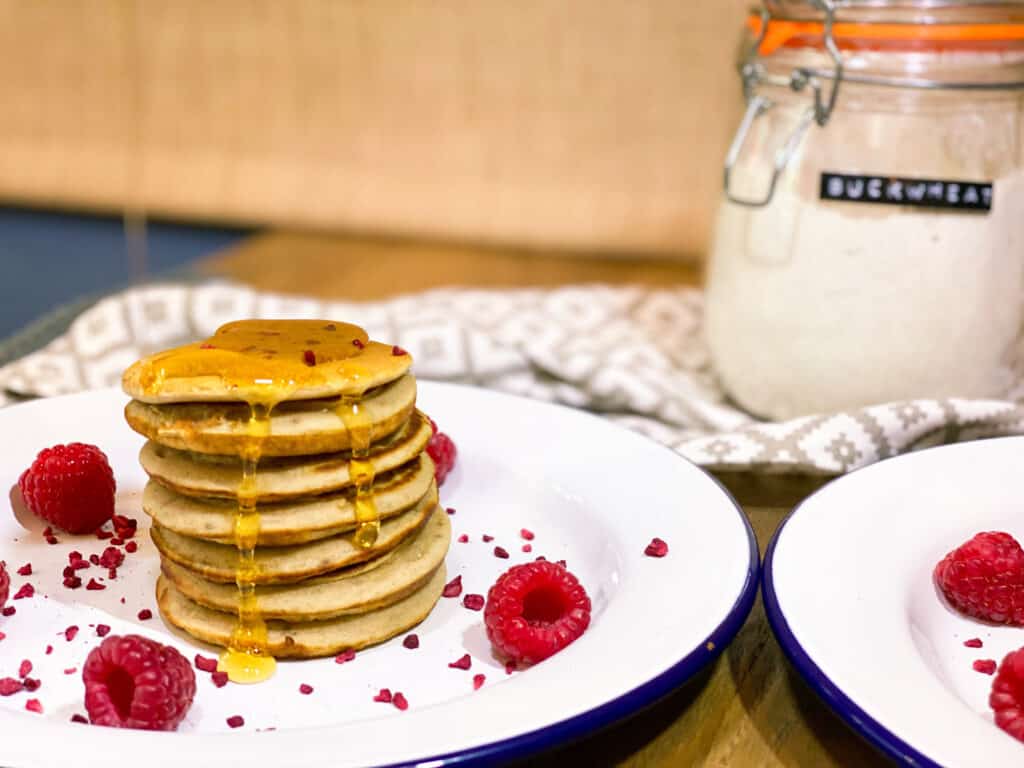 The chia seeds act as a binder. They are another amazingly nutritious healthy superfoods due to the antioxidant properties in this seed!
Chia is the perfect egg replacement, it is my number one go to vegan binder.
Making the Mix
I usually add a tablespoon of chia seeds to my mixing bowl with a splash of water to activate them. Within minutes they turn to a gel.
Next I add the buckwheat flour and make a well for the milk. I beat slowly and gently with a fork to create the batter.
I add the baking powder as well. This will ensure the pancakes rise and become a little spongy in comparison to a flat pancake. This is a much better consistency in my opinion.
You should see little bubbles as the baking powder activates in the mix, beat gently into the mix.
Now it's time to add some sweet flavour to the mix. I personally use a squeeze of maple syrup. This should be added to the mix but could use agave or stevia liquid sweetener if you prefer.
A sweetener is definitely optional, its not a necessity in this mix. This buckwheat pancake mix could be made into a savoury dish, for example sweetcorn fritters.
Cooking The Buckwheat Pancakes
I have always used a pancake pan. I can otherwise never cook them quick enough to feed my kids. as they all ask for more before I've cooked the next batch.
The pan I use cooks 7 small pancakes. With just a small amount of grease to ensure the pancakes don't stick, it works really well. Check out my favourite pancake pan here.
Once you've greased each section of the pan, you will need to let the pan heat up on a medium to high heat.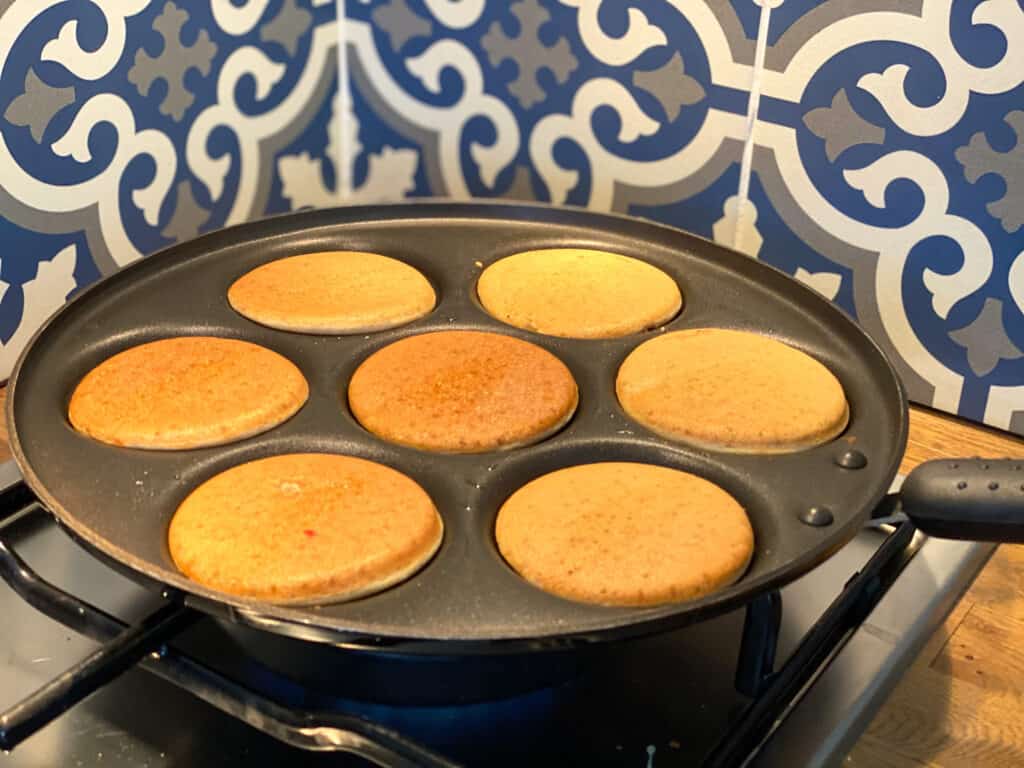 I use a jug to pour my mix in and this ensures perfect edges rather than dribbles of mix everywhere.
Each side only needs around 2 minutes maximum. Keep an eye to ensure it's not burning. I always find the second batch is better than the first.
Serving The Pancakes
The fun part is serving the pancakes right? I mean who doesn't love pancakes. I tend to stack around 5 on top of each other, this is more than enough for a brunch or big breakfast.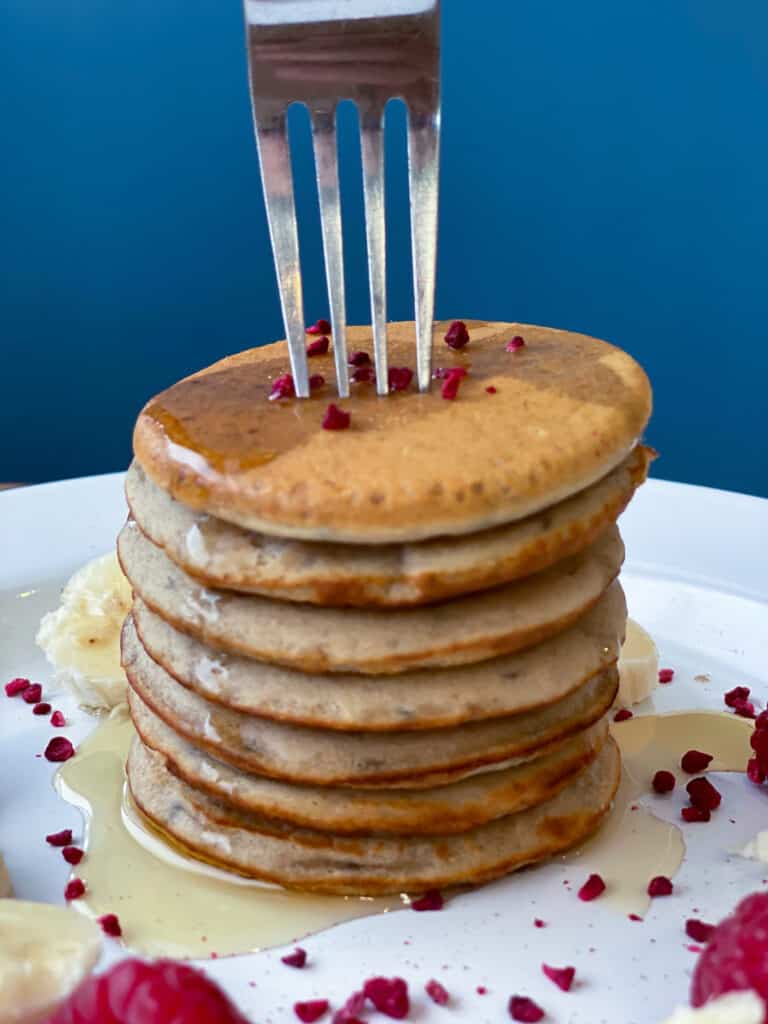 Once stacked, I decorate with fresh berries, slices of banana and a big drizzle of maple syrup.
You could add whatever you like, from caramel sauce to chocolate drizzle, there are plenty of ways of dressing up pancakes.
Simple Variations to Vegan Buckwheat Pancakes
It's so simple to mix up the flavours in this pancake mix. Here are a few examples of classical pancake flavours!
Vegan buckwheat banana pancakes – To make this variation, just mash up 1 medium sized banana and fold in at the end of the mix.
Cooking and everything else is exactly the same. We've tried buckwheat banana pancakes many times and they are really tasty. Don't forget to keep a could of slices for garnish too!
Vegan buckwheat blueberry pancakes – To make this variation add half a cup of fresh blueberries slightly mashed with a fork. Fold it into the mix at the ned before cooking.
We love the bright pop of colour thought our pancakes. They look and taste great1
Vegan buckwheat protein pancakes – Using the same mix add in a protein powder of your choice 1 scoop would be a good amount for the measurements in this recipe.
You will need to counteract the protein with more liquid. Add 2 scoops of plant based milk for 1 scoop of protein.
If you like protein based brunch recipes, be sure to check out our vegan chocolate protein waffles.
Storing Vegan Buckwheat Pancakes
These gluten free dairy free buckwheat pancakes store incredibly well. For the best result pop them in the freezer in an air tight container.
When you are ready to eat them, simply pop them in the toaster on a medium heat until warm to the centre. They come out great and can be kept in the freezer for up to 4 weeks.
This makes these pancakes the perfect snack when you don't have much time, either for yourself or when your kids are asking for food.
These pancakes are:
Fluffy
Healthy
Wholesome
Perfect as a savoury or sweet meal
Shop Your Ingredients
To make life easy for you, you can simply click on the below to order your ingredients if you don't already have them:
Organich buckwheat flour
If you would like a full guide on cooking with buckwheat then click here!
Yield: 3
Vegan Buckwheat Pancakes Recipe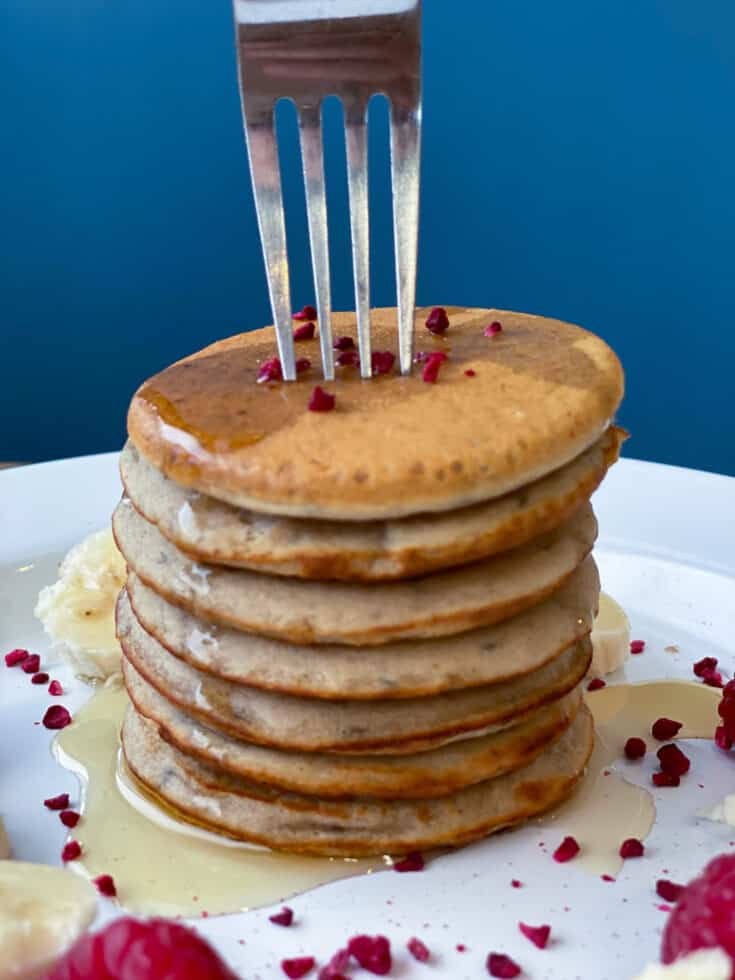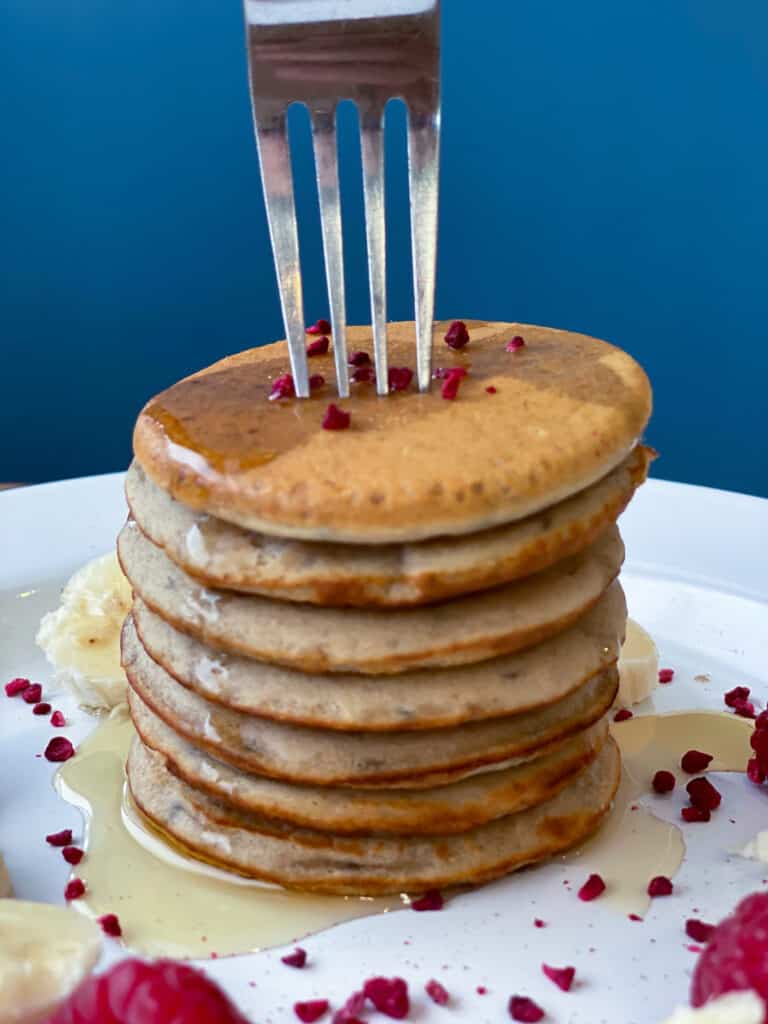 Try these delicious vegan buckwheat pancakes recipe! They are so easy to make and versatile with variations such as vegan banana buckwheat pancakes. Buckwheat and chia seeds are the two key ingredients, both super healthy and nutritious. This is perfect for breakfast or lunch. Yum Vegan!
Ingredients
1 cup of organic buckwheat flour
1 tsp of baking powder
1 tablespoon of chia seeds
1 1/2 cup of plant based milk of your choice
2 tablespoons of maple syrup or sweetener of your choice
Instructions
Add the chia seeds to the mixing. bowl and add a splash of water to activate the seeds. Set to one side whilst you prepare the rest of your ingredients.
Measure out 1 cup of organic buckwheat flour and add it to the mixing bowl. Make a well in the centre for the milk.
Using a milk of your choice, add 1 and a half cups and add to the centre well you made in the flour. Whilst you are pouring it in beat slowly with a fork.
Once the chia seeds, flour and milk is well mixed together, add one teaspoon of baking powder and the maple syrup. Beat both in gently with a fork.
Once the mix is ready add it to a jug.
Heat up a lightly greased pancake pan on a medium heat.
Add the mix to each section gently and slowly trying not splash the mix.
Wait for the mix to form, the top should be starting to form too before flipping it over.
It should take around 2 minutes on each side but do keep an eye to ensure it's not burning.
Once you've cooked on both sides, serve around 5 in a stack. This mix should make around 15 mini pancakes and will serve approximately 3 people.
Serve warm and garnish with your preference of fruits and sweet drizzle!
Notes
These pancakes are freezable. Add to an air tight container once cooled and pop in the freezer. You can put them in the toaster to heat them up and they will be super good! Keep in the freezer for up to 4 weeks.
Serve with fresh berries and slices of banana, as well as maple syrup drizzled on top.
If you want a variation of this dish, add medium mashed banana to make vegan banana buckwheat pancakes. You could also do blueberries or protein pancakes, see notes in blog.
Recommended Products
As an Amazon Associate and member of other affiliate programs, I earn from qualifying purchases.
Nutrition Information:
Yield:
3
Serving Size:
1
Amount Per Serving:
Calories:

231
Total Fat:

4g
Saturated Fat:

1g
Trans Fat:

0g
Unsaturated Fat:

2g
Cholesterol:

7mg
Sodium:

212mg
Carbohydrates:

44g
Fiber:

5g
Sugar:

9g
Protein:

9g
Did you enjoy this recipe? Don't forget to leave us a review? We love to receive your feedback about our recipes!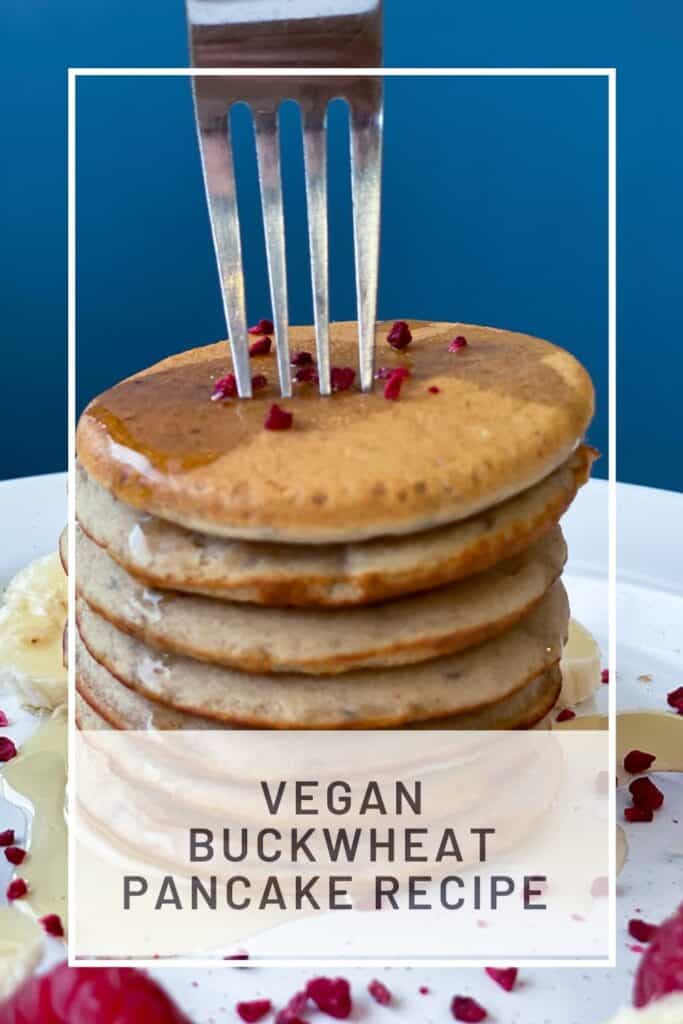 You may also like: