Middle eastern food is definitely high up on my favorite types of food list. Not only is it flavor packed and amazing, but so many Middle Eastern classics are actually already vegan or super easy to veganize! Whether it's Jerusalem salad, hummus, vegan shakshuka or vegan shawarma, pile it on my plate!
I've been playing around with a lot of vegan seitan recipes lately, and I decided to go for another Middle Eastern classic, the gyro! It came out so good, it's definitely going to be making regular appearances in my weekly meal planning.
These seitan gyros are packed with Middle Eastern spices and flavors, stuffed with colorful vegetables and drizzled with a delicious vegan tzatziki. Wrapped in a warm flatbread, it's everything you could want in a vegan gyro recipe!
Make sure to check out our vegan lunch ideas.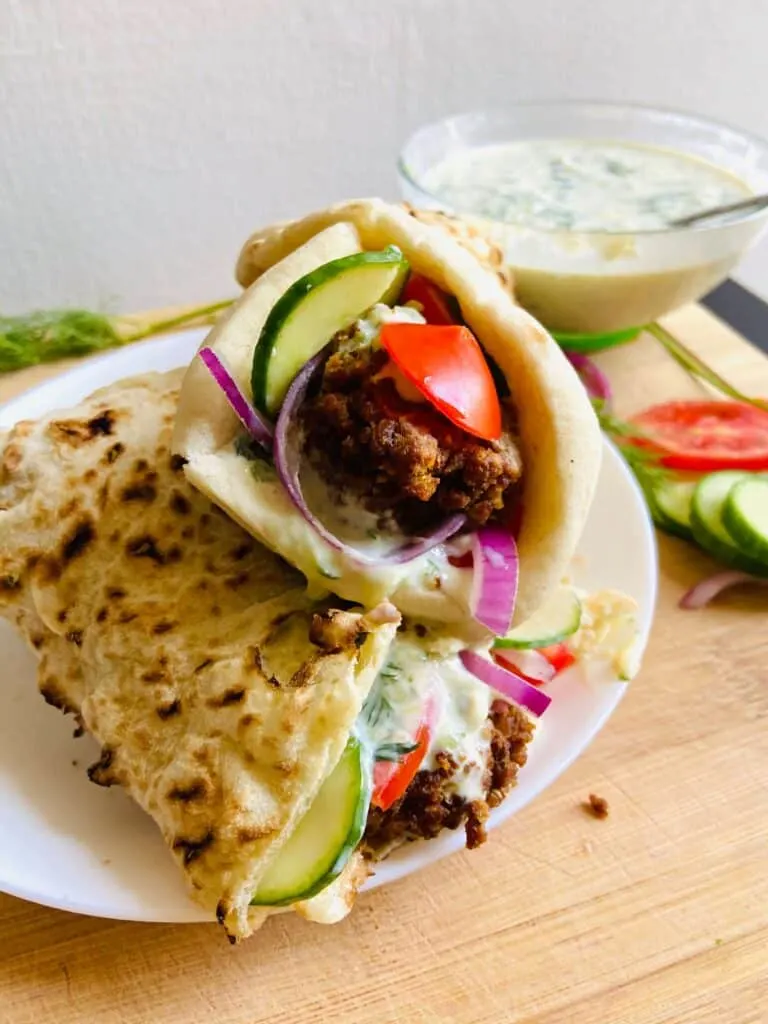 Seitan Gyro Recipe Ingredients
The ingredients you'll need to make the seitan gyro meat are:
The ingredients you'll need to put together the rest of the seitan wrap are:
Seitan – Where to Buy
You can find seitan in many regular supermarkets, as it is becoming more popular. It is usually stocked next to the tofu. If your local supermarket doesn't carry it, try to find the closest health food store.
Health food stores almost always have seitan, whether you are shopping in a small store, or in a large chain like Trader Joe's or Whole Foods.
Wherever you find it, for this recipe it's best to try to find a beef style seitan.
Seitan – Homemade
If you want to make your own, which I highly recommend, we have a fantastic recipe for beef style seitan here. Just follow the recipe for the seitan and once it's done boiling it's ready.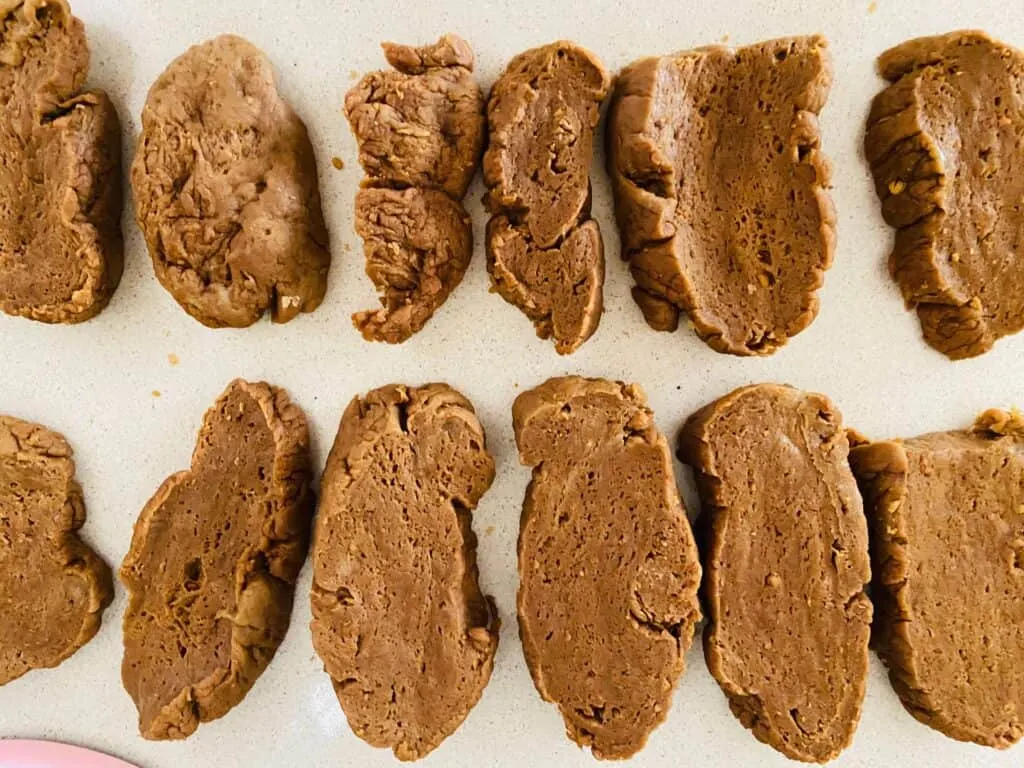 Vegan Tzatziki
You can make homemade tzatziki, it's pretty quick and easy. Check out out vegan tzatziki recipe here. You can also buy premade vegan tzatziki sauce in some health food stores or online.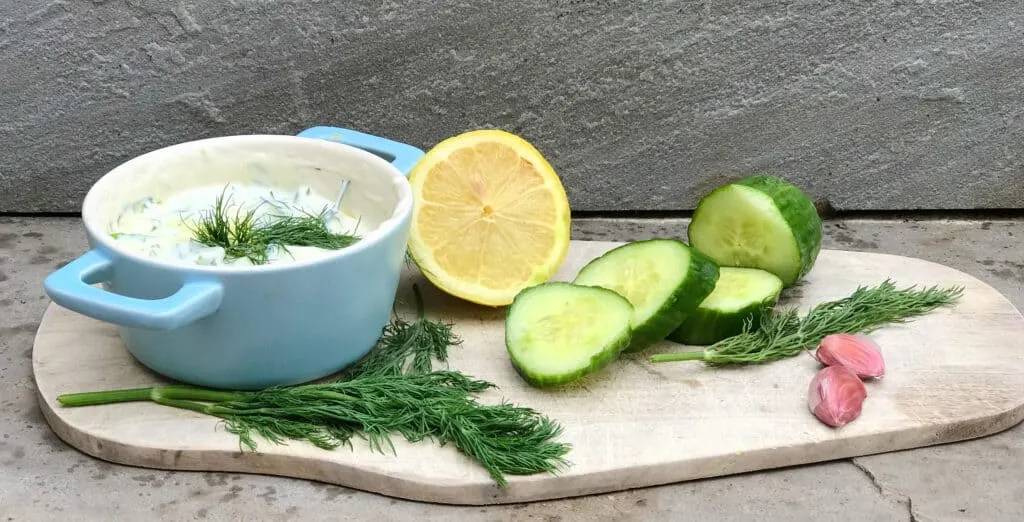 I haven't personal tried the Fabalish brand tzatziki but it's vegan, plant based, and has great reviews on amazon. You can check it out here.
Bread for Gyros
Gyros are traditionally made with Greek flatbread, however they will taste great in any kind of Middle Eastern flatbread you can find. Pitas, laffas, etc all work. If you are really in a pinch you can use a wheat tortilla but it's not as ideal.
You can also order Greek flat breads here on amazon.
Vegan Gyros (Seitan) – How to Make Them
Traditionally, gyros are made by slow roasting seasoned meat on a rotating spit. Meat or vegan, you can't get the exact same flavor and texture without some heavy equipment.
The next best things is to grind up our seitan and mix in all the seasonings that give it it's signature flavors. We bake the mixture into patties for an awesome, meaty, Greek flavored final product.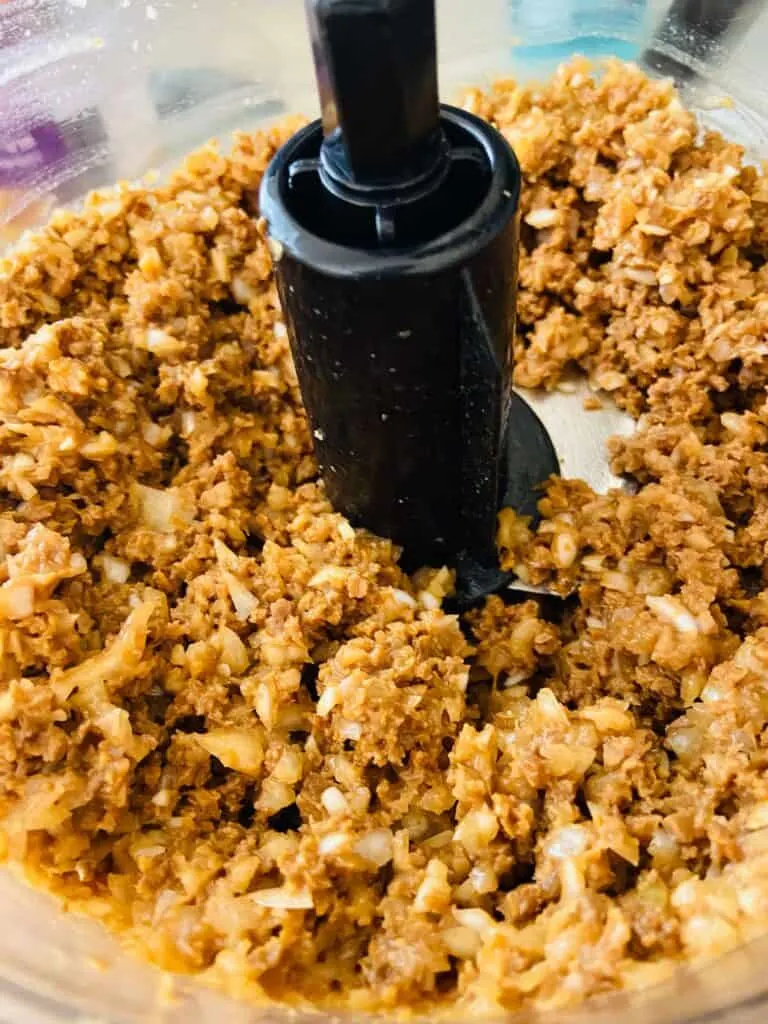 The first thing you need to do is to grind up your seitan in your food processor with the onions and garlic. If you don't have a food processor you can purchase seitan crumbles instead of starting with a block of seitan, and just chop your onion and garlic up small.
Once its ground up, put the mixture into a large mixing bowl and add the rest of the seitan gyro meat ingredients and mix it well. If it's too wet, add an extra tbsp of flour.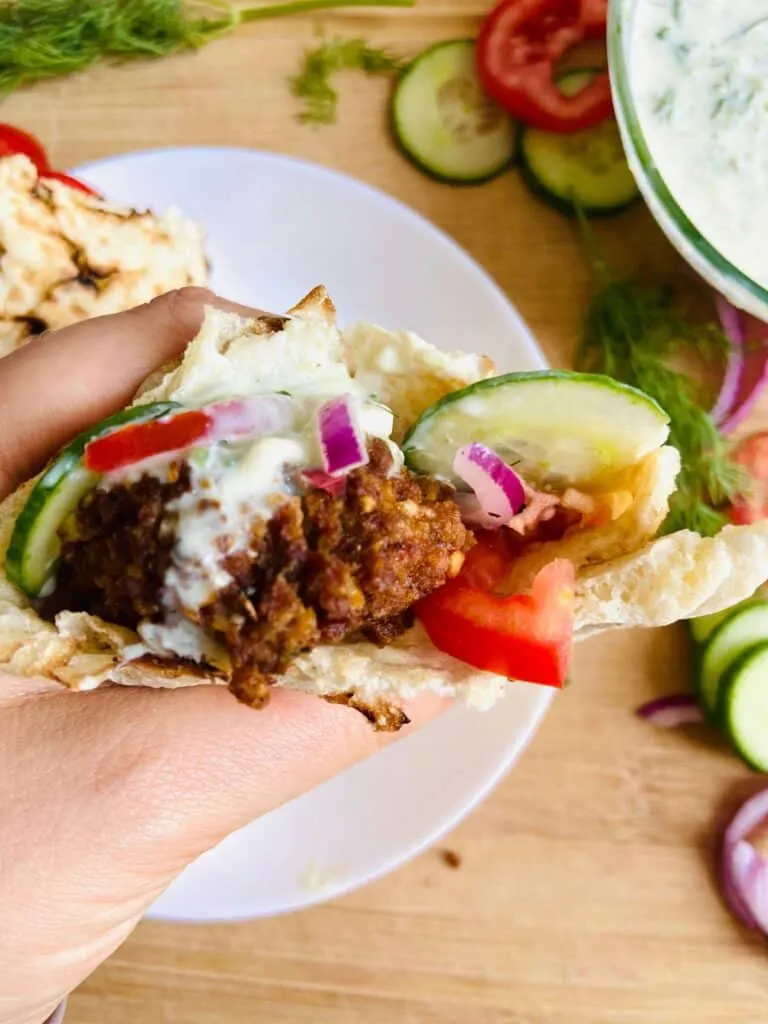 Form patties and bake them on an oiled baking sheet for around 20 minutes, flipping around halfway through. When they are finished they should be crusty and darkened on the outside.
Assemble your gyros by spreading a layer of tzatziki, a patty or two (depending on the size of your wrap), and a mixture of the cut up vegetables. Wrap it up and enjoy!
Storing Seitan Gyro Leftovers
Any leftovers of the patties can be stored in an airtight container in the refrigerator. How long they will last will depend on how fresh your seitan was but it should last around 3-5 days.
Assembled gyros won't store as well because the tzatziki will make the bread soggy, so if you want to bring leftovers as a packed lunch, bring the components and assemble it before eating. This way you can also reheat the patty before assembling.
Grilling the Gyros
If you want to give your gyros a little extra smoky flavor, you can also cook the patties on the grill. They will cook faster this way, so pay attention to browning, and try to cook on a lower heat if possible.
Don't forget to pin this recipe for later!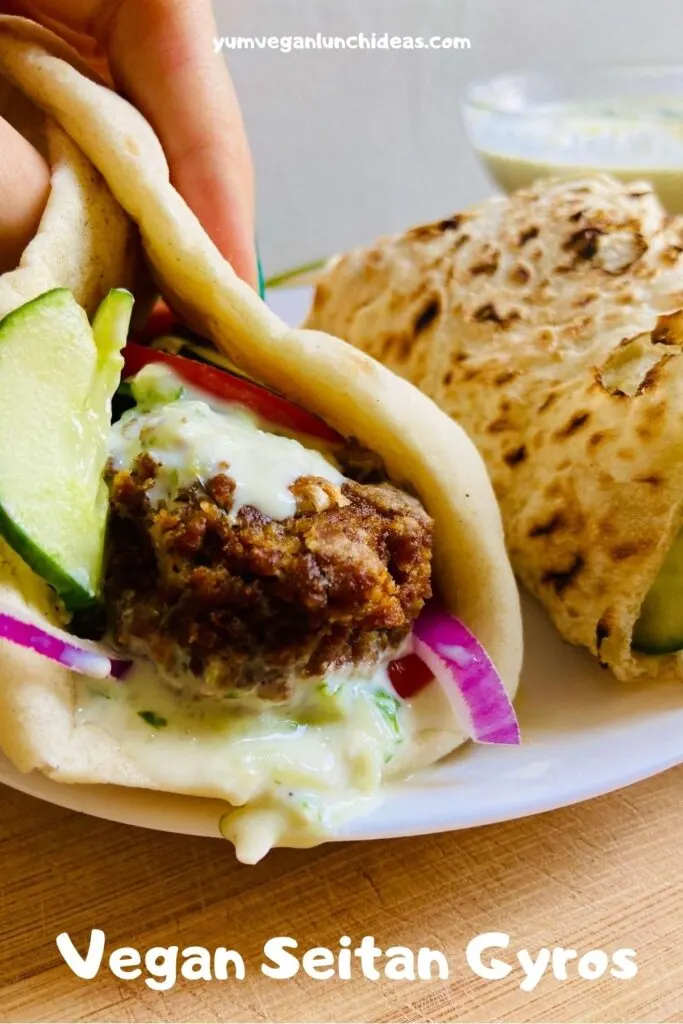 Yield: 7 Gyros
Seitan Gyros - Easy Vegan Gyros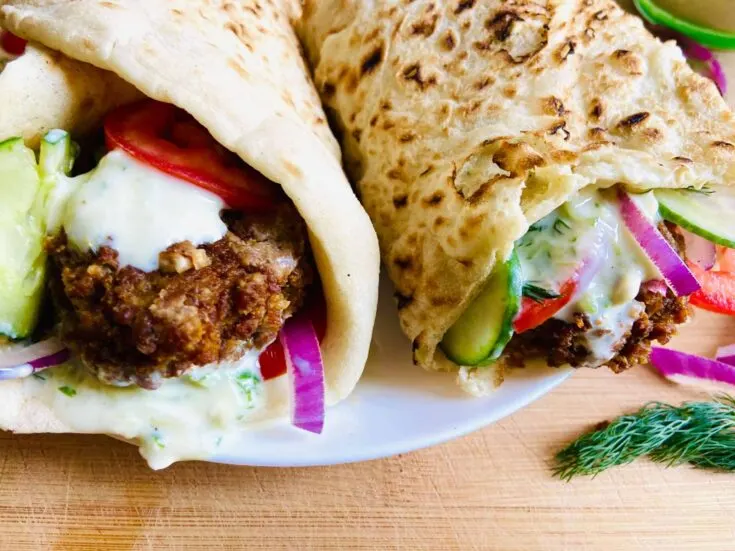 These delicious vegan seitan gyros are easy to put together for a flavor packed meal. Leftovers pack really well for an awesome seitan wrap lunch.
Throw these vegan gyros together for dinner or throw them on the grill, either way you'll love them!
Ingredients
1/2 Onion
4 Cloves Garlic
1 tsp Salt
1/2 tsp Pepper
Tomato Slices
Cucumber Slices
Thinly Sliced Red Onion
Instructions
Put your onion, garlic and seitan in a food processor and grind. If you don't have a food processor, see note below.
Put the seitan mixture into a large mixing bowl and add half the olive oil and the rest of the ingredients (until the flatbreads) to the mixture. Combine well, adding the extra tbsps of flour if your mixture is too wet.
Grease a baking sheet with the remaining olive oil and form patties from the seitan mixture, lining them up on the baking sheet. You should be able to create ten oblong shaped patties.
Preheat oven to 350 F and then bake for around 20 minutes, flipping them halfway through. When they are finished they should be browned and crispy on the outside.
Assemble your gyros by spreading 1-2 Tbsp tzatziki on the flatbread*** and then layering on the patty and sliced vegetables. Wrap it up and enjoy!
Notes
* If you have a food processor you can use a block of beef style seitan to start, either homemade or store bought. If you don't have a food processor, get seitan crumbles to start with.
** If you can't find Greek flatbread you can use pitas, or anything else similar. The size of different Middle Eastern flatbreads vary, so you'll need to adapt the quantity of the fillings in each wrap based on the size of bread you purchase.
*** For extra yumminess, warm up the flatbreads in the oven or microwave before assembling.
Nutrition Information:
Yield:
7
Serving Size:
1
Amount Per Serving:
Calories:

459
Total Fat:

8g
Saturated Fat:

1g
Trans Fat:

0g
Unsaturated Fat:

6g
Cholesterol:

3mg
Sodium:

965mg
Carbohydrates:

69g
Fiber:

3g
Sugar:

4g
Protein:

28g
Disclaimer: This post contains affiliate links.
You may also like: