If you haven't yet tried vegan sweet potato waffles, let me tell you, they are awesome. They are a great way to add a punch of delicious nutrition into your regular waffles, while also bringing warming seasonal flavors into the mix!
These vegan waffles are crispy and everything you could want from a waffle breakfast. Even better, they are sneakily healthy vegan waffles with oats and sweet potato making up the bulk of the batter.
Don't let that fool you though, they are just as tasty as unhealthy waffles (especially if you slather them in maple syrup and whip cream like I did).
It is also an extremely easy vegan waffle recipe, since the blender does most of the work.
I often batch make baked sweet potatoes whilst the oven is on as they are so popular in our house.
So if you are looking to use up a cooked sweet potato, or a way to bring a delicious twist to a classic breakfast, definitely try out these sweet potato waffles. Vegan waffles have never been so good!
If you are looking for another delicious vegan waffle recipe, check out this Vegan Belgian Waffle Recipe or any of our other vegan brunch recipes.
If you are looking for more sweet potato vegan recipes, check out this Sweet Potato Lentil Bake or these sweet potato muffins.
Vegan Sweet Potato Waffles Ingredients
These easy vegan waffles are made with easy to find ingredients, most of which you probably have in your pantry. The waffle ingredients are: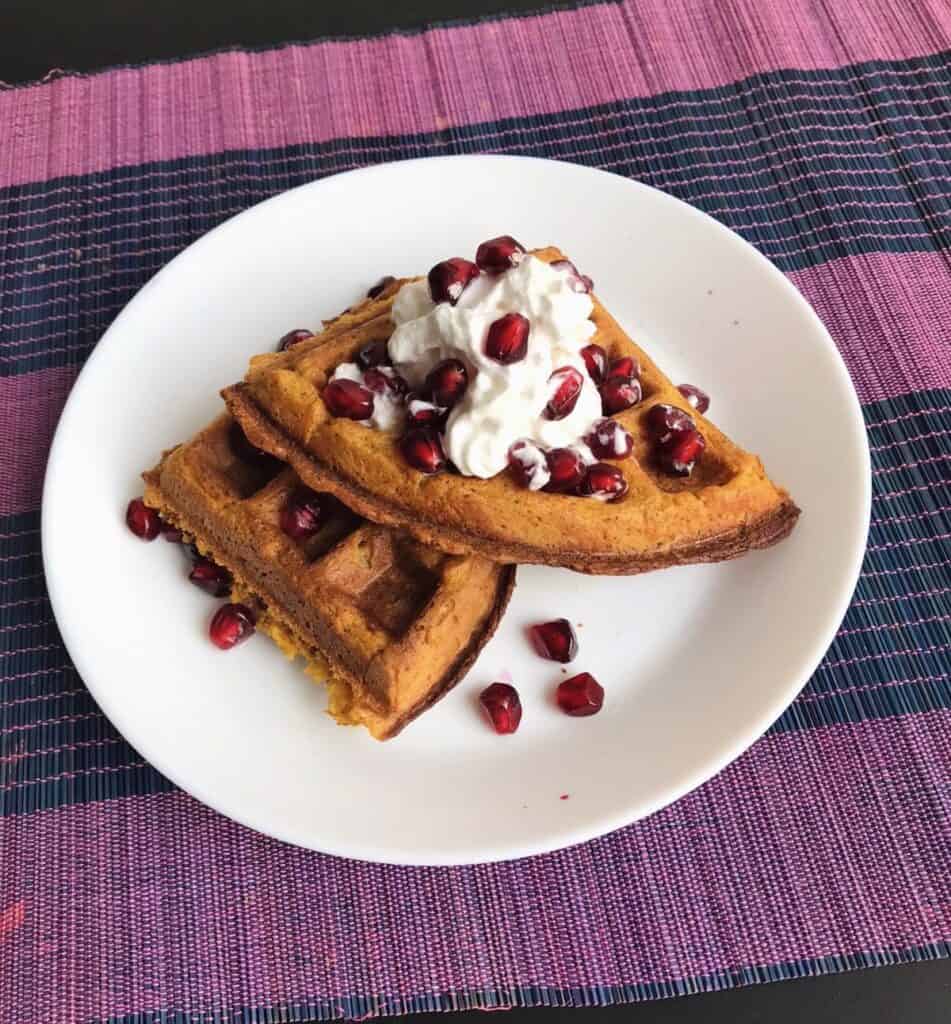 Health Benefits – Sweet Potato Waffles (Vegan)
These really pack in a great nutritional punch. Sweet potatoes contains tons of fiber, vitamins, antioxidants and minerals. It's chock full of vitamins A, C, B6, Manganese, potassium and more.
They also promote gut health and support healthy vision. For more info about all the great things sweet potatoes offer to your health you can check out this article.
Oats are another power food. They are filled with Manganese, phosphorus, magnesium, calcium and more. They also have been linked to weight loss, lower blood sugar levels, and reduced risk of heart disease.
Even the cinnamon in this recipe will give your health a boost. Cinnamon is an anti inflammatory and is loaded with antioxidants, among many other amazing health benefits.
How to Make Vegan Waffles (Vegan Oat Waffles)
To make these eggless waffles is really simple. You take your cooked sweet potato and throw it in the blender
with the oats and puree. Then you throw in the rest of the ingredients and blend until smooth. There's your vegan waffle batter. Easy, right?
Once you've got your batter, heat up your waffle maker
and spritz it with a bit of cooking spray. Spread out the batter, but not to close to the edge. If you put it all the way to the ends it might overflow as it cooks.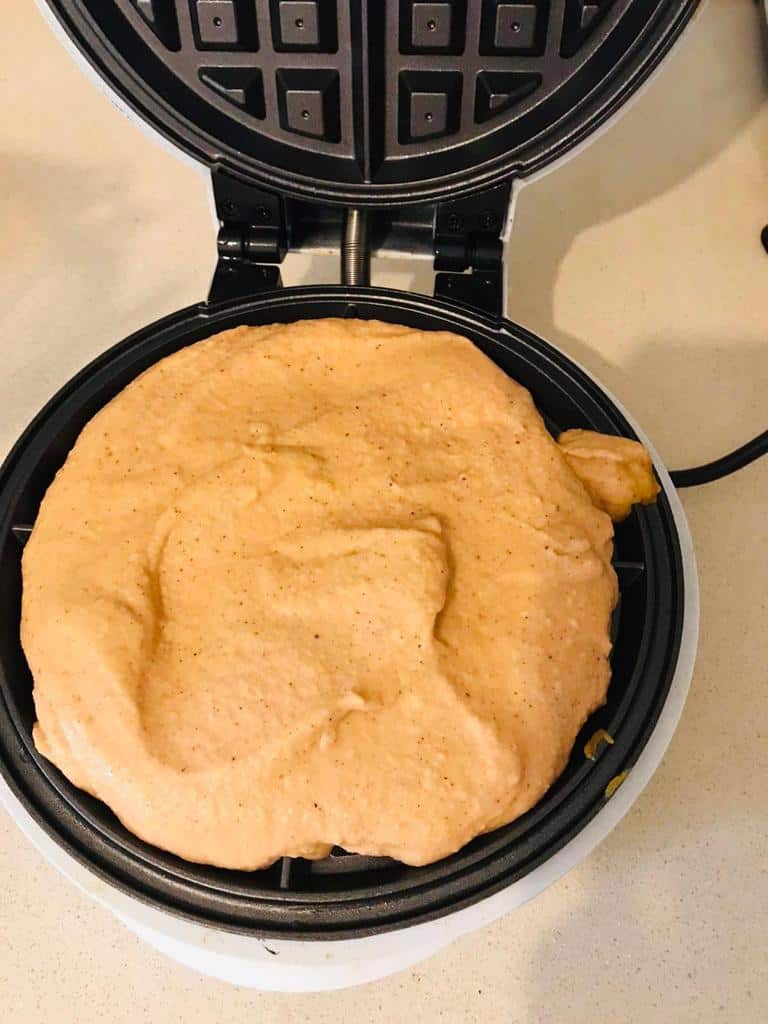 From then it will depend on your waffle iron on how long it takes to cook. With a good one it should take around 5-7 minutes. If you've got a cheap one like me that barely cooks them it could take much longer.
If you don't have a waffle iron you can find affordable ones here
.
How to Cook the Sweet Potato
There are plenty of ways to cook your sweet potato. You can even just use a leftover sweet potato for this. I'm not sure why but I always seem to have cooked sweet potato in my fridge that I'm not sure what to do with.
My favorite method, because it's the least involved, is to prick it with a fork, wrap it in tin foil and pop it in the oven. It takes around 45 minutes to cook this way, but so little effort.
You can also peel and cut the sweet potato and throw it in a pot of boiling water. It's a little more effort, but this way only takes 15 minutes to cook.
You can also cook sweet potatoes in the microwave which is the quickest method.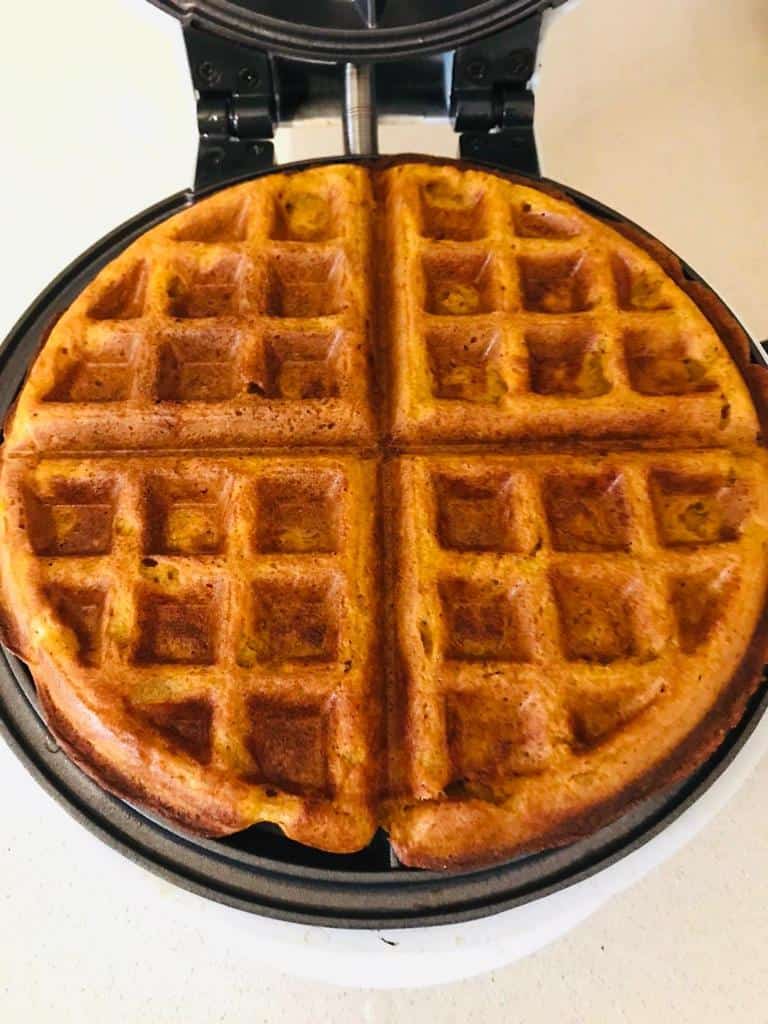 Making the Healthy Vegan Waffle Recipe in Advanced
Breakfast is not a time most people want to have to get up early for to prep. At least, I definitely don't, I am not a morning person at all. So the best kind of waffle batter to me is one that can be made ahead of time.
The good news is if you'd like to make this dairy free waffle recipe ahead of time, you can! The batter can be stored in an airtight container for up to two days before using it.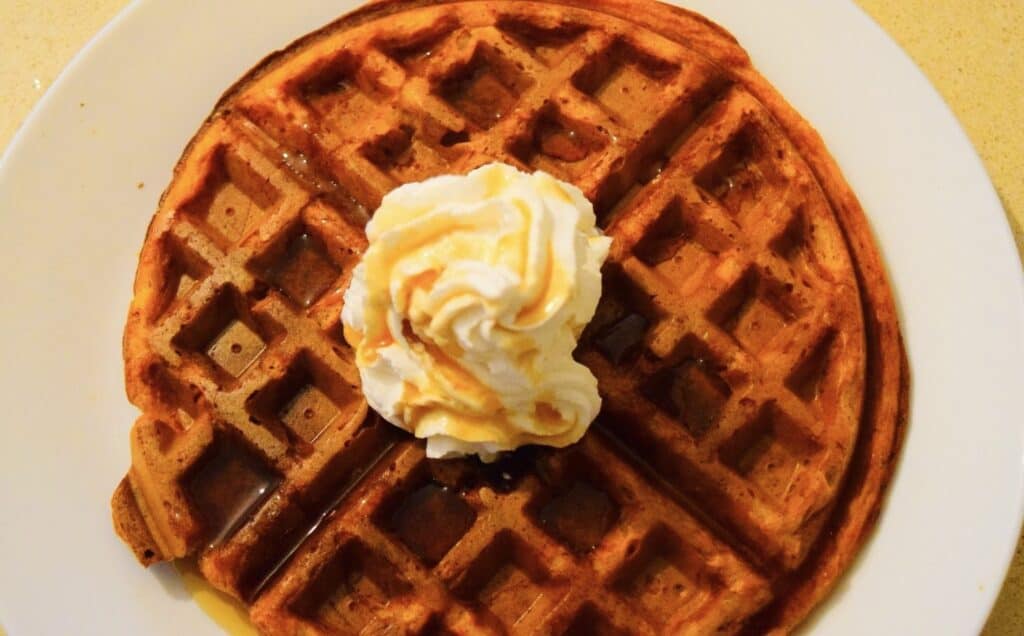 You can also make a big batch and store leftovers in the fridge for up to three days. Rewarm in a toaster
or oven for best results.
I do prefer them freshly made though, so better to save the batter ahead of time then the pre-made waffles.
Freezing Sweet Potato Vegan Waffles
These dairy free waffles freeze well and can then be popped in a toaster
to defrost and heat at your convenience.
To freeze the egg free waffles, wait for them to cool down completely after cooking. You can place them on a wire rack to speed the cooling process.
Once they are completely cooled, place them on baking sheets and pop them into the freezer until they are completely frozen.
This can take around 2 hours. You can skip this step if you like, but freezing it on the baking sheets makes it so that they are less likely to stick together in the container.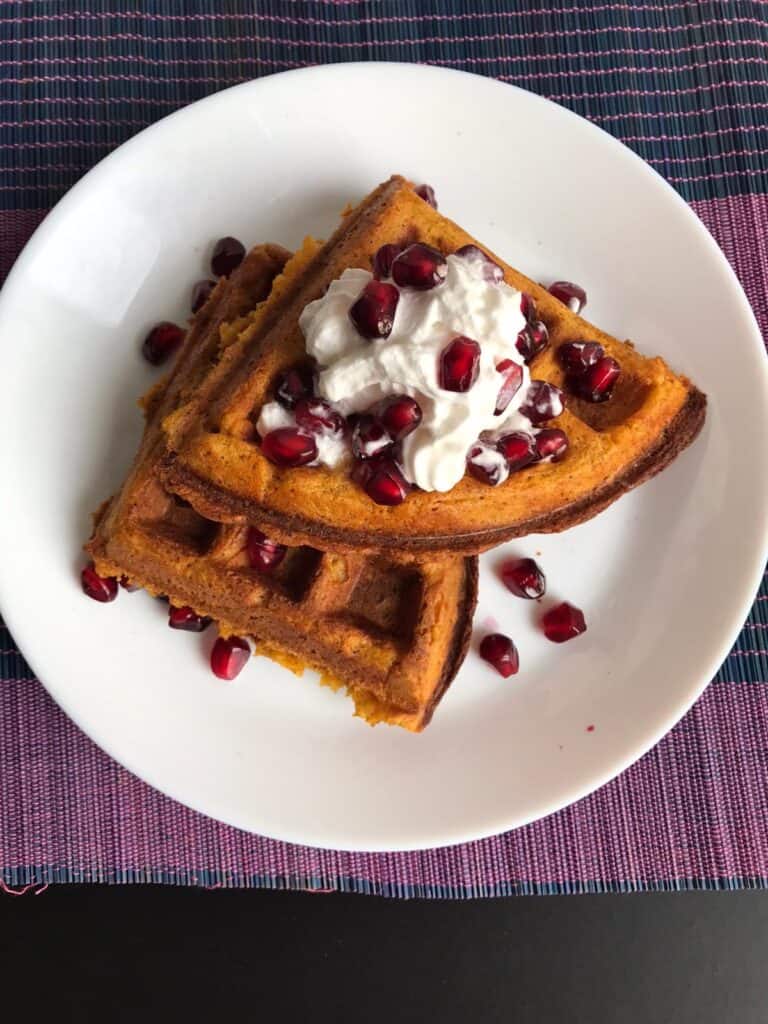 Once frozen, put them in a Ziploc freezer bags
or a container. I like to double wrap them if you are putting it in a freezer bag to ensure they don't get freezer burnt. If you are using a container make sure it's a good airtight freezer container for the same reason. They can be stored in the freezer for up to three months.
You can use the microwave, oven or toaster to defrost and enjoy. Pop them straight in from the freezer and enjoy your easy vegan breakfast or brunch!
Don't forget to Pin This Post For Later!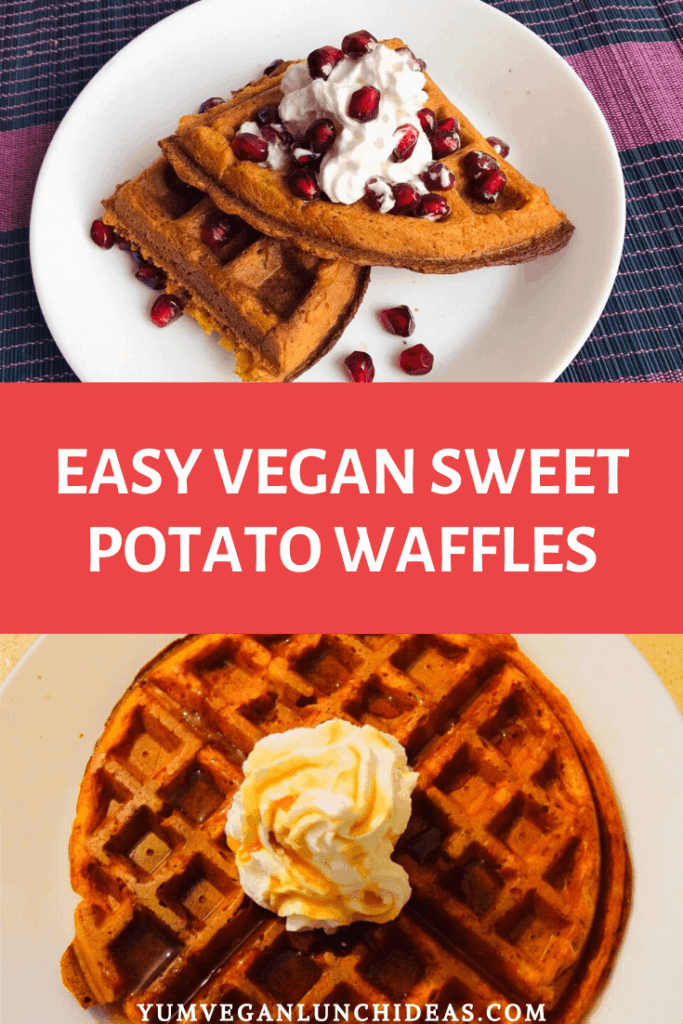 If you are looking for more low calorie breakfasts, lunches and dinners, checkout our roundup here!
Yield: 4 Servings
Easy, Delicious Sweet Potato Waffles (Vegan)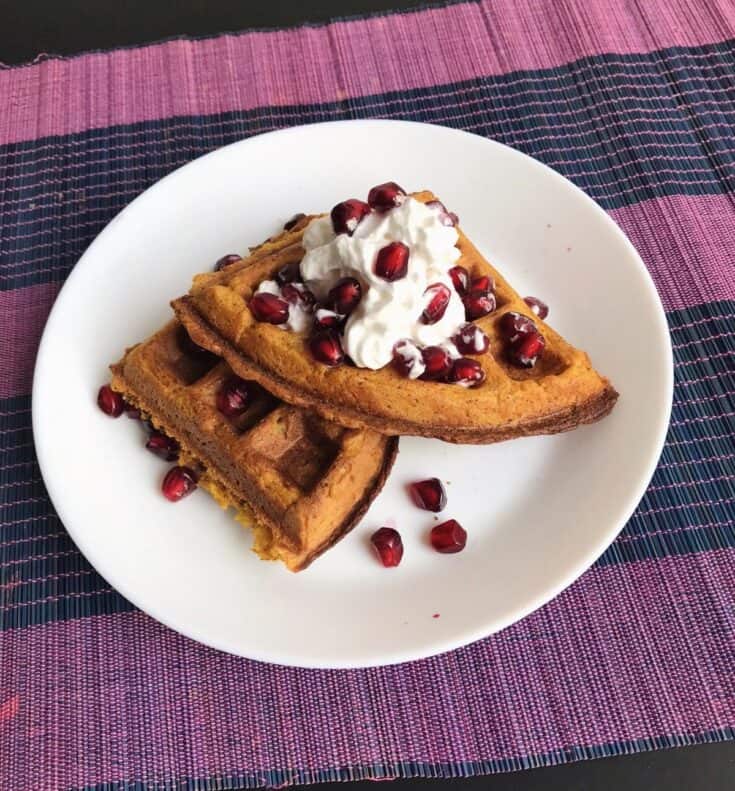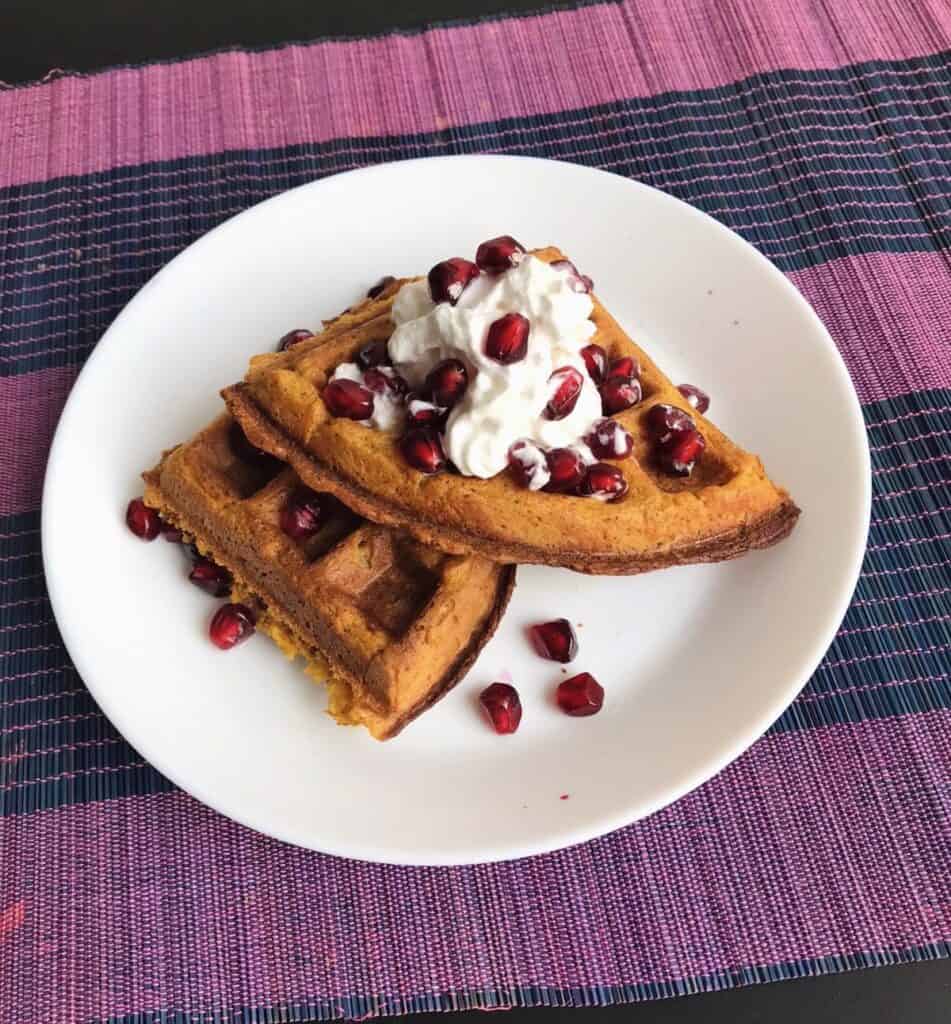 These sweet potato waffles (vegan) are so crispy and delicious while also being sneakily healthy vegan waffles. Packed with delicious fall flavors, these easy waffles are filling and pretty light on calories and will fill any waffle cravings with flair!
Get creative with your toppings to make these vegan sweet potato waffles as simple or as decadent as you like for a perfect vegan breakfast treat. You can also prep them ahead of time either by making the batter ahead or by freezing them for a quick morning breakfast/brunch. See post above for details.
Ingredients
1 Large Cooked Sweet Potato* (See note for alternate measurements)
1 Tbsp Cornstarch (Optional, see note)***
1/4 tsp Salt
Cooking Spray
Instructions
Preheat your waffle iron
Combine cooked sweet potato and oats in your blender and blend until somewhat broken down.
Add in the rest of the ingredients (from flour until salt) and blend until smooth. You may have to open the blender and scrape down the sides to make sure it gets well incorporated.
When your waffle iron is hot, spray with the oil and pour your batter in. Don't put too much batter too close to the edge or it will overflow as it cooks.
Cook time will depend on your waffle iron but should take 5-10 minutes but may take longer with certain waffle irons. They are done when they are all crispy on the outside.
Remove and enjoy! Some of my favorite toppings include maple syrup, whip cream, and pomegranate seeds but top with whatever you enjoy!
Notes
* One large sweet potato is around 450g before being cooked or around 1.5 cups cooked and mashed a little bit. I usually just eyeball a large sweet potato but due to a few requests I measured it for you the last time I made it - it doesnt have to be exactly this amount.
* *Use either a sweetened milk or one that is naturally sweet. If you don't have, any sweetened kind, you may want to add a bit of sweetener to this recipe. I use a naturally sweet almond rice milk.
***The original version was without cornstarch, If you had great experiences with it that way, feel free to leave the cornstarch out. I got one or two people complaining that their waffles didnt hold together enough, so I played around with it and adding the cornstarch made mine come out even crispier, so I hope this will help anyone who's waffles didn't come out right. I will also say to make sure not to open the waffle iron before they are finished cooking. If you crack it open just to peek and the waffles are sticking to both sides of the iron and pulling apart then, then it's most likely not done cooking and like most waffles, trying to pull it all the way open will ruin them visually at the least.
Recommended Products
As an Amazon Associate and member of other affiliate programs, I earn from qualifying purchases.
Nutrition Information:
Yield:
4
Serving Size:
1
Amount Per Serving:
Calories:

205
Total Fat:

2g
Saturated Fat:

1g
Trans Fat:

0g
Unsaturated Fat:

1g
Cholesterol:

4mg
Sodium:

551mg
Carbohydrates:

41g
Fiber:

4g
Sugar:

9g
Protein:

6g
You May Also Like: