If you are a fan of spicy food and Korean flavors, this is the sandwich for you. This Korean seitan sandwich is sweet, tangy, spicy, and packed with umami. All that flavorful goodness gets sandwiched between fluffy, crusty bread.
The meaty marinated seitan is packed with delicious flavors and pairs perfectly with the spice of the kimchi. This sandwich is definitely one of my recent favorites, I just can't get enough of it!
If you are looking for more sandwich inspiration check out our favorite vegan sandwiches here. Or you can check out some of our favorite vegan seitan recipes, like our vegan tortas with bbq seitan ribs or this seitan chicken.
Korean Seitan Sandwich Ingredients
Marinade for Seitan
Most of the ingredients for this sandwich go into the marinade that you'll flavor the seitan with. The ingredients for the seitan marinade are: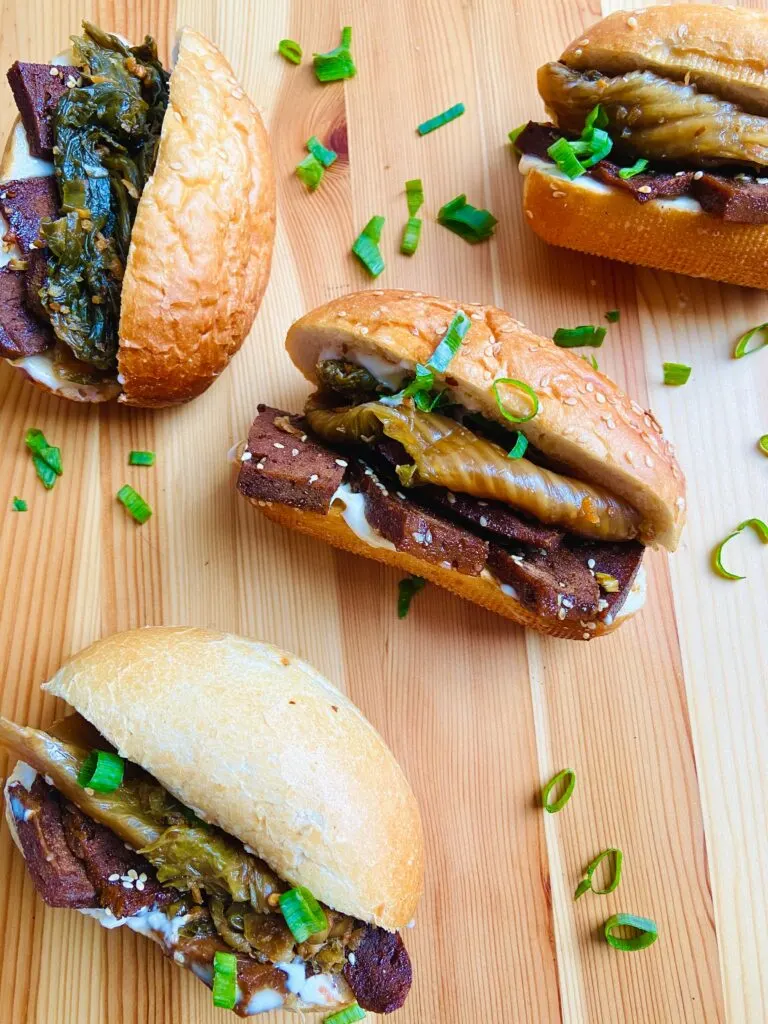 Remaining Sandwich Ingredients
The remaining ingredients for the sandwich are:
Where to Buy Seitan and How to Make Seitan
While ordinarily I prefer homemade seitan for it's better taste and texture, this is one of the few recipes that I'll readily use store bought seitan in.
This seitan marinade has a very strong flavor and covers any side tastes I normally don't enjoy in ready made seitan.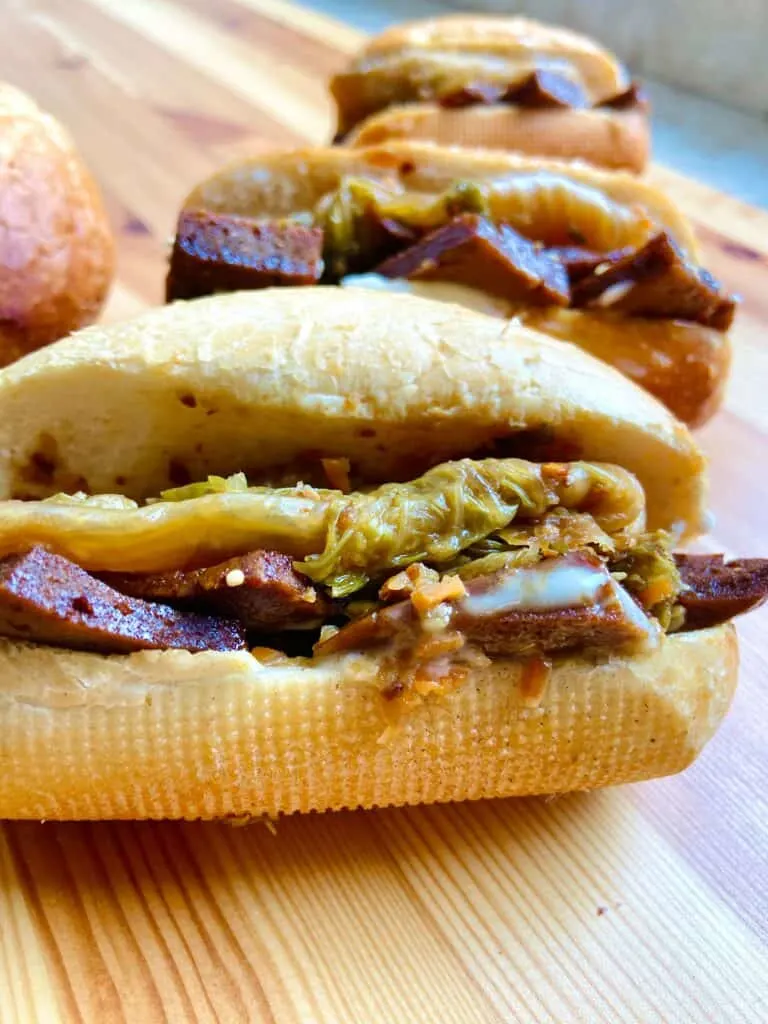 If you have the time and inclination to make seitan on your own, you can follow the recipe for these ribs as a base. Follow the instructions for the ribs until it's finished being baked.
If you plan to buy at a supermarket or follow another recipe, choose any style that are meant to be red meat/beef seitan.
You can find seitan at any store with a good specialty vegan section or any health food store. If you don't have one of those nearby you can buy it online from stores like iHerb or veganessentials to have it delivered to your doorstep.
How to Cook Seitan for Korean Sandwiches
To make the seitan you need to take your block of seitan and cut it into seitan strips. The strips should somewhat resemble steak strips, long rectangles. I like to make them thinner then steak strips usually are though, so it absorbs maximum flavor from the sauce.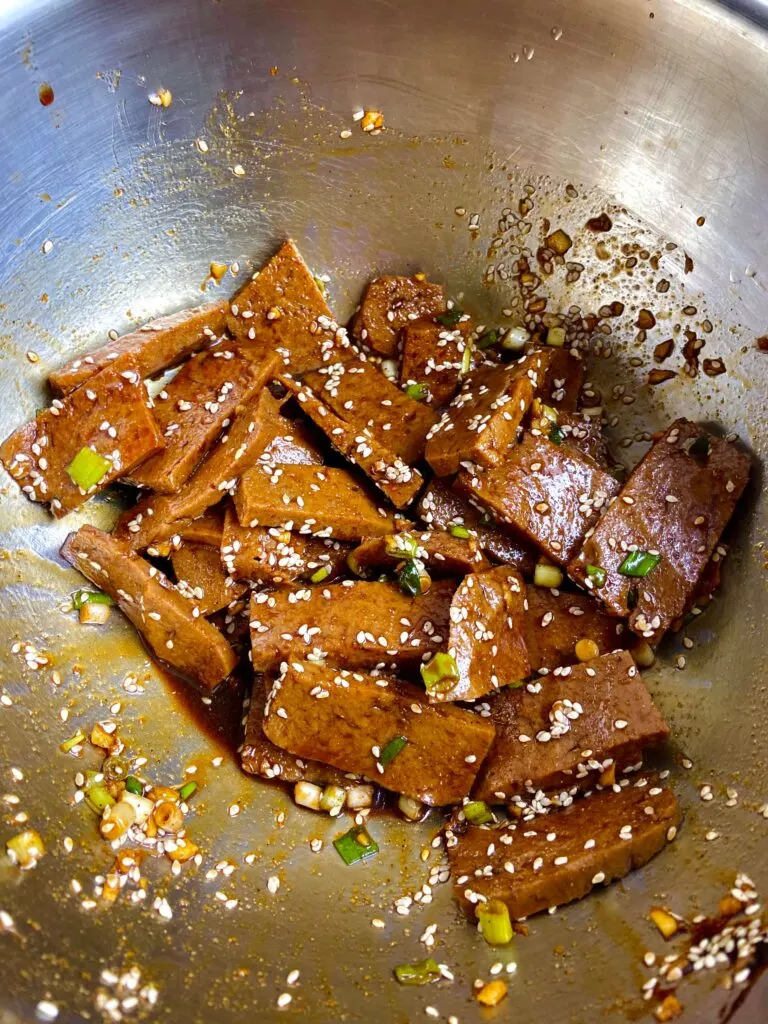 Next, whisk together all the marinade ingredients and let the seitan marinate for at least 30 minutes. Once it's finished marinating, you bake the seitan in the oven until its edges have gone crisp.
Kimchi
If you've never had kimchi, you are in for a treat, especially if you like spicy foods. Kimchi is fermented vegetables, mainly cabbage, and it's a staple in Korean households.
A while back I decided to try to make my own using this recipe and it came out amazing. Assuming you don't have time to ferment your cabbage before you want to eat this sandwich, you can also buy kimchi at specialty stores or online here
.
Make sure to pay attention to spice levels, some are more mild and some are spicier. If you are buying local, make sure the one you are getting is vegan. Kimchi often contains fish sauce.
Alternatively, you could try out this Korean Pickled Radish recipe, which is absolutely divine!
Sandwich Bread
For these sandwiches you are going to want to choose a bread that is fluffy on the inside and crusty on the outside. This allows it to soak up some of the delicious flavors without getting soggy.
I used mini baguettes. They were pretty small so two of them made a serving. You could also use a larger baguette and just cut it into serving size pieces.
Vegan Mayo
The mayo in this sandwich really helps offset the spice and add some creaminess. By popular opinion, Just Mayo is a favorite if you are looking for vegan mayo. You can buy it here
.
If you are avoiding processed foods, or want a healthier option, you can try this homemade healthy plant based mayo recipe.
Putting Your Korean Seitan Sandwich Together
Once you have all your ingredients, just spread some mayo on each baguette, layer in your baked seitan, and spoon on some kimchi. Enjoy!
Benefits of Seitan
Seitan is one of my favorite vegan protein sources. There are tons of benefits to eating seitan.
Because it is made from vital wheat gluten and water it's high in protein and low in fat and calories. It it also a good source of other necessary vitamins like calcium, selenium and iron.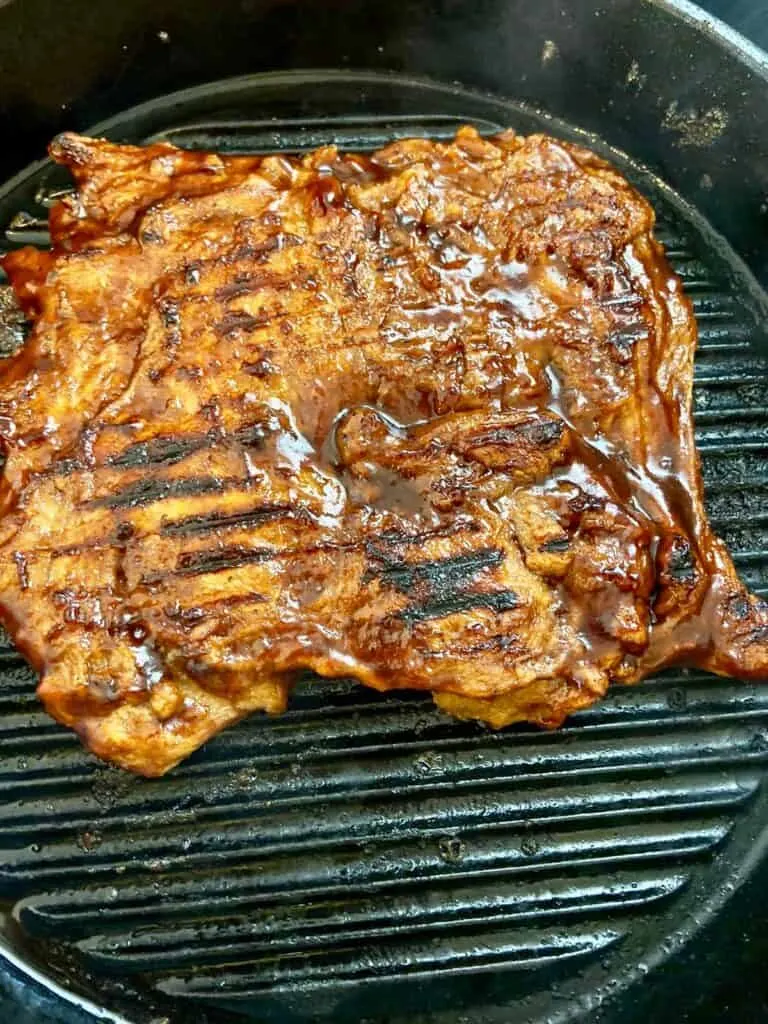 Making seitan can seem intimidating if you've never done it before, but it's actually pretty easy to make your own. It's especially great when you make your own because you can control the sodium levels, and any other add ins.
Add chickpea flour to make it a complete protein or nut butter to make it have some healthy fats. It's totally customizable and versatile!
Don't Forget To Pin This Post For Later!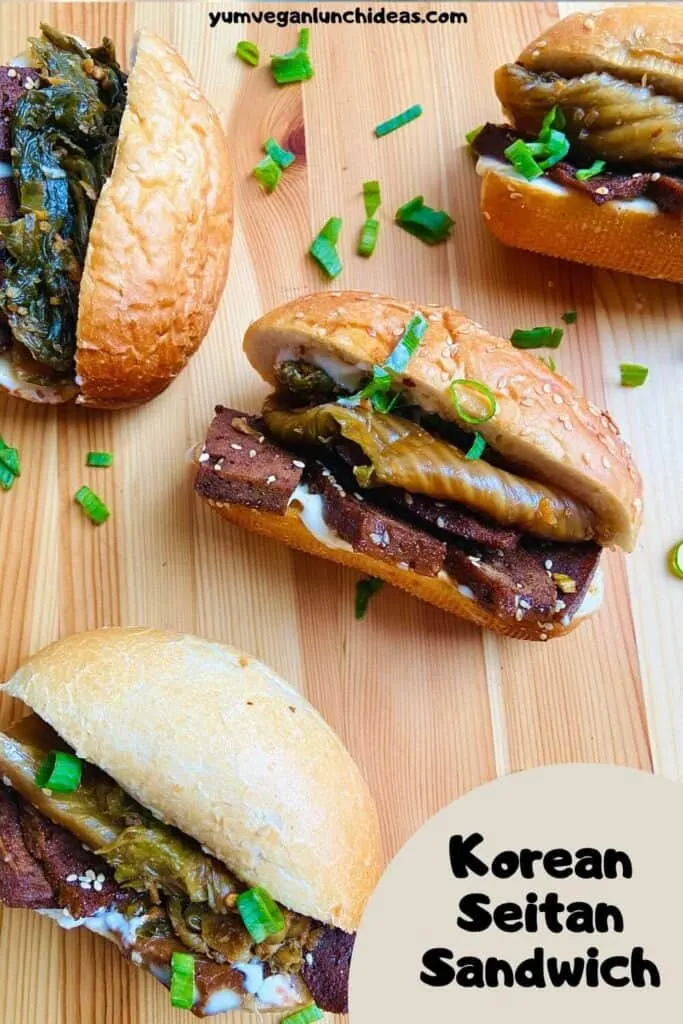 Yield: 3 Servings (6 Mini Baguette Sandwiches)
Korean Seitan Sandwich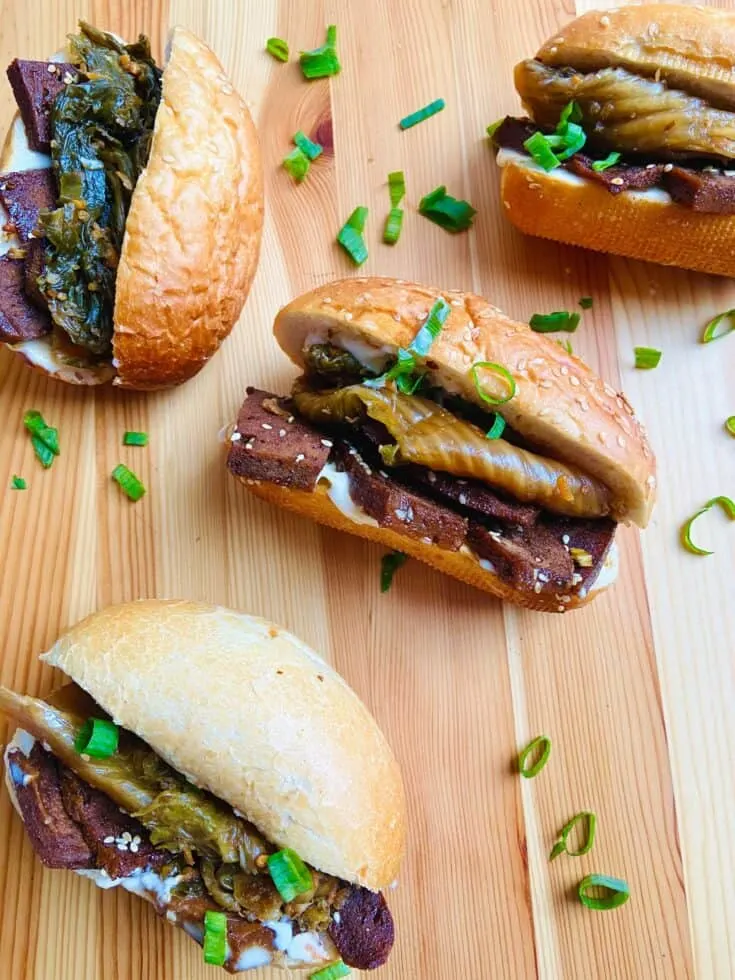 This Korean seitan sandwich is packed with flavor! From the delicious combo of tastes in the seitan marinade, to the spicy kimchi, and delicious crusty bread, this is one vegan sandwich recipe you are not going to want to miss.
These seitan sandwiches can be made with homemade seitan or store bought and can be customized depending on your personal threshold for spiciness!
Additional Time
30 minutes
Total Time
1 hour
10 minutes
Ingredients
For the Seitan
8 oz Seitan
2 Green Onions Chopped
2 Tbsp Lemon Juice
4 tsp Sugar
1 Tbsp Minced Ginger
3 Garlic Cloves Minced
1 tsp Ground Black Pepper
Instructions
Slice the seitan and cut into strips that resemble steak strips, but thinner. They should be rectangular.
Whisk together all the marinade ingredients in a large bowl and then add in the seitan. Mix until all the seitan are covered.
Let it marinate for at least 30 minutes.
Preheat the oven to 400 F. Prepare a greased baking sheet.
Spread out the seitan with the marinade onto the baking sheet and bake until the edges are crispy. It should take around 30 minutes.
Once the baked seitan is finished, start assembling the sandwiches.
Spread between 1/2 - 1 Tbsp of the vegan mayo onto each baguette depending on personal taste.
Layer on seitan strips and then top with kimchi. How much kimchi you use per sandwich will depend on personal tastes for spiciness and the tangy kimchi flavor.
Enjoy!
Notes
* I used mini baguettes but you can use any bread available that is soft on the inside and crusty on the outside. You could also use large baguettes and just cut them into smaller, serving sized pieces. Because the mini baguettes I used were very small, the serving size represents two sandwiches.
Recommended Products
As an Amazon Associate and member of other affiliate programs, I earn from qualifying purchases.
Nutrition Information:
Yield:
4
Serving Size:
1
Amount Per Serving:
Calories:

981
Total Fat:

40g
Saturated Fat:

7g
Trans Fat:

0g
Unsaturated Fat:

31g
Cholesterol:

0mg
Sodium:

2235mg
Carbohydrates:

142g
Fiber:

7g
Sugar:

22g
Protein:

41g
You may also like: