To me, this rocket and pear salad screams special occasion with it's beautiful colors, delicate leaves, tasty fruit and sprinkle of toasted sliced almonds. I won't judge you if you want to eat it every day though!
Whether you save it for the special occasions, like Thanksgiving or Christmas, or you enjoy it year round, it's sure to become a favorite. It's especially nice, with it's light and bright flavors as a starter or side for a heavier meal.
The sweet cherry vinaigrette plays perfectly with an almond, pear and rocket salad, bringing both tart and sweet into the mix, with it's own burst of cherry flavors! And of course, it makes the whole rocket pear salad more colorful with it's vibrant pink color.
So grab some beautiful greens, tender pears and get to making this pear rocket salad!
Looking for more salad inspiration? Check out this agave mustard broccoli salad or our brussel sprout salad.
Pear and Rocket Salad Ingredients
This rocket leaf salad comes together quickly and easily with minimal ingredients. The ingredients included all really standout and star in this salad, so make sure to choose happy looking produce! To make this pear and rocket salad recipe you'll need:
Rocket Salad Greens – Preferably the Baby Variety
Ripe Pears
Sliced Almonds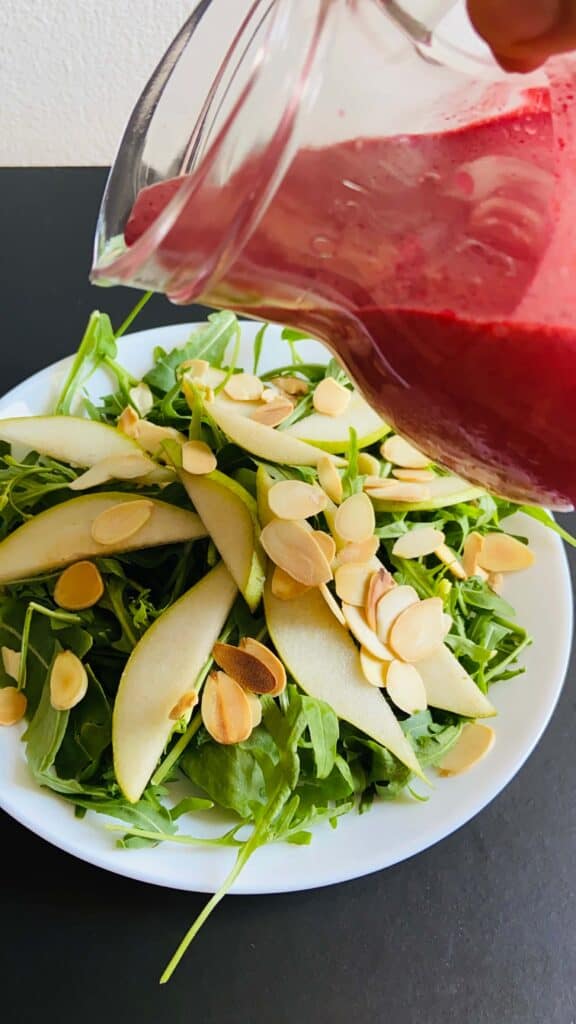 For the sweet cherry vinaigrette you'll need:
If you prefer to make the dressing oil free or have other questions about swaps, storing the dressing and more, I would recommend checking out the full recipe post here.
Pear Arugula Salad – Rocket vs Arugula
Arugula and rocket are the same salad greens! The name they go by generally just depends on where you are from, so if you only find arugula in your local supermarket, rest assured, you are buying rocket and vice versa.
Try and get the baby version, i.e. baby rocket/ baby arugula. It has a milder and less bitter flavor and in my opinion, prettier leaves.
How to Make Rocket Pear Salad
The first thing to do is toast the almonds. I like to do this on the stove because it's quick and easy but you can also toast them in the oven if you prefer.
To toast them on the stove, spread them out in a pan so that they are not over lapping and heat on medium heat for around 4 minutes, stirring or flipping them as needed so that they don't burn. The pan should be completely dry when you do this, and you do need to be on top of it so that it doesn't burn. Once they are toasted and lightly golden, they are done.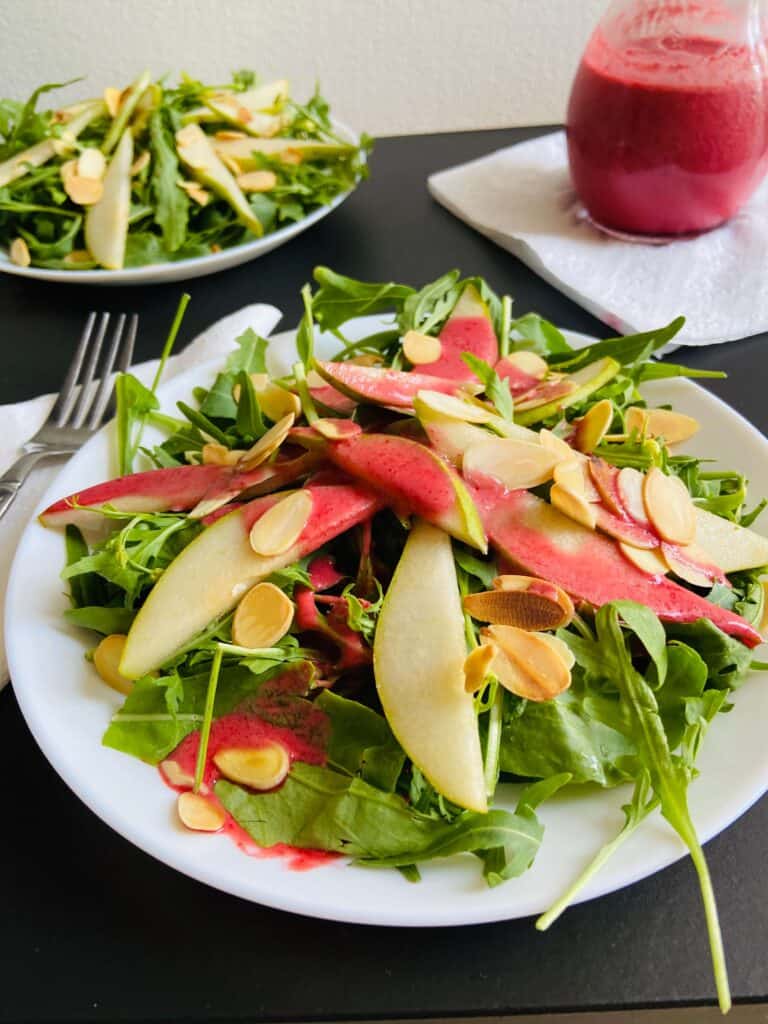 Once the almonds are done toasting, give them a minute to cool down while you slice your pears and assemble your salad. You can assemble the salad either on individual plates or in a serving bowl.
Put the rocket on the bottom, scatter with the pear slices, sprinkle with the toasted almonds, and then drizzle the dressing over the top. If you are serving as a serving bowl rather then individual portions, you'll need to mix it so the dressing gets's well distributed.
Pear and Rocket Salad Dressing
The sweet cherry vinaigrette takes only a few minutes to whip up and pairs with the bitter rocket leaves perfectly. Just let your cherries defrost a bit so that they are easily blended and then blend all the ingredients together until smooth.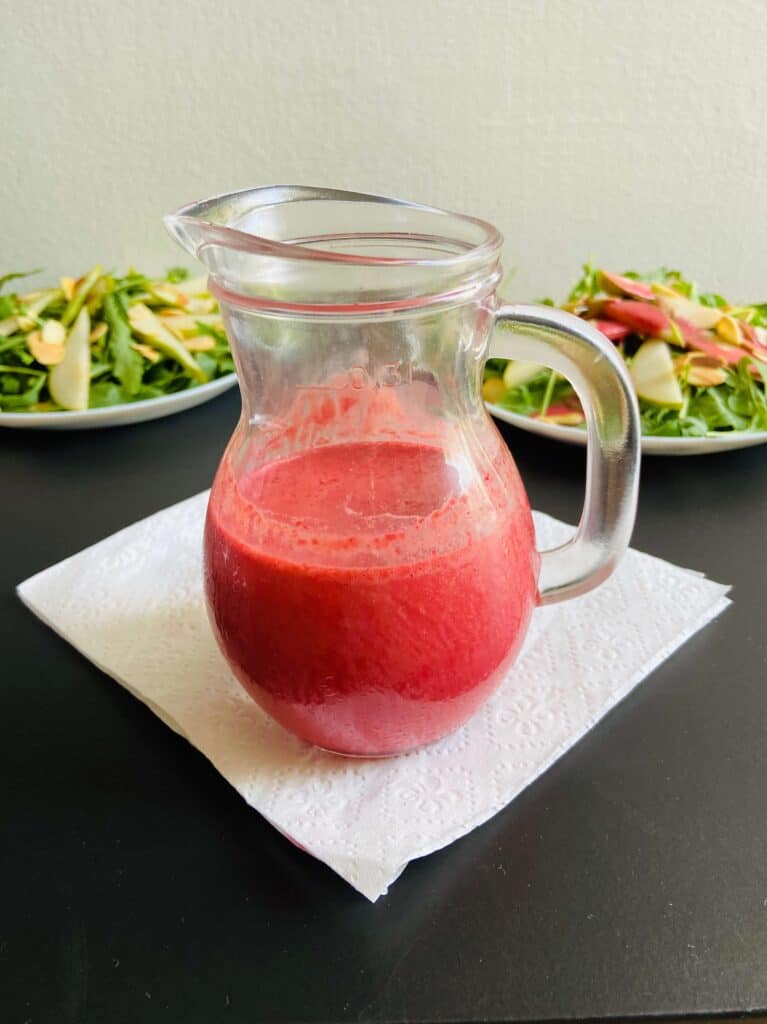 Making Pear Rocket Salad Ahead of Time
If you want to prep this salad ahead of time, it's easily done! The dressing will stay good in the fridge for at least five days, just store in an airtight container.
The toasted almonds store even longer. Store them in an airtight container somewhere cool and dark and they will last at least two weeks, or you can store them in the freezer for a few months.
I would not advise assembling the salad ahead of time. Pears will get brown and their texture will get slightly less appealing if cut too far ahead of time, and the rocket leaves will get soggy if left to sit in dressing.
Don't Forget To Pin This Recipe For Later!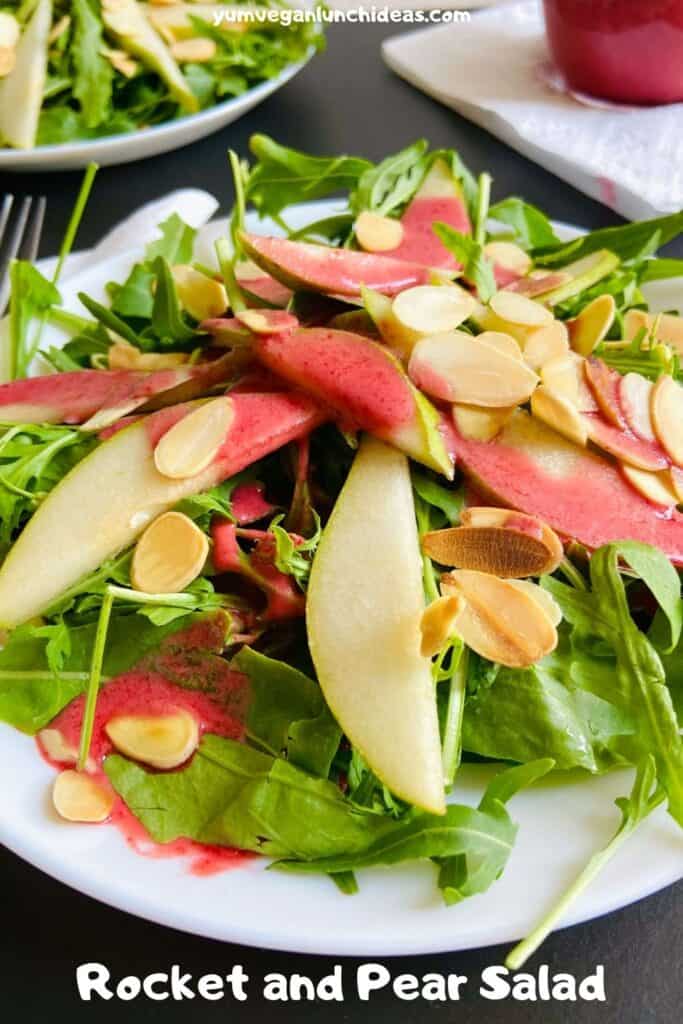 Yield: 4 Servings
Rocket and Pear Salad with Sweet Cherry Vinaigrette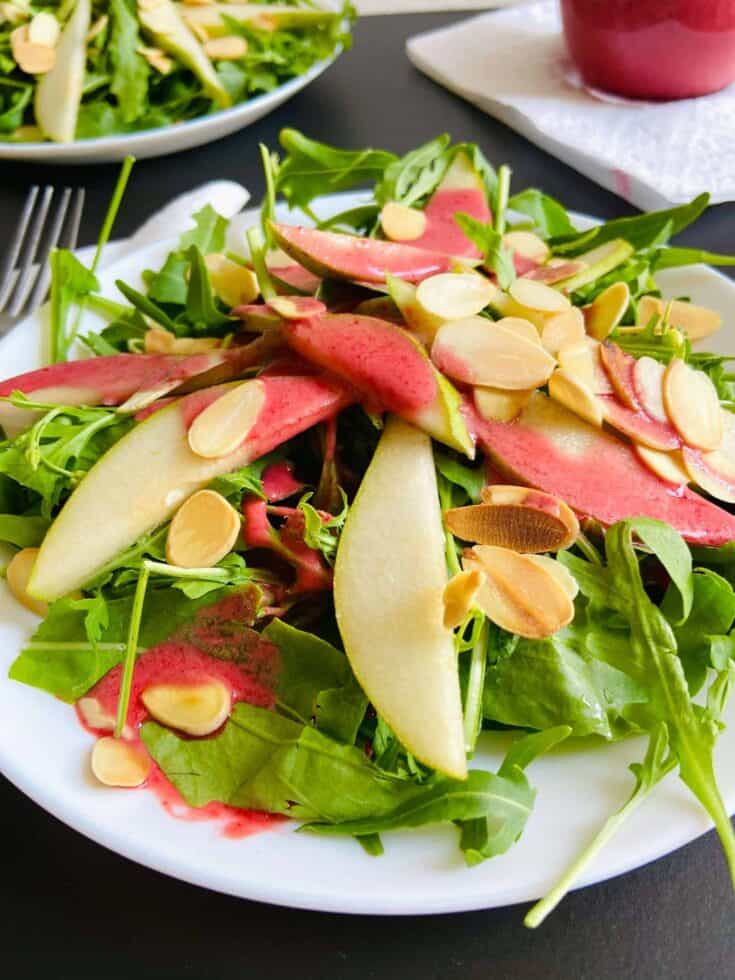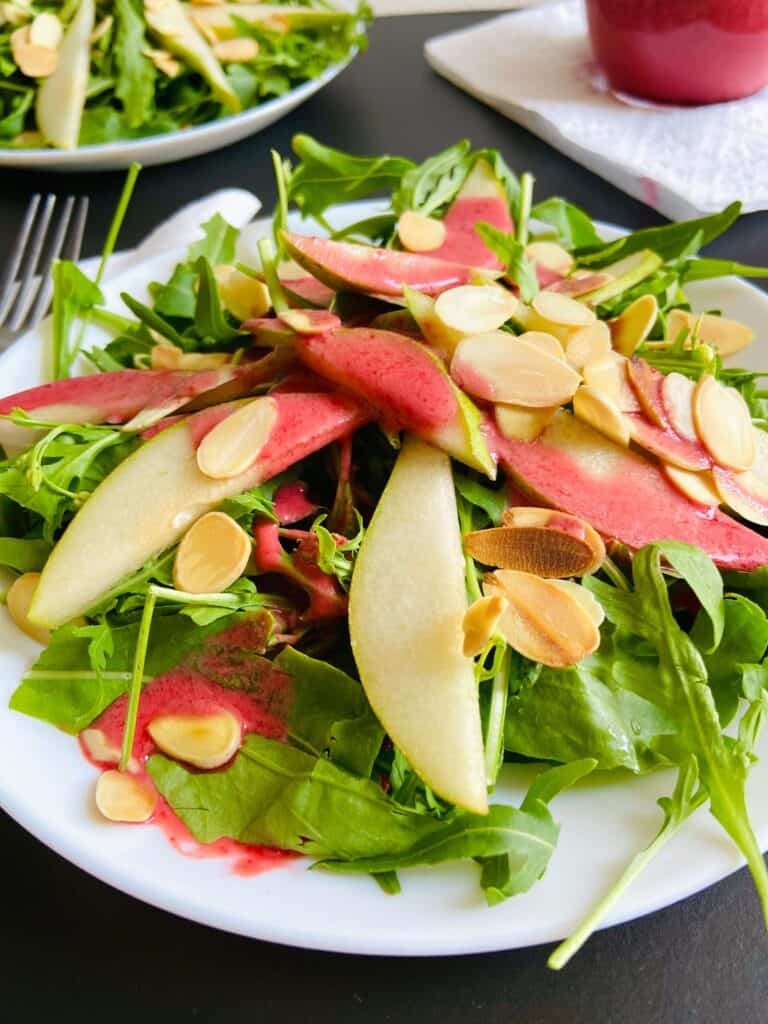 This cheerful, fruity pear rocket salad is perfect for special occasions. The bitter rocket pairs perfectly with the sweet pear slices, toasted almonds, and the bright cherry vinaigrette for a salad that will impress visually and taste wise.
This salad comes together quickly and the components can be prepped ahead of time, making it an even easier choice, whether you are making it for a quick weekday option or a side salad for a fancy holiday meal.
For more info about prepping ahead of time, see the full post above.
Ingredients
4 Cups Baby Rocket Leaves
2 Small Pears
Instructions
Heat a pan on the stove over medium heat and add the slivered almonds in one layer. The pan should be completely dry. Cook for 4-5 minutes until they are golden and toasted. Mix once or twice with a spatula while it cooks so that it doesn't burn. You can also toast the almonds in the oven if you prefer.
Slice the pears into thin slices and prepare the salad dressing while the almonds toast.
When the almonds are finished, remove from the heat and allow to cool a bit.
Assemble the salad, if you are serving on individual plates, you'll need a large handful of rocket (around a cup) for each plate. Top with about half a pear worth of slices and sprinkle with 2 tbsp of the toasted almonds. Drizzle the salad dressing on top and enjoy! If you prefer family style serving, add all the ingredients to a serving bowl and toss to make sure the salad dressing gets well distributed.
Nutrition Information:
Yield:
4
Serving Size:
1
Amount Per Serving:
Calories:

151
Total Fat:

9g
Saturated Fat:

1g
Trans Fat:

0g
Unsaturated Fat:

7g
Cholesterol:

0mg
Sodium:

74mg
Carbohydrates:

18g
Fiber:

4g
Sugar:

11g
Protein:

3g
Yield: `1 1/4 Cup Dressing
Sweet Cherry Vinaigrette | Cherry Balsamic Vinaigrette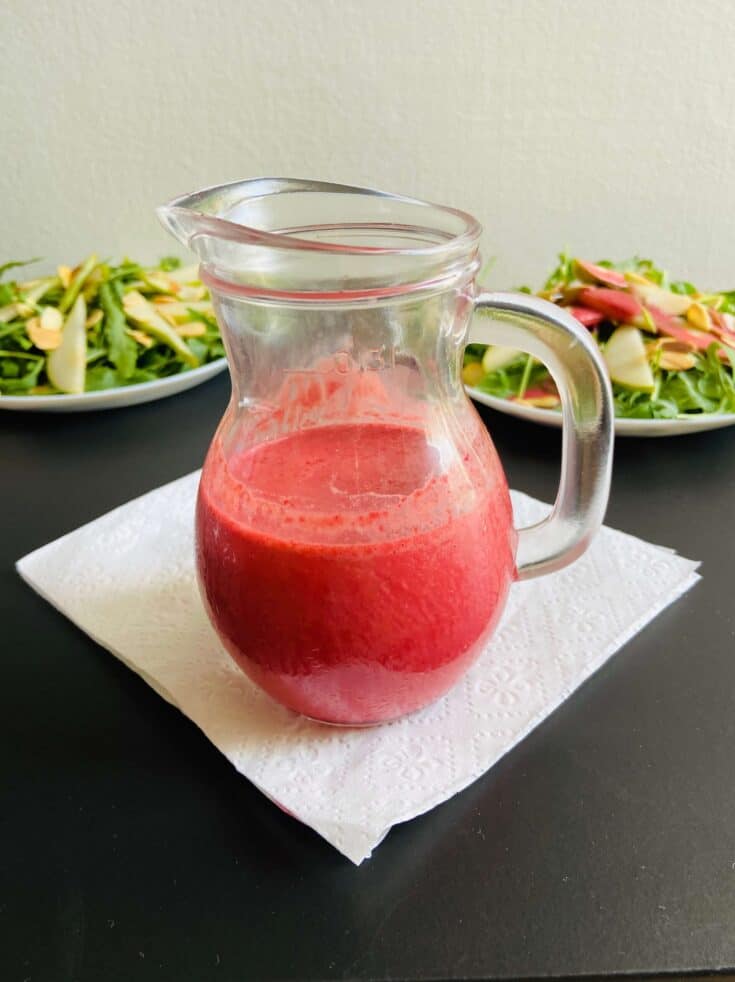 This bright, healthy, sweet cherry vinaigrette will make your salads pop with color and taste and it only takes a few minutes to make! It tastes amazing on top of all your favorite greens from arugula to kale to romaine, especially when paired with sliced fruit.
This amazing homemade vinaigrette is naturally vegan, plant based, no added sugars, gluten free, dairy free, nut free, and an all around healthy salad dressing.
Ingredients
1 Cup Frozen Sweet Cherries*
2 Tbsp Water
A Pinch of Salt
Instructions
Let the sweet cherries defrost on the counter until softened a bit. It doesn't have to be fully defrosted but it shouldn't be rock hard either. If you want to speed up the process just pop it in the microwave until softened.
Blend all the ingredients until smooth.
Enjoy!
Notes
* You can use fresh but it will take some effort to pit all the cherries before you blend it.
** You can make this dressing oil free by omitting the oil and adding an extra tbsp of water. For full instructions on making it an oil free vinaigrette check out the full post above.
Nutrition Information:
Yield:
10
Serving Size:
1
Amount Per Serving:
Calories:

37
Total Fat:

3g
Saturated Fat:

0g
Trans Fat:

0g
Unsaturated Fat:

3g
Cholesterol:

0mg
Sodium:

14mg
Carbohydrates:

3g
Fiber:

0g
Sugar:

2g
Protein:

0g
Disclaimer: This post contains affiliate links.