Ok, you guys, I am probably late to the party with this one, but I've only recently started making vegan scrambled egg at home. I mean I am completely addicted to this recipe and it is so damn easy to make, with only two main ingredients and the rest is seasoning!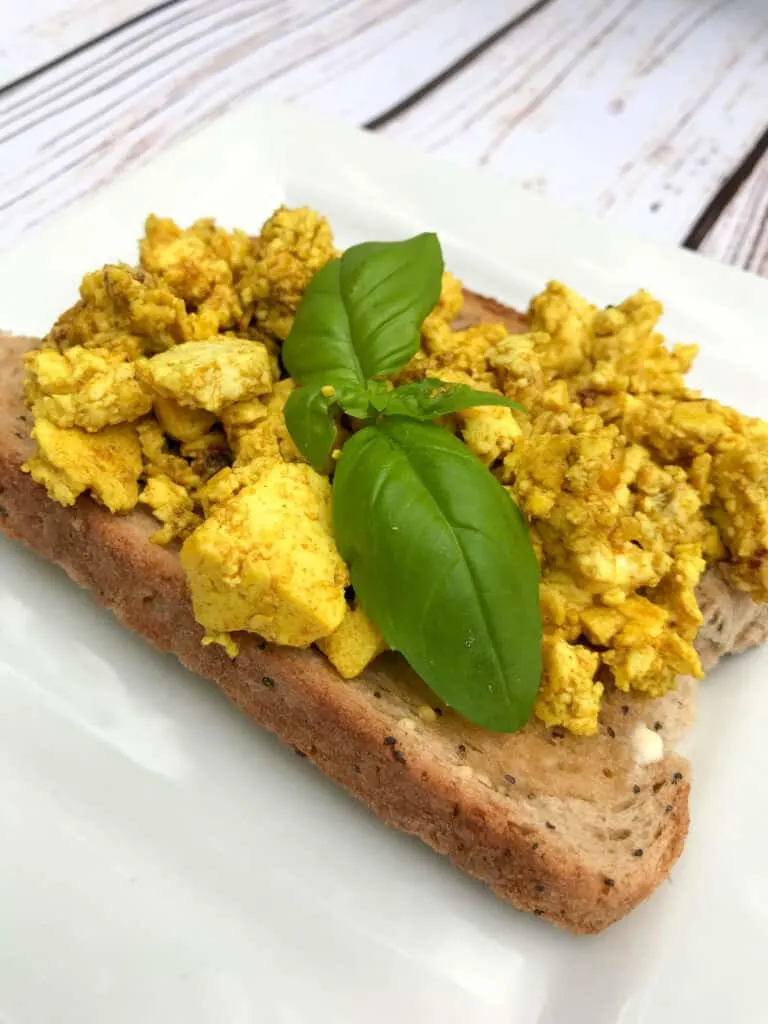 Vegan silken tofu scramble is perfect for breakfast, brunch, or maybe just the filling for a warm sandwich on a winters day.
I'm noticing vegan scrambled egg popping up on more and more cafe menus, hurrah for vegans, people are realising this is the best substitute in the world to actual eggs!
Psssst… check out this pumpkin frittata.. Thank me later!
Vegan Silken Tofu Scrambled Egg
In terms of ingredients, I have found silken tofu scramble to come out with the best result. It has just the right consistency to make the best vegan scrambled egg recipe!
The absolute key seasoning ingredients are turmeric and black salt, also known as Kala Namak. I have a massive kg bag of each of these products, they are such key vegan ingredients in my opinion.
Kala Namak
is a kiln fired rock salt, used in SE Asia, it has a sulphurous smell and taste. I am one of those weird people that sickly loves the smell of sulphur. I've been to a few geothermal places with my husband and he just thinks I'm really weird for liking the smell.
Anyway, rest assured, it tastes really good despite smelling a little. It varies in colour and can present as a black, grey or pink like powder but when it meets a wet substance it turns black. However once stirred into the mix you can not see the kala namak, or black salt as it's often referred to!
Kala namak is also said to have a tonne of health benefits. It's a really amazing way to replace traditional salt if you don't mind the sulphurous taste.
Vegan Scrambled Egg Substitute
Ground turmeric
is my second key seasoning. I use about a teaspoon along with one carton of silken tofu. Turmeric has many health properties due to it's anti-oxidant and anti-inflammatory properties.
It has quite the reputation as a superfood, so I love the chance to use it naturally in this vegan scramble recipe.
Ground turmeric is very yellow / orange in colour and can easily stain fingers when cooking. However when mixed into the vegan scrambled egg substitute, it gives the mix a golden yellow colour and a really lovely favour.
Tofu Scramble Nutritional Yeast
I am a big lover of nutritional yeast, it adds a nutty and cheesy like flavour to dishes and of course, it is full of B12. It's not a necessity in this dish, but if you have some in the cupboard you may as well add a sprinkle.
I always start by melting a teaspoon of my favourite vegan butter to a pan. Next, add the strained tofu and begin to mash it gently with a fork whilst it is cooking.
Adding each of the seasoning and nutritional yeast if you like, it's just a matter of stirring them in and cooking for about 5 minutes. It's really that easy.
To serve, I love warm buttery granary toast, loaded on either side. I eat it with a knife and fork, but making it into a toasted sandwich is just as easy.
This is a recipe that can be enjoyed by the whole family, even kids love it too! Don't forget to check out our guide to cooking tofu here.
If you are looking form something super easy to make with leftover silken tofu, checkout our 5 minute chocolate mousse recipe!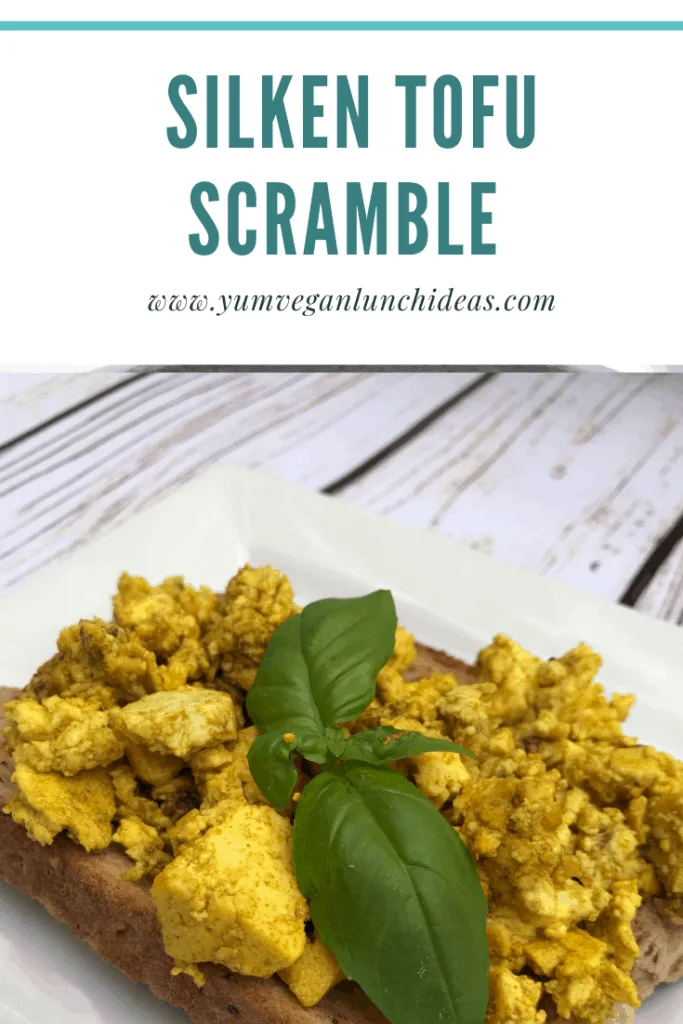 Recipe Card
Yield: 2-3 people
Silken Tofu Scramble Recipe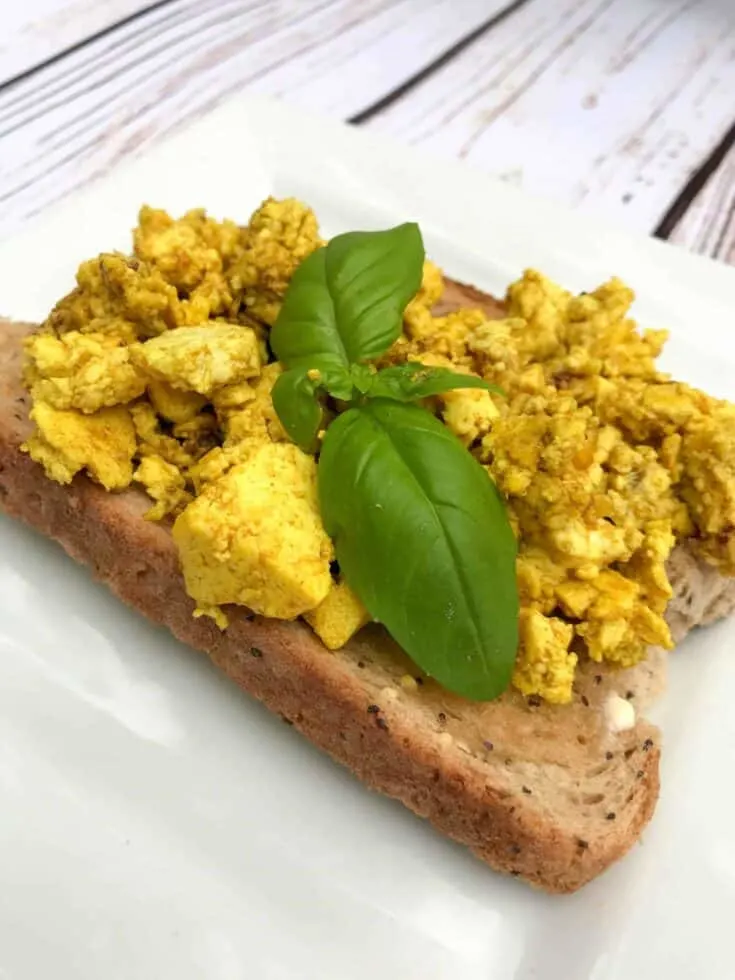 This scrumptious silked tofu scramble recipe is the answer to all your breakfast and brunch dreams. Minimal ingredients needed.
Ingredients
1 carton of silken tofu
1 teaspoon of kala namak (black salt)
1 teaspoon of turmeric
1 tablespoon of vegan butter
1 tablespoon of nutritional yeast (optional)
Instructions
Start my straining the excess fluid from the silken tofu.
Set it aside in a bowl whilst you melt 1 tablespoon of butter in a pan. Once it's completely melted, add the tofu to the pan. Gently run a fork through it. No need ot over do it with mashing as it may loose some of the consistency .
Once the tofu is sizzling add a teaspoon of turmeric and stir in gently. The mix should become a golden yellow colour.
Next, add the kala namak (black salt), depending on your tastes for salt, start by adding a teaspoon. Sprinke it evenly around the pan, making sure to get good coverage. Fold in gently
Taste the mix to ensure you are happy with the flavours. Add more kala namak if you prefer it to be more salty.
Turn the heat off and allow the silken tofu scramble to sit for a couple of minutes.
Add the nutritional yeast at this point if you plan to use it. It will melt into the mix, just give it one last stir.
Toast your bread of choice golden and spread with butter immediately.
Place on a plate and load the silken tofu scramble on either side. If you prerfer, only load one side and make a toasted sandwich.
Serve!
Notes
There are other seasonings you can add to change the flavours of this dish. For example, some people like to have curry tofu scramble. All you need to add to is add a teaspoon of curry powder to the mix.
Recommended Products
As an Amazon Associate and member of other affiliate programs, I earn from qualifying purchases.
Nutrition Information:
Yield:
3
Serving Size:
1
Amount Per Serving:
Calories:

71
Total Fat:

6g
Saturated Fat:

3g
Trans Fat:

0g
Unsaturated Fat:

2g
Cholesterol:

10mg
Sodium:

36mg
Carbohydrates:

2g
Fiber:

1g
Sugar:

0g
Protein:

4g
You May Also Like: