Growing up in a Jewish house meant that bagels were a classic to show up at family events, lunches and more, piled high with not vegan friendly things. The classic was obviously lox and cream cheese but tuna and egg salad were also always options.
Once I became vegan I still craved the comfort of a delicious toasted bagel with creamy spreads and the likes but I couldn't figure out what to use as my vegan bagel topping. Since then I've come up with a few good options.
Tofutti cream cheese on a toasted bagel is pretty awesome but sometimes you want something a little heartier and delicious. Enter this awesome, loaded vegan bagel sandwich recipe.
This veg sandwich recipe would be great as a vegan breakfast bagel, or for brunch or lunch. It's hearty and filling and incredibly yummy.
If you are looking for more vegan bagel toppings you can check out our 5 minute vegan egg salad or tuna melt recipes which would both be fantastic on a bagel for some quick vegan sandwiches. You can also check out more recipes for our best vegan sandwiches here.
Vegan Bagel Sandwich Ingredients
This vegan/vegetarian bagel sandwich uses tofu as it's main protein and is loaded with lots of delicious vegetables, creamy avocado, and a delicious dill sauce to top it off. The vegan bagel sandwich ingredients are:
The creamy dill sauce is very quick to make and can be made several days ahead of time. To see the full recipe click here.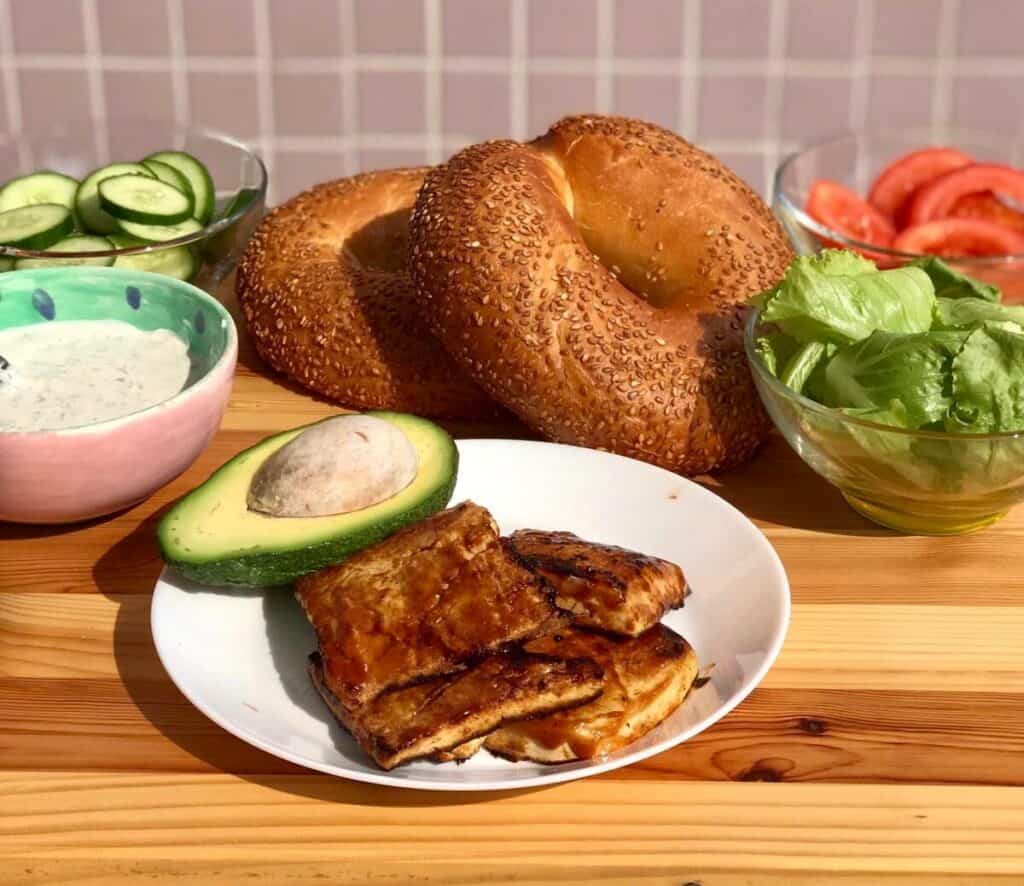 Making the Vegan Bagel Topping
To make this vegan sandwich filling, the first thing you need to do is slice your tofu. To make two sandwiches you only need around 1/2 a brick of tofu, but no worries if you don't know what to do with the rest of your tofu. Tofu freezes very well, so just wrap up your leftovers and pop them in the freezer.
Tofu Breakfast Sandwich – Pressing the Tofu
The first thing you'll want to do is press your tofu. In case you've never pressed tofu, you can try two methods.
The first is to buy a tofu press which will do all the work for you. They are pretty affordable. You can check prices here.
The second method is to wrap it in some sort of thick absorbent towel and put something heavy that will evenly distribute weight on top of the wrapped tofu. Something like a book with a weight on top works very well.
Marinating the Tofu
Once your tofu is pressed you are going to want to slice it into roughly 1/2 inch slabs. Cover your pressed tofu in BBQ sauce and let it marinate for at least a 1/2 hour. If you want to, you can even leave it overnight in the fridge and have it be ready to cook in the morning.
Cooking the Tofu
Heat some oil in a pan and when it's nice and hot, throw in your marinated tofu. When one side gets browned and crispy, flip it over. This should only take a few minutes. I like to brush a little extra BBQ sauce on it after I've flipped it over. This is especially helpful if you marinated it for a shorter amount of time.
Once both sides are nice and browned take it out of the pan and it's time to assemble your sandwich!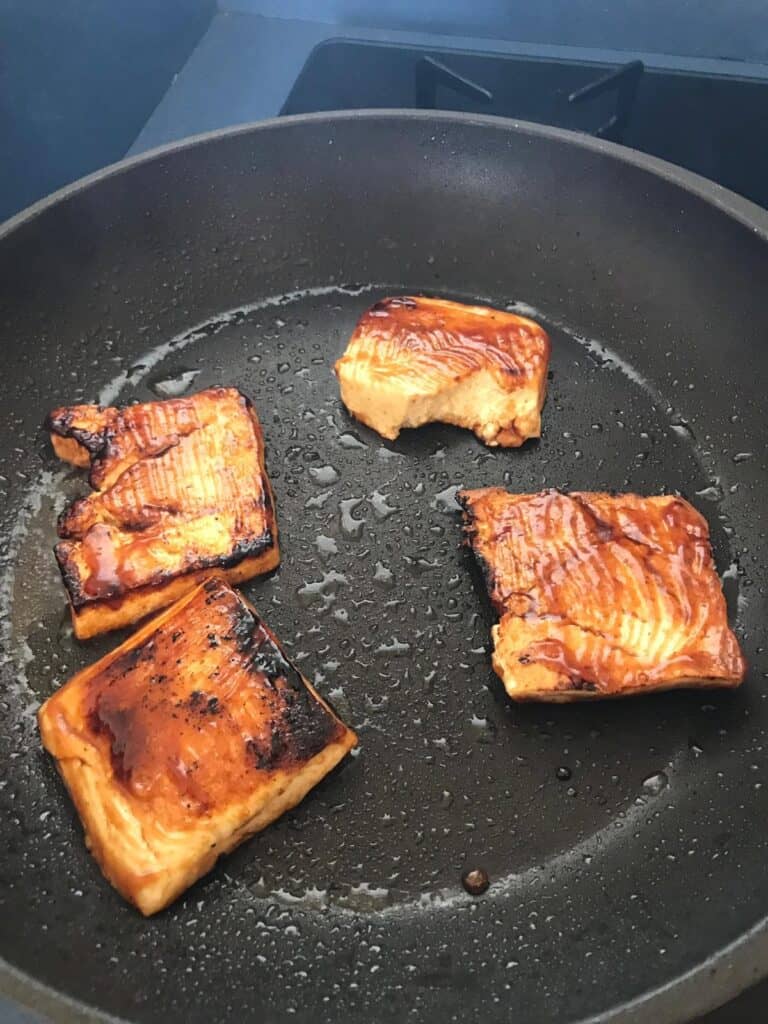 Assembling the Vegan Toasted Sandwiches
In my experience, bagels always taste better toasted. While your tofu is in the pan you can pop your bagel in the toaster to give it a nice toasted crust.
To assemble the sandwich all you have to do is layer all your prepared vegetables and the tofu on your toasted bagel and then drizzle the vegan dill sauce on.
You can customize the sandwich with the vegan fillings and add ins of your choosing. Red onion, sprouts, etc all make really great add ins. Feel free to take out any vegetable you aren't a fan of as well.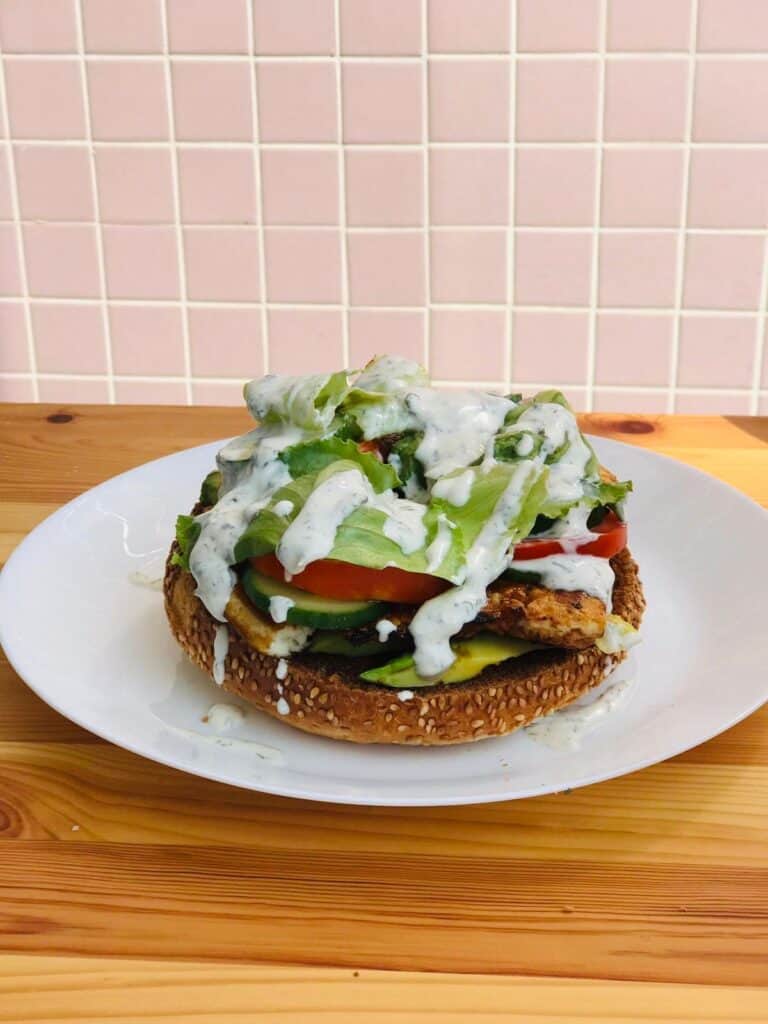 Vegan Bagel Brands
Loads of store bought bagels nowadays are vegan. You can usually scan the allergy information on them to be sure about whether there are any sneaky egg or dairy ingredients which are usually the culprits in making bagels not vegan.
Be aware that "Does Contain" and "May Contain" on ingredients lists are not the same thing. May contain just means that it's produced in the same factory as the ingredients listed so there may be cross contamination which is problematic for those with serious allergies.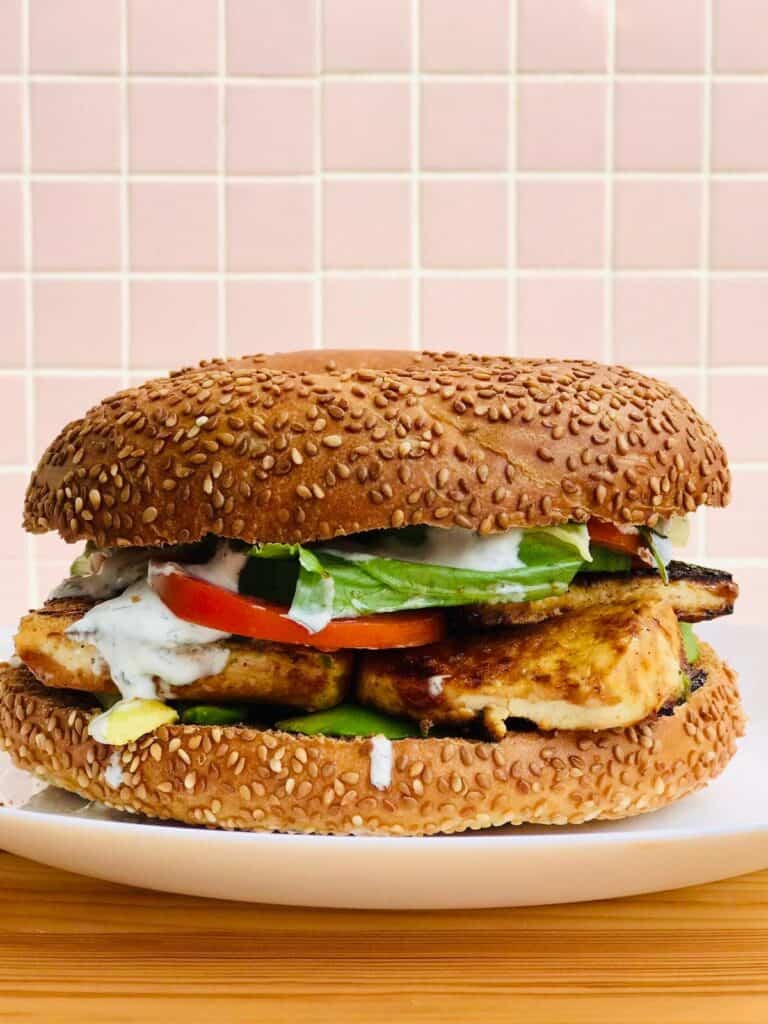 In order to simplify your life, here is a list of some easy to find vegan bagels:
Dunkin' Donuts Bagels – Plain, Cinnamon Raisin, Everything, Sesame, Multigrain
Sara Lee Bagels- Plain, Onion, Blueberry, Everything
Thomas' Bagels – Plain, Whole Wheat, Plain with Whole Grain, Onion, Everything, Blueberry, Cinnamon Swirl, Cinnamon Raisin
Panera – Plain, Blueberry, Cranberry Walnut, Sesame
Trader Joes – Plain, Whole Wheat
Rudi's Organic Bakery Bagels
These are definitely not the only vegan bagel options, but these are just some of the commonly found ones you can buy without having to kill yourself checking ingredients.
Don't Forget to Pin This Post for Later!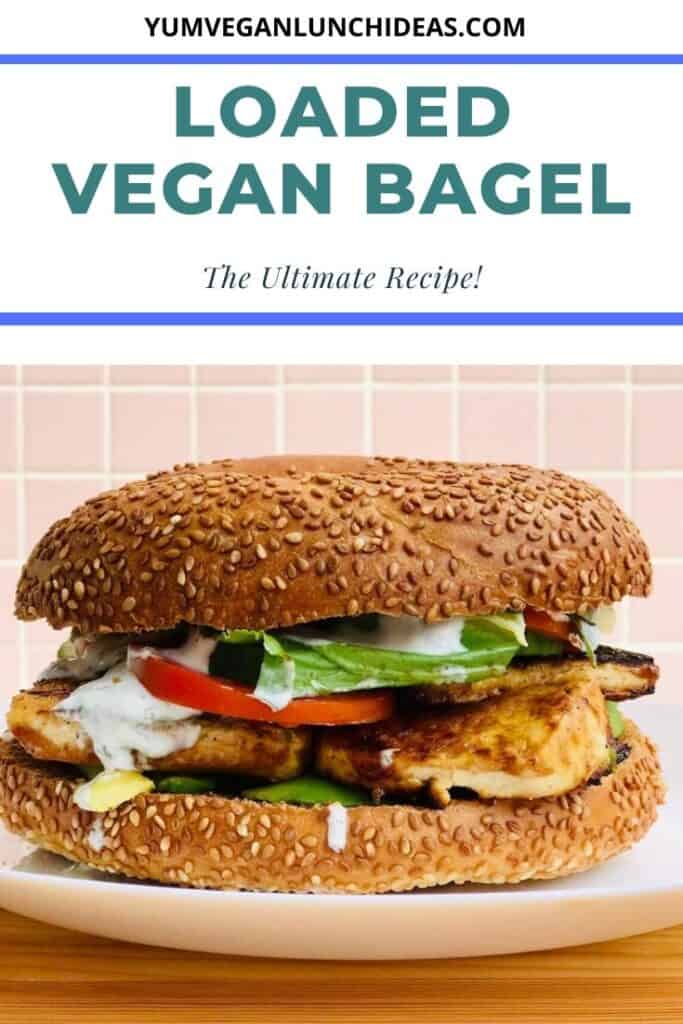 Yield: 2 Sandwiches
Vegan Bagel Sandwich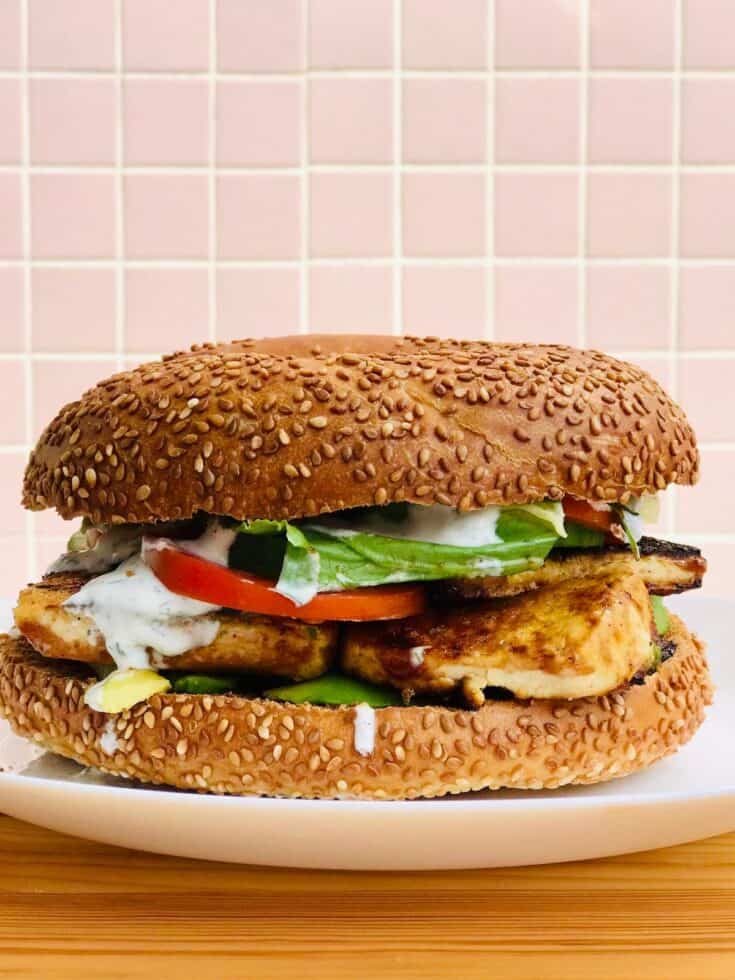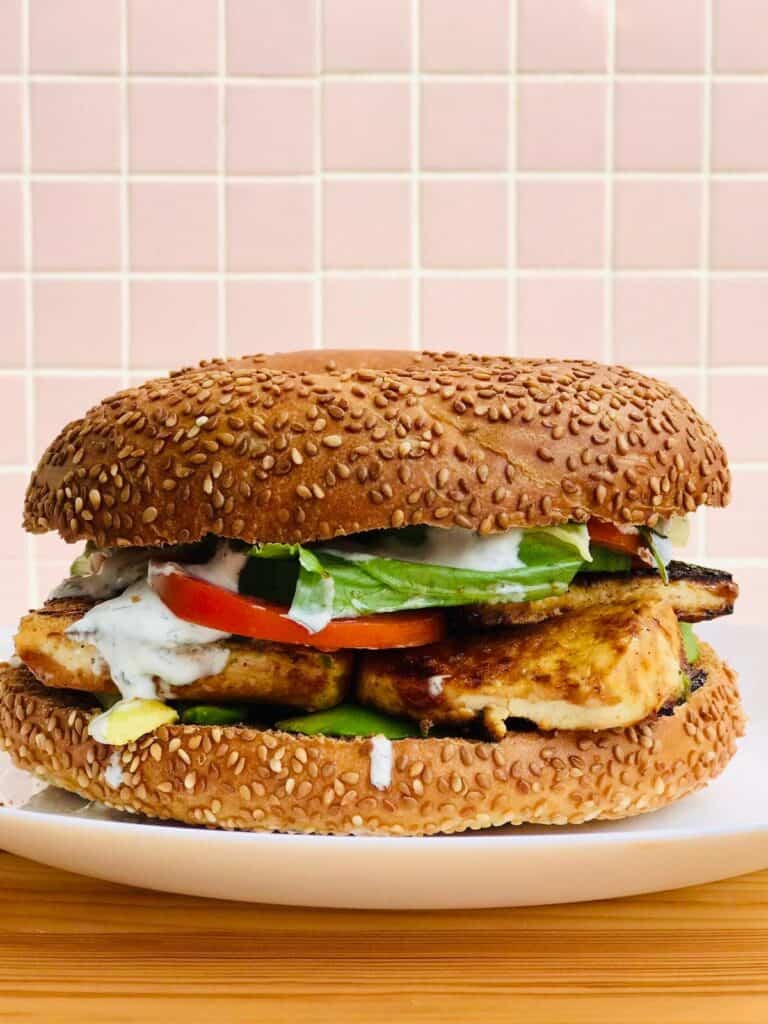 This delicious vegan bagel sandwich uses avocado, tofu smothered in BBQ sauce, creamy dill sauce and lots of veg to create the ultimate vegan bagel topping.
Whether you are looking for a hearty vegan breakfast bagel or a delicious lunch, this sandwich will hit the spot.
Feel free to customize as you like with your favorite sandwich veg.
Additional Time
30 minutes
Ingredients
1/2 Block of Tofu (~150g)
1 Tbsp Flavorless Oil
1/2 an Avocado
1 Small Tomato Sliced
Cucumber Slices
Lettuce
Instructions
Drain and press your tofu. For detailed instructions on how to press tofu, see in the post above.
Slice the tofu into 1/2 inch slab.
Cover in BBQ sauce and marinate for at least a half hour. If you would like to do this ahead of time you can marinate in a closed container overnight in the refrigerator.
When your tofu is finished marinating, heat oil in a pan.
When the oil is nice and hot put marinated tofu slices and cook until the bottom side is crispy and browned. This should only take a few minutes.
While your tofu is browning, cut your bagel in half and pop in a toaster or in the oven to get it nice and toasted.
Flip tofu over and for best results, brush more BBQ sauce onto the side facing up.
When the second side is browned, remove from the pan.
To assemble your sandwich layer the vegetables on your toasted bagel and drizzle the creamy dill sauce on top.
Put your toasted bagel top on and enjoy!
Notes
In the video I used the worlds largest bagel. If you use a normal sized one, the ingredients will definitely look more proportional to the bagel.
Recommended Products
As an Amazon Associate and member of other affiliate programs, I earn from qualifying purchases.
Nutrition Information:
Yield:
2
Serving Size:
1 Bagel
Amount Per Serving:
Calories:

648
Total Fat:

23g
Saturated Fat:

3g
Trans Fat:

0g
Unsaturated Fat:

18g
Cholesterol:

1mg
Sodium:

1226mg
Carbohydrates:

89g
Fiber:

10g
Sugar:

31g
Protein:

26g
You May Also Like: