I'm not sure there is anything more American than pop tarts. A breakfast that is basically a dessert, that comes wrapped and ready to go, plus of course it's super delicious!
For many, pop tarts are a meal that brings back childhood memories, so I decided to give you all the feels with these flaky, amazing vegan pop tarts. I went with frosted cherry pop tarts. If you are a cherry hater, you can easily switch out the cherry jam for whichever flavor you like best. It's really that easy!
These vegan poptarts are a really fun vegan brunch option and great for meal prep as well, since they are freezer friendly. Looking for more awesome vegan recipes? Check out our free 30 day meal plan.
Are Pop Tarts Vegan?
Believe it or not, some store bought pop tarts are vegan! The unfrosted versions of blueberry, strawberry and brown sugar cinnamon are all accidentally vegan.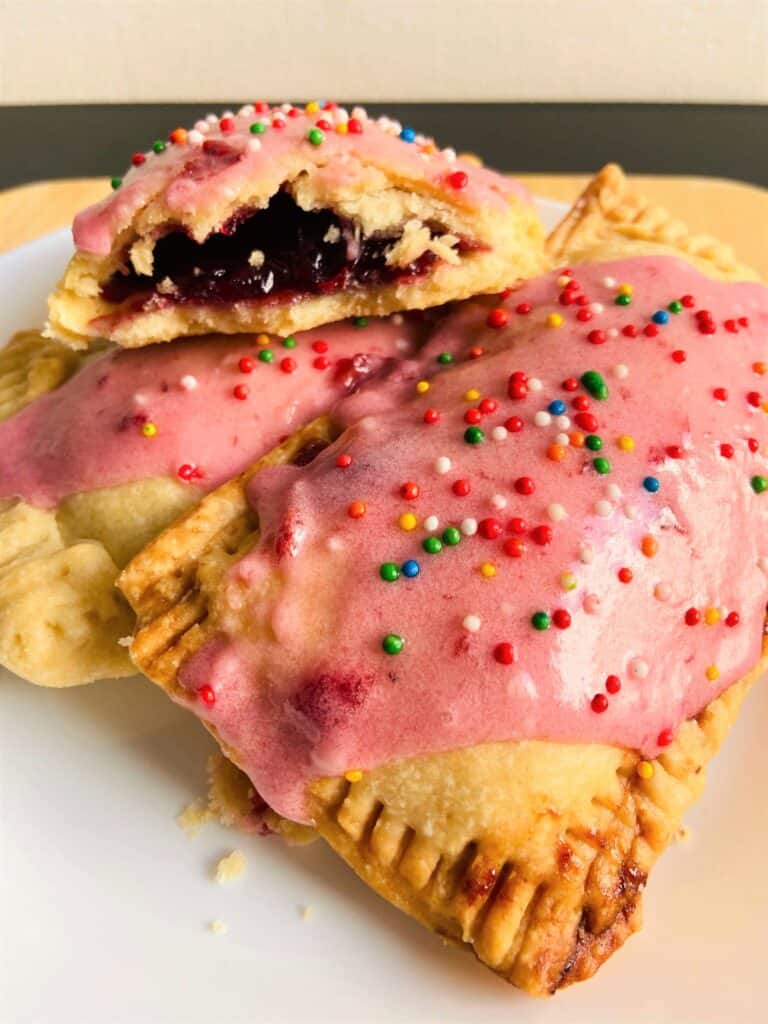 Of course if you are missing the frosted versions, I feel you. You can also just use the frosting recipe below to throw on your unfrosted, store bought pop tarts.
Vegan Pop Tart Recipe Ingredients
The crust of our vegan pop tart is essentially a pie crust and the filling is just jam. So it's mostly run of the mill ingredients! Here's what you'll need:
If you want to make it healthier, you can swap in some solid coconut oil instead of using the vegan butter. If you do use coconut oil, you'll have to work quickly so it doesn't melt and it definitely gives the pastries a coconut flavor.
You can also add in some vegan cream cheese to the frosting if you want to offset some of the sweetness.
How to Make Pop Tarts (Vegan)
If you have a food processor, it is especially easy to make pop tarts. You can make it without one though, it just takes a little more elbow grease.
For an optimally flaky crust you need to incorporate your vegan butter quickly before it softens. The food processor will do all this work for you in a minute flat.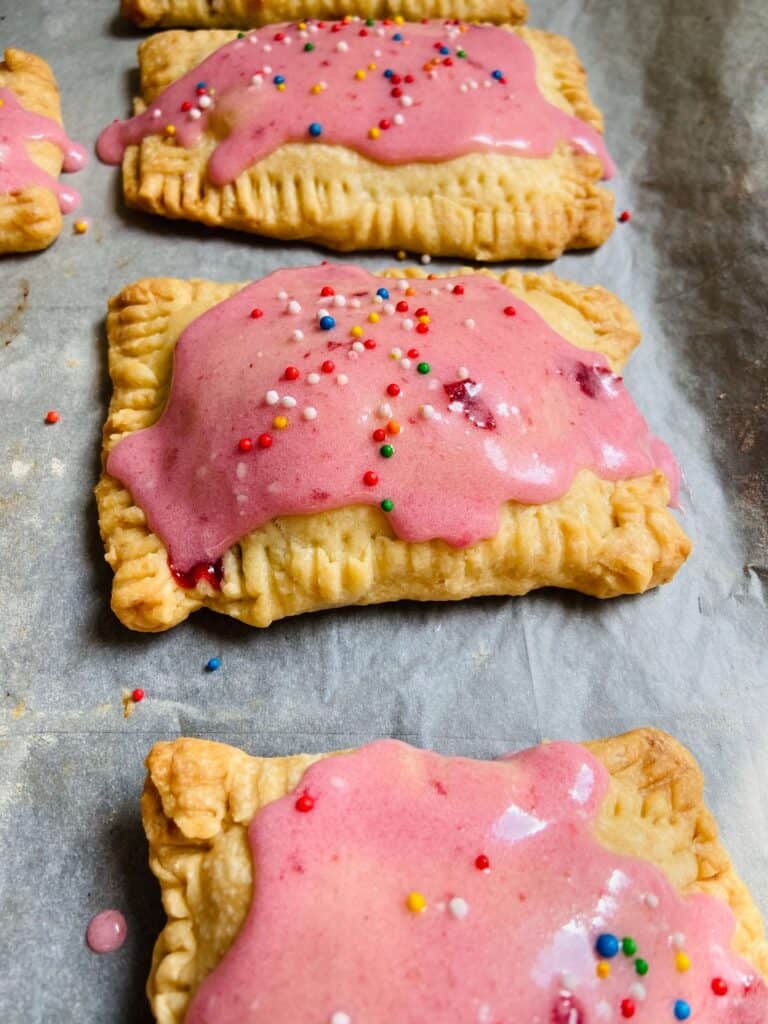 If you are working with your hands, make sure to keep the ingredients really cold before you use it. Chopping the butter into smaller pieces will also help, so that you can work it into the flour quickly.
Once the dough ingredients are combined, separate it into two balls, then cover them and refrigerate. You just want to get the dough balls nice and chilly before you work with it again.
Once chilled, take out one dough ball and roll it out thin. Cut it into pop tart shaped rectangles and spread 1-2 tablespoons of jam on half of them. Then cover them with a second rectangle of dough. You can seal the edges with a fork to get some nice marks around the edges.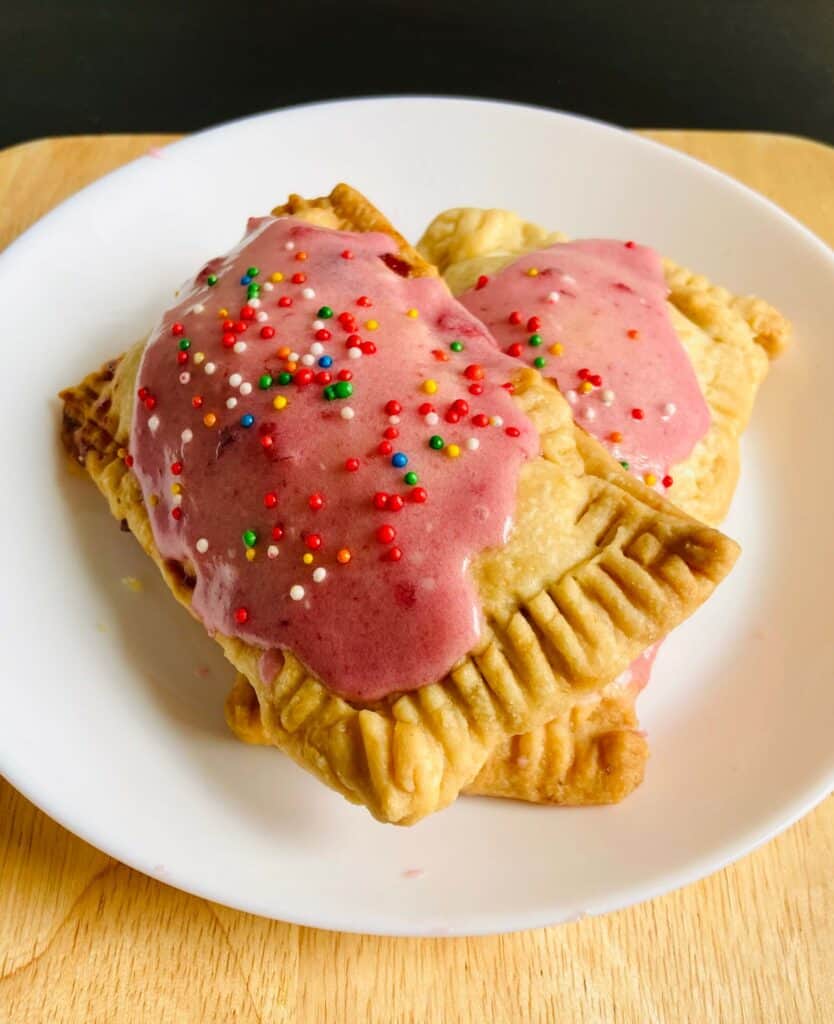 Once you've finished shaping your pop tarts, poke holes in the top, line them up on a baking sheet, and freeze. It needs to freeze for a couple hours before it bakes to get that perfect pastry texture. You can also wait until they are frozen solid and transfer to a freezer container if you'd like to store some of them for a later date.
When they are done freezing, pop them into a preheated oven. Your fresh baked pop tarts will be ready shortly!
Making the Pop Tart Frosting
I think we can all agree that pop tarts without frosting will always lose to the frosted variety. Unfortunately the frosting is one of the problematic ingredients in store bought pop tarts, as it's made with dairy.
Luckily, making dairy free pop tarts frosting only takes a minute and a whisk. Whisk together a bit of jam, plant based milk, powdered sugar and just a drop of lemon juice to cut through the sweetness.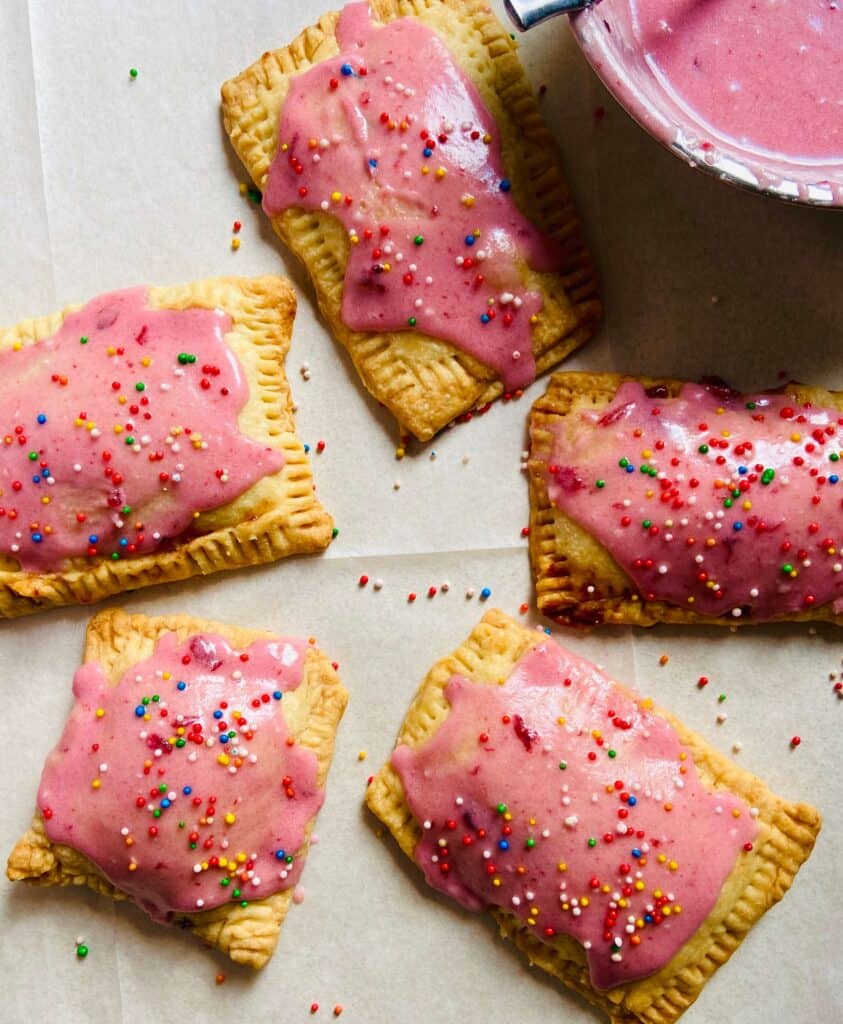 The frosting will be on the runny side but it will firm up if you leave it to sit on top of the pop tarts for a bit. Do not put it on the hot pop tarts until they've cooled though, unless you want a runny mess. For some extra flair, throw on some sprinkles!
Freezing Pop Tarts
You can definitely freeze pop tarts! You can freeze them before baking, after you've shaped them into pop tarts, as per the instructions in the 'how to make pop tarts' section. If you freeze them before baking, put them straight from the freezer into the oven, it will just need an extra 5 minutes of cooking time.
You can also freeze unfrosted leftovers and defrost them in the oven or toaster. If they are frosted it's probably best to defrost on the counter top so that the frosting doesn't melt off and run everywhere.
Don't Forget to Pin This Recipe For Later!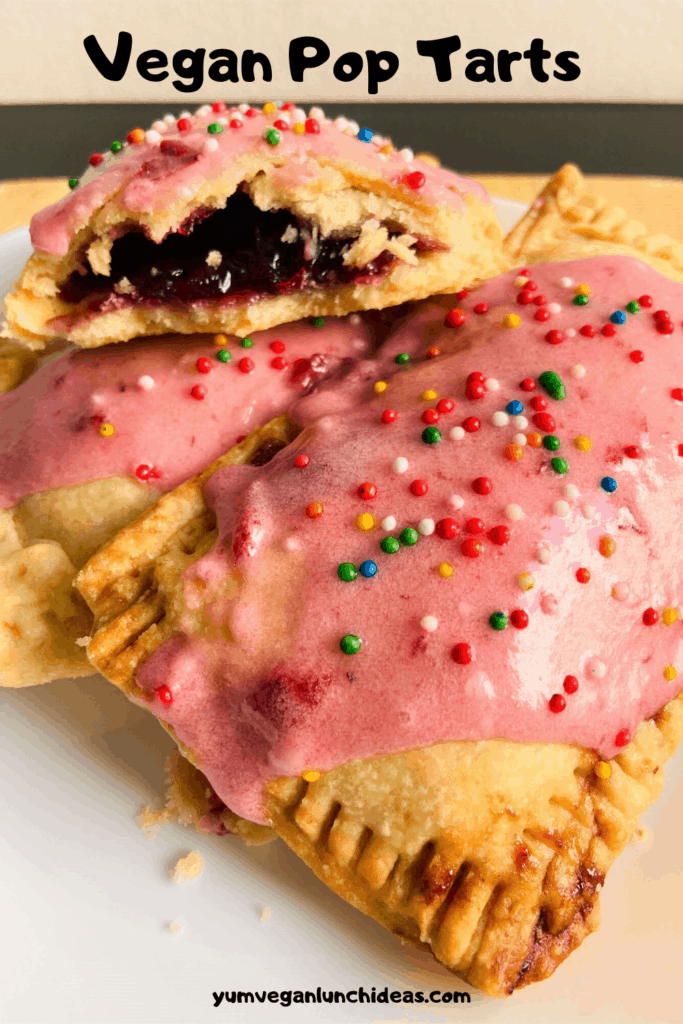 Yield: 8 Pop Tarts
Vegan Pop Tarts - Frosted and Delicious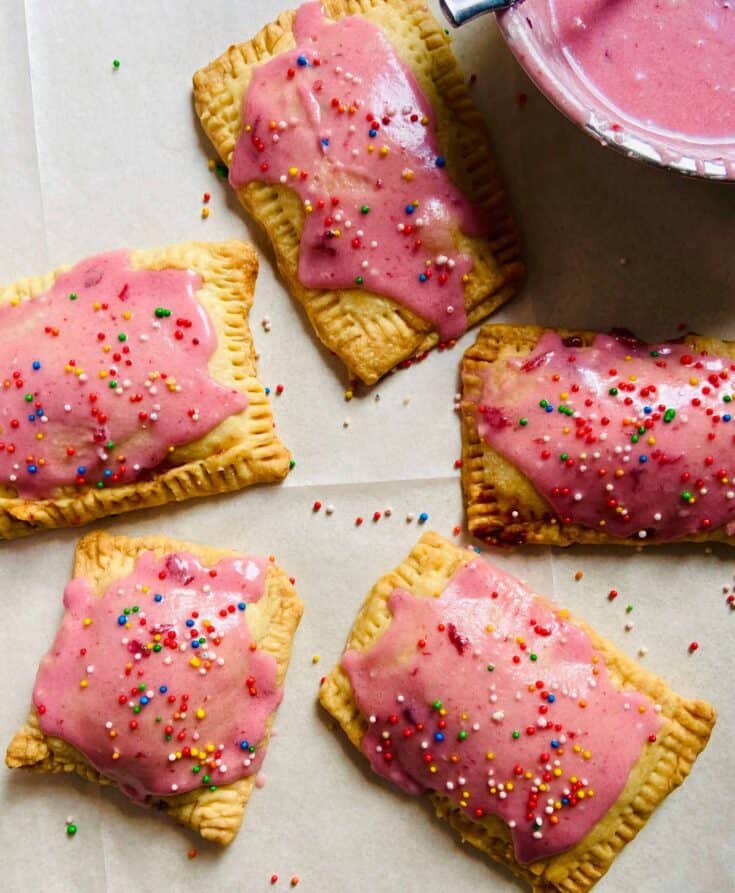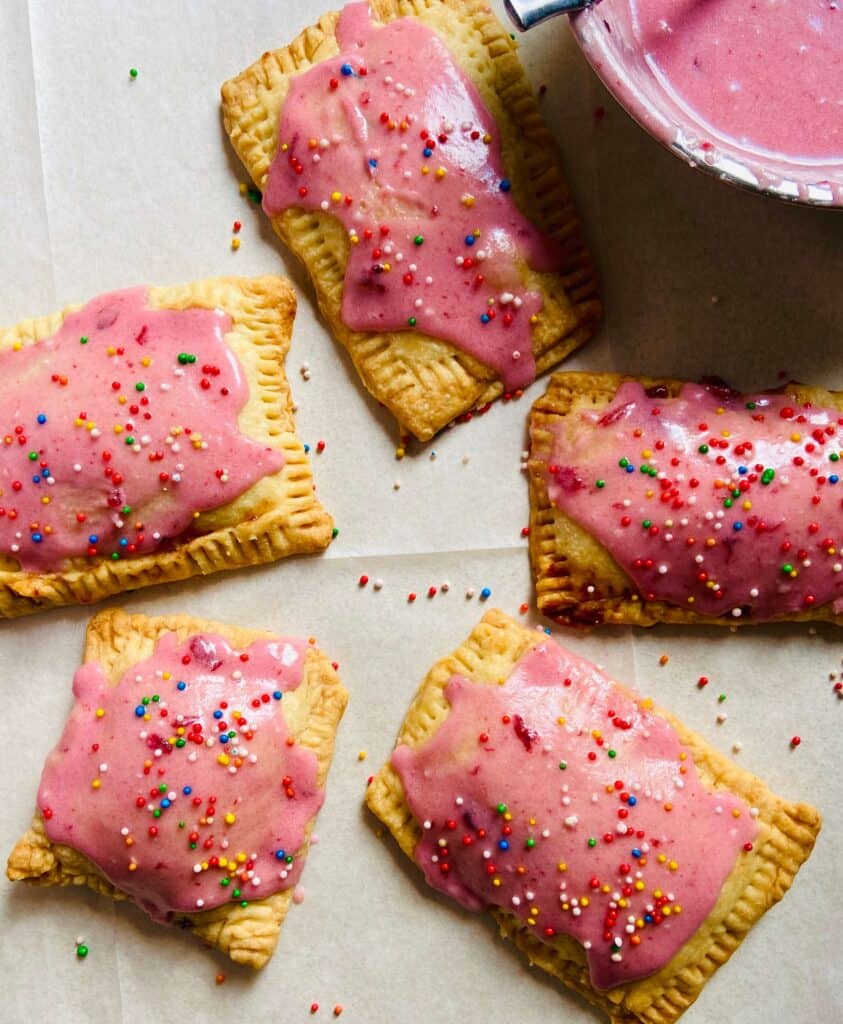 Vegan pop tarts are delicious, flaky and the perfect on the go vegan breakfast. Try out these freezer friendly vegan toaster pastries for a sweet start to your morning!
Additional Time
2 hours
15 minutes
Ingredients
1 tsp Salt
1 Cup Vegan Butter or Margarine (Cold)
5 Tbsp Ice Water
Instructions
In a food processor*, mix together the flour, salt, and sugar.
Cut the butter into chunks and then add it into the food processor and pulse until the butter is distributed. The mixture will be crumbly at this point.
Add in the water and turn on your food processor until it comes together into a dough. Separate into two balls, cover and chill in the refrigerator for at least 45 minutes.
Take one ball out and roll it out on a lightly floured surface and cut into pop tart size rectangles. You should be able to get 8 rectangles out of each of your two balls of dough.
Spread around 1.5 Tbsp of jam on half the rectangles, leaving space around the edges without jam so you'll be able to seal them.
Top with another rectangular dough and press down the edges with a fork to seal them. Line up finished pop tarts on a parchment paper lined baking sheet poke a few holes in the tops of each pop tart with a fork.
Once you are finished with the first dough ball, repeat with the second. Put finished pop tarts into the freezer to chill for at least an hour and a half.
At this point you can move them to a freezer safe container to store until you are ready for them, or pop them into a preheated oven, bake at 375 F for 30-35 minutes, until golden.
To make the frosting, whisk together 2 tbsp of the jam, the milk, lemon juice and powdered sugar.
Once pop tarts have cooled, spread the frosting on top and add sprinkles (if using). Let the pop tarts sit so the frosting can harden before storing in an airtight container, or enjoy immediately!
Notes
* If you don't have a food processor you can make this by hand, but it will take a lot more elbow grease to make the dough come together and you need to work quickly to keep the dough cold.
Recommended Products
As an Amazon Associate and member of other affiliate programs, I earn from qualifying purchases.
Nutrition Information:
Yield:
8
Serving Size:
1
Amount Per Serving:
Calories:

515
Total Fat:

24g
Saturated Fat:

15g
Trans Fat:

1g
Unsaturated Fat:

7g
Cholesterol:

61mg
Sodium:

489mg
Carbohydrates:

73g
Fiber:

1g
Sugar:

37g
Protein:

4g
You may also like: