I absolutely love vegan tacos. They are so versatile, easy to throw together and delicious! However, when you want the comfort of vegan Mexican food, but an added punch of nutrition and healthy fresh vegetables, this delicious vegan taco salad recipe is the perfect compromise!
This vegan layered taco salad is also great for company with it's colorful layers that present beautifully in a trifle dish. The creamy, easy to create salad dressing makes it incredibly comforting and the lentils make it a very well rounded meal.
The taco salad is vegan, vegetarian, egg free, dairy free and gluten-free.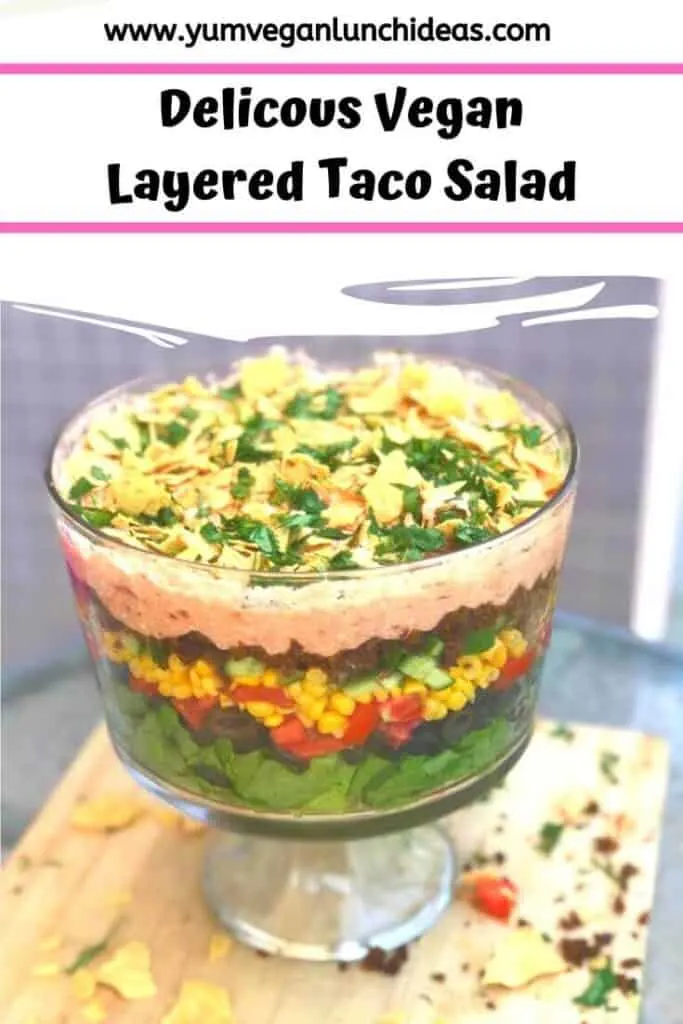 How To Make Taco Salad
This vegan salad is pretty easy to make. It basically has four components; the fresh vegetables, the lentil "meat", doritos or other corn chips and the vegan taco salad dressing.
To make the salad you can either layer taco salad ingredients in a clear bowl or trifle dish, or just throw them all in any bowl and mix it up! If you want to let people get creative and mix it up, you can set up a taco salad bar with all the ingredients set out so people can make their own.
Vegan/Vegetarian Taco Salad Ingredients
Vegetables
You can get creative with what vegetables you want to include in your salad but my favorites are the following:
Lettuce
Cucumbers
Tomatoes
Olives
Corn
Avocado
Chop any ingredients that need it into salad sized pieces.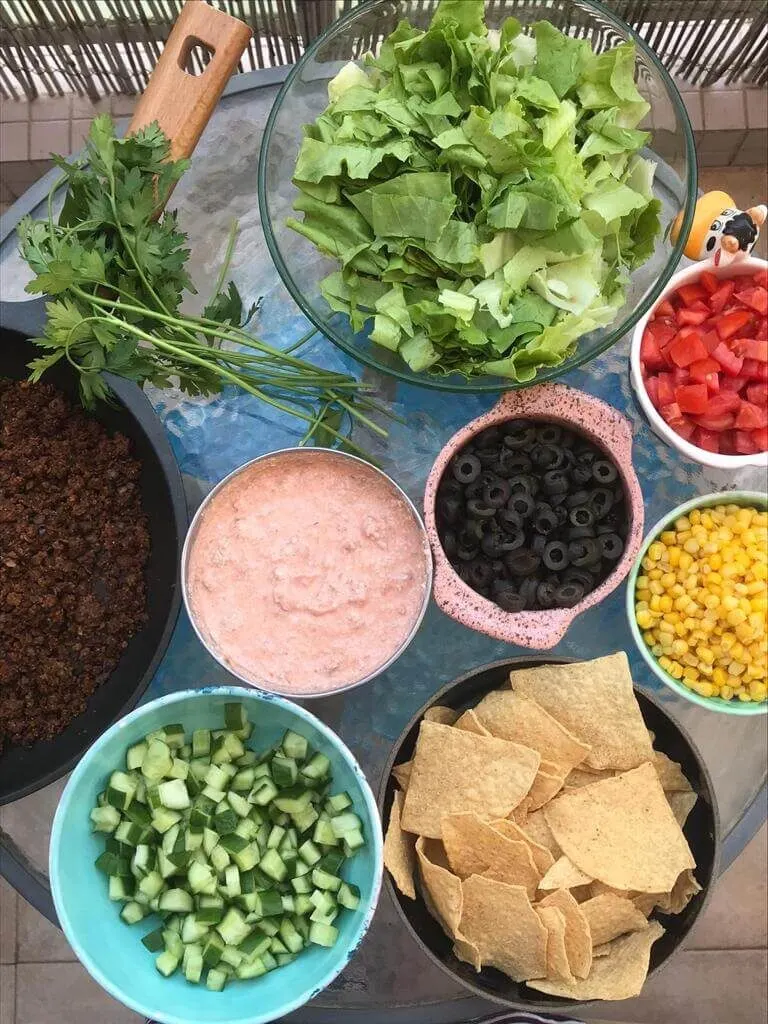 Vegan/Vegetarian Taco Salad Recipe – Lentil "Meat"
In general, for financial and health reasons, I prefer to use real, unprocessed foods as opposed to expensive, and highly processed fake meats. Don't get me wrong, I get lazy a lot and use the processed stuff but I find ground meat to be one of the easier things to replace naturally. I've found that lentils do a fabulous job mimicking meat when you throw in some strong seasoning or sauces.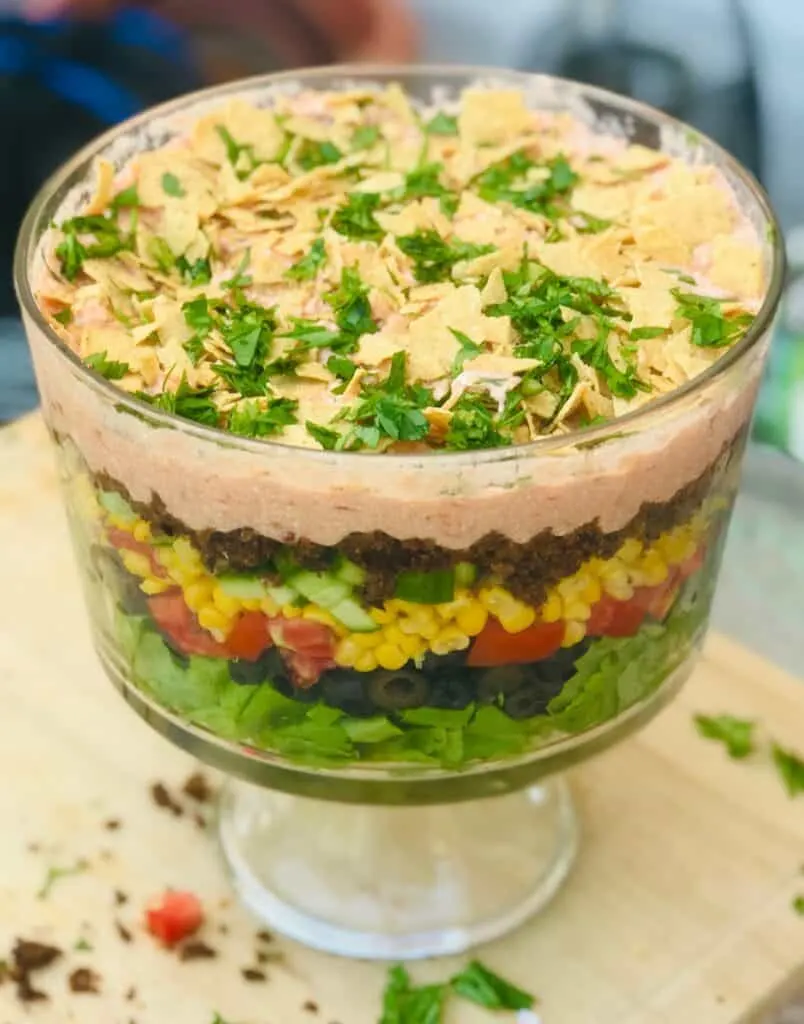 The lentils are also great because they are great vegan iron sources. If you want to give this salad an even larger iron kick you can replace some of the lettuce with spinach, although I wouldn't replace more than half.
Adding Walnuts
Now, before you tell me that whenever you see lentils used as a meat substitute, walnuts are involved, let me stop you and say why I hate that.
First of all, lentils are a great sub and I don't think they need anything besides seasoning to elevate it. Second of all, I think walnuts are kind of gross and make my mouth feel weird (which my mom is convinced means I'm allergic).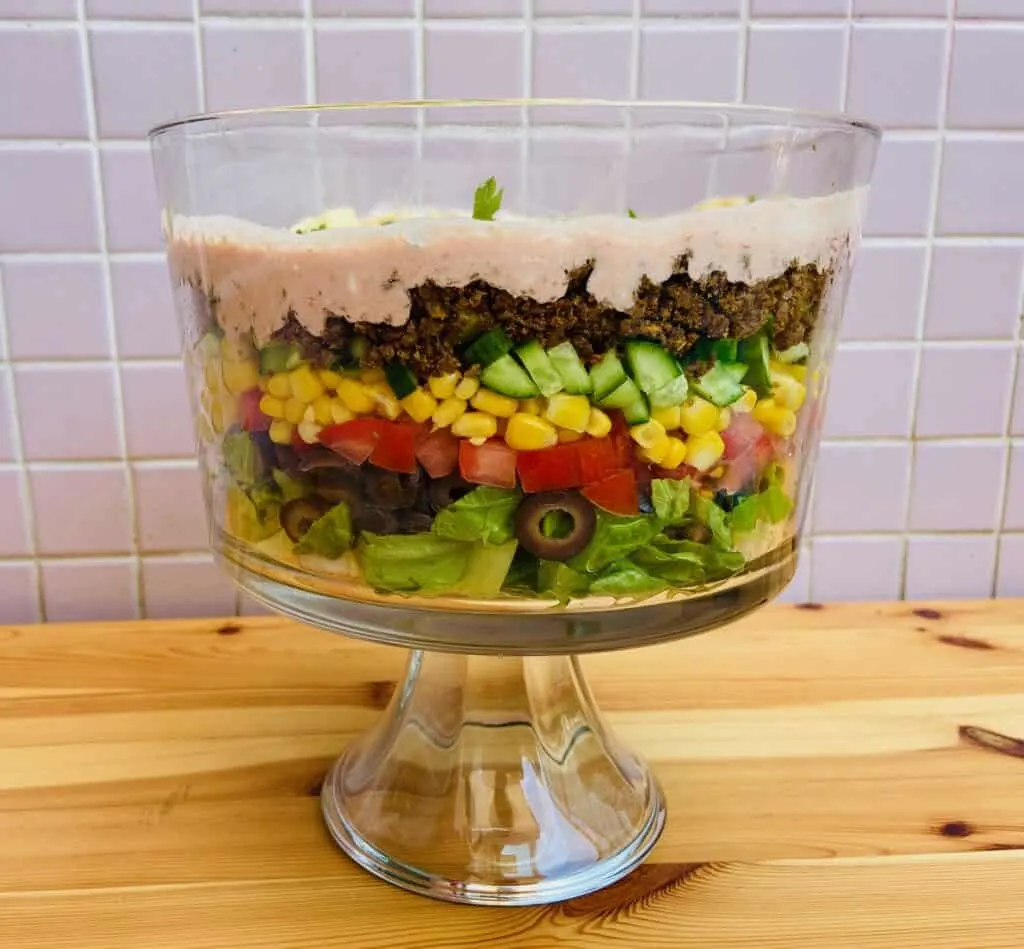 But lastly and most importantly, I don't need any more unnecessary fat and calories added to my food. I get enough of that without trying, in this recipe and in life in general. I'd rather pile on some extra tortilla chips.
However, if you are one of those effortlessly skinny vegans who loves nuts, you are welcome to go ahead and throw a handful into the food processor with the lentils. I will reluctantly admit they will make the salad even more nutritious, bringing you a punch of omega-3s and other great things. Enjoy, just don't tell me about it. 😉
You may also love this Vegan Quinoa Chilii.
Making the Lentil Taco Meat
To make the lentil taco salad meat you will need the following ingredients:
All you have to do is throw your cooked lentils into a food processor with some oil and taco seasoning a process until they are broken up into small pieces. Next, throw that mixture into a pan with a bit more oil and saute for five to ten minutes until it's become brown and crispy in places.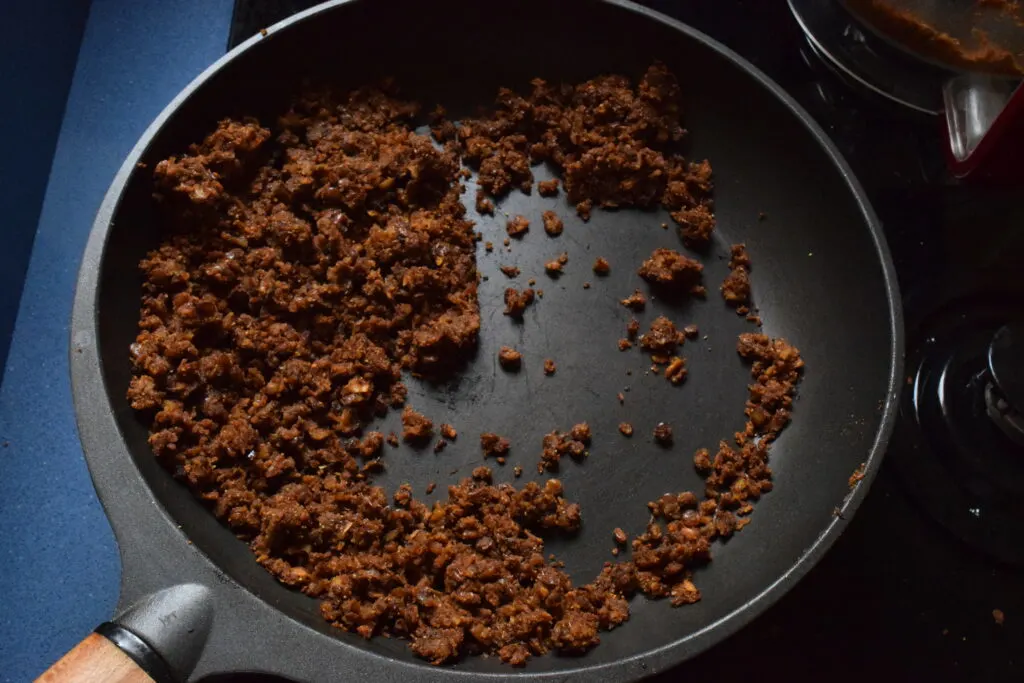 Once ready, set the lentil taco meat aside to cool.
This recipe makes the exact quantity need for the salad but you can double this to use later in the week in burritos, stuffed peppers, or anywhere else that it would taste good!
Also, not all taco seasonings are created equally so taste it as you saute the lentil mixture. Depending on which seasoning you use, you may need a bit more.
Vegan Taco Salad Dressing
The best dressing for taco salad is a simple one. All you need is:
Salsa
Vegan Sour Cream (I like Tofutti)
All you have to do to make this vegan taco salad dressing is mix together even amounts of vegan sour cream and salsa. I absolutely love this dressing and I think it could also be used as an awesome veggie dip.
If you want to be ambitious and make your own sour cream there are plenty of awesome recipes out there, but I love tofutti. I've yet to try another vegan sour cream I like as much
Meatless Taco Salad with Doritos
No phenomenal taco salad can really be complete without the chips as a topping. Doritos, or any other corn chips get crushed up to add crunchy, delicious, saltiness to the salad, fulfilling the role a hard taco normally would.
All you'll need for the chip layer is obviously:
I like to either use Doritos or baked tortilla chips if you want to lower your fat intake. Just take handfuls of the chips and crush them on top of your salad, but only right before you eat otherwise they will get soggy and gross.
Making the Taco Salad
Once all your ingredients are prepared it's super easy to throw together. If you are making it in a trifle dish
or other clear bowl just layer all your salad ingredients, lentil meat and top with the dressing, then the corn chips and the cilantro.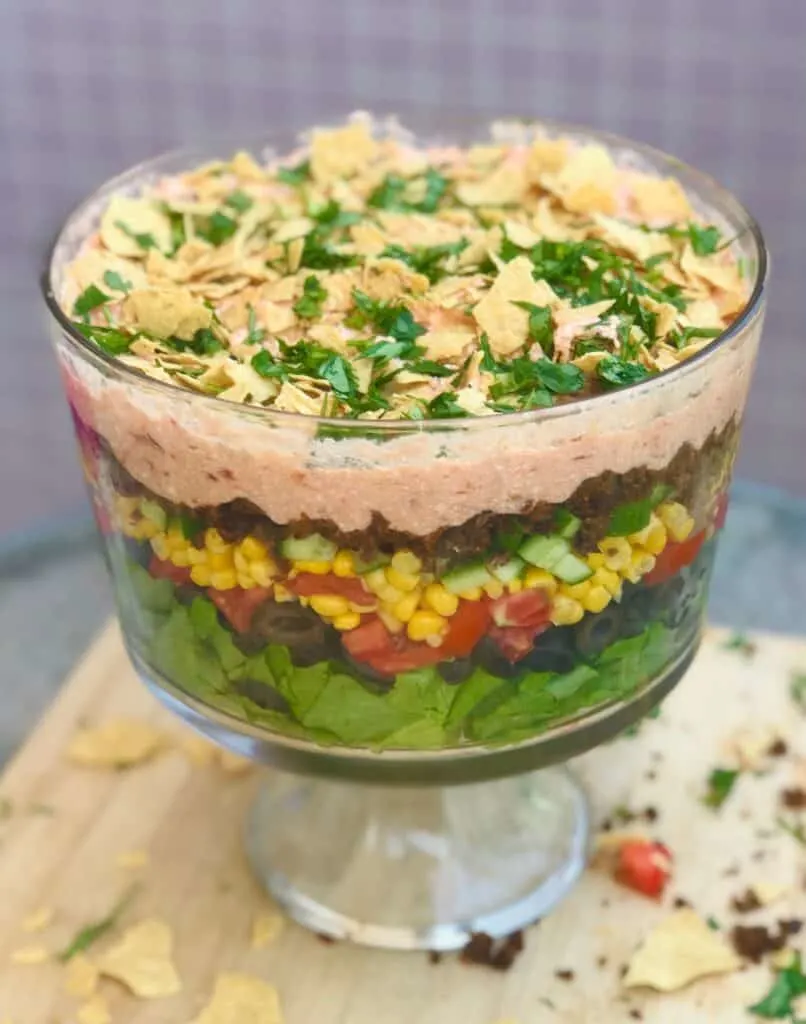 If you are making it in a regular bowl toss all the ingredients together in a bowl, crushing the chips and sprinkling the cilantro at the very end.
I cannot emphasis enough not to put the chips on until right before you eat! They get very soft, very fast.
Want to buy a trifle dish? Click here!
Preparing the Taco Salad (No Meat) Ahead of Time
This taco salad can easily make for a very satisfying vegan dinner or for company but it also makes a great vegan lunch. If you'd like to prepare it ahead of time, it's easily done.
The lentil meat can be made ahead of time and stored for up to a week in the refrigerator. All the vegetable for the salad can be chopped and stored ahead of time.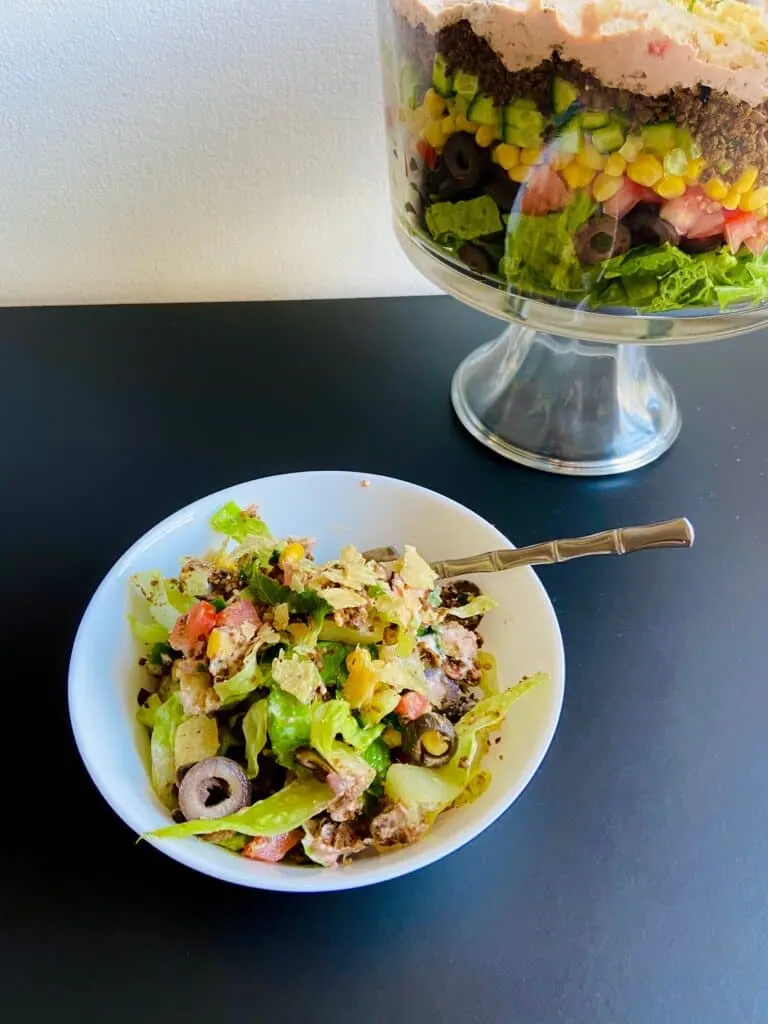 You can combine the cucumbers, corn, and olives in a container but if you are storing it overnight I'd store the tomatoes and lettuce each in their own container or they may get a bit gross.
The dressing is also easily made and stored for at least a week in the refrigerator. The corn chips can be crushed and separated into single serving storage bags.
When you are ready to eat, throw all the ingredients together and enjoy!
If you are preparing the salad the same day you plan on eating it, you can mix all the ingredients together except the corn chips which should be added at the last second.
Don't Forget to Pin this Post For Later!
Yield: 6 Servings
Vegan Taco Salad Recipe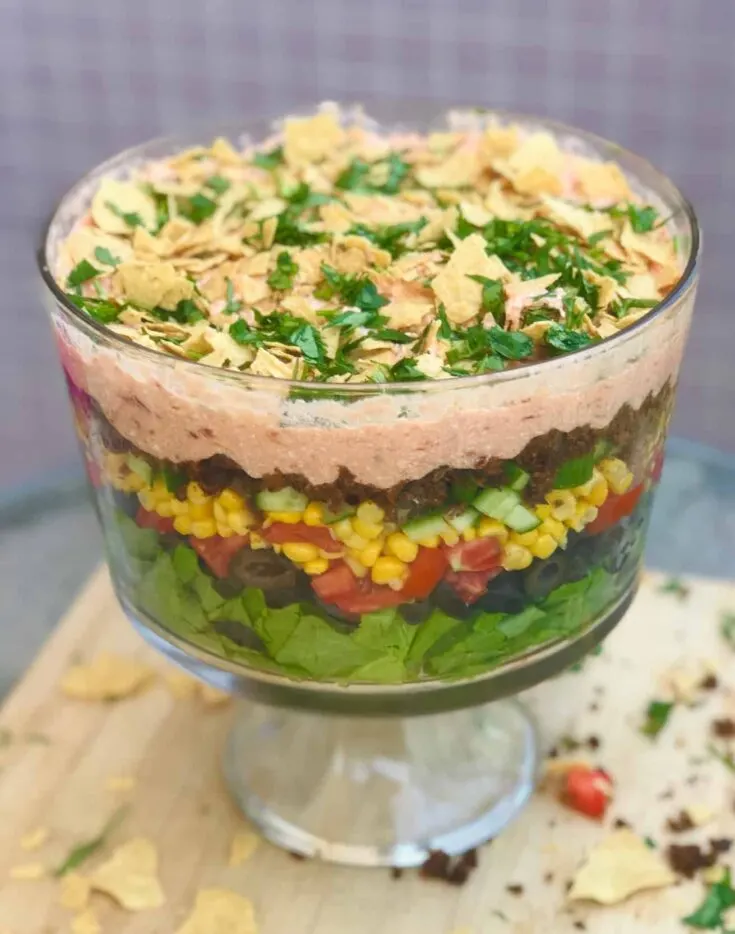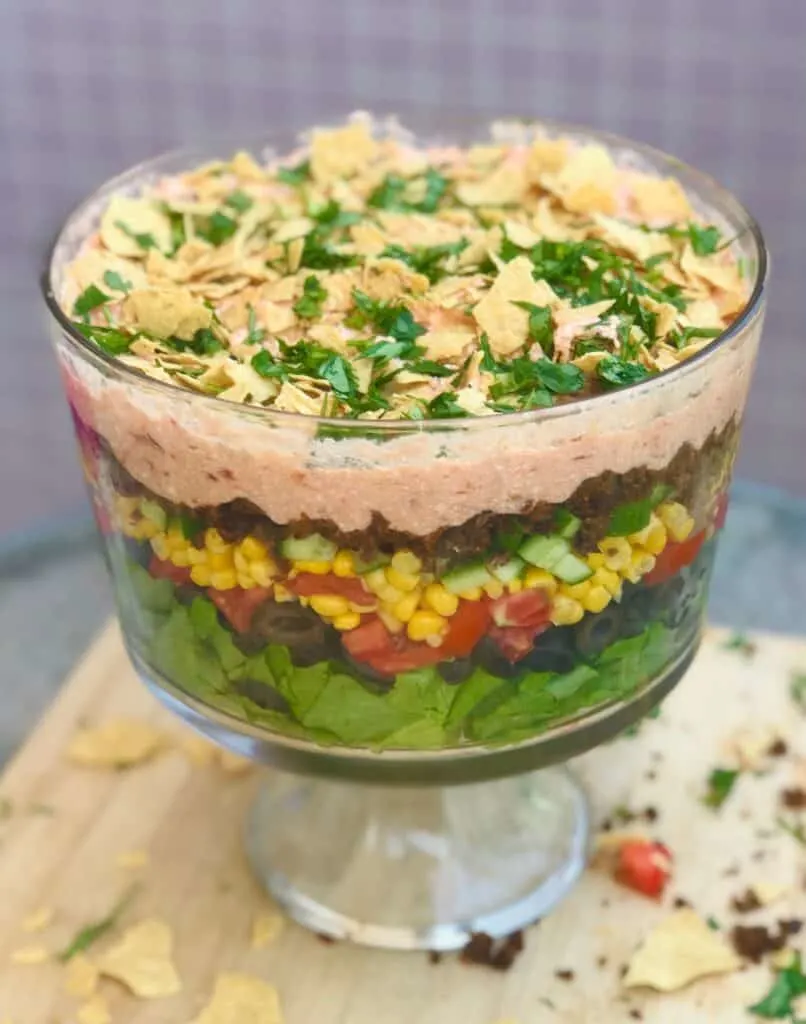 This delicious vegan taco salad recipe is simple, easy to create and pretty addictive. The vegan taco salad dressing is only two ingredients and comes together in seconds.
This is also a full and well rounded meals with a punch of protein and iron from the lentil meat, lots of great nutrition from a bowl of fresh veg and comfort from the creamy, amazing dressing. Meatless taco salad has never been so good!
Ingredients
4 Cups Chopped Lettuce
1 Heaping Cup Chopped Cucumbers
1 Heaping Cup Chopped Tomatoes
1 Cup Corn
3/4 Cup Olives
Avocado (Optional)
A Handful of Cilantro Chopped
Lentil Taco "Meat"
1/4 Cup Oil Split in Half
Salt
Vegan Taco Salad Dressing
Instructions
Lentil Taco Meat:
Put lentils, taco seasoning, half the oil, and a sprinkle of salt to a food processor.
Pulse until lentils have been broken down to a very crumbly consistency.
Heat remaining oil in a pan.
Add lentil mixture and saute for around 10 minutes or until your lentil mixture has gotten a bit browned and crispy.
Add salt to taste.
Set aside to cool.
Vegan Taco Salad Dressing:
Whisk together salsa and vegan sour cream.
Assemble the Vegan Taco Salad
Combine the lentil taco "meat", salad dressing, and all the salad ingredients excluding the cilantro and corn chips in a large bowl and mix to combine. If you are making a layered salad, then layer the same ingredients in a clear bowl.
Crush corn chips over the salad.
Garnish with cilantro and enjoy!
Notes
Different taco seasonings have different strengths. Taste your lentil mixture to decide if you need more taco seasoning.
Recommended Products
As an Amazon Associate and member of other affiliate programs, I earn from qualifying purchases.
Nutrition Information:
Yield:
6
Serving Size:
1
Amount Per Serving:
Calories:

388
Total Fat:

26g
Saturated Fat:

9g
Trans Fat:

0g
Unsaturated Fat:

16g
Cholesterol:

0mg
Sodium:

1014mg
Carbohydrates:

34g
Fiber:

10g
Sugar:

9g
Protein:

9g
This is a calorie estimate and may not be reliable.
You May Also Like:
The Best Vegan Egg Salad Recipe
More Vegan Salad Recipes!