This sticky BBQ seitan sandwich is one of the ultimate vegan sandwich recipes. BBQ seitan ribs really make for a delicious, juicy vegan sandwich, topped with crunch salad, vegan mayonnaise and American mustard. It is a real winner.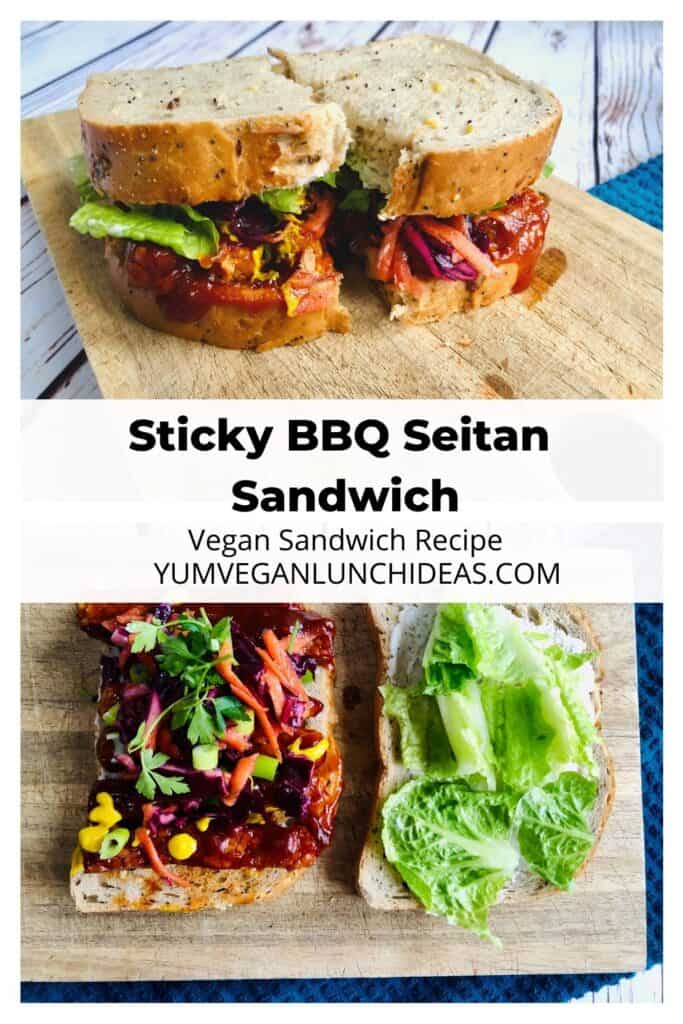 What is seitan?
Seitan, also known as vital wheat gluten is a common substitute used to replicated the texture of meat Surprisingly, it can really mimic the texture of the likes of steaks, ribs, fillets and joints.
It has a springy texture and can be seasoned according to what recipe you desire. On top of that – you can drown it in sauce, like with these BBQ Seitan ribs.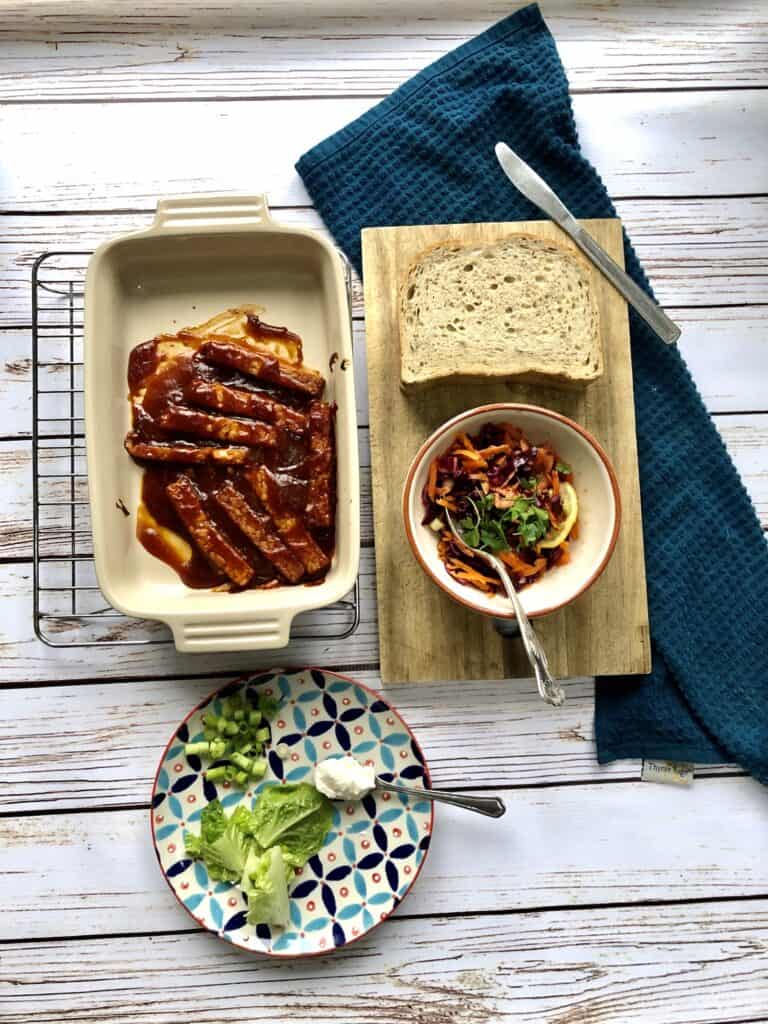 And of course, seitan sandwiches are only epic, in fact seitan sandwich meat could transform your lunch.
Seitan is readily available from most specialist or health food stores. Alternatively, we recommend this Vital Wheat Gluten
for all of your vegan mock meat needs.
If you want to also try other recipes using seitan, check out our Korean seitan sandwich.
BBQ Seitan Ribs
OK. These are a showstopper and an absolute must try. Sticky, BBQ vegan ribs you say? Thats right, You can actually locate these in supermarkets that are well stocked with vegan choices. However it is just as easy to make them at home.
You don't even need to BBQ them – but this would obviously be an added bonus for depth of flavour with that smoky goodness,
I must admit, when making the portion of ribs, I nibbled a few of the vegan seitan ribs the thought what epic ness could I transform them into.
The vegan BBQ Seitan Sandwich was born. And even better we can just lather these sticky, vegan BBQ ribs right between bread without having to worry about the icky elements of animal ribs (sorry, not sorry).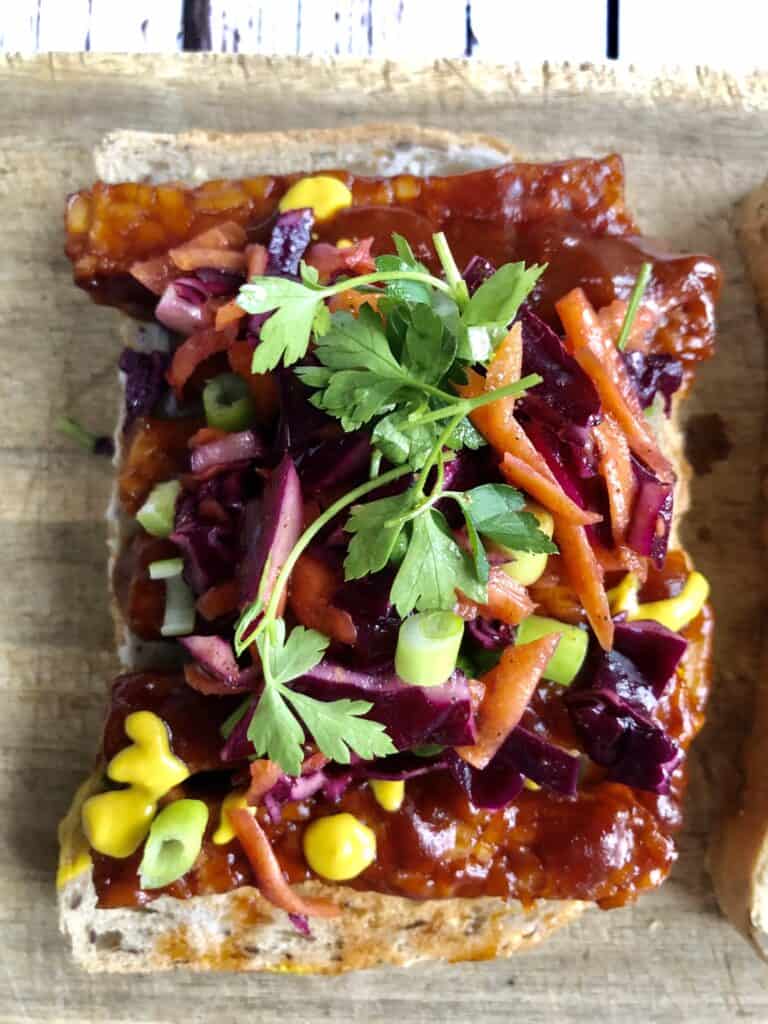 We chose a thick cut farmhouse seeded bread for this vegan sandwich and carefully selected the best vegan condiments to compliment the sticky ribs. Of course it needed crunchy salad in there.
Creamy Vegan Mayonaisse
American Mustard
Crunchy Red Cabbage Slaw
Cool iceberg lettuce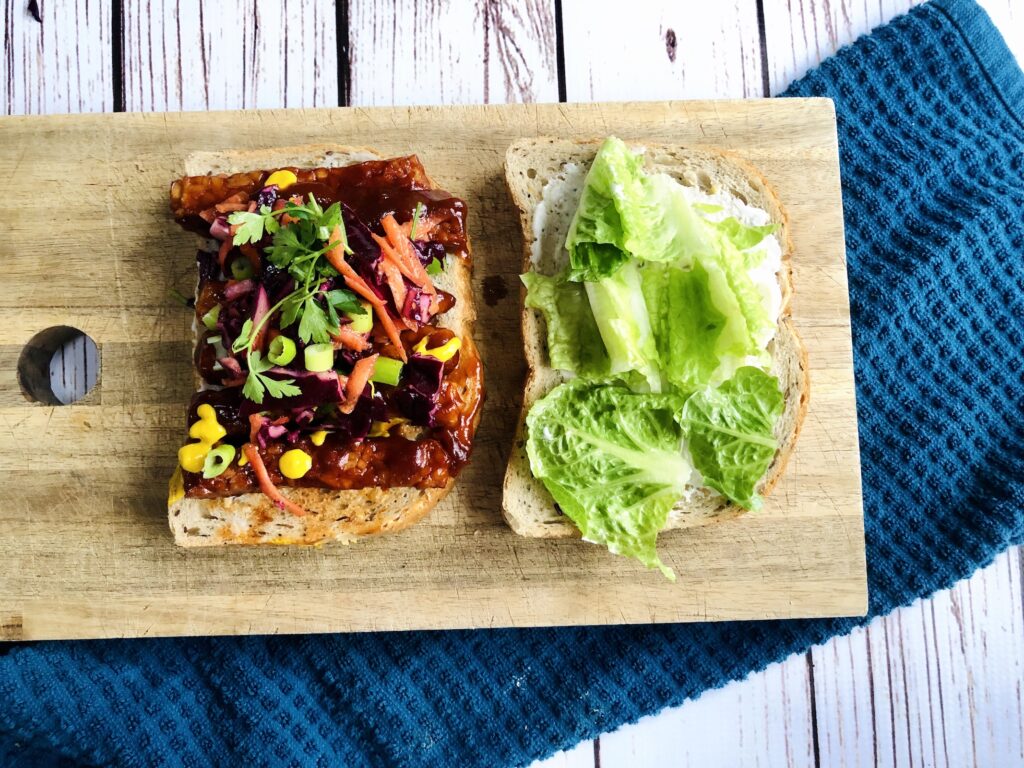 Now that you have been acquainted to the vegan BBQ rib seitan sandwich, I must take this opportunity to encourage you to check out these amaizng Vegan Tortas.
The principle of delicious, sticky seitan BBQ ribs are there – however with a whole new twist. Vegan tortas are life changing.
You may also love this easy beetroot coleslaw as a crunch sandwich filler.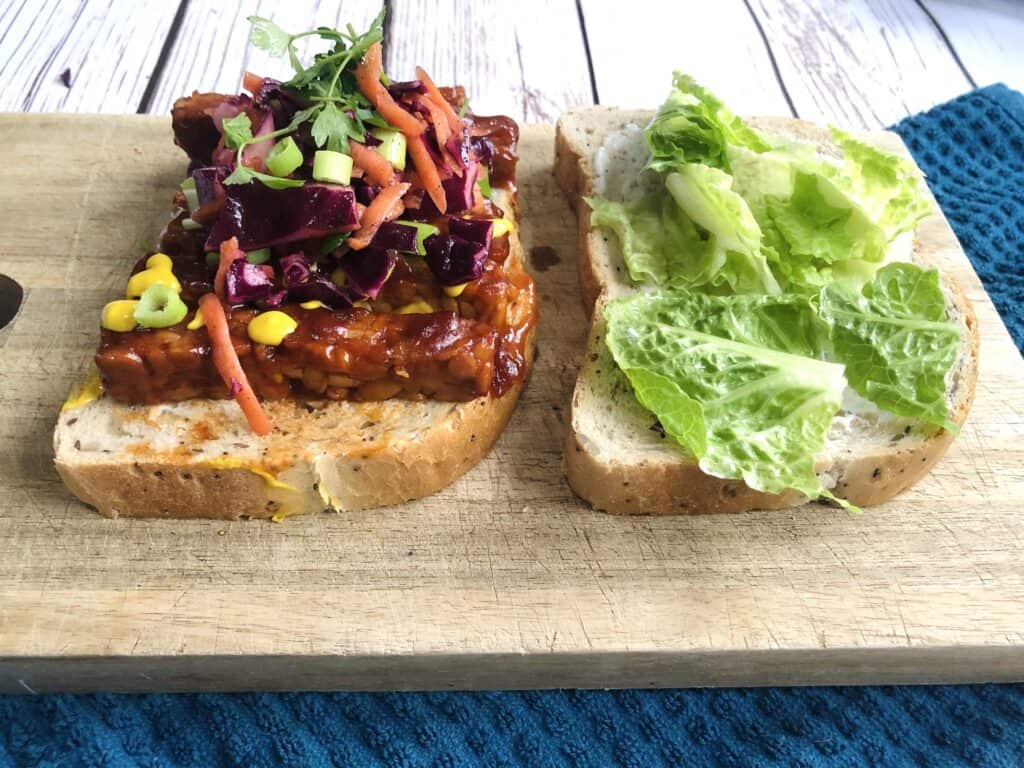 When to have a Vegan Rib Sandwich?
When hunger strikes, my first answer would be. I love making these on the weekend or during the warmer days when.i have the opportunity to fire the BBQ up.
However, this sandwich would work great to take away for lunch too. Simply put the sticky seitan ribs in a separate container and reheat them, otherwise the sandwich may go soggy.
Yield: 1 Sandwich
BBQ Seitan Sandwich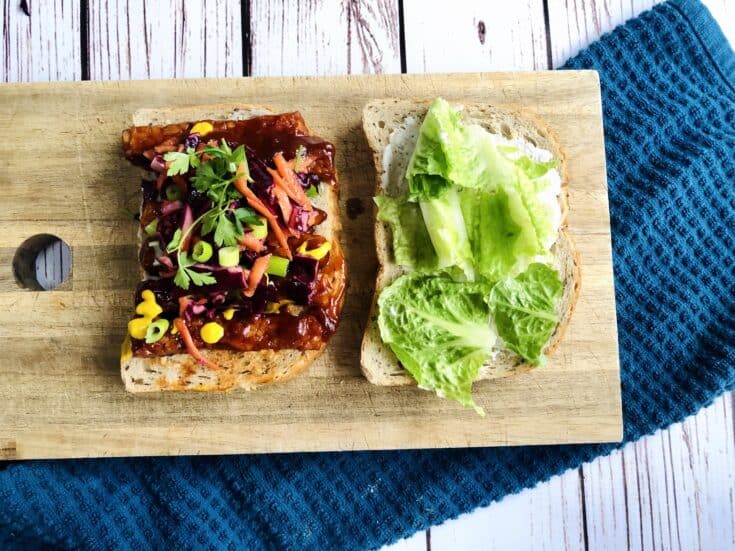 This sticky BBQ seitan sandwich is the perfect munch. The sticky seitan BBQ ribs make for a a delicious vegan sandwich filling. They are surprisingly meaty in texture, giving this sandiwch an epic bite. Topped with crunchy salad, creamy vegan mayonnaise and American mustard, you will be impressed by this seitan sandwich recipe..
Additional Time
5 minutes
Ingredients
BBQ Seitan Ribs
2 slices of thick cut bread
1 tbsp vegan mayonaisse
1 tbsp American mustard
2 tbsp red cabbage coleslaw
2 spring onions, chopped
1 handful iceberg lettuce
Fresh parsley (optional garnish)
Instructions
If home making the vegan BBQ Seitan Ribs (follow this link for full recipe), if not - prepare the shop bought vegan ribs as per packet
Chop salad, spread vegan mayonaisse on both slices of bread
Once the BBQ seitan ribs have cooked through, assemble your sanwich.
Drizzle the mnustard on top, to your taste.
Top with spring onion and parsley
Enjoy this epic vegan sanwich!
Notes
This sandwich is best eaten fresh, but can easily be assembled if you wish to take on the road for a packed lunch. Simply reheat the ribs and assemble the crunchy salad & sauces prior to eatimg.
Recommended Products
As an Amazon Associate and member of other affiliate programs, I earn from qualifying purchases.
Nutrition Information:
Yield:
1
Serving Size:
1
Amount Per Serving:
Calories:

1036
Total Fat:

47g
Saturated Fat:

11g
Trans Fat:

0g
Unsaturated Fat:

32g
Cholesterol:

138mg
Sodium:

2369mg
Carbohydrates:

86g
Fiber:

9g
Sugar:

53g
Protein:

67g
this is a calculated estimate
You may also like: