These vegan chocolate protein waffles are a great and almost luxurious dish to have for breakfast, brunch, snacks, lunch or dessert.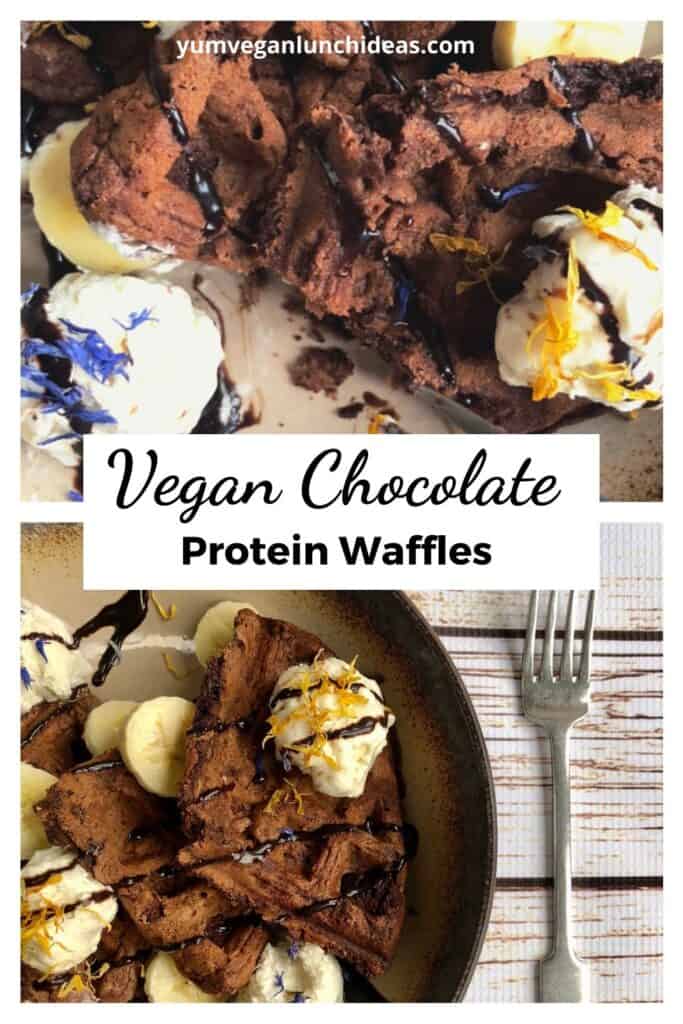 A common question asked time and time again is where do vegans get their protein from?
This can cause concern for some, as we all want adequate nutrition, especially when making dietary changes.
Fortunately, protein is found in almost all foods – and actually there is no formal term for "protein deficiency".
Although not entirely necessary, these vegan chocolate waffles have the addition of vegan protein powder and simply boost the nutritional value of the chocolate chip waffles. If you are looking for even more of a protein boost, check out more of our favorite high protein vegan recipes!
They go great with a delicious vegan iced coffee recipe.
Vegan Protein Powder
Another question commonly asked on vegan forums is what is the best vegan protein powder.
Vegan protein powder works well in shakes, smoothies, porridges – so why not in these chocolate brownie waffles too?
Many vegan protein powders on the market have lots of added nasties and chemicals.
I prefer to opt for pure protein sources such as Hemp Protein Powder
or Pea Protein, especially for delicious vegan shakes.
However for these chocolate protein powder waffles, I used this deliciously creamy yet packed with goodness Vegan Chocolate Protein Blend.
I love this particular one because it's naturally sweetened with stevia. It is combination of pea and rice proteins, with a mix of alfalfa greens, kale and broccoli powder.
We are all for delicious sweet vegan brunch over here – so it's always an added bonus if a few extra nutrients can be added to the recipe.
Another favourite, are these vegan Belgian waffles.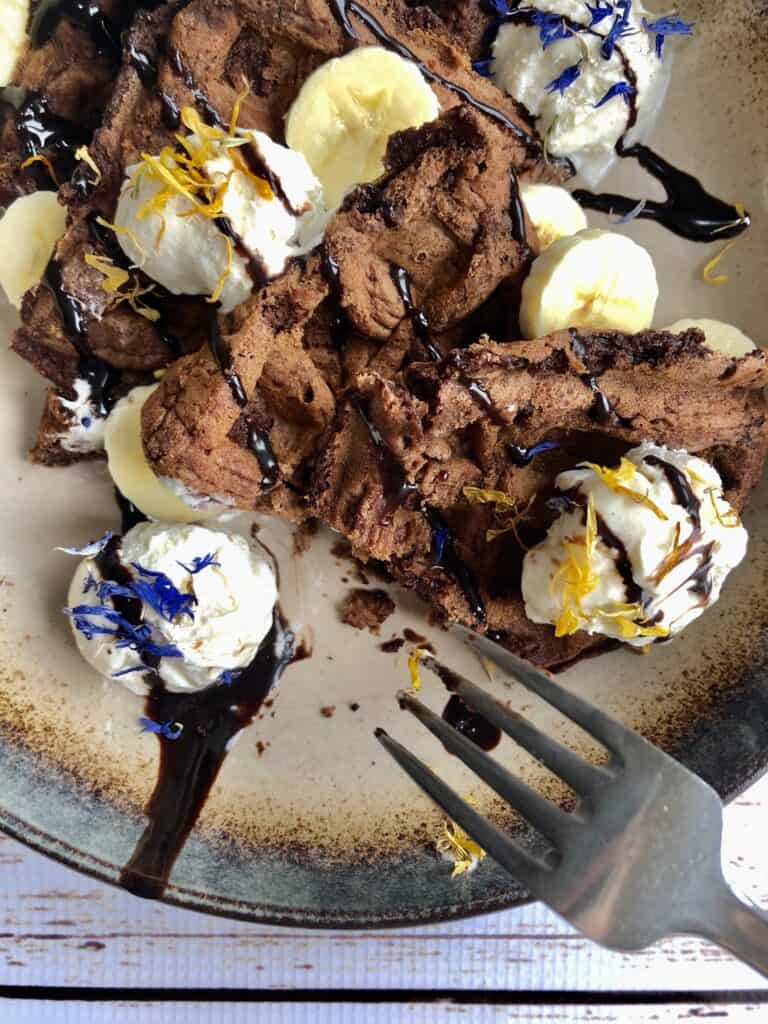 How much protein do we need?
The amount of protein needed per day depends on your body weight.
There is no doubt that the body needs all of the essential amino acids to grow, function stay well and repair cells.
On average, men should consume approximately 55.5g of protein. While women should consume approximately 45g of protein daily
Protein Hype
There is much hype in recent years about protein consumption.
However clever marketing tactics to sell you products capitalises on a fear of lacking protein.
Excess protein consumption is usually stored as fat, so consuming excess is not recommended. This is also due to the high calorie intake in attempts to eat so much protein.
This protein powder waffle recipe simply boosts the nutritional properties and protein content with the recommended 3 scoops of vegan protein powder.
Conversely, not consuming enough protein can lead to weakness and fatigue. This is due to losing muscle strength and a slowing metabolism.
Fortunately, with a balanced diet – plant foods are in abundance with amino acids.
Eating foods like pulses, beans, tofu, nuts, seeds all contribute to high protein foods.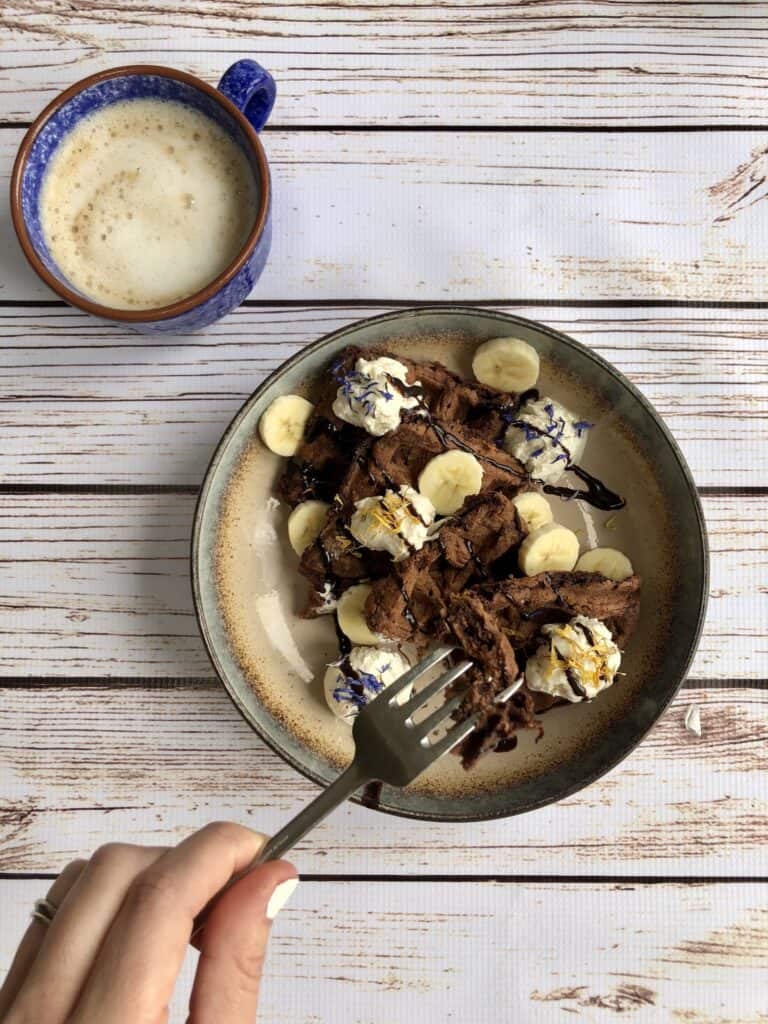 I haven't quite made the step into baking with protein powder completely instead of flour, so these vegan chocolate waffles with a usual portion of vegan protein powder (3 scoops) felt just right.
What waffle iron to use?
This Belgian Waffle Maker is almost an exact replica of the one I use regularly and is super affordable. You can make the perfect fluffy vegan waffles by buying this Belgian Waffle Maker here.
Yield: 3 portions
Vegan Chocolate Protein Powder Waffles
These vegan chocolate protein waffles are a decadent vegan brunch or breakfast. They have the added boost of a nutritious protein powder, loaded with extra vitamins and minerals.
Alongside the gooey chocolate chip they are utterly scrumptious and a must try!
These vegan brownie waffles are crispy on the outside and fluffy on the inside.
Chocolate upon chocolate is always acceptable for brunch, so why not load them with your favourite chocolate sauce, vanilla vegan yoghurt, sliced banana or ice cream.
Additional Time
10 minutes
Ingredients
3/4 cup flour
1/2 tsp baking powder
3 scoops vegan chocolate protein powder (or 3 scoops of protein powder + 1 tbsp cocoa)
1 cup oat milk
1 tbsp chia seeds
3 tbsp vegetable oil
1 tsp vanilla essence
1 tsp lemon juice
extra oil for greasing waffle iron
Toppings of choice eg vegan yoghurt, vegan ice cream, chocolate drizzle
Instructions
Preheat the waffle iron
Make the chia egg by adding 2 tbsp of oat milk to the chia seeds - stir well and set aside
Make the vegan buttemilk by adding the lemon juice to the remaining milk, set aside
in a large mixing bowl add the flour, baking powder and vegan protein powder. Make a little well in the dry mixture.
Add the vegetable oil and vanilla essence to the buttermilk and whisk well
Add the chia egg to the buttermilk mix and stir well
Add the wet ingredients into the well of the dry ingredients and stir through
Grease the hot waffle iron to prevent mixture from sticking
Add around a ladel full of the waffle mixture, or slightly less to the waffle iron.
Close the waffle iron and leave to cook for around 4-5 minutes until cooked through
Place on a wire rack to cool and allow it to crisp up.
Continue with the waffle mixture until it is gone. You should get around 3 full waffles from this recipe.
Notes
* This additional 10 minutes is to allow time for cooking the full batch of waffles.
As much as it is tempting, try not to open the waffle iron as they are cooking.
These are a great snack to freeze. Simply pop in a ziplock bag or freezer friendly container and freeze for up to 6 months. It is easy to reheat by letting them thaw slighlty before popping them in the toaster to return to their full chocolate waffle glory.
Recommended Products
As an Amazon Associate and member of other affiliate programs, I earn from qualifying purchases.
Nutrition Information:
Yield:
3
Serving Size:
1
Amount Per Serving:
Calories:

659
Total Fat:

30g
Saturated Fat:

6g
Trans Fat:

0g
Unsaturated Fat:

22g
Cholesterol:

41mg
Sodium:

256mg
Carbohydrates:

62g
Fiber:

4g
Sugar:

22g
Protein:

36g
this is an estimated calculation
You may also love