This super easy vegan sandwich recipe is one of my favorites vegan recipes! I'm always a fan of vegan sandwiches (you may have already figured that out ;)) but this one comes together in only five minutes and tastes so good so it's a great staple recipe to have in your cooking arsenal!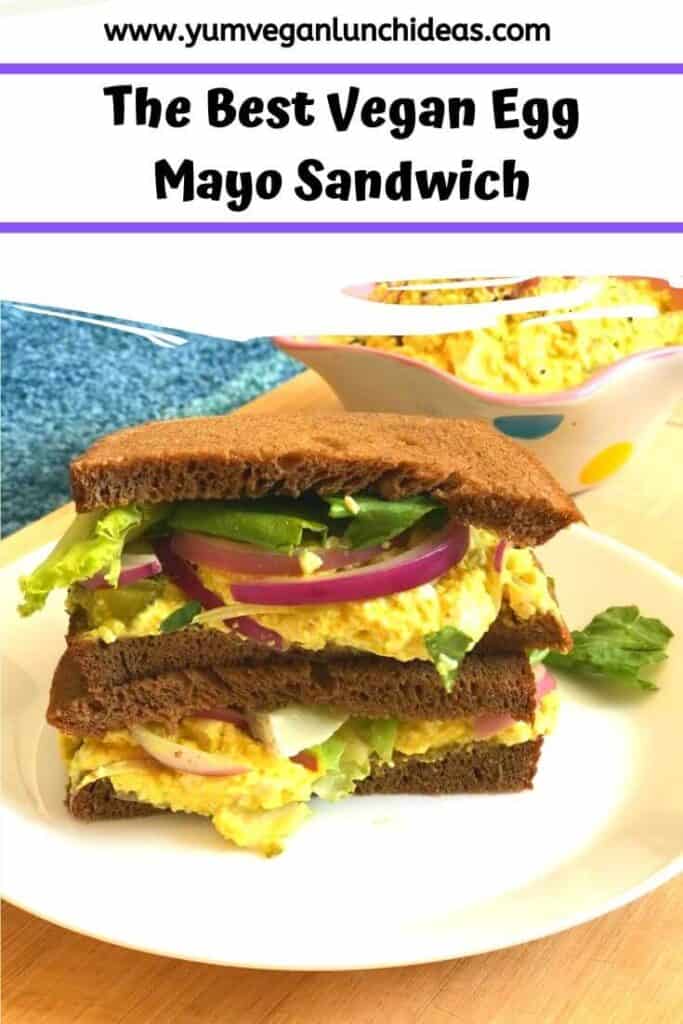 What Goes in Your Vegan Egg Sandwich and How to Customize:
This vegan egg salad was created one day when I was hungry and low on ingredients. All the ingredients on this list are pantry items so you can have it on hand for a last minute vegan breakfast sandwich or packed lunch.
The silken tofu naturally makes a very good vegan egg substitute because of it's soft eggy texture. You just have to mash it and then you add your favorite egg salad ingredients!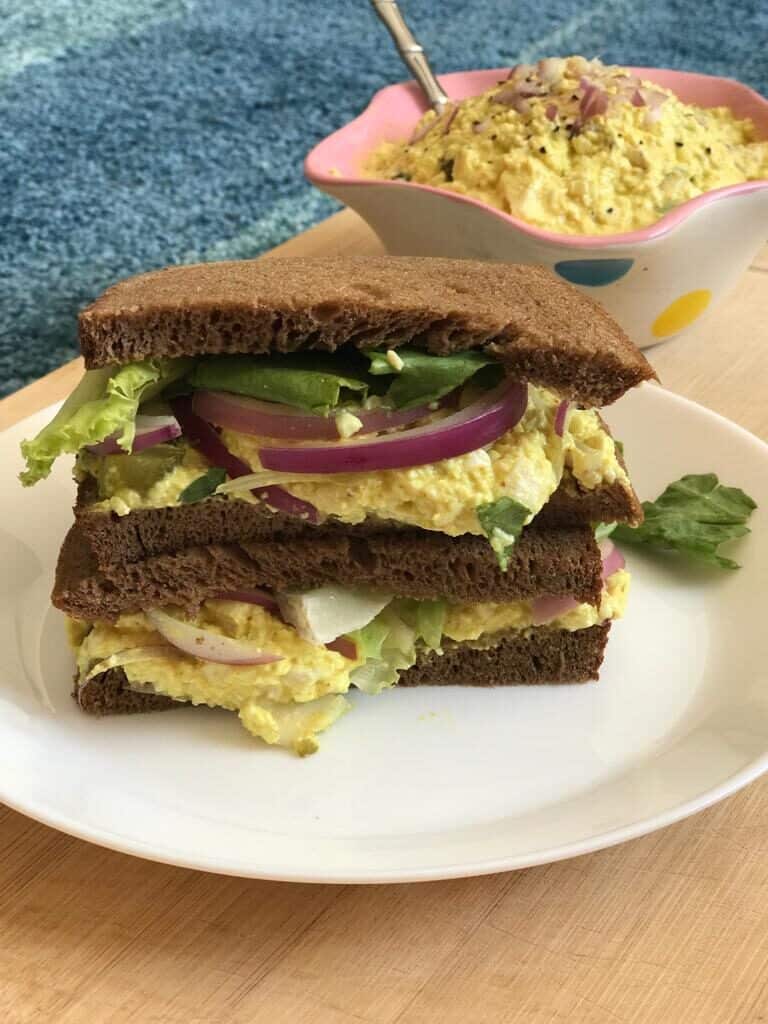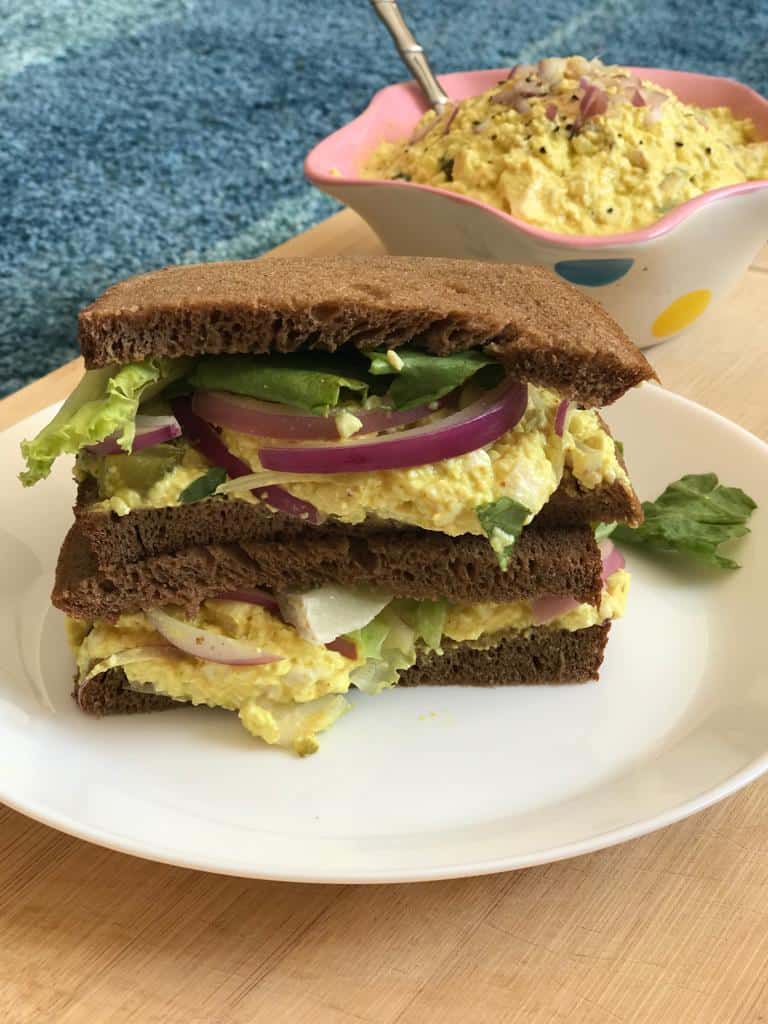 I've done a very basic version for this vegan egg salad sandwich recipe because when I eat it in a sandwich I tend to get creative with my toppings but you can definitely add your favorite egg salad add ins. I think chopped pickles, red onions, celery would all make good add ins if you have more time to get creative with it.
If you want to make this a vegan toasted sandwich I would just pop the bread in the toaster and let it cool a bit before you assemble.
Vegan Tofu Egg Salad Ingredients:
This truly is one of the most easy vegan sandwiches you will find. It's got seven simple ingredients and almost no prep work.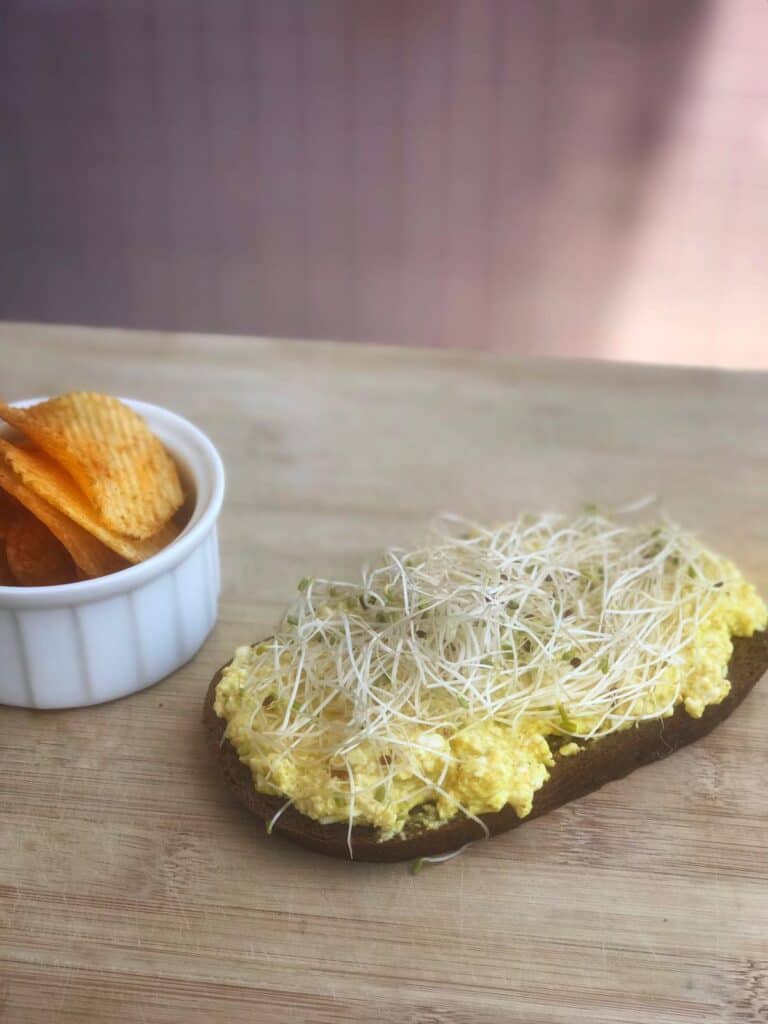 Silken Tofu
As I mentioned earlier, the Silken Tofu
is a perfect vegan egg replacement and forms a perfect base for this sandwich with a lovely eggy texture.
Black Salt
If you have never used black salt before, prepare for your life to be changed! Black Salt
tastes so much like and egg it's freaky! When I first discovered it I brought it to work and made all the carnivores try it without telling them what it was.
Himalayan black salt, also called kala namak, gets its fantastic eggy taste from the sulfur it contains. Buy a ton and prepare to fall in love.
Side note: Do not confuse it with the non edible black salt that Wiccans use for rituals.
Buy Black Salt Here.
Vegan Mayo
As far as vegan mayonnaise, there are many brands on the market with varying degrees of deliciousness. I personally love the American Garden brand which has been on the market for a while but seems to fly under the radar. Just Mayo
is also a very good brand from a fully vegan company.
Turmeric
The turmeric is mainly important just to give these vegan eggs a nice yellowish color. It also adds a bit of flavor but for me the color is really most important reason to use it. Turmeric also has multiple health benefits so that's always a bonus.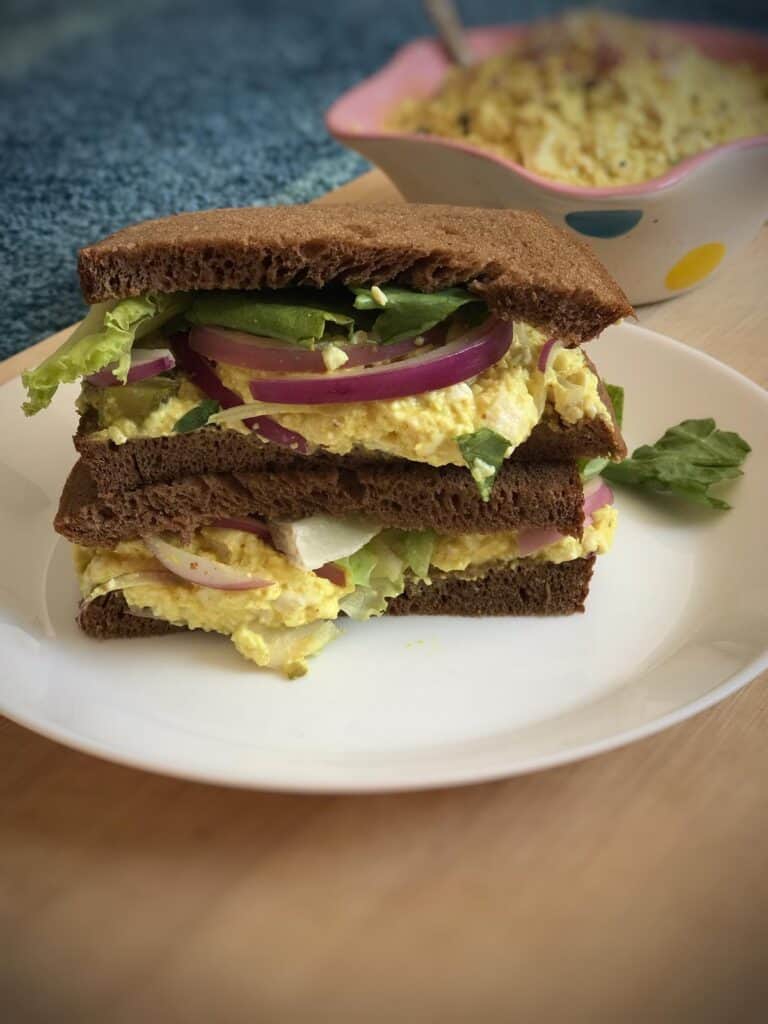 Seasoning
The Dijon Mustard
and garlic powder really make this vegan egg salad recipe tasty and amazing. If you are a huge garlic fan like me feel free to add far more. I think with garlic there is never too much but I put a reasonable amount on the ingredients list for those who are not garlic freaks like me.
Bread
For sandwich bread, just choose your favorite vegan one. I like something substantial, fatter crusty bread than I actually used in these pictures but use whichever you like. The crackly crust really adds some nice texture to this simple vegan sandwich.
I also think an English muffin or a bagel would do really nicely as the bread.
Preparing the (Best) Vegan Sandwich Ahead of Time:
Maybe you want to use this on a busy morning as an out-the-door vegan breakfast sandwich or maybe you just want to have food on hand and at the ready for when you or your kids get hungry.
If so, you can cut out even more prep time by making these vegan tofu eggs ahead of time. I wouldn't assemble the sandwich ahead, the bread will probably get soggy (although toasting the bread might help).
You can, however, make a large batch of the egg salad and just pop it in the fridge for when people get hungry. From there it should only take a minute to actually assemble your sandwich and be ready to go.
The egg mixture should stay good in the fridge for around three days.
Yield: 3 Servings
Vegan Egg Sandwich Recipe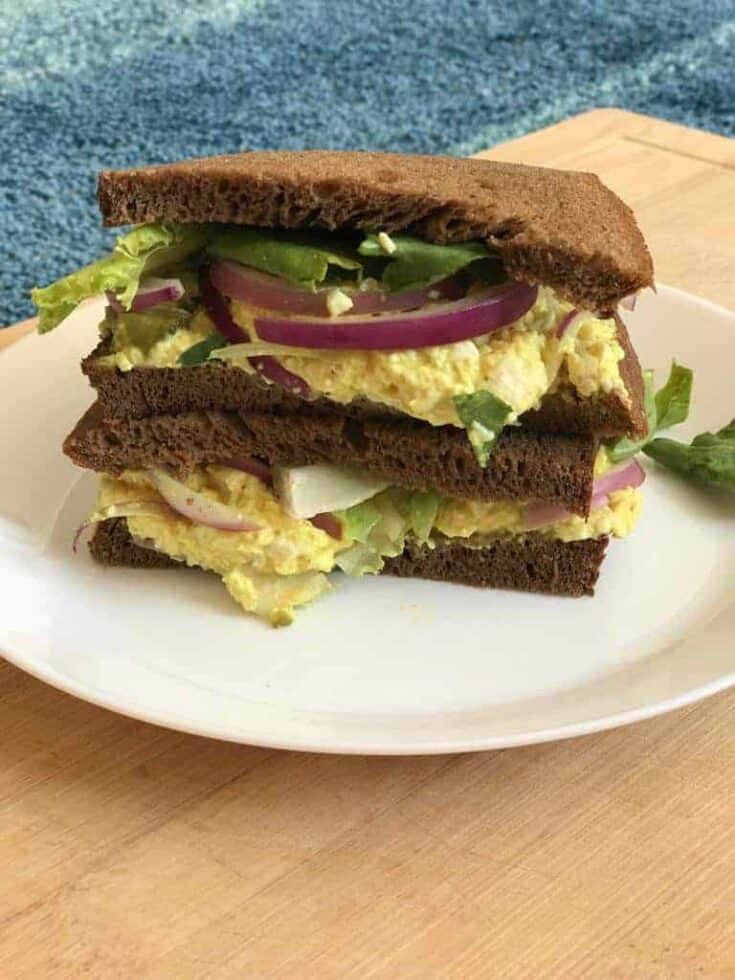 This easy vegan egg salad sandwich recipe only takes five minuted to whip up so it's perfect for even the busiest days. The black salt gives it that delicious egg flavor and silken tofu has a naturally eggy texture when you smash it up.
Ingredients
6 Slices of your favorite Sandwich Bread
Sprouts (optional)
Pickle Slices(optional)
Red Onion Rings (optional)
Lettuce (optional)
Instructions
1. Drain silken tofu and put it in a large mixing bowl
2. Smash tofu with a fork until its in large chunks
3. Add the remaining ingredients and mix until all ingredients are combined and tofu has the chunkiness and consistency you like from egg salad
4. Put on bread with sprouts, pickle slices, or any other veg you like with your egg salad
Recommended Products
As an Amazon Associate and member of other affiliate programs, I earn from qualifying purchases.
Nutrition Information:
Yield:
3
Serving Size:
1
Amount Per Serving:
Calories:

494
Total Fat:

29g
Saturated Fat:

5g
Trans Fat:

0g
Unsaturated Fat:

22g
Cholesterol:

0mg
Sodium:

2145mg
Carbohydrates:

50g
Fiber:

4g
Sugar:

7g
Protein:

10g
This is an automated estimate and may not be correct.
Don't forget to pin this for later!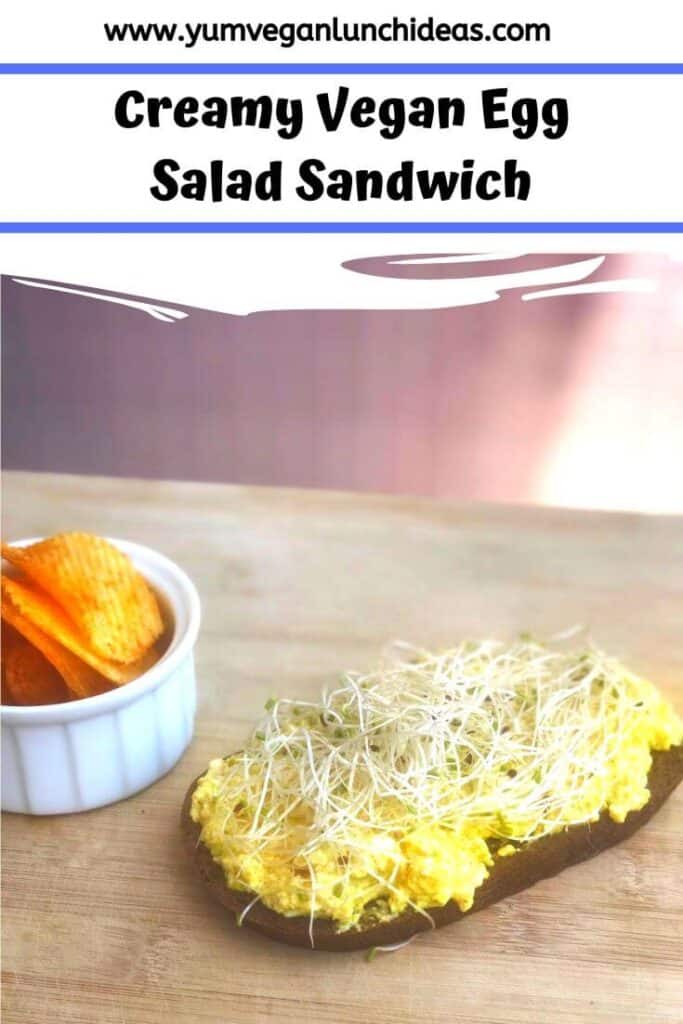 You May Also Like:
Succulent BBQ Vegan Corn On The Cob Recipe