If you haven't had a vegan french toast bake yet, now is the time to change that. Vegan french toast casserole simplifies making the deliciousness that is french toast, especially if you are cooking french toast for a crowd.
This baked french toast casserole recipe is perfect for Sunday brunch, when the family comes together, or anytime you are in the mood for something warming, sugary, and delicious.
It would also make an awesome mother's day brunch option! For more vegan brunch inspiration, click here or check out our vegan dutch baby, vegan sweet potato waffles or these delicious vegan jam donuts!
So without further ado, let's get into how to make this apple cinnamon vegan french toast casserole!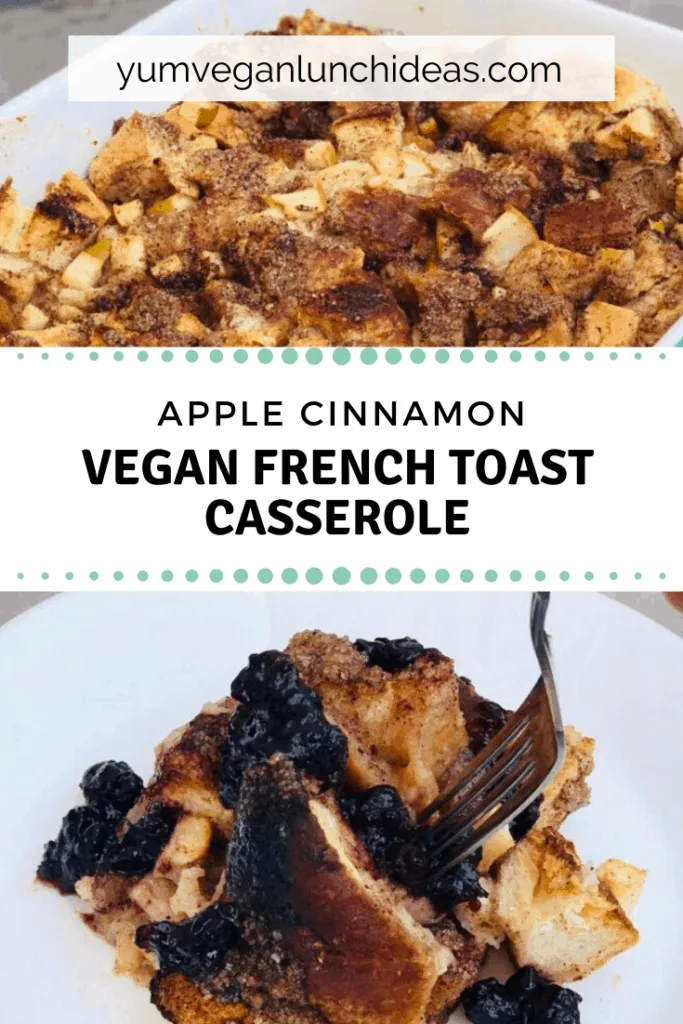 How to Make French Toast Casserole
Creating an oven baked french toast casserole is very similar to making regular french toast except for the cooking process, which becomes much simpler.
In short, you cube the bread, soak it in the batter, sprinkle with some yummy toppings, and then pop it in the oven to bake.
Same Day French Toast Casserole (Vegan Apple French Toast Casserole)
As far as soaking the bread there are two main methods. This vegan french toast casserole recipe uses the method of making the french toast casserole the same day you eat it. I tend to decide on a whim to make these kinds of breakfast, so I lean towards the fast method.
Vegan Overnight French Toast Casserole
The second method is to soak the stale bread in the batter overnight to so the bread has plenty of time to soak up the flavors and get really soggy, before getting crispy on the outside in the oven.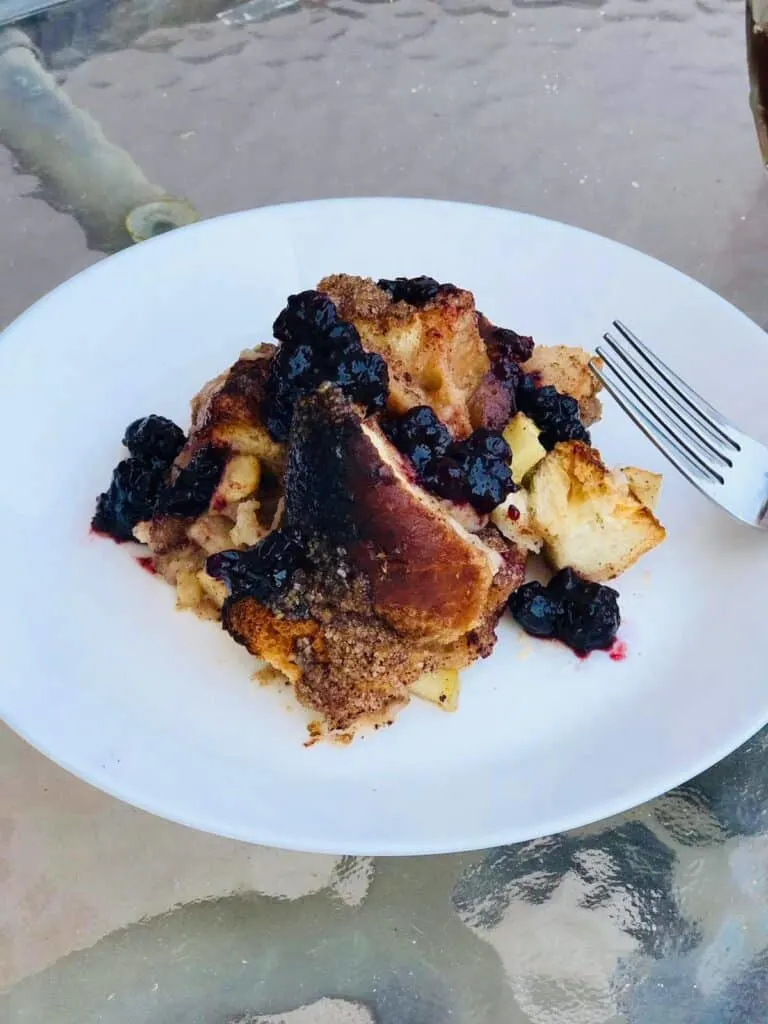 This method of creating an overnight french toast casserole is great if you need to save time the morning of, and just pop a ready made casserole in the oven.
If you want to make this recipe into an overnight casserole, you can try following this recipe up to and including tossing the bread in the batter. Then I'd cover it and pop it in the fridge, and then pick up where you left off in the morning.
Vegan French Toast Bake Ingredients
Below I've broken the ingredients into three categories; the bread, the batter and the topping. I've also included some tips for choosing the ingredients you want and personalizing it to your tastes.
Best Bread for French Toast Casserole
Like french toast recipes, the best bread for a french toast casserole is a sturdy bread like challah. The bread needs to be able to hold up and become soft and creamy when soaked instead of falling apart.
Some challahs do contain eggs so be sure to check whether or not it is vegan. The vegan ones are sometimes called water challahs.
A nice crust also makes for some good texture in this apple cinnamon french toast bake, because the crust tends to get nice a crispy once you put it in the oven.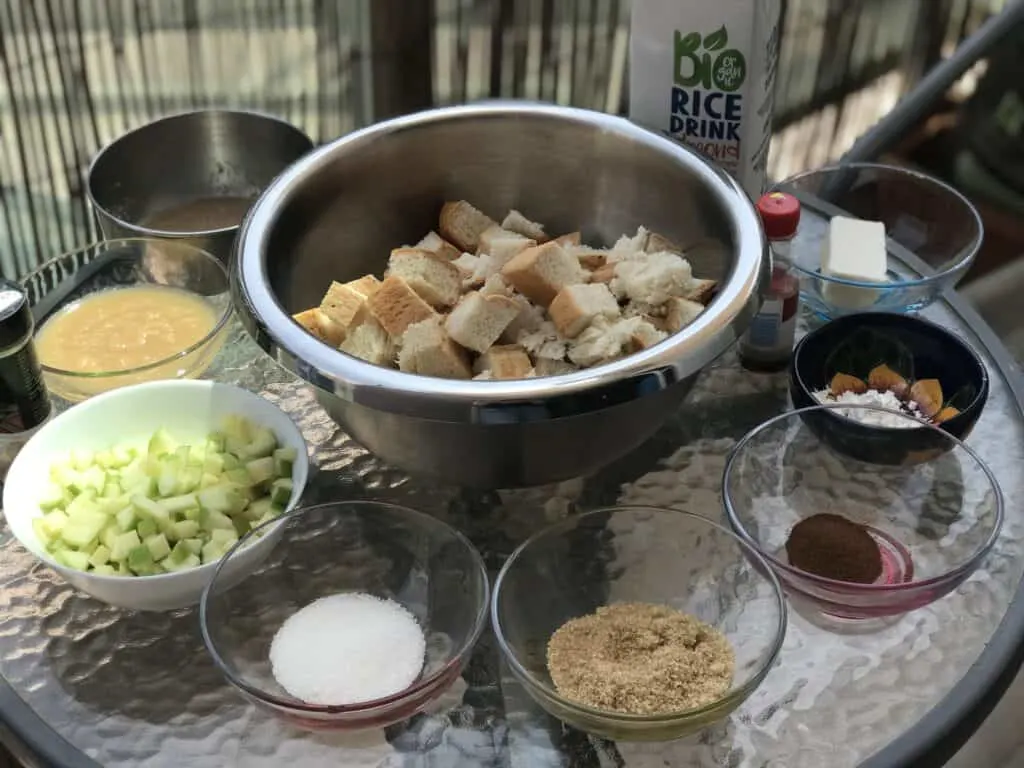 The most important thing thought, is that it must be a load, not sliced sandwich bread. You need to be able to cut it into fat cubes.
Also, whichever bread you use should preferably be a bit stale. This is the perfect way to use up leftovers if you've got. If you don't have leftover bread, try and buy it in advanced to making french toast so that it has time to get stale. The staleness helps make the bread even sturdier during the soaking process.
Apple Cinnamon French Toast Bake Batter
To make this baked french toast recipe vegan we had to come up with a batter that would fill the large role that dairy and eggs normally play in making french toast.
All you need to do to create the batter is whisk together all the ingredients mentioned below aside from the apples, which you'll chop and keep separately.
Vegan French Toast Egg Replacer
I've tried a lot of vegan french toast recipes in my day with varying results. So when I decided to create a recipe for this, the best option seemed to be to combine a few different egg substitutes, to create the best vegan egg for our purposes.
I ended up combining:
If you don't know what a flax egg is, it's really easy to make. You take ground flax seeds and combine with water. After a few minutes it thickens to a gooey egg like consistency.
Applesauce and corn starch both help thicken and bind things together, just like an egg would normally do.
The combination of these three with milk comes together to make the best egg free french toast batter, in my opinion.
Plant Milk for a Dairy Free French Toast Casserole
The best substitute for milk is of course plant milk! My favorite is a rice/almond milk combo. Rice milk tends to be on the naturally sweeter side which means I don't need to add as much sugar to the recipe.
If you decide to use an unsweetened milk like unsweetened soy milk, you may want to increase the sugar in this recipe by a tablespoon or so.
You can stock up on your favorite vegan milk here.
Flavorings and Add Ins for an Apple Cinnamon French Toast Casserole
To make it an apple cinnamon french toast casserole you need to add the following add ins:
Cinnamon, nutmeg and vanilla extract give this vegan casserole those nice warming flavors that make the whole house smell delicious and make you want to eat the whole tray in one sitting.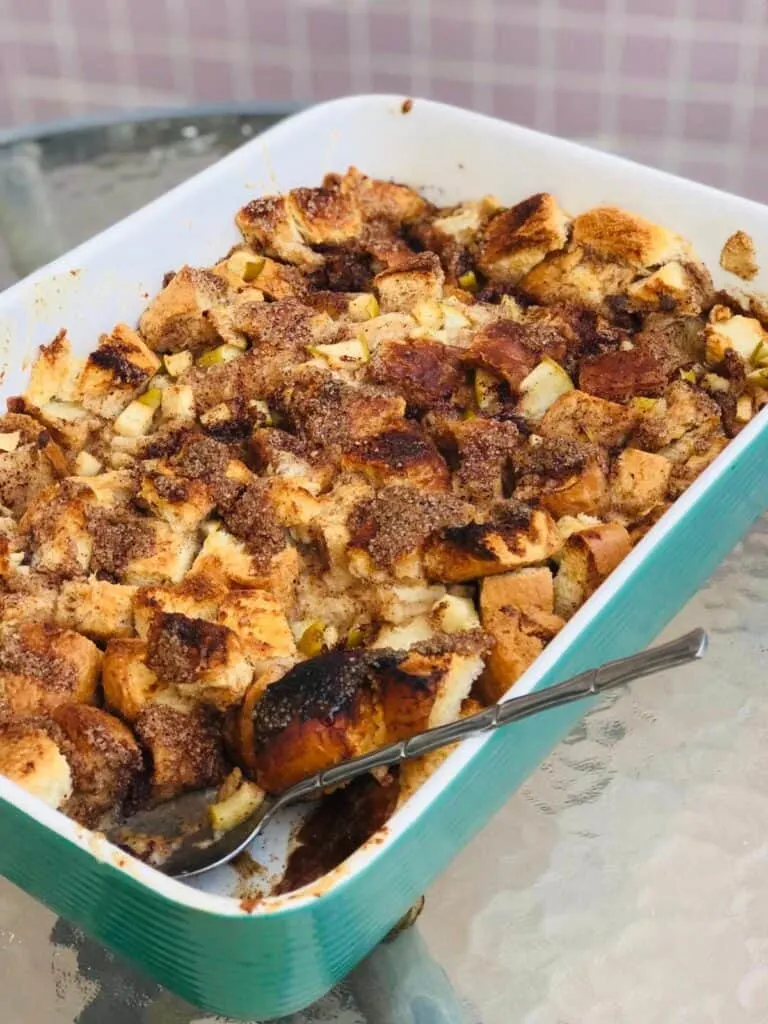 We add sugar to sweeten, obviously, but as mentioned earlier, you may want to adjust this based on if you like things really sweet, and based on what kind of plant milk you use.
The apples, likewise, can be adjusted based on personal tastes. If you want things really appley, feel free to add some more. I also made this recipe the quick way, but if you have extra time and want to make sure the apples come out really nice, you could toss them with some of sugar and let them sit for 30 min before using them.
Easy French Toast Casserole Topping
I like to keep my topping nice and simple. After all you can't go wrong with the classic cinnamon sugar combo that has been used on french toast since forever.
To make the topping for the casserole you will need:
I know that some people prefer to use coconut oil instead of margarine as a healthier swap, but I personally don't like that it makes everything taste like coconuts.
All you have to do to make the topping is whisk together your melted vegan margarine or butter with the sugar and cinnamon.
Putting your Cinnamon Apple French Toast Casserole Together
Use vegan butter or margarine to grease your pan and then pour in your cubed stale bread. You can toss in your chopped apples now as well.
Next whisk together your batter ingredients and pour it over the bread. Try and mix the bread into the batter as best as possible. If you are going to be leaving it overnight you should cover it and put it into the fridge.
If not, then try and really mush the bread into the batter so it all gets an even coating and really absorbs the liquid. If you have time at this point, let it sit for 20 minutes or so to absorb everything. If not, then move onto the next step.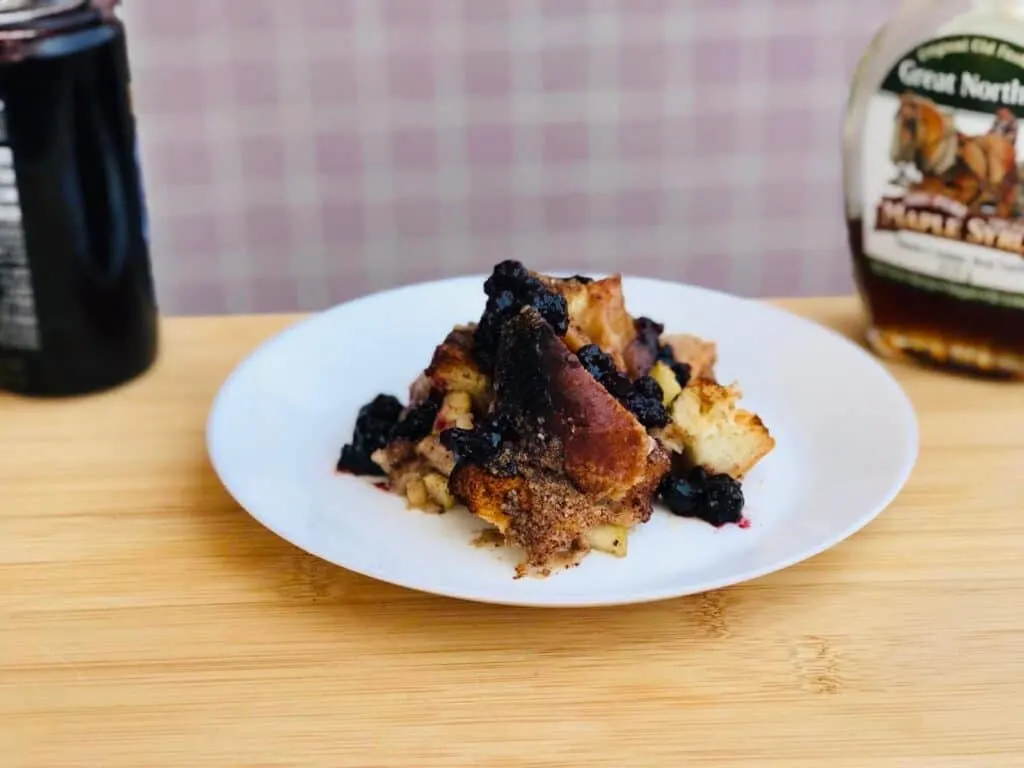 Next we are going to make our topping. Melt your vegan butter/margarine in the microwave. Whisk in the sugar and cinnamon and drizzle it over the casserole, trying to give it a somewhat even coating. If you get larger amounts in some places then others, that's fine too.
Pop your eggless french toast casserole bake into the oven at 375 F. Bake it first for 25 minutes covered and then uncovered for another 30 minutes. When your oven french toast is done, the tops of the bread and your topping should be crispy and golden, and the inside of the casserole should be pudding like in consistency.
When it's finished, this casserole tastes amazing topped with maple syrup
or berry compote. If you are too lazy to make a berry compote, you can do as I do and drizzle some blueberry syrup
or jam on yours.
Vegan French Toast Casserole – Notes
I chose the fastest route on all of these steps. I didn't want to wait to dig in so I didn't take the extra time to let it soak and I can say first hand it still comes out great. You definitely don't need to stress about not having the extra prep time.
However, if you do have the time to spend, all the additional time to let the bread soak up all the goodness in the batter and to let the apples sit in the sugar to release their juices, the final product will be even more amazing.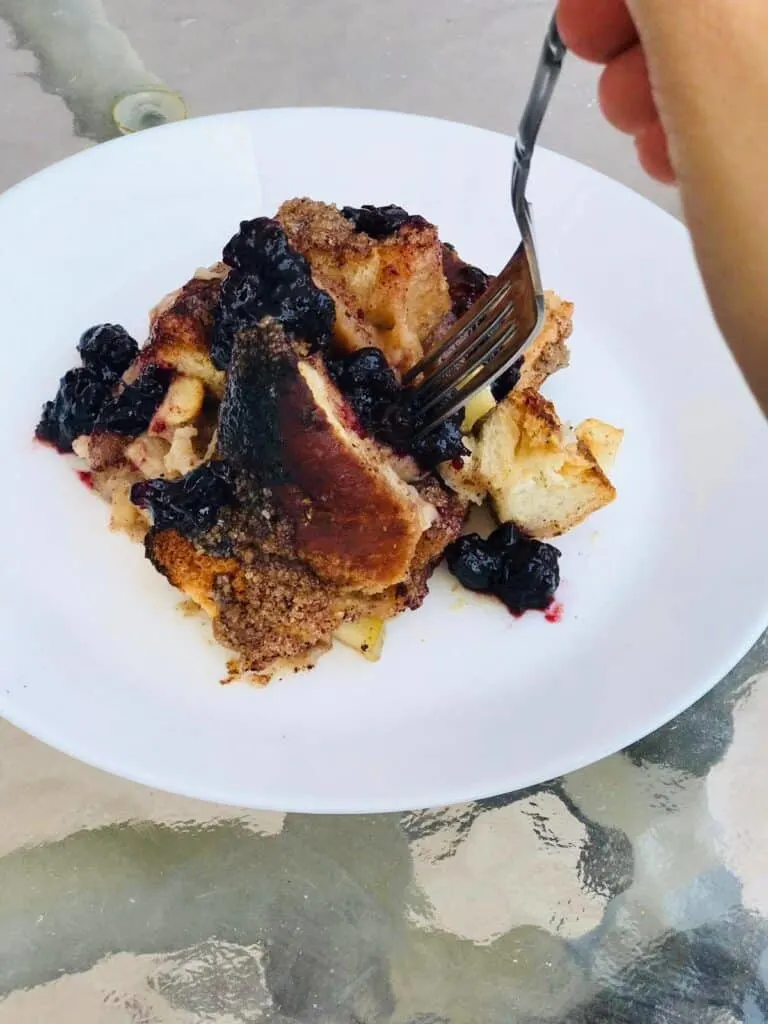 You can also switch out apples and cinnamon for whatever you personally prefer with french toast. Off the top of my head, I think this casserole would also taste great with blueberries or pears, or if you wanted to go sugary sweet you could try switching out the fruit with chocolate chips.
I also think it should be noted, as Christmas comes close, that this is the perfect breakfast for Christmas. French toast casserole, especially with spices like cinnamon, is so festive and warming feeling, and perfect for making a special breakfast or brunch for your family or friends that you get together with over the holidays.
Freezer French Toast Casserole
If you want to be even more prepared in advanced, or you just have too many leftovers, you can freeze this easy vegan french toast bake. There are two methods you can use for freezer french toast casserole.
Freezing French Toast Casserole Before It Bakes
If you want to freeze it in advanced, the best method is to follow the recipe until all the bread and batter ingredients are combined. At this point you can just wrap it up (really well) and pop it in the freezer.
When you are ready to use it, take it out of the freezer the night before and put it in the fridge. In the morning, proceed with the rest of the recipe instructions for the glaze and baking.
Freezing French Toast Casserole After It Bakes
If you want to freeze your leftovers, you can wait until the casserole fully cools and either wrap it up as is, or section it into portion sizes and wrap it up that way.
When you are ready to eat it you can defrost it in the fridge overnight and then pop it in the oven in the morning for 15-20 minutes until it's warm and crispy on the outside.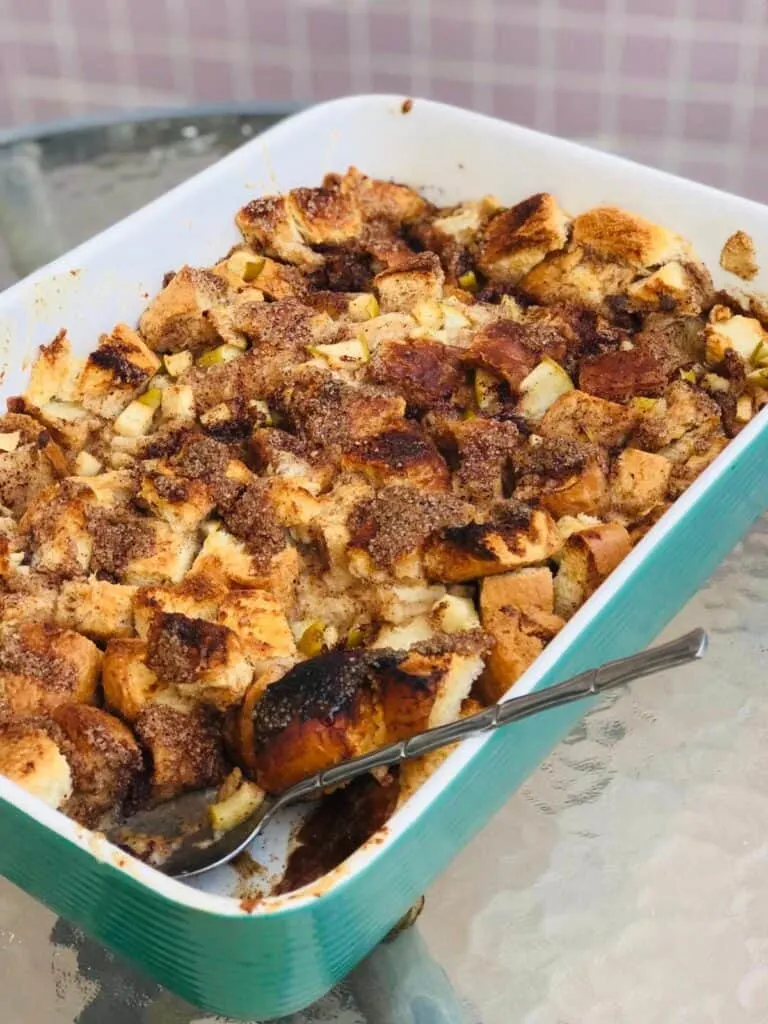 Alternatively, you can take it straight from the freezer and bake it in the oven. If you are warming a whole tray, keep it in the oven covered for 50 minutes and then bake for another 25 minutes uncovered.
If you are just baking a smaller size piece, I would only cook it covered for around 30 minutes, and 15 uncovered.
Of course the cook times will depend on what size piece goes in the oven, so check on it periodically to make sure it really is heated through/not overcooking. You can also warm an individual piece by placing it straight from the freezer to the microwave (unwrapped), but it may lose it's crispy parts.
How Long Do French Toast Casserole Leftovers Last in the Fridge
French toast casserole leftovers can last in the fridge for two to three days. Make sure to store it in an airtight container, or wrap your pan really well for optimal freshness.
To reheat the casserole, you can put it in the microwave or the better option is to reheat in the oven at 375F for around 15 minutes. The oven option will help retain it's crispy edges better.
Note: This recipe is vegan, plant based, vegetarian, egg free, dairy free, soy free, and nut free.
Don't Forget to Pin This Post For Later!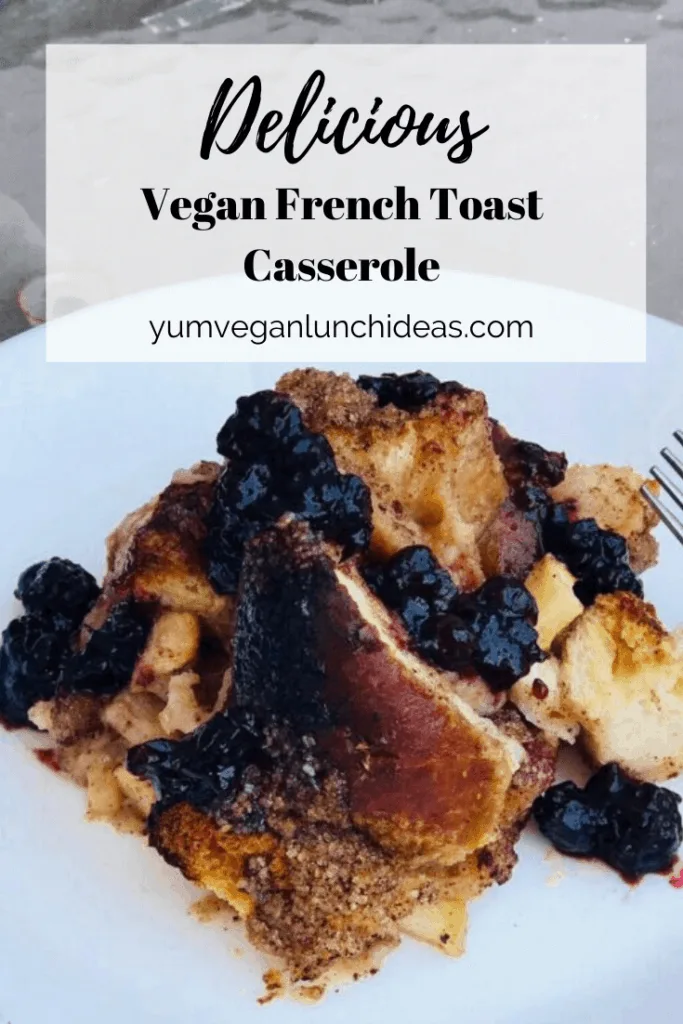 Yield: 8 Servings
Apple Cinnamon Vegan French Toast Casserole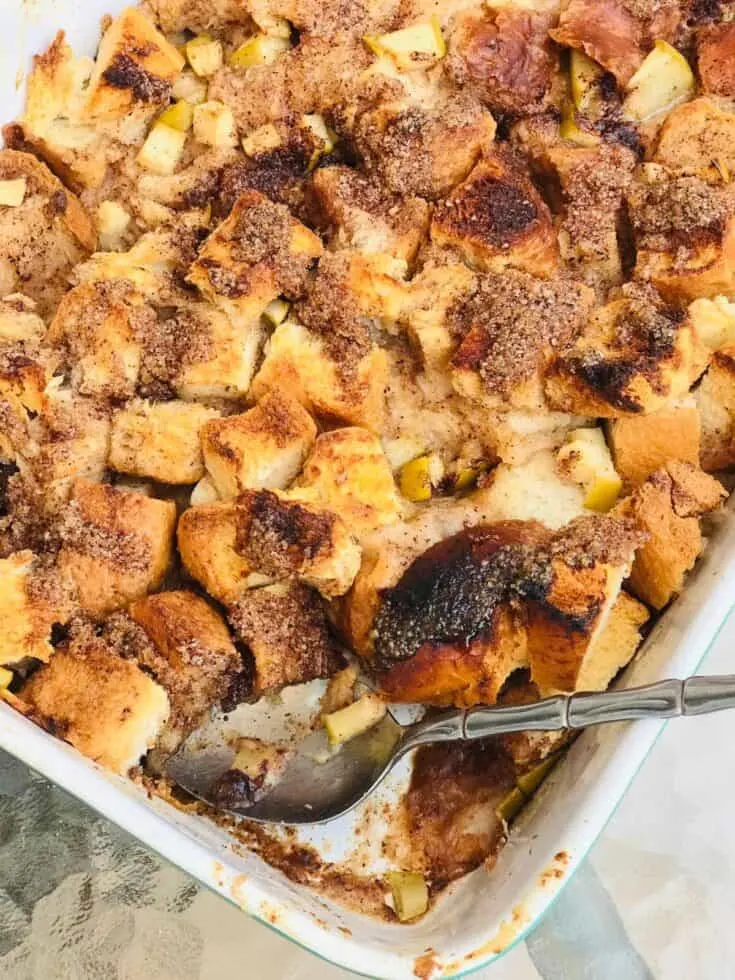 This apple cinnamon vegan breakfast casserole is perfect for family get togethers, holidays, or when you just want something warming and delicious.
With all the yum factor of french toast, vegan french toast bake comes together much quicker and easier by cutting out the part where you stand by the stove cooking each piece individually.
This recipe can be tailored to your personal tastes and time availability by increasing/decreasing the amount of sugar, apple and how long you wait between steps.
For more detailed information on how to personalize this french toast breakfast casserole, read the instructions above.
Additional Time
20 minutes
Total Time
1 hour
35 minutes
Ingredients
Stale Challah or Other Sturdy Loaf of Bread.
1.5 - 2 Cups Chopped Green Apple
French Toast Batter
French Toast Casserole Topping
Optional Toppings:
Instructions
Cut your loaf of bread into 1 inch cubes.
Grease your baking dish with margarine/vegan butter and spread out the cubed bread and chopped apples in the baking dish.
Combine all the batter ingredients in a medium bowl and whisk until combined.
Pour the batter over the bread and apples and try to mix and mash them together as best as possible so that all the bread soaks up as much batter as possible.
For best results, set aside for at least 20 minutes to allow the bread to absorbs as much batter as possible. While you are waiting, preheat the oven to 375.
Melt your margarine in a microwave safe dish.
Immediately before baking, whisk the light brown sugar and cinnamon into the margarine and drizzle over the casserole. Try to spread it evenly but if it's not even you don't need to worry.
Bake the casserole covered at 375 for 20 minutes.
Uncover and continue to bake for another 55 minutes or until it tops are golden and crispy and the center is soft and the consistency of custard.
Best served hot with maple syrup and berries (fresh or in jam/compote form).
Notes
*If you are using an unsweetened plant milk or one that is not naturally sweet, I would increase the sugar by a tbsp or two
*You can use whatever brand of vegan butter or margarine you like. I would not advise replacing with coconut oil as I find it lends a strong coconut flavor
Recommended Products
As an Amazon Associate and member of other affiliate programs, I earn from qualifying purchases.
Nutrition Information:
Yield:
8
Serving Size:
1
Amount Per Serving:
Calories:

465
Total Fat:

14g
Saturated Fat:

3g
Trans Fat:

1g
Unsaturated Fat:

10g
Cholesterol:

32mg
Sodium:

533mg
Carbohydrates:

85g
Fiber:

5g
Sugar:

29g
Protein:

13g
You May Also Like: