It's that time of year again when the leaves are turning all shades of Autumn and it's time to switch from cooling summer smoothies to soups and wintery salads. I love love love pumpkin in Autumn and this pumpkin beetroot salad is perfect for lunch!
I do love warm meals for lunch during these colder months. This pumpkin and beetroot salad is the perfect middle ground of hearty food balanced out with salad making it not too heavy for lunch.
Pumpkin and Beetroot Salad
Start off by choosing your pumpkin wisely. It's best to go for a smaller pumpkin as they tend to be sweeter. If a pumpkin is green that also means it's ripe and ready to eat, I tend to buy ready to eat pumpkins. Lastly make sure there are no dints or dings in your pumpkin to ensure it's fresh.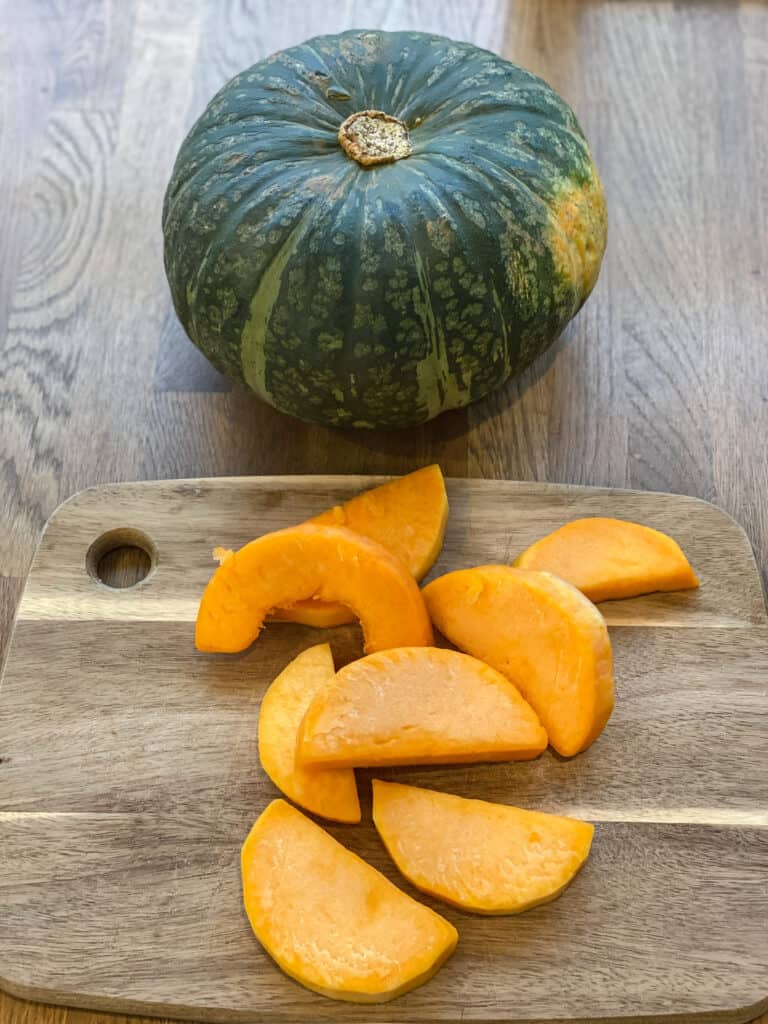 If you manage to find a nice small green pumpkin, you will need around a quarter for this salad recipe. Start by cutting a quarter of the pumpkin out, scoop out the seeds and cut it into bit sized chunks.
Toss the pieces of pumpkin in a bowl with salt, pepper a tbsp of olive oil and half a tsp of cinnamon together. Once they are well coated and seasoned, add the pumpkin chunks to a lined baking tray and roast!
Bake the pumpkin for around 30 minutes on a medium heat, turning over half way through cooking.
Psssst.. check out this pumpkin frittata! Thank me later!!!
Roasted Pumpkin and Beetroot Salad
I am all about the different testures in this salad so depending on what you have available in your pantry, add some seeds and nuts to the baking tray for the last few minutes of baking.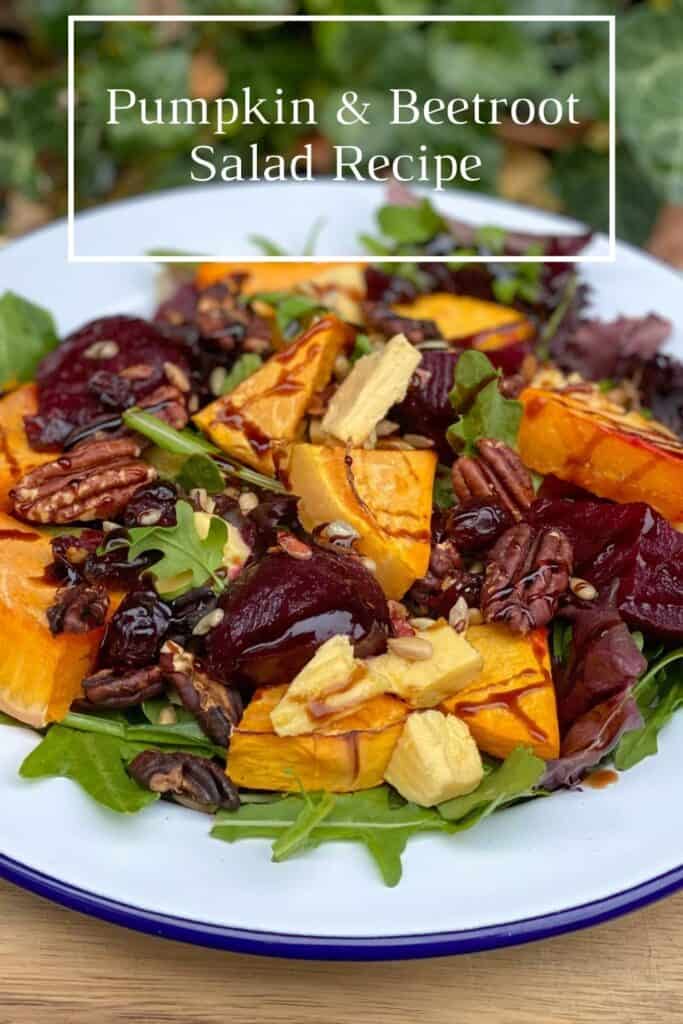 Ideally you'd use walnuts and sunflower seeds but pecans and pepitas are also fine. They just a need a few minutes of roasting and make such a nice edition to this salad.
In terms of the beets/beetroot I tend to buy pre-cooked beetroot. It's so easy and straight forward. Of course if you prefer to cook it yourself.
How To Boil Beets
I use boiled beetroot for this recipe. If you are new to this, wash the beetroot thoroughly. Keep the skins and stalk intact. Completely submerge in water and bring to the boil.
Once it's starting to boil, bring the temperature down to simmer for approximately 30 minutes. Strain and let the beetroot cool down, you can submerge in cool water to speed up this process. Dry them off before attempting to peel them.
The skin should be soft at this point and easy to peel. Cut the beetroot into slices. You will need two medium sized beetroots for this recipe.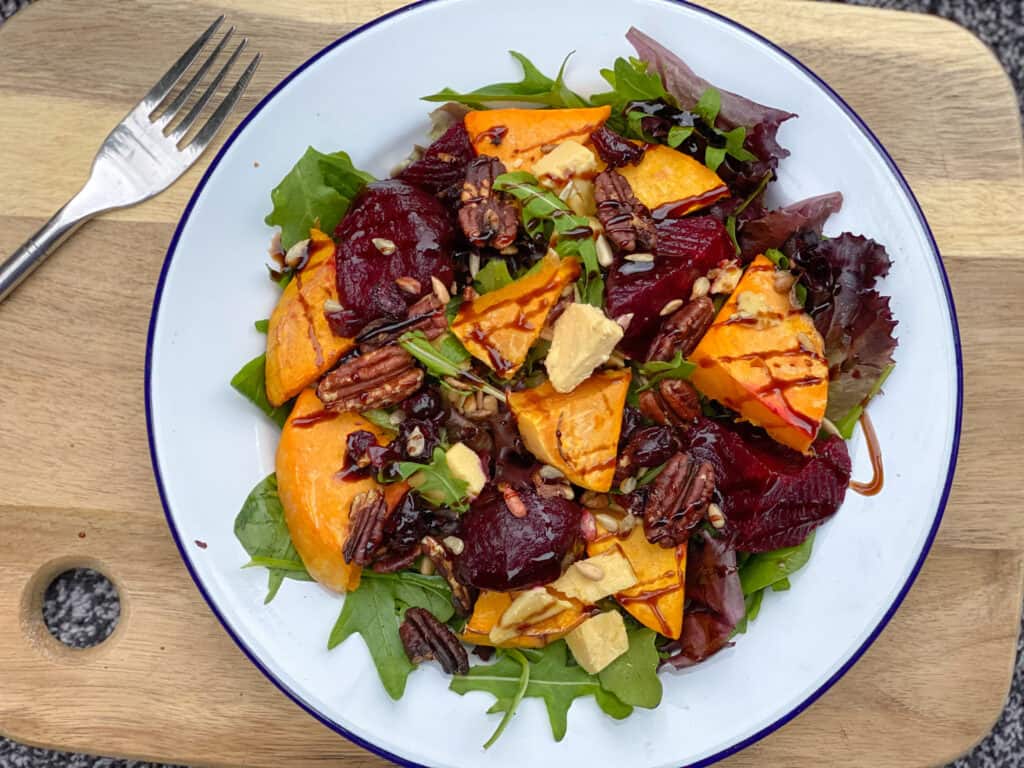 However if you have a bunch and want to cook them all at once, you can slice the beetroot up and store in the fridge in an air tight container for 2 to 3 days. You can use extras to make this butternut squash beet salad.
Of course, you could also pickle the beetroot and it will keep for months. Follow the process in this recipe using beetroot rather than cabbage.
Pumpkin and Beets Salad Recipe
Rocket works really wed as a base leaf for this salad, however mixed leaves or spinach is also great. Add a bed of leaves, roughly a handful per serving to a plate.
Add the pieces of beetroot and roasted pumpkin. The pumpkin can be warm or cold depending on your preference. Sprinkle the seeds and roasted walnuts over the salad. I also added a couple of tablespoons of dried cranberries to each serving.
Roasted Pumpkin and Beetroot Salad Dressing
The final touch is a balsamic glaze drizzled all over the salad. Again to keep it simple, you can just buy this but if you fancy making it yourself, it's not too difficult.
To make a balsamic glaze you only need two ingredients, balsamic vinegar and maple syrup. Add 1 cup of balsamic vinegar and a 1/4 of a cup of maple syrup to a pan.
Bring the mix to the boil whilst whisking. Reduce it to a low heat and allow the mix to simmer for 20 minutes. You will know when the dressing is ready because the balsamic should coat the back of a spoon.
Let the balsamic glaze cool down and drizzle over your salad.
So this salad can be complicated or easy depending on how much you want to do yourself. I am a busy mum of two kiddos with two blogs and a nursing job so I always opt for the path of least resistance!
Pumpkin and Rocket Salad
If you have plenty of time, knock yourself out and make the balsamic glaze as well as cooking the beetroot yourself.
This salad is perfect for your packed lunch, picnic or a weekend family lunch at home. It's versatile and travels particularly well.
There are some simple variations, such as using butternut squash, a cousin of the pumpkin as it's so similar. It tends to be more widely available.
Likewise, if you prefer to roast your beetroot whilst everything else is already going into the oven, then that's also an option. The glaze is actually really good over roasted beetroot.
If you want to eat this salad warm I suggest using a spinach bed of leaves as they go really well with warm foods. Alternatively if you are going to eat it cold, you can pretty much use leaves of your choice.
Here is a shopping list for this salad:
Balsamic glaze
Walnuts
Pepitas
Pumpkin
Beetroot
We hope you loved this recipe, make sure to check out some of our other salads before you go!
Yield: 2
Pumpkin Beetroot Salad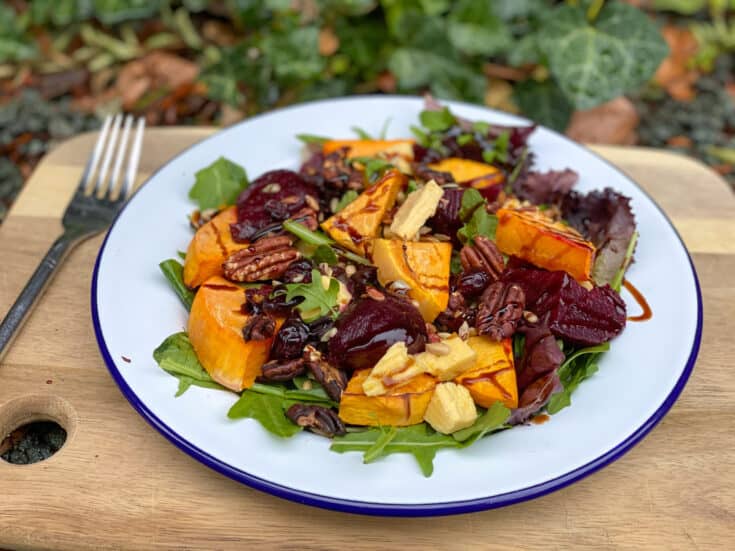 Try this delicious pumpkin beetroot salad perfect for an Autumn or cozy Winter lunch. This pumpkin and beetroot salad is the perfect balance of comfort food and healthiness. It packs great for a picnic or lunchbox for work. It can be served hot or cold depending on your preference!
Ingredients
1/4 of a ripe sweet pumpkin
2 medium sized beetroots
2 cups of salad leaves
1/2 a cup of pecans or walnut
1/4 a cup of sunflower seeds
1 tsp of cinnamon
1/4 a cup of cranberries
tbsp of olive oil
Balsamic glaze (can be shop bought, if not, you'll need
1 cup of balsamic vinegar
1/4 a cup of maple syrup
Instructions
Pre-heat the oven to 350 F/ gas 4 / 200 C
Chop a quarter of the pumpkin into bite sized chunks. In a bowl, coat the pumpkin in the oil and cinamon.
Add the pumpkin to a baking tray and roast for around 30 to 35 minutes, turn occasionally.
If you have bought pre-cooked beetroot, simply cut it into bite sized chunks. If not get a pot of cold water, submerge two beetroots with the stalks and skin still intact and bring to the boil. Once you have boiled, simmer for 25 minutes. Remove from the pot and let them cool down. It will be easy to peel the beetroot once you've let them cool down.
If you are using shop bought glaze, you can skip on to step 6! However if you plan to make your own balsamic glaze add 1 cup of balsamic vinegar to a pan with quarter a cup of maple syrup. Bring to the boil and simmer on a low heat until the glaze coats the back of the spoon.
Place a bed of leaves on your serving plate. This could be spinach, rockets or mixed leaves.
In the final few minutes of roasting the pumpkin add your nuts and seeds to the tray. Spread evenly or use a different tray if you don't have space.
Add the pumpkin and beetroot to the bed of leaves.
Sprinkle the toasted nuts and seeds.
Add a handful of dried cranberries.
Drizzle balsamic glaze all over!!
Serve warm or cold. If serving warm, rocket and spinach work best.
Notes
This salad travels well and can be eaten warm or cold. You can store it in the fridge for 2 days.
If you make more glaze than you need, you can store it for later in an air tight bottle.
The same goes, for beetroot, if you prepare your own, you could pickle the beetroot and store for several months.
Recommended Products
As an Amazon Associate and member of other affiliate programs, I earn from qualifying purchases.
Nutrition Information:
Yield:
2
Serving Size:
1
Amount Per Serving:
Calories:

633
Total Fat:

34g
Saturated Fat:

4g
Trans Fat:

0g
Unsaturated Fat:

29g
Cholesterol:

0mg
Sodium:

1049mg
Carbohydrates:

75g
Fiber:

8g
Sugar:

57g
Protein:

9g
Disclaimer: This post may contain affiliate links. By using them it will not cost you any extra. We will get a teeny commission and are so grateful for the support of our readers. These little commissions help us continue to write lots of yum recipes.
You may also like: