I have been absolutely loving creating smoothie bowls this summer. They are so quick to make and with just a few different toppings you can create a work of art in no time at all. I recently made this blue smoothie bowl for myself but my kids literally inhaled it in minutes, I needed to make another in quick succession!
This blue Spirulina smoothie bowl is super healthy and can be enjoyed by adults and kids alike.
Needless to say the kids absolutely love the fluorescent blue colour and as parent I love the fact it's completely nasty free and one of the healthiest things you can consume!
Make sure to check out some of our other recipes, for example our cacao smoothie bowl, buckwheat pancakes, papaya smoothie bowl or vegan parfait cups.
Blue Spirulina Smoothie Bowl
Smoothie bowls have become such a big hit in recent years, they kind of progressed from a glass, to a bowl with lots of beautiful toppings.
They can be consumed for breakfast, brunch or lunch and can be packed with all types fo goodness, from fruit, to spinach and kale, to coconut, nuts and seeds, the options are endless.
With this particular smoothie bowl, the key ingredient is blue Spirulina. You should be able to pick it from your local health food store or Amazon.
Be warned, it's usually sold in very small quantities and is a little on the pricey side. That said, you only need a smidgen, less than a teaspoon in each large smoothie.
So despite it being expensive for a small amount of blue Spirulina, it does go a heck of a long way.
So what exactly is blue spirulina? It's essentially a blue/ green algae that grows in warm ponds and lakes. The blue Spirulina as you buy it is an extract from this bacteria.
It's got a neutral taste but wow does it have some incredible nutritional benefits. It's a great source of protein for one, hence why so many vegans are opting to add it to their food like smoothies, ice-creams, pancakes and chia puddings for example.
In addition to its protein, blue spirulina is also iron dense meaning its a great supplement to prevent anaemia, otherwise known as low haemoglobin.
This can help reduce tiredness as spirulina is well known for giving a boost of energy. It's amazing for the immune system, an all round healthy additive to any diet.
To buy Blue Spirulina click here
.
Spirulina Bowl
To make this blue smoothie bowl you'll need chopped frozen mango and frozen bananas. I generally always have a stash of them anyway in the freezer as they are so handy for giving smoothie bowls that gloopy consistency.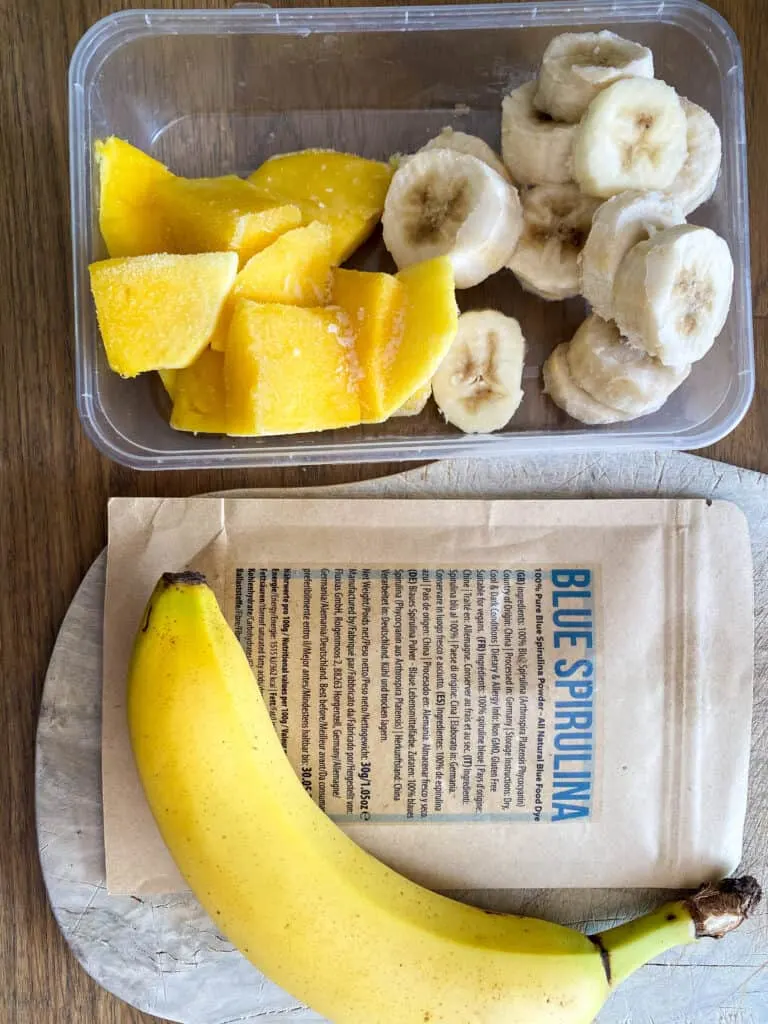 You'll also need to add some milk of your choice, I used a coconut milk for this one as it matched well with the tropical flavours of this spirulina bowl.
That said, you really can use whichever milk you have to hand at home. As long as it's nicely chilled, it's all good.
Equipment to Make A Blue Smoothie Bowl
All you need is a blender to make the perfect smoothie bowl. It's as simple as that. You just add all the ingredients inside and blend them until smooth.
If you don't have a smoothie blender, I can highly recommend both the Ninja and the Kenwood. I love that you just screw the cup right in there, it's not oversized when it comes to washing up and can be stored in the fridge if you make extra quite easily.
I am all about keeping the washing up to a minimum. Both blenders are pretty strong and will get through the frozen fruit without and issue. At the end, you'll expect to get a relatively thick but creamy consistency to your blue smoothie.
To check out the Ninja click here
here or the Kenwood click here.
Additional Optional Ingredients
You can add a variety of other healthy nutritional boosting ingredients. A few examples may be;

A scoop of protein powder
A scoop of hemp seeds
a scoop of flax seed
Serving
To serve your blue smoothie bowl, tip out your blend into a bowl. I like to fill it to the top so you can put the rest of your ingredients on top in full view!
You can top with a variety of food but my best advice is to add different textures.
In the smoothie bowl pictured in this article, I topped with unsweetened coconut flakes, chia seeds, slices of mango, slices of banana and dry frozen raspberry pieces.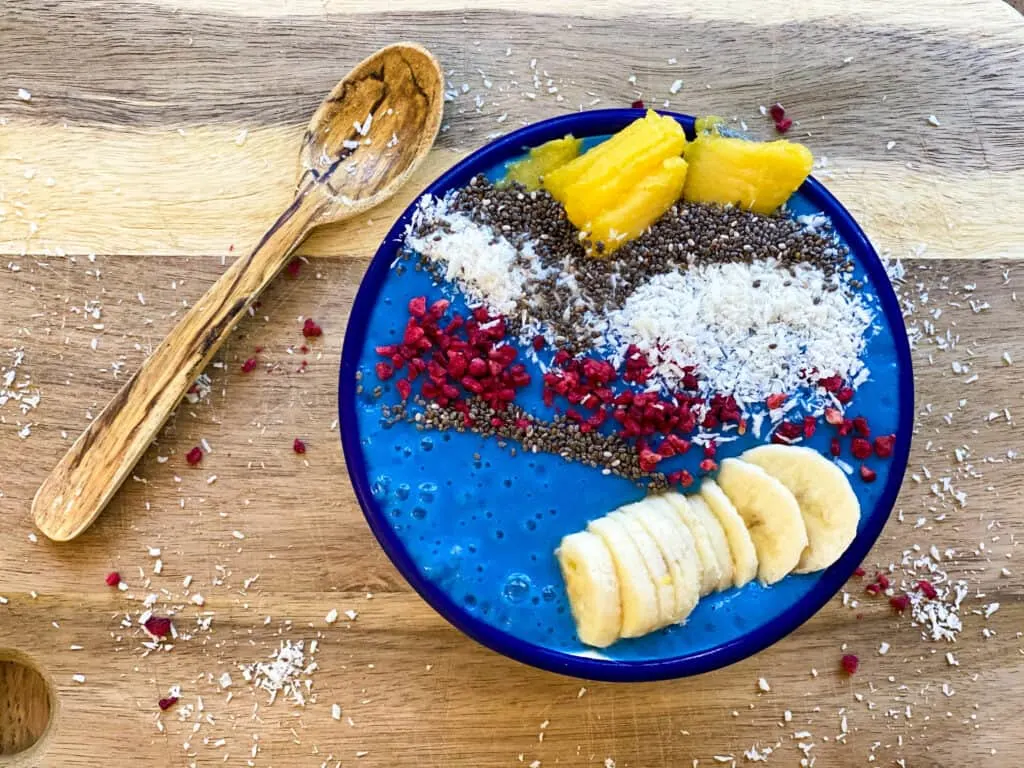 A few other ideas could be:
Granola
Nuts
Pumpkin seeds
A drizzle of peanut butter
Berries
Cacao nibs
Storing
To store additional smoothie mix, keep it in the cup you blended in if you like or another air tight container. Keep it separate from the toppings. Ideally, if you make too much add the toppings when you plan to eat it.
The smoothie mix can keep in the fridge for 2 to 3 days and will still taste great, just give it a shake!
Yield: 1
Blue Smoothie Bowl Recipe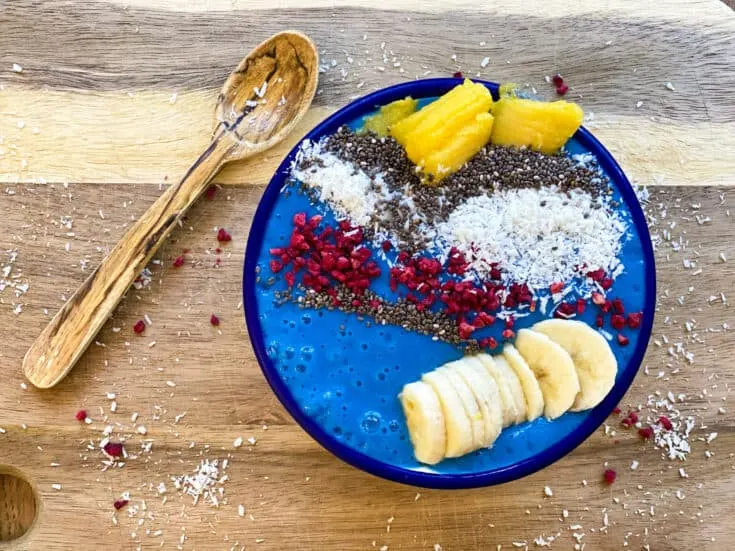 Try this delicious and healthy blue smoothie bowl, packed full of goodness, no sacrifice on taste! This spirulina bowl is bright & bold with yum toppings that can be adapted to your taste and preferences. YUM VEGAN!
Ingredients
1 large frozen banana
1 cup of frozen mango
2 1/2 cups of unsweetened coconut milk
1 teaspoon of blue Spirulina
1 tablespoon of maple syrup or sweetener of choice eg stevia drops
Optional Toppings
1 tablespoon of chia seeds
1 tablespoon of unsweetened coconut flakes
1 tablespoon of dry frozen raspberries
Instructions
Make sure you have your banana and mango in the freezer before hand.
Keep a couple of slices of both the mango and banana to one side for toppings later.
Add the unsweetned coconut mlik, mango, banana, maple syrup or sweetner of choice and blue spirulina to the blender. Blitz until creamy smooth and all lumps are gone. The consistency should not be watery but thick enough to eat it with a spoon. Similar to semi melted ice cream.
Tip the contents into a serving bowl.
Gently place your toppings on top. Serve immediately with a spoon.
Notes
If you make too much, store the smoothie mix in an air tight container in the fridge for 2 to 3 days.
You can use different fruits in this blue smoothie bowl. Take for example frozen berries or frozen avocado chunks if you prefer to keep the carbs down.
Toppings are also easily interchanged, the main advice is to use different textures. You could swap what we have here out for berries, nuts or granola for example.
Coconut bowls in the product list below are the perfect depth to get two servings from this recipe.
Recommended Products
As an Amazon Associate and member of other affiliate programs, I earn from qualifying purchases.
Nutrition Information:
Yield:
2
Serving Size:
1
Amount Per Serving:
Calories:

246
Total Fat:

10g
Saturated Fat:

7g
Trans Fat:

0g
Unsaturated Fat:

2g
Cholesterol:

0mg
Sodium:

31mg
Carbohydrates:

40g
Net Carbohydrates:

34g
Fiber:

6g
Sugar:

27g
Protein:

4g
Pin For Later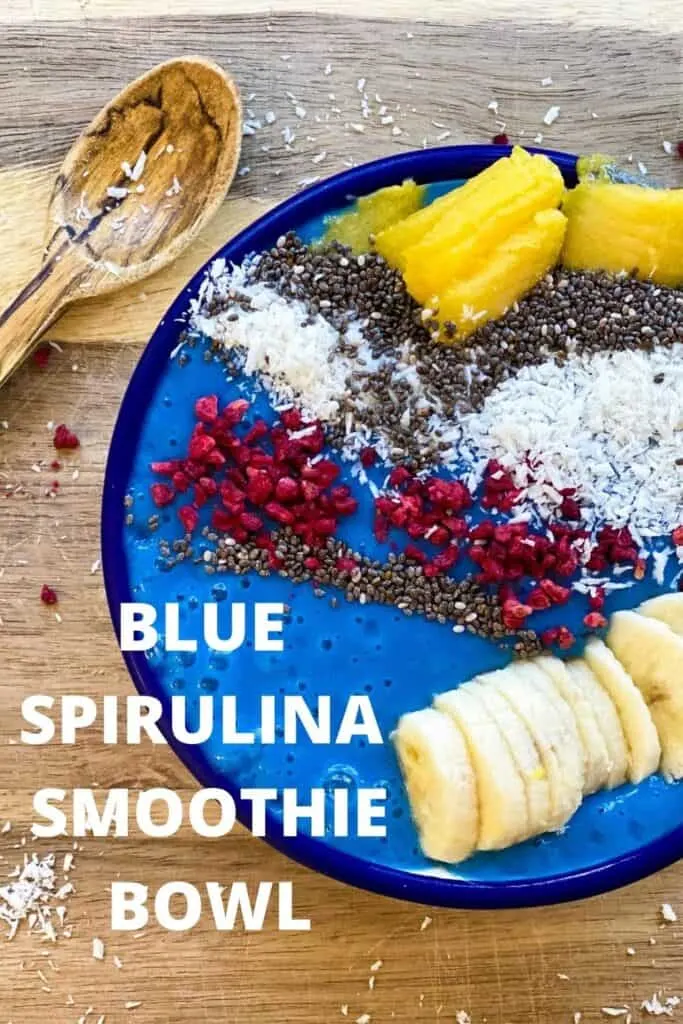 You may also like:
Disclaimer: There are affiliate links in this post. By using them, we will get a small commission of the sale at no extra cost to you. It's the little things like this thats keep us afloat. We never recommend something we don't believe in, always tired and tested too 🙂