This vegan egg salad recipe is so yummy and quick and easy to whip up. Perfect to have on hand especially for crowds, picnics and quick summer lunches, this simple vegan salad recipe comes together in a matter of minutes.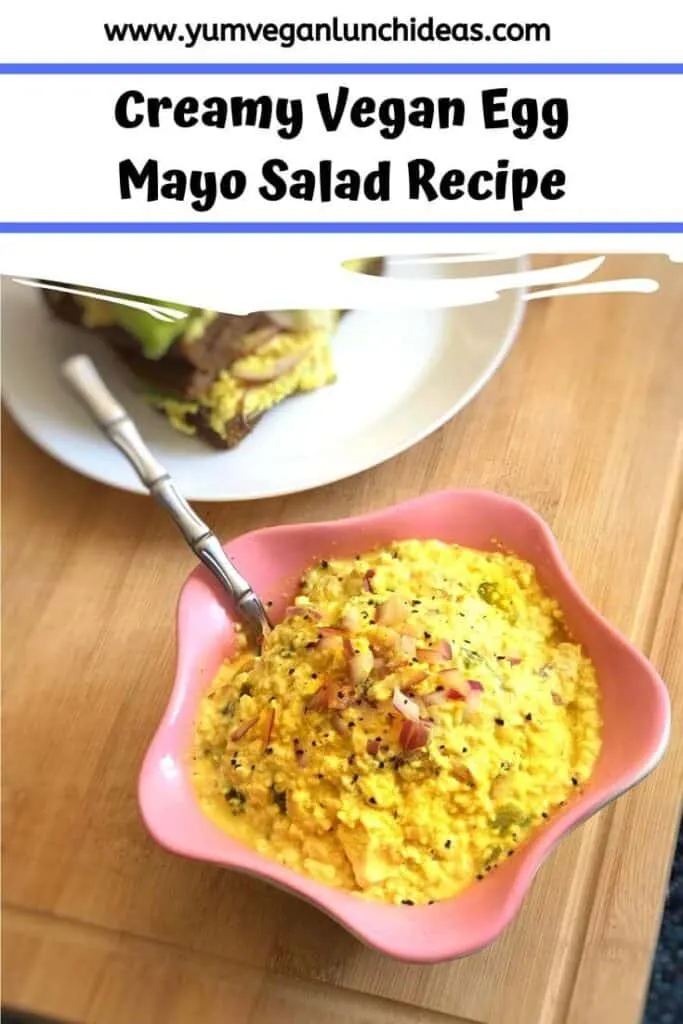 I like to make a big batch and keep it in the fridge when I know people will be around the house looking for something to munch on. This quick vegan salad is perfect with rice cakes, crackers or as a vegan egg salad sandwich. I also love to eat it with some carrot or celery sticks to add some nice freshness.
Vegan Tofu Egg Salad Ingredients
This recipe is incredibly simple with easy ingredients that are all items that easily store in your pantry and you may already have on hand!
Silken Tofu: We use Silken Tofu
as our vegan egg replacement base since it has that nice kind of jiggly egg texture and all you have to is mash it up. It is a little more delicate than an actual egg so just make sure not to over mash.
I like to buy silken tofu in bulk to save money. Check out prices here
.
Vegan Egg Mayo: Egg salad is not egg salad without mayo. Sorry, that's just how it is. 🙂 If you want to make this a little healthier and find a nice mayo alternative go for it but we highly recommend using one of the amazing options on the market.
I really like the American Garden vegan mayo that seems to fly under the radar. I've been using it for years and it tastes great and has a great texture. I know a lot of people are now obsessed with the Just Mayo
one though.
Buy Just Mayo
here!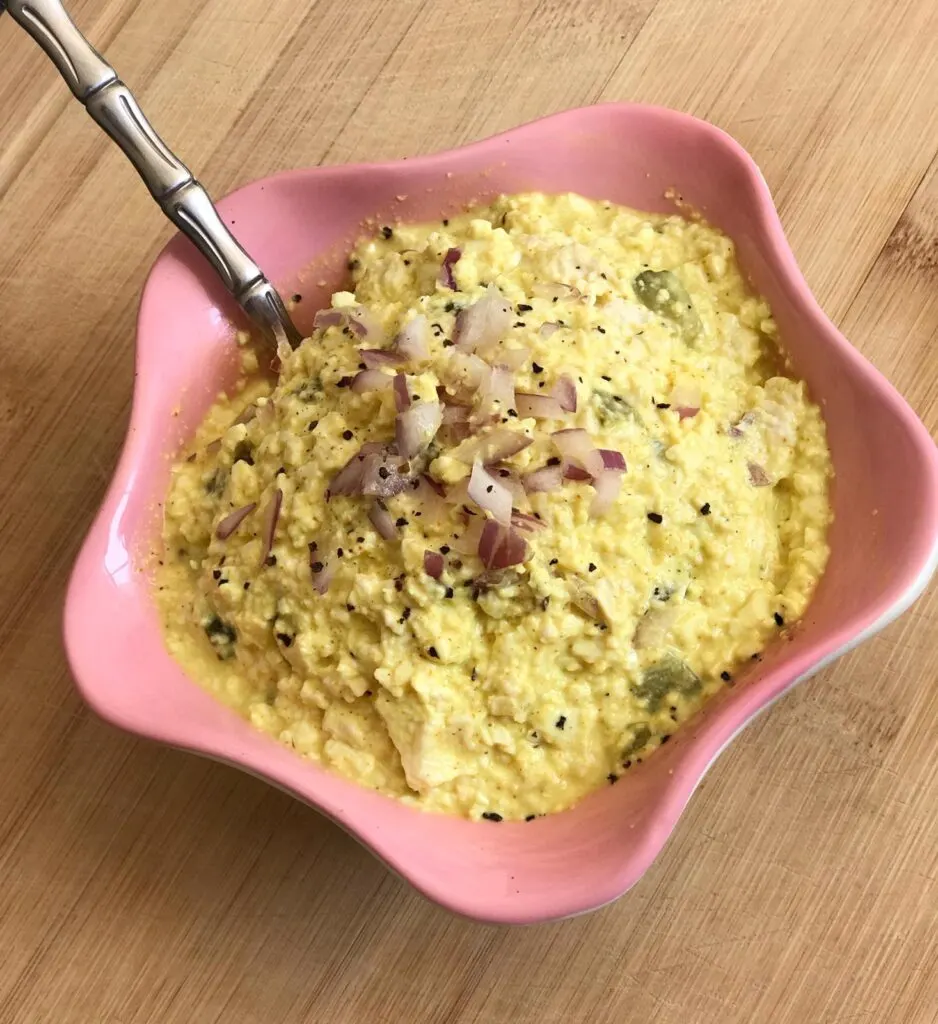 Black Salt: Okay, if you haven't yet tried Black Salt
, also known as kala namak, get your butt to a store and buy it now. (Or be a true 21st century human and get your butt on Amazon and have them deliver it to you like we normally do. Click here to buy it.
.)
Black salt is fantastic. It's sulfur content makes it taste so eggy you won't believe it. Try it, make your friends try it, trick the egg eaters into eating it, it's really the best.
Dijon Mustard: You know when you are a kid and everything is about ketchup? Well now that I've grown up I'm all about the mustard. I don't know why I didn't appreciate it as a kid but it literally takes the flavor notch up on anything. Don't omit the mustard from these vegan eggs or they will be pretty boring tasting.
Turmeric: Turmeric is a great thing to have in your spice cabinet. I'm going to pretend, like I do about veganism in general, that I care about all it's health benefits but let's be honest – I use it to make things yellow.
Egg salad needs that perfect light yellow color to look tasty and amazing and turmeric does the job. Take it from me, a little turmeric goes a long way, like a really really long way. Like all around the kitchen, staining everything it touches long way.
Don't make the same mistake I do (repeatedly), and leave whatever I used to measure the turmeric in my white sink. The longer it sits, the harder it is to get the color out.
Garlic Powder: Life is not complete without garlic. Does anyone else just go through tons of it. Okay, I'll be honest, I really just go through tons of garlic powder not fresh because I'm too lazy.
I've included a normal amount in the recipe but if you are a garlic lover like me, feel free to go crazy with it.
Pickles: Pickles, while not necessary, add such a great vinegary crunch to the egg salad. Just chop a few and throw them in. If I'm making a vegan egg sandwich I will sometimes omit it and just add pickle slices to the top which adds the flavor but not so much crunch.
Red Onion: Like the pickles, you can add these or omit, but a little red onion goes a long way, flavor-wise. Chop it very small though, most people don't want a huge bite of red onion in their egg salad.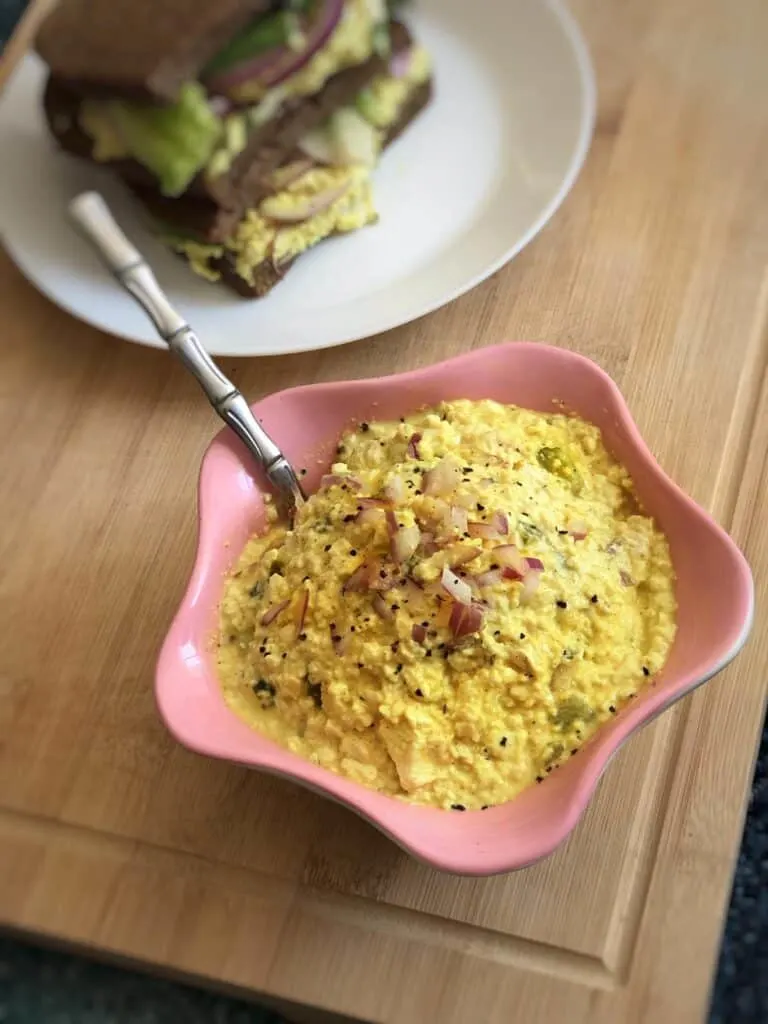 Making the Vegan Egg Salad Recipe Ahead of Time

This delicious vegan salad is very easy to make ahead of time. You can make a big batch and store it in the fridge for at least three days (that's the longest we've tested it out for).
If you are making some of the best vegan sandwiches from it, I wouldn't assemble until right before as the bread will most likely get soggy.
Check out more of our vegan salad recipes click here!
Yield: 4 Servings
Vegan Egg Salad Recipe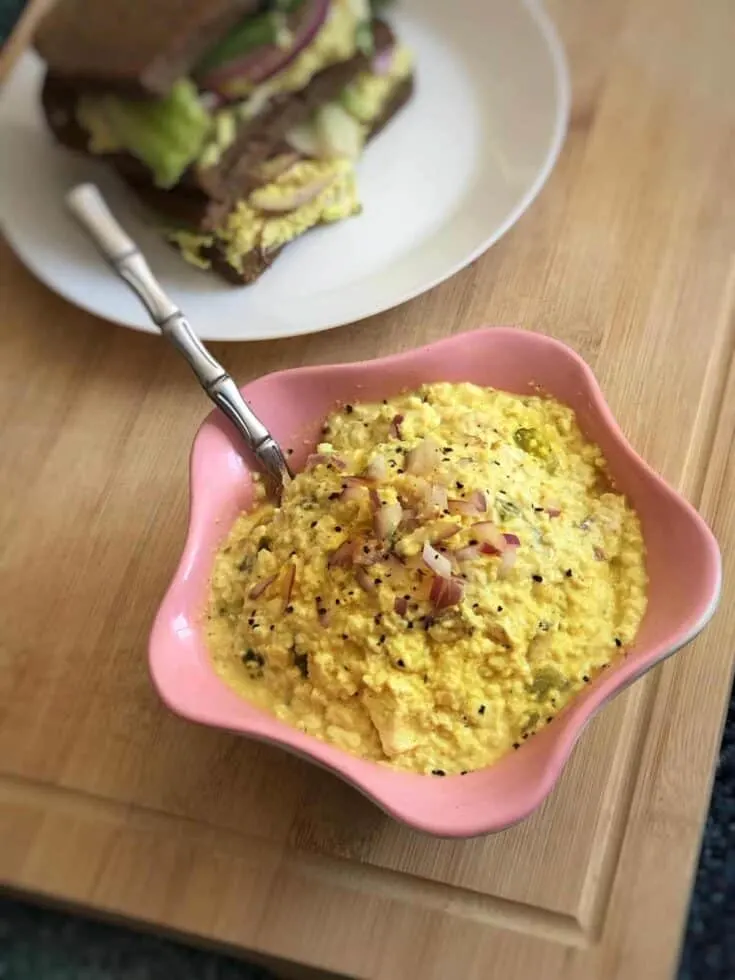 This easy vegan recipe makes the best vegan egg salad in only five minutes. It's super easy to whip up and all the ingredients store well so you can have them on hand for a quick and easy meal or snack. Store it in the fridge for up to three days.
Ingredients
3 - 4 Chopped Pickles
1.5 Tbsp Chopped Red Onion
Salt and Pepper to Taste
Instructions
1. Drain silken tofu and put it in a large mixing bowl

2. Smash tofu with a fork until its in large chunks

3. Add the remaining ingredients and mix until all ingredients are combined and tofu has the chunkiness and consistency you like from egg salad

4. Serve with rice cakes, crackers, cut veg or as a sandwich!
Recommended Products
As an Amazon Associate and member of other affiliate programs, I earn from qualifying purchases.
Nutrition Information:
Yield:
4
Serving Size:
1
Amount Per Serving:
Calories:

13
Total Fat:

0g
Saturated Fat:

0g
Trans Fat:

0g
Unsaturated Fat:

0g
Cholesterol:

0mg
Sodium:

1297mg
Carbohydrates:

3g
Fiber:

1g
Sugar:

1g
Protein:

1g
This is an Automated estimate and may not be correct
Don't Forget to Pin This Recipe For Later!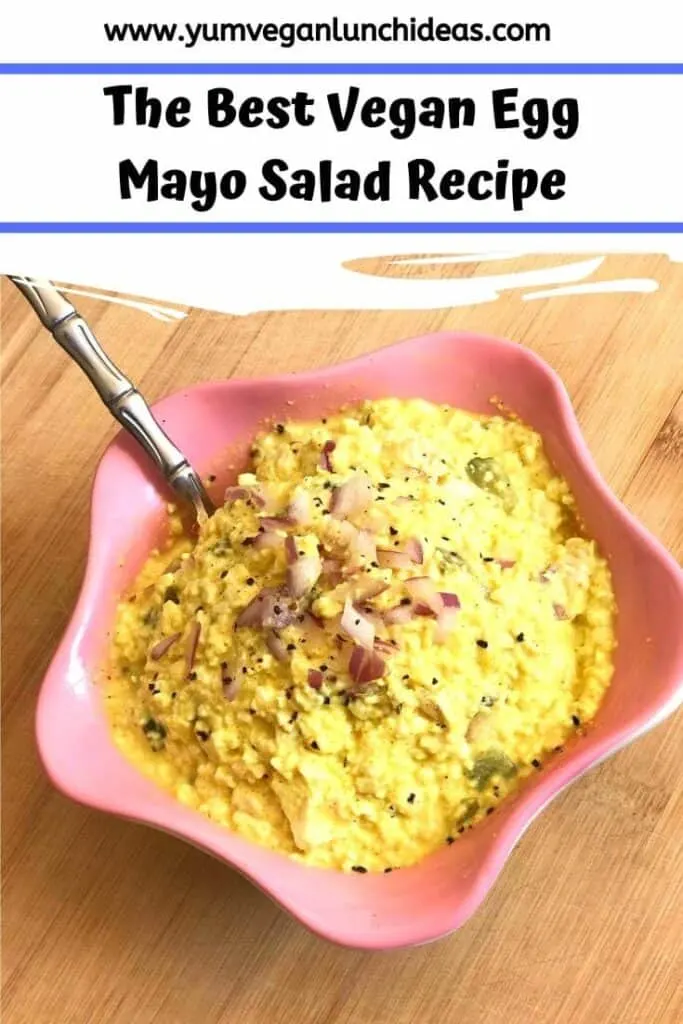 You May Also Like:
Apple Cinnamon French Toast Casserole