This moroccan eggplant salad is the perfect summer BBQ salad recipe. With delicate Moroccan spices, a smokey BBQ flavour, roasted chickpeas, fresh leaf rocket salad and a zesty dressing – this is a must try.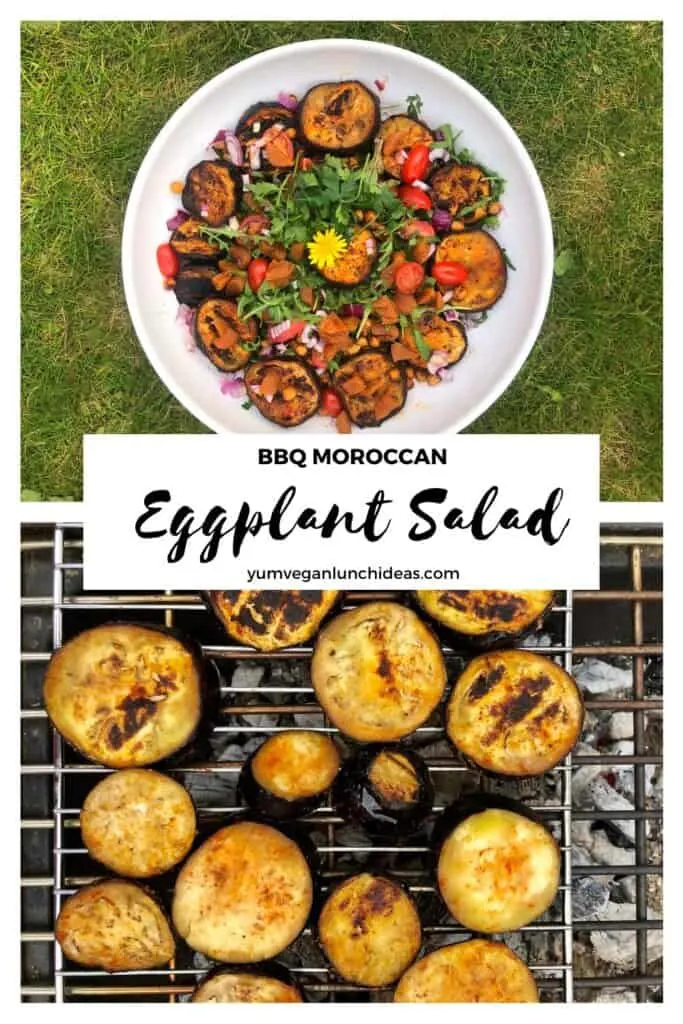 BBQ eggplant salad is a wonderful, tasty option for a vegan BBQ. Barbecued eggplant brings a beautiful smokey flavour and softens the eggplant beautifully.
BBQ aubergine slices are easy to prepare and a delicious whole food option for the barbecue. They are simply marinated by rubbing in some salt, harissa spice and olive oil before grilling.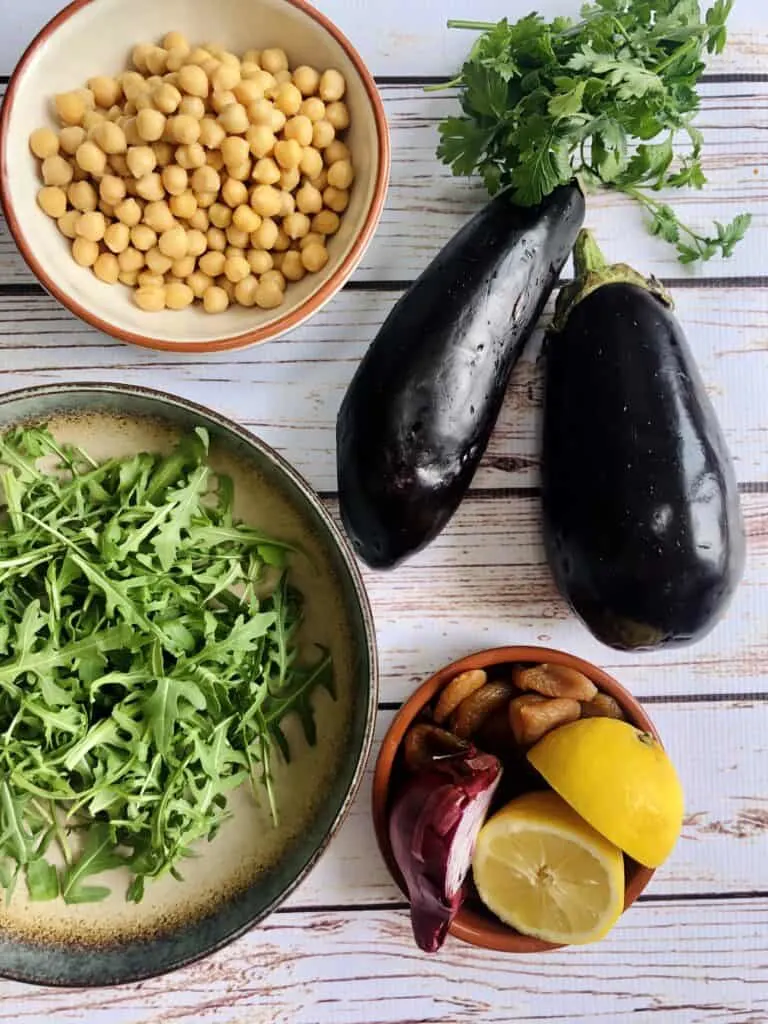 This moroccan eggplant salad recipe is packed with great flavours and textures.
Eggplant
Eggplant or aubergine is ordinarily quite a bland vegetable, but has a somewhat meaty texture. Once cooked it becomes rich in flavour, but also delectably creamy.
The eggplant acts as a sponge when marinated, so it sucks up all of those juicy flavours of the olive oil, salt and spices.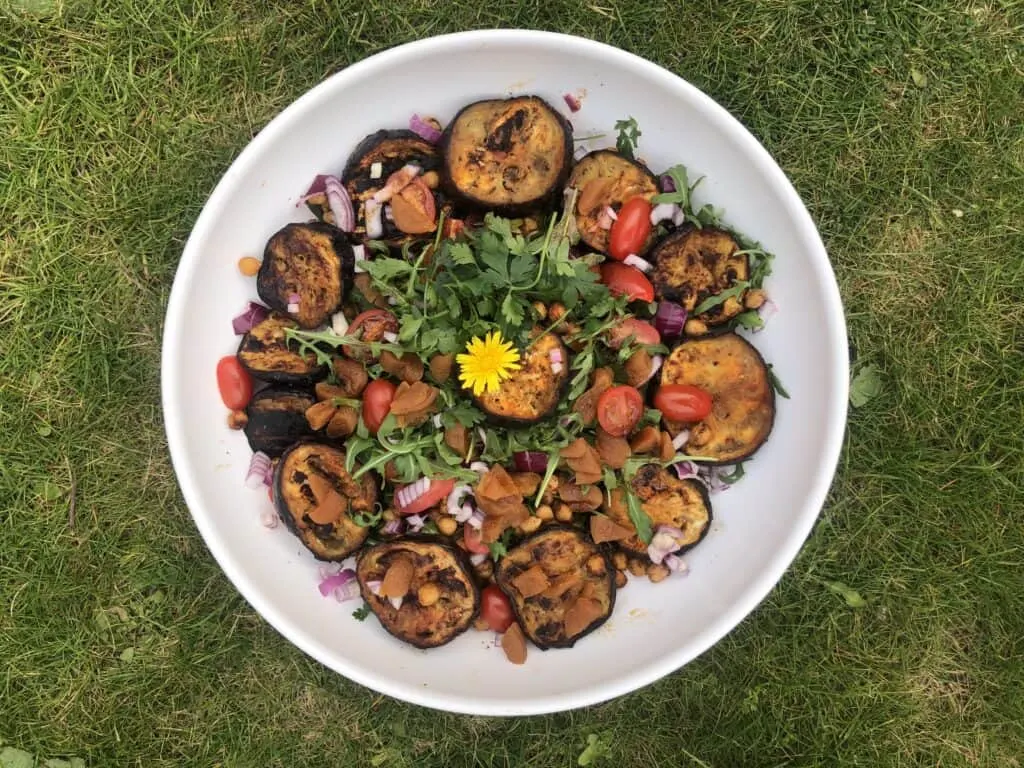 Like most whole, plant food, aubergine brings many nutritional benefits. If you love eggplant recipes, you may also love this babaganoush dip.
This is the best eggplant salad I have made and makes me question why I never made eggplant Moroccan style previously.
Harissa
comes ordinarily as a hot aromatic paste. It is a combination of lots of herbs and spices, widely used in Moroccan cuisine, in addition to other North African and Middle Eastern regions.
Harissa
is often used to flavour stews, couscous, soups or as a dip. It has quite strong flavours, with chilli, paprika, garlic, coriander and cumin being the main flavours.
This recipe used a dried harissa seasoning, but all the better if you can use a delicious harissa paste. Its usually available in well stocked shops, or can be made with a pastel and mortar at home.
The Harissa
in this recipe really brings the grilled eggplant salad to life.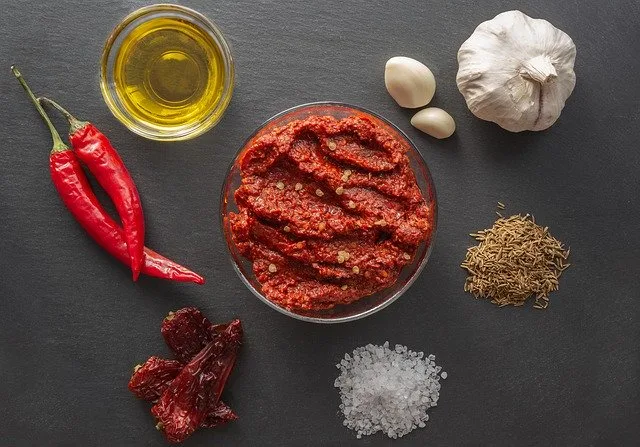 Chickpeas
Chickpeas are often used in Moroccan cuisine. They provide a healthy punch of iron and protein.
The roasted chickpeas in this recipe are coated in a delicious harissa spice, adding more layers of flavours and texture to the moroccan aubergine salad.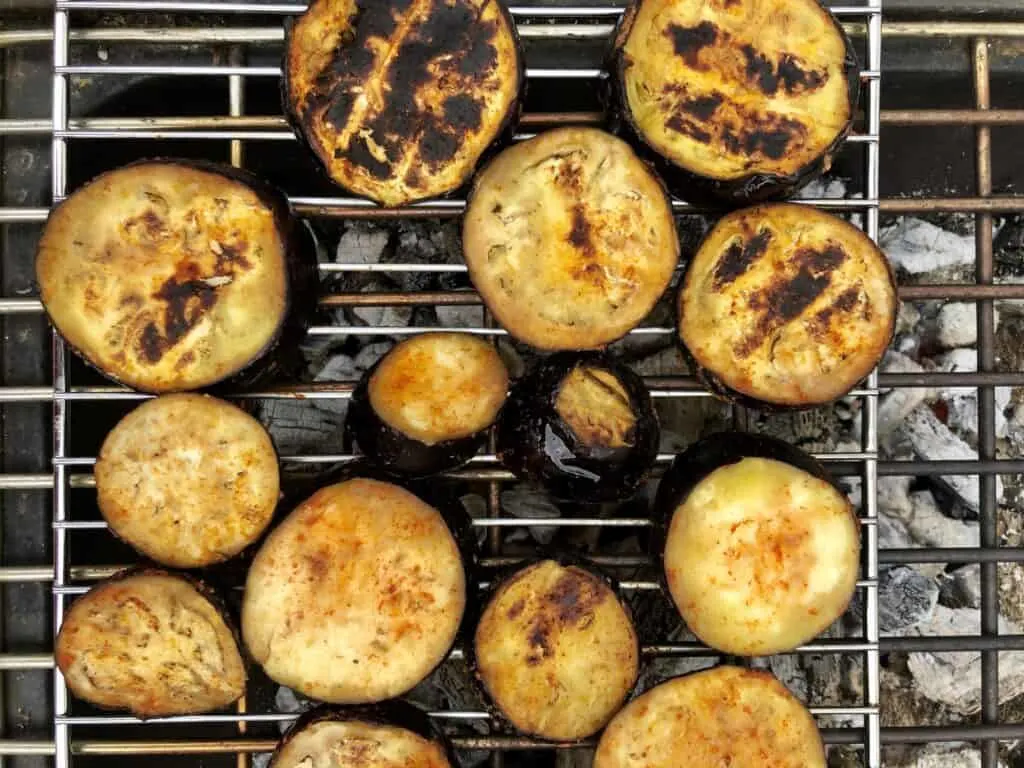 Cooking eggplant on BBQ
Aubergine on BBQ can be a beautiful summer treat. Not only does it work wonders in this eggplant salad recipe, the grilled eggplant can work great in burgers too. I love how versatile eggplant is, especially in this Eggplant Curry.
Once the eggplant has been sliced and marinated, it's pretty much ready to go straight onto the BBQ.
Aubergine on the BBQ works really well, as it absorbs the smokey flavours alongside the marinade. It leaves some beautiful charred, crispy edges additionally.
It's also fairly quick to cook, meaning this is an easy chickpea and aubergine salad recipe to make.
It makes for an easy summer salad and one that would impress a crowd for sure. I personally love to make a few dishes and salads when hosting a BBQ so it could be included in your summer side salads too.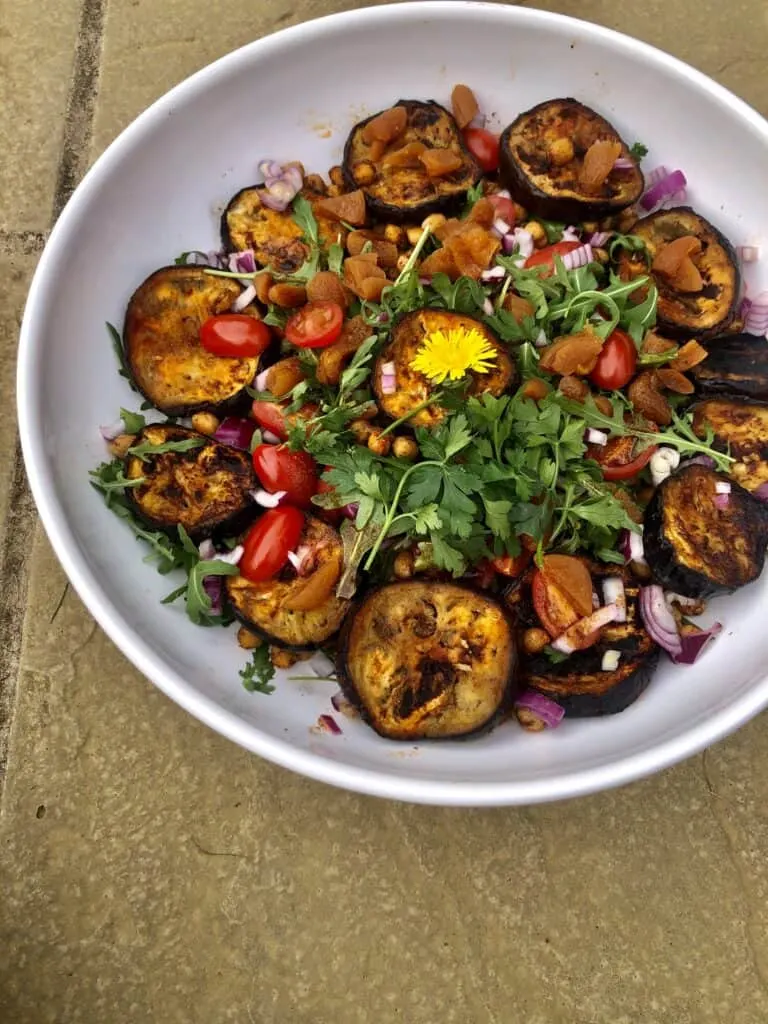 Keeping the aubergine salad fresh
If you are planning on storing some of this leftover moroccan eggplant cold vegetable salad, then I advise not to add the dressing to the whole dish. Simply leave the dressing on the side for people to help themselves.
That way the fresh rocket and parsley leaves in the marinated vegetable salad will stay fresher for longer and keep better in the fridge.
If grilled vegetable salad isn't devoured in one go – simply pop it in a clean container and it should stay fresh for around 2 days.
The grilled moroccan eggplant itself would stay fresher for around 4 days in the fridge, however the longer a salad is mixed together, the less fresh it remains.
I enjoyed the leftovers of this roasted eggplant salad with a big blob of creamy hummus and sprinkle of sumac. Cold eggplant salad works just as well the next day!
Im on a mission now to discover more cold eggplant salad recipes.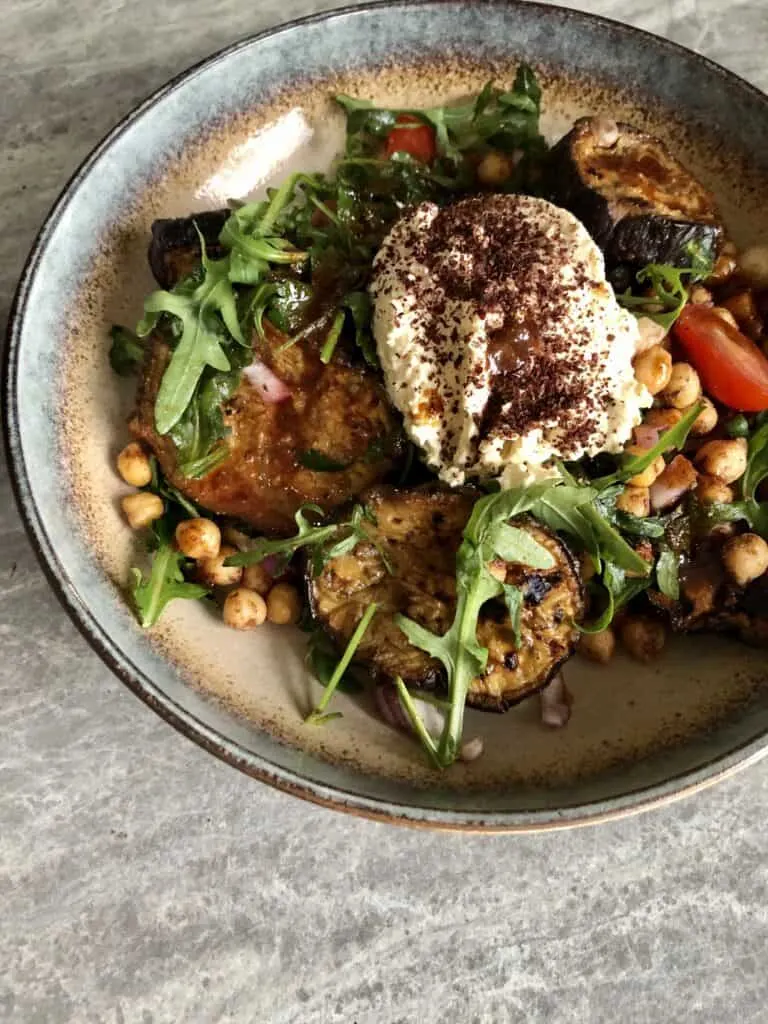 Aubergine BBQ recipes are a new discovery for me and I'm keen to try lots of different combinations now! Moroccan salad is definitely one packed with flavour.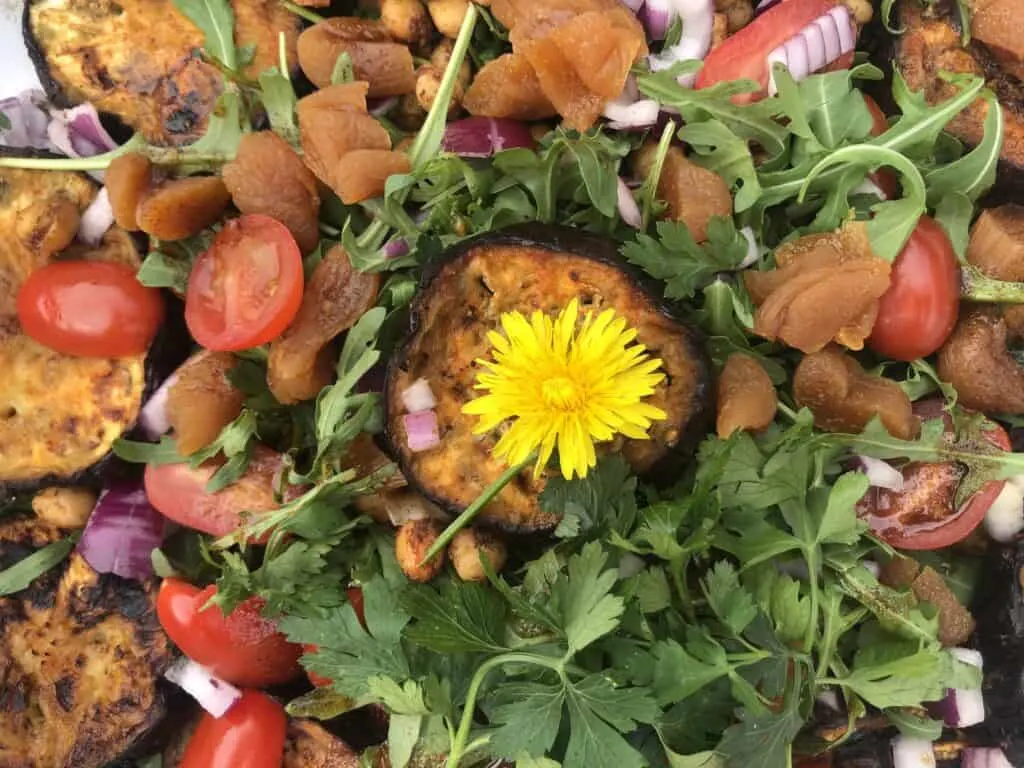 If your palette has been inspired to visit morocco, check out these 5 things you should know about visiting Morocco with kids.
Yield: 4
BBQ Moroccan Eggplant Salad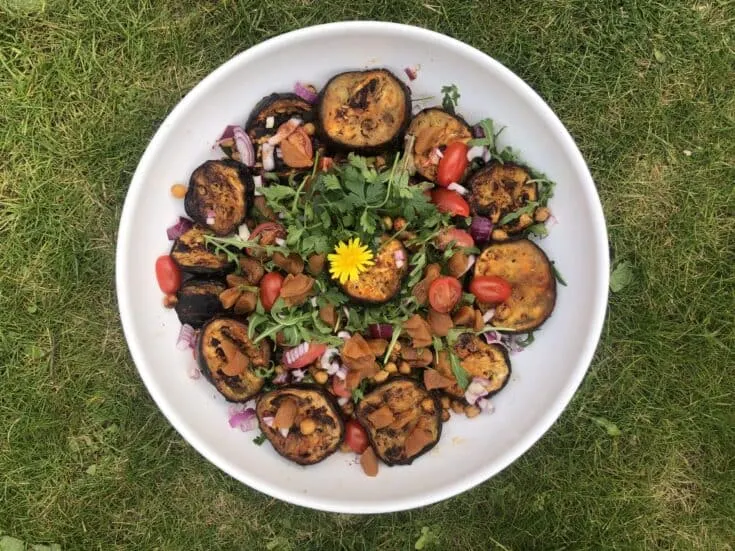 This moroccan eggplant salad is the perfect summer BBQ salad recipe. With delicate Moroccan spices, a smokey BBQ flavour, roasted chickpeas, fresh rocket leaf salad and a zesty dressing - this is a must try. BBQ eggplant is creamy and flavorsome. This roasted eggplant salad recipe is sure to impress!
Ingredients
2 medium sized eggplants
2 tbsp olive oi (for eggplant)l, 1 tsp olive oil (for chickpeas) , 2 tbsp olive oil (for dressing)
1 tsp salt
3 tsp harissa spice (1 each for aubergines, chickpeas and dressing)
1 can of chickpeas
2 tsp ground cinnamon (1 each for chickpeas and dressing)
1 tbsp white wine vinegar
1 tsp garlic powder
1/4 tsp ground cumin
1/4 tsp ground nutmeg
1 tbsp fresh lemon juice
Handful of dried apricots
1 small red onion
10 plum tomatoes
2 handfuls of rocket leaf salad
1 small bunch fresh parsley
Instructions
Preheat oven to a medium heat. Fire up the BBQ if using.
Prepare eggplants by slicing into thick discs, the marinate in 1 tsp of salt, 1 tbsp olive oil and 1 tsp of harissa spice. If you are not using the BBQ then roast eggplant in the oven for around 30 minutes
Prepare the chickpeas, coat in 1 tsp olive oil, 1 tsp garlic powder, 1 tsp of harissa spice and 1 tsp of ground cinnamon. Bake n the oven for 15 minutes.
Prepare the dressing. Mix 2 tbsp olive oil, 1 tbsp white wine vinegar, 1 tbsp fresh lemon juice, 1/4 tsp each of nutmeg and ground cumin, 1 tsp cinnamon and 1tsp harissa. Mix well.
Prepare the salad bowl - add the rocket, diced red onion, slice the cherry tomatoes. Chop apricots.
BBQ the eggplant slices, turning occasionaly, this should take about 5 minutes. You can test they are done by prodding the largest to ensure its got a soft centre.
Layer the chickpeas, BBQ eggpplant, chopped dried apriocts and fresh parsley onto your salad bowl.
If planning on eatihg the whole salad on the same day you can add the dressing, or keep it to the side for individual preferences.
Serve and enjoy!
Notes
* Cooking time is based on barbecuing the eggplant, cooking tines will be longer if roasting the eggplant
** Leave the dressing to the side and add accordingly to individual dishes of salad - this will ensure any leftovers are kept fresher for longer.
*** This Moroccan eggplant dish could be served as a main for 2 people or as a side salad for 4
Recommended Products
As an Amazon Associate and member of other affiliate programs, I earn from qualifying purchases.
Nutrition Information:
Yield:
4
Serving Size:
1
Amount Per Serving:
Calories:

391
Total Fat:

18g
Saturated Fat:

2g
Trans Fat:

0g
Unsaturated Fat:

14g
Cholesterol:

0mg
Sodium:

666mg
Carbohydrates:

57g
Fiber:

15g
Sugar:

24g
Protein:

9g
this is an estimated calculation
If you are looking for summer salad ideas or other great summer salads for a crowd, you may also like:
The Ultimate Guide To Vegan Salads