This vegan chickpea tuna melt recipe is easy, tasty and completely satisfying! With creamy chickpea tuna, melted cheese on crusty toasted bread, this chickpea tuna melt is a must try.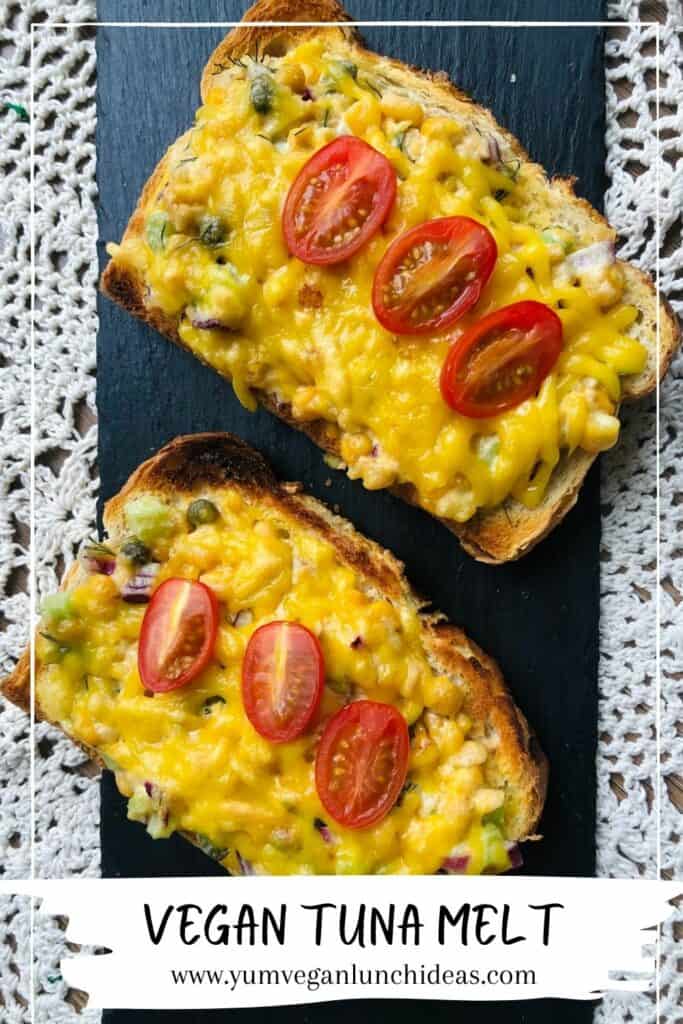 Ah this wonderful vegan tuna melt – one of the classic sandwiches, recreated with no fish harmed! It's been a long time since tuna has been consumed over here for obvious reasons.
I had an urge to create something different for lunch. Perhaps a vegan sandwich which I've not yet managed to veganise. Alas, the vegan chickpea tuna melt! This will literally knock your socks off, as it did mine.
This is vegan fish sandwich is a firm favourite of mine now – creamy, delicious with melted vegan cheese – so good!
This open face chickpea tuna melt is all of the below and more:
Creamy
Gooey
Satisfying
Filling
Perfection
Moreish!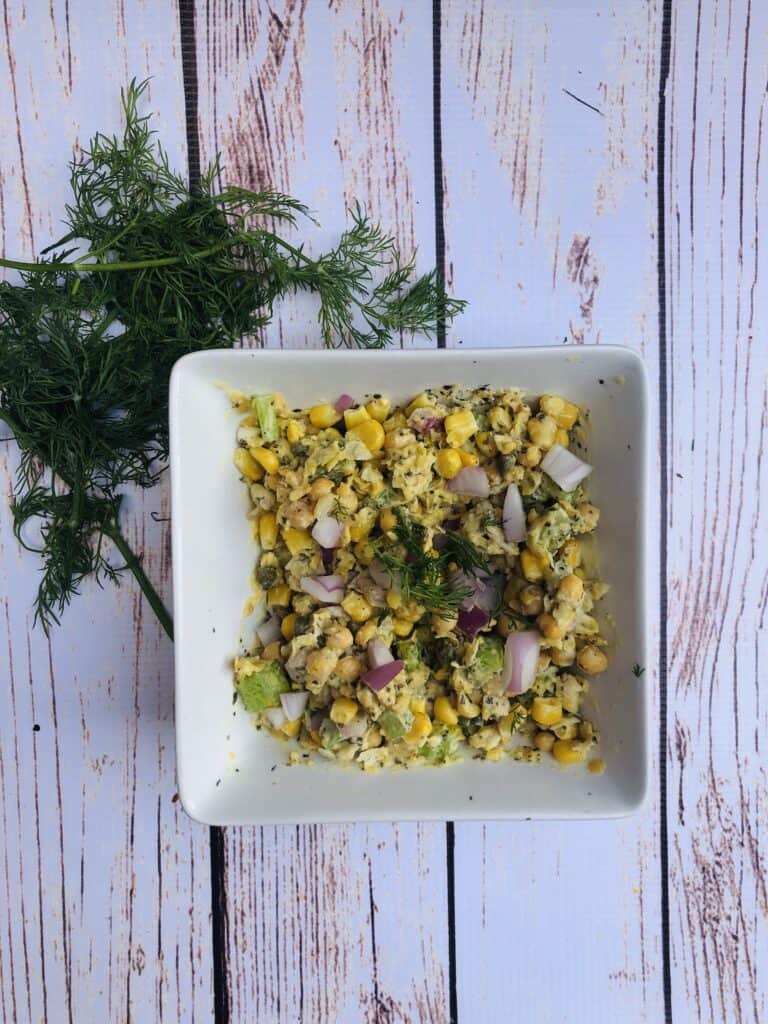 Save Our Oceans – Vegan Tuna Fish
It is no secret how harmful the fishing industry is, particularly with tuna. By opting for a vegan version of tuna salad, you are literally saving lives and preventing overfishing of the oceans.
What makes the perfect vegan tuna?
How on earth can you replicate a tuna melt or tuna fish sandwich I hear you ask. Well let me tell you, mashed chickpeas work wonders for replicating texture here.
With a few additional tweaks, a sprinkle of nori seaweed, various veggie textures like sweetcorn and celery, vegan mayonnaise and of course that perfect melted vegan cheese.
Oh and of course the zingy capers which add a delicious tang to it all. This plant based tuna melt is the ultimate comfort food bursting with flavour and deliciousness. A little drizzle of sweet chilli sauce added a touch of magic to all the bursting flavours.
Allergies?
Unfortunately, food allergies are on the rise. The non-vegan tuna melt has some clear allergens in it – including fish, egg in the mayonnaise and dairy in the cheese.
This vegan tuna melt recipe offers a wonderful alternative for vegans and those with allergies alike. You could even combine it with our delicious oil free and fully plant based mayonnaise recipe.
Of course you could choose your trusty gluten free bread if this is your preference or a dietary requirement.
Loving vegan chickpea tuna? You may also love:
Variations of vegetarian tuna
The base of this open faced tuna melt is of course the delicious, creamy and nutritious vegan chickpea tuna.
I have used the base on a number of dishes making it super versatile. Check out the straight up vegan tuna salad recipe, vegan tuna sandwich. Its also nice to add this melt to my vegan sandwiches collection!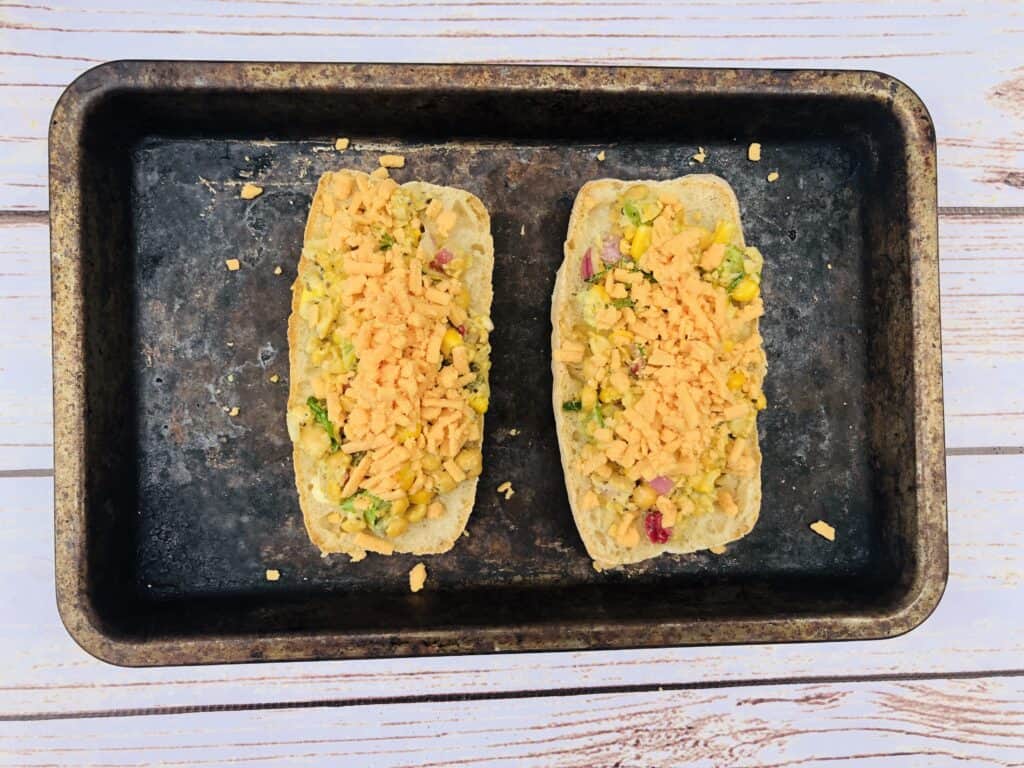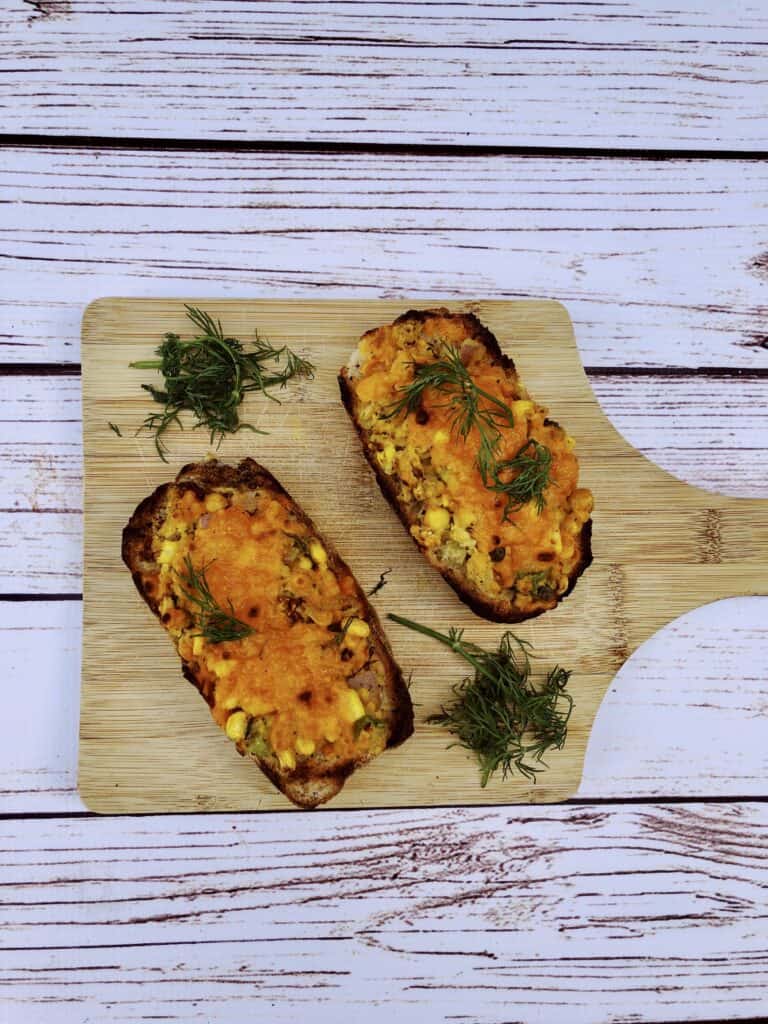 Essential Ingredients
When making this vegan tuna sandwich – there are a few key ingredients that will help make the winning combination.
Vegan Mayonnaise
There are literally so many vegan mayonnaise brands out there now, which is awesome as it gives us a lot more choice.
I personally love Just Mayo
as they are a fully vegan company. For the ultimate creamy and delicious vegan mayonnaise, perfect for this recipe, buy Just Mayo
here.
Chickpeas
Chickpeas are the clear winner in this recipe which help create the perfect texture. Alongside being rich in iron and protein – these highly nutritious legumes are a staple.
Understandably, we don't always have time to soak and cook them from dry. So I often use canned ones. These Eden Organic Garbanzo Beans
are certified organic and cooked in purified water.
Yield: 2-3 servings
Vegan Tuna Melt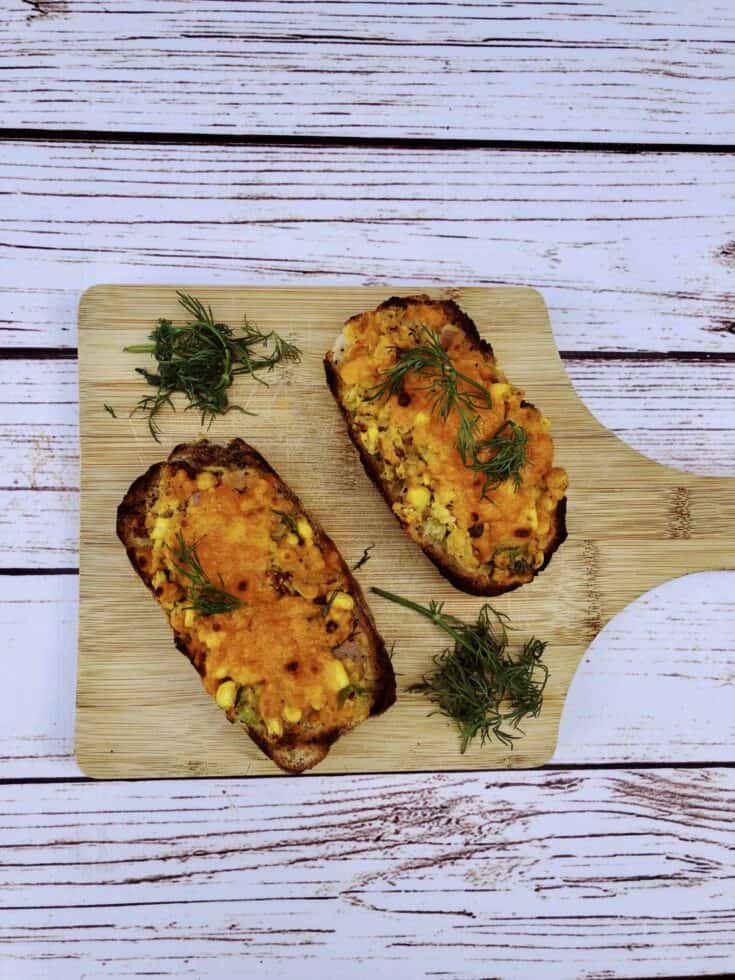 This vegan tuna melt is a delicous, moreish and a comforting lunch. The creamy chickpea tuna is smothered on buttered toasted ciabatta and topped with melted vegan cheese, sweet chilli sauce and dill. Totally yummy and a must try. Making the base chickpea tuna can lead to lots of other great dishes also! But the vegan tuna melt has got to be our firm favourite.
Ingredients
One can of chickpeas, drained
80g corn (about a handful)
1 small stick of finely chopped celery
20g finely chopped red onion
3 tbsp vegan mayonnaise
1 teaspoon dijon mustard
1 tbsp capers
1 tsp garlic powder
Fresh dill
Squirt of lemon
Salt and pepper
Ciabatta bread roll or bread of choice
50g of vegan cheese approx
Optional: Sweet chilli sauce
Optional: Vegan butter
Instructions
Add drained chickpeas to a bowl and mash them well
Add the finely chopped celer, red onion, capers and seasoning
Add mustard and vegan mayonaise to your desired consistency
Place grill on a medium heat. Slice and butter bread roll if desired and toast lightly for 1 minute or so.
Asemble your vegan tuna melt, smother the creamy tuna on the roll then add grated vegan cheese
Place under grill for around 4 minutes until the cheese is bubbling
Garnish with fresh dill and add sweet chilli sauce for extra flavour
Enjoy this delicious, gooey, vegan tuna melt sandwich that will blow your mind 🙂
Notes
This recipe for the chickpea tuna salad yields around 2-3 portions. The vegan tuna salad will remain fresh in a sealed container in the refrigerator for around 3-4 days. It is not advised to freeze this chickpea tuna as the consistency may be lost.
This vegan tuna salad is a great dish to have on hand for an easy snack or meal. It is always best to make and eat the chickpea tuna melt fresh. There are some other awaesome ways to use up the remaining chickpea tuna salad, with some tasty sweetcorn vegan tuna pasta or smothered on a hot jacket potato. Or perhaps another style of straight up up vegan tuna sandwich would be good?
Recommended Products
As an Amazon Associate and member of other affiliate programs, I earn from qualifying purchases.
Nutrition Information:
Yield:
2-3
Serving Size:
1
Amount Per Serving:
Calories:

411
Total Fat:

14g
Saturated Fat:

2g
Trans Fat:

0g
Unsaturated Fat:

10g
Cholesterol:

0mg
Sodium:

515mg
Carbohydrates:

68g
Fiber:

10g
Sugar:

29g
Protein:

11g
You May Also Like: