This vegan spinach salad is a bit of a twist on a classic spinach salad. I used the expected cranberries, slivered almonds, baby spinach and a sweet dressing.
But then to liven it up I also threw in delicious tofu cubes cooked in BBQ sauce and my sweet spinach salad dressing brings in some new surprising flavors.
This vegan salad would be good any time of the year but I personally think it's especially good for fall/winter and the festive occasions of the season.
It definitely would make a fabulous, festive Christmas spinach salad.
Spinach is delicious, but even more importantly, this recipe will bring lots of necessary nutrients. Spinach is high in iron, and your body absorbs it especially well when paired with the vitamin c from the cranberries.
The tofu also packs a punch of protein and the salad dressing brings potassium, magnesium and calcium. With the addition of the almond slivers with some healthy fats, this healthy spinach salad recipe forms a really well rounded meal.
Check out more of our favorite vegan salads here such as our favorite vegan broccoli salad and Vegan Brussel Sprout Salad with vegan poppyseed dressing.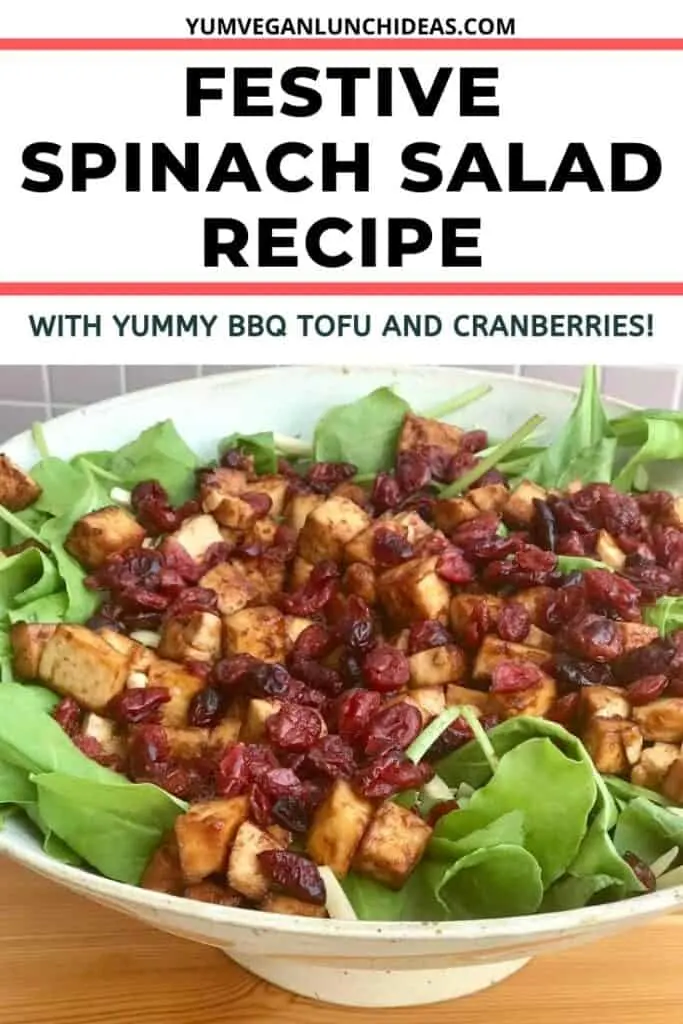 Vegan Spinach Salad Ingredients
I prefer to use baby spinach as I find it has a much nicer taste and texture but if you prefer to use another kind I'm sure it will come out just as good.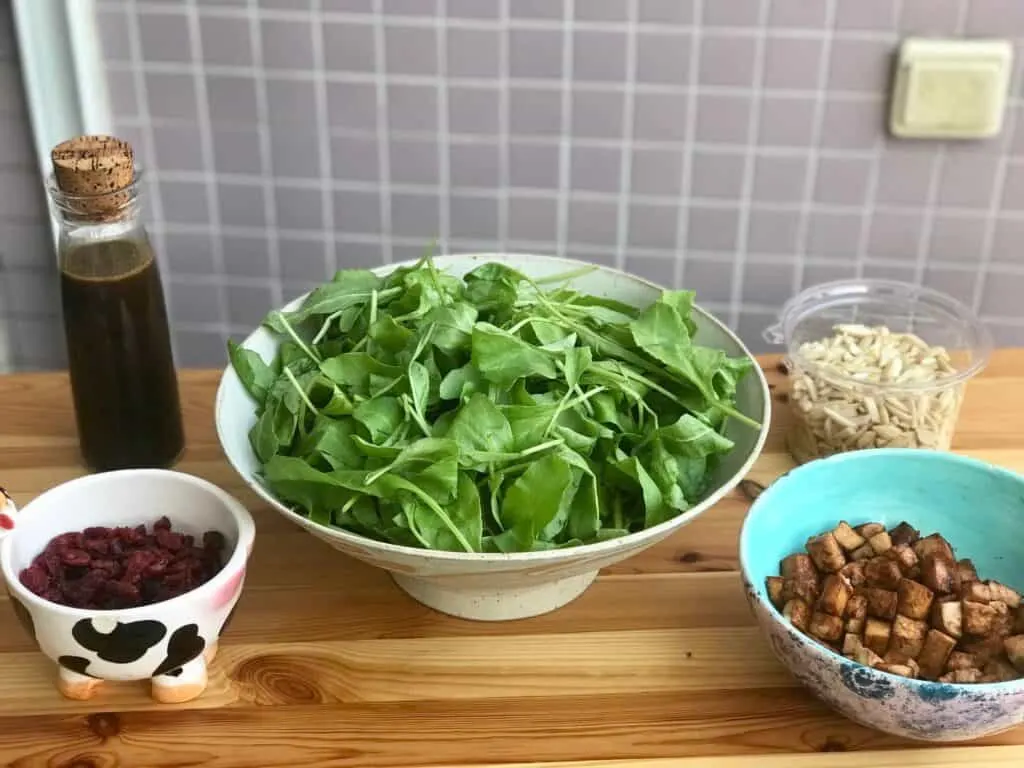 The dried cranberries are a classic combo with spinach but if you want to replace them with pomegranate seeds it will also come out amazing.
Baby Spinach Salad Dressing Recipe
My favorite salad dressing for spinach salad has always been something sweet to offset the spinach's slight bitterness. The recipe I use here is a pretty easy spinach salad dressing but it brings in some unique ingredients.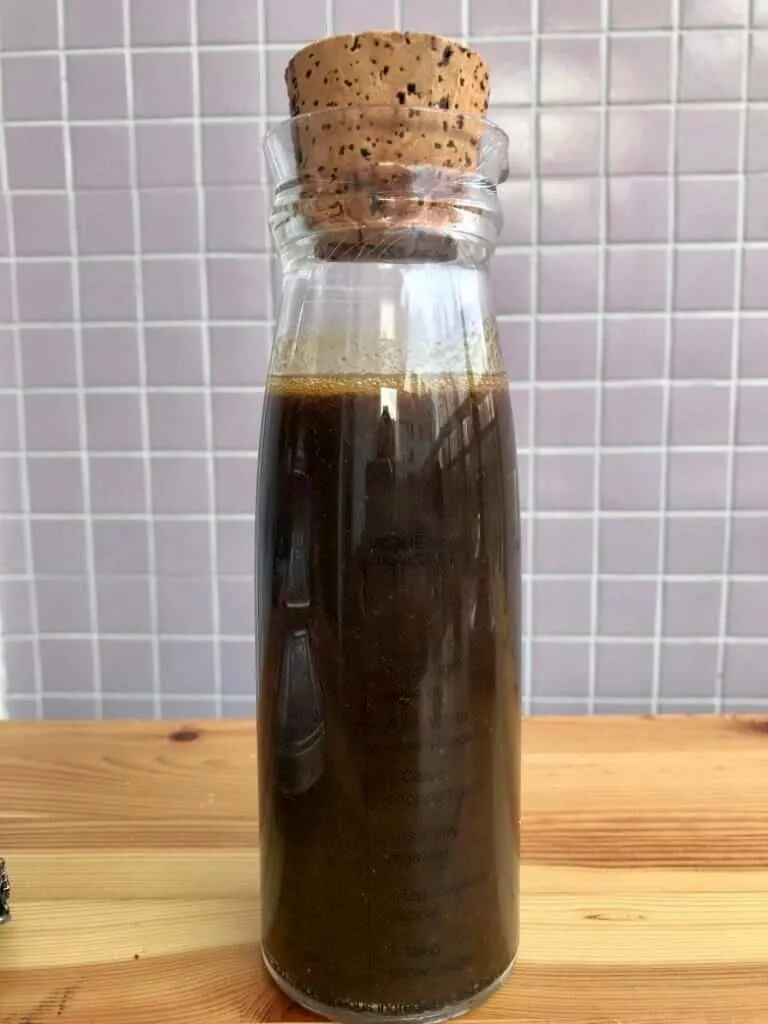 The main ingredients that bring the most flavor are silan, also known as date syrup, soy sauce, and dijon mustard. It's a unique combo but each ingredient brings it's own delicious flavors to the mix to create something amazing. You can also use this salad dressing on any type of green salad you like.
You can find the full dressing recipe here.
Making the Tofu – Spinach Salad
Most of the ingredients for this spinach salad with cranberries just involve throwing them in a dish, aside for the tofu. Don't get scared off though, it's very easy to make.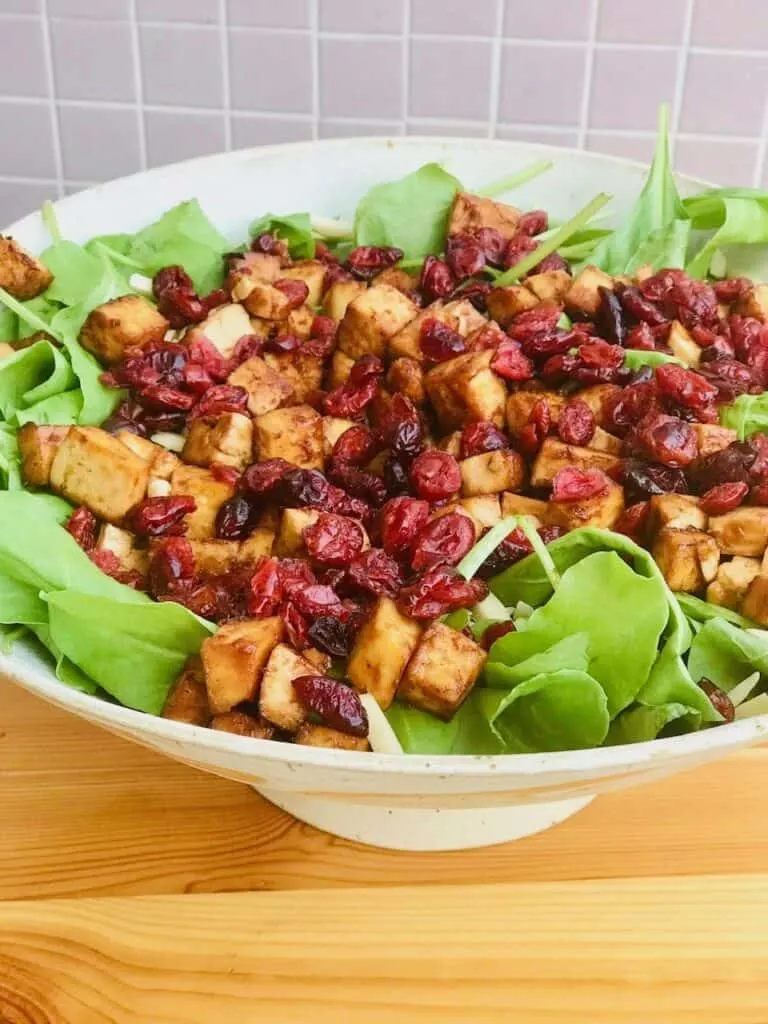 Pressing Tofu
To make great tofu, the first step is to press your tofu to get as much of the liquid out as possible. In case you've never pressed tofu, you can try two methods.
The first is to buy a tofu press which will do all the work for you. They are pretty affordable. You can check prices here
.
The second method is to wrap it in some sort of thick absorbent towel and put something heavy that will evenly distribute weight on top of the wrapped tofu. Something like a book with a weight on top works very well.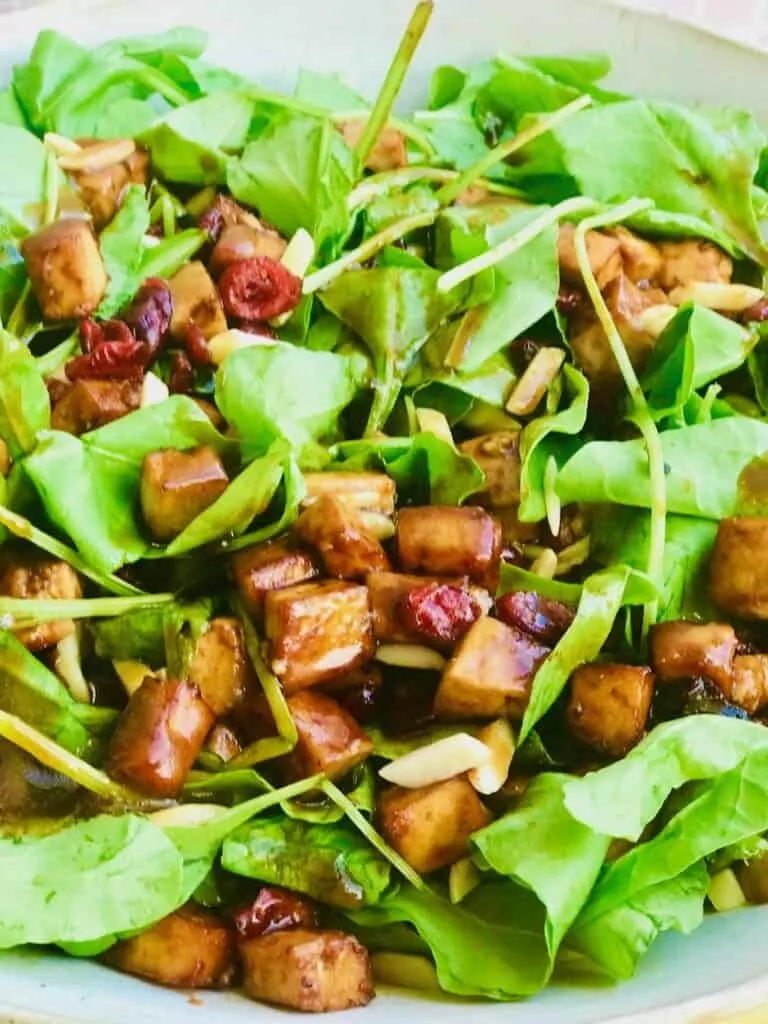 Marinate the Tofu
Once your tofu has been pressed, cube it up and toss it in your favorite vegan BBQ sauce. It's best to let it marinate for at least an hour or two. The longer it marinates, the more sauce it absorbs and flavorful it gets, but either way it will be delicious.
Cook the Tofu
Preheat your oven to 400 and lightly grease your baking sheet while you wait. Spread the tofu onto the sheet and pop it into the oven for 25 minutes.
Flip your tofu cubes and brush with any extra BBQ sauce and then cook for another 20 minutes.
When the tofu is ready they should be a bit crispy on the outside. Then you just take it out and let it cool a bit.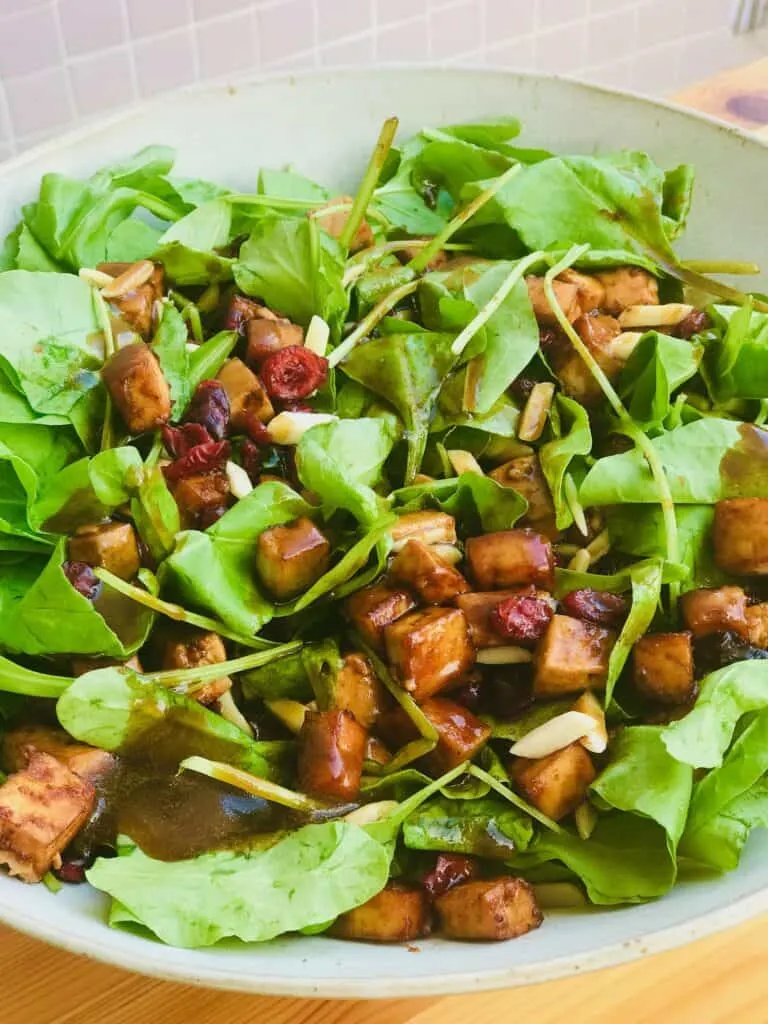 Preparing the Vegan/Vegetarian Spinach Salad Ahead of Time
Especially if you are using this as a holiday spinach salad, you may want to make this recipe ahead of time. The good news is that you can prep all of it ahead and just throw it together the day of.
The tofu can be made up to three days ahead of when you plan to serve the salad. If you are making it ahead, let it cool completely and then store it in an airtight container in the refrigerator.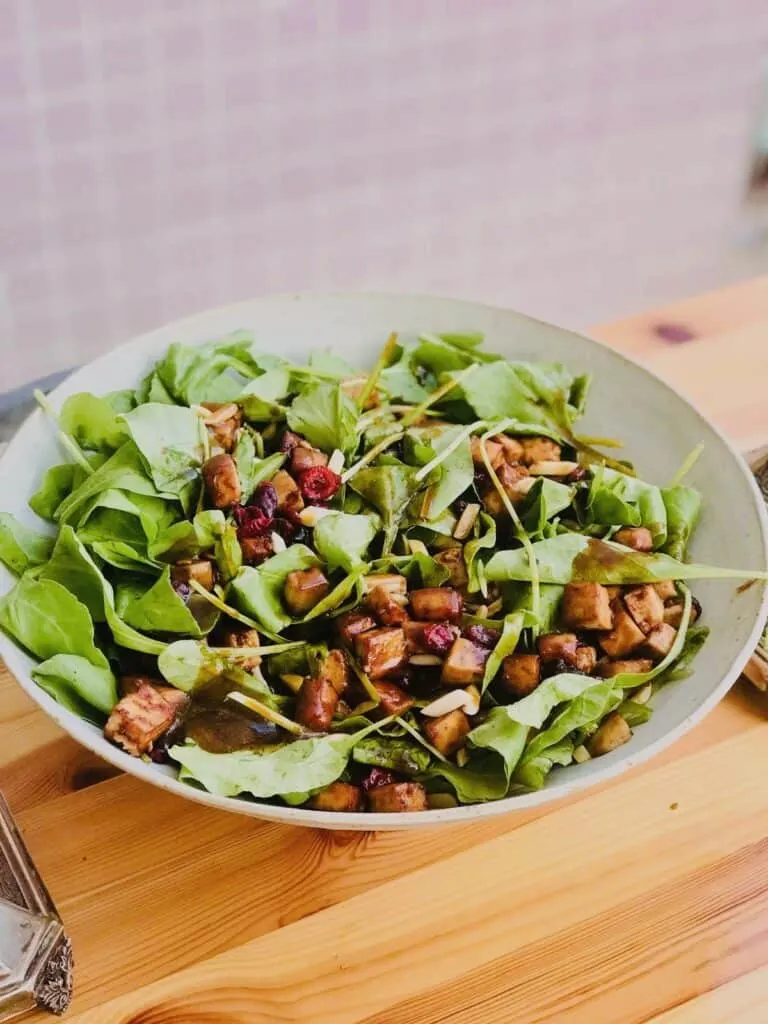 The salad dressing stores well in the fridge for quite a while as well, so feel free to make it even a couple weeks in advance.
If you want to make it for a packed lunch to work, you can combine the completely cooled tofu with the rest of the ingredients in a container and bring the dressing separately to dress at the last minute.
Don't Forget to Pin this Post for Later!
Yield: 5 Servings
Festive Vegan Spinach Salad Recipe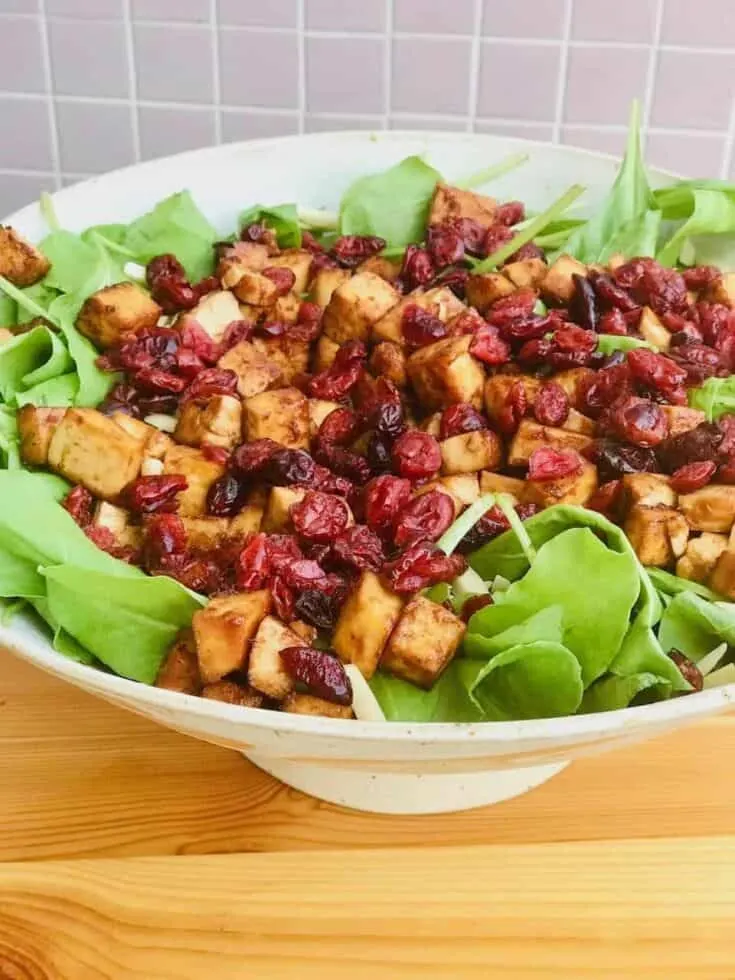 This delicious vegan spinach salad recipe uses baby spinach, cranberries, slivered almonds, and tofu for a fun new take on a classic spinach salad. Combined with our delicious salad dressing which is sweetened with date syrup, this vegan salad will bring new flavors to an old classic for an attention stealing dish.
This salad could be used for a filling weekday lunch or dinner, or you can save it for special meals and holidays.
Total Time
1 hour
55 minutes
Ingredients
14 oz Container of Tofu
4-5 Cups of Baby Spinach
Instructions
To Make the BBQ Tofu:
Drain and press tofu. For more instructions on how to press tofu, see
above in the post.
Cut tofu into cubes and toss in the BBQ sauce.
Let marinate for at least one hour.
Preheat the oven to 400.
Lightly grease a baking sheet and spread the tofu out onto it.
Bake for 25 minutes, then flip the tofu and brush any extra BBQ sauce onto it.
Bake for another 20 minutes until it gets firm and slightly crisp on the outside and then take out and let cool a bit. It doesn't need to be room temperature but shouldn't be steaming hot when added to the spinach.

To Make The Dressing

Please see linked recipe for full instructions on the salad dressing. It should only take a few minutes to put together.

To Assemble the Salad:
Add spinach, dried cranberries, almonds and tofu to a serving bowl.
Dress with the soy silan salad dressing, toss and enjoy!

Notes
*Feel free to replace cranberries with pomegranate seeds for a fresh burst of flavor
**The salad dressing recipe makes more then double what you will need to make this salad. You can make the full recipe and use the leftovers for any variety of green salad or you can half the recipe.
Recommended Products
As an Amazon Associate and member of other affiliate programs, I earn from qualifying purchases.
Nutrition Information:
Yield:
5
Serving Size:
1
Amount Per Serving:
Calories:

474
Total Fat:

33g
Saturated Fat:

5g
Trans Fat:

0g
Unsaturated Fat:

26g
Cholesterol:

12mg
Sodium:

822mg
Carbohydrates:

36g
Fiber:

6g
Sugar:

25g
Protein:

15g
You May Also Like:
Apple Cinnamon French Toast Casserole