In case you haven't figured it out yet from our babaganoush, hummus, Israeli salad, vegan shakshuka, and shawarma posts, I'm deep in Middle Eastern food right now. Next up on the docket is this vegan sabich sandwich which is soooo good.
Sabich is originally a Jewish Iraqi food that now is a dominant player in Israeli street food. The classic version stars fried eggplant, hard boiled eggs, tahini, amba, and veg.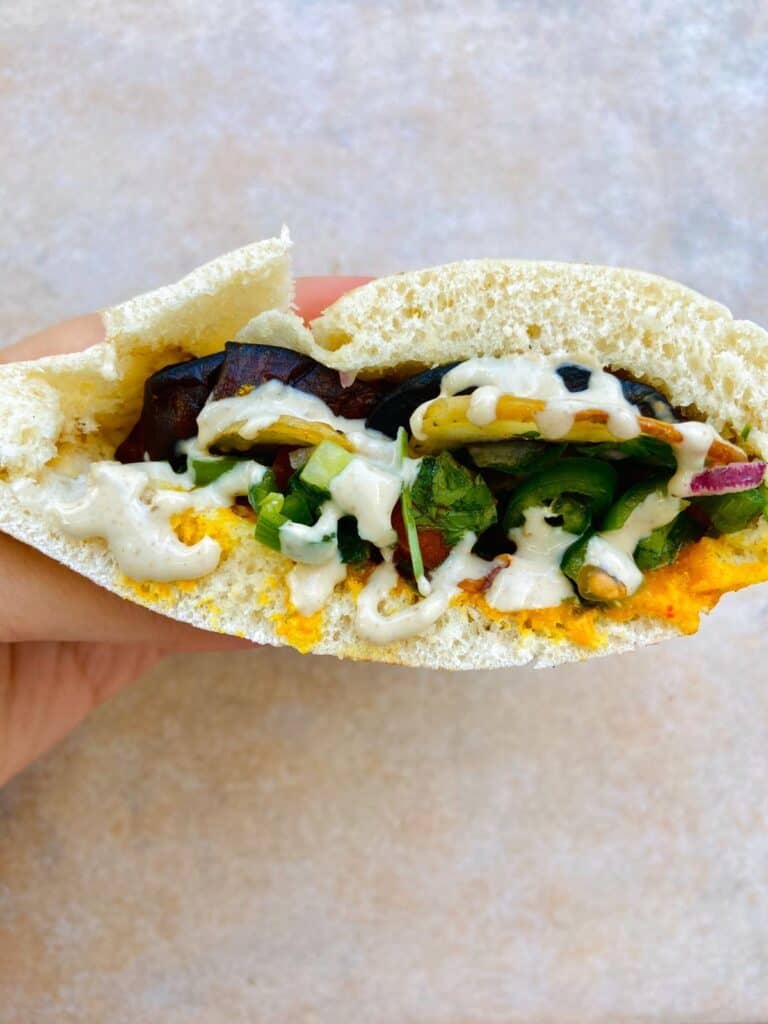 Originally a breakfast sandwich, this vegan eggplant sandwich is perfect when eaten hot, or packed away as a cold lunch. It's definitely one of my favorite vegan eggplant recipes.
If you are looking for more vegan sandwich recipe inspiration, make sure to check out some of our other delicious vegan sandwiches like this vegan bagel sandwich or our vegan tortas.
Eggplant Sandwich (Vegan) Ingredients
Sabich is a sandwich with many variations. Some people put potato, pickles, hummus, hot peppers and many other optional add ins. I'm going to give you what I think is the basic, and a list of my favorite extras.
Since I needed to replace the hard boiled eggs, I decided to combine it with another optional ingredient. I sliced potatoes, sprinkled them with black salt and baked them to give it a nice texture and eggy taste.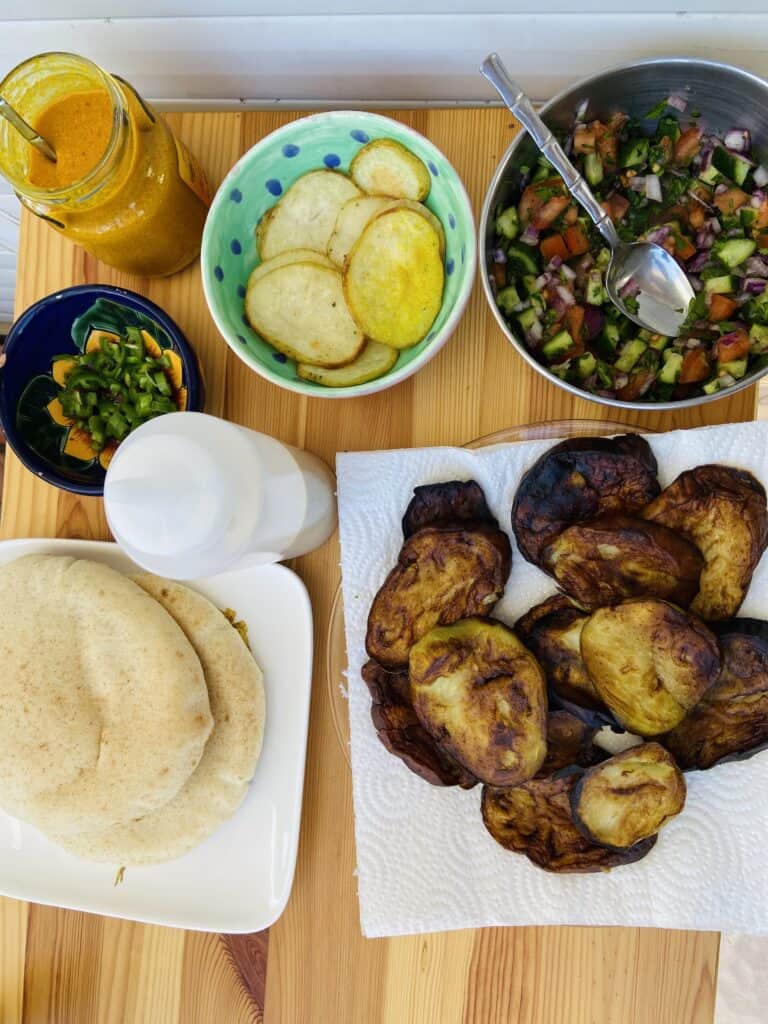 The ingredients for the vegan eggplant sandwich are:
Optional and definitely recommended is: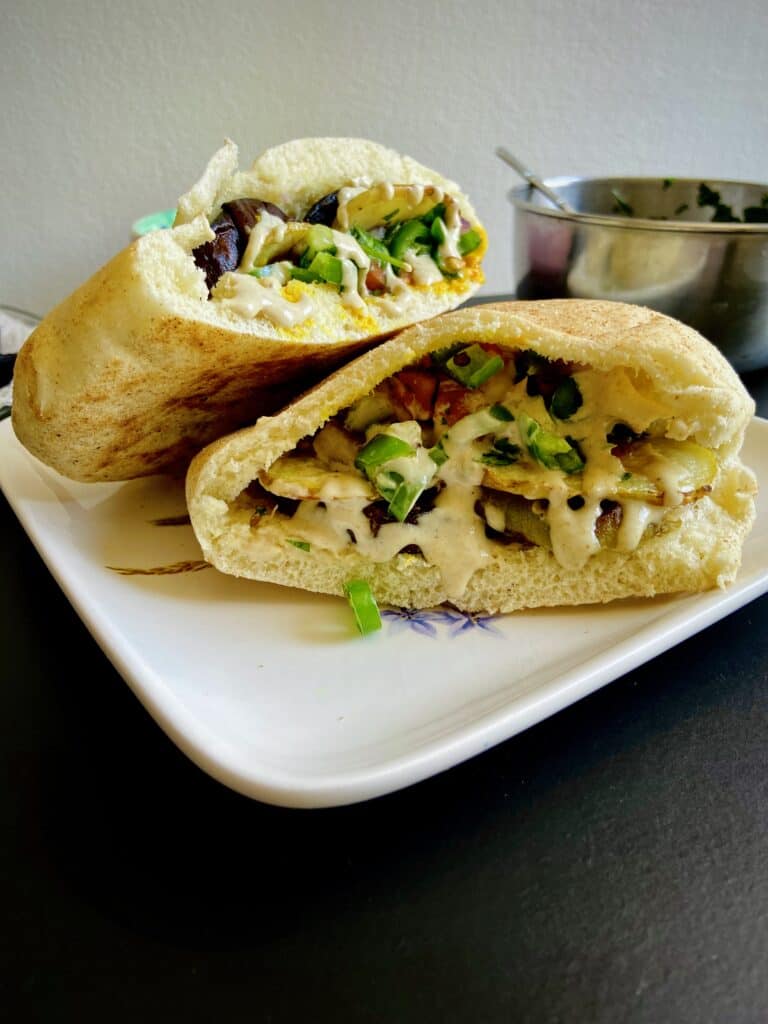 How to Make a Vegan Eggplant Sandwich
Once you have all your ingredients assembled it's just a matter of shoving all the vegan sandwich fillings into your waiting pita pocket. Start by spreading the condiments on the sides so its evenly distributed, shove everything in and then drizzle with more of your condiments.
Vegan Fried Eggplant
The first step is to peel and cut your eggplant into 1/2 slices. If you are terrible at estimating size, better to air on the larger side.
I soak my eggplant before frying. While not mandatory, this helps the eggplant cook faster and absorb less oil.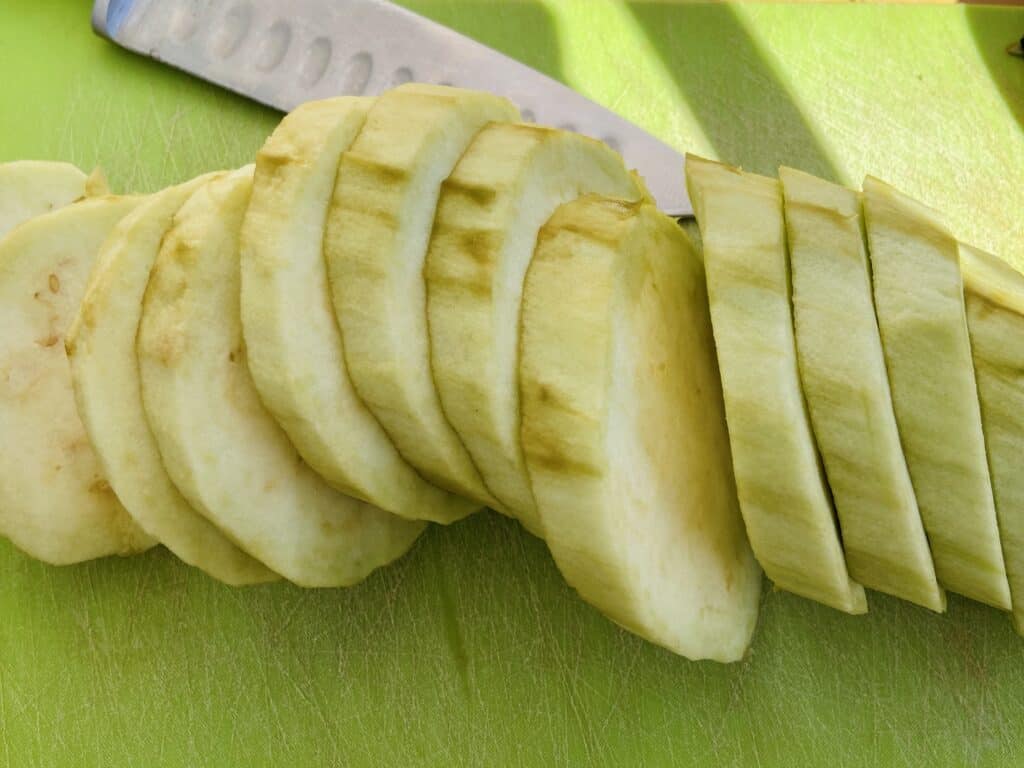 To soak, place the cut eggplant in a bowl covered in water with a huge handful of salt. Leave it there for an hour and a half. While it's soaking you can prepare the other ingredients for the sandwich.
Once it's finished soaking squeeze each eggplant slice out over the sink to get rid of any liquid. Flatten them back into round when you are done draining it.
The next step is to heat your oil really high and fry your eggplant until it's a dark golden brown.
Baked Potatoes
As I mentioned, instead of eggs, I used potatoes. To prepare them is really easy. I made thin slices and laid them out on a lightly greased baking sheet.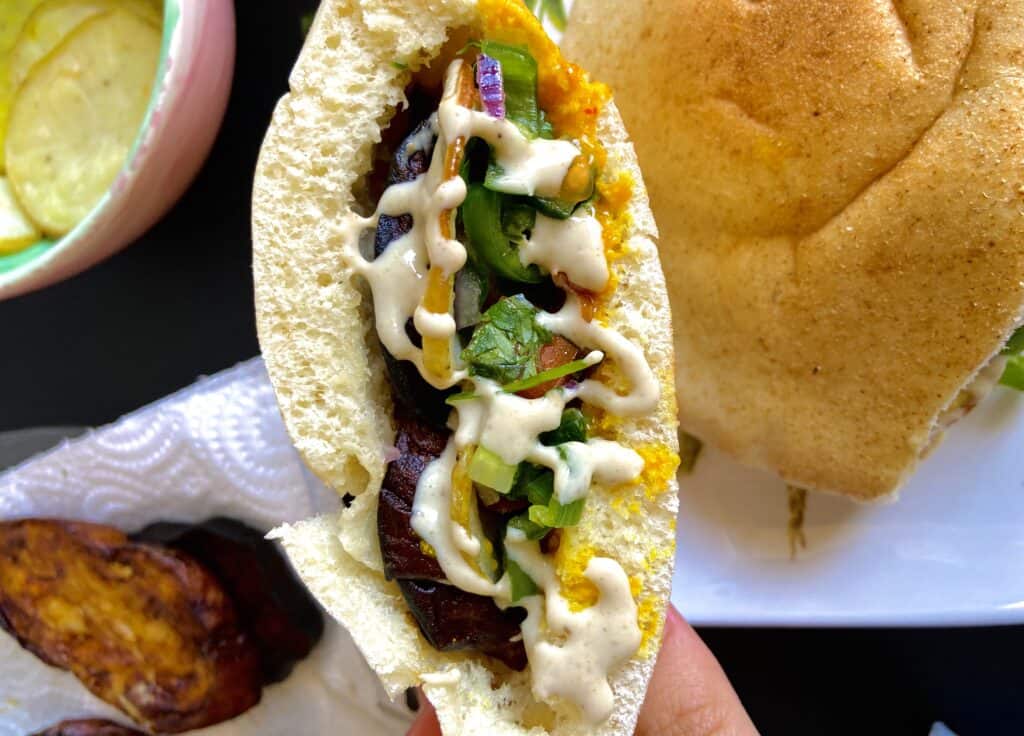 I sprinkled with black salt, sprayed a drop more oil and then baked until the edges had gone a bit crispy. If you want your potatoes to look a bit more egg like you can also add a sprinkle of turmeric to make them yellow.
Israeli Salad
Israeli salad is a really quick, easy and delicious salad and it goes perfectly in this sandwich. You can follow the recipe here for instructions.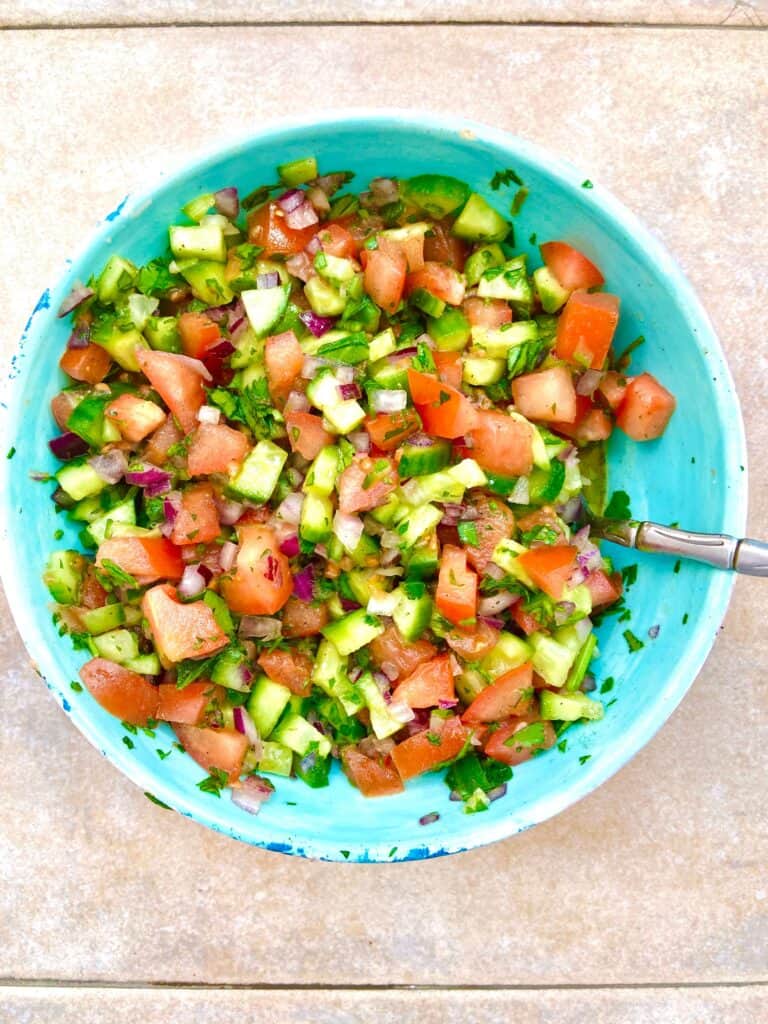 If you are feeling lazy, you can just cut your cucumbers, tomatoes and red onion into rounds and shove them into the sandwich that way as well. Make sure to also add a sprinkle of parsley to the sandwich if you do it that way.
Tahini Sauce
Just to be clear, there is tahini paste and tahini sauce. Tahini paste is the equivalent of a nut butter and to turn it into tahini sauce you need to thin it out with liquids and season it.
I use lemon juice, cumin, garlic, salt and pepper to make tahini sauce, there is a recipe card below if you plan to make your own. You are also welcome to buy tahini sauce already prepared.
Amba
Amba is an Iraqi pickled mango sauce that is essential to this sandwich. It packs a lot of flavorful punch. I bought premade amba but if you live in an area where you can't find it, you can order it from Amazon here
or make your own, there are plenty of recipes for it if you google it.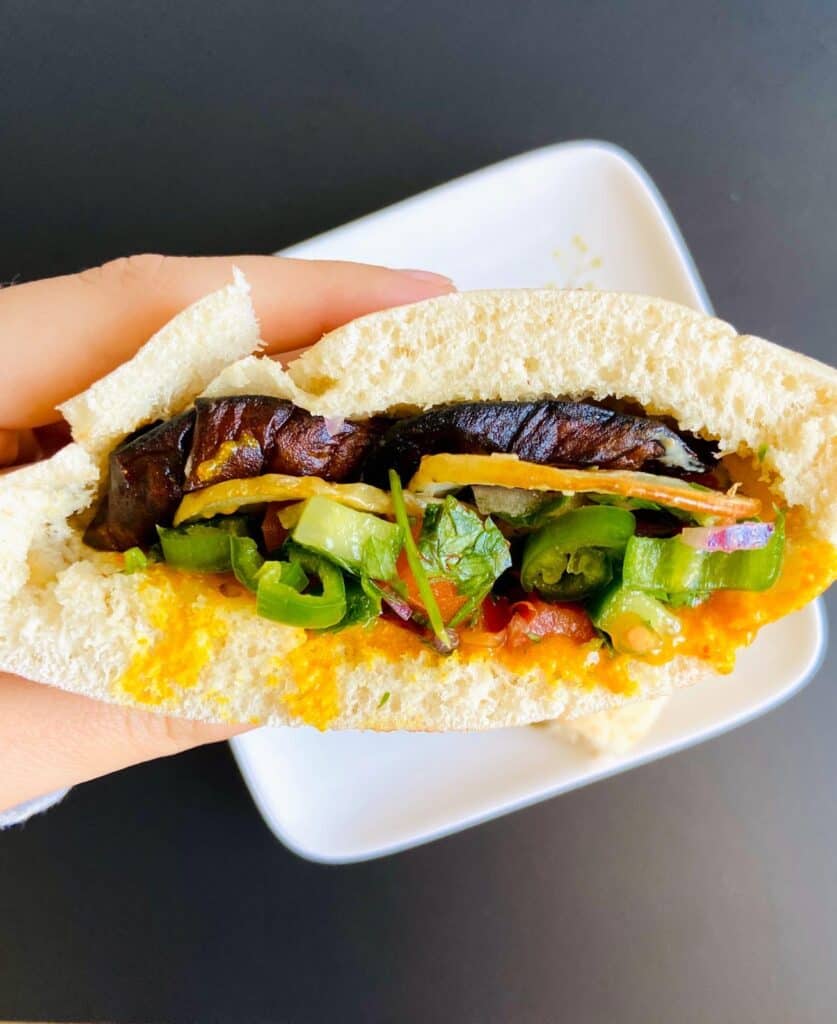 When to Eat Vegan Sabich (Eggplant Recipe Vegan)
This vegan eggplant recipe can really be eaten for three meals a day. I personally prefer it with the eggplants hot and straight from the pan, but it also would make a great vegan breakfast sandwich, or cold packable lunch.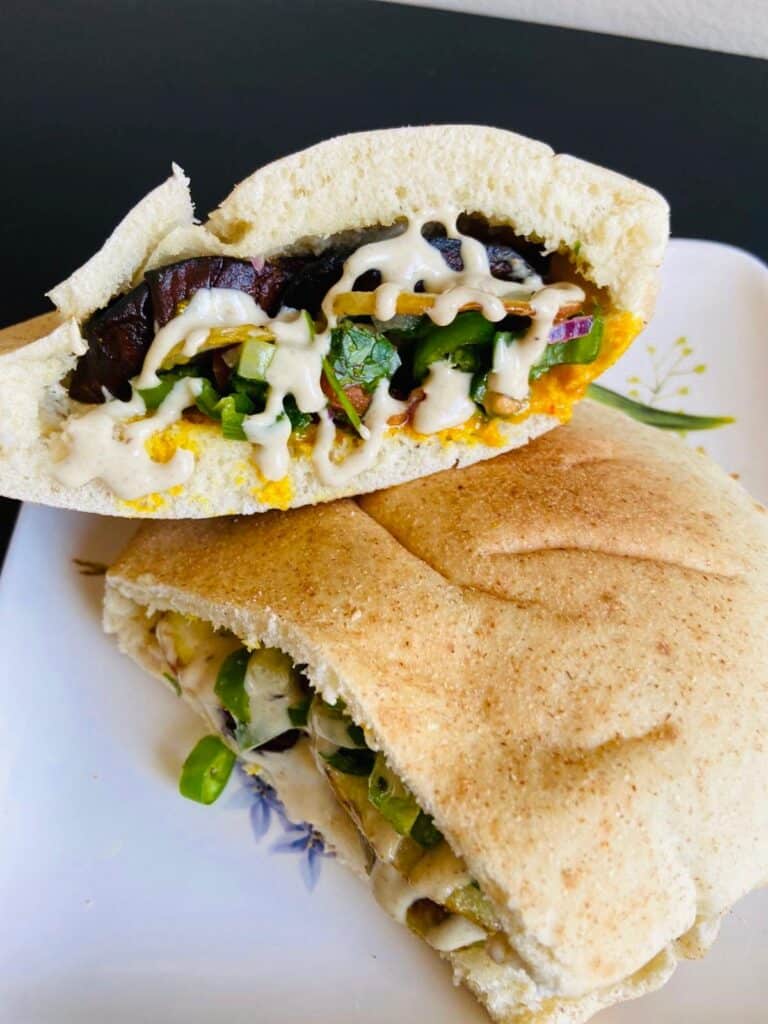 It was originally eaten as a cold breakfast sandwich, for religious Jews who don't cook on the Sabbath. So eat it breakfast, lunch and dinner, it's always delicious.
Preparing the Vegan Sandwich Filling Ahead of Time
This was the original, make ahead, meal prep recipe. All the ingredients store well in the fridge, so go ahead and make a big batch, just don't assemble more than a few hours in advanced so that it won't get soggy.
Make sure to store fried eggplant, vegan "egg" potato slices and all the other ingredients in airtight containers in the fridge.
Don't Forget to Pin This Post For Later!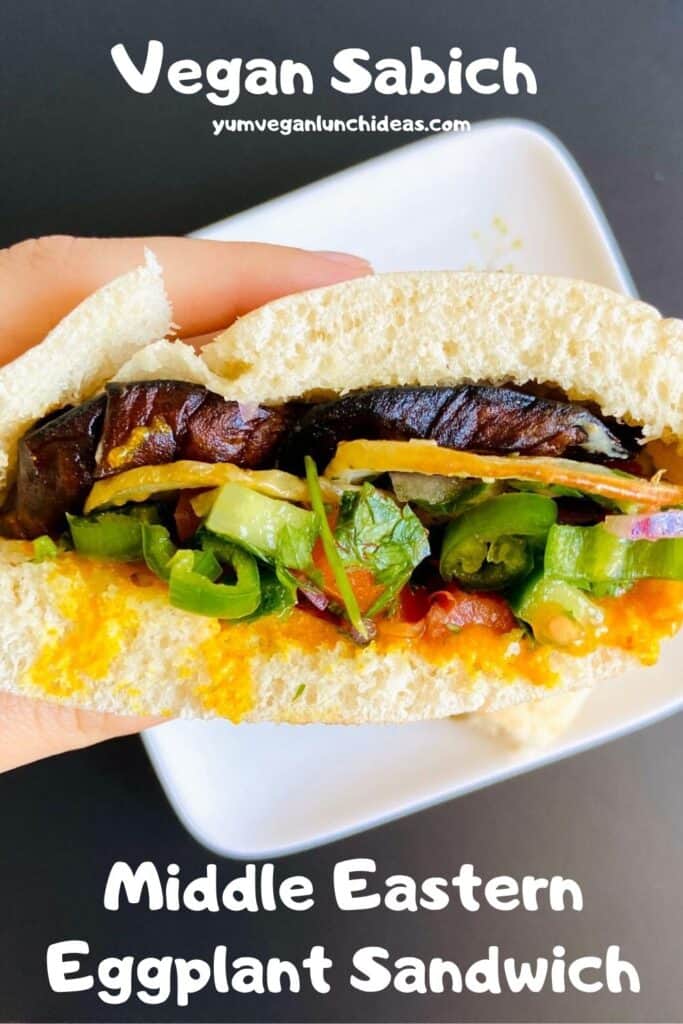 Yield: 4 Sandwiches
Vegan Sabich - Middle Eastern Vegan Eggplant Sandwich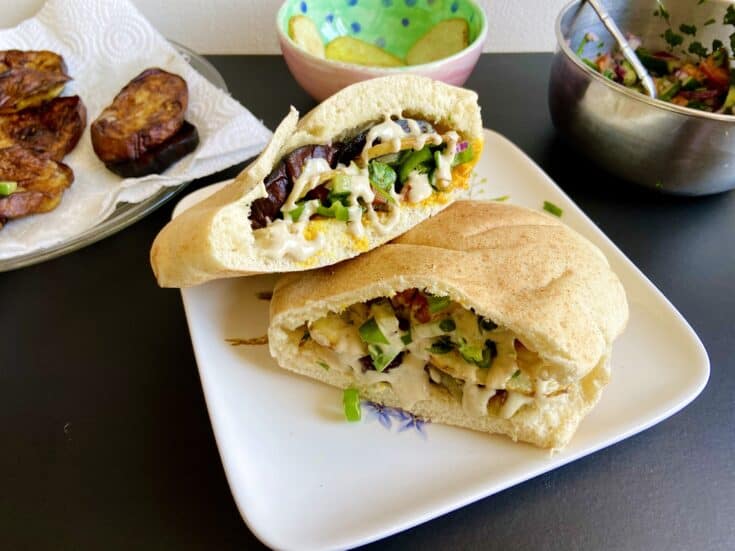 This vegan eggplant sandwich is the perfect vegan pita sandwich. Stuffed with vegan fried eggplant, black salt flavored potato, lots of tahini, and more, this sandwich will fill you up and indulge your taste buds.
It tastes amazing hot but is also fantastic as a cold packed lunch! As a vegan breakfast sandwich, packed lunch or hot dinner, you can't go wrong with this vegan eggplant recipe.
You can even meal prep with this vegan sabich and have it throughout the week for a delightful, Middle Eastern treat.
Additional Time
1 hour
30 minutes
Total Time
2 hours
35 minutes
Ingredients
For The Eggplant
1 Large Eggplant
Oil For Frying
Salt
For The Potatoes
2 Potatoes
Spray Oil
Optional: Turmeric
Remaining Filling
4 Pitas
1/2 Cup of Tahini Sauce** (Less if you are using optional hummus)
Optional Add Ins
Pickle Slices
Hot Pepper Chopped
Instructions
Peel and slice your eggplant into 1/2 inch rounds.
Optional but recommended: Soak eggplant in generously salted water for 1.5 hours. While it's soaking, prepare the rest of the ingredients. When it's finished soaking, squeeze out all the liquid from each round.
Heat enough oil to cover at least half the eggplant and when it's really hot, add the eggplant and cook on each side until it's dark golden brown. This only takes a few minutes for each side.
Remove from the pan and place on a plate with paper towels to soak up the excess oil.
Preheat your oven to 400 degrees and lightly grease a baking sheet.
Slice potatoes into thin circles and lay out on the baking sheet.
Sprinkle with black salt and turmeric, if you are using it.
Spray or drizzle a bit more oil on top of the potatoes and put in the oven to bake until soft and slightly crispy at the edges. This should take around 30-35 minutes.
While the potatoes bake, prepare your tahini according to the directions on the recipe card below and your Israeli salad from this recipe. Prepare any of the optional topping you want as well.
Once all your ingredients are ready, cut the top off your pita.
Spread a generous layer of tahini, and hummus if using. Drizzle around 1.5 -2 tsp of amba as well.
Layer in your eggplant, potato, Israeli salad, and any other fillings you like until the pita is stuffed.
Drizzle some more tahini on top and enjoy!
Recommended Products
As an Amazon Associate and member of other affiliate programs, I earn from qualifying purchases.
Nutrition Information:
Yield:
4
Serving Size:
1
Amount Per Serving:
Calories:

604
Total Fat:

26g
Saturated Fat:

3g
Trans Fat:

0g
Unsaturated Fat:

22g
Cholesterol:

0mg
Sodium:

1698mg
Carbohydrates:

82g
Fiber:

11g
Sugar:

11g
Protein:

17g
Yield: ~1/2 Cup
Tahini Sauce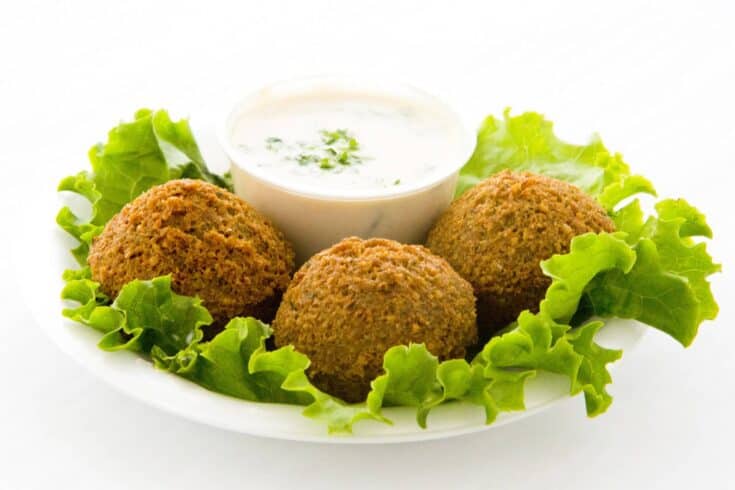 Tahini sauce is quick and easy to make, and perfect to top all your favorite Middle Eastern dishes. It also makes a fabulous, plant based salad dressing.
Ingredients
4 Tbsp Water
1 tsp of Granulated Garlic or 2 Small Cloves Garlic Minced
Salt and Pepper to Taste
Instructions
Mix together all the ingredients in a bowl until well combined. The tahini will get thicker and crumbly before it smooths into a sauce. If it is still too thick, add a bit more water, drizzling in only a little at a time.
Serve immediately or store in the fridge, covered. When you take it out of the fridge it will be a little bit thicker then at room temperature. You can either add a bit more water, or wait for it to warm, or enjoy it thicker.
Recommended Products
As an Amazon Associate and member of other affiliate programs, I earn from qualifying purchases.
Nutrition Information:
Yield:
4
Serving Size:
1
Amount Per Serving:
Calories:

125
Total Fat:

11g
Saturated Fat:

1g
Trans Fat:

0g
Unsaturated Fat:

9g
Cholesterol:

0mg
Sodium:

85mg
Carbohydrates:

6g
Fiber:

1g
Sugar:

0g
Protein:

4g