This vegan Santa Fe salad is a delicious combination of vegetables, flavours and spices. With refreshing, crunchy salad, creamy avocado, fresh tomatoes – you will not be disappointed with this flavour explosion.
With all the perfect flavours – this is a vegan salad to try for sure! This Santa Fe Salad is equally tangy, refreshing, creamy, flavoursome, crunch and wholesome. It is a beautiful rainbow coloured salad, meaning its pretty fun to make too.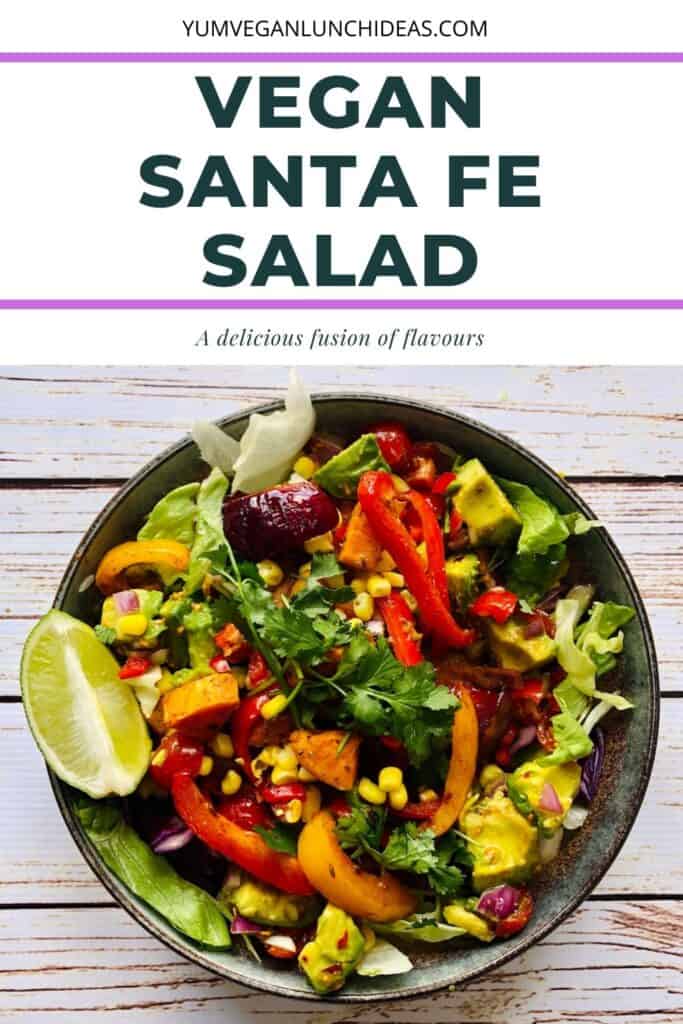 What is Santa Fe Salad?
Santa Fe salad is a wonderful fusion of Mexican, Spanish and South Western style American Cuisine. It is usually cooked with grilled chicken, but gladly it is super easy to make vegan.
In fact you could easily add some of our vegan BBQ chicken if you like. Some people like to add black beans.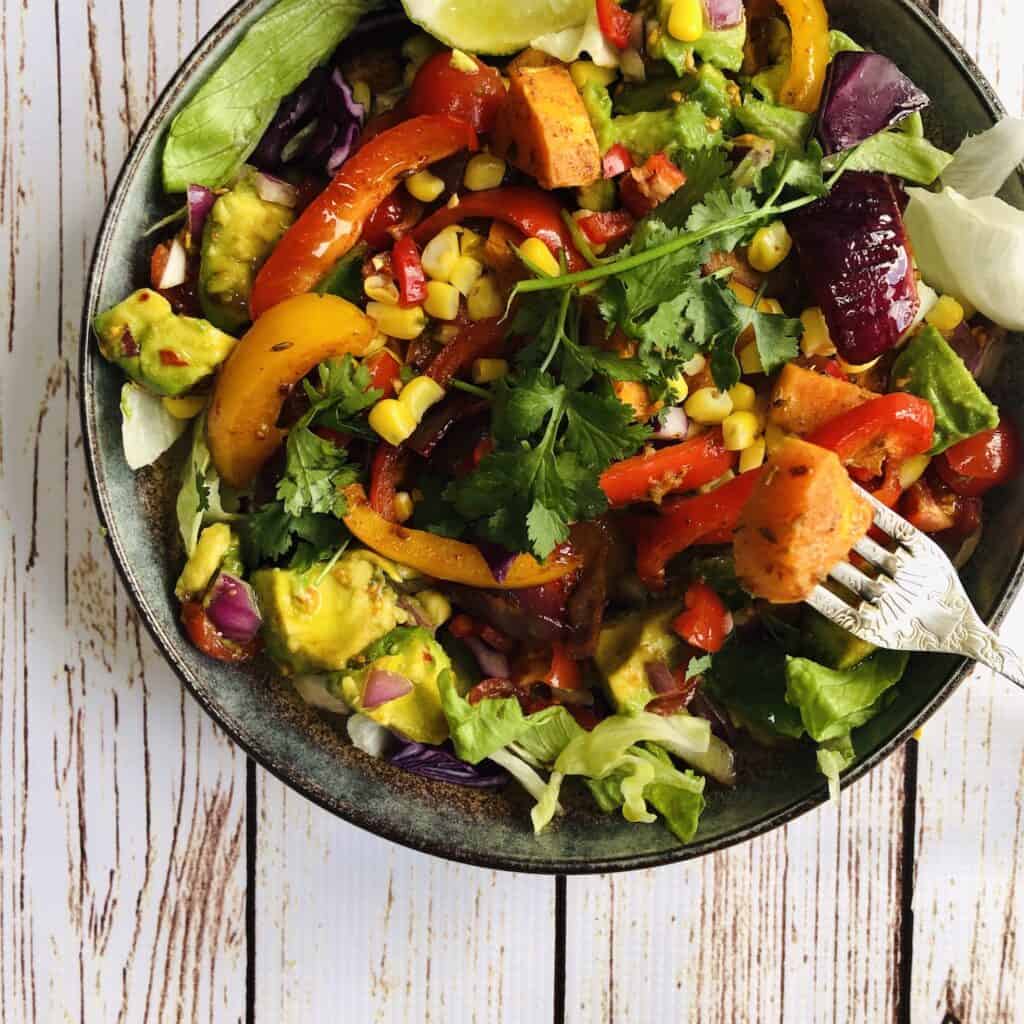 The combination of fresh cilantro and lime juice is always a winner – especially when tossed with the delicious marinaded veggies that we use in this recipe.
This Santa Fe salad would go down a treat as a shared lunch or even a great side salad for a bigger meal. Another amazing, refreshing salad is this Orange and Fennel salad.
Vegan Santa Fe Recipe
This specific recipe uses delicious combination of herbs and spices on the peppers, sweet potatoes and salsa – giving it lots of layers of flavours.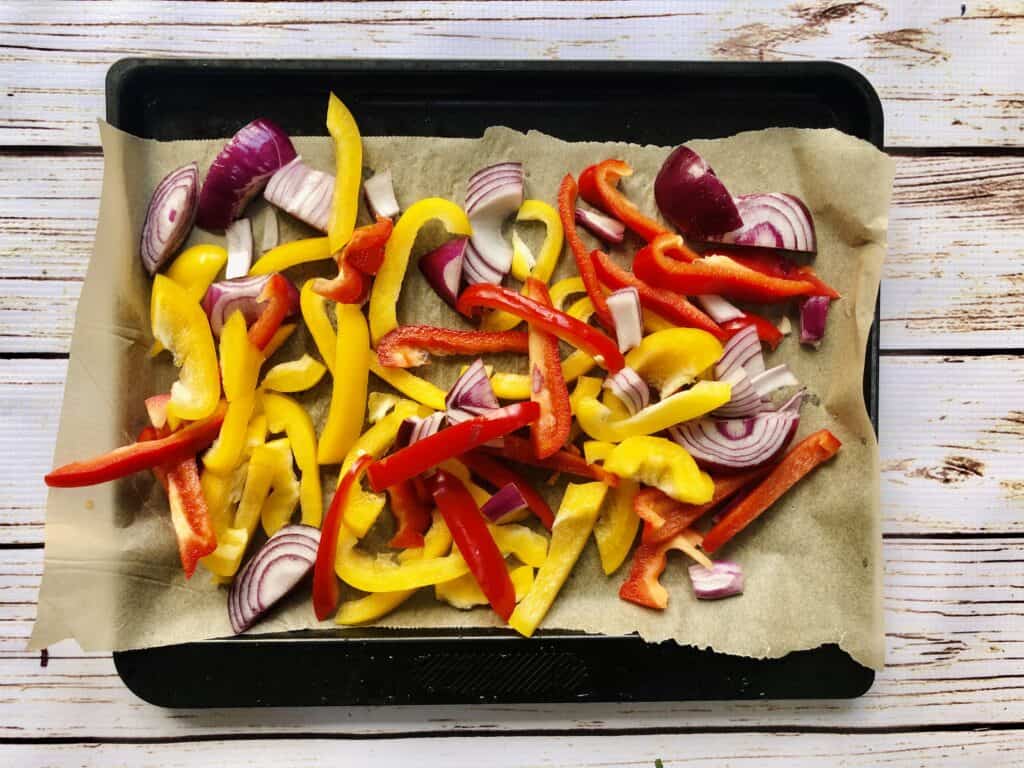 My favourite flavour has to be the that of the ancho chilli powder. It has a distinct flavour that you simply have to try! We can recommend this particular ancho chilli powder for that delicious flavour explosion!
In addition to all the beautiful layers of flavours, we highly recommend adding some of this delicious grilled corn to take this vegan Santa Fe Salad to another level. However it is just as great with regular corn.
Mexican Feast
If like me and you are a lover of Mexican food – you will love to check out these amazing vegan BBQ tortas recipe. Another great Mexican style salad is this show stopping vegan taco salad – delicious!
These make for a great option and alternative to the usual fajitas. Although I don't have a bad word to say about any Mexican food!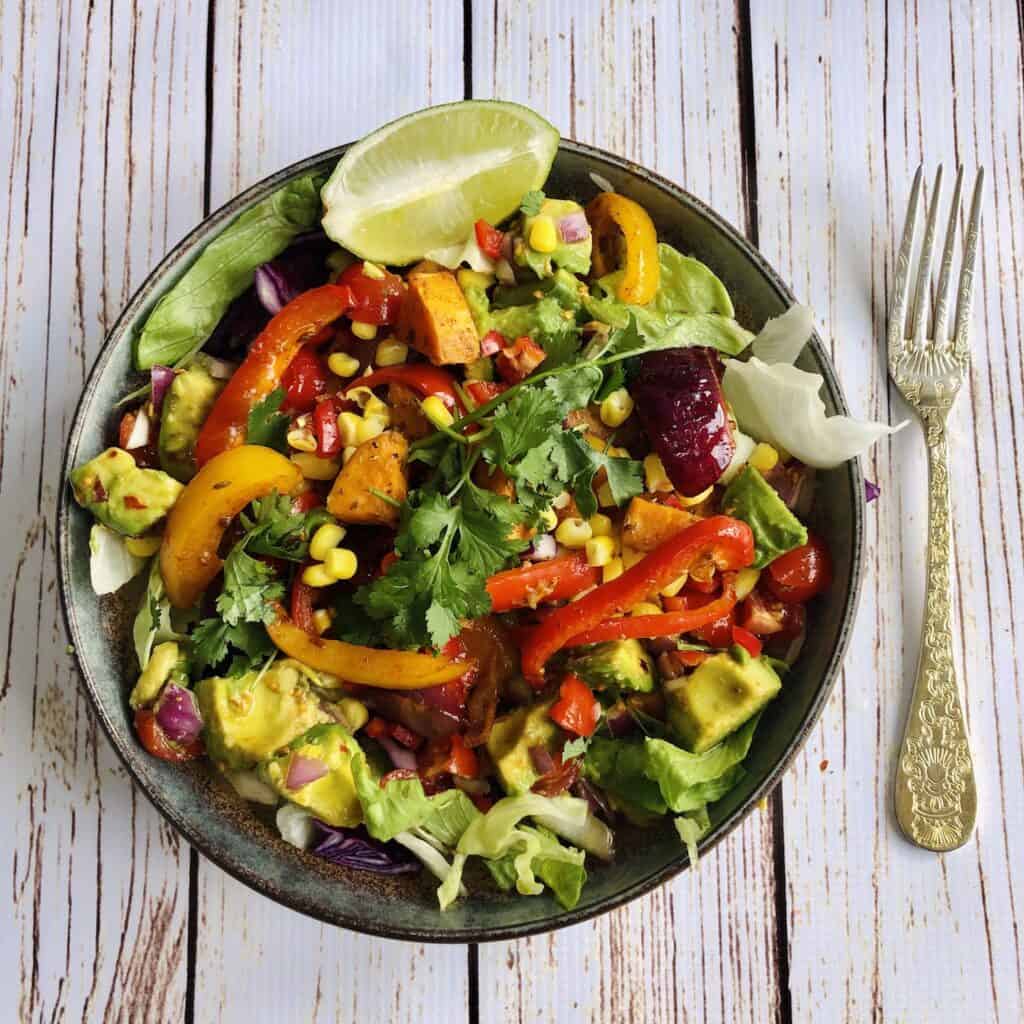 Yield: 2 portions
Vegan Santa Fe Salad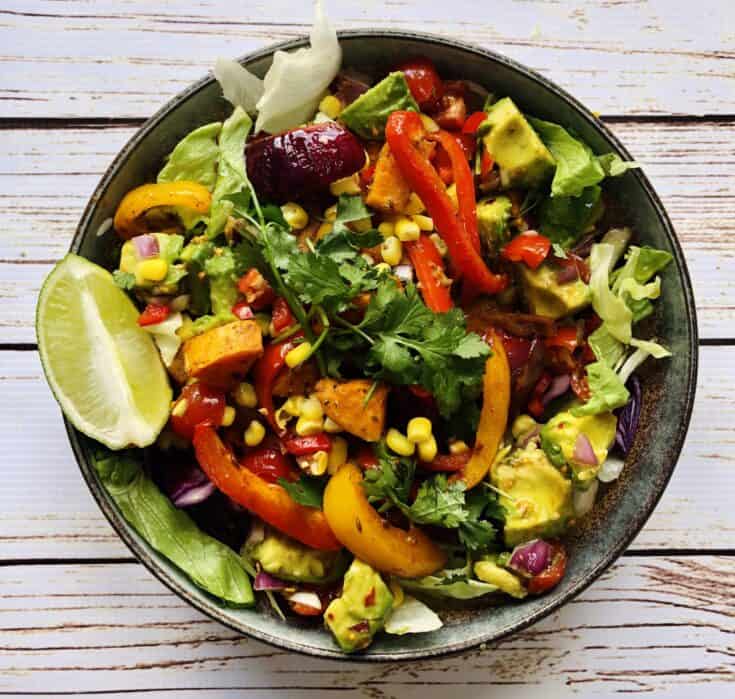 This vegan Santa Fe salad is a delcious fusion of flavours. With the perfect marinaded veggies tossed on a delcious crunchy salad, all infused with fresh cilantro, creamy avocado and grilled corn. It is the perfect vegan salad recipe for a shared lunch to impress your loved ones.
Additional Time
5 minutes
Ingredients
2 medium size sweet potatoes
1/2 head of ice berg lettuce
1 handful sliced red cabbage
1 red and 1 yellow pepper
1/2 cup of corn
2 small red onions
2 medium vine tomatoes
1 avocado
1 clove of garlic
1 fresh lime
1 bunch fresh cilantro
1 fresh red chilli
Salt & pepper
Sprinkle of chilli flakes
For sweet potatoes:
1 tsp smoked paprika
1 tsp Ancho chilli powder
1 tsp of cracked coriander seeds
1 tsp cumin powder
1 tsp cracked black pepper
For Peppers:
1 tsp garlic granules
1 tsp black pepper
1 tsp dried oregano
1 tsp cumin powder
Instructions
Preheat oven to 356f/180c/gas mark 6
Start preparing vegetables, peel and cut sweet potatoes into chunks
On a suitable beking tray, drizzle the sweet potato chunks with 1 tbsp of olive oil and rub in the herbs and spices listed for the sweet potatoes , place in the oven for 30 minutes
Wash and chop peppers, removing the seeds. Cut into strips on a seperate baking tray with one chopped red onion. Drizzle with a little aquafaba and rub in the herbs and spices listed for peppersw , add to the oven ona. seperate tray to the sweet potatoes. Cook these for approx. 25 minutes.
Make sure to toss both the sweet potatoes and the peppers half way through.
This recipe uses simple frozen corn for ease, however if you are using grilled corn, follow this link.
Whilst that is cooking, prep your salad. Chop the red onion finely and add to a bowl. Chop the tomatoes and add in there too. Save some lime for the end.
Cut the avocado into chunks and stir into the onion and tomato mix. Stir through with a squirt of lime juice, sprinkle of chilli flakes and a little salt and pepper.
Wash and chop your crunch salad and place in a bowl.
Prep your lime for squirting on the salad at the end and finely chop a red chilli. Remove the chilli seeds if you want less heat.
Once the veggies are nicely baked, remove oven and strart assembling your vegan Santa Fe Salad. You may want to wait for the veggies to cool slightly.
Layer the avocado salad on top of the crunchy salad, place the warm sweet potato and peppers on there an sprinkle with corn.
Douse the delcious fresh Santa Fe salad with as much fresh lime, chilli and cilantro to your hearts content!
Enjoy all the delcious flavours.
Notes
This salad is best served immediately once assembled. However it would work just as well if taken away for lunch in seperate containers. The veggies would be equally good at room temperature if assembling later.
Recommended Products
As an Amazon Associate and member of other affiliate programs, I earn from qualifying purchases.
You may also love:
The Ultimate Guide To Vegan Salads