When I became vegan one thing I noticed is my weight sky rocketed. I really needed to be eating low carb vegan salad from the get go!
This was really unfortunate for me as it really impacted on my mindset. I decided to break down my macros to keep an eye on my calories, fats, protein and carbohydrates.
Once I started monitoring things I realized I was eating far too many carbs and this was probably why I had put on so much weight.
So with this in mind I started creating some low carb recipes and this low carb vegan salad is one of my favorite go to meals.
This recipe is predominantly made up of raw zucchini noodles. Whilst this might not seem that interesting, it is our yummy keto satay dressing that gives this salad so much umph. And guess what a portion is only 8g NET CARBS BABY!!!
A low carb diet is often referred to as 'keto'. A vegan keto diet requires a lot of research to carry out successfully.
The low carbs are replaced with high fats and in a vegan diet these foods are really healthy plant based fats. The reduction of carbs puts the body into a metabolic state called ketosis.
A keto diet is not advised for everyone and is not suitable for certain health conditions such as type 1 diabetes. Ketosis is a metabolic state that burns and uses fat for energy. A low carb diet is often referred to as 'keto'. A vegan keto diet requires a lot of research to carry out successfully. If you need more vegan keto recipes you can try out this vegan keto pumpkin soup.
Vegan Keto Salad
Zucchini is one of the best vegetables when it comes to keeping carbs in check. In this salad, we used a spiralizer to make the zucchini into noodles.
Zucchini is only around 17 kcal per 100g / 3.5 oz meaning it's a really good vegetable when keeping an eye on your intake.
They do not need to be cooked and can be eaten raw so there is very little preparation time involved in making this tasty salad.
Spiralizers are not expensive and definitely a kitchen tool worth buying. You can do so much with a spiralizer with other vegetables as well. You can find my favourite sprilaizer here
.
I tend to cut the zucchini in half before putting it through the spiralizer. The noodles come out perfect!
I added a little bit of carrot to give the salad a colour and texture. Carrots do have more carbs than the zucchini so just a small amount to add colour.
Vegan Keto Satay Sauce Recipe
This salad is all about the satay dressing. It gives it so much flavour and is so easy to make. You probably have all of the ingredients already for this!
I prefer to use almond butter
due to its natural low carb! Tomato puree is also a key ingredient and gives the satay a great flavour.
Along with some coconut milk, freshly squeezed lime juice, srirarcha and soya sauce, this satay sauce is the dressing of dreams!
I start by melting the almond butter and coconut milk together on a medium heat in a pot.
Once the mixture is melted together, add the rest of the ingredients and continuously stir until you've got a smooth rich semi-liquid sauce.
The almond butter needs to be properly melted otherwise it will be too thick. If you find the mixture is too liquid, add a little more almond butter, and if it's too thick add, some more coconut milk.
This low carb satay dressing can be warm or cold and keeps really well in the fridge. It can be served with other dishes, particularly as a dipping sauce and is delicious drizzled on BBQ seitan.
You can store the satay sauce in the fridge in an air tight container for three to four days.
This blend of flavours will transport your taste buds to Thailand, satay is a very typical condiment in different parts of South East Asia.
Garnish for Vegan Keto Salad Recipe
I used some finely chopped spring onion. Spring onion is generally much lower carb than its cousin onions.
The final garnish I sprinkled a teaspoon of white sesame seeds for texture and appearance. Fresh cilantro is also another very flavoursome option.
And there you have the perfect low carb vegan salad Asian style! Grab a set of chopsticks and dig in! Scroll on for the full recipe.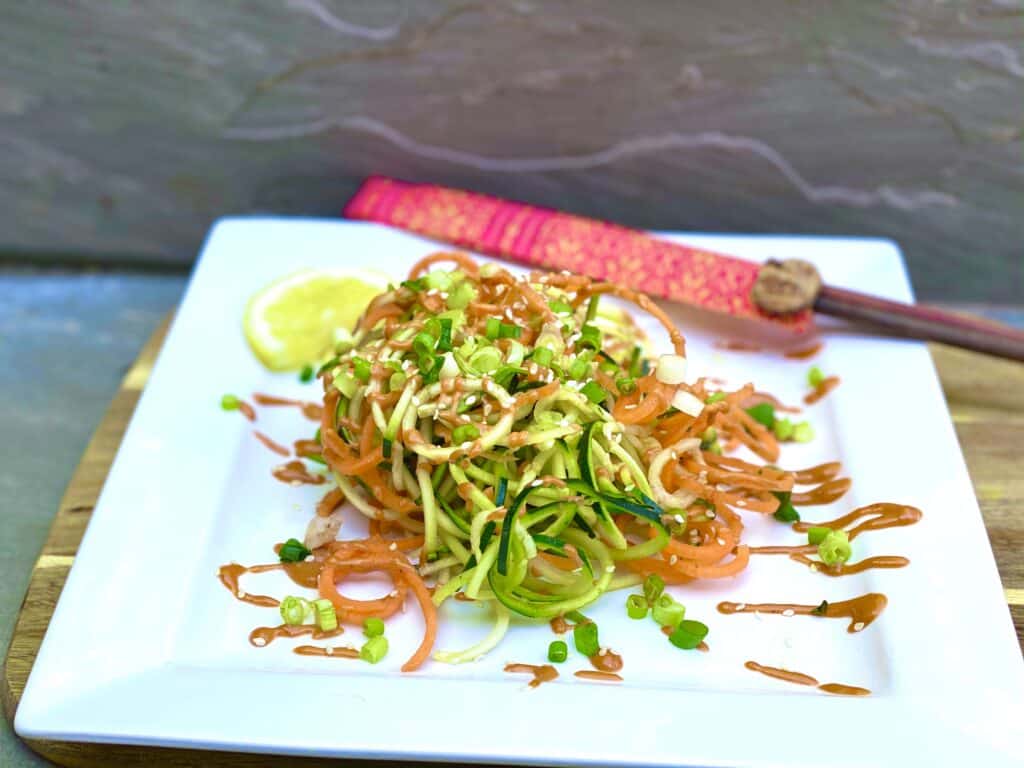 Interested in Keto / Low Carb Diet?
I am no expert when it comes to low carb (otherwise known as keto diet). However, I have found some really good reads and I would suggest getting one if you are just getting to know this diet.
A vegan keto diet is not something you can jump into! You need to plan really well and have all of the specialist ingredients to hand.
I can highly recommend liz Mc Donnell Vegan keto diet recipe book HERE.
This book includes shopping lists, goes into detail with recipes and provides a meal plan too. it's the perfect kickstarter for anyone wanting to try the vegan keto diet.
Check out this lupini bean salad.
Yield: 2
Low Carb Vegan Salad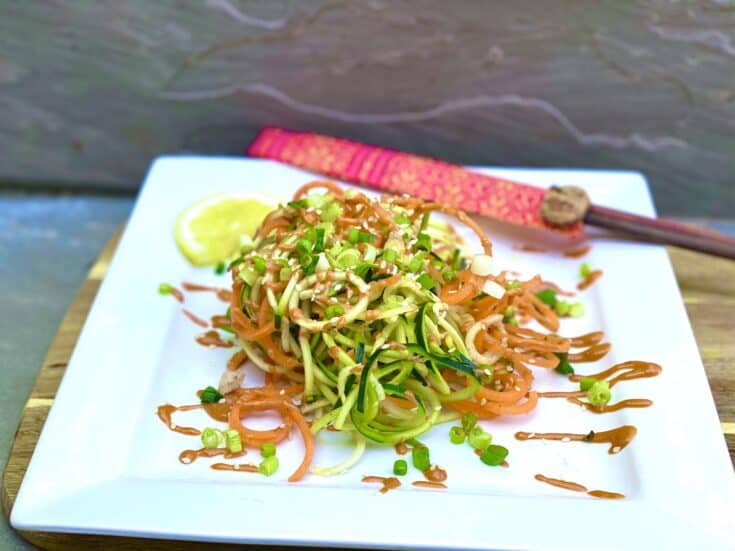 Try this guilt-free low carb vegan salad recipe, made with fresh crunchy zucchini noodles and a delicious satay sauce. Garnished with cilantro, spring onion and sesame seeds this vegan keto salad recipe is the perfect vegan lunch for anyone watching their waistline.
Ingredients
1 medium Zucchini
1 small carrot
1 tbsp of rice wine vinegar
Vegan Satay Dressing
2 tablespoons of almond butter
1/2 a cup of coconut milk
1 tsp of sriracha
1/2 a lime juiced
2 tbsp of soya sauce
1 tsp of tomato puree
Garnish (optional)
Lime wedge
1/2 tsp of sesame seeds
1 tbsp of finely chopped spring onion
Instructions
Wash the zucchini and dry. Next chop in half and begin to put through the spiralizer. Choose the thin noodle setting for the spiralizer.
Next wash and peel the carrot. Put it through the spiralizer to create the same sized noodles.
Mix the carrot and zucchini noodles in a separate bowl. Coat the vegetables in the rice wine vinegar and set aside in the fridge to cool.
Meanwhile, you can begn to make the low carb vegan satay sauce.
Heat the almond butter and coconut milk on a medium heat in a pan. Stir continiously until a smooth liquid. You don't want to bring it to boiling point.
Once you have a liquid well mixed consistency, add the rest of the ingredients. This includes the srirarcha, lime and soy sauce. Stir for a minute or two before adding to a serving dish or storage container.
Add a handful of the vegetables to a serving plate. Drizzle the satay over the vegetables.
Next is the fun part, add the garnish. Sprinkle a teaspoon of sesame seeds, a wedge of lemon or lime and a few sprigs of cilantro.
Notes
This salad is the perfect lunch or main dish. You could add pan fried tofu cubes to add more substinence if you intened to eat it as a main dinner meal.
It stores well and can be kept in the fridge for 1 to 2 days in an air tight container.
Nutrition Information:
Yield:
2
Serving Size:
1
Amount Per Serving:
Calories:

247
Total Fat:

22g
Saturated Fat:

11g
Trans Fat:

0g
Unsaturated Fat:

8g
Cholesterol:

0mg
Sodium:

167mg
Carbohydrates:

12g
Fiber:

4g
Sugar:

5g
Protein:

6g
You may also like