Ok so I searched high and low on the Internet for vegan coconut flour pancakes and the truth is so many recipes out there also require almond flour.
I set myself a mission to develop a vegan coconut flour only pancake. Well to say it was hard work is an understatement, I have been playing with coconut flour for months now but finally realised the biggest trick with using it! Read on for more details.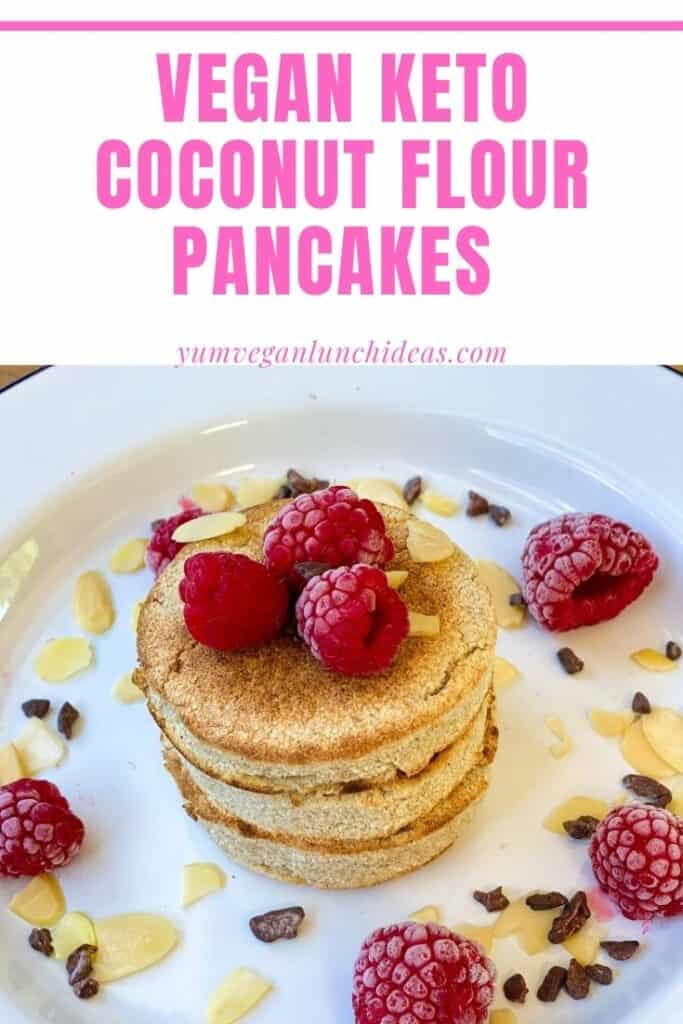 Coconut flour is becoming increasingly popular, particularly amongst those who are trying to live a low carb lifestyle. This alternative flour has a completely different flavour than others which is why there are probably very few recipes out there.
Coconut flour is inherently more sour than other flours so you really gotta work on those toppings and sweet notes. These pancakes DO have that slightly sour taste but the main reason I wanted to make them was because of the low carb benefit.
If you love all things brunch, why not check out our buckwheat pancakes, Dutch baby and Blintz.
Coconut Flour Pancakes Vegan
It's actually super easy to make vegan pancakes with coconut flour, the main thing to note is you are not going to be working with a batter. That is the number one key thing to remember.
I made so many mixes aiming for batter and it just does not work with coconut flour whatsoever. Instead, you will be working with a dough and even at that it can be a little temperamental.
One thing I am not claiming is that these pancakes are easy to make. They are not time consuming, it's just about getting the mix absolutely right.
Unlike my buckwheat pancakes, you just throw everything in whisk it up and it always works out.
Coconut Flour Vegan Pancakes Ingredients
1/2 a cup Coconut flour
1 tsp of chia seeds
2 tbsp of physllium husks
1 tbsp of baking powder
2 tbsp of coconut oil
2 tbsp of granulated stevia sweetener
1 cup of unsweetened almond milk
1 tbsp of vanilla essence
Coconut flour being the most obvious ingredient is gluten free, vegan and has a tonne of health benefits. It's a very fibre rich ingredient and is a great source of iron.
The chia seeds and the psyllium husks are both used as a binder. Make sure to activate your chia seeds with a touch of water for a few minutes before adding them to the mix.
Both chia seeds and psyllium husks have some great nutritional properties too. In the mix these two provide, omega 3, protein and fibre.
If you are not so caught up on the carbs, you can replace granulated sweetener with your sweetener of choice.
Method
Firstly activate your chia seeds with a touch of water and set to one side. Melt the coconut oil and add the granulated sweetener. In a separate bowl, add all of the dry ingredients before adding the sweetened coconut oil with milk and vanilla essence.
The mix can be made into a dough, give it a knead and bring it all together. It may be a little sticky, thats ok. This mix should give you 12 picklet sized pancakes.
If you are not familiar with the size of a picklet, check out this pan.
This should provide a serving to 4 people in total. Getting back to the dough, roll it out, using a cutter, make 12 picklets.
Oil your pan with coconut oil if you have it or a touch of olive oil can also work. On a medium heat, add your picklet pancakes. Turn after a couple of minutes, repeat until golden.
Serving
To serve, I stacked them on top of each other, dressed with frozen raspberries. cacao nibs and almond chips. I also made a drizzle chocolate sauce with a tbsp of coconut oil, a tsp of cacao and a dropper of liquid stevia mixed together.
These extras definitely helps with getting rid of that sour flavour of coconut flour.
Click here for more delicious Vegan Keto Breakfast Recipes.
Storage
You can store these vegan coconut flour pancakes in an air tight container in the fridge for 2 to 3 days. You can also freeze them and heat them up later in the toaster. That said, they are best served fresh.
When To Eat Coconut Flour Pancakes
Coconut flour pancakes work perfect for breakfast or vegan brunch. They also work nicely for a sweet lunch too!
Yield: 4
Vegan Coconut Flour Pancakes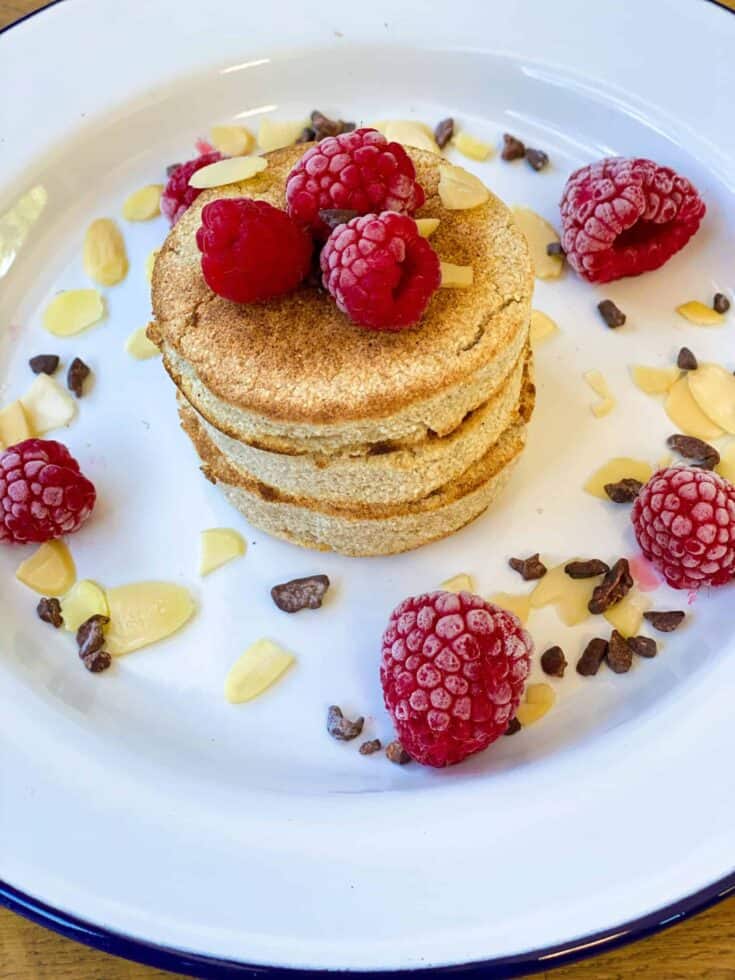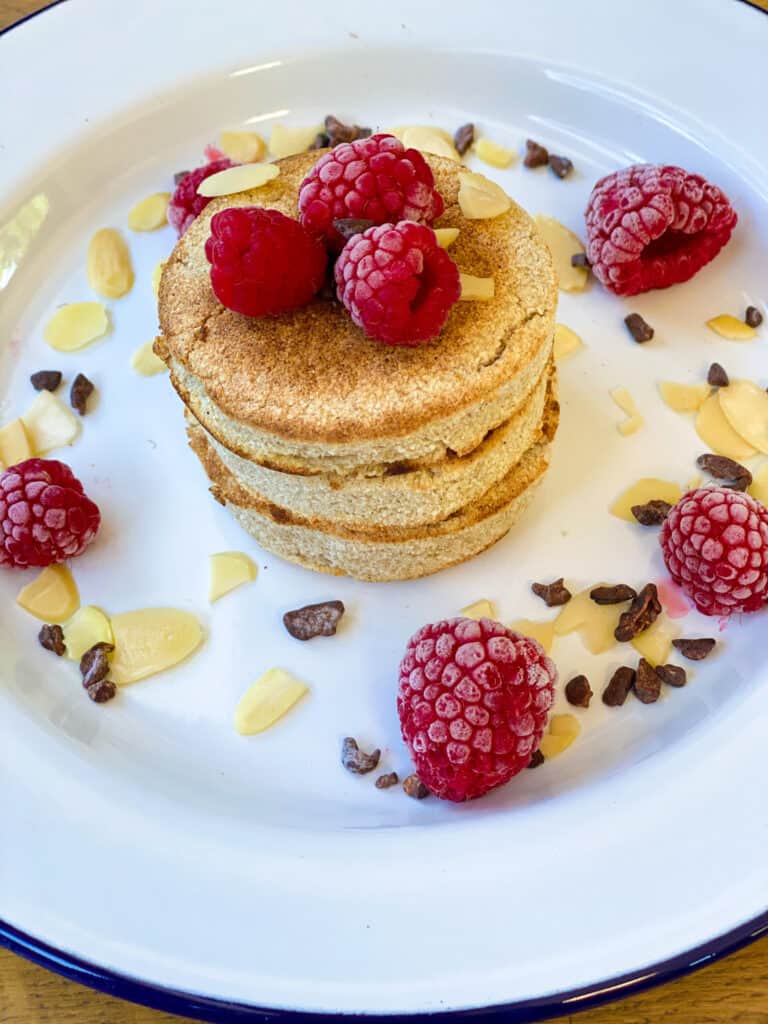 Try these delicious vegan coconut flour pancakes; They are low carb keto coconut flour vegan pancakes that are the perfect breakfast or brunch if you are on a low carb diet.
Ingredients
1/2 a cup of coconut flour
1 tbsp of chia seeds
1 tbsp of physllium husks
1 tbsp of baking powder
2 tbsp of natural granulated sweetener
1 cup of unsweetened almond milk
1 tbsp of vanilla essence
2 tbsp of coconut oil
Instructions
Activate the chia seeds with a touch of water and set to one side.
In a mixing bowl add the following ingredients - baking powder, coconut flour and psyllium husks, mix them into one another.
Melt the coconut oil and add the granulated sweetner, milk, vanilla essence and activated chia seeds together with a hand wisk.
Making a well in the centre of the dry mix, add the liquid mix. Mix together well until you form a dough.
Knead the dough in the bowl before adding it to a board. Roll it out and cut 12 picklets out of the dough.
Heat the picklet pan on a medium heat, lightly oiled coconut oil.
Place the picklets on the pan and cook. Flip after a couple of minutes until both sides golden.
Serve immediately with toppings of choice. See above for a variety of options.
Notes
Make an additional drizzle sauce with two tablespoons of coconut oil. Melt it and add one tsp of raw cacao powder with 1 dropper of liquid sweetner. This is a yummy keto choclately option.
Don't forget the taste of coconut flour is sour. You will need some tasty toppings to take the edge off this. Many recipes out there will use almond flour as well with only a touch of coconut flour. Almond flour is much more expensive than coconut flour, hence wanting to try and nail down these coconut delights.
You must also remember, unlike other pancake recipes, you will not be working with a batter. Coconut flour has a very different consistency than other flours and for this reason you will need to work with a dough. It took me month to realise this, everytime I would make what i thought was a batter would just fall apart on my pan. It wasnt until i realised i would need ot handle the mixture and shape it before cooking that it finally worked out.
The chia seeds and psyllium husks will help to bind the mix together.
Nutrition Information:
Yield:
4
Serving Size:
1
Amount Per Serving:
Calories:

172
Total Fat:

11g
Saturated Fat:

8g
Trans Fat:

0g
Unsaturated Fat:

3g
Cholesterol:

0mg
Sodium:

376mg
Carbohydrates:

13g
Net Carbohydrates:

4g
Fiber:

3g
Sugar:

4g
Protein:

4g
Disclaimer: There are affiliate links in this post. By using them, we will get a small commission of the sale at no extra cost to you. It's the little things that help keep us afloat. We never recommend something we don't believe in, always tried and tested too.
If you liked discovering these coconut delights, why not check out some more of our recipes: