I have been ALLLL about the smoothie bowls this summer! They are just so easy to whip up and such a great way to use up fruits, seeds and other ingredients. Not to mention just how pretty they are! This week, I made this stunning peanut butter acai bowl and it certainly did not disappoint!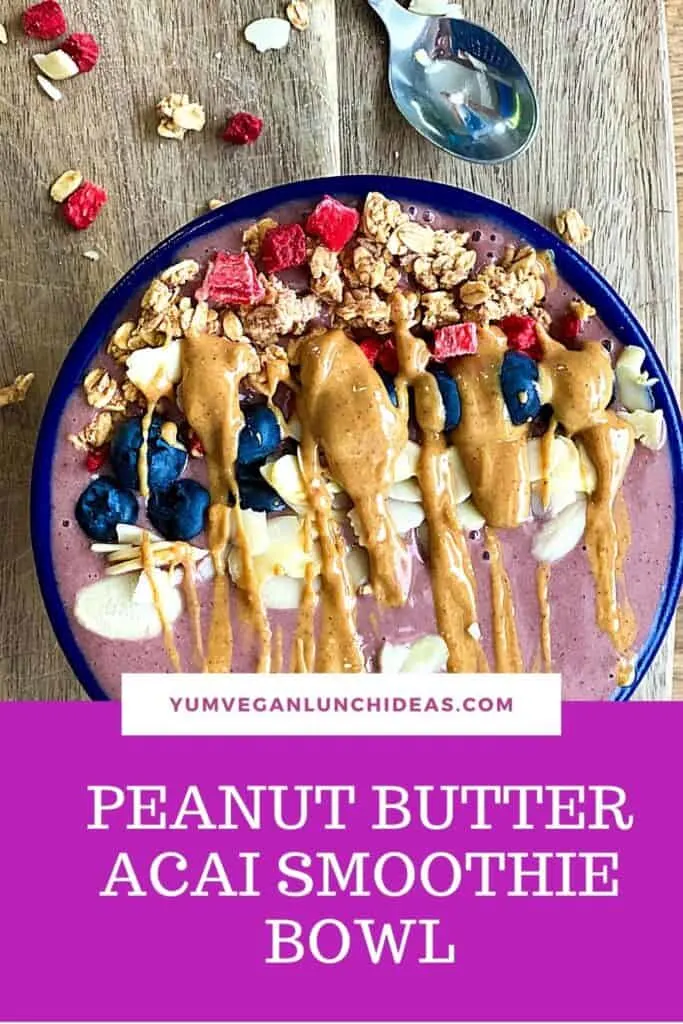 Acai and peanut butter have to be two of my shopping list essentials so I thought, hey why not blend these two together?
Along with some frozen fruits, plant milk, a handful of toppings and you have the perfect vegan breakfast, brunch or lunch! Make sure to check out our vegan lunch ideas.
Acai Peanut Butter Smoothie Bowl
As a vegan I am always on the lookout for nutritional superfoods. Acai is a berry and has some incredible health benefits. You can usually buy it in puree form or powder too.
I personally prefer to use Acai in its puree from. I just keep a few sachets in my freezer and add them to my smoothies or over oats is really good too.
The acai berry originates from central and South America. They grow on the acai palm tree and are a long reddish / purple berry.
Acai is considered to have a tonne of antioxidant properties. They are also considered to provide an energy boost increasing brain function.
There may also be some evidence to suggest acid is cholesterol lowering and anti-cancer superfood too!
Acai Bowl With Peanut Butter
Along with the açai, the other main ingredient in this recipe is peanut butter. I always opt for a more runny peanut butter, it works really nicely in smoothies, especially for the ultimate drizzle at the end.
As a vegan, peanut butter is a great source of protein so I add it to lots of my meals.
I always add frozen fruit into this particular bowl as well. In this one I added:
Frozen strawberries
Fresh or Frozen Raspberries
Frozen banana
You'll also need:
Plant based milk of choice ( I tend to use unsweetened almond milk to keep the calorie and carb content down).
Maple syrup or a sweetener of choice
All you will need to do is simply blend all of the ingredients together and add it to a bowl of choice. I tend to bounce between my favourite coconut bowls
and Falcon ware. They both offer the perfect size for smoothies!
If you don't have a smoothie blender, I can highly recommend both the Ninja and the Kenwood. I love that you just screw the cup right in there, it's not oversized when it comes to washing up and can be stored in the fridge if you make extra quite easily.
I am all about keeping the washing up to a minimum. Both blenders are pretty strong and will get through the frozen fruit without and issue. At the end, you'll expect to get a relatively thick but creamy consistency to your smoothie.
To check out the Ninja click here here or the Kenwood click here.
Acai Peanut Butter Bowl Toppings
In the bowl pictured here, I have used granola with dried strawberry, flaked almond, fresh blueberries and a big drizzle of more peanut butter! It was sooo good!
Some other ideas may include:
Seeds
Nuts such as whole almonds or pecans chopped up
Other berries
Cacao nibs
Banana
Flaked coconut
The options are endless and can really be altered to what you have available. There is no need to buy things, I am all about using what you've got in the pantry!
Storage
It's best to serve the smoothie straight away, however you can also keep the mix in the fridge in an air tight contained for 3 to 4 days. Just give it a good shake when your ready to have it and prepare yourself a bowl.
Of course, you can also leave the toppings out and just add a scoop of protein instead to drink it on the go. The blenders mentioned above are perfect for that as a grab and go option.
This recipe has been tried and tested with little kids too! My toddler absolutely loves this recipe. So it's an all round good option for a lazy brunch with the whole family.
Before we jump to the recipe card, let me just point you in the direction of our:
Yield: 2
Peanut Butter Acai Bowl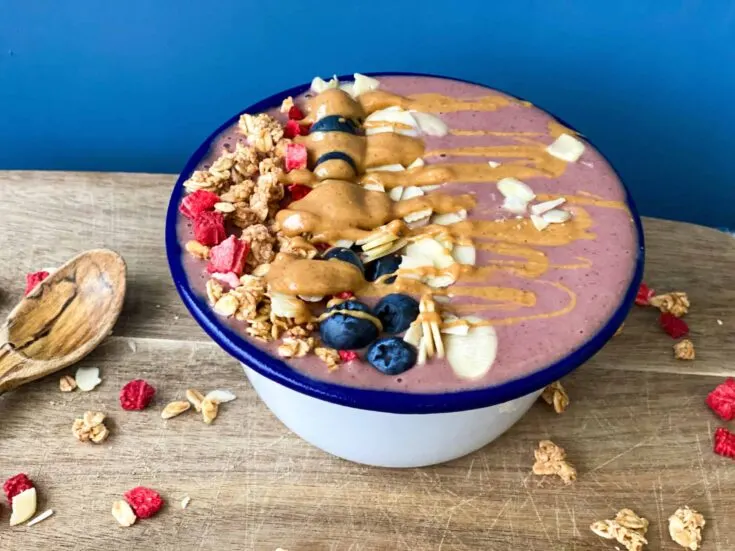 Try this delicious and nourishing vegan peanut butter acai bowl. It's packed full of taste and goodness, absolutely perfect for breakfast, brunch or lunch. This peanut butter and acai smoothie is perfect for kids or adults. YUM VEGAN!
Ingredients
1 pouch of acai puree
1 large frozen banana
1/2 a cup of peanut butter
2-3 frozen strawberries
1/4 a cup of frozen raspberries
2 tbsp fo maple syrup
2 cups of unsweetened almond milk
Optional toppings
2 tbsp of granola
1/4 cup of blueberries
A sprinkle of almond flakes
2 tbsp of peanut butter
Instructions
Add the plant based milk of choice, frozen straberries, 1/2 a cup of peanut butter, acai puree, raspberies and maple syrup to the blender. Blitz until creamy smooth.
Pour into bowl of choice.
Add toppings of choice. My favourite toppings are granola, blueberries, peanut butter and almond flakes.
Serve immediately with a spoon!
Notes
If you can not find acai puree, you could also use acai powder instead. It might not have exactly the same flavour but it will have the same colour and health properites if that is what you prefer.
The powder may also be more beneficial in terms of calories if you are trying to keep them to a minimum.
Some of the other ingredients can easily be swapped out depending on what you have available at home. Instead of raspberries or strawberries, you can choose other fruits of choice, for example a different berry or mango.
Use whatever milk you have, I tend to always go for the unsweetned almond or oat milk.
Nutrition Information:
Yield:
2
Serving Size:
1
Amount Per Serving:
Calories:

823
Total Fat:

49g
Saturated Fat:

9g
Trans Fat:

0g
Unsaturated Fat:

32g
Cholesterol:

0mg
Sodium:

403mg
Carbohydrates:

89g
Fiber:

18g
Sugar:

44g
Protein:

23g
Disclaimer: There are affiliate links in this post. By using them, we will get a small commission of the sale at no extra cost to you. It's the little things like this thats keep us afloat. We never recommend something we don't believe in, always tired and tested too.