Well, I'm months late for superbowl sunday but I finally put together my favorite vegan sliders for you all! Corona times, am I right? Anyways, these meatless sliders are super meaty and crunchy, creamy and addictive. In short, all the things you want for a good slider.
These vegetarian sliders are based on seitan with some melty vegan cheese and a dollop of coleslaw. Be prepared to just continue grabbing one after the other if you make these, the little sandwiches are just so fun to eat.
You can make these vegan sliders for any party, but they are especially good for game days and superbowl parties! If you are looking for more game day food inspiration, check out our full roundup of the best superbowl foods!
Vegan Sliders Recipe Ingredients
To make the mini veggie sliders, you can take some shortcuts by buying premade seitan and slider buns. If you want to make your own from scratch you can do that as well – that's what I usually do. Here's a list of what you'll need for the shortcut version, with links to the seitan and bun recipes we use and more details below if you are going to make your own.
Classic Creamy Coleslaw
Grated Vegan Cheese
Vegan Slider Buns
For vegan slider rolls you can use any small, dinner roll sized buns you can find or whip up. If you have good vegan options at a nearby bakery, it's certainly quicker to buy a batch of them. I have a hard time finding slider sized buns to buy so I usually make my favorite vegan dinner rolls (recipe here).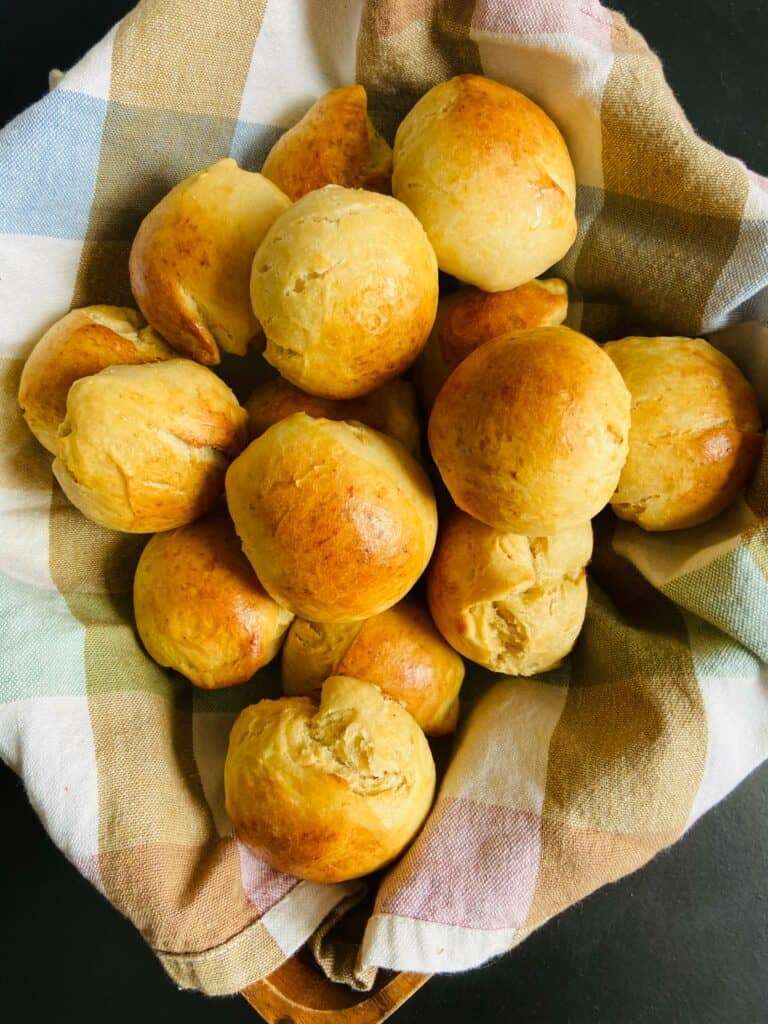 You can make the bread ahead of time, and they are freezer friendly so it doesn't have to be made during crunch time. Plus you can make a double batch and pop them out of the freezer any time you want some homemade bread.
Seitan
I strongly prefer the taste and texture of homemade seitan to the storebought variety, so I really recommend making your own. I use the recipe from these seitan ribs as a base following the instructions up until they come out of the oven (before pan/grill cooking it.)
The ribs recipe is actually pretty quick to make and can be made ahead of time but if you prefer to skip it you can find seitan in many regular supermarkets, as it's becoming more popular. It is usually stocked next to the tofu. If your local supermarket doesn't carry it, try to find the closest health food store.
Health food stores almost always have seitan now a days, whether you are shopping in a small store, or in a large chain like Trader Joe's or Whole Foods.
Looking for more ways to use seitan? Check out the best seitan recipes!
Creamy Coleslaw For Sliders
You don't need a specific recipe for this coleslaw, but it should be creamy and crunchy! You can just use a classic recipe and swap in vegan mayo for the regular egg mayos, but if you want to use a specifically vegan recipe here's a quick and easy vegan recipe. More dressing went into the making of mine than is used in this recipe to make it extra creamy, but no matter how you like it, it's great to make the full batch and then serve up the extras as a side dish.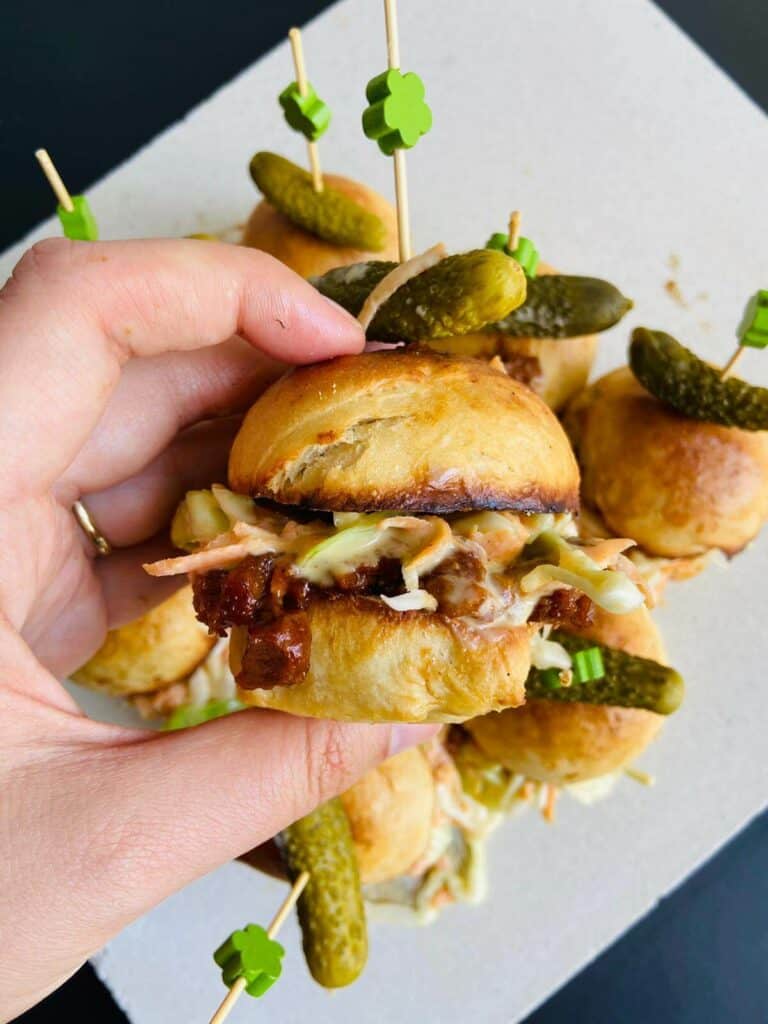 Vegan Cheese
My favorite melty vegan cheese is violife brand, but use whichever you like, or you could even leave it out if you want. It adds some nice gooeyness to the vegetarian sliders recipe.
How to Make Seitan Sliders
Once you've bought/made the various ingredients listed above you are ready to get started! Cut your sliders buns open and lightly toast them. I popped them face up in the oven to toast them all quickly.
While they are toasting, thinly slice your seitan. The peices dont have to be super even so don't worry about it. Throw them in a pan with the beer and bbq sauce and simmer on medium heat until most the liquid has thickened and been absorbed. Stir semi frequently while it's cooking so it cooks evenly, some of the peices may break down a bit and thats fine too.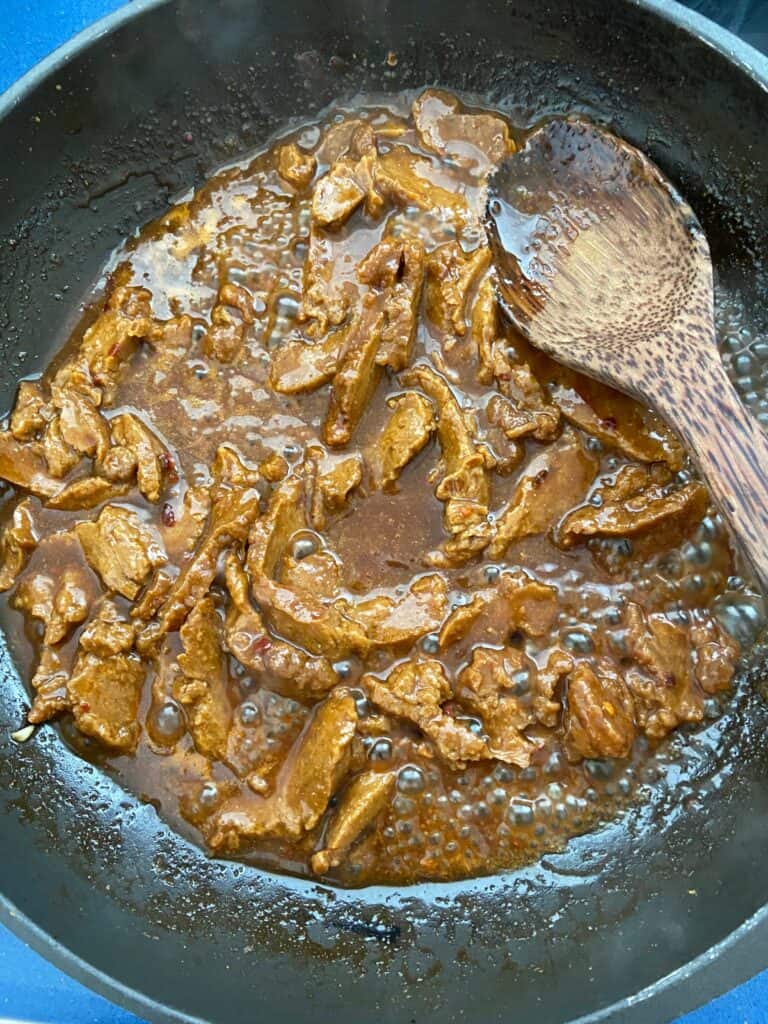 When the bread is toasted, sprinkle vegan cheese on all the sandwich bottoms and put them back in the oven or into the microwave for just long enough to get the cheese melty.
At this point the seitan should be done simmering. Stir the vegan Worcestershire sauce so it's well combined. Add the seitan on top of the melted cheese on each bun. Top with a couple tablespoons of the coleslaw and the top of the bread.
For some extra flair and to keep your sandwiches tightly together, stick a sandwich toothpick through each sandwich!
Leftover Homemade Sliders
The real question is what leftovers? Honestly, when I make these for a grazing board I just grab one everytime I pass because they are so addictive so there wont be a lot of leftovers. If you have more self control then me though, you can absolutely store the leftovers in the fridge.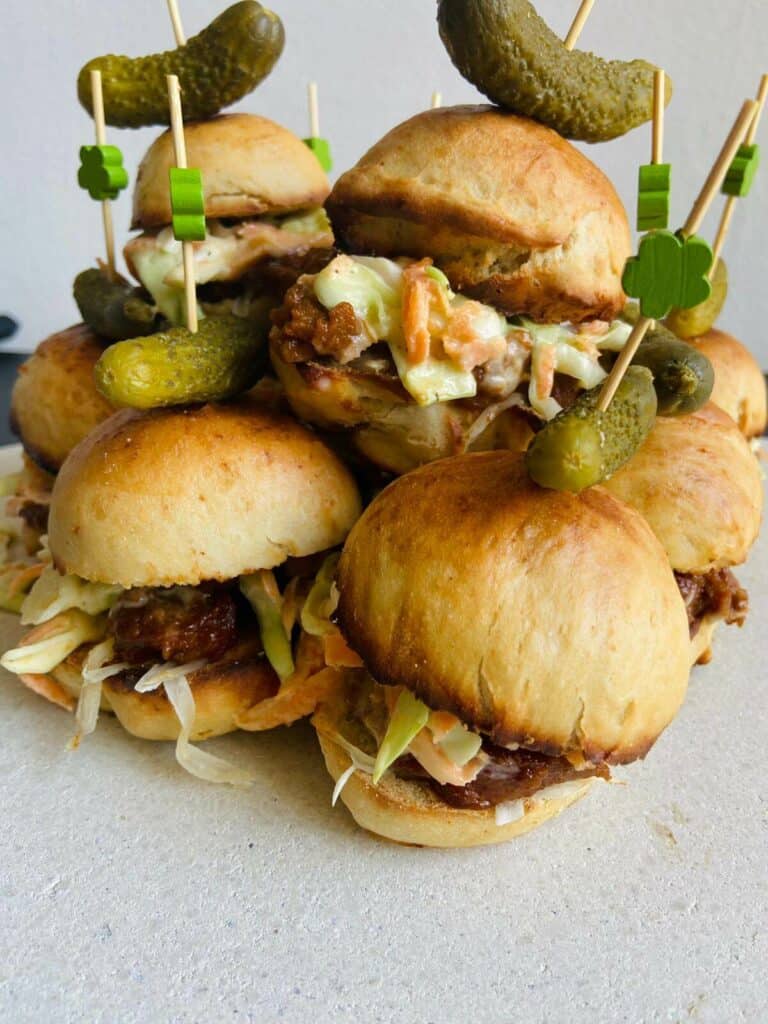 The longer it sits, the bread will get soggy from the coleslaw juices but because we toast it first it should hold up for a day before starting to break down. Throw them in the microve for a minute until hot or enjoy them cold, I honestly love it both ways.
You can also store the ingredients seperately and assemble when ready. The individual parts of the sandwich should be fine in the fridge for at least five days.
Don't Forget To Pin This Recipe For Later!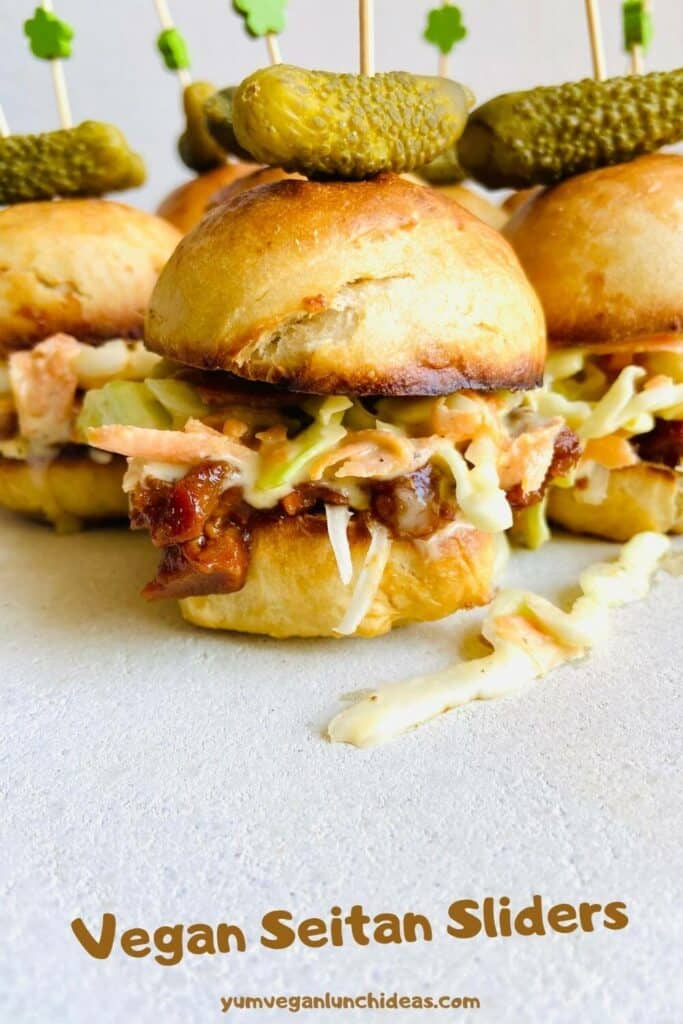 Yield: 15 - 20 Sliders
Vegan Sliders With Beer BBQ Seitan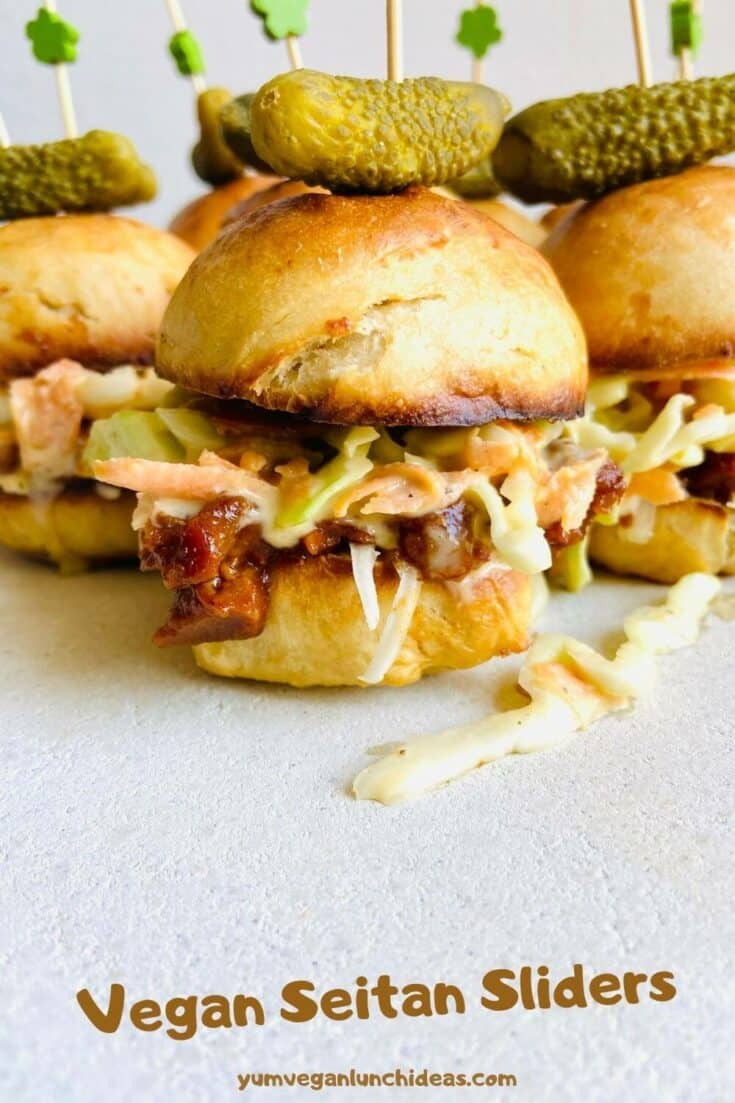 Try these mini vegan sliders, they are perfect for parties, game day grazing boards and more. They are super delicious and addictive with beer bbq seitan, creamy crunchy coleslaw and melty vegan cheese!
Ingredients
1/2 Cup Beer
1 Cup Grated Vegan Cheese
Instructions
Cut slider buns in half and lightly toast.
While they are toasting, thinly slice the seitan, no need to worry if the pieces are not consistent sizes, it's nice to have some different size peices.
Simmer the sliced seitan with the bbq sauce and beer over medium heat until the sauce has been significantly absorbed and thickened, stirring regularly.
When the buns are done toasting, distribute the vegan cheese on the bottom halfs of the buns and melt either in the oven or microwave. Only heat until just melted.
Stir the worcestershire sauce into the seitan and then distribute a small mound of the seitan on top of each melty cheese bun bottom.
Top with the a heaping tablespoon of the coleslaw and then the top of the bun.
Stick a sandwich toothpick through the center with some optional garnish (like mini pickles) to help keep the sanwich together.
Enjoy!
Notes
* The number you need will depend on the size of the rolls - click link to check out the vegan rolls recipe I use as my buns.
** You can use the linked recipe or any regular coleslaw recipe and just swap out the egg mayo for vegan mayo. Or if you are confident in your own coleslaw, dont follow a recipe altogether!
Recommended Products
As an Amazon Associate and member of other affiliate programs, I earn from qualifying purchases.
Nutrition Information:
Yield:
20
Serving Size:
1
Amount Per Serving:
Calories:

66
Total Fat:

3g
Saturated Fat:

1g
Trans Fat:

0g
Unsaturated Fat:

2g
Cholesterol:

1mg
Sodium:

180mg
Carbohydrates:

8g
Fiber:

0g
Sugar:

6g
Protein:

2g
You may also like: