This vegan breakfast pizza is an absolute winner for a tasty, savoury brunch. Topped with typical, tasty vegan breakfast things – this vegan pizza can be enjoyed for brunch, lunch and dinner too!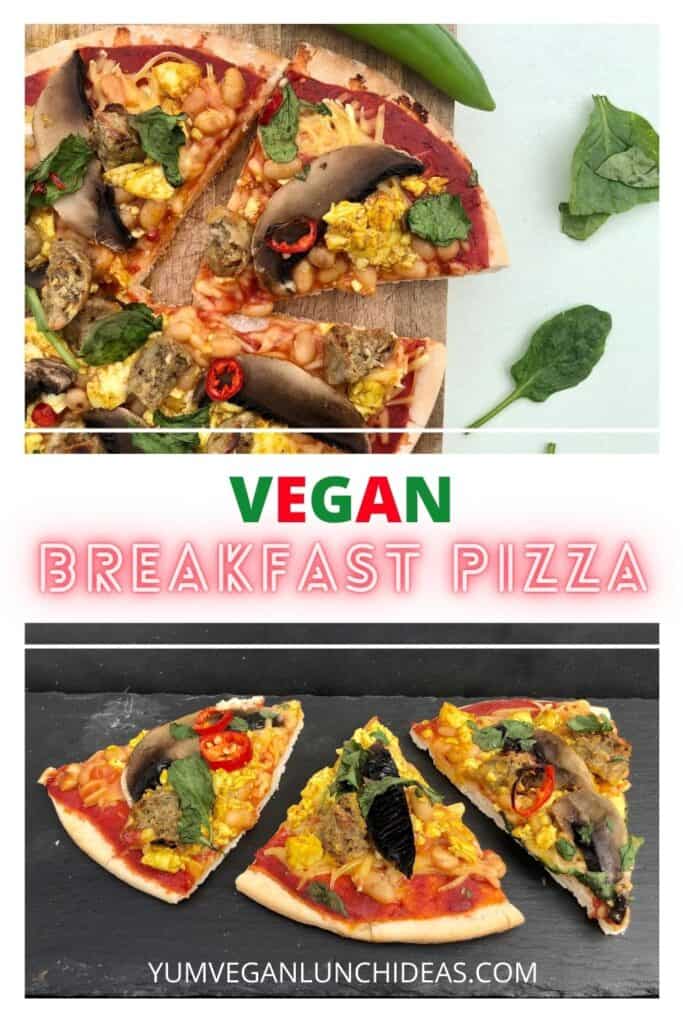 Easy Vegan Breakfast Pizza
This vegan pizza recipe is super easy with a few ingredients you probably already have at home. With a simple homemade pizza sauce and a combination of winning vegan breakfast foods such as baked beans and scrambled tofu – this vegan breakfast pizza is SO GOOD!
So good I had it two days in a row for brunch. It would most definitely be an awesome breakfast or brunch to impress some guests staying over.
The breakfast pizza toppings were just perfect – and the whole dish made for a nice change from my usual oatmeal or toast for breakfast. It was a sudden realisation this January that I had been eating the same breakfast everyday!
Gone are the days where I eat leftover pizza for breakfast (ok maybe not – cold pizza is great too).
However I enjoyed it all by myself having had a brain wave and combining some of my leftover foods with a pizza base!
Vegan pizza is joy. Vegan breakfast pizza is pure joy! Is this pizza topped with pure deliciousness. Yes!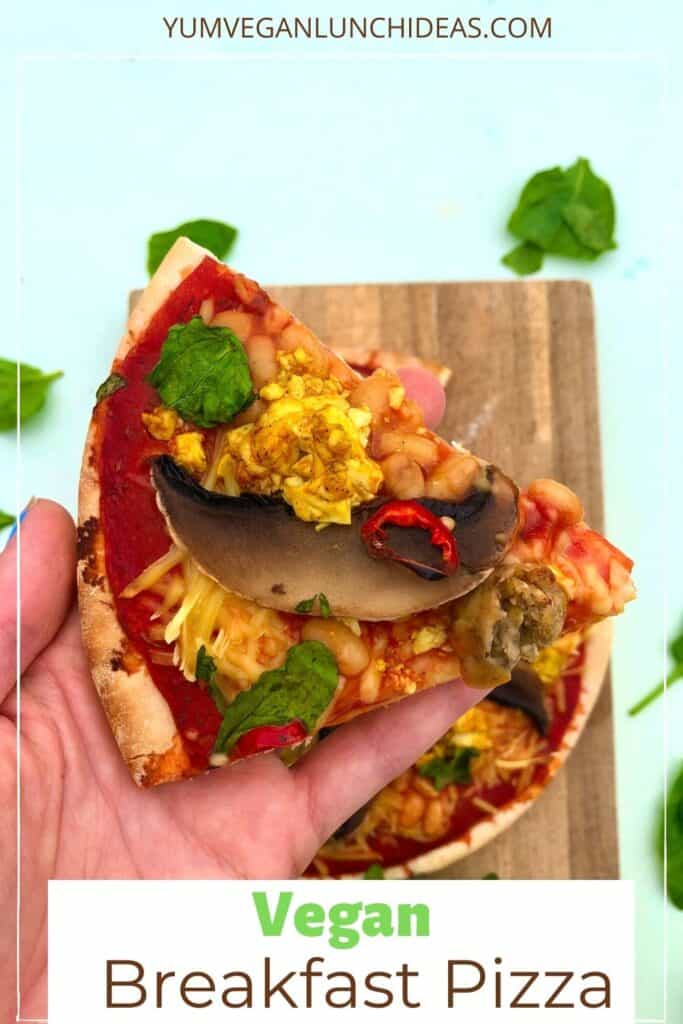 So what do you need to make this veggie breakfast pizza recipe?
Vegan Pizza Base
Vegan Pizza Sauce
Baked Beans
Scrambled Tofu
Vegan Sausage
Mushroom
Spinach
Vegan Cheese
Chilli pepper
Vegan Pizza Base
Vegan pizza bases are found throughout the supermarket, in the bread section or fresh in the refrigerator. In fact most pizza bases are vegan. I always have this on my shopping list as its a quick, easy and tasty meal that can have so many varieties. And they give a delicious pizza crust too!
This recipe uses a ready made pizza base as, lets face it – we want to make this delicious pizza quickly!
But of course feel free to make your own pizza dough using flour, water, salt, olive oil and a little yeast!
I have two busy kids on my hands so ready made, quick and easy is what I need!
You can totally make a gluten free pizza base or mix it up using what you have on hand, perhaps an open face pitta, naan or tortilla.
Vegan Breakfast Pizza Sauce
You don't have to shell out for a fancy pizza sauce. Its really easy to make a tasty pizza base sauce with ingredients thats probably already in your cupboard!
Simply mix the below ingredients together and you will have the yummiest pizza base sauce.
Passata
Tomato Puree
Garlic Granules
Oregano
However that saying, many people actually prefer a BBQ sauce base – in which you can check out out BBQ sauce recipe here. You can also make a cheese sauce base if you prefer by blitzing sweet potato, a little oat milk, garlic powder and nooch.
However I stick with the classic tomato pizza sauce – I am definitely a traditionalist when it comes to my pizza sauce!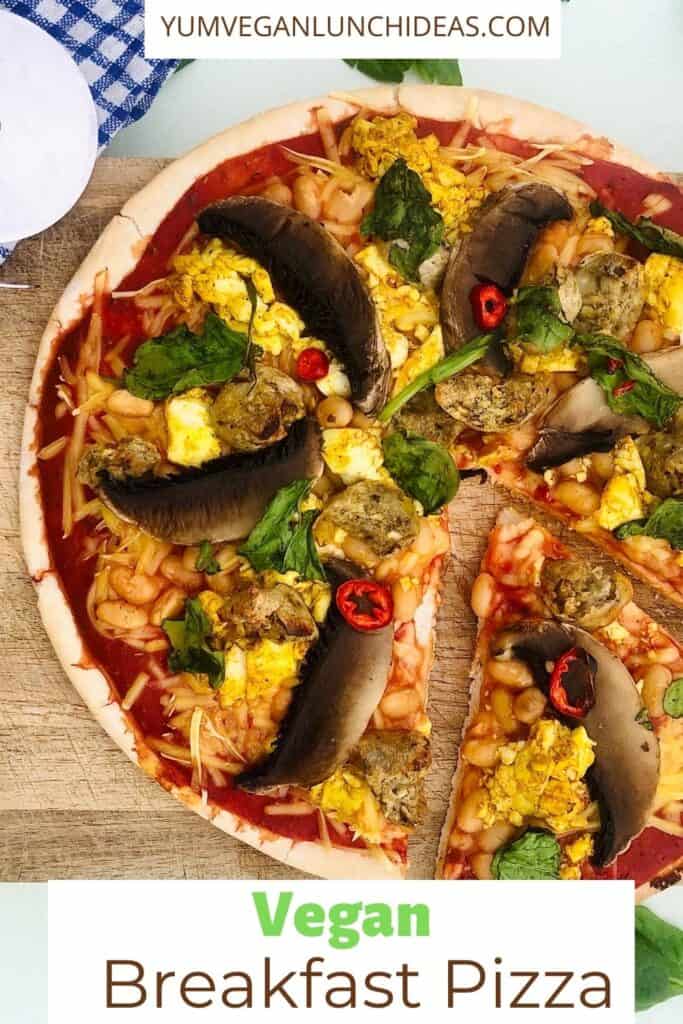 Silken Tofu Scramble
I never thought of making a vegan breakfast pizza until I had some leftover vegan tofu scramble. I was trying to think of something creative and different to do with it, as I always make enough for 2-3 meals.
As I scanned my refrigerator and saw the pizza base, leftover baked beans and tofu scramble, I had a lightbulb moment – vegan pizza for breakfast! And my goodness I was not disappointed!
The vegan egg scramble definitely ramped up the flavours and was the perfect addition to this delicious vegan eggless breakfast pizza. The delicious eggy flavours from the kala namak or black salt really makes it tasty.
This Silken Tofu
brand is tasty and always reliable for our recipes.
Some people really rate the "Just egg vegan breakfast pizza" – in which you could totally use just egg too – I've tried it a few times and its really tasty. Either way the vegan scrambled egg breakfast pizza is delicious with the vegan egg alternative.
Vegan Sausage
There are so many options for vegan sausages around right now! Find one that you enjoy the most and simply dice it up for the pizza.
Some vegan sausages come frozen, which I did use for this recipe as thats what I had on hand. I simply popped it in the preheating oven to thaw as I made the pizza. It was then soft enough to chop and top the vegan pizza with – meaning it would not be overcooked.
If you really wanted to go all out, some tempeh bacon, eggplant bacon or rice paper bacon would be a great addition – however this pizza was loaded enough for me 🙂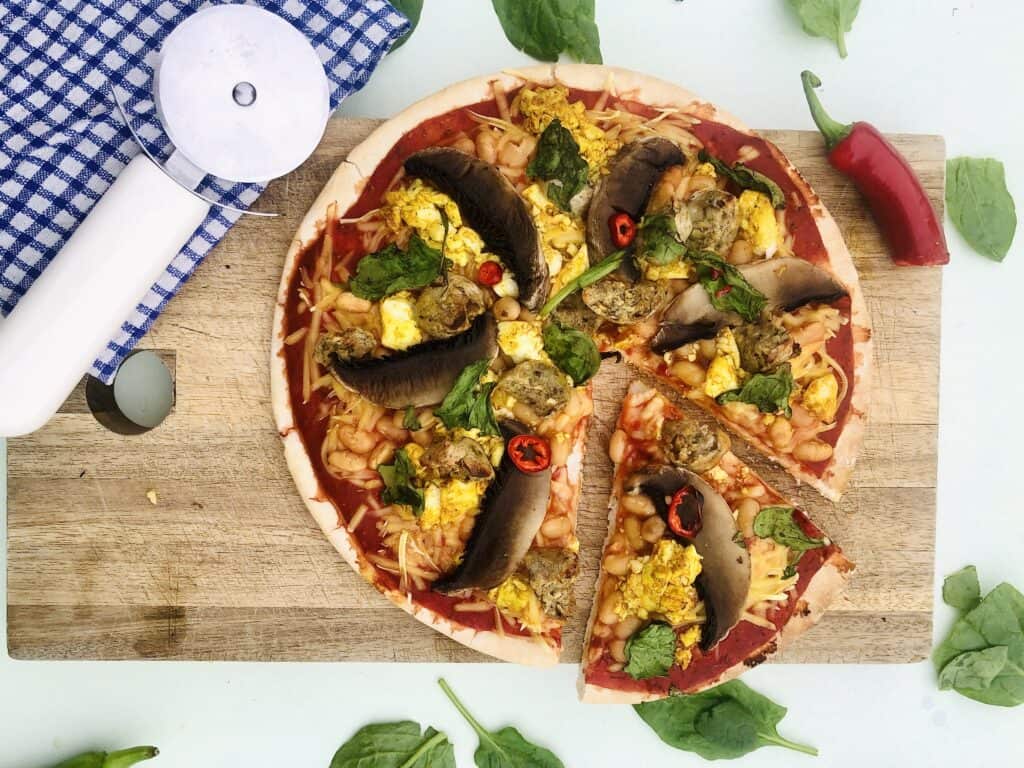 Baked Beans
Baked Beans
are a very popular food in the United Kingdom, less so in the United States, but still easy to purchase from here
.
Baked beans are packed with protein and iron – and are low in fat. They make for a tasty breakfast and actually make this vegan breakfast pizza so tasty! It blends beautifully over the vegan pizza sauce and is almost like a delicious bean base sauce!
Baked beans are pantry staples in our house as they are a cheap, tasty and super easy meal for any time of the day. I had some leftover beans in my refrigerator which gave me the idea to top them on this delicious veggie breakfast pizza.
Vegan Cheese
There was a time when I was happy to accept a pizza without cheese as there weren't many vegan cheeses around. You can totally make this a cheeseless breakfast pizza of vegan cheese isn't your thing.
However the grated vegan cheese on this one adds to the overall taste so I do recommend!
I used the very popular Violife grated cheese brand and it worked perfectly. You can also check out this vegan mozzarella recipe if you want to make your own.
Mushroom
Mushroom is a must on my pizzas and it went perfectly with this particular recipe. I chose a portobello mushroom as I love the taste of them.
Spinach
I'm always trying to get spinach and leafy greens into all of my meals if I can. A decent sprinkle of spinach on this vegan breakfast pizza is perfect, it wilts down beautifully and gives a healthy kick of iron!
Chilli
The chilli is obviously optional, but I totally went for a little spicy kick.
Pizza Cutter
This easy grip Pizza Wheel and Cutter
makes for an easy pizza cutter!
Yield: 1 pizza
Vegan Breakfast Pizza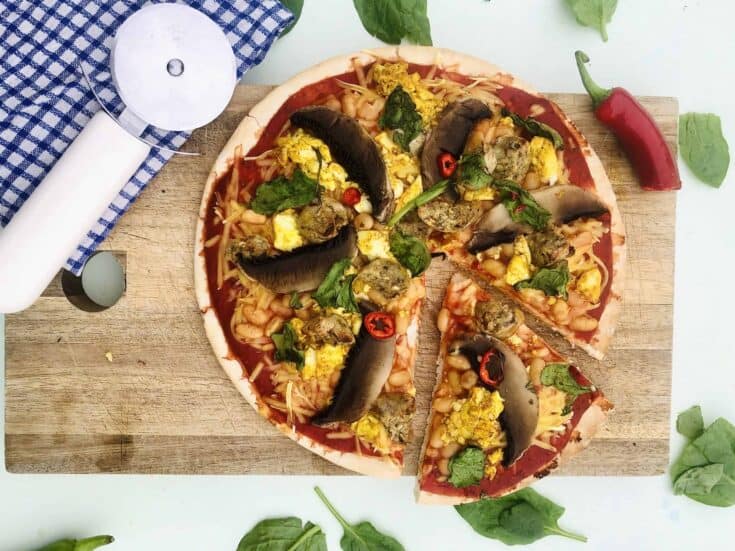 This vegan breakfast pizza is an absolute winner for a tasty, savoury brunch. Topped with typical, tasty vegan breakfast things - this vegan pizza can be enjoyed for brunch, lunch and dinner too!
Ingredients
Pizza base
3 tbsp passata
1 tsp tomato puree
1 tsp garlic granules
1 tsp dried oregano
1 big handful of grated vegan cheese
3 tbsp baked beans
3 tbsp tofu scramble (see recipe card below)
1 vegan sausage
1 portobello mushroom
Small handful spinach
1/2 red chilli pepper
Instructions
1. Preheat oven to 180c/360f. If using a frozen vegan sausage - place in the oven to semi-cook and soften up while you make the pizza.
2. Make sliken tofu scramble - see recipe card below.
3. Make pizza sauce by combining the passata, tomato puree, garlic granules and dried oregano together.
4. Remove sausage from the ove so it does not overcook. Chop it into bitesize pieces.
5. Start layering that vegan breakfast pizza! Add the sauce to the pizza base. Add some vegan cheese, if you are usuing any. Then add the baked beans. Top with your silken tofu scramble.
6. Next up, add the chopped vegan sausage, sliced portobello mushroom. Wash spinach and sprinkle on top of the pizza. Add tge chopped chilli pepper, if using.
7. Cook according to pizza base instructions, but use your discretion at how long to cook for. It should take approximately 12-15 minutes, depending on your type of oven.
8. Once cooked, leave to cool ever so slighlty as it will be very hot. Slice and enjoy!
Nutrition Information:
Yield:
1
Serving Size:
1
Amount Per Serving:
Calories:

653
Total Fat:

33g
Saturated Fat:

12g
Trans Fat:

0g
Unsaturated Fat:

17g
Cholesterol:

60mg
Sodium:

1503mg
Carbohydrates:

60g
Fiber:

11g
Sugar:

12g
Protein:

35g
this is an estimate
Disclaimer: There are affiliate links in this post. By using them, we will get a small commission of the sale at no extra cost to you. It's the little things like this thats keep us afloat. We never recommend something we don't believe in, always tired and tested too.