Beautiful broccoli is has taken over the shelves of my grocery store, so I decided to run with it! Along with broccoli soup, this vegan broccoli salad recipe has become one of my favorite broccoli recipes.
Originally I was just going to make one of the standard creamy type broccoli salad. (Side note: If you are new to veganism, don't worry, you don't have to give up mayo and creamy salads, just sub in some Just Mayo
into whatever recipe you need.)
In any case, I changed my mind because I've been trying to avoid mayo (trying being the operative word….it's just too good). I decided to attempt a bit of a healthier broccoli salad that would fill all my cravings, and balance the raw broccoli salad with some fats and other well rounded flavors.
Well now I'm never looking back. This broccoli salad is crisp, fresh, addictive, and covered in honey mustard dressing. Bonus points; doesn't make you feel weighed down and unhealthy afterwards. In my opinion it tastes just as amazing as the classic broccoli salads I grew up with. My husband and I literally inhaled it.
This healthy broccoli salad recipe is super easy to throw together and is low carb, no mayo, and a great way to balance out some of the heavier foods (like this crispy tofu "chicken" or this awesome vegan tortas recipe) that usually accompany broccoli dishes.
If you'd like to see more vegan salad recipes click here, or check out some of our favourites such as our vegan spinach salad, vegan taco salad or our vegan brussel sprout salad with vegan poppyseed dressing.
Vegan/Vegetarian Broccoli Salad Ingredients
This cold broccoli salad has pretty standard, easily found ingredients. The ingredients are: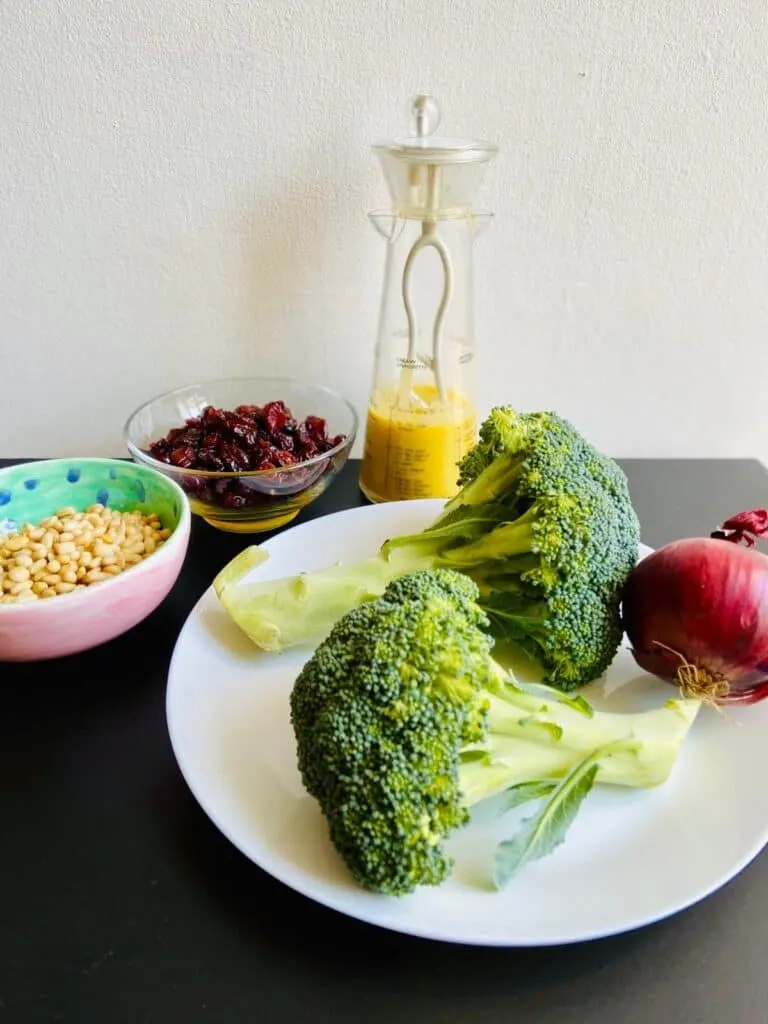 The only ingredient that comes out on the more expensive side is the pine nuts. I love pine nuts and I think they go really well in this salad but if you are budgeting or just prefer and alternative, you can replace them with sunflower seeds or slivered almonds.
Easy Broccoli Salad Dressing
When you want to make a broccoli salad with no mayo, the question becomes how to round out all the flavors and add some creamyness. Especially with raw broccoli, it needs balance.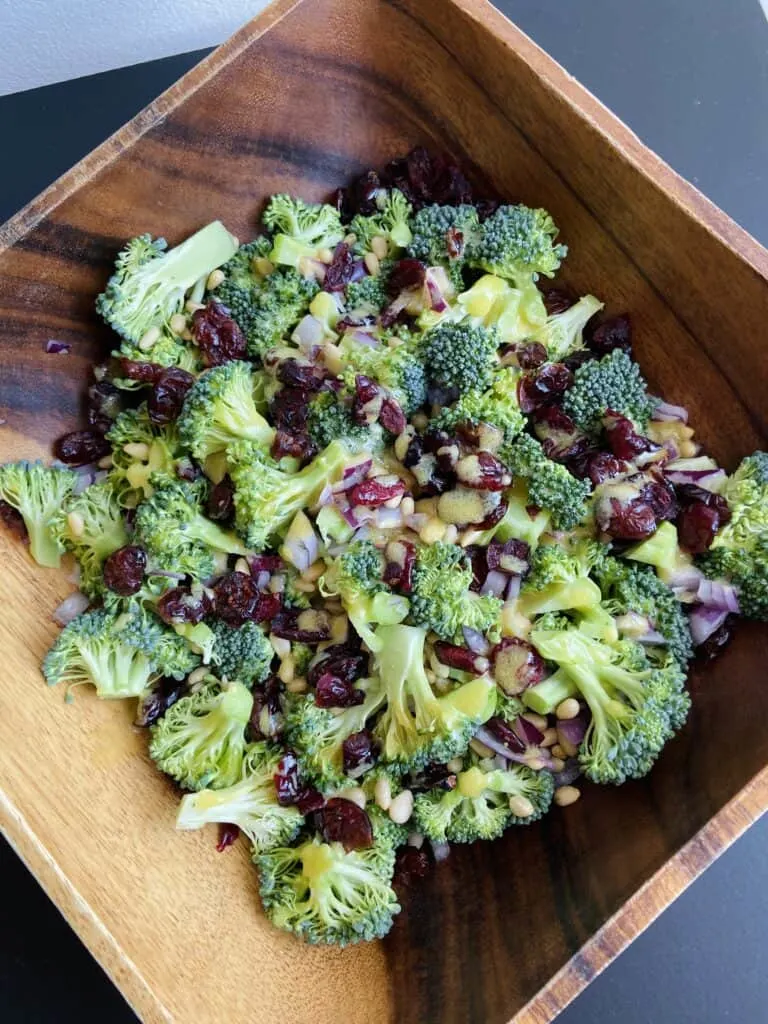 Well I've found this honey mustard to be the perfect compliment to broccoli salad. It's really simple to make, with mostly pantry staples. The ingredients are:
Olive Oil
Apple Cider Vinegar
Dijon Mustard
Agave
Garlic Powder/ Granulated Garlic
Salt
Everything just gets mixed together for a quick and easy dressing. You can check out the full broccoli salad dressing recipe here. The recipe for dressing makes more then you'll need for this salad so you can make less of it, or keep the extras in your fridge to enjoy on other salads.
Another awesome broccoli recipe is this Broccoli Manchurian that I cannot get enough of.
How To Make Broccoli Salad
It's really incredibly simple to make this broccoli cranberry salad. All you have to do is chop up your heads of fresh broccoli (or buy a bag of precut broccoli), chop up the red onion, and then toss it in a bowl with the rest of the ingredients. No cooking involved and incredibly low effort!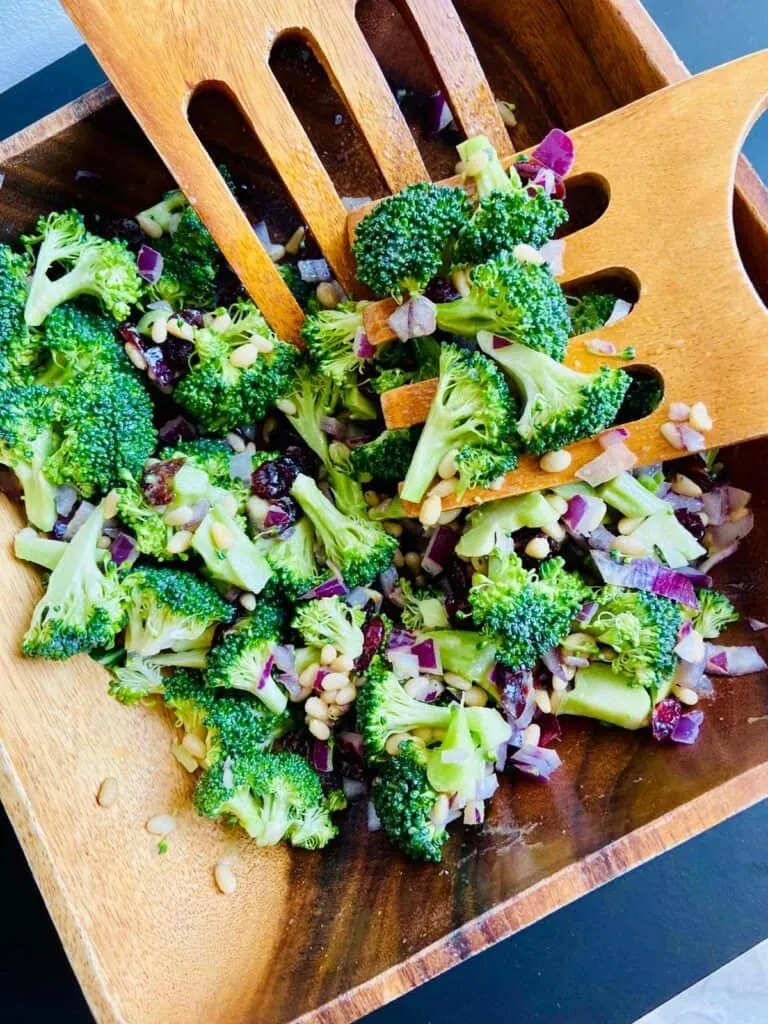 Storing and Making Ahead Craisin Broccoli Salad
Broccoli is a hardy vegetable. That means, unlike salads based on leafy greens, this salad can easily be made ahead of time, or stored as leftovers without getting immediately wilted.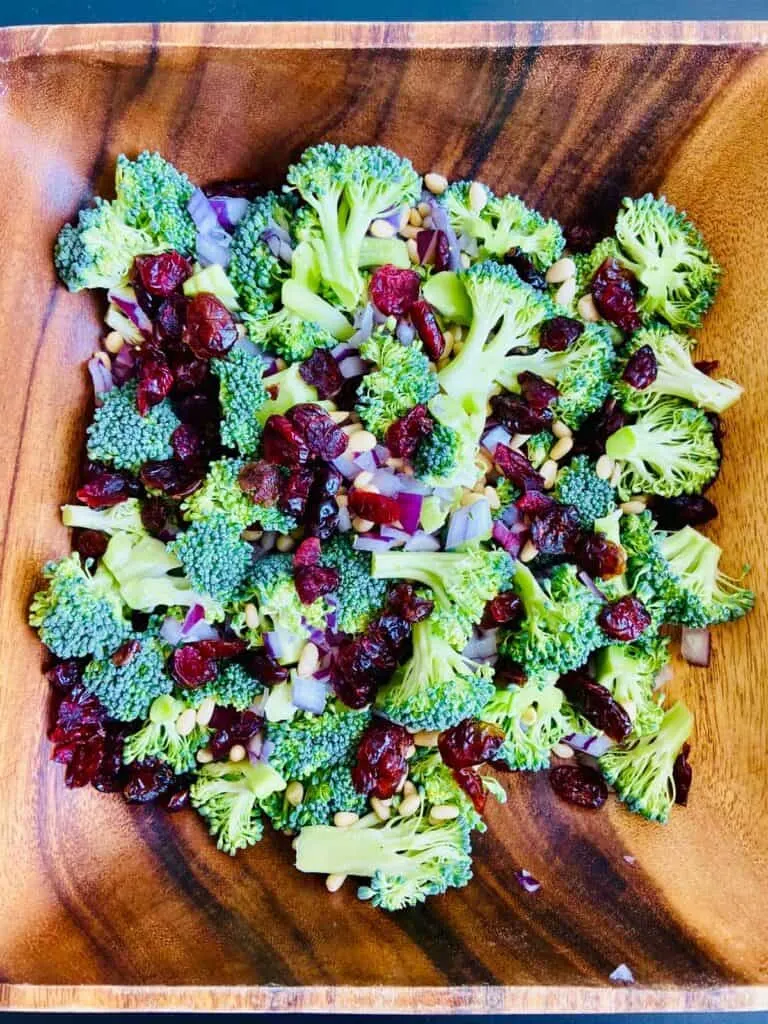 The broccoli is crispest and freshest within the first two days of making the salad, so it's best to try and aim to eat it within that time line. After that, it will start to break down. To keep it fresh as long as possible, keep it in an airtight container
in the fridge.
If you are looking for some good food containers we like these ones
, it's made from glass, so better for the environment and you!
Nutritional Benefits of Broccoli
Broccoli is chock full of nutrients! Some of the star nutrients include vitamins K and C, folate (folic acid), potassium, and fiber. It even houses a pretty good ratio of calories to protein.
If you are looking for more ways to incorporate broccoli into your diet, check out this quick broccoli lentil stir fry.
For one cup of broccoli:
Calories – 31
Protein – 2.6 g
Fiber: 2.4 g
Vitamin C: 135%
Vitamin K: 116%
Folate: 14%
Potassium: 8%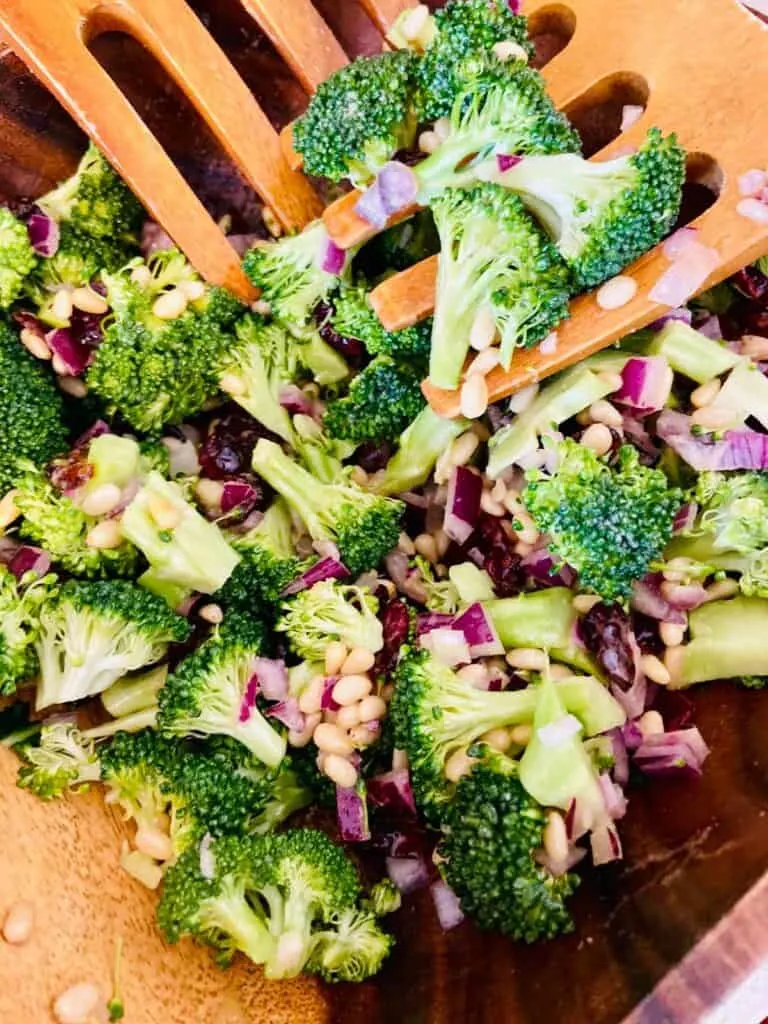 Broccoli is a real powerhouse, with studies showing that it can reduce inflammation, it may help protect against certain types of cancer, bring down blood sugar levels and much more! If that's not enough reason to start packing broccoli into your diet, I don't know what is.
A small downside of cruciferous vegetables like broccoli is that they may cause gas. If you are worried about dealing with extra gassiness, check out this article.
Don't Forget to Pin This Post For Later!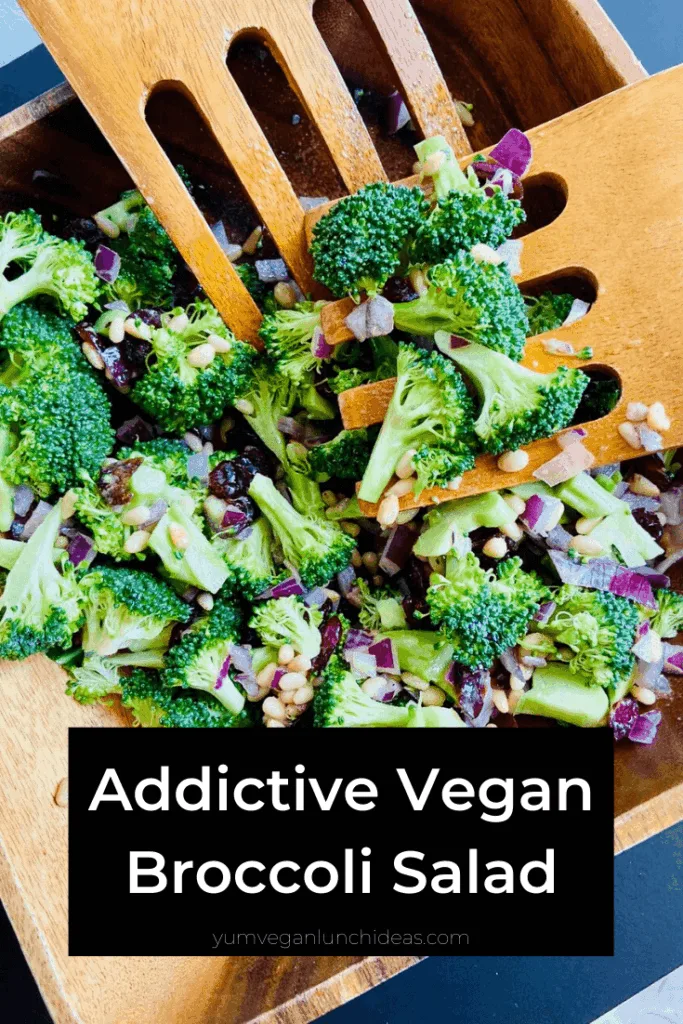 Yield: 4 Servings
Addictive Vegan Broccoli Salad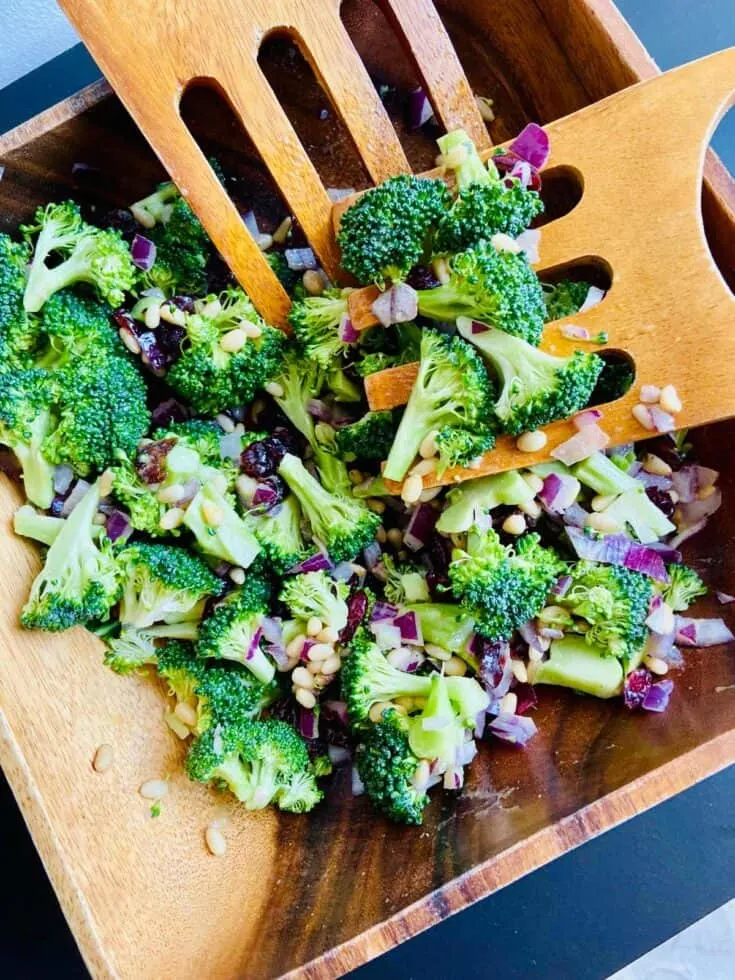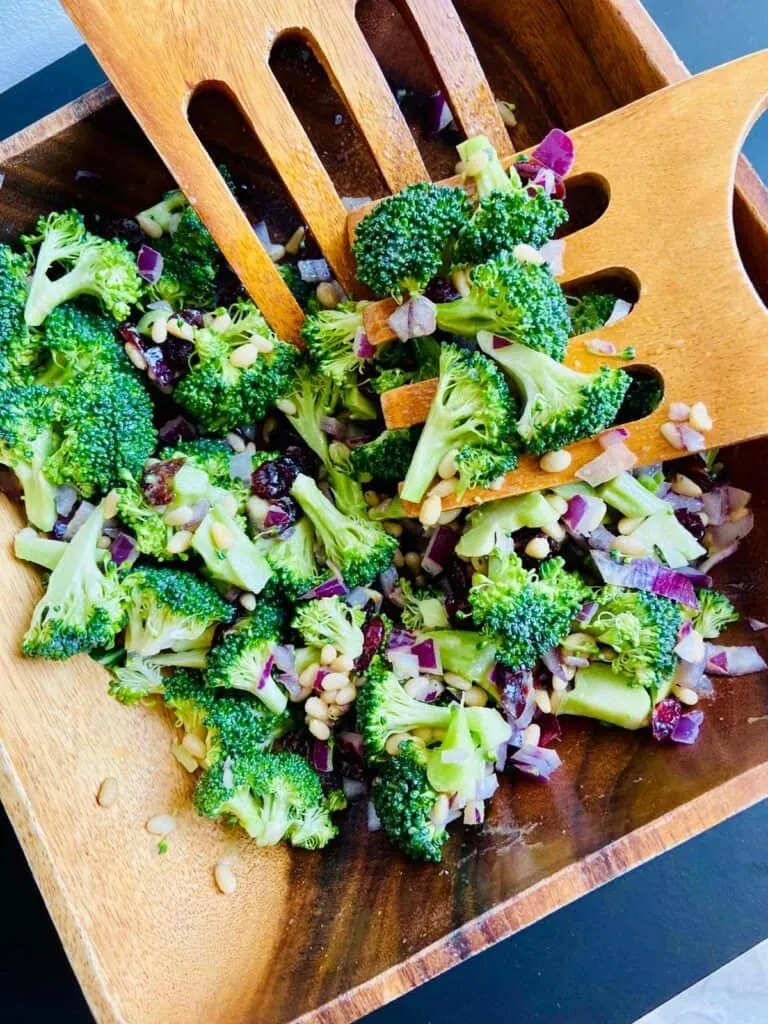 This easy vegan broccoli salad recipe, comes together in minutes and is so delicious and addictive. Covered in a vegan honey mustard dressing, it's tangy and sweet and amazing with the crunch of fresh broccoli. It also is a healthier broccoli salad, and packed with nutrients.
This recipes serves four as a side dish but if you are eating it as your main, it only serves two so plan accordingly. It also holds up well in the fridge for a couple days, so it's a perfect make ahead food.
Ingredients
2 Medium Heads of Broccoli
1/2 Small Red Onion
Instructions
Cut up your heads of broccoli so that they are in bite size pieces.
Dice your onion. I don't mind big chunks but many people will, so try and get them in small pieces.
Combine broccoli, red onion, pine nuts, and craisins in your serving dish and toss with the salad dressing.
Enjoy immediately or store in an airtight container in the fridge.
Recommended Products
As an Amazon Associate and member of other affiliate programs, I earn from qualifying purchases.
Nutrition Information:
Yield:
4
Serving Size:
1
Amount Per Serving:
Calories:

269
Total Fat:

20g
Saturated Fat:

2g
Trans Fat:

0g
Unsaturated Fat:

16g
Cholesterol:

9mg
Sodium:

191mg
Carbohydrates:

21g
Fiber:

4g
Sugar:

12g
Protein:

4g
You May Also Like: