On our quest to create the ultimate vegan sandwich recipes, we bring to you, the humble vegan club sandwich.
This veganised classic club sandwich recipe is a must try – after all, gotta veganise them all, right?
The club sandwich is found on menus in all sorts of establishments – some even considering it a sandwich icon! Well move over – here is the iconic vegan clubhouse.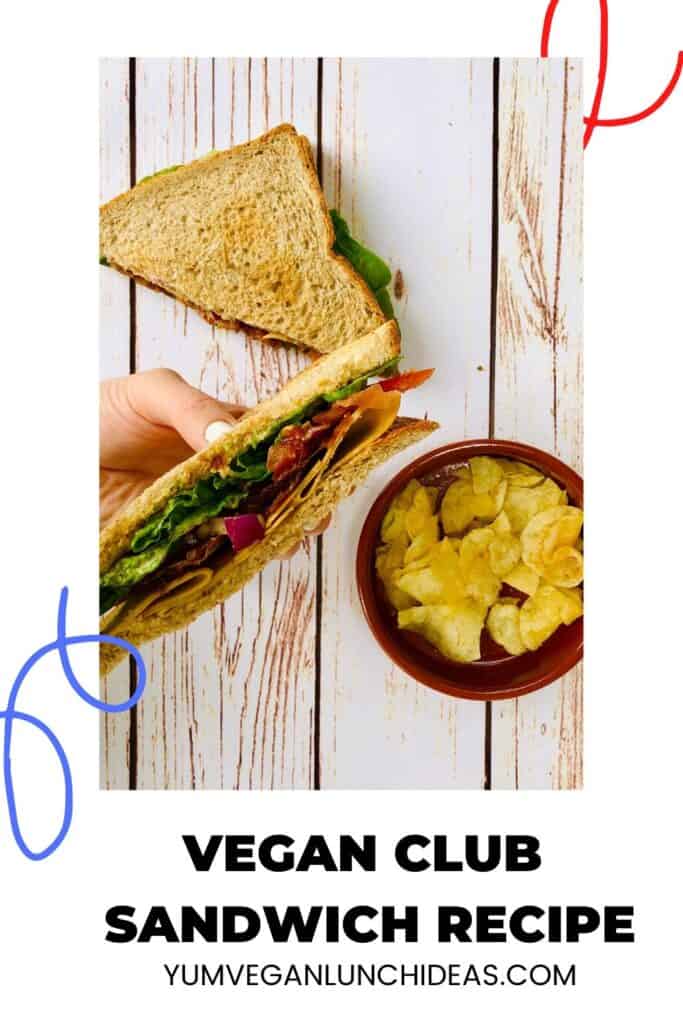 What is a club sandwich?
If you are familiar with the classic club sandwich, it usually consists of poultry, bacon or ham with a filling of lettuce, mayonnaise and tomato.
It is sometimes cut into cute triangles and held together with cocktail sticks and a few chips on the side.
Thank goodness there is a vegan alternative as we don't need meat for a club sandwich! We can however replace certain textures and tastes with this veggie clubhouse recipe.
Also luckily, many sandwich ingredients are already vegan – bread, lettuce, onion and tomato? Of course they are all vegan! We will also replace the animal products with the kinder, vegan counterparts of course.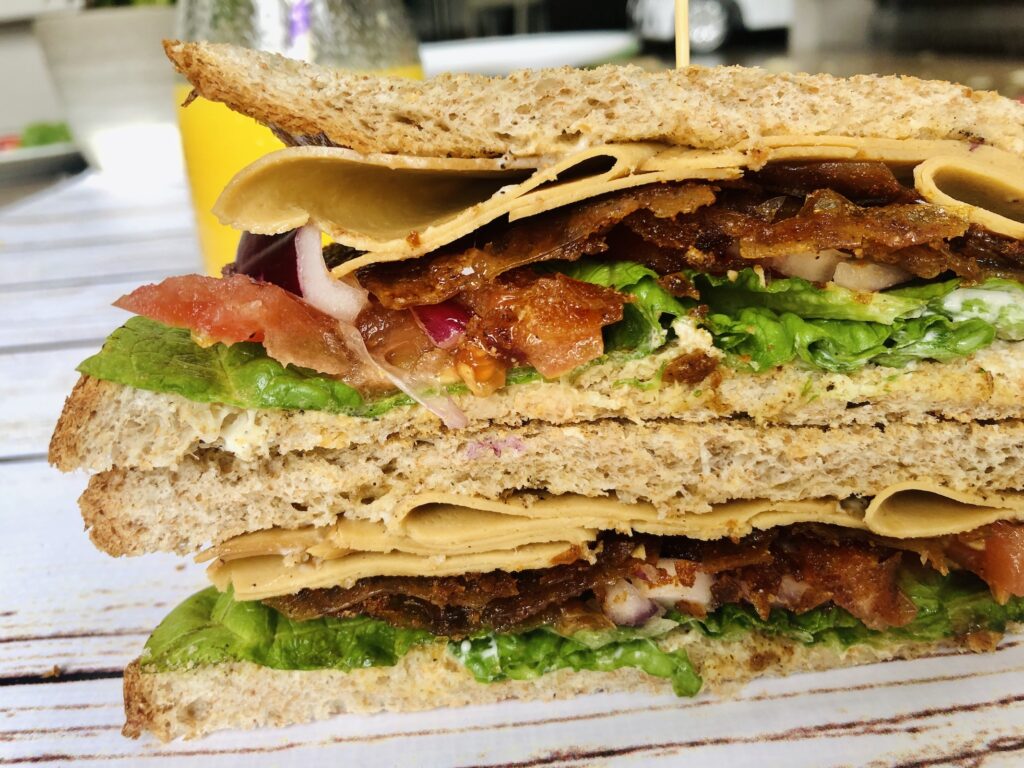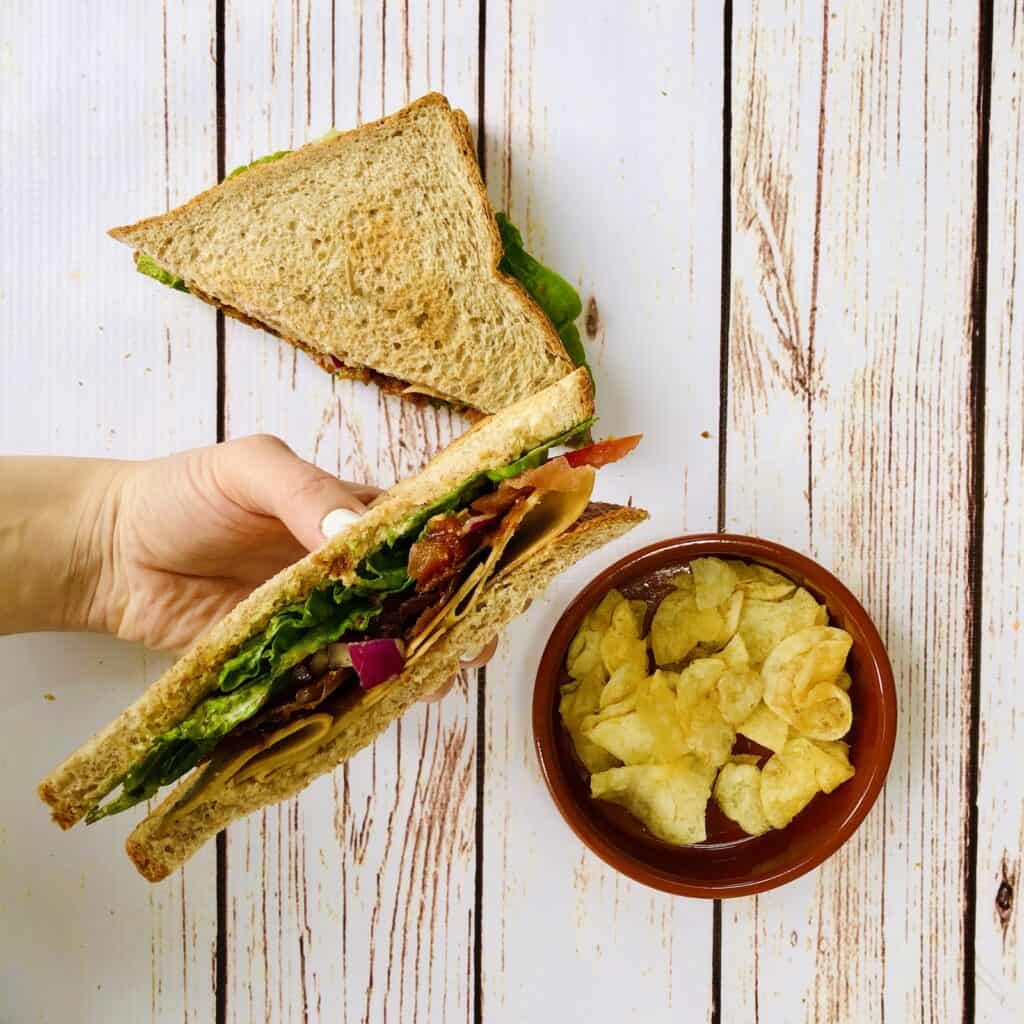 Vegan Club Sandwich Fillings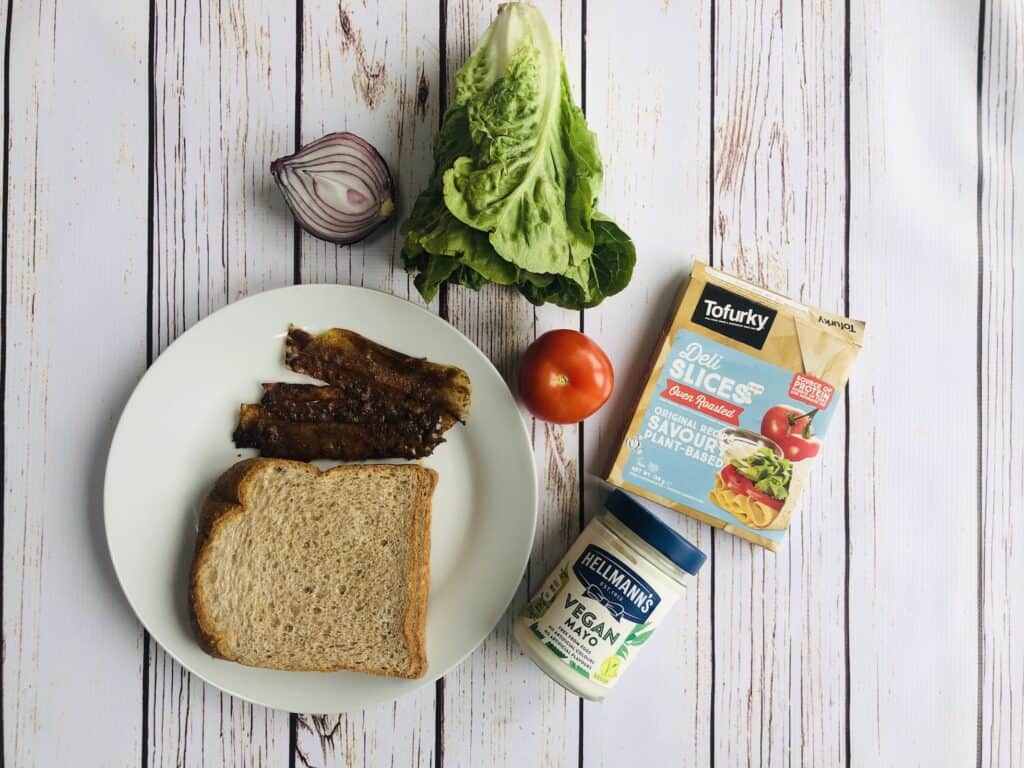 We have used the Tofurkey brand of vegan turkey to add the meaty, poultry texture. Choosing the vegan turkey slices – this also provides some protein as they are made from soya.
Additionally, we have home made some delicious vegan, crispy bacon which is stand out in this sandwich and a must try!
The vegan bacon is made from rice paper and a homemade marinade. Being a particular fan of all smokey flavoured food, finding this Liquid Smoke
was a real treat.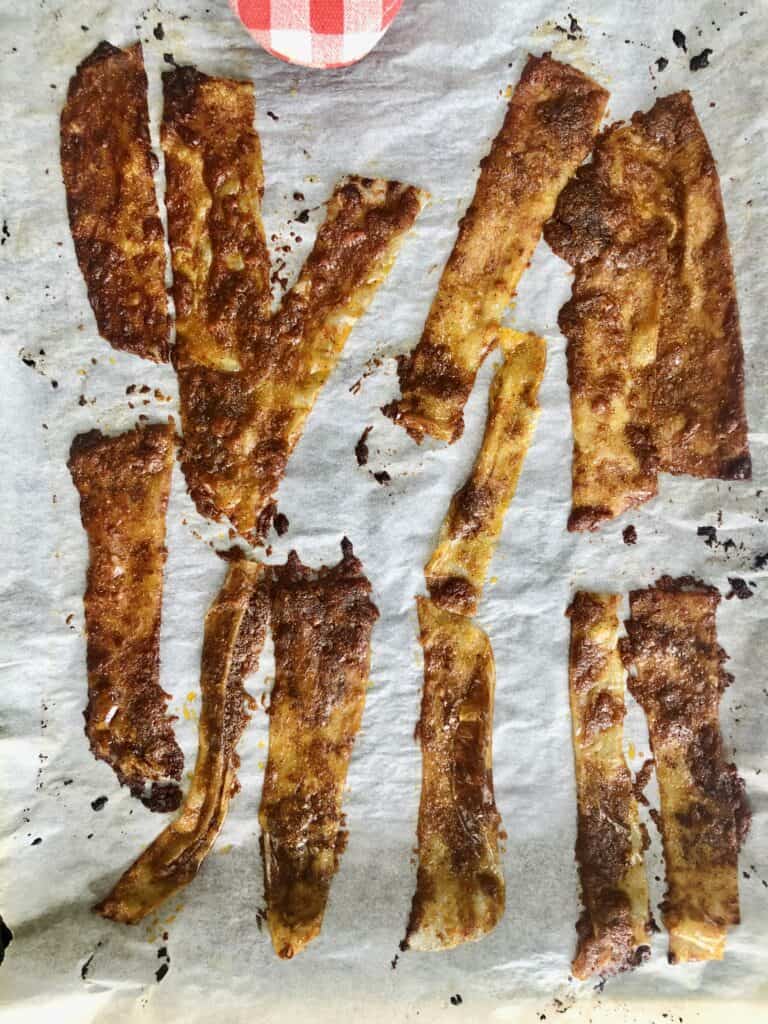 So with the meaty tofurkey slices, homemade crunchy smokey bacon, refreshing, crunchy salad – all sandwiched between some toasted bread with creamy Vegan Mayonaise, this veggie clubhouse will not disappoint!
This is honestly the best vegan club sandwich recipe I've tried yet – home made is best sometimes, right?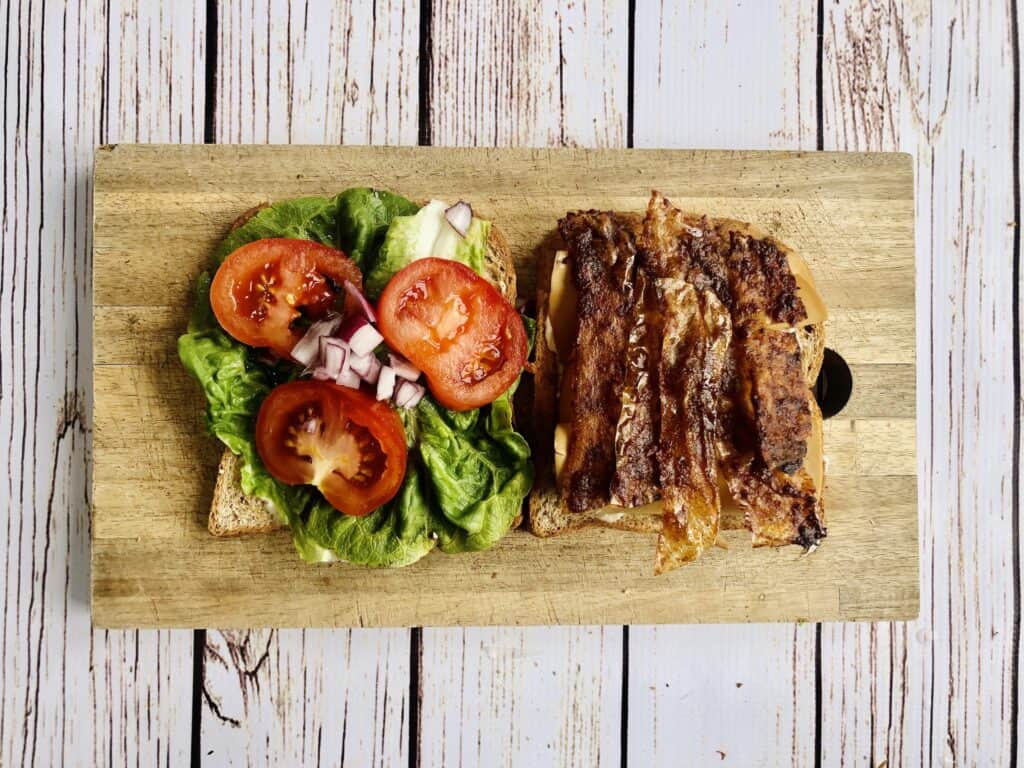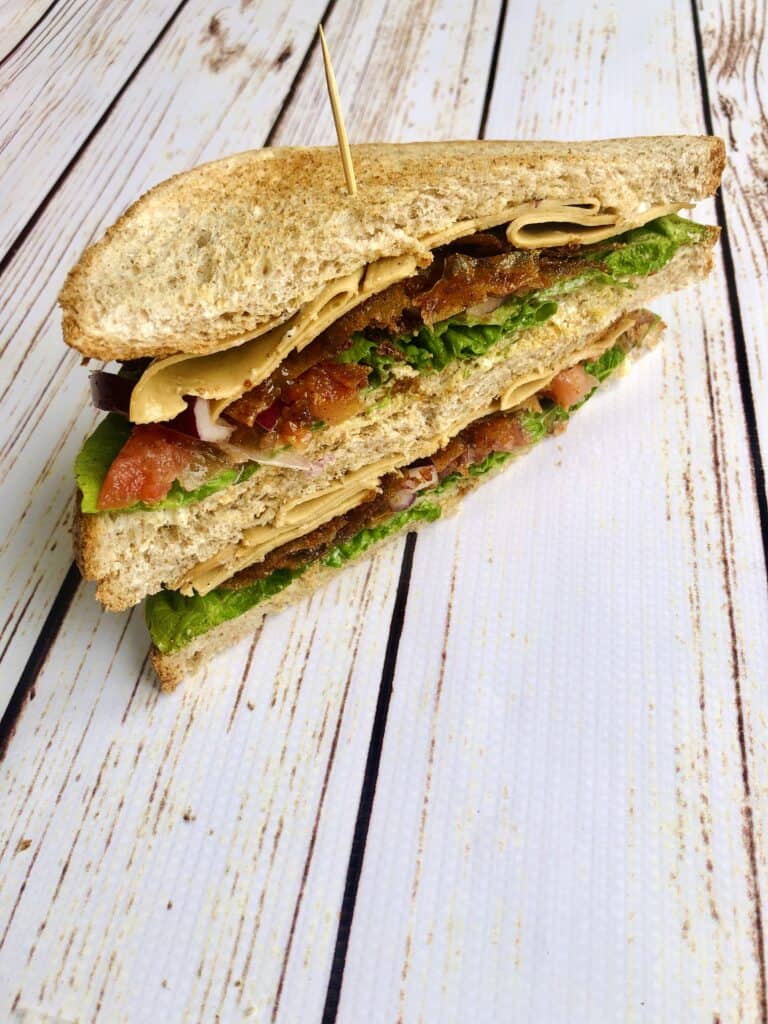 How to serve a club sandwich?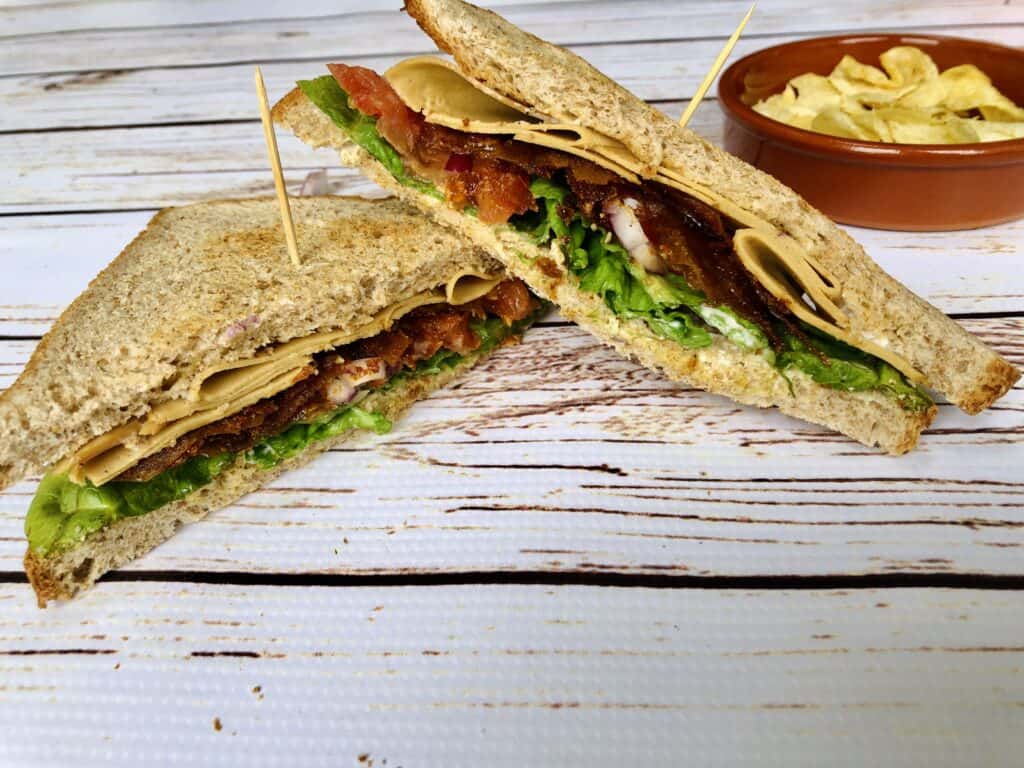 Like most food, a sandwich is best served fresh when the toasted bread is still warm. I love adding some vegan butter to the sliced bread so it has the chance to melt.
I must admit, a sandwich always goes great with a handful of potato chips. It reminds me of being poolside as a kid on holidays and having a club sandwich as a welcome lunch break.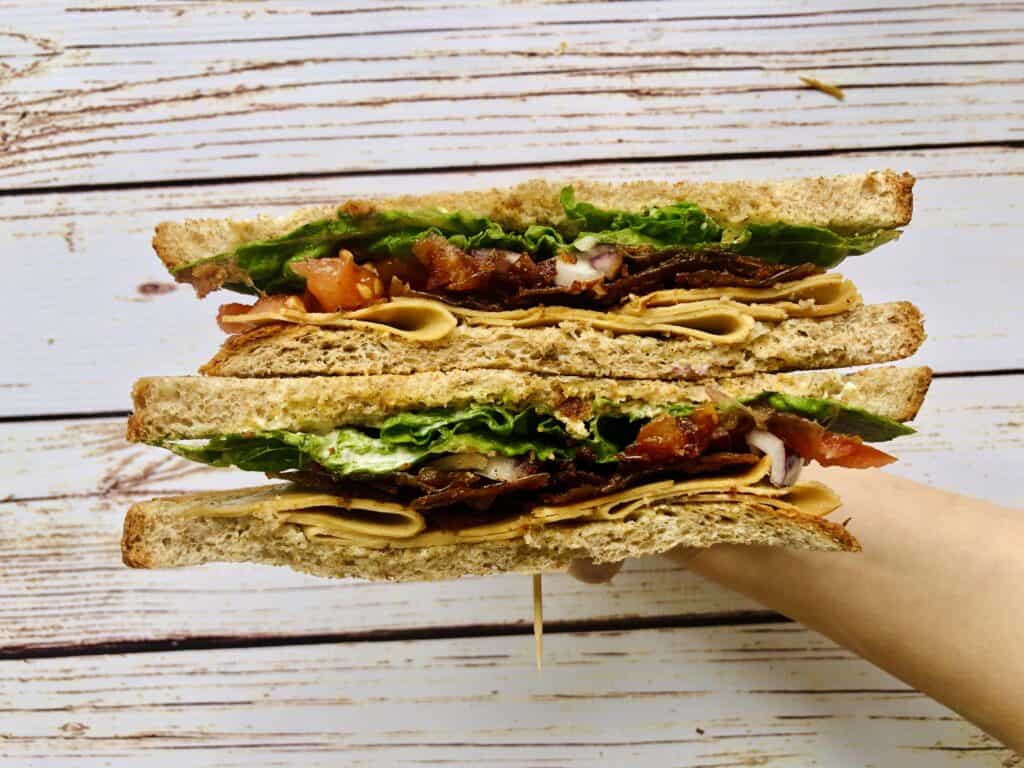 Because the fillings of this vegan club is fairly extra, a sandwich skewer always comes in handy to keep it all together before eating. Just make sure to remove it 😉 no one wants to eat a wooden skewer for lunch when you've been dreaming of a vegan club all day.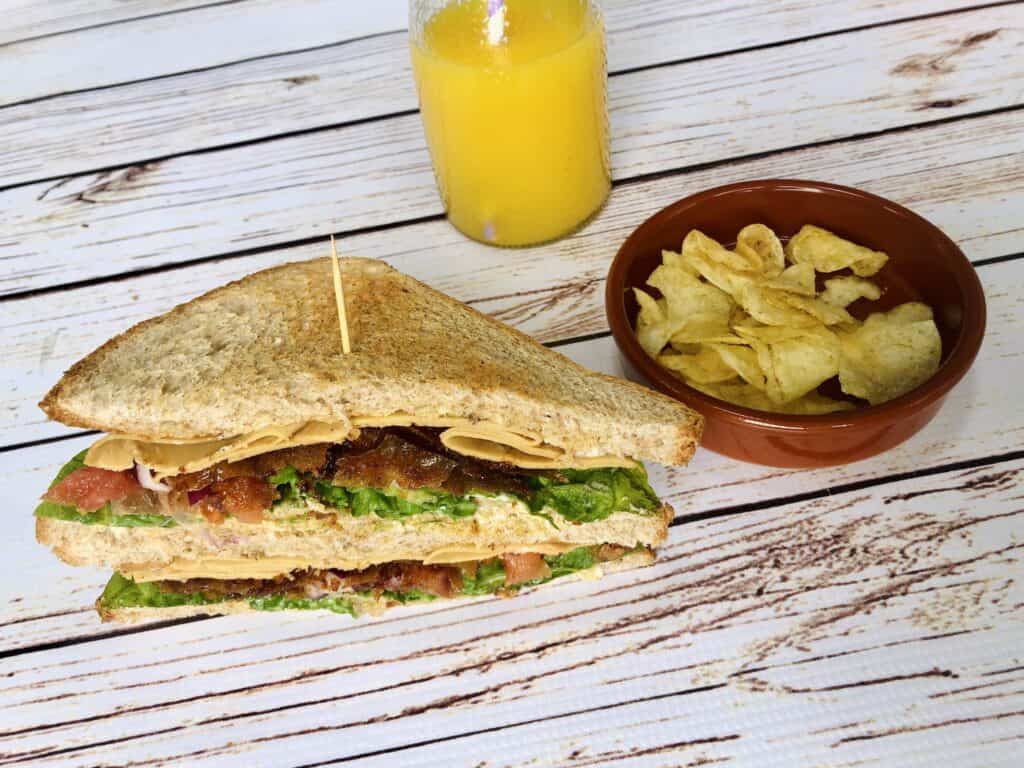 Yield: 1
Vegan Club Sandwich Recipe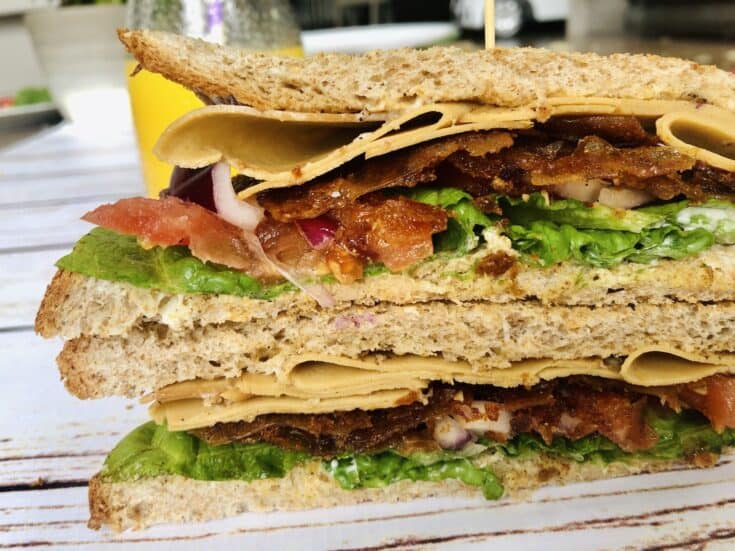 This vegan club sandwich is a must to add to your vegan sandwich recipe collection, With homemade, crispy vegan bacon, creamy mayo and refreshing salad - this vegan club is delicious!
Additional Time
5 minutes
Ingredients
4 slices Tofurkey turkey
4 slices vegan bacon
1 vine tomato
2 leaves cos lettuce
Handful of chopped red onion
1 tsp vegan butter
1 tbsp vegan mayonnaise
1/2 tsp ground black pepper
2 slices of bread
Instructions
1) Make rice paper bacon as per recipe card below (also some specialist stores actually sell vegan bacon if you prefer).
2) Chop and prepare salad ingredients, wash lettuce, slice tomato and red onion.
3) Toast slices of bread. Add vegan butter to each slice while still warm.
4) Smother vegan mayonnaise on the toasted bread and then add a sprinkle of ground black pepper
5) Roll on some of the Tofurkey turkey slices, add the vegan bacon layer.
6) Assemble the lettuce, onion and tomato on the the sandwich
7) Close sandwich together and cut into triangles. As this sandwich is quite full, it was cut into two larger triangles, however some prefer them cut into quarters.
8) Use a sandiwch skewer to hold together for serving if needed.
9) Service with a handful of potato chips/crisps and enjoy!
Notes
This vegan club sandwich is best eaten fresh, however it could work as a vegan lunch box sandwich if eaten soon after.
Recommended Products
As an Amazon Associate and member of other affiliate programs, I earn from qualifying purchases.
Nutrition Information:
Yield:
1
Serving Size:
1
Amount Per Serving:
Calories:

2015
Total Fat:

111g
Saturated Fat:

22g
Trans Fat:

4g
Unsaturated Fat:

71g
Cholesterol:

179mg
Sodium:

5023mg
Carbohydrates:

96g
Fiber:

21g
Sugar:

15g
Protein:

156g
this is an estimated calculation
Yield: 3-4 portions
Vegan Bacon
Perfectly crispy with a delicous smokey marinade , this vegan bacon is a must try. Enjoy it in a vegan club sandwich, vegan BLT or with a vegan cooked breakfast.
Ingredients
8 sheets of rice paper (the smaller ones)
4 tbsp olive oil
1 tbsp maple syrup
4 tbsp nutritional yeast
1 tsp liquid smoke
5 tsp soya sauce
1 tsp garlic powder
1 tsp onion powder
1 tsp smoked paprika
1/2 tsp ground black pepper
Instructions
1) Preheat oven to gas mark 6/200c/400f
2) Set up your work station - you will need a bowl of tepid water, a bowl to mix your marinade and a baking tray lined with greasproof paper. You will also need a scissors, tongs and pastry brush.
3) Make the marinade by whisking all of the listed liquids, herbs and spices together.
3) Then start dipping one rice paper sheet into the tepid water for 2-3 seconds. Remove immediately and cut into the vegan bacon strips.
4) Now dunk these rice paper strips into your marinade. Use a pastry brush to cover the strips completely, then place on the baking tray.
5) Repeat this with all of the rice paper sheets until you have a tray lined with vegan bacon - ready for the oven!
6) Place in the oven for approx. 6-7 minutes - you will visibly see it crisping up and bubbling.
7) Remove from oven and all to cool slightly.
8) Get ready to add this to your favourite vegan sandwich or meal!
Notes
Store in an airtight container for 2-3 days
Recommended Products
As an Amazon Associate and member of other affiliate programs, I earn from qualifying purchases.
Nutrition Information:
Yield:
4
Serving Size:
1
Amount Per Serving:
Calories:

265
Total Fat:

15g
Saturated Fat:

2g
Trans Fat:

0g
Unsaturated Fat:

12g
Cholesterol:

0mg
Sodium:

40mg
Carbohydrates:

29g
Fiber:

3g
Sugar:

4g
Protein:

6g
this is an estimated calculation
Did you like this recipe? You may also love these vegan cheese and sweetcorn scones, BBQ Seitan Sandwich or this vegan avocado sandwich with pesto recipe.