Before becoming vegan, the standard for cold lunches always seemed to be some combo of cheese slices, deli meat, tuna or egg salad.
So when you turn vegan it can be confusing to figure out what you can pack for vegan lunches that doesn't need to be reheated.
To help you out, we've compiled this list of cold vegan lunches that are perfect for packing, whether you need vegan lunches for school, work, camping, backpacking or anything else!
Some of the vegan lunch ideas come with full recipes and some are so simple, we've just included them by name.
There are varying levels of difficulty on this list so you can choose a two second option or something that takes a little more effort, but keeps your vegan lunch box ideas fresh!
Before I dive into our favorite vegan cold lunch ideas, I'm just going to spend a minute talking about our favorite lunch containers.
If you are already set with good lunch containers and know about bread, just scroll down to the recipes.
If you are looking for some easy meal prep lunches and dinners, be sure to browse our vegan meal prep post.
Don't Forget to Pin This Post Filled with Vegan Lunch Ideas For Later!
Best Containers and Lunchboxes for Vegan Packed Lunches
Most of our favorite vegan lunch ideas for work, school, camping or otherwise, come in the form of fun salads and sandwiches.
While you could grab a sandwich bag and call it a day, it's better for the environment and yourself to have a few reusable lunch containers.
My preference for lunch containers are plastic free ones. They are far better for the environment, in some cases they are more durable and it prevents you from eating the chemicals the leak into your food when using plastic.
I do occasionally use plastic containers, when I can't find a comparable alternative.
There are tons of great options on the market now for lunch containers of every kind. Here are some of my favorite.
Salad Container
This Bentgo container is my absolute favorite for salads. It simplifies travelling with salad by having separate compartments for your salad dressing and any toppings you want to keep separate until the last minute.
It's the perfect way to have fresh salads on the go! Find out more about the Bentgo here.
Bento Style Containers
Bento boxes are great, especially if you are someone who likes to snack. Keep all the components of your meal separate in one container. For this I've got a few great options, each a different material.
Glass
Glass containers are a great option for food storage. They aren't bad for the environment, can be microwaved, are dishwasher safe, and they don't leach any taste into your food.
Plus you can see what's in them without having to open them, which if you are forgetful like me, can be very helpful.
This glass bento box has great reviews and it's compartments are a good size for a sandwich and a side item, whether it be a small salad or dessert.
Take note, that two of the set are divided and to are just regular glass containers. Check the set of containers out here.
Wheat Fiber
Especially if you are packing vegan lunches for kids, you may not want a glass container since they are bit heavier and slightly more breakable. This wheat fiber container is an awesome alternative.
The wheat fiber is completely safe, healthy and it's a sturdy container. It's also microwave safe, top rack of the dishwasher safe and comes with a money back guarantee.
Find out more about the wheat fiber bento box here.
Classic Compact Lunch Cube
This container is plastic, but if that doesn't bother you, it's a great compact lunch container. It's also a classic option, and stores a lot of food.
The container seals tightly and is certainly durable. It's really easy to throw into a backpack or purse and go. Check it out here.
Kid's Insulated Lunchboxes – Great for Vegan School Lunches!
This Wildkins lunchbox is a fantastic option for kids. It comes in a ton of bright, fun options to suit any kids tastes.
It's also spacious, durable, waterproof and well insulated. The lunchbox also has a nice mesh pocket to hold any utensils, napkins, etc.
Check out the Wildkin lunchbox here.
Adults Insulated Lunchboxes
This lunchbox by Rubbermaid is great for adults. It's large and spacious with spots for your utensils, an ice pack, a water bottle and anything else you need.
It comes in a very neutral pattern and with a carry strap for easy use. It's insulated walls will keep food cold or hot for longer.
The lunch bag comes very highly rated, at a really low price tag. It also comes in different size options, so you can choose based on how much food you generally pack.
Check out the Rubbermaid lunchbox here.
The Best Insulated Lunchbox to Fit Maximum Food
Maybe you are headed out camping or have very long days, or maybe you are a gym rat that needs to pack more meals. Regardless of why, this lunch bag is definitely the best option.
The Evolutionize lunch bag comes with everything you need to maximize the usefulness and space of the bag. It comes with three containers that fit perfectly in the bag, an ice pack, outer mesh pockets to hold any small items, and a large drinks compartment.
It also comes with an easy carry handle. This is the most compact bag you'll find that can carry this much food! Check the Evolutionize lunchbox out here.
The Best Cold Vegan Lunches (Vegan Lunch Ideas)
Hummus Sandwiches
One of my favorite, go-to sandwiches is hummus. It takes little to no effort and tastes so good. All you have to do is grab some sandwich bread, layer on hummus and some sliced veg.
My favorite veg to include in a hummus sandwich are sprouts, cucumber, tomatoes and lettuce.
You can make this sandwich on traditional sandwich bread, or it also make a great pita sandwich, especially if you've got a lot vegetables that you are including.
This sandwich is also great as far as vegan kids lunches go. My three year old eats this almost every day for her school lunch, by her request.
You can buy hummus at most grocery stores or online here
.
It is much more cost effective to make your own though, plus this way you can play around using different beans, peas and herbs to keep things fresh.
You can try out our easy split pea hummus recipe here – it's oil free and perfect for those eating whole foods, plant based, or anyone who loves hummus!
Chickpea Tuna Sandwich
Chickpea tuna is a classic in the vegan world. It's got all the comforting flavors of your tuna sandwich, with creamy vegan mayo, celery, onion and more.
It can't replicate the taste of the tuna itself, but it achieves a somewhat similar texture, once you've mashed your chickpeas up. It is definitely a winner as far as easy vegan lunches go.
It's quick to make and travels well.
It's also great for meal prep since it stores well in the fridge. You can make a big batch for the week and have sandwiches for the whole family or repurpose extras for tuna melts or as a baked potato topping.
Get the recipe for our favorite chickpea tuna salad sandwich here.
Vegan Salami Sandwich
This vegan salami is great for meal prepping, it's only fifteen minutes hands on time and then you'll have salami to make awesome vegan salami sandwiches, and you can use leftovers to chop up and add to salads and the like.
I pair the salami with whole grain bread, vegan mayo, dijon mustard, lettuce, tomato and red onion. It's really, really good! Get the full recipe here.
If you wanted to push the boat out you could make our Delicious Homemade Seitan Salami and have some on hand. This seitan salami is also great to add as extra snacking food in a packed lunch.
Avocado Pesto Sun-Dried Tomato Sandwich
This is another incredibly quick sandwich, perfect for packed lunches. It's packed with healthy fats and really just an explosion of flavor!
If you are a sun dried tomato hater, you could leave those out and still have an amazing sandwich.
It takes almost no effort to put together and travels well, so it's definitely one that should be in everyone's lunch repertoire.
You can also use any leftover pesto to spruce up lunches throughout the week, whether it's a salad, sandwich or anything else!
Get the recipe for the avocado sandwich here!
Vegan Egg Salad Sandwich
This is another kid approved recipe for vegan school lunches. This looks like egg salad, tastes pretty close to egg salad, and takes only a few minutes to create.
The secret is black salt. If you haven't tried black salt yet, it will change your life. Because of it's high sulfur content it smells and tastes so close to eggs.
Add some black salt to silken tofu and mash and you get something pretty close to the taste and texture of mashed eggs. From there all you have to do is add some classic egg salad ingredients and your done!
It's super easy, high in protein and my kid loves it. All the ingredients are pantry friendly items so it's also great for last minute meals when you are low on ingredients.
Get the recipe for the vegan egg sandwich here!
Vegan Taco Salad
This vegan taco salad is great for those with low tolerance for simple salads. It's actually pretty simple to create, most of the ingredients are basic or just need to be taken out of cans!
To create the taco meat, I use iron rich lentils which turn to a ground meat type consistency when pulsed in a food processor. They get sauteed with taco seasoning to add all my favorite taco flavors.
Then you just top with crushed tortilla chips and a simple, two ingredient dressing for an awesome salad.
To ensure maximum freshness when you are ready to eat it, just pack the chips and dressing separately and combine everything before eating.
Get the taco salad recipe here!
Guacamole Sandwich
Here's a sandwich that is a favorite for everyone I know, and doesn't really need a recipe. If you've never made guacamole, it's really easy.
Just mash your avocado with a little lime or lemon juice – whatever you have on hand is fine. Season with garlic powder, salt and pepper to taste and you've got an awesome sandwich filling.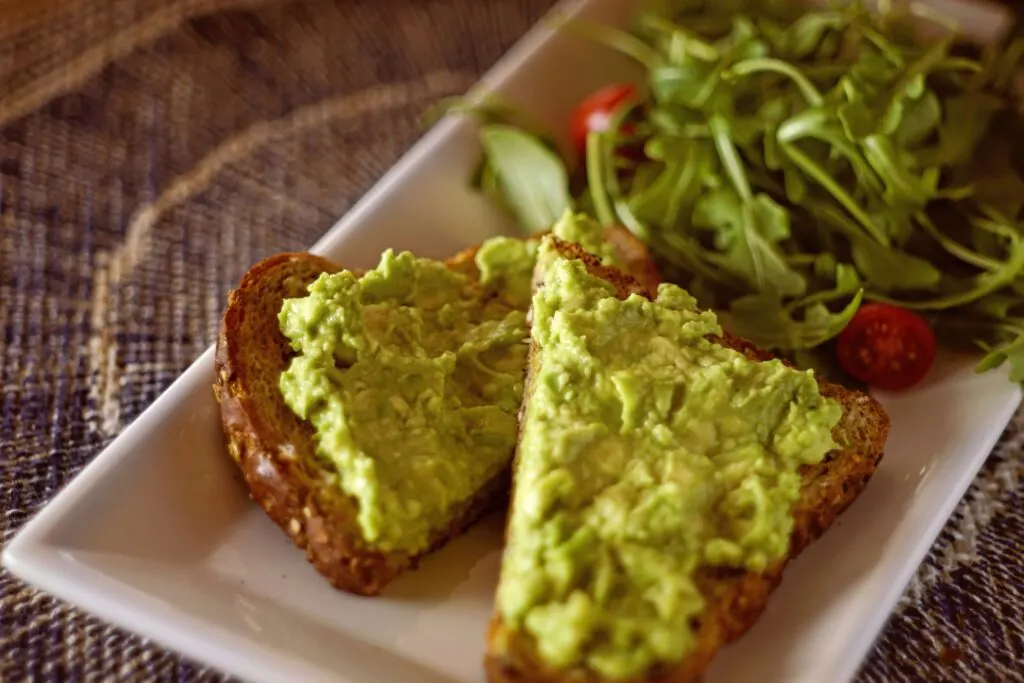 It can be spruced up some more by adding other seasoning like chili powder, cumin, or chili flakes. You can also chop some tomato, red onion, cilantro or parley to make it even yummier. Just mix it into your avocado.
Sandwich your guacamole between two slices of bread and any additional veg that you like and it's done!
Our delicious Guacamole recipe is here!
Coronation Chickpea Sandwich
Our vegan Coronation Chickpea creamy filling makes the perfect salad accompaniment or, more so slathered in a sandwich.
Made with simple ingredients, mashed chickpeas for texture, creamy mayonnaise and mango chutney. This is a great way to brighten up your vegan lunch for sure!
Get the Coronation Chickpea recipe here.
Parfait Cups
Parfait cups are usually for breakfast/brunch, but I personally love taking them for lunch. They are healthy and they make you feel light and energized, plus they are just so good.
They also take little to no time to make, and you can make them directly in the jar you plan on taking it to go in. You can use vegan yogurt and just layer with granola and fruit, or check out our delicious strawberry banana chia seed parfait cups here.
Vegan Labneh Sandwich
Labneh is a soft spreadable Middle Eastern cheese and it only takes a few minutes of hands on effort to make. Make a big batch of it and spread it on to sandwiches for an easy and delicious packable lunch.
Get the full labneh recipe here.
Santa Fe Salad
This vegan Santa Fe salad is a delicious combination of vegetables, flavours and spices. With refreshing, crunchy salad, creamy avocado, fresh tomatoes, roasted vegetables – you will not be disappointed with this flavor explosion.
Seasoned with lots of Tex Mex seasoning, this is the perfect salad if you are bored of plain old vegetables. It's also great for eating all your colors.
You can eat this with the vegetables hot from the oven or wait until it's cooled and pack it for lunch. Just keep any ingredient with excess liquid in a separate compartment and combine before eating to prevent the lettuce from getting soggy.
Click here to check out the full recipe.
Pesto Pasta
Pesto pasta is so simple to make and is a delicious cold lunch for any occasion. The pesto itself only takes a few minutes to make and then all you have to do is mix it with some pasta.
It tastes amazing cold and can be easily prepped in large batches and brought with you for work, school, picnics and more.
Add in some sliced olives and quartered cherry tomatoes to make it even more special, or just enjoy as is!
You can check out our easy pesto pasta salad recipe here.
Peanut Butter and Jelly
This one is a classic for good reason! Salty and sweet, most kids grow up with this as a staple. If for allergy reasons, peanut butter is out of the question, you can also sub in other nut butters like cashew butter.
I recently tried this amazing salted caramel cashew butter and I'm now hooked. You can check it out here
.
Chickpea Avocado Salad
This vegan chickpea salad is a great way to add a shot of health and nutrition with lots of plant based goodness. It's one of my favorite salads for packed lunches, all the ingredients are sturdy enough to hold up in a container already dressed until you are ready to eat it.
It manages to combine fresh veg, a punch of protein, inflammation fighting onion, and healthy fats all into one vegan salad.
Not only is this salad great for you, but it's also totally delicious. All the bright healthy ingredients come together to create something that tastes as good as it feels.
You can make it with canned chickpeas or make chickpeas from scratch. If you've never cooked dried chickpeas before, I've included instructions in the post.
Check out the full recipe here.
Caesar Salad
Caesar salad is quick and easy to put together. Like other lettuce based salads, to take it to work you just need to store the dressing in a separate container to have a crisp, fresh salad when your ready for it.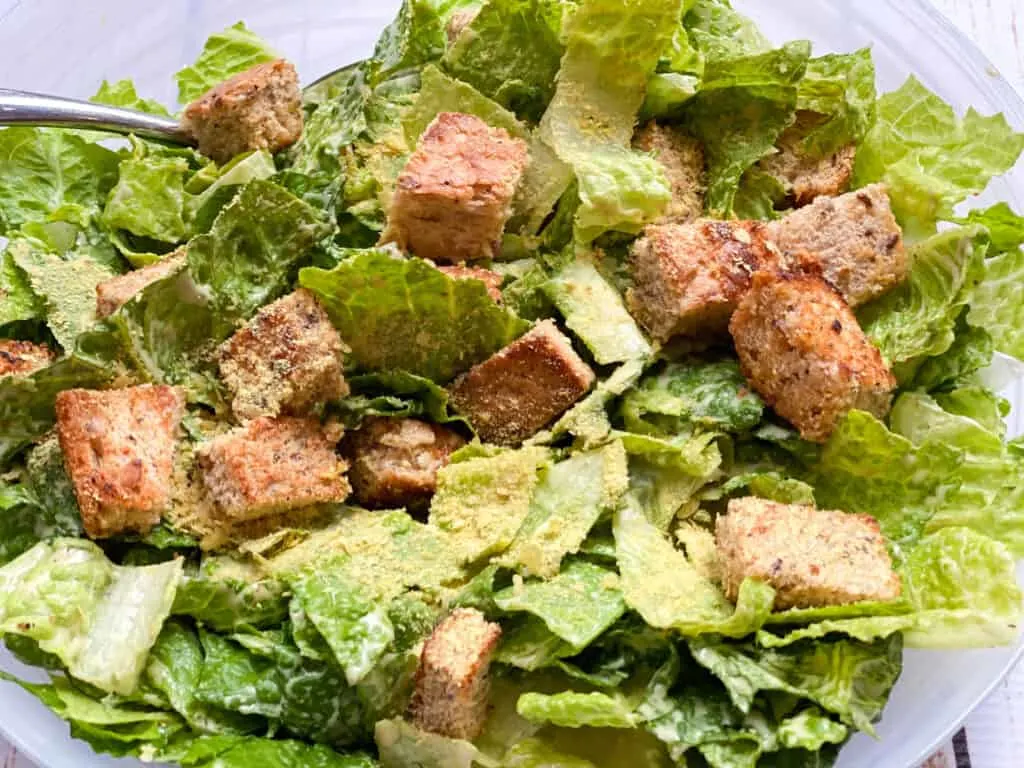 There is plenty of ways to get creative with this salad. If you are gluten free you can sub in roasted chickpeas. You can also swap out the lettuce for other greens like kale.
Get the full Caesar salad recipe here.
Sabich
While I love to eat this sandwich hot, it was actually created specifically for the sake of being a cold, premade sandwich.
It was originally created by religious Iraqi Jews who don't cook on the Sabbath. They would cook the eggplant ahead of time and assemble the sandwich the day of. For good reason, it has now become a staple street food on the streets of Israel.
The sandwich is a pita stuffed with fried eggplant, potato slices, Israeli salad, tahini and amba sauce. It takes a bit of effort but you can prep all the ingredients on Sunday and have sandwiches throughout the week.
You could also make it for a hot dinner and use the leftovers for a great vegan packed lunch.
It should be totally fine assembled the morning of. I wouldn't assemble earlier then that though, so that the tahini doesn't soak through the pita.
Check out the full Sabich recipe here.
Vegan Deli Sandwiches
You don't have to abandon the deli sandwich once you become vegan. Luckily there are a few brands out there now making vegan deli slices. A personal favorite is Tofurky.
They've got quite a few options from bologna, to hickory smoked. It's sold in stores pretty commonly but you can also purchase online here
.
Once you've got your deli slices, assemble your sandwich with your favorite condiments.
If you are looking for a mayo substitute to complete your sandwich, most people seem to prefer Just Mayo
. If you want a healthier option you can check out this plant based mayo recipe.
If you like vegan deli meat then you have got to try our Vegan Club Sandwich which is absolutely delicious!
Spinach Salad
This spinach salad with bbq tofu is a great way to pack in some healthy greens, iron and a punch of protein as well.
The salad is a unique spin on a spinach salad not just because of the tofu but with a delicious dressing that's flavored and sweetened by date syrup.
Like the other salads on the list, store the salad dressing separate to keep the spinach from wilting before you are ready to eat it. Other then that it packs well and you can assemble the rest of the ingredients well in advanced.
Get the full spinach salad recipe here.
Chickpea Tuna Pasta Salad
Chickpea tuna pasta salad is another reason to make a big batch of the chickpea tuna. Thrown together with some pasta it makes a great, easy, protein packed pasta salad for lunch.
Like most pasta salads, it travels quite well so it's perfect as a packed lunch. It also stores well in the fridge so it's another great meal prep option.
Get the full chickpea tuna pasta salad recipe here.
Vegan Cream Cheese Bagel
With so many vegan options gracing the shelves of grocery stores lately, you've got seemingly endless choices for vegan cream cheese.
It may be a veteran vegan thing, but my favorite has always been, and still is Tofutti.
Shmear some of your favorite vegan cream cheese on a bagel and you've got a delicious sandwich.
You can of course use any sandwich bread but bagels and cream cheese are a combo that will always hold a special place in my heart.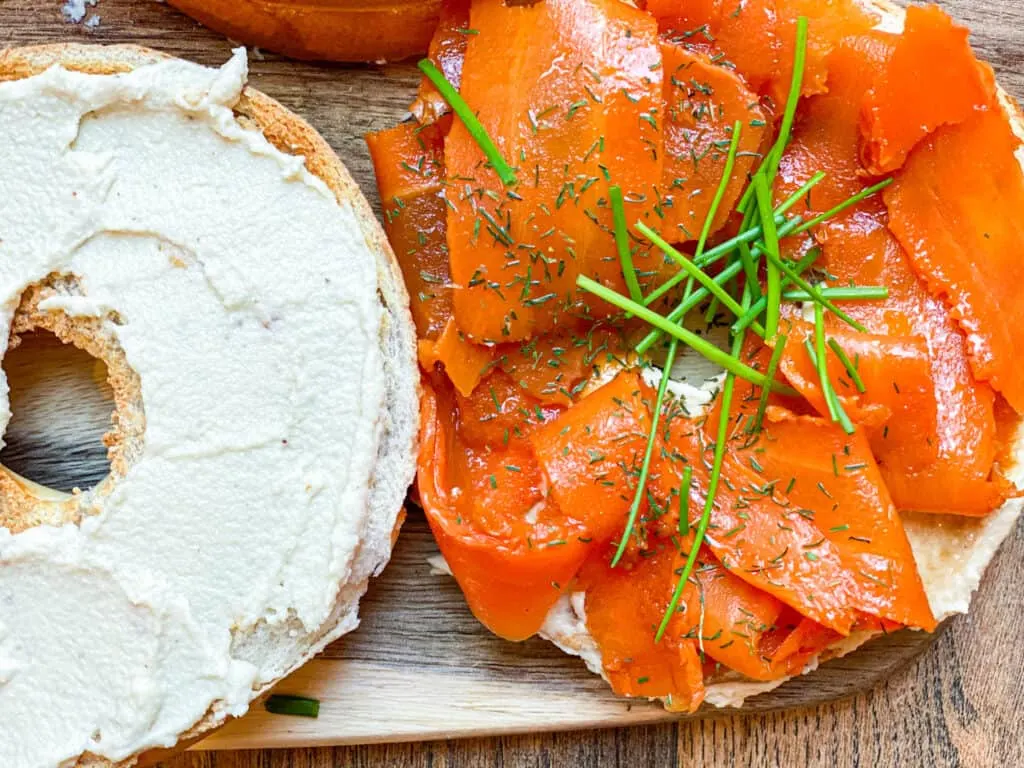 If you want to take things to the next level, you can try out making your own vegan cream cheese and even your own vegan lox.
Check out our vegan cream cheese and lox bagel recipe here.
Greek Salad
This vegan version of Greek salad is a simple and easily packable lunch. With tofu turned into vegan feta, it's packed with protein.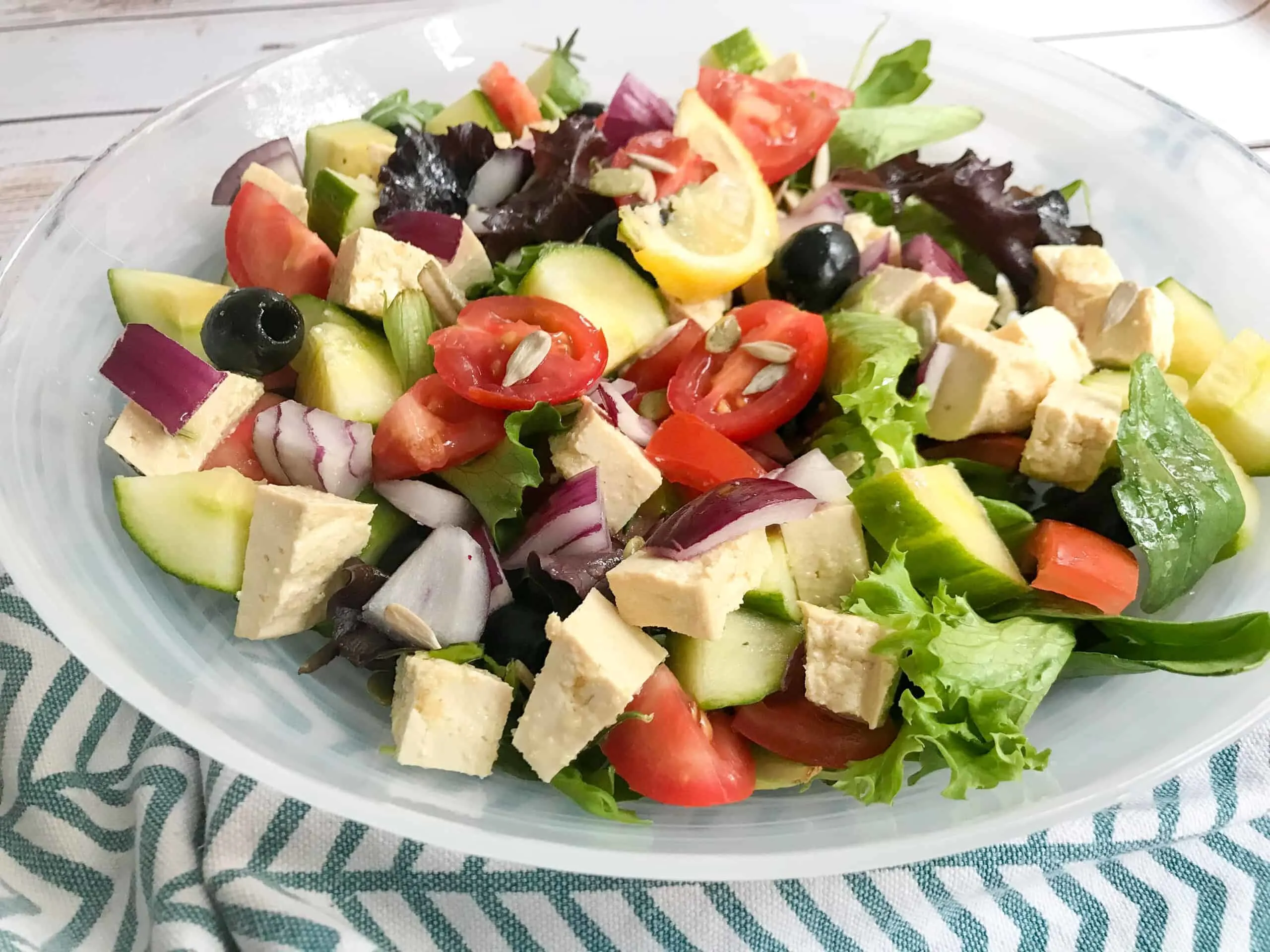 The olives, red onion, and cherry tomatoes give it flavor and that Mediterranean feel. Like the other salads, be sure to store the dressing separately until you are ready to eat.
Get the full Greek salad recipe here.
Other Vegan/Vegetarian Lunch Ideas For Snacking
While these aren't full meals, here are a few things that are go great in a lunchbox either as part of a meal or snacking.
Scones
If you've never had a scone before, it's time! These cheese and corn scones are delicious and great for on the go. Eat them as they are or pack some vegan butter, pesto, or really any dip to spread on them.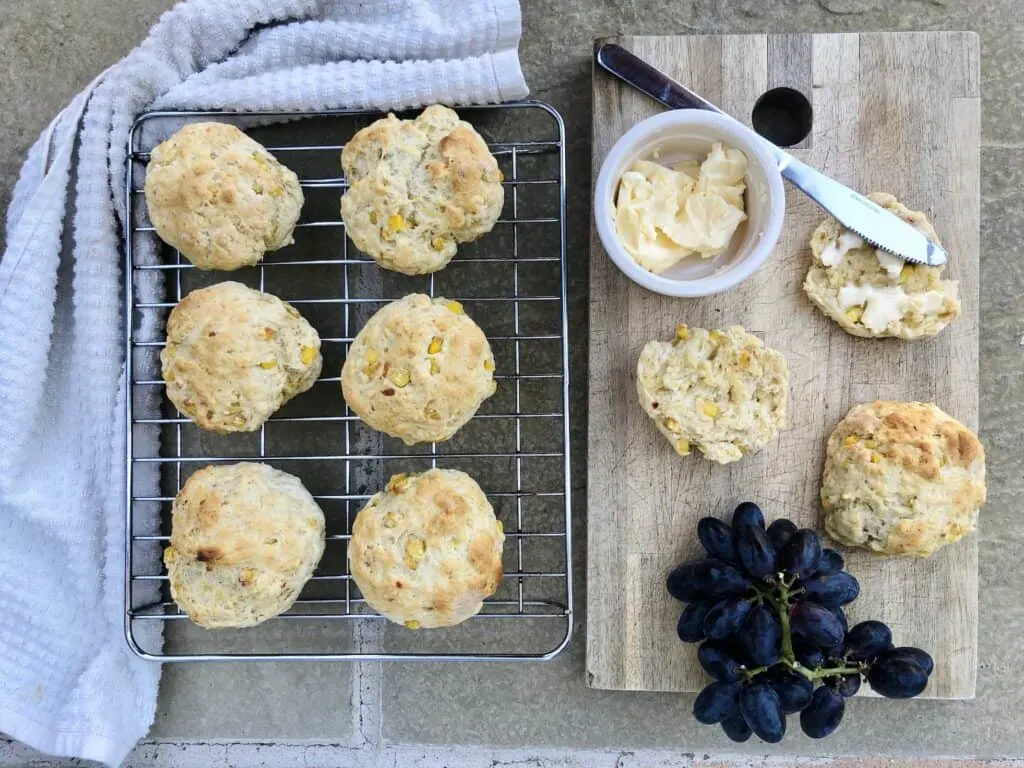 You can also use them to make a sandwich of sorts by splitting them in half and filling with anything you like!
Vegan Savoury Muffins
These vegan savoury muffins are an absolute must try. They are almost pizza like with grated cheese, olives, sweetcorn and sun-dried tomatoes.
They have some healthy seeds in addition which boosts its protein! Perfect for packed lunches, you will want to pack more than one they are that good!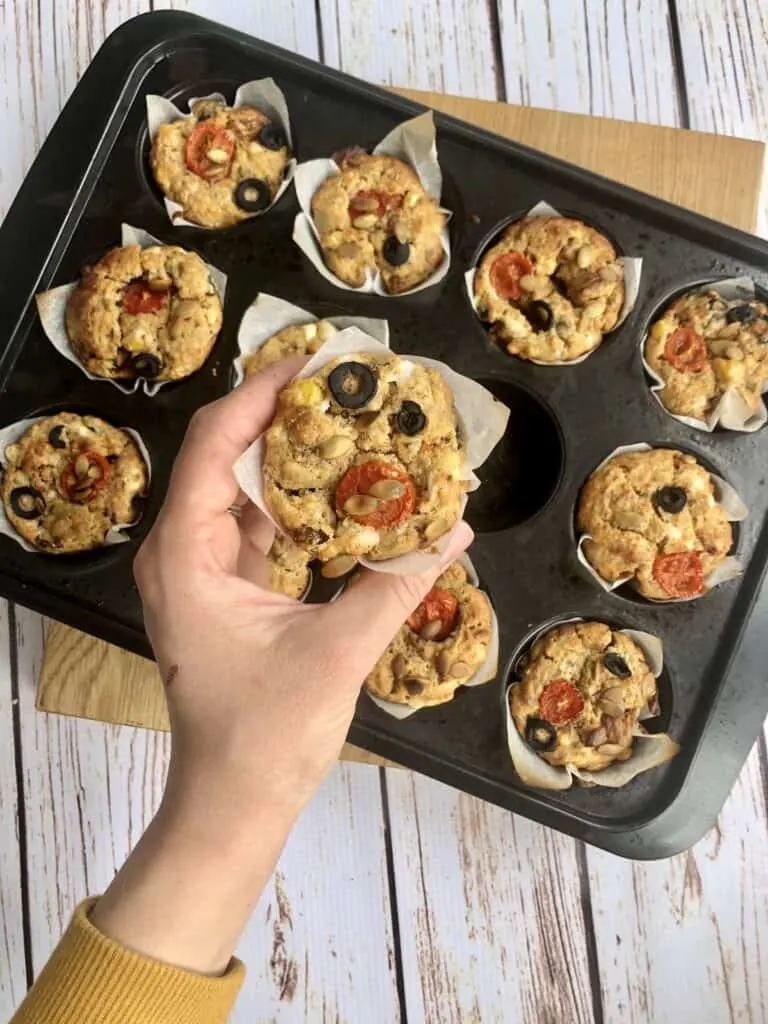 Get the Vegan Savoury Muffin Recipes here!
Sweet Potato Muffins
Muffins are a great on the go treat. Choose a muffin with some veggies inside to add some nutrition to your day. These sweet potato muffins are a personal favorite.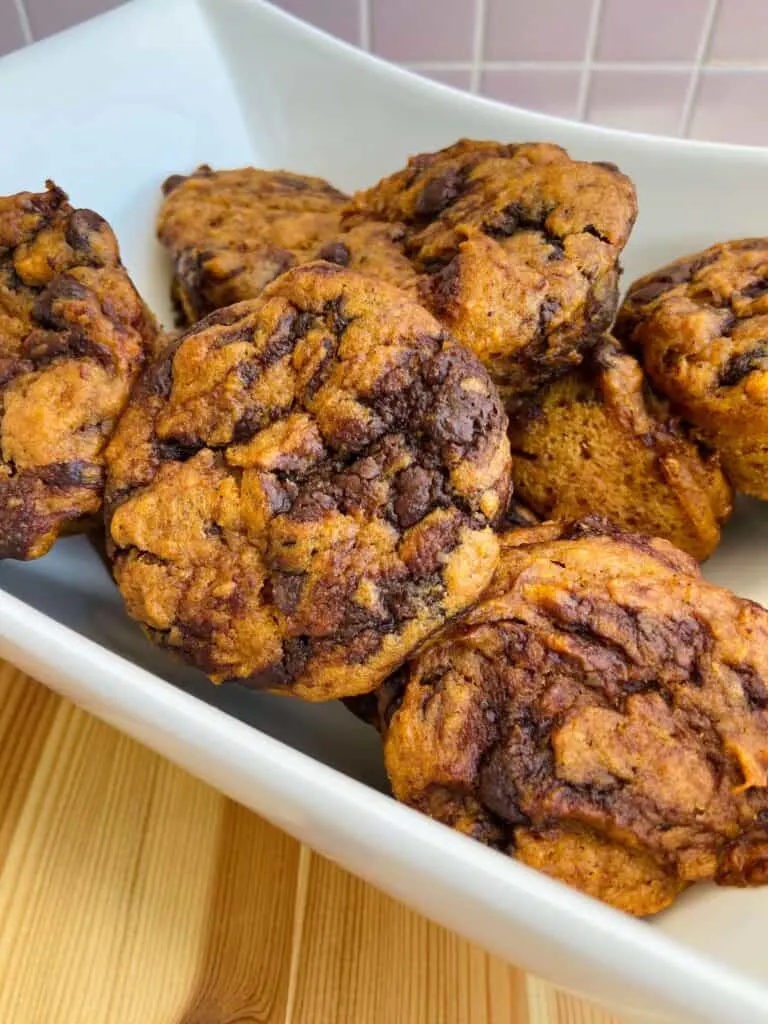 Raspberry Cream Cheese Muffins
If you prefer a more fruity muffin, check out our raspberry muffins with a vegan cream cheese frosting.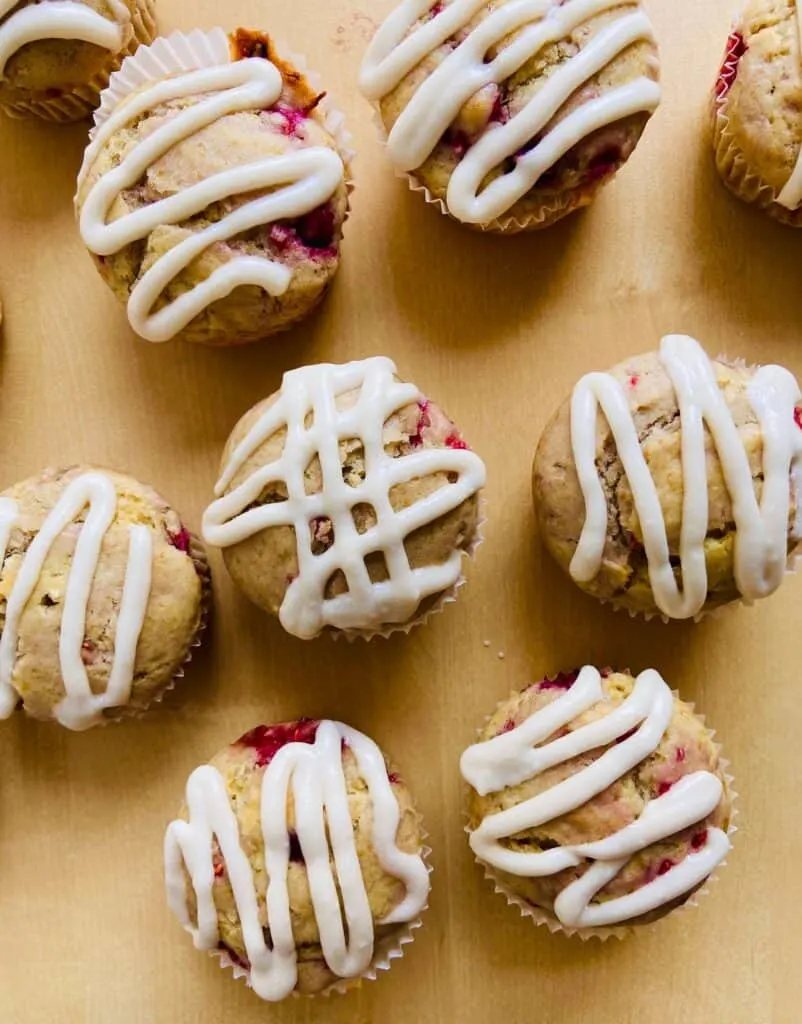 Vegan Rhubarb Bread
This Vegan Rhubarb Bread is the perfect addition to brighten up your lunch. It has vibrant rhubarb, fragrant rose water and a little twist of ginger.
I love to make this loaf for a shared picnic and there are rarely even any crumbs left over!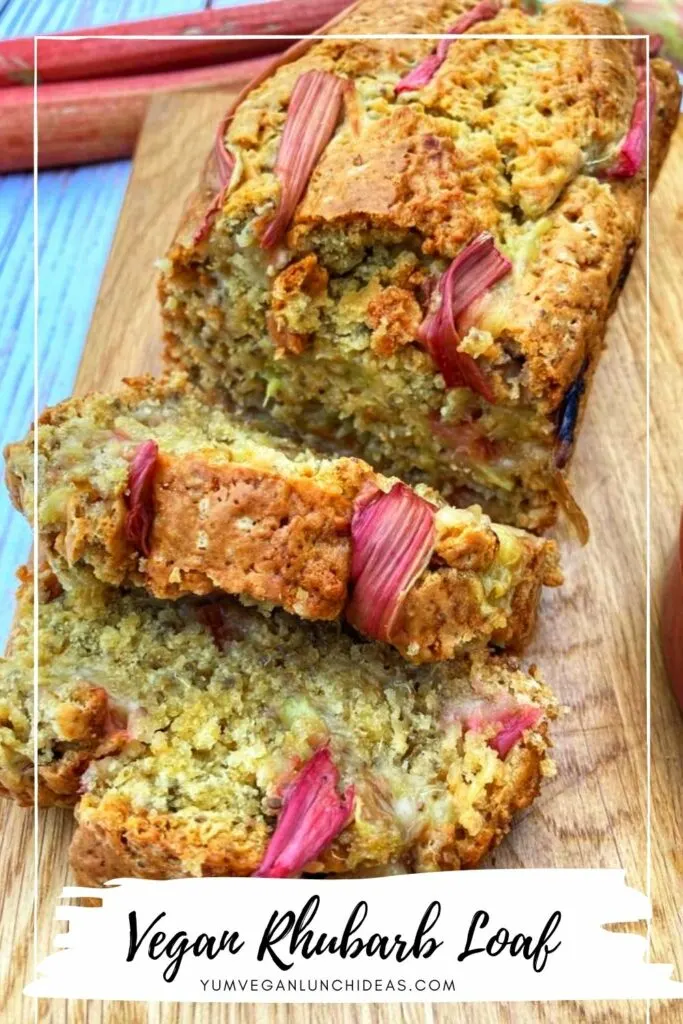 Get the recipe for Vegan Rhubarb Bread here.
Vegan Pao de Queijo
These cheesey Brazillian rolls are only three ingredients and perfect for packing in lunchboxes! Get the recipe here.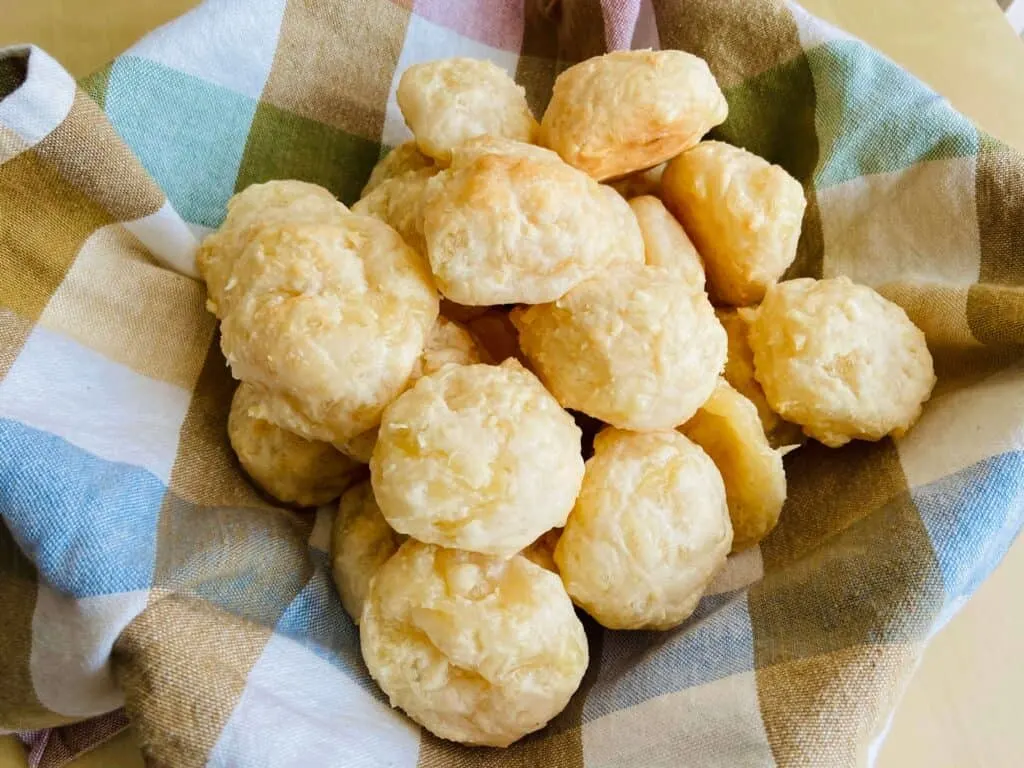 Roasted Chickpeas
Roasted chickpeas is a fantastic snack option for on the go. I frequently make them as an alternative to less healthy options when I want something crunchy and salty.
These bacon flavored roasted chickpeas are super delicious and a great option to include in your lunchbox. Get the bacon chickpeas recipe here.
Vegan Pumpkin Seed Clusters
These are a great nut free option for the likes of kids packed lunches. Increasingly schools are banning nuts to protect those with severe nut allergies.
Fear not, these tasty pumpkin seed clusters are so tasty, lightly sweetened with maple syrup to make this moreish snack.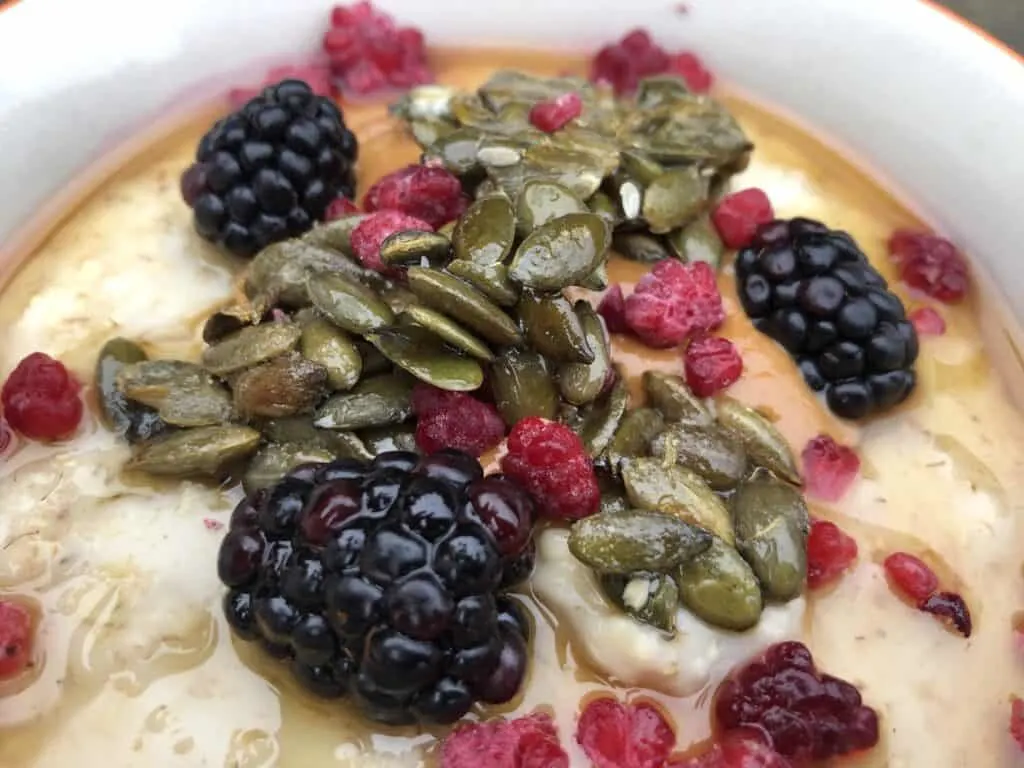 Get the recipe for Pumpkin Seed Clusters here.
You May Also Like:
Disclaimer: This post contains affiliate links.