A Cacao smoothie bowl has to be my favourite vegan brunch on the weekend. It's soo good and the great thing is, it's guilt free!
Smoothie bowls have become really popular over recent years. Those instagram perfect coconut bowls with a spoon to slurp up all the goodness.
In general, smoothie bowls have a slightly thicker consistency than the type of smoothie you drink from a glass with a straw.
This cacao smoothie bowl features frozen bananas giving it the perfect consistency for eating it with a spoon.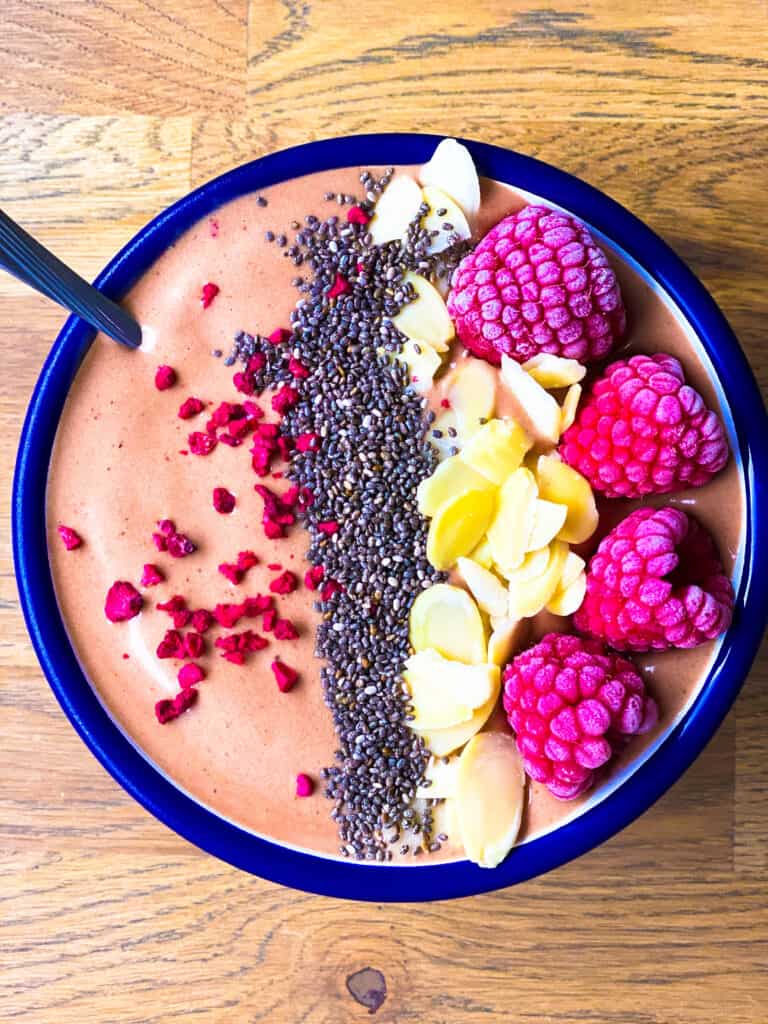 Cacao Bowl Benefits
So what is cacao? It sounds very similar to cocoa right? Truth is, they are very similar. The main difference is cocoa is more processed.
Cacao is the rawest form of chocolate and the closest to the natural state when it is harvested.
Obviously cocoa is more processed, it's essentially cacao, however it is heated to very high temperatures which destroy the many health benefits of cacao.
Cacao is rich in magnesium and is considered to be associated with reduced risk of diabetes, as well as cardiovascular disease.
Cacao contains antioxidants which help to lower cholesterol and subsequently improves cardiovascular state. Not to mention it is also rich in Iron and PEA also known as phenylethylamine.
PEA interacts with dopamine, the happy hormone that improves mood. So with all this in mind could you ask for much more in terms of health benefits from just one ingredient?
Best Time To Eat a Cacao Bowl
I personally see smoothie bowls as a brunch but in reality they are perfect for breakfast, lunch or maybe just a snack?
You can make the bowl as filling or as light as you like depending on toppings and quantity of smoothie.
How To Make A Cacao Smoothie Bowl
There is very little time spent on making a cacao smoothie. The main thing you need to do in terms of preparation is freeze a couple of bananas the night before.
If you are a big lover of smoothies, it's always worth having some chopped up bananas in the freezer. I always cut them into bite sized chunks before freezing so it's easy to separate for a portion.
Otherwise, all you'll need are the rest of your ingredients and a blender.
For this incredibly healthy cacao smoothie bowl you will need:
Cacao powder
2 bananas
1 1/2 cups of unsweetened almond milk or plant milk of your choice
A tablespoon of Almond butter
1 tablespoon of Maple syrup or 3-4 dates chopped up for sweetness
In terms of blenders, one of the best on the market is a Vitamix, it's been high up on my kitchen appliance wish list, but they are expensive.
If you have some £$ to spare, check out the Vitamix
here.
I use a very simple Nutri Ninja Smoothie mixer. I particularly like this one as you blend it in the cup.
The blade twists off and you can add a normal drinking lid. This is perfect for taking smoothies and drinks on the go and saves on washing up!
Check out my smoothie maker, the Nutri Ninja.
All you have to do is add all of the ingredients to your blender and blitz! It's as simple as that.
Cacao Smoothie Bowl Toppings
Don't forget you may want some toppings too. For the bowl pictured in this recipe, I used chopped almonds, chia seeds, frozen raspberries and a sprinkle of dried raspberries for decorative factor.
Some other ideas may include:
Granola
Chopped banana or strawberries
Cacao nibs
Flax seed
Coconut flakes
Nuts or seeds
Sliced peaches
Serving a Banana Cacao Smoothie
I am a big lover of making food presentable, Aside from placing all of the toppings in a decorative way, you can also use some pretty nice bowls.
I have used one of my Falcon Enamelware bowls, they are quite slim but deep which is quite good for smoothie bowls.
However one of my other favourite things to use is Coconut bowls, literal Instagram perfection if you like sharing your food pics. Smoothie bowl cacao with all the toppings will go down a treat with your followers!
Variable Cacao Smoothie Recipes
You don't have to be too strict with these ingredients you can mix things up a little depending on what you have in the pantry and preferences.
For example you may want to add some protein powder, a scoop would mix into this perfectly. Just add a teeny bit more milk to compensate.
Another thing is switch from almond butter to a cacao peanut butter smoothie.
If you are looking for a low carb / keto variation replace the maple syrup with stevia sweetener drops. Instead of the banana, use frozen coconut puree to get the ultimate 'gloop'.
If you are having the smoothie for brunch or breakfast, add a spoon of rolled oats for some extra fuel for the day.
If you are looking to switch up your smoothie bowl filling altogether you can try this Acai smoothie bowl.
Storing Cacao Smoothie Mix
The smoothie mix is best served freshly made as it really keeps it's formation. Smoothie bowls should be thicker than a traditional smoothie drink as you will eat it with a spoon.
That said, it is totally fine to keep the mix in the fridge for 1-2 days. Just give it a good shake before eating it.
Obviously the bananas being freshly blended from frozen gives the ultimate consistency.
Before we jump to the recipe, be sure to check out some of our other favourite brunch recipes. You might like:
Yield: 2
Cacao Smoothie Bowl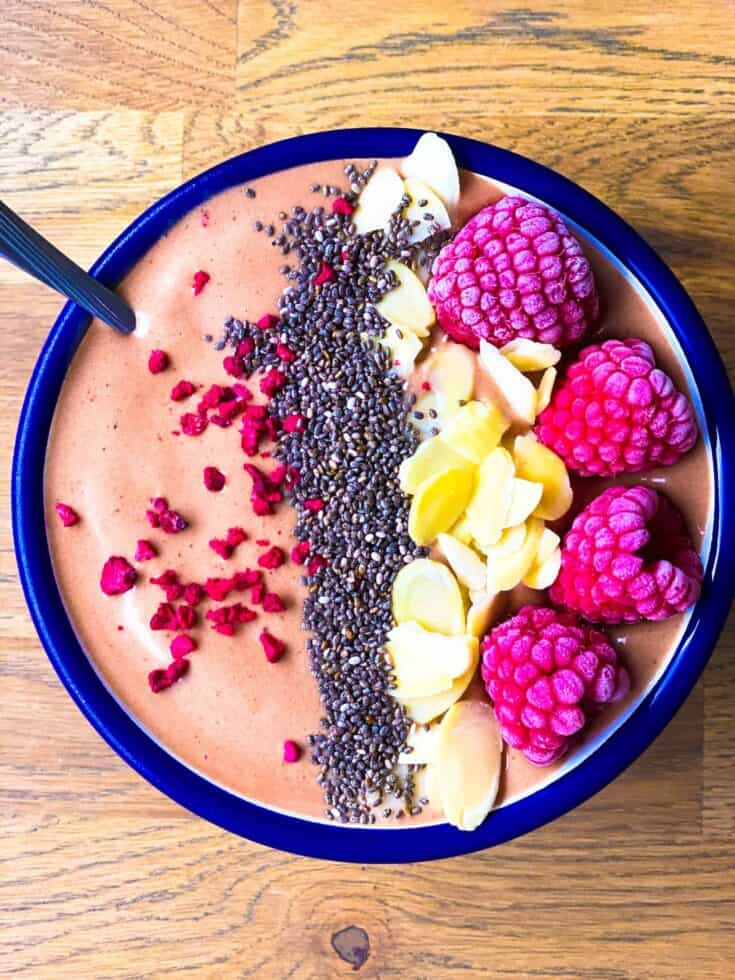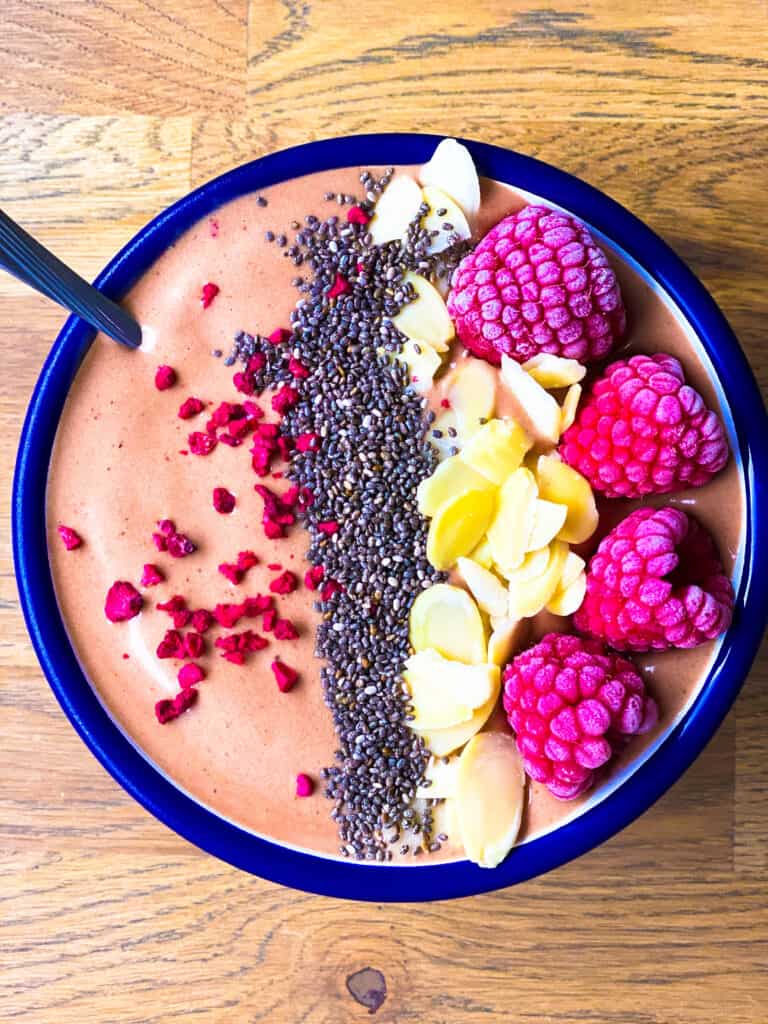 Try this delicious healthy cacao smoothie bowl. It's an ideal vegan lunch idea or could easily be served for breakfast, brunch or a snack. Make this cacao bowl as filling or light as you like with toppings and quantity. Yum Vegan!
Ingredients
2 tablespoons of raw cacao powder
2 small bananas frozen
1 1/2 cups of unsweetened almond milk
1 tablespoon of almond butter
1 tablespoon of maple syrup
Instructions
Freeze two bananas overnight in bite sized chunks.
Measure out 1 and a 1/2 cups of unsweetned almond milk or a plant milk of your choice.
Add the milk and banana to your blender with all of the other ingredients including the maple syrup, almond butter and raw cacao.
Blitz together until smooth.
The consistency should be glupy enough to eat it with a spoon comfortably.
Add to a bowl.
Add topping of your choice.
Serve with a spoon and enjoy!
Notes
Using frozen bananas is a vital step to get the right consistency for a smoothie bowl.
You can choose from a variety of toppings depending on how hungry you are. Choose from chopped fruits, seeds, granola, nuts and so on, be as creative as you like.
If you want to keep your carbs down, trade in maple syrup for stevia sweetner drops.
You can use any milk, the only reason I like to use unsweetned almond milk is because it's low in calories and carbs.
If you dont have almond butter you can also use cashew or peanut butter, either is fine.
Other variations may include adding some protein powder or a scoop of oats if you want some fuel for the day.
There are many variations you can make to a cacao bowl.
Recommended Products
As an Amazon Associate and member of other affiliate programs, I earn from qualifying purchases.
Nutrition Information:
Yield:
2
Serving Size:
1
Amount Per Serving:
Calories:

215
Total Fat:

7g
Saturated Fat:

1g
Trans Fat:

0g
Unsaturated Fat:

5g
Cholesterol:

0mg
Sodium:

5mg
Carbohydrates:

36g
Fiber:

5g
Sugar:

19g
Protein:

5g
Disclaimer: This post contains affiliate links. By using the links to purchase an item, we get to share a very small amount of the commission with the company at no extra cost to you. We really appreciate your support to continue writing recipes and vegan content.